I love creating free content full of tips for my readers, you. I don't accept paid sponsorships, my opinion is my own, but if you find my recommendations helpful and you end up buying something you like through one of my links, I could earn a commission at no extra cost to you.
Learn more
From the trimming of wires to removing welding spatter, MIG welding pliers are a must-have addition to your toolbox for your welding or electrical work needs.
MIG pliers are easy to carry, safe, and comfortable. They are designed for precision and accuracy. This makes them the best choice for these kinds of tasks.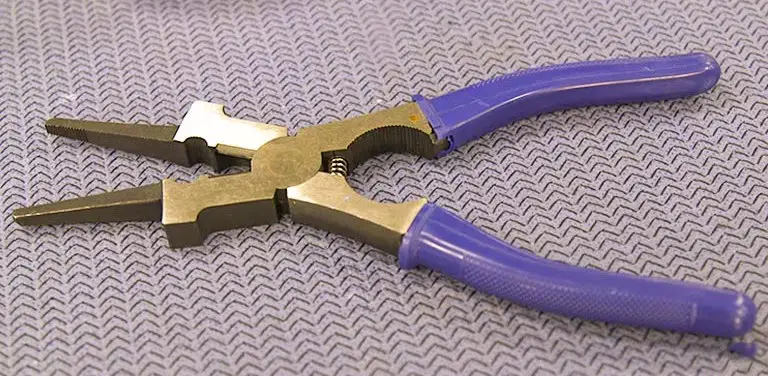 Not sure how to choose the right pair of MIG welding pliers for your needs? This article will provide you with a guideline and help you to make the best choice.
My favorite MIG welding pliers have to be the IRWIN VISE-GRIP MIG Welding Pliers. The heavy-duty nose is ideal for removing spatter and nozzle cleaning while the hammered design makes it perfect for maintenance to welding guns and torches. What's also amazing is that it comes with a lifetime guarantee.
What are MIG welding pliers used for?
MIG pliers are a variation of needle-nosed pliers. They have a long, textured nose with a cutter that makes them a great tool for welding and other jobs in your workshop.
It is a very versatile tool and has a multitude of uses, such as:
nozzle cleaning
slag hammering
tightening and loosening of nozzles
tightening and loosening of contact tips
drawing wires
cutting wire
manipulating pieces of work
gripping surfaces
removal and installation of insulation bushings
welding gun maintenance
fastening and tightening bolts
And perhaps the most amazing part is you can do all these tasks while welding.
This video explains it some of the many uses of MIG welding pliers while demonstrating:
How to recognize the best MIG welding pliers
Here are some features to consider to make sure you choose the right product for the best performance.
Cutter
The cutter and nose quality are most important. It should be well designed and the hole size should be the right size so that it cuts the wires cleanly.
Spring-loaded
A spring-loaded handle is best so that you don't need to open it every time.
Grip
The grip of the handle should be high quality and comfortable so that your hands don't take the strain while you work. Also, check whether you can hold it properly or not.
Material
The pliers must be made of hardened steel to ensure that they can withstand the pressure and heat applied to them.
Also read about the differences between welding vs soldering
Best MIG welding pliers reviewed
Now let's have a closer look at my top list of MIG welding pliers.
Best overall MIG welding pliers: IRWIN VISE-GRIP

The IRWIN VISE-GRIP MIG welding pliers will blow your mind. It has a specially designed nose that helps you to remove the welding spatter easily without any kind of damage.
You won't have to worry about the sharpness of the tool, as the induction hardened cutting edge remains sharp for a long time.
Thanks to the hammer design, these pliers are ideal for light welding gun maintenance. There are multiple jaws for drawing out different wires as well as removing tips and nozzles.
The handle is spring-loaded for ease of use. The dipped grip ensures a comfortable user experience.
The downside to this pair of pliers is that there is a tiny notch that will be a big problem when cutting thin wires, as you need to place the wire at the very back end to be able to cut the wire.
Features
Cutter: sharp cutting edge
Spring-loaded: yes
Grip: dipped rubber grip
Material: induction hardened steel
Most durable MIG welding pliers: Lincoln Electric K4014-1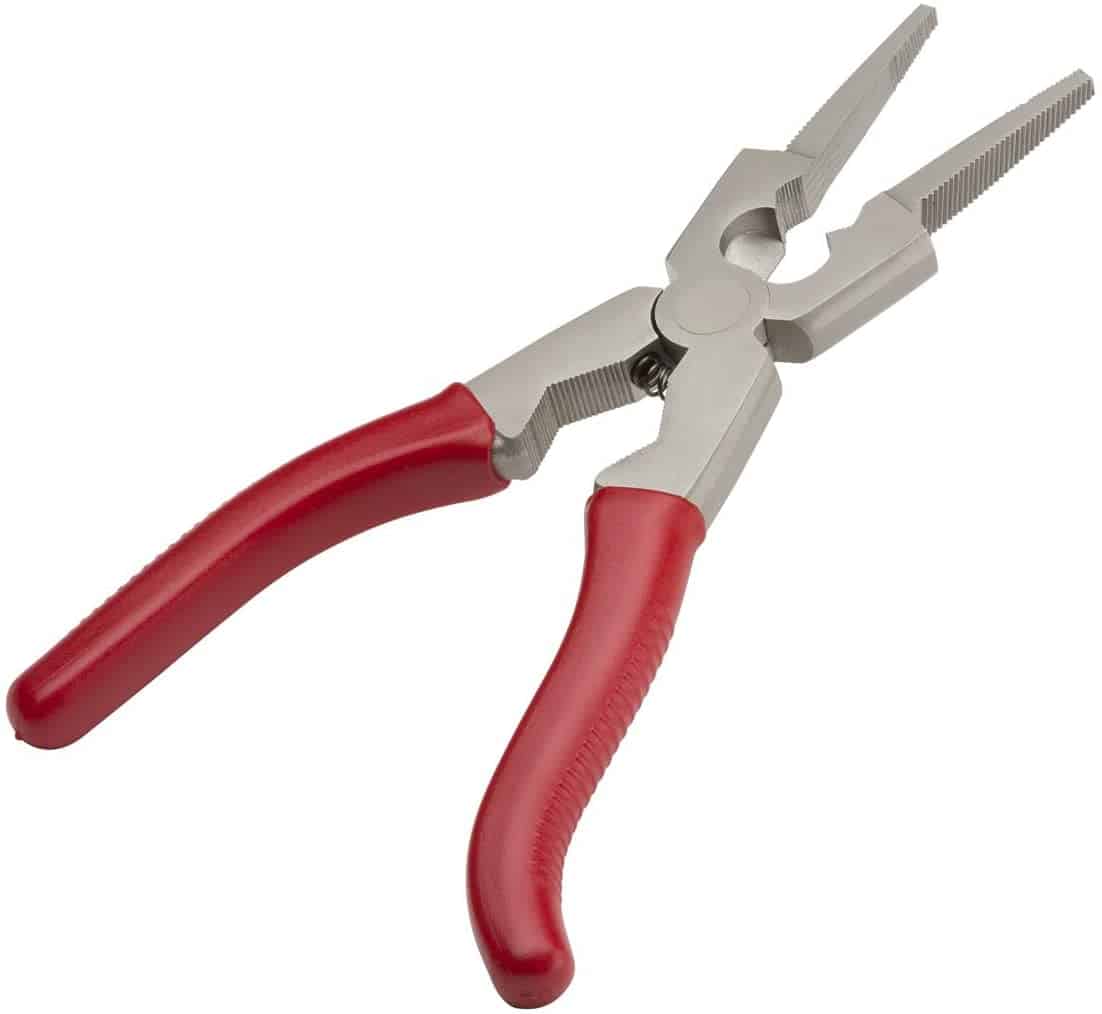 These pliers from Lincoln, are made from high-strength steel so there's no question about the durability and strength of the tool. The drop-forged steel also increases the hardness and the toughness of the pliers.
Want to know the most amazing part? This tool has a curved handle that is specially designed to fit your hand for perfect grip.
This well-designed handle also distributes the force evenly along the handle which means it reduces the amount of pressure you need to apply.
The spring-loaded hinge increases your working speed with a smooth and consistent opening and closing action.
Moreover, these pliers have 6 functions including tip and nozzle removal, tip installation, wire cutting, nozzle cleaning, and more. This makes it a great tool for multitasking.
Unfortunately, you will have trouble cutting stainless steel wire with this pair of pliers and sometimes the handle doesn't open enough to grab larger nozzles.
Features
Cutter: sharp cutting edge
Spring-loaded: yes
Grip: soft silicone grip and form fitting handle
Material: drop forged steel
Best long nose MIG welding pliers: Channellock 360CB 9-Inch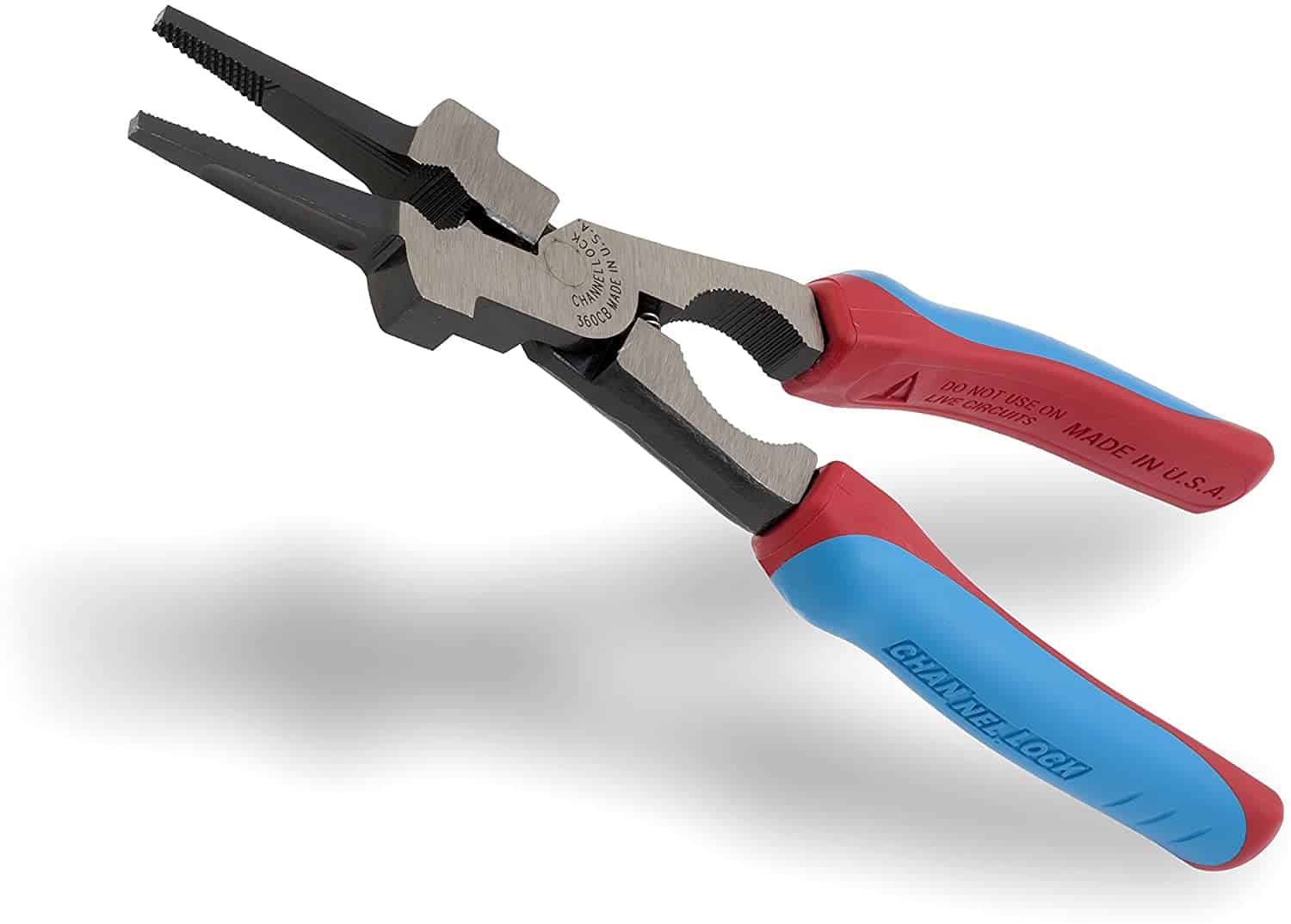 With a colorful handle and handy design, this pair of MIG pliers from Channellock is a great tool. It has XLT Xtreme leverage technology that reduces your efforts because less force is required to cut with this tool.
The specially designed groove long-tipped nose is perfect for the installation and smooth removal of different kinds of bushings and nozzles.
This tool is also able to grip and draw out wires with this grooved nose. Simply close the pliers around the wire, simply pull to draw the wire out.
An additional feature is a spring-loaded handle and the fact that the tool can be used as a hammer too.
As with other tools, this product is not glitch-free. If you accidentally drop the pliers then the pin that joins the plier halves can easily break.
This pair of pliers is also on the more expensive side.
Features
Cutter: sharp cutting edge
Spring-loaded: yes
Grip: rubberized plastic
Material: high carbon steel
Best multipurpose MIG welding pliers: Hobart 770150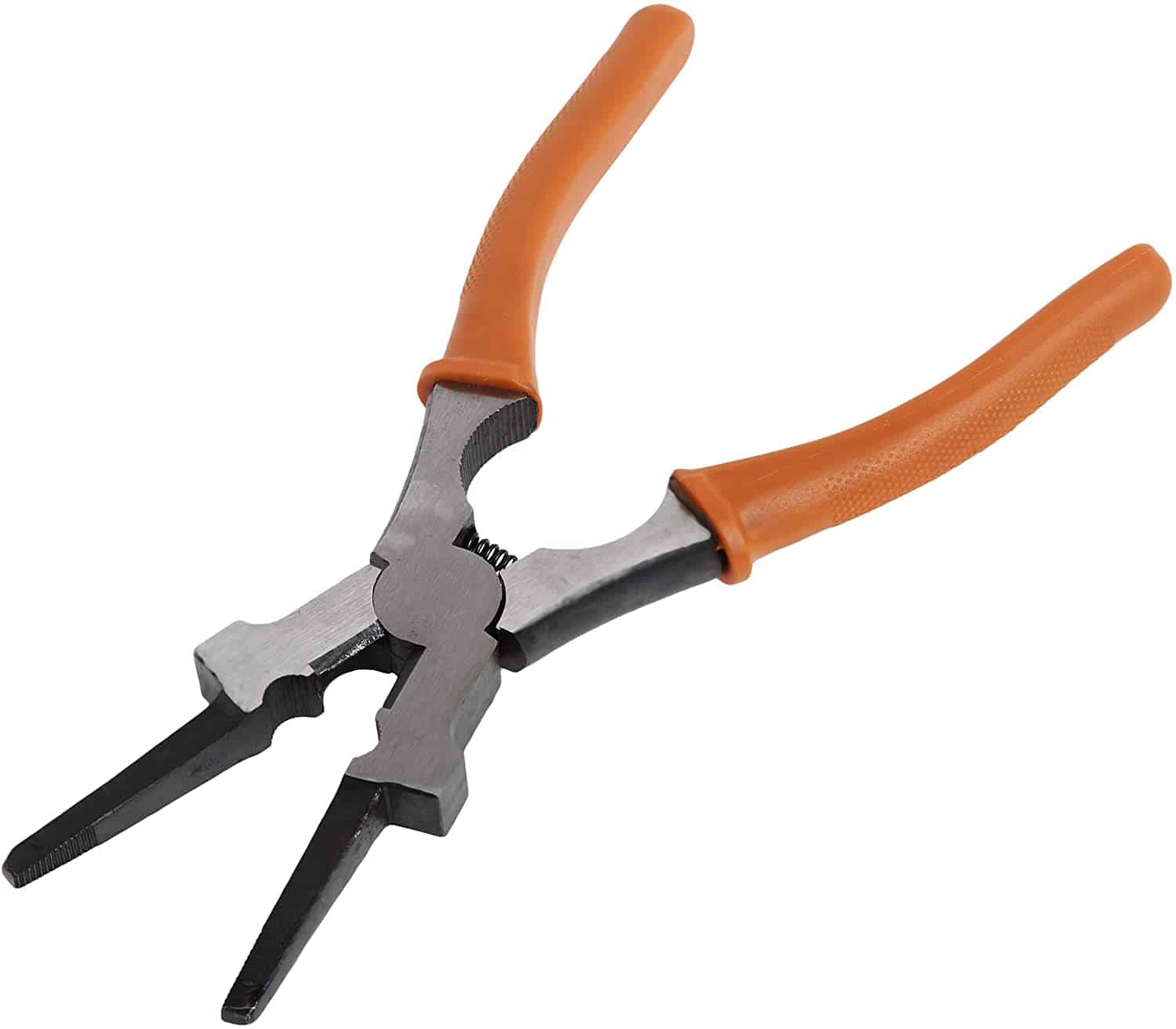 Looking for a tool that is specially made for multitasking? Then the MIG pliers from Hobart is the best choice. These pliers have 12 different functions.
This tool is great for nozzle cleaning and for holding hot metal. It can also cut or draw wires with the same efficiency as wire strippers.
It has a flat part surface on both sides that can be used for hammering. You will also find a hole between the grips that is perfect for removing or installing a nozzle.
Furthermore, the handle is easy to hold which prevents it from slipping out of your hand. At the same time, it also ensures a comfortable working experience.
Unfortunately, there is a gap in between the jaws and the sides do not quite match up.
Features
Cutter: sharp cutting edge
Spring-loaded: yes
Grip: rubberized plastic
Material: stainless steel
Best lightweight MIG welding pliers: ALLY Tools Professional 8"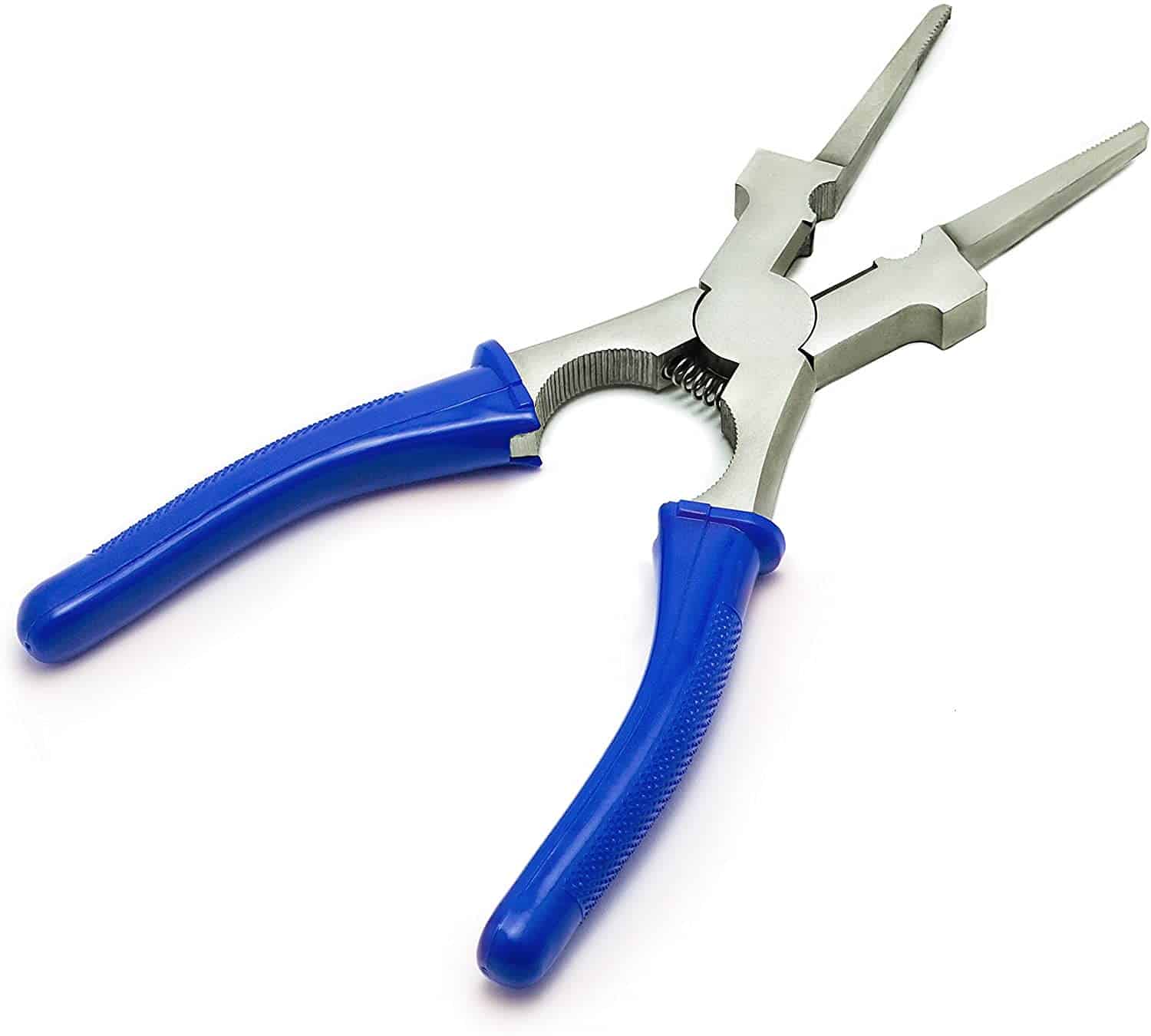 Our last suggested product is from Ally Tools and is specially made for welding. It can cut the wire and remove or install nozzle tips. Hammering and the cleaning of spatter are also a breeze with this tool.
The body is made of high carbon steel that ensures strength and durability. The plated steel prevents it from rusting, so you'll be able to use this tool for years.
The handle is designed for comfort and the spring-loaded design allows it to operate smoothly.
This tool is small and lightweight which makes it perfect for professionals and beginners. This tool is ideal for welding, electrical and mechanical jobs in a workshop or at home.
The problem with this tool is that the handle is made of hard plastic. If you are wearing gloves while you work it becomes difficult to hold it.
Features
Cutter: sharp cutting edge
Spring-loaded: yes
Grip: rubberized plastic
Material: high carbon steel
MIG welding pliers FAQ
Have some more questions about MIG welding pliers? Here are the answers.
Can I hold hot metal with these pliers?
Yes, as they are made of steel so you can use them to hold hot pieces of metal.
Do I need to open the handle every time I need to use it?
No, as they are spring-loaded, you don't need to open the handle every time.
What is MIG welding?
MIG welding is different a type of arc welding that uses metal inert gas. It is ideal for very thick metal surfaces.
A continuously heated wire electrode is fed into the weld pool from the weld gun.
What does a contact tip do?
A contact tip is one of the most important parts of the MIG gun. The contact tip guides the wire and transfers the current through the filler wire and into the workpiece.
What does a MIG welder weld?
MIG welding is the best choice for thicker surfaces. A MIG welder can many different types of metals such as carbon steel, stainless steel, aluminum, magnesium, and other alloys.
Summing up
The five products above are the best MIG pliers on the market for top performance, and durability. If you want a reliable brand then IRWIN is the way to go.
Lincoln's product has different features, but if you need a tool for super multitasking, then Hobart's product is the way to go.
Looking for a colorful one that can be easily spotted? Then why not go for the Channellock 360CB? If you want a small tool, then the ALLY pliers are the perfect fit.
MIG welding pliers are a valued addition to your tool arsenal. When making your choice, keep the features I've mentioned in mind to make sure you get the best one for your needs!
Read next: this is how welding transformers are used in welding jobs
I'm Joost Nusselder, the founder of Tools Doctor, content marketer, and dad. I love trying out new equipment, and together with my team I've been creating in-depth blog articles since 2016 to help loyal readers with tools & crafting tips.