I love creating free content full of tips for my readers, you. I don't accept paid sponsorships, my opinion is my own, but if you find my recommendations helpful and you end up buying something you like through one of my links, I could earn a commission at no extra cost to you.
Learn more
Pegboard is the most efficient and the simplest way of organizing your tools from small to large and even heavy to the lightest ones. The simple display of your all toolkits will relieve you from the pain of searching a small screwdriver from your huge toolbox.
Choosing the pegboards for your tools can be too boring as there are a lot of boards for different tools and areas. That's why we have generated a comprehensive buying guide that will guide you through the products to the best pegboards that would certainly meet your requirements.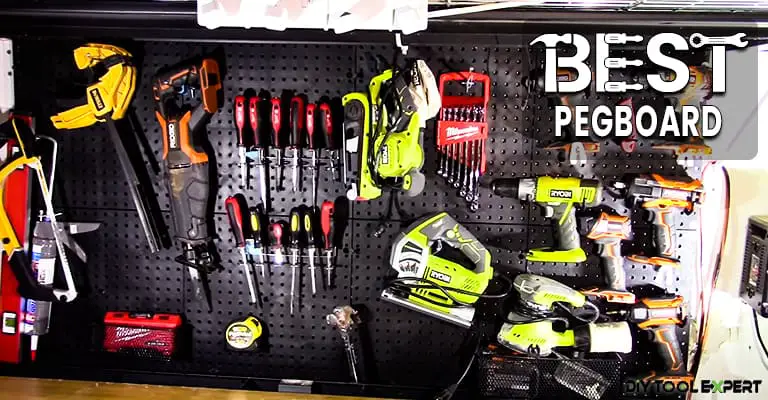 Pegboard buying guide
There are plenty of pegboards out there in the market. But finding the one that suits you most can be very hectic if you are not into it. The most valued pegboard can be found only by conducting a thorough analysis of the products and checking on its key features.
To find the best pegboard for your daily work requirements, we have accumulated points to be noted that will, hopefully, eradicate all your confusion about pegboards and lead you to your dream arsenal of toolkits. Now, let's look into some key areas that define if the pegboard is to be chosen or not.
Construction Material
The material used for constructing is important as a board with good material in it will last a lifetime. Depending on materials three types of pegboards are found in the market which are fiber, metal or steel and plastic.
Fiber
Fiberboards are mainly made out of wood fibers. These types of boards are easy to manufacture and at the same time cheap also. You can customize the boards according to your wall size or choice. But, these types of boards are only for light indoor usage as heavy load and any contact with water will cause permanent deformation of the board.
Metal
Metal or steel pegboards are most popular out in the market because of their versatility. These can be used in both indoor and outdoor conditions as they are rust free and doesn't deform. Moreover, these are strong enough and can handle a heavy load without any issue. But the boards are costly and heavy. You can only customize the hooks according to your needs.
Plastic
Plastic pegboards are simple and lightweight and at the same time durable also. These pegboards usually come with a series of panels that can easily be expanded if needed. But these are not as durable as metal ones and can easily break if not installed carefully.
Size
Size does matter when considering the place of installation and usage. Small pegboards are mainly for remote usage like for counter display. Again, large boards are for heavy-use in areas like garages for hanging heavy stuff. Pegboards that don't require frameworks ships into different sizes such as 16" × 32" or 32" ×16" and even 24" ×24". So, you really need to measure your mounting surface to fit properly.
Orientation
Depending on orientation two types of pegboards are found in the market. One is for vertical mount and the other is for a horizontal mount. Vertical pegboards can be extended vertically and are made for more congested places. Horizontal pegboards are made for wide spaces like garage or workshops where you may need to expand the boards horizontally.
Hole Depth
Hole depth is an issue that may cause instability if kept out of the calculation. Depending on the thickness of the holes there are mainly two types of boards. Small hole pegboards and the Large hole pegboards are named after their hole depths.
Small hole pegboards are usually 1/8 inch thick and support only the 1/8 inch pegs or accessories. Basically, these pegboards are made for small projects or hanging lightweight stuff. Large hole pegboards sport a thickness of 1/4 inch and both the 1/4 inch and 1/8 inch pegs are supported. These are suitable for workshops, garages or other heavy-use areas.
Installation Process
Pegboards can be divided into two sections depending on the requirement for installation. Some of the boards require a framework to be installed and the others don't. If you want a fully customizable pegboard for indoor use then you will need a framework. Again, the ones don't need frameworks that are easy to install but does come in a predefined size.
Pegboard Pegs
Pegs are the main mechanism behind the hanging of the tools. Some pegboards accept all the conventional pegs like the 1/4 inch ones along with their own pegs. Again, some only support their own branded pegs. You need to consider this if you have old pegs or accessories.
Best Pegboards reviewed
Considering the key points and features of a good pegboard we have selected some of the top-notch pegboards that will meet your work standards. So, let's dig into it.
1. Wall Control 30-WGL-200GVB Pegboard
Advantages
Wall controls patented 30-WGL-200GVB heavy-duty pegboard represents sheer strength with the proper organization of a vast range of toolkits. The board can hang heavily weighted tools thanks to its 20 gauge steel construction. For the solid metal and sturdy construction, it is 10 times stronger than conventional pegboard out in the market.
No need to squeeze all of your tools in a small board. The package comes with two 16" × 32" rectangular boards that deliver a coverage area of 32"×32"  or 7 square feet when combined. The easy installation of the board is ensured with the pre-drilled mounting holes at the corner.
The pegboard also supports traditional 1/4 inch pegboard pegs, so you can utilize pegs from your old pegboard. 1/8 inch pegs and accessories also seem to fit but are comparatively looser as the board is designed to hold 1/4 inch pegs.
Wall Controls' very own patented slotted pegboard hooks, brackets, and shelving assemblies ensures the maximum efficiency of pegboard usage. The use of their double offset hook over the single ones increases the stability noticeably. The accessories include three plastic bins with bin hanger, a screwdriver holder, hammer holder, 15 assorted hooks and brackets, and mounting hardware
Drawbacks
Though the board organizes tools like a champ, it is comparatively smaller when comparing to the other pegboards available in the market. Unless you have a vast number of tools, it won't bother you much.
2. Wall Control 30-P-3232GV Pegboard Pack
Advantages
Wall Controls 30-P-3232GV pegboard is both versatile and durable. The 20 gauge galvanized steel construction of the board is proved to be 10 times stronger than conventional pegboards. Again, its steel panel prevents the pegboard holes from fraying and wearing out over time ensuring lifetime usage.
The pegboard is wide enough to rack up your tools with a clean look. Each of the two boards is vertically 16inch wide and 32inch tall. As a result, the board covers around 7 square feet of wall area. No additional framing is required for installation because of the preformed ¾ inch flange that separates the panel from the wall surface. Mounting hardware is also provided.
Pegs are the most important part of a pegboard and this pegboard supports a wide range of pegs starting from the conventional 1/4inch pegs to the modified and patented wall controls slotted pegs. You can use 1/8inch pegs and accessories but accidental drops might occur as the pegs will be loosely fitted.
Wall controls own patented lineup of slotted accessories will give you several options while organizing your stuff. Their stable and more secure hooks, brackets, and shelving assemblies will increase the efficiency of your pegboard usage to a much higher scale.
Drawbacks
Such a great board like this has a design flaw because of the low thickness of the panel. When the conventional 1/4inch pegs used, the tools seem to lean forward. This will not be an issue if you are using their patented slotted accessories.
3. WallPeg Pegboard Panels
Advantages
Wallpeg's plastic pegboard panels are easy to fit and use whether indoor or outdoor. The tuff poly plastic material build is scratch resistant and you don't even need to think about rust. The unibody construction doesn't require painting and is easy to mount right out of the box.
You don't require any kind of frameworks to mount the boards to the wall as the full back-ribbed construction makes it ready to mount right out of the box. Just use a screwdriver and you are ready to go! The molded ribs add strength with a touch of attractive finish. Moreover, 12 reinforced flush mounting holes are there to support your board against the wall surface so strength will not be an issue.
The board panels are suitable for both vertical and horizontal usage backed up with the conventional ¼ inch pegboard pegs and accessories. Each 24" ×16" panels cover up to a total area of over 10 square feet when combined. Both the 16-inch and 24-inch studs are suitable for mounting the boards.
Drawbacks
It is a matter of shame that Wallpeg advertises the board to be mounted using a single screwdriver but doesn't include any screws in the packaging!
4. Azar 700220-BLK Pegboard
Advantages
Azar 700220-BLK 4-Sided Revolving Pegboard is one of the wisest choices you will make if you want to display your jewelry or small goodies. The 4 sided panels with a sturdy build, revolving base and a wide range of colored finish, sitting on top of your counter-table will increase the visibility of your brand and increase sales. They have also included a sign holder strip to help you with that.
Each of the 4 panels of 12-inch height and 4-inch width and depth sits on a wide rotating base. The wide base of  9-inch diameters keeps it stable and prevents it from tipping over when the board is full of a load. The product is easy to assemble. Simply place it where you want, add hooks and you are ready to go.
There are plenty of options for you to decorate or customize the display as the Azar 700220-BLK supports a wide range of pegs and accessories. You can either use the conventional 1/4 inch pegs or Azar's stock displays and accessories. Hooks will even fit from 4 inches to 6 inches. So, customize at your full potential and Azar will be at your side.
Drawbacks
Though the pegboard is handy, the build is not sturdy enough as the base often falls off due to the use of poor adhesive. Some users have also found the pegs to be loosely fitted into their boards.
5. Wall Control Office Wall Mount Desk Storage and Organization Kit
Advantages
Wall Controls Office Wall Mount Desk Storage and Organization Kit will serve you with a clean, tidy and organized workspace and hustle-free work time. The board has an all-metal construction with a rich, powder-coated finish which resembles its sturdiness at the same time brings an aesthetic vibe. It is also magnetic due to its metallic construction.
The package is the combination of three individual panels each covering 16"x32" resulting in a total area of 10.5 square feet of attractive and organized space. You can either use it over a desk as a desk organizer or even on a wall as an office organizer or general office storage. For both cases framework isn't needed as there are pre-drilled mounting holes and built-in frame return flange present.
Wall Control's slotted hooks, brackets, shelves & accessories are the only companions that are supported by the Wall Mount Desk Storage and Organization Kit. You won't be able to use any of the conventional 1/4inch pegs here. However, the wide range of their accessories the board ships with will easily meet your requirements.
Drawbacks
The shelf comes with it has depth issues as goods seem to slide off from the front. You might consider moving carefully as accidental touch might cause the goods to fall.
6. Seville Classics Steel Pegboard Set and 23-Piece Peg Hook Assortment
Advantages
Seville Classics UltraHD Steel Pegboard Set will redefine the word versatility because of the 23 pieces of tool-specific hook assortment it comes with for your driver set, hammer, leveler, and pliers. Hooks like curved, straight, double prong, the curved double prong will help you to organize the board to your dream setup. 6 heavy-duty plastic bins are also included to keep track of your small parts.
Each pegboard set comes with two 24"×24" solid steel pegboards that can either be installed side-by-side or vertically. Wall mounting hardware is supplied for easy, hustle-free and fast installation.  Powder-coated steel finish protects your board from corrosion, dings, scuffs, and scratches and adds an aesthetic vibe to your workbench. You can learn more about this decking tool.
The board accepts conventional 1/4 inch pegs so you can reuse the pegs from your old pegboards. Thus, you can easily keep additional tools like wrenches, screwdrivers, pliers, and hammers and store even more tools with the help of addition quarter-inch pegboard hooks.
Drawbacks
The edges of the panels are found to be stiffened by a channel that folds back in and prevents full usage of the outside rows of holes. This will not be an issue for you unless you are using those corner holes.
7. Wall Control 30-WRK-800GB Metal Pegboard
Advantages
Wall Controls patented 30-WRK-800GB is the master of workbench organization. The all body 20 gauge steel construction makes it 10 times stronger than conventional or plastic pegboards as well as relieves from any pain of forming rusts. Moreover, metal construction prevents the holes from fraying and wearing out over time.
The package comes with 6 panels each covering an area of 32" ×16" and around 21 square feet total. The pegboards have a preformed 3/4 inch flange that separates the panels' storage surface from the wall. Thus no framework is required and it can be mounted easily with the mounting holes and hardware included in the packaging.
Wall controls own invention slotted pegboard pegs are accepted by the product. Slotted pegs are more secure and stable than the conventional pegs and give you a variety of choices to organize your work area. A wide range of pegboard pegs is also supported like the conventional 1/4 inch hooks and accessories. 1/6 inch hooks also fit but are a bit lost.
The package comes with a set of accessories to minimalize your work effort and to increase work efficiency. Accessories like shelf assemblies of different sizes, shelf dividers, bin holders, screwdriver holders, handle hangers, c-brackets, u- hooks will make your board a complete arsenal of your necessary toolkits.
Drawbacks
The product may deliver a lot but its quality control is questionable as a lot of the users found their product shipped bent around the edges which creates a problem when attaching boards side by side.
What is a Pegboard?
Basically, pegboards are long surfaced boards that have predrilled holes with even spacing on it. Using specific pegs/hooks tools can be hung there. Depending on the material, size, orientation and build quality the hole depth, mounting surface, variations are found in pegboard designs.
FAQ
Here are some frequently asked questions and their answers.
Are all peg boards the same?
All pegboard has holes with 1-in. spacing, but there are two thicknesses and two hole sizes available. 'Small hole' pegboard is usually 1/8-in. 'Large hole' pegboard is usually 1/4-in.
How strong is peg board?
According to a quick search on google, a pegboard can hold 100 pounds if properly installed. Our holds a ton of heavy power tools with no buckling or bowing.
Is pegboard waterproof?
Because plastic pegboard is sleek and waterproof, it's a good choice for the bathroom. It's easiest to order it cut to size.
How far off the wall does pegboard need to be?
Pegboard needs about 1/2 in. of 'standoff' space behind it so the hooks can be inserted. Plastic and metal pegboard panels have this space built in, created by the L-shape flanges at the edges.
How do you make homemade pegboard?
Does Walmart sell pegboard?
Wall Control Pegboard Hobby Craft Pegboard Organizer Storage Kit with Red Pegboard and Blue Accessories – Walmart.com – Walmart.com.
Does Harbor Freight sell pegboard?
In Stock at Brooklyn Hamilton, NY
1/2 in. Curved Pegboard Hooks, 12 Pc. 1/2 in. Curved Pegboard Hooks, 12 Pc.
Do Ikea pegboard accessories work on regular pegboard?
The new IKEA Skadis pegboard system features a couple of different pegboard sizes, each 22″ tall. There are 14.25″, 22″, and 30″ widths. … You can mount Skadis pegboard to the wall, or to a benchtop or Ikea Algot rail with optional accessories.
What kind of wood is pegboard made of?
An inexpensive wood such as pine is often used, and it may be chemically treated for strength and fire retardant characteristics or turned into plywood first. Perforated wood may be mounted as a thin strip instead of the more square shape of perforated hardboard. Metal pegboard systems are usually made out of steel.
Is pegboard toxic?
Yes, pegboard can be dangerous. Fiberboard pegboard contains formaldehyde. Pegboard manufacturers use urea-formaldehyde spray adhesive. Fiberboard can be dangerous if it is still out gassing.
Should you paint pegboard?
Instead, go for a solvent-based primer, such as Zinsser or XIM. Once your pegboard is primed and sealed off properly, you're good to use your favorite water-based or non water-based paint to finish off painting your pegboard. When painting pegboard, I would advise you to use a paint gun (or spray paint) over rollers.
Do I need to prime pegboard before painting?
Similar to painting walls or furniture, it's important to use primer first. So first I gave the face of my pegboard a quick coat of Zinsser Primer. Once it was dry, I added 2 coats of my desired taupe-y color (I mixed a few hues to get the color just right).
Q: How much weight can a pegboard withstand?
Ans: It depends on some factors and varies from product to product. The construction material, quality of installation, the substrate installed into, bracket or hook selection, weight distribution, actual load centers are some key factors that will define how much weight it can take.
Q: Are pegboards toxic?
Ans: Yes, some of them might be hazardous to health but not all of them. Fiberboard pegboard contains formaldehyde and urea-formaldehyde spray is used as an adhesive which will outgas. Again, the fibers might affect your respiratory system. But steel made pegboards are completely safe.
Q: How much space do you need behind a pegboard?
Ans: It will completely depend on your usage. There two types of holes depending on thickness. Small holes have a thickness of 1/8 inch to hang small stuff and large holes have a thickness of 1/4 inch and accept both the 1/4 inch and 1/8 inch hooks. If you have small tools then you don't need a large hole. So, it's completely up to your usage.
Conclusion
Considering the key features and versatilities Wall Controls 30-WRK-800GB and Azar 700220-BLK are the best pegboards available in the market. If you want to organize and display all your small goods in a remote place then Azar's revolving base along with 4 sided pegboards will be best for you.
Again, if you want a wide area in your workplace to organize all your tough toolkits along with the small precise ones then Wall Controls 30-WRK-800GB will serve your purpose. Moreover, the magnetic panels are rust-free and will serve you until your last breath.
It is necessary for you to choose a decent pegboard that will optimize your work time and save many working hours. Thus, choosing the suitable pegboard keeping the key features into the equation will produce the maximum work efficiency as output and provide comfortable work experience.
I'm Joost Nusselder, the founder of Tools Doctor, content marketer, and dad. I love trying out new equipment, and together with my team I've been creating in-depth blog articles since 2016 to help loyal readers with tools & crafting tips.