I love creating free content full of tips for my readers, you. I don't accept paid sponsorships, my opinion is my own, but if you find my recommendations helpful and you end up buying something you like through one of my links, I could earn a commission at no extra cost to you.
Learn more
Among the numerous safety glasses available in the market the popularity of pink safety glass is rising significantly especially among women. So today we have picked the best pink safety glass for our discussion. If you are searching for the best pink safety glass to protect your eyes and to look you cuter this article is for you.
After researching for hours we have picked the best pink safety glasses with less or no complaint from the previous customers for your review. Besides we have figured out some important factors that will help you to pick the right pink safety glass.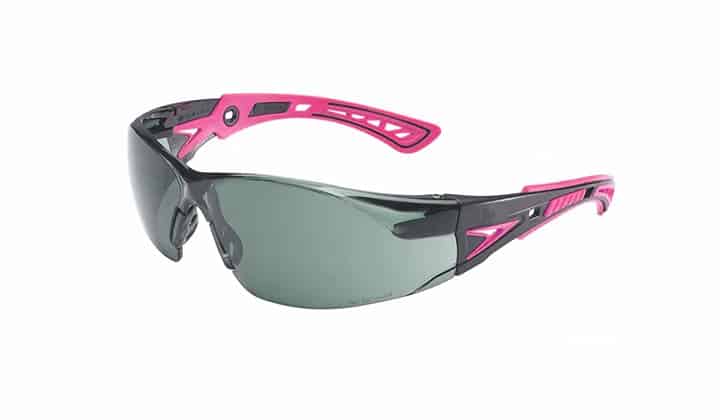 5 Best Pink Safety Glass Dominating the Market
We have picked some age-old renowned brands of pink safety glasses for your review. Hope you will find the best pink safety glass quickly from this highly researched list.
Eyewear Pink Frame Cougar Safety Glasses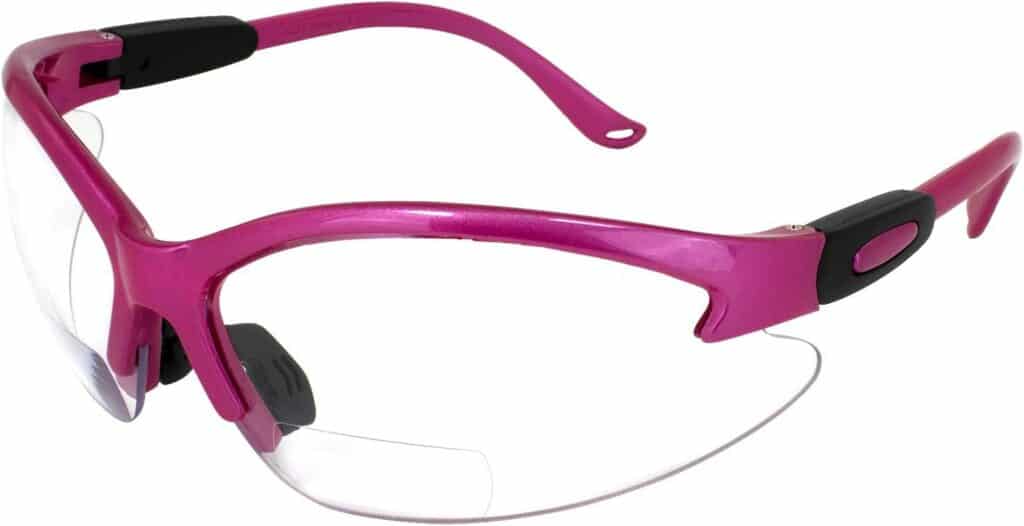 Global vision has been used Polycarbonate lenses in their Pink Frame Cougar Safety Glasses. Polycarbonates are amorphous thermoplastic that has the ability to transmit light nearly as glass but at the same time, they are stronger than glass lens.
An important feature of safety glass is its impact resistance. Since global vision has been used polycarbonate in their pink safety glass they are 10 times more impact-resistant compared to glass or plastic lenses.
If you have to work under the sunlight you can choose it. The UV400 filter of this pink frame glass protects your eyes from the exposure of harmful UV rays. It consists of rubber nose pads, flexible frame ends and nylon frame and perfectly fit an average size face. Both clear and smoke lenses are available for this eye ware.
To protect the lens from any kind scratch a scratch resistant coating has been applied over it. Here I would like to inform you an important characteristic of polycarbonate that when the scratch resistant coating is applied on polycarbonate lens it becomes as strong as glass but at the same time, it is also light in weight than glass.
This ANSI Z87.1-2010 certified glass has passed the most rigorous tests for safety set by the ANSI (American National Standards Institute). So you can use it for any kind of personal and industrial use including sports, shooting, wood chopping, etc.
But one important information to be noted is that this safety eyewear can expose you to harmful chemicals like TDI that can cause cancer and birth defect.
Radians Pink Safety Glass with Clear Lens
The optima glass looks pretty because of its pink temples. It nicely suits in your face and beautifies you besides providing safety benefits. High impact polycarbonate material has been used in the lenses of this Optima Safety Glass Pink Temples.
You may think that since the lenses are made of plastic they are not shatterproof. But the idea is totally wrong because polycarbonate is not a normal plastic material which is weak in nature rather special polymeric material manufactured to resist high impact.
Since optima have been used polycarbonate in their pink safety glass and polycarbonate can give protection from UV light you can use this glass to protect your valuable eyes from the bad impact of UV light. Optima claims that lens of their safety glass can exclude UVA and UVB ray approximately at 99%.
The lenses are covered with a special kind of coating that protects these lenses from being scratched. This kind of coating also makes the polycarbonate material stronger.
It is also comfortable to wear as it is light in weight and the earpieces are made of soft rubber. It also does not slip because of its dual mold rubber temples. You will be happy to know that the nose piece of this eye ware is adjustable. So you can customize it to comfortably fit on your face.
The product has been gone through some safety tests by ANSI and it has been attained the ANSI Z87.1 certificate. It has a dielectric frame and the frame, nosepiece, and lenses are sold individually.
Safety Girl SC-282 Polycarbonate Pink Safety Glasses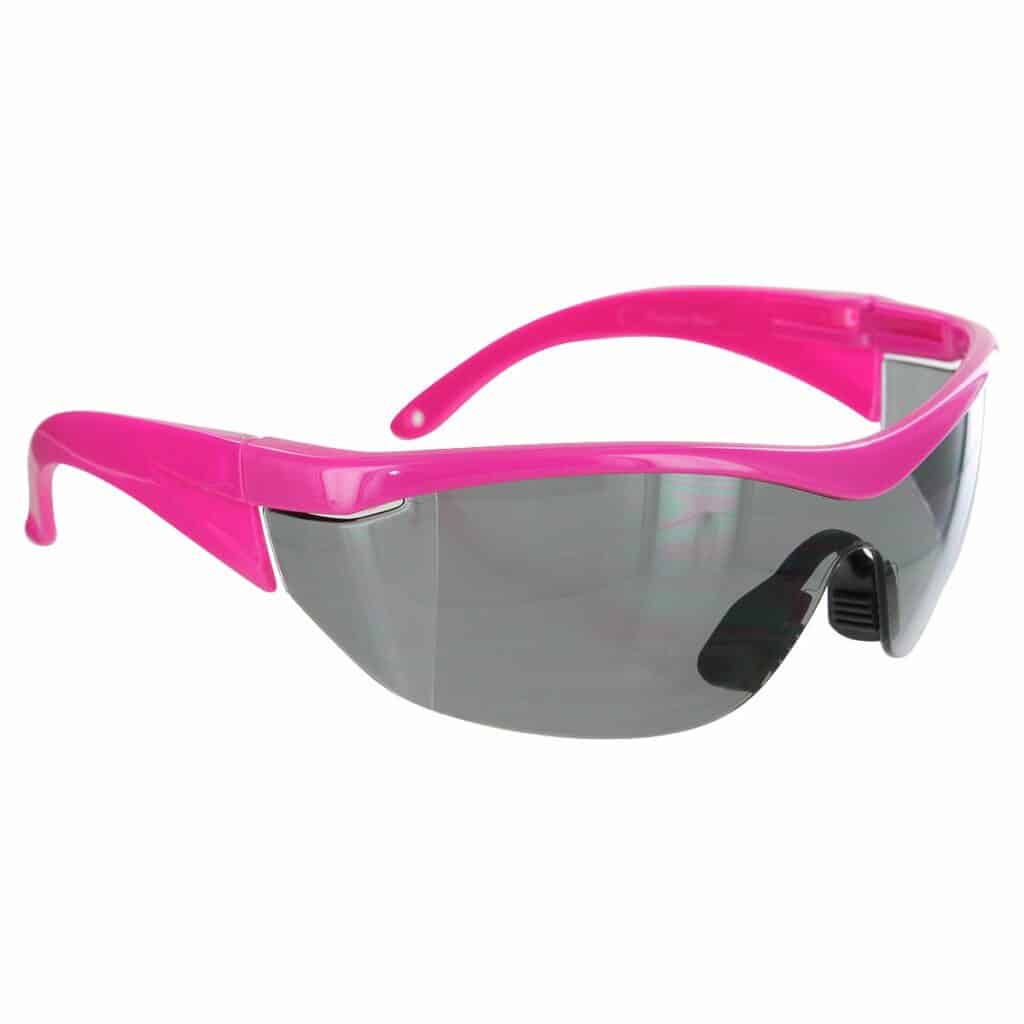 Safety Girl SC-282 pink safety glasses are attracting the concentration of ladies day by day. Its popularity in women world is really increasing at a significant rate because of its beautiful and comfortable design, color, strength and high-quality material that guards your eyes in a true sense.
From the title, you have understood that like the previous two best pink safety glasses Safety Girl SC-282 is also made of polycarbonate material and an anti-scratch coating has been applied over it to protect it from unwanted scratch. It also increases the durability and strength of the lenses.
It protects your eyes from the bad effect of the ultraviolet ray by filtering ultraviolet A (UVA) and ultraviolet B (UVB) light with wavelengths up to 400 nanometers (nm). The beautiful pink colored wraparound frame provides side protection and helps to look you cuter than before. There is a built-in nose piece that helps to fit the glass on your face securely.
Safety Girl SC-282 Polycarbonate Navigator Pink Safety Glasses meet the both ANSI Z87.1 and European Standard (EN) 166 personal eye protection standards. You can use this high-quality pink safety glass in both indoor and outdoor to protect your eyes from flying particles, heat, chemicals, and harmful exposure to light and other health hazards.
Pyramex Mini Ztek Safety Glasses for Smaller Facial Structure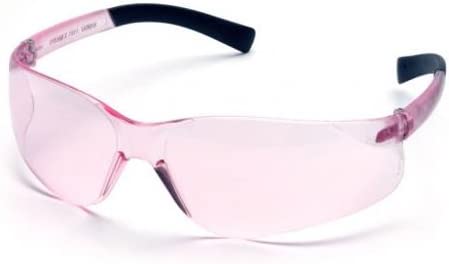 Pyramex Mini Ztek Safety Glasses of durable construction and comfortable design is a unisex glass. It is suitable for young people with smaller facial size. This beautiful safety glass has pinkish tint but this does not block enough light to make your vision unclear.
It is an ANSI/ISEA Z87.1 2010 certified safety glass with polycarbonate lens. Since polycarbonate lens has been used without any doubt it is a high impact resistant glass. It also protects your eyes from the harmful effect of UVA, UVB and UVC rays by filtering 99% of these harmful rays.
If you have gone through the previous 3 reviews you can understand that lenses a good quality safety glass are covered with an anti-scratch coating. Pyramex Mini Ztek Safety Glasses are also coated with an anti-scratch coating.
This glass is comfortable to wear. The integrated nosepiece along with soft, non-slip rubber temple tips make it a non-binding, comfortable fit for your face.
Pyramex Mini Ztek Safety Glasses also provides wraparound safety to your eyes with its tough wrap-around single lens. It also provides a full panoramic view i.e. you can see all direction easily and comfortably.
It is available in multiple colors. So if you do not like the pink color you can pick another color except blue. Hardly any complaint is found about this frameless lightweight Pyramex Mini Ztek Safety Glasses. So you can rely on Pyramex.
NoCry Adjustable Pink Safety Glasses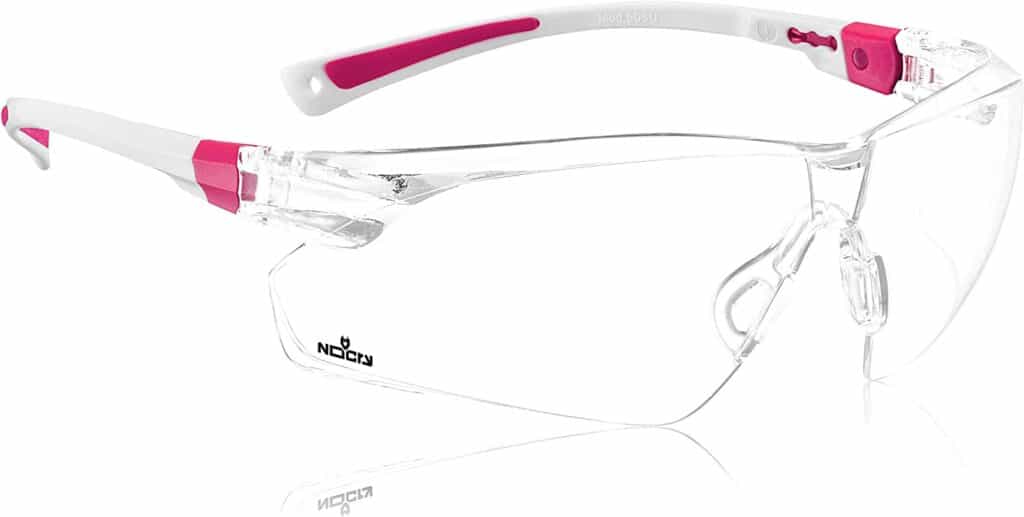 NoCry Adjustable Pink Safety Glasses are among those high-quality products about which complaints are hardly found. NoCry designs its product to provide the highest safety and comfort to the customers.
The latex-free polycarbonate lenses of NoCry Adjustable Pink Safety Glasses are clear, scratch and fog resistant. The lenses are wrap-around and so they provide protection from any direct and peripheral attack.
If you choose NoCry for purchase you do not have to be worried about fitting. You can fit it on your face by adjusting the side and nose pieces. It fits on the person of any head size or face type.
It is so comfortable that you can wear it all day long without feeling any problem. It is lightweight and the nosepiece is made of soft rubber. So you will not feel bulky and get hurt by the nose piece.
It filters 90% to 100% UV rays and protects your eyes sight from being injured. Since the lenses are clear there is no possibility of optical distortion.
It is a perfect choice for any kind of job such as – wood woodworking and carpentry, metal and construction work, shooting, cycling, racquetball, lab, and dental work, or anywhere you need to wear PPE eyewear.
NoCry Adjustable Pink Safety Glasses are made to last for a long time –no doubt. But, everything needs some maintenance. When you are not using your glass it is better to keep it in the NoCry protective case. This case does not come with the product; you have to buy it separately.
Buying Tips Getting Pink Safety Glass
When it is the question about the safety of your eyes you must have to be very serious. Choosing the right safety glass is very important. A wrong glass may harm your eyesight and cause many health problems like cancer or an unwanted accident.
The following tips will help you to choose the right pink safety glass to protect your eyesight:
1. Take a notepad and a pen and then ask yourself the following questions:
Q. Where are you going to use your safety glasses?
Q. What are the risks related to that workplace?
For your help here I am going to give some examples of common safety hazards-
Radiation: Different types of optical radiation such as – UV radiation, IR radiation may cause chronic eye injury.
Mechanical hazard: If you work with machines and tools from where solid particles generate for example- wood splitting. These particles may hit the cornea of your eyes and cause injury.
Chemical Hazard: If there are dust, liquids, gas, chemical splashes, etc. then your workplace has a chemical hazard.
Temperature: If there is a high temperature in your workplace it is under the category of temperature related hazard.
2. Research about different types of safety glasses and lenses. You will find that each type has a particular advantage and disadvantage. Take both the advantage and disadvantage seriously.
A particular type of safety lens may meet your requirement but at the same time, it may also have a serious disadvantage.
For example, some safety glass materials may cause cancer. So you should avoid this type of glass.
3. Coating and impact resistance have a significant effect on the durability of the glass. So give as much importance as the lens of the glass on these factors.
4. Size and design are also important factors that are impossible to neglect. If the size does not fit with your face you will not feel comfortable with the glass. The design also should be ergonomic to provide you the highest comfort. 
5. Some safety glasses have tints of a particular color. If you are not comfortable with that tint you should not purchase that glass.
6. All good quality safety glass has at least ANSI Z87.1-2010 certification and some have other certification along with ANSI Z87.1. Before buying the best pink safety glass check the certification.
7. Global Vision, Optima, Safety girl, Pyramex, etc. are the renowned brand of pink safety glass. It is better to pick any branded product rather than a non-branded product.
Frequently Asked Questions (FAQs)
Q. Can I wear my pink safety glass over regular glass?
Ans: It depends on the size and design of your pink safety glass.
Q. Are pink safety glasses only for women?
Ans: No, some pink safety glasses are designed for both women and young people like Pyramex Mini Ztek Safety Glasses. But it is preferable among women as you know pink is mostly preferred by women.
Q. Can I use my pink safety glass for shooting?
Ans: Yes, obviously you can.
Wrap Up
Generally, polycarbonate materials are preferred for the pink safety glasses. All the pink safety glasses that are dominating the market at present are made of polycarbonate materials. So considering the impact resistance, durability, UV protection and scratch resistance all of these are almost the same.
The difference occurs in their design, size, and tint. Some are suitable for small size face, some are medium and some are for the big face. We have chosen the best pink safety glasses with a minimum complaint of the previous customers as we have said earlier and today's top pick is NoCry Adjustable Pink Safety Glasses.
You may also like to read – Best Pink tool sets for tomboys
I'm Joost Nusselder, the founder of Tools Doctor, content marketer, and dad. I love trying out new equipment, and together with my team I've been creating in-depth blog articles since 2016 to help loyal readers with tools & crafting tips.