I love creating free content full of tips for my readers, you. I don't accept paid sponsorships, my opinion is my own, but if you find my recommendations helpful and you end up buying something you like through one of my links, I could earn a commission at no extra cost to you.
Learn more
Men who want to subject themselves to the hard task of fixing a roof or renovating they require special shoes. Roofing is not an easy project, and it can be dangerous, too, if you are not wearing the right attire. Part of that attire is the roofing shoe.
A roofing shoe is not much different from a work boot. There are a few things you should be aware of, such as weight, comfort, and traction. But with the ever-expanding marketplace, it is hard to settle on a single product. The options are too many.
If you are reading this article, either your old work boots will not cut it, or you are a beginner looking to get into this line of work. Whatever your reason might be, if you feel like you are being bombarded with difficult choices, we got your back.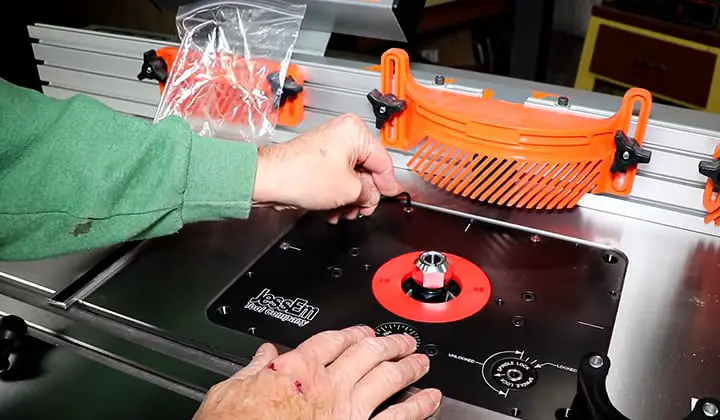 In this article, we will take a look at some of the best roofing shoes that you can find on the market to ensure you have a strong footing whenever you are taking on a roofing project.
Top 7 Best Roofing Shoes Reviewed
Finding the best roofing shoe might not be the easiest task. There are many knock-off brands out there who will offer eye-candy features while ignoring the primary things that matter. And buying the wrong shoe will not only leave you with a subpar product but might also put you at risk while working.
So, without further ado, we present to you our picks for the top 7 roofing shoes you can buy for your next roofing project.
Merrell Men's Moab 2 Vent Mid Hiking Boot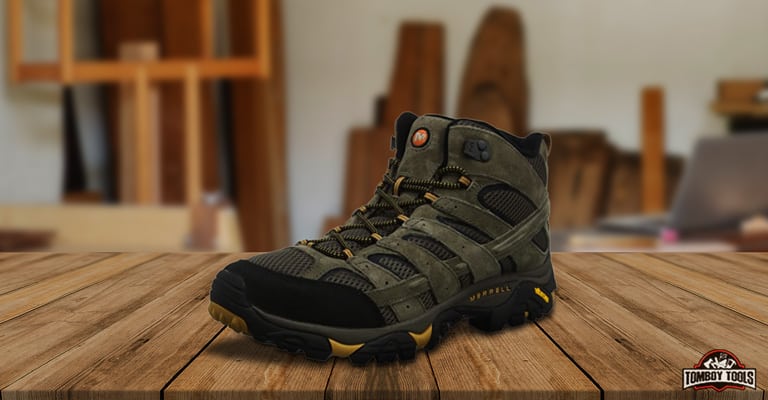 | | |
| --- | --- |
| Weight | 15.3 Ounces |
| Dimensions | 10 x 15 x 6 inches |
| Department |  Mens |
We want to start off our list with a hiking boot by the brand Merrell. If you want a versatile boot that is suitable for roofing duties as well as other activities like hiking or tracking, this is the right choice.
It is made of suede leather and mesh, giving you both comfort and functionality at the same time. The Vibram sole ensures you always have a firm grip on the surface whenever you are working.
Furthermore, the insole of the shoe is removable, which means you can replace it once it gets too old. The insole that comes with it has a breathable mesh lining that supports a long time wearing without producing any foul odor.
If that was not enough, the shoe also has excellent zonal arch and heel support to make sure you have a good experience while wearing it. The heel also features an air cushion to absorb additional shock and improve your stability.
Pros:
Fantastic design
Sleek and stylish
Excellent heel support
Comfortable
Cons:
The included insole needs replacing.
Skechers Men's Mariner Utility Boot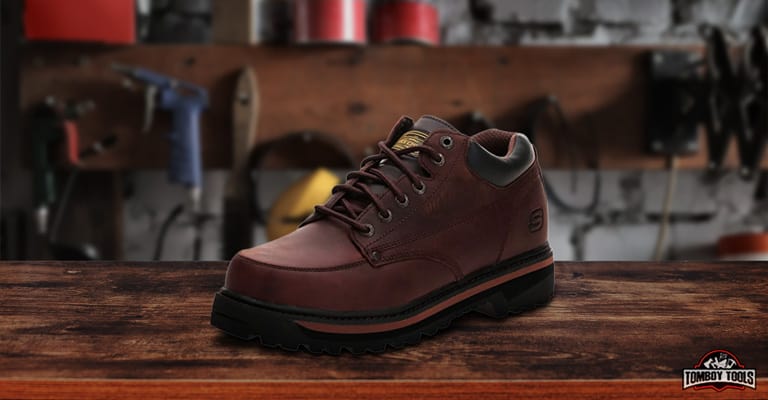 | | |
| --- | --- |
| Weight | 15.3 Ounces |
| Dimensions | 10 x 15 x 6 inches |
| Manufacturer | Merrell Footwear |
| Department | Mens |
Anybody who says a work boot cannot be stylish did not see this utility boot by a brand called Skechers. It comes in a sleek brown color that gives you a vintage handyman look at an affordable price.
The boot is made using genuine leather and has a rubber sole. Durability-wise, it should serve you well for a long time, even if you use it under harsh conditions. This unit is meant to take a beating, and it does that perfectly.
It features a lug outsole and a padded collar that accounts for both its functionality and comfort. Any shock and vibration you feel while jumping or stepping too hard is minimized to a large extent
The reinforced seam of the boot looks classy and elegant. Combine that with the oiled leather upper, and this boot is the perfect blend of function and comfort. As a bonus, the sleek logo of the brand on the tongue further enhances the beauty of the unit.
Pros:
Full leather construction
Lug outsole
Improved shock and vibration resistance
Affordable price
Cons:
Caterpillar Men's 2nd Shift 6″ Plain Soft-Toe Work Boot
| | |
| --- | --- |
| Weight | 1.5 Pounds |
| Dimensions | 12 x 8 x 4 inches |
| Department | Mens |
| Material | Synthetic sole |
Caterpillar or Cat, for short, is an infamous brand for the working people. This exquisite work boot by the brand is both visually stunning and comes packed with features that make it ideal for any roofing projects.
First off, the unit features a full leather construction meaning it can take a beating. You get a synthetic sole with the shoe that is durable and also flexible enough to make movements effortless.
The overall design and measurements of the shoe are meant to cuddle and protect your feet in order to give you maximum comfort. It has a shaft that measures 6.5 inches from the arch, with a heel measurement of 1.5 inches.
You can find the stylish CAT logo on the collar of the boot to add a sense of style. It is a lace-up shoe with hex grommets that allow for faster lacing and hassle-free adjustments.
Pros:
Premium build quality
Stylish black finish
Comfortable to wear
Speed lacing system
Cons:
Irish Setter Men's 6″ 83605 Work Boot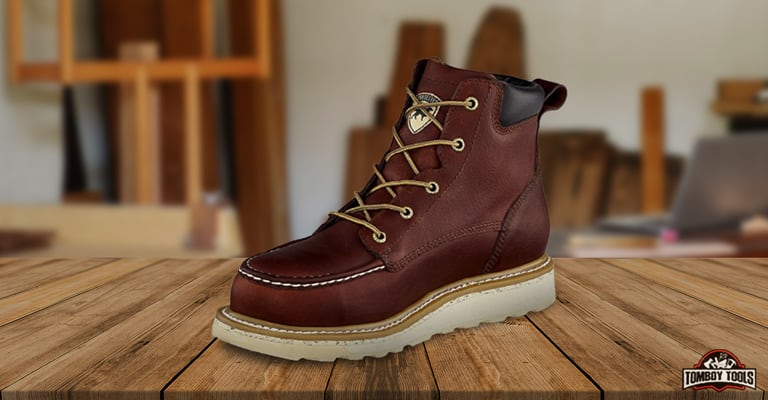 | | |
| --- | --- |
| Weight | 1.56 Pounds |
| Dimensions | 21.7 x 15 x 14.6 inches |
| Material | Rubber sole |
If you are looking for a premium quality work boot for men, this option from the brand Irish Setter might be just for you. With its fantastic build quality and stylish look, you do not need to worry about replacing it anytime soon.
The boot features a full leather construction complete with a rubber sole for added durability. It is also wholly electricity proof, meaning you do not need to worry about those rouge electrical lines.
The heel of the unit measures around 1.5 inches, and the shaft is 6 inches long. It is designed to give you the most comfortable experience, even if you refuse to take it off for long hours.
The unit features a rubber EVA outsole that is also heat-resistant to add further protection. This shoe is meant for heavy-duty projects, and for this reason, it is built like a tank going all out on the safety department.
Pros:
Excellent safety features
Comfortable for extended use
Genuine leather construction
Durable
Cons:
A bit on the pricier side
Reebok Men's Crossfit Nano 9.0 Flexweave Sneaker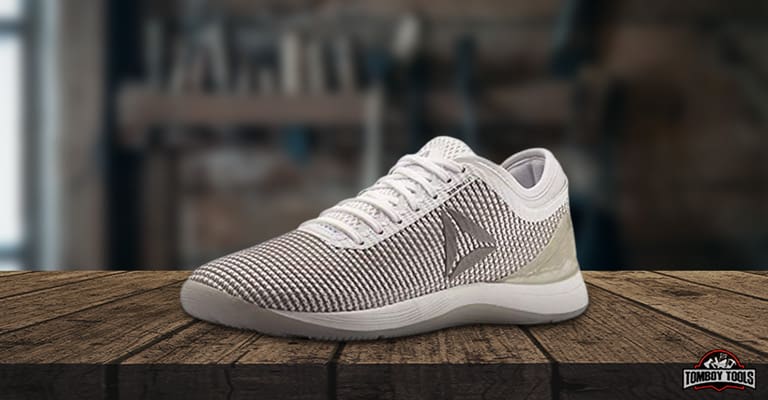 | | |
| --- | --- |
| Material | Synthetic sole |
| Department | Mens |
If you are not one for long shafts and heavy-duty boots, this selection by Reebok might be what you need. As you know, it is a leading company in the footwear industry, so there really is no doubt about its quality.
The sneaker has synthetic leather construction that is flexible and comfortable right out of the box. You do not need to worry about the shoe feeling too tight on your feet the first couple of tries.
It also has a rubber sole that feels firm and has good traction on almost any surface. The minimal drop outsole also ensures that you have stability in your steps and feel minimal vibration even when you drop on the ground.
With all Reebok shoes, you can expect a strong foundation. The shoe is durable and designed for your utmost comfort. Because of its flexible nature, it not only works as a roofing shoe but also as a shoe for casual jogging or other activities.
Pros:
Durable construction
Comfortable and flexible
Amazing outsole
Stylish low-profile design
Cons:
Does not offer amazing protection
Timberland Men's 6″ Pit Boss Soft Toe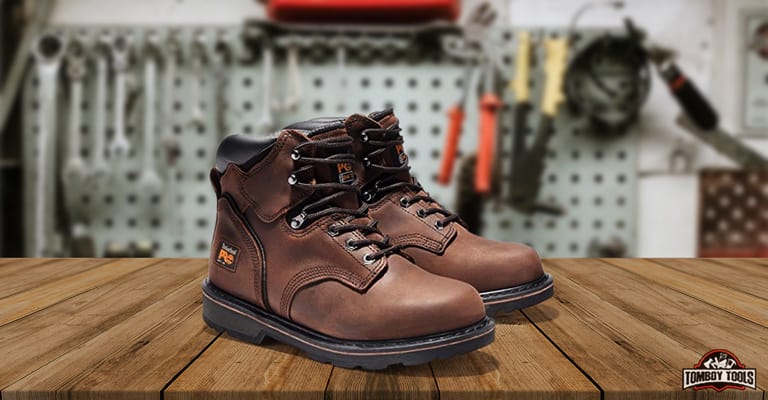 | | |
| --- | --- |
| Weight |  2 Pounds |
| Material | Rubber sole |
| Department | Mens |
Anybody who likes heavy-duty boots knows the name of Timberland. It is a leading brand that caters to people of all budgets. This long shaft work boot by the brand is for those of you who want a premium shoe at a reasonable price.
As you might expect from the brand, the shoe has a genuine leather construction. The thick rubber sole ensures you get that oomph behind every step along with giving you protection against electricity.
It has a shaft measurement of 6 inches with the heel measuring just around 1.25 inches. Additionally, the outsole is designed to give you maximum traction, ensuring that you will not slip even when walking on oily surfaces.
This shoe gives you what you want out of your roofing shoe, a sturdy structure, premium safety, and comfortable experience. With this pair in your hand, you will not be looking to buy another one for a long time.
Pros:
Anti-slip outsole
Excellent build-quality
Affordable price
Strong and durable
Cons:
EVER BOOTS "Ultra Dry" Men's Premium Leather Waterproof Work Boots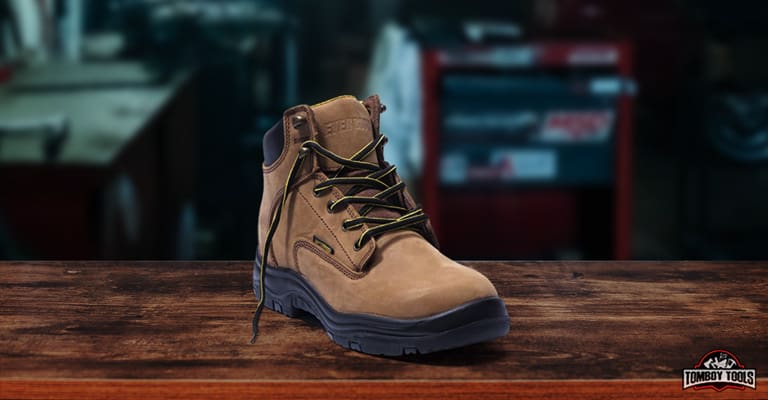 | | |
| --- | --- |
| Weight | 8.35 Pounds |
| Dimensions | 13.9 x 11.1 x 4.9 inches |
| Material | Rubber sole |
| Department | Mens |
The last product on our list of reviews is by a brand called Ever Boots. Considering the build quality and attention to detail in this premium boot, it is safe to say that this is the boot that you will ever need.
It features full leather construction and extremely sturdy rubber sole. Because of this combination, the shoe has excellent durability and will continue to serve you well for a long time.
The boot is also waterproof and comes with high-quality insulation. It features speedy hooks and loops that allow you to quickly put it on without any extra hassle. Despite the bulky outlook, the shoe is surprisingly lightweight.
With sturdy work boots, there is the issue of the break-in. But with this pair, you do not have to worry about that because it is highly flexible. The insole is also removable, which means you can replace it with an insole of your choice.
Pros:
High-quality insulation
Removable insole
Does not require breaking in
Affordable price tag
Cons:
Things to Consider when Buying the Best Roofing Shoes
With the list of products out of the way, we can shift our focus on some of the factors you should know when making your pick. Knowing about these aspects will give you a clear idea of what you want, and help you pick out the exact unit that you need for your project.
Here are the things that you should consider when buying the best roofing shoes.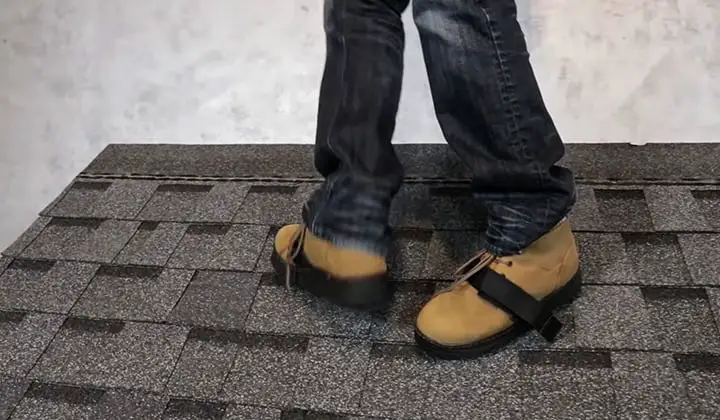 Comfort
First and foremost, you want your work boots to be comfortable. For a roofing project, you will likely be spending a lot of time on the rooftop. You want to buy a shoe that eliminates your fatigue instead of adding to it. That is why you must account for its overall comfort.
The best way to check for this is to try out the shoes yourself. That way, you will be able to first-hand experience how it will feel on your foot. Try walking around a bit to see how it fits. It will also give you an idea of how it might feel when you are wearing it for an extended period.
Size
You would be surprised knowing how many people struggle with a good shoe just because they messed up the size. When you are buying the shoe, you must be aware of your feet size and make the right choice. Otherwise, you might feel too suffocated or clumsy while wearing it.
It is common for people to go a size up when buying a shoe. You can do the same for roofing shoes as long as you feel like you have enough stability. However, make sure there is enough breathing space inside so that it does not feel too tight.
Upper construction
The upper of the shoe in question accounts mostly for its durability. Not only that, but it is also responsible for how it feels on the upper part of your foot. Without an excellent upper, your shoe might start showing signs of wearing within a few months of use.
For that reason, you need to check its overall quality before committing to buying it. The best material for the shoe upper is leather. It is the most durable material you can find. Nylon and synthetic leather are also good choices if you want more breathability, but they are not as durable.
Arch support
Arch support is not a feature that you typically look for when buying a shoe for casual use. However, for roofing, this feature makes a world of difference. It not only ensures you have a comfortable experience while working but also accounts for your safety and stability on a slanted rooftop.
To check whether your boot has arch support, take a look at the insole and padded instep, and any other built-in comfort features. With good arch support, you can work for long hours without developing any foot pain and discomfort. Proper arch support is essential for any good roofing shoe.
Sole quality
Another vital section of the shoe that you must check is the sole. The sole of the shoe contributes to your stability and comfort when you are walking. Without a good sole, even stepping might feel uncomfortable and painful, let alone stand and move at the rooftop for long hours.
The sole of the shoe can be made from different materials. Rubber and plastic are two of the most common materials for this section. Typically, if you are choosing between these two options, the rubber should give you a better experience, comfort, and longevity.
Insulation
A good roofing shoe will also provide you better insulation. If you want to protect your feet from both extreme heat and freezing cold, you need good padding on the shoe. The roof can get heated during the summer, and during winter, it can get icy.
With proper insulation, you do not need to worry about the outside temperature too much. Without it, you can develop foot rashes, or even start to feel numb during cold weathers. It is extremely dangerous to use a shoe without insulation for roofing projects.
Breathability
On top of the insulation, you should also make sure that your boot is breathable. There should be enough air circulation inside to help keep your feet fresh. Otherwise, before long, you might notice a bad smell starting to build up inside the shoe.
It also becomes uncomfortable to wear for a long time, and your feet get sweaty if there is no breathing space. Ideally, if your shoe comes with mesh inners, you will get better air circulation. Even if you do not like mesh inners, you should look for other breathable features in your shoe.
Weight
Another important issue to consider when buying the shoe is the weight. Although your priority should be protection, if you buy a shoe that is too heavy, you will have a difficult time using it regularly. A lightweight shoe feels better on the feet regardless of why you are wearing it.
So, when you are looking for a roofing shoe, keep the weight of the unit in check. Otherwise, you will just end up with a unit that is too heavy to wear and walk around with. Although you might get more safety with a heavy shoe, it is not worth the extra hassle in most cases.
Durability
No matter what you are buying, you want it to be durable. The same goes for your shoe. If a shoe does not last you a good few year, there really is no point buying it. You need to ensure that the product you are buying will continue to serve you well for as long as possible.
The main thing responsible for the shoes' durability is the construction material. Typically, leather shoes are amazing as they can shrug off minor scrapes without a sweat. Suede leather and rubber shoes are also quite long-lasting if you take care of them.
Price range
When you are buying a roofing shoe, you need to have a fixed budget in mind. Shoes come at various price ranges, and you can always find a good pair in your budget if you look for it. So there really is no reason to buy a unit that exceeds your budget and end up with regret later on.
If you check our list of reviews, you will see that you have a lot of price options. Each of the products on our list will give you excellent working experience. The final deciding factor to influence your decision is your spending limit.
Frequently Asked Questions
Q: Can I use a normal shoe for roofing?
Ans: Technically, you can use any shoe you want for roofing. But that does not mean you should. With a roofing shoe, you will have the best traction and stability. It will also ensure that you do not feel any discomfort while working. With a normal shoe, you always run the risk of slipping or feeling uncomfortable.
Q: What type of shoes should I choose for metal roofing?
Ans: Metal roofs are innately more slippery, and for this, they are dangerous. First of all, you should never work on a metal roof after heavy rain. Secondly, if you have to work on metal roofs, make sure you are wearing a boot with strong grips. Look for boots with rubber outsoles as they have the best traction.
Q: Is it safe to walk on roofs without roofing shoes?
Ans: No, it is not safe to walk on roofs for anyone apart from trained professionals, even if you have roofing shoes. Rooftops are a dangerous place to walk around, especially if there are no railings. If you are starting your career as a roofing handyman, make sure you take all the proper precautions before proceeding.
Q: Can I wear sneakers while roofing?
Ans: Ideally, you would want to use a work boot when you are taking on a roofing project. However, there are a few brands out there who make roofing sneakers with enhanced safety features and traction. If you prefer sneakers to work boots, they might be a viable option.
Q: Are roofing shoes durable?
Ans: Yes, roofing shoes are as durable as it gets with shoes. That is if you are buying one of good-quality. If you buy a low-quality unit and expect it to last a lifetime, that is not very realistic. However, if you invest in a fantastic roofing shoe, it will hold up well over the years, even if it takes a beating.
Final Thoughts
As you can see, choosing the best roofing shoe is not as easy as it seems. But with our handy guide and reviews, you should have no trouble finding the right unit for your purpose. You should clean the boot regularly to increase its lifetime.
We hope our extensive review of the best roofing shoes was informative and helpful in your project.
I'm Joost Nusselder, the founder of Tools Doctor, content marketer, and dad. I love trying out new equipment, and together with my team I've been creating in-depth blog articles since 2016 to help loyal readers with tools & crafting tips.