I love creating free content full of tips for my readers, you. I don't accept paid sponsorships, my opinion is my own, but if you find my recommendations helpful and you end up buying something you like through one of my links, I could earn a commission at no extra cost to you.
Learn more
Looking for a permanent fix at home that is not only affordable and designed for appearance but also ensures longevity and stability? Are you tired of hiring professionals who would cost you both money and kill your time? Then this article might be the one for you!
We know maintaining a house can be a tiring job as most of the furniture, fittings, and other decorative elements are made of wood. You face common problems like rotten door and wood frames, cracks on the wall, dented furniture, etc daily. You can make these flawed objects completely new simply by using high-quality stainable wood filler. It'll help patch screw holes in the drywall as well.
If you are new to wood fillers, choosing the best stainable wood filler among others can be an unsettling process as there is a variety of wood fillers with a different texture, consistency, drying time for different needs. This article will give you a brief guide that will help you to select the finest wood filler. Stay tuned!
Stainable Wood Filler buying guide
If you never worked with wood filler before, don't need to worry. We've come with this detailed and informative guide to help you in this matter. So let's talk about what to do and what not to do and what you should be looking for in top-quality stainable wood filler.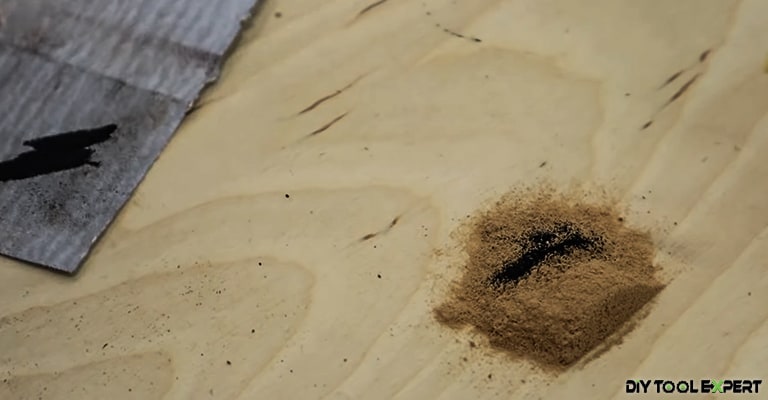 Try to identify the common problems    
This is the first and most important step of this guide. Ask yourself what kinds of repair you need the most. Different kinds of repair require different types of fillers. To fill pores in the wood surface, a stainable filler with thinner consistency is needed. On the other hand, filling holes with thicker filler shows the best result.
Type of fillers
Different types of fillers have different types of uses, admirable aspects, downfalls, etc. There are 4 types of wood filler: gypsum-based, epoxy-based, vinyl-based and cellulose-based. Understanding them is a step ahead to purchase the desired filler.
1. Gypsum based
Many fillers in the market are made of gypsum-based components. You can only use it in indoor applications like furniture, small crack or scratch on the wall or floor as it is not waterproof. It is meant to fill holes that will be painted after.
2. Epoxy-based
Such ones are Ideal for both indoor and outdoor applications. This filler bonds with wood surface extremely well and leave a natural, smooth surface afterward. You can use this efficiently for drilling or sanding but not recommended for staining.
3. Vinyl-based
It is waterproof, lightweight, smooth and very easy to handle. Mostly suitable for indoor and outdoor small fixes which will be painted later. If you apply it thinly, it dries fast. Otherwise, it takes a lot of time.
4. Cellulose-based
It can be found as a powdered solution in the market so you need to mix it with some kind of solvent before using it. The mixture quickly dries but pretty handy for same-day repairs. As it is not liquid, it has a longer shelf life.
Environment-friendly
Fillers that do not have strong odors are environment-friendly. They do not emit fumes and can only be used in indoor applications. On the other hand, fillers with strong odor tend to emit harmful fumes. They are used for both indoor and outdoor jobs of your house, though using for outdoor applications is preferable to many.
Consider drying time
All wood filler has different drying time. Typically it's around 10-15 minutes more or less. If you need to repair something that does not require much time, then you should choose something that dries fast. But if you are going to use it on a big project, you should consider buying a filler with longer drying time. You may not have enough time to apply evenly on the surface if it dries too fast,
Easy to handle
Filler with thick consistency is difficult to apply. Also, if the filler is not thick enough, it does not harden up fast. So you should choose filler with a medium consistency that can hold its shape and leaves a smooth surface afterward.
 Long shelf-life
Wood fillers shelf-life solely depends on how well it is airtight or sealed. Often filler stays unused for longer than expected, so it hardens up fast becoming unusable over time. So make sure to buy a filler with a sealed container that can last long even if you don't use that time to time.
 Holds stain well
Wood fillers should be formulated and balanced enough so that it bonds well with stain. This will give a natural professional finish to your repair. If the filler cannot hold stain well, it cracks or becomes crumbly after some time.
Effortless cleanup
Cleaning after using something can be an extra burden to one's shoulder. It is better if cleaning is fast and easy. If the filler is water-based, it can be cleaned with soap and water. Otherwise, if it is solvent-based, a specific solvent is needed to remove the extra coating on the wood surface.
Read label
The usefulness of the filler you are going to choose for particular use entirely depends on your hands. So before buying, read the label carefully and compare it with your requirements. Make sure you are buying a stainable, long-lasting wood filler. Otherwise, the repaired part will not match with the wood surface.
You may also like to read – best epoxy resin for wood.
Best Stainable Wood Fillers reviewed
After knowing all the relevant aspects to consider while choosing the most stainable one, it is equally important gathering basic knowledge of top stainable wood fillers available in the present market. Here we will give you a quick review of some of them. Please go through the list and find the most suitable for you.
1. Bondo 20082, Quart Home Solutions Wood Filler
Strengths
Bondo 20082 is highly recommended to those beginners who are unsure of what type of wood filler they need. This multipurpose wood filler is used for high quality and long-lasting repairs for both indoors and outdoors permanent fix. It offers a wide range of applications for both softwood and hardwood.
This Bondo home solution wood filler is a two-part solution that comes with a filler emulsion and a cream hardener to ensure professional touch in your household repairs. The mixture is highly malleable which offers smooth and easy implementation for beginners
This wood filler comes in quartz size cans. It does not shrink or crack and has an extremely quick cure time(10-15 minutes). Once dried, it can be molded, sanded, drilled like any other wood surface. This Bondo wood filler is designed to penetrate deep into the material and receive paint and stain more naturally than any other wood filler.
Shortcomings
Because of the low viscosity index, Bondo home solutions wood filler is not ideal to fill widest and largest gaps on a wood surface. It has a strong odor which is not preferable to some people. Sometimes the filler does not mix well with the wood and dries too quickly. So it is best to prepare first before using this filler.
2. J-B Weld 8257 KwikWood  Wood Repair
Strengths
The J-B Weld  KwikWood Wood Repair is hand mixable general purpose epoxy putty mostly intended for small woodworking projects. It is a solid and reliable choice for a wide range of filling and repairing applications.
This wood filler has a quick cure time (approximately 15-25 minutes) which is very easy to apply than any other regular adhesive. No premixing is required! You just have to simply mix the putty and apply evenly on a wooden surface. After approximately 60 minutes, it is ready for sanding or drilling. Generally, this wood filler gives tan color after drying which is stronger than wood color. As J-B Weld KwikWood Wood Repair has no solvent and strong smell thus it is usable for both indoors and outdoors. This wood filler is perfect handyman friendly for the painting to deliver a professional finish.
Shortcomings
Due to high density, J-B Weld KwikWood Wood Repair may not be suitable for softwood. It is only suitable for fixing small cracks, holes, etc. Also, it cannot be recommended for staining which is the main downfall of this product.
3. Minwax 42853000 Stainable Wood Filler
Strengths
The Minwax stainable wood filler is still extremely popular among seasonal and professional carpenters. The filler works efficiently with any type of stain or paints with maximum versatility. The most unique feature of this product is its capability to use for both water-based and oil-based stains which makes this product highly flexible than any other adhesive.
This Minwax Stainable Wood Filler is relatively quick among other wood fillers, we have talked so far. What's even better is that it is weather, rot and water-resistant. You can easily use it for both interior and exterior permanent fix. It sticks to the wood surface very smoothly and gives a professional touch. So If you have a smaller and less time-consuming job, this wood filler is highly recommended.
Shortcomings
This Minwax Stainable Wood Filler is not suitable for larger projects as it dries too quickly. At first try, it is highly unlikely for a beginner to make the mixture with the right consistency. So to get the right consistency, you need to follow the instruction very carefully.
4. Elmer's E914 Carpenter's Color Change Wood Filler
Strengths
Elmer's E914 Wood Filler is hugely admired for its convenient use of repairing wooden surfaces. The most distinctive feature of it is that you can easily understand when the formula is dry enough. Its vibrant purple color turns to matte white as an indication.
The wood filler is designed to withstand any type of power sanders and harsh paints by drying hard enough. It is a professional choice for both small and large projects for resisting any type of rot, shrink and crack. Among all the fillers we have talked so far, this filler takes a longer time to dry.
This filler is formulated and balanced well to hold up the stain as well as can be matched with any type of wood color. As the mixture is solvent-free, it does not release fumes or odors. Thus you won't face any mishap while using it in an unventilated area.
Shortcomings
This wood filler of Elmer's is not as hard as other fillers on the list. Moreover, it becomes powdery or crumbly after drying which often makes it ill-suited for exterior use. If you have plenty of time, you can use it with ease. Otherwise, it can be time-consuming for most people.
5. Dap 21506 Plastic Wood Filler
Strengths
Dap Plastic Wood Filler is a long term repairing tool preferable to many skilled woodworkers. Once you tried it, you cannot deny how strong, fast, reliable and extremely easy to use in your day to day repair jobs.
Once dried, it works almost like a wood that is compatible with any type of wood surface. This solvent-based wood filler hardens to give the body that gives 3 times repair that the wood itself ever could. It also can be varnished, painted, sanded and more according to your needs.
For both interior and exterior use, Dap plastic filler does not require any premixing and can be molded to any shape. Ideal for repairing and filling vertical surfaces or corners. It is also available in different kinds of shades that gives natural color to add more professional finish.
Shortcomings
Dap Plastic Wood Filler is losing it's quality and demand day by day. Many people believe the previous formula of the mixture has been changed which is causing a reduction in quality. As it is a water-based wood filler, it does not mix well with oil-based stains. Also sometimes it hardens too fast for one's liking and becomes crumbly overtime.
6. FamoWood 40022126 Latex Wood Filler
Strengths
Fomowood wood filler is true for wood staining and highly demanded in the present market. It is a high-performance latex-based wood filler that can be used both inside and outside of your household with maximum flexibility. As most latex-based and solvent-free wood filler, it dries quickly with very little odor.
Its ability to absorb wood stain is astonishing. You only have to wait 15 minutes to drill, sand, paint or mold it into any shape you want. What's more incredible is that it does not shrink, crack or rot after drying. Moreover, you can stain to almost any color you want to match your material too. It is easy to handle, no premixing is needed and spreads evenly on the wood surface.
Shortcomings
The main concern of this product is its thickness. This makes it hard to spread on the wood surface. Also, the lid is hard to open. The lid of the container needs to be resealed after use, as it dries up too quickly and becomes unusable after sometimes. So it is recommended to buy based on the amount of quantity you need.
7. System Three 1-Quart SculpWood Moldable Epoxy Putty
Strengths
SculpWood Moldable Epoxy Putty is a two-part, professional-grade, solvent-free epoxy putty. It works great for repairing cracks, holes, splits, etc in both inside and outside of your house. Ideal for replacing defective or damaged areas as it can be molded like clay which creates a strong and permanent bond with the surface.
Its buttery, non-sticky and silky soft consistency make it very easy to handle. Once the filler dries up, it holds its shape and becomes harder than any other ordinary wood. Plus, it will not shrink, crack or rot after some time.
This filler is extremely lightweight, durable and strong adhesion. By maintaining a 1:1 ratio, you can easily mix the substance by your hand. It stays workable for longer hours which makes it highly effective for large woodworking or repair projects.
Shortcomings
The SculpWood wood filler takes longer cure time(almost 24 hours) than other fillers available in the market. So it is not very efficient to use for same-day repairs. In most cases, once the substance dries up, it does not match with the surface color. Sometimes it does not work well in vertical surfaces.
FAQ
Here are some frequently asked questions and their answers.
Does wood filler stain well?
Problems With Staining Wood Fillers
Wood fillers typically don't absorb stain as well as the natural woods. … If wood fillers are placed on unfinished wood, allowed to dry, and then sanded flush, they often will cause the surrounding area to appear discolored after the finish is applied.
What is the difference between wood filler and wood putty?
Wood filler differs from wood putty in that the filler usually consists of sawdust or wood fibers suspended in a binder, while putty is usually a plastic such as epoxy, fiberglass or polyurethane. Moreover, unlike filler, putty doesn't harden. Wood filler isn't weatherproof and won't last outdoors.
Do you use wood filler before or after staining?
Fill, let dry, SAND BEFORE STAINING, then stain. Some filler will not take stain after it dries/hardens. Wood fillers rarely stain the same way as the surrounding wood. The filler trends to be stained either darker (like end grain) or lighter ( due to poor penetration).
Can you color wood filler?
Most fillers are designed to "take" stain, but once they've been coated with finish, they are no longer porous enough to absorb it. So you could painstakingly sand off the finish on those tiny strips of filler, try to darken them with a stain marker, then re-apply finish with a tiny brush.
Can you stain Elmer's wood filler?
The Elmer's 8 oz. Stainable Wood Filler contains real wood fibers that improve its ability to hold stain. This filler is both paintable and sandable, and may be sanded with a high-speed power sander.
How do you cover up wood filler after staining?
Use sand paper to smooth the area and make it even. Select wood filler that can be stained or a wood filler that matches the color of the stain that will be applied. Apply the wood filler to the areas that were prepared. Wipe off excess wood filler using a clean cloth.
Can you polyurethane over wood filler?
Polyurethane filler is best used on pre-finished furniture because it contains a polyurethane seal that can protect the furniture. After application, wood fillers usually need to be covered by another seal because they tend to dry and crumble. … Varathane® Wood Filler can be sanded, stained, top- coated or painted.
Is wood filler as strong as wood?
In fact, if you're filling a softwood (like pine), the filler may become stronger and harder than the wood itself, making it quite difficult to sand. Be conservative when you apply the filler to the joint or crack with the putty knife; you can always apply more if it shrinks slightly as it dries.
What to use to fill large gaps in wood?
Two-part epoxy is one of the top choices for patching large holes. Moldings, sills, doorjambs, baseboard or wood trim with damage or large holes can be repaired with epoxy. The two parts are mixed like dough and can be shaped before or after it dries.
How do you fill seams in wood?
First fill the gap with a small amount of wood glue, then rub sawdust into the gap. The key here is to make sure the sawdust is from the wood project you are currently working on so the color matches. After the sawdust is rubbed in, use fine grade sandpaper to finish off the repair.
Is stainable wood filler paintable?
Medium brown in color when mixed, Bondo Wood Filler is stainable and paintable, making it perfect for almost any wood surface inside or outside of the home. Because it is a 2-part wood filler, Bondo Wood Filler will not shrink and cures fast.
How do you use Elmer's stainable wood filler?
Q: How to shorten drying time?
Ans: You can use more hardener than usual and choose a warm place to work to make the process quick. This is especially helpful after you've sufficiently used a chip carving knife on the workpiece.
Q:  How to color your repaired surface?
Ans: Firstly make sure the wood surface is dust free and smooth. Then fill the cracks with filler and once it dries, sand it. Do this step until you cannot feel the joint. After this, you can stain and paint over it.
Q: How to reuse wood filler that has gone hard?
Ans: You can use acetone to soften the substance if the filler is oil-based. Otherwise, for water-based fillers, you can simply use warm water. Add a couple of drops of wood glue if the consistency becomes too thin.
Conclusion
Now I assume that you have known the product thoroughly and should not find any difficulty to choose the best stainable wood filler suitable for you. But if you are still in confusion, you can select from our personal favorites we narrowed down just for you.
For indoor jobs, Fomowood wood filler can be pretty handy for its flexibility. If you want something with heavier capacity for outdoor jobs, then you should go for Bondo home solution wood filler. But if you are looking for a reliable yet highly effective for tough jobs of your house then you should try Sculpwood wood filler.
I'm Joost Nusselder, the founder of Tools Doctor, content marketer, and dad. I love trying out new equipment, and together with my team I've been creating in-depth blog articles since 2016 to help loyal readers with tools & crafting tips.