I love creating free content full of tips for my readers, you. I don't accept paid sponsorships, my opinion is my own, but if you find my recommendations helpful and you end up buying something you like through one of my links, I could earn a commission at no extra cost to you.
Learn more
Your everyday adjustable wrenches will have those sharks like serrated teeth to grab a hold onto your workpieces. As long as looks matter, you'll always want to work your way around it since those will always leave a very visible mark. Well, designers thought out of the box to make a wrench that's unlike any wrench. That's so from the perspective of the working principle and mechanism.
True carpenter and mechanic in the heart will always love to have that perfection in their work. Client satisfaction always comes first. The best strap wrench can give you the essence of faultless, perfectly finished work. We are here to help you find the best strap wrench for you.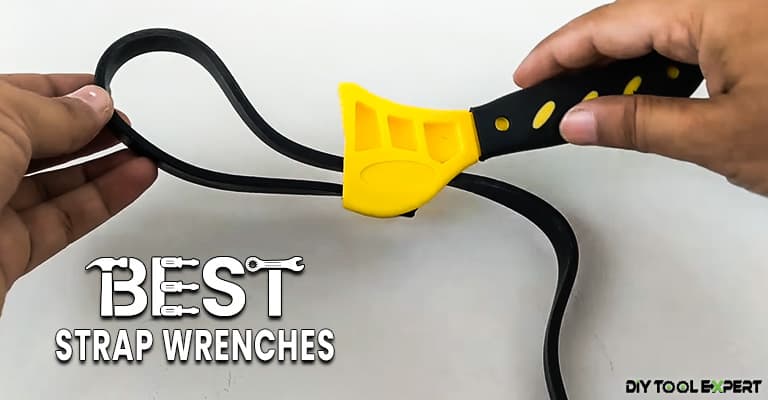 Strap Wrench buying guide
Strap wrenches, unlike ordinary wrenches, are designed to perform sophisticated works so the design and build quality of a strap wrench is more complex than an ordinary one. Let's uncover some facts and aspects
Material of Strap
In most of the strap wrenches two types of strap are used. One is rubber and another is poly; rubber strap has the best grip but it is not suitable for heavy work. But in terms of the poly strap, they are more durable and stronger but they have variations too. Woven nylon, Polyurethane, Woven polypropylene are some of the most reliable materials.
Yoked or Handled
Yokes are provided with a ratchet on it where you can set a handle as per your preferred length. But handled wrenches come with a pre-installed handle. For certain works, you may choose your preferable sized handled or the strap wrench that has a handle that matches your requirements otherwise the yoke will be a better option for you.
Build Quality of Yoke
Some yokes are made of ordinary metals that may catch rust or decay fast, while others are chrome plated. The chrome coating may save the metal from corrosion but it is not quite suitable for heavy works or working on metals as the coating can be removed through friction. Strong alloy steel, aluminum, and some other yokes are best compatible to work on metal objects.
The Material of The Handle
Plastic handles can provide a lightweight body and better friction to the surface that is surrounded by the strap but it is not quite good for heavy works like car-works. That's quite okay for most applications since it's not at least a 1-inch impact wrench.
Aluminum handles can provide very good rugged build quality and comfort as they are very strong and lightweight. The coating of the handle should also be attractive and strong.
Handle Design
Handles that end with a notch to add strap only, can't provide better gripping support to the coil of the strap around the object. But Some handles are strongly designed and lunar at the end where the strap is attached.  These handles can provide extra grip to the coil of strap surrounding the targeted object and make it stronger and more stable.
Thickness and Length of The Strap
Thick straps are very strong and they are very fruitful for heavy work. But thickness reduces flexibility too. So if you need a heavy working tool, you must go for the thicker one. Lengthy straps are better to work on the objects of bigger diameter. Sometimes the strap is thin but the material of the strap is enough to support semi-heavy works.
Sewing
The sewing at the fixed end of the strap is the main point that provides strength to the coil. So it should be sewed well and should be sewed by a strong thread. The more space the sewing takes in the end, the stronger it will be. Sewing should be closely compacted with strong threads to provide perfect support to the coil.
Best Strap Wrenches reviewed
You are working with your strap wrench on your important tools at your home on your weekend but soon you realize that your strap wrench is not qualitative enough to work on those tools. This may nip your passion for working at home. To prevent this harassment, we have selected some best products on the market with the best features.
1. Craftsman 9-45570 Strap Wrench
Praiseworthy Words
The most important feature of a strap wrench is the grip. The better the grip is, the better performance the wrench can provide. The craftsman 9-45570 strap wrench has a strong, reinforced rubber strap that can provide the best grip on the slippery surface to allow working on slippery, shiny metal or plastic objects.
A set of two different strap wrench comes in a setting where both of these wrenches have 16 inches of the strap. A large object of 6 3/3 inches in diameter can be perfectly handled by the bigger wrench and the smaller one can handle objects up to 4 inches diameter. The metal piece maintains a strong connection between the strap and the handle.
Comfortability is assured by reducing the weight of the wrench by using cushioned plastic in the handle. The holding portion of the handle is slightly serrated and the diameter of the handle is pragmatic both for comfort and durability. Increased top of the handle has enhanced the grip by putting extra pressure on the coiled strap.
Deadfalls
The strap wrench is not perfect for heavy works as it is made of plastic handle and rubber strap where the strap may increase on heavy load on it and the plastic handle may tear apart.
2. GEARWRENCH 3529D Strap Wrench
Praiseworthy words
Strong grip and strong friction between the object and the strap is assured by using heavy duty oil filter strap. In some oily conditions, the strap can give a good performance because the strap is made of oil resistant nylon. Nylon strap also enhances the durability of the wrench and makes it more rugged.
For convenience in working conditions, the strap wrench has only a strong belt and also a metal ring with it. The metal ring has a notch on it so that it can be attached to a handle and can be used as the user prefers. Chrome plating on the drive engagement resists the ring from rusting and corrosion.
A big strap and strong build quality assure that the strap can perfectly operate on big objects of a big diameter of about 9 inches. Strong build quality also suits hardcore working conditions, for instance, working on tractor and truck parts. A weight of 8.8 ounces makes the tool more convenient to carry in any carry case.
Deadfalls
The metal part of the strap wrench is chrome plated so the chrome plating may decay with a strong contact to metal objects and destructed coating of the yoke reduces the lifetime of the yoke very fast.
3. TitanTools 21315 Strap Wrench
Praiseworthy Words
Aluminum made single beam handle makes the body most rugged, rustproof, lightweight so that the strap wrench can be used in tough and heavy works like mechanical works, household works, working on shafts, metal pipes, filters, and irregular surfaces. The aluminum handle is coated by attractive red paint that also increases durability.
12 inches long aluminum made handle can provide a strong force and strong torque to the object to make it turn or to hold it tightly. Woven polypropylene made strap hold firmly any slippery surface without causing any kind of harm to it. Unlike other straps, the poly strap used here is not weak and easily decayable.
34 inches long and 1.05 inches wide strap can also provide a good grip to the objects up to 9 inches of diameter and make it lightweight to carry at the same time. The 2-ply double-thick layered strap also resists the strap from scratching the objects and also reduces the chance to tear. The wrench can be kept hanging as a small hole provided in the handle.
Deadfalls
On oily surfaces, the strap can show slightly slippery characters often. The handle is not thick enough to ensure a good grip and comfortable clutch to the user which may prompt pain to the palm of the worker.
4. RIDGID 31350 Strap Wrench
Praiseworthy Words
Polyurethane coated woven nylon strap offers a very strong and non-rearing grip to the object. You can also replace the strap after a certain period if you feel that the clutching capability of the strap is decreasing. Polyurethane provides a very strong tight grip to almost any kind of slippery surface of an object.
18 inches long handle provides a great turning and torque to the object so that a small amount of force is enough to initiate the object to turn.  29 inches long strap is enough to grab an object of ordinary diameter. Handle helps the strap weigh more than other wrenches as the end of the handle is curved.
Cast iron made body offers a more rugged, strong and durable handle. A thick red color coating on the handle of the strap wrench saves the metal of the handle, assures lifetime longevity and gives an attractive shiny finish to the handle. Moreover, a lifetime warranty is offered by the manufacturer.
Deadfalls
Cast iron made handle makes the handle a little bit heavier and malleable which may cause pain to the wrist of the worker for long time usage. Polyurethane is not enough flexible to make coil around very small objects like bottles and small jars.
5. Lisle 60200 Strap wrench
Praiseworthy Words
You can get a strong grip over the object as the strap wrench is provided with a strong and durable 3/5-8 inches yoke which is made of strong alloy steel. In the yoke, there is a notch where you can set a temporary handle that can provide you with a strong grip and torque over the object you will be working on.
You can perfectly work on an object between 6 inches to 0.5 inches in diameter. This product is specially designed to work on filters, for instance, opening them up or installing them. 27 inches long strap can almost support making a coil of the strap around almost any kind of object which is pragmatic to be operable by any kind of strap wrench.
The strap is well made and strong because it is non-tearing, it has very strong friction on the surface. The yoke has a big ratchet that comes with good compatibility with most of the handles or Allen key. You may increase the length of the handle to fir your requirements and comfort of the work.
Deadfalls
As the trap wrench is not provided with a handle, so it is a very tough and time-killing process to find the perfect handle that matches the required length and the length of the provided notch at the same time.
Frequently Asked Questions
Here are some frequently asked questions and their answers.
What is the purpose of a strap wrench?
The strap wrench is a wrench that holds objects by tightening straps. They prevent objects from slipping by using friction. Most strap wrenches come with handles so that you have a firm grip while using the wrench. If they don't have a handle, it is designed to be used with the square drive found on ratchet wrenches.
How do you use a grip strap wrench?
Do strap wrenches work?
A rubber strap wrench is ideal if you want to ensure that you have a secure grip on whatever object you're attempting to loosen or tighten. Of the two types of materials commonly found on strap wrenches, rubber is the stronger option and will work well with items that have a rough surface.
How do you use a rubber strap wrench on a Husky?
How do you use a faucet strap wrench?
How do you tighten a shower head without scratching it?
In some cases, using a strap wrench can be an effective way to tighten a loose element of a plumbing fixture without causing damage. A strap wrench isn't like a conventional wrench; it consists of a durable rubber loop that you wrap around the object that you wish to move and then tighten down.
Q: Can a strap wrench be used to open up jars and bottles?
Ans: Yes, you can use these strap wrenches to open up jars and bottles. But the rubber strapped strap wrench will perform better to open up jars and other small things where grip is the ultimate concern.
Q: Can these strap wrenches open bolts?
Ans: Yes, these wrenches can unscrew as well as loosen bolts with a greater diameter. For tight bolts, ordinary metal wrenches are perfect but strap wrenches are not preferable.
Q: Will these strap wrenches work on shiny metal stainless steel?
Ans: Without any doubt, these strap wrenches can perfectly work on any kind of metal pipes without scratching them or doing any harm to their shiny finished surface. In fact, that's where they differ from regular wrenches.
Q: Are the rubber straps of a strap wrench flexible enough and elongates at a bigger force?
Ans: The rubber strap is more flexible than any other strap wrench but most of the rubber straps give better grip but elongate at substantial tension from one end. So for heavy works, you can use poly strapped wrenches which can sustain at great tension and won't elongate.
Conclusion
Now we're here to conclude our journey for the best strap wrench with some final suggestions. TitanTools 21315 is made with strong aluminum so it is lightweight and rugged at the same time. So, at times of heavy pressure, the strap wrench can perfectly sustain and give a very good performance. The lightweight and strong poly-made strap can give very good support to heavy works.
We found RIDGID 31350 specialized for heavy metalworks though dragged a bit backward by cast iron's slightly heavier weight. This strap wrench comes with a thicker handle and long handle which allows greater torque to the object where the long, tight and strong strap assures better grip.
But if you have a very congested area around the object where the strap wrench will operate, then strap wrenches with yoke are the best as they are operable in a very tiny exposure of the object. Lisle 60200 is a strong, durable strap wrench with strong alloy steel yoke.
I'm Joost Nusselder, the founder of Tools Doctor, content marketer, and dad. I love trying out new equipment, and together with my team I've been creating in-depth blog articles since 2016 to help loyal readers with tools & crafting tips.