I love creating free content full of tips for my readers, you. I don't accept paid sponsorships, my opinion is my own, but if you find my recommendations helpful and you end up buying something you like through one of my links, I could earn a commission at no extra cost to you.
Learn more
At your wit's end about what to do with the damaged nuts or bolts? Or maybe planning to make new ones? Whatever may be the case, the best tap and die set at your settlement will help you do your threading or rethreading promptly.
Now, you must not sway yourself by the eloquence of the sellers. Learn the ropes of buying a tap and die set and choose a top-notch one yourself. We are here for you to go into deep analysis to help you get to the best one regardless of whether you are a pro mechanic or DIY user.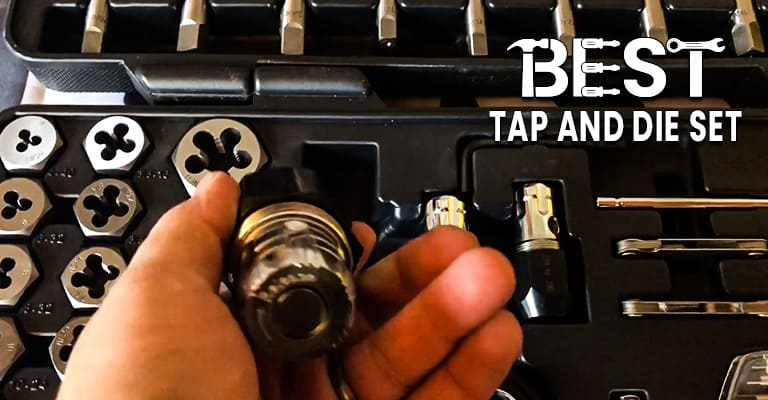 Tap and Die Set buying guide
Whether you are a pro or a home user, you have to have the knowledge of appropriation when it comes to buying a tap and die set. Knowing what would be best is never easy. That is why proper study material is required. This is where we come to help you become familiar with the yes's and no's of a tap and die set.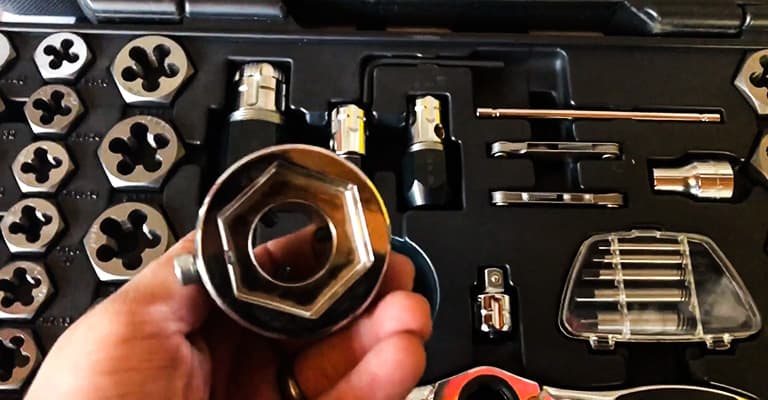 Construction Quality
Carbon steel always has the upper hand in terms of strength. Next comes alloy steel with the additional advantage of less price but compromising durability. Having checked them, go for coated materials since corrosion and rust are common foes you'll find while dealing with nuts and bolts.
Diversity of Parts
Focus on the sizes of the dies and taps your field of application requires. Getting more parts expending the same often means the lower material quality or misaligned cuts. So no need to hanker after multifarious kits if smaller ones suffice your project. The money would worth the most by grabbing a set featuring a variety of ratchets.
Size Measurement System
The size of the taps and dies are defined by two types of measurement systems- metric and SAE. Metric is the European measurement system while SAE characterizes the US measurement system. A set where both of the systems are available surely packs a punch.
Part Count Inflation
Many manufacturing companies will include extra parts like screwdrivers and nut drivers to inflate the part count. If you really need that extra piece, it's recommended to buy that separately.  But if you seldom have its usage, you may go for it if the price is within budget.
Tap variety
The varieties of taps you will come across while buying a set are- taper, bottoming and plug types. You will at most get two of these types in a set, but not all. Taper taps make it easier for you to start threading as they require the least force.
Bottoming taps are on the other side of the pole as they are much harder to start for beginners. But the threads that will be produced will be of high quality. Plug taps combine features from both of the other two taps. They feature tapered threads at the beginning but not as easy as taper taps to start.
Wrenches
A wrench helps you hold the tap rigidly and distribute forces equally while threading. During tapping, a certain procedure may invoke chances of snapping. Ratchet wrenches help the most as they allow to make reversing even in confined places. But to get top tier premium quality end products, buying separate wrenches would be the finest option
Lubricant
Lubricants are a must for metal cutting operations. Lubricants like oil, water or wax deliver quick removal of chips and protect the parts from quick wear and tear. They play a vital role in lengthening tool life. Always make sure you use the right amount of lubricant before the start of threading or other cutting operations.
Storage Case
The storage and carrying cases are usually made of plastic or metal. Metallic ones increase bulk but are profoundly manufactured to fit the tools into places. On the other hand, plastic made storage cases are light and easy to transport. If your workplace is too jammed with sharp objects, even cumbersome metal storage should be the best choice.
Best Tap and Die Sets reviewed
To make sure you do not feel disoriented while choosing from the tap and die sets, we have selected some of the best ones available in the market. We analyzed and presented their assets and drawbacks to help you acquire a good amount of ideas.
1. TEKTON 7559
Assets
TEKTON 7559 is just about the right set of tap and die for your off and on use. If you need to cut light materials or occasionally curve damaged threads, you can get your hands on one of these at a very cheap price.
Inside the set, you will find 17 taps and 17 dies in sizes ranging from 3-12 mm. That too, in a wide range of coarse and fine sizes, making your operations convenient. These sizes of tapered taps and plugs are most generally utilized in threading operations.
For operations where you need some hand threading, there are 3 and 4-flute plug taps and dies. Whether you need to do an inside or outside threading, the available sizes and shapes make your light operations easy.
All the alloy tools are made of alloy steel which is of high quality. Besides, the metric standard system makes it easier for measurement. The storage casing does a decent job of conserving the tools in shape.
With the taps and dies that come within, you will be able to cut through mild steel, brass, aluminum, cast iron, and some other light metals. But at first, you must make sure that you are using the appropriate lubricant and proper technique.
Drawbacks
This set of taps and dies can only cut light materials.
With the problem in quality control, while manufacturing, the product is not fitting for continuous usage.
2. GearWrench 114PC 82812
Assets
This particular set is the best set of taps and dies you can grab if you consider its versatility and operative supremacy. From the product, you get 48 sets of taps and dies in various shapes and sizes that perform all sorts of threading or cutting functions.
The best thing about this set is that the taps and dies are made from carbon steel which provides hardness and durability more than anything you have used before. You will be able to cut through most of the materials without suffering wear. A perfect tool for a long time and continuous work.
Set includes two sublime ratcheting T wrenches that have a 5° ratcheting arc along with a reversing lever. This lets you work in super tight conditions and that too, precisely. There's also a twist locking system that does not let the die guide move back.
For the round and hex-shaped dies, die adapters are available. Besides, be it tapping or plugging, taps are also available for both of the cases. Tap adapters are removed easily with the help of the auto-locking mechanism.
Moreover, the warranty given is a lifetime. A perfect set of tools if you are planning for long term use.
Drawbacks
The tap handle is a bit flawed and in some cases, it has been reported faulty and came apart.
The casing given feels cheap.
3. EFFICERE 60-Piece Master
Assets
EFFICERE's tap and die set is a perfect set of tools with accuracy and precision you can find in the market. The excellence and versatility it provides is satisfiable with the 27 sets of taps and dies, holders, wrenches and of course, a storage case.
No chance of doubt about the durability and the quality of the material as the construction is of GCr15 bearing steel. The tool is made to resist industrial or professional use, that too, for a long period.
The manufacturing process was employed with high-quality engineering. Cutting teeth were CNC machined and a Rockwell hardness number of 60 HRC was maintained. As a result, the cutting output is maximized to a level like never before.
Whether it is cutting new threads or repairing damaged segments, you will be doing it conveniently with hands. The effort required is less and the efficiency level is maximum.
The sharpness of the tool allows you to cut through almost all hard materials like carbon steel, aluminum, cast iron, brass, stainless steel, etc. Such versatility enables you to use it for a wide range of applications like machinery, fabrication, and automated repairing, etc.
Drawbacks
The case and tap handle are two big flaws of the product. The case is cheap and loose while the tap handle sometimes backs off during use.
Only SAE sizes are available.
4. Muzerdo 86 Piece
Assets
Unlike the previous ones, Muzerdo taps and die sets have the construction of high carbon chromium bearing steel. The higher amount of carbon content provides more hardness and long-lasting durability along with corrosion resistance.
If you are looking for a tap and die set fitting for your professional or industrial use where you need to make adjustments at a regular interval, Muzerdo's set is just about the right one for you. The plastic storage is rugged, 86 pieces of tungsten steel are kept well organized inside it.
Be it inside threading or outside, or it could be repairing threads, the tapered taps and dies will do a decent job for you. The hardness of the material will aggravate the lifetime of tools.
You can start easily with the help of this set. The style is common and appropriate for your hand threading applications that involve machinery repair, crafting, etc.
Another plus point is that it has a metallic case instead of plastic which is always better for the safety of the tools. The plastic trays inside make it easier for you in case of reorganizing the pieces.
Not to mention all the pieces are milled with their quality being controlled. Overall a decent set for a good value.
Drawbacks
The flimsy plastic tray is hard to pull out from the case. As a result, accessing the tools becomes a hassle.
5. Segomo Tools 110 Piece
Assets
This unique set of tools gives you a good cutting experience with its variety of taps and dies that come in all shapes and sizes. The set covers 110 pieces which are more expensive compared to the previous ones and befitting for using whether you are a prosumer or a home user.
Cut through hard metals with ease without worrying about decay or wearing off as the tools are carefully manufactured from hardened steel. Be it making or chasing an inside thread or an outside, the tap and die combinations will aid your operation with their hardness, durability, and reliability.
The tapered teeth design of the taps and dies makes it easier for you to start threading. Not to mention it also helps you prevent over threading. The measurement system that this set follows is metric, enabling easy understanding.
The heavy-duty case is durable and made of plastic, easy for transporting. Quality is great as the pieces are attached quite fairly and easy to reorganize. This set of tools gives you a sense of decency with your operations overall keeping in resonance with performance and accuracy.
Drawbacks
The tap holder might be a bit to the downside as slipping has been an issue for it.
The die holder also has some quality control problems which have been reported in many cases.
6. IRWIN Tap and Die Set
Assets
Compared to all the previous entries, IRWIN's this set of tools comes in with a lower number of pieces. But make no mistake, the productivity it has to offer is top class.
Whether it is about creating a new threaded tool from raw material or repairing threads, this tap and die set does a magnificent job. Tap and hexagon rethreading is done as clean as a whistle with this set at your disposal.
The tools set a standard for threading applications. Pieces are made from carbon steel ascertaining strength and longevity. Chip removal is made easy as the tap has a flute system leading straight to the ground.
The 12 pieces have matric measurement systems and therefore ideal for routine maintenance. Accuracy and critical tolerance are processed through quality manufacturing.
The carrying case is convenient and lightweight. The tools fit perfectly into the inner tray and don't come off. Within the set, you will find 5 sets of taps and dies, tap wrench and die stock. You get a sense of minimalism from this product but overall it comes as handy.
Drawbacks
There are little options for you if you require coarse or fine sizes of tools.
The price can be a little overwhelming for many.
7. Orion Motor Tech Tap and Die Set 80pcs
Assets
Unlike most of the tap and die set, Orion's tap and die set comes with both SAE and metric sizes. For both of them, 17 sets of taps and dies are available enabling you to work on any conditions that might be required.
2 adjustable tap and die wrenches allow you to carry on your operations without any chance of slipping. The die holders and tap holders hold the pieces rigidly and there's a little chance of wobbling.
The teeth are standardly threaded and can work with higher precision. You will be able to use the taps and dies to perfectly curve threads on any material, any size you require it to be.
The pieces are forged from GCr15 professional-grade carbon steel to maximize hardness and durability. Thus, you will be able to cut through virtually any hard materials with confidence and precision.
This unique set is versatile and with its 34 different combinations of SAE and metric coarse or fine sizes, it works as an all in one package. The carrying case that comes with it is sturdy and easy to take from place to place. Overall, a really good quality kit and recommendable.
Drawbacks
Longevity is put at stake when the kit is used to cut through harder materials.
The selection arrangement is a bit random.
Frequently Asked Questions
Here are some frequently asked questions and their answers.
What can you do with a tap and die set?
Taps and dies are tools used to create purpose screw threads, which is called threading. Many are cutting tools; others are forming tools. A tap is used to cut or form the female portion of the mating pair (e.g. a nut). A die is used to cut or form the male portion of the mating pair (e.g. a bolt).
What do the numbers on a tap and die set mean?
Taps and dies with diameters less than 1/4-inch are numbered according to the wire gauge sizes of machine screws. For example, a die marked 10-32 NF will cut threads for a No. 10 machine screw with 32 fine threads per inch.
Who makes good quality taps?
Bathroom Taps are what we are known best for, here you will find the most reputable brands of mixer taps available in the UK including Bristan, Crosswater, Hudson Reed, Ultra and Roper Rhodes with newer exciting brands like Flova Uk, all made from the highest quality materials.
How do I choose a tap?
What is the first tap to be used when tapping?
When processing threads with machinery, -Plug taps are commonly used for through hole tapping with metal working machinery without using a starter Taper tap. -If using metal working machinery, you can start blind hole tapping with a bottoming tap without using a Taper and Plug tap first.
Which tool is used to turn taps?
tap wrench
A tap wrench is a hand tool used to turn taps or other small tools, such as hand reamers and screw extractors.
How do you use tap die?
Why the hand taps are chamfered at the lead?
The primary purpose of the chamfer is to allow the first few cutting teeth to make progressively deeper cuts. This reduces the force the user requires in order to spin the tap as well as reducing wear on the tool. It also acts to help align the tap within its pilot hole.
What is bottoming tap?
: a hand tap cutting a full thread to the bottom of a hole.
Does a tap cut external threads?
External threads, such as for bolts and studs, are made by using a tool called a DIE, which is applied to a specific diameter of rod for the size and pitch of the threads you want to cut. Both taps and dies can be used to either cut new threads or repair damaged threads.
Why do taps break?
Usually if a tap breaks going in, it's a lack of chip room below the tap. Helical flute taps or open holes will cure that. But braking on the way out is nearly always the flute being full of a long corkscrew chip, and trying to back out of the hole with that chip still in the flute.
How do you read a tap size?
Example: 1/4 – 20NC The 1/4 represents the diameter of the thread in inches. The 20 represents the number of threads per inch or TPI. Standard taps are either standard coarse series threads NC (1/4-20), fine series threads NF (1/4-28) or extra fine series NEF (1/4-32).
Can you hand tap stainless steel?
Stainless steel possesses a few other traits that affect the way it should be drilled and tapped: … They "give" or yield to a drill's pressure before the tool's cutting edges can gain purchase. This makes it difficult for the tool to break off chips.
Q; Can I use a tap and die set to remove a broken bolt?
Ans: Yes, you can. First, you need to drill the hole using a drill bit. Later you use a tap and cut into the bolt. Finally, use a lubricant and start drawing the bolt out.
Q: What is the measuring criteria for taps?
Ans: The Strength of a tap depends on the number of flutes. Thread size is usually measured along the length of the tap.
Q: Can stainless steel be tapped?
Ans: You will need high-speed steel tools to cut through stainless steel. But HSS tools are not much available in the market.
Conclusion
Bringing a sledgehammer to crack a nut is not going to get you anywhere. Your damaged tool is made of light material but you use a set of taps and dies made from high carbon steel on them, that would be a waste. On the contrary, the tool material has to be harder than the work-piece, or else the tool will fail.
From the above-discussed product sets, GearWrench 82812 seemed like a complete product to us. With its reasonable price, it comes in almost all the necessary shapes and sizes allowing your work to be more convenient. The ratcheting arc system gives you a sublime threading experience.
For light uses, TEKTON 7559 would be a better choice with its ergonomic design and a wide variety of tools at a good price.
Wrapping up, we do not expect you to go out blind and get duped by traders overwhelmed. With all the information shared above, if you have gone through them, there's no doubt you are going to fetch the best tap and die set congruous with your work.
I'm Joost Nusselder, the founder of Tools Doctor, content marketer, and dad. I love trying out new equipment, and together with my team I've been creating in-depth blog articles since 2016 to help loyal readers with tools & crafting tips.