I love creating free content full of tips for my readers, you. I don't accept paid sponsorships, my opinion is my own, but if you find my recommendations helpful and you end up buying something you like through one of my links, I could earn a commission at no extra cost to you.
Learn more
Welding your exhaust pipes can be tricky when you're just getting started.
Maybe you're having trouble figuring out the right welding method to use, not to speak of where to find the best welder for your exhaust pipe.
But handling your welding tasks is a great idea. It can save you lots of money that you'd have paid to the repair guys.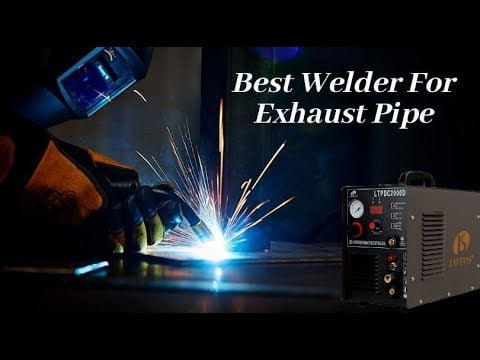 If you're a beginner, I would recommend that you start with MIG welding. It is easy to learn and it produces great results and this Hobart Handler just offers the best value for money if you're going to start.
Here's BleepinJeep welding with the Hobart:
Well, if you're looking for a great welder for an exhaust tube to get you started, you've come to the right place.
I have helped people get the right welder for their needs, and it's to the same cause that I have written this article. I am going to help you get the right unit for your needs.
I have also included tips on welding exhaust pipes correctly.
Let's dive in.
Welder for Exhaust Pipe Buying Guide 
When I first got into welding, I had no idea what welding method to use, let alone how to select a good welder.
If you're in the market for a welding machine, I know how hard it might be especially if you're new to this field.
Below are a few tips that I have used to help beginners and hobbyists pick the right welder for exhaust pipe. Check them out.
Welding process
There are various welding processes:
TIG
MIG
Stick welding
Flux-cored welding
Each of these has its pros and cons, and I would highly encourage you to research a bit more on each of them.
TIG provides the highest quality in terms of bead appearance. It also allows for foot control. If you're an experienced welder, a TIG unit would be a great pick.
But if you're a beginner, you want something that is super easy to learn and use. The welder should give you better control and cleaner welds. That would be a MIG welder.
In general terms, I usually recommend getting a MIG welder because on average, I feel it is the best.
Exhaust pipes are generally relatively thin. Considering MIG welders offer better control when working with thin metals, they're highly suitable for exhaust pipes.
Other welding options
There are welders on the market with more than one welding capability.
For instance, many of the units in the review can do MIG welding as well as flux-cored welding. Some can also do TIG welding.
If you run out of gas and can't use MIG, you just go ahead and do flux-cored welding. The problem with flux-cored welding, however, is that it needs more cleanup work.
That's because a slag coating is creating as a result of the process not using a shielding gas.
Power (amperage and voltage)
This is a major consideration when it comes to choosing a welding machine. The main factors that define the power capability of a welder are the amperage and the voltage.
The higher the amperage the unit can produce, and the higher the voltage it works with, the greater the power.
If you're a hobbyist or a beginner, a unit with an amperage of 120 or below will be fine.
But if you're a professional, or you need to weld more than just mild steel, you'll need more than 150 amps output.
As for the voltage, there are three choices. The first one is 110 to 120V.
Such a unit is suitable for beginners and hobbyists as they can be operated at home, being connected to the regular wall outlet. On the downside, such a unit is not very powerful.
The second option is 220V. Though this one cannot be directly connected to the regular home wall outlet, it offers more power.
The third option is the dual voltage 110/220V unit. I find it to be the best choice as it allows you to switch between the two voltages.
Other factors you might want to think about include:
The aesthetics – how it looks.
Portability – go for a compact and lightweight model if you want to be able to take it from place to place.
Smart features – some people prefer a unit with features such as an LCD screen to display the volts and amps. Smart features like the auto detection of the spool gun can also be most useful, those attract a higher price.
7 Best Welders for Exhaust Pipes reviewed
Best value for money: Hobart Handler MIG Welder for Exhaust Pipe
If you're a beginner, looking for the right welder for exhaust pipes, then the Hobart Handler 500559 would be a great pick.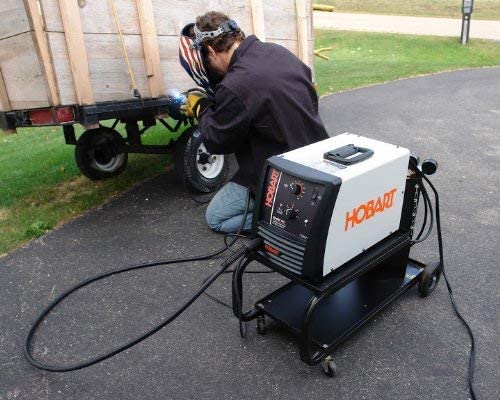 This is one of the easiest to use MIG welders I have come across so far. And seeing the number of beginners that purchase it, I'd encourage you to go for it.
One thing that makes this unit beginner-friendly is that it is 110-volt. That means you can connect it to a wall outlet in your home without needing any special modifications.
But on the other hand, you have to make sure that the metals you will weld in a single pass are not very thick. That's because 110-volt welders don't produce lots of amperage.
That being said, the Hobart welder offers you a good amount of power. You can weld 24 gauge up to ¼-inch mild steel. Perhaps that is not sufficient for a professional.
But if you're a hobbyist, looking to weld exhaust pipes and other vehicle parts as well as fix farm equipment, you'll find it very useful.
What about the amperage output, you ask? The amperage output is a good indicator of the power a welder holds. The little Hobart unit offers 25 to 140 amps.
Such a wide range makes it possible to weld metals of various thicknesses and material. Of course, the higher, the more powerful.
Speaking of the metals it can weld, you can work on aluminum, steel, copper, brass, iron, magnesium alloys, and more.
The duty cycle is 20% @ 90 amps. That means that in 10 minutes, you can continuously weld for 2 minutes operating at 90 amps. 2 minutes is a lot of welding time when you're a hobbyist.
Hobart has one major issue worth mentioning. They seem to not pay attention to the quality of the packaging. That means your unit can arrive with a few bent panels (which is not a must).
On the brighter side, they're very keen on customer satisfaction. When you contact them, they usually ship you a new unit.
Pros:
Easy to use
Well-made – durable
Welds 24-gauge to ¼-inch mild steel
5-position volt knob
Works with the standard household wall outlet
Can weld 2 minutes straight at 90 amps every 10 minutes
Cons:
The packaging is a little sloppy
Check the latest prices here on Amazon
Best TIG exhaust system welder: Lotos Dual Voltage TIG200ACDC
For those of you looking to go professional, the Lotos TIG200ACDC would be a great place to start.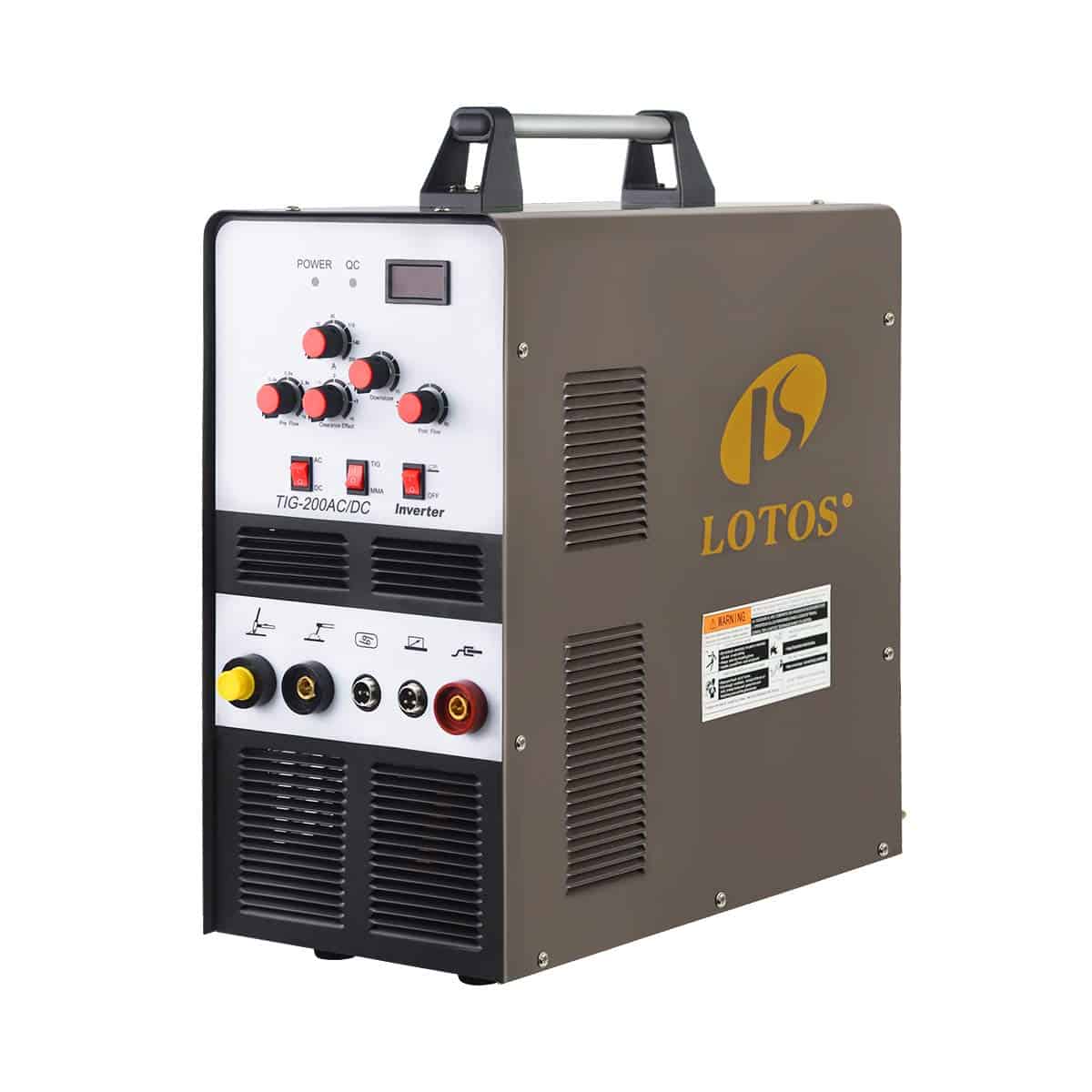 Apart from being one of the cheapest welders of its class, it is super easy to learn and use. Moreover, it supplies enough power for a beginner in the welding profession.
One thing you will love about this unit is the quality of the welds.
As a good TIG welder, the machine offers you great control over the well, making it easier to produce a potent and good-quality weld. And, without much effort.
The welding pool goes in deep and the whole shape of it is good and consistent.
Ordinarily, TIG is harder to master than other welding processes, but this machine makes it easy. The controls are very well labeled.
Moreover, they ship a good set of instructions to guide you along.
Another thing that makes this little welder so easy to use is that the controls work remarkably well. Many users can tell you that the pedal functions smoothly and efficiently.
The welding arc is quite stable and you can adjust the hot striking arc current. These factors make the operation effortless.
If there's one welder that gives you lots of control, it is the Lotos TIG200ACDC. At the front side, there are 5 knobs and 3 switches.
The knobs are for controlling important factors like the pre flow, post flow, downslope, clearance effect, and amperage. I like how easy to turn they are.
Speaking of the amperage, this unit offers an output of 10 to 200 amps. That's a pretty broad range, allowing you to work on different metals of various thicknesses.
The three switches allow you to swap between the AC/DC, switch between TIG and stick welding, and turn the unit on/off.
I have mentioned that the unit's controls are easy to use. But there's one feature that many people struggle with at first – the clearance effect.
To clear that up, this feature controls the cleaning action when welding.
All in all, if you want a high-quality TIG welder that you won't pay too much for, the Lotos TIG200ACDC would be an excellent choice.
Pros:
High quality
Dual voltage – switch between 110 and 220 volts
Works with both AC and DC power
10 to 200 amps output
Offers lots of control
Foot pedal works phenomenally well
Cons:
Clearance effect gets a little confusing at first
Check out the latest prices and availability here
Best cheap exhaust pipe welder: Amico ARC60D Amp
Are you a weekend warrior? Or are you just getting into professional welding? You'll find the Amico ARC60D 160 Amp Welder.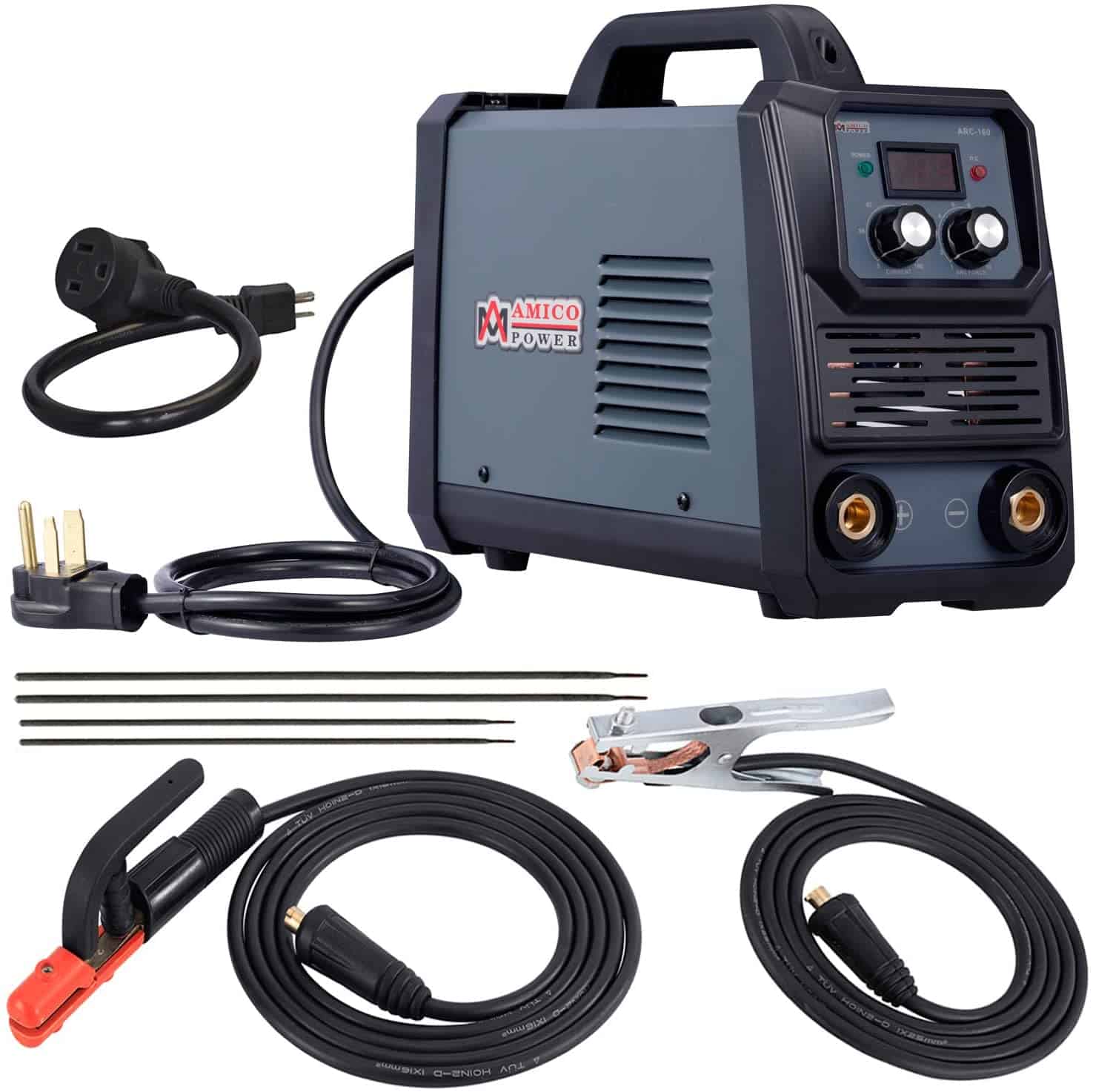 The first benefit it comes with and that attracts many people to it is the price. This little welder goes for less than 200 bucks.
Considering the quality it offers, it's easy to see the machine is worth buying.
One thing I really love about this unit is the performance. Can you believe it offers a 60% duty cycle at 115 volts giving 130 amps?
That means than in a duration of 10 minutes, you can weld for 6 minutes straight.
Many units in its price range offer 20% duty cycle, which is 2 minutes operation in every 10 minutes. But when you have 6 minutes, you get to complete your work efficiently and quickly.
That's why so many professionals use it in the field.
If you want to weld professionally, you need a unit that can also operate at 220 volts apart from the 110/115 volts.
Why? Though the 110/115 volt unit can be operated at home, it doesn't produce lots of power. 220V is necessary to crank up the power.
The Amico ARC60D 160 Amp Welder comes with dual voltage, so that you can operate it at home and at the place of work.
Ease of transportation is yet another factor why people love this unit. It's a lightweight little thing. Carrying a 15.4-pound compact welder is not tedious, is it?
Besides, there's a nicely-designed handle at the top that gives you a comfortable grip.
I bet you will love the LCD panel on the front. It displays various parameters such as the amperage. Beside the panel is the knob that allows you to set the amperage.
The entire control panel is protected with a nice transparent retractable cover.
The only complaint I have regarding this welder is that getting the arc started is a bit of a hassle at first. But once you get the hang of it, everything flows smoothly.
Pros:
LCD panel for easier parameter monitoring
Up to 160 amps output
Supports both 115 and 220 volt power
Lightweight – 15.4 pounds – making it very portable
Comfortable carrying handle
Very good price for the quality
Cons:
Getting the arc started is a little tricky at first
Check out the lowest prices here
Best professional exhaust welder: Millermatic 211 Electric 120/240VAC
The Millermatic 211 Electric 120/240VAC is one of the most expensive units on this list, going for upwards of 1500 bucks. In the same way, its performance is truly outstanding.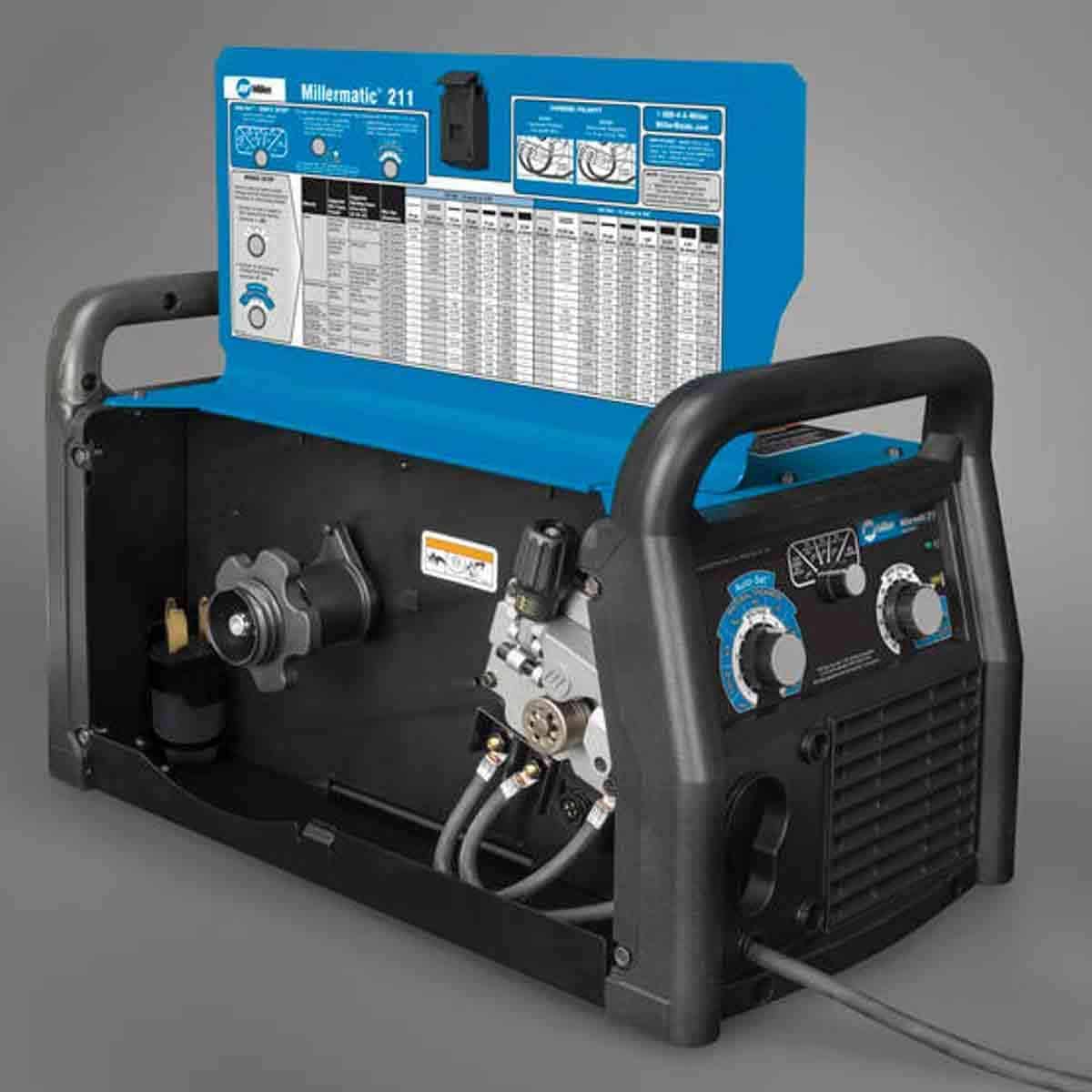 It works like a charm and comes with automated features. If you need a reliable welder for business use, this is one of the units to consider getting.
First off, the unit welds really well. The bead is formed really nicely and evenly, so that there's almost no cleanup work needed afterward.
What really impressed me is how deeply the welder is able to penetrate. If you want the connection to last, you can really on this unit to do the job.
Another amazing benefit is the range of materials it works with. You can weld anything from steel to aluminum.
If you're welding steel, you can work with thicknesses ranging from 18 gauge to 3/8 inches. With this unit, you're in luck because a single pass deposits lots of material, so you're able to finish the work quickly.
Automation is one of the unique benefits you get with this little machine. With many of the cheaper welders, you have to select the wire speed and voltage manually.
But with this one, these are set automatically. The machine detects, for instance, the power needs of your project and sets the right voltage.
Other smart features include the automatic detection of the spool gun and the Quick SelectTM Drive Roll.
Here's South Main Auto Repairs with their take:
Portability is a factor many of us take seriously when looking for welders.
If you need a unit you can take from place to place with ease, the Millermatic 211 Electric 120/240VAC should certainly be at the top of your considerations.
The welder is surprisingly light and it's also small sized. In addition, it has two handles (one at each end), making it easy to carry with one or both hands.
The only negative thing I noted is that the ground clamp is a bit flimsy. Doesn't look like it will hold up. But everything else is well-made.
Pros:
Outstanding quality
Exceptional welds
Comes with a 10-ft MIG gun
Has thermal overload protection
Auto spool detect feature
Compact and lightweight
Cons:
Ground clamp is not the best quality
Hobart upgrade: the 500554 Handler 190 MIG Welder for Exhaust Systems
Seeking the perfect welder for exhaust system that you can use professionally? A unit that is very unlikely to disappoint you is the Hobart Handler 500554001 190Amp.
This is a powerful little welder that delivers very professional results.
Compared to the budget welders, this one goes for a premium price, but the quality is unmatched.
One thing I really loved is that even though the machine is so powerful, it's something compact. It's a small little unit that won't be intimidating your family at home.
As for the weight, the unit cannot really be referred to as lightweight as it weighs around 80 pounds. But at the same time, that's not very heavy.
When the package arrives, you find many items in there. These include a 10-foot wire, an MIG gun, a flux core wire roll, a gas hose, a spool adapter, and more.
It's a comprehensive package that helps you get started immediately.
Efficiency is what makes the Hobart Handler 500554001 190Amp what it is.
This unit can weld metals of a wide range of thicknesses from 24 gauge to 5/16-inch steel in one pass. That allows you speed, so that you're able to complete your projects quickly.
The little machine welds many metals including flux core, steel, stainless steel, and aluminum.
Control is everything in welding. If you're looking for that, this unit may be very fitting for you. First off, there are 7 selections for the voltage output.
There's also a knob that allows you to choose the output amperage between 10 and 110 amps.
The duty cycle of this machine is 30% at 130 amps. That denotes that you can weld for 3 minutes continuously in every 10 minutes, operating at 130 amps output.
That's lots of power and with the efficiency presented, completing projects quickly becomes easy.
There's no real drawback I have noted with this unit. The only thing you got to know is that this one operates at 230 volts power only.
Pros:
Powerful welder
Compact size
Selectable voltage output – selections number 1 to 7
Efficient – 30% at 130 amps duty cycle
Can weld 24 gauge to 5/16-inch steel in one pass
Wide output amperage range – 10 to 190 amps
Cons:
Only operates at 230 volts power input
Best exhaust pipe welder for under $400: Sungoldpower 200AMP MIG
For a good welder in the 300 to 500 price range, I would recommend the Sungoldpower 200Amp MIG Welder.
What I liked most about this unit is that it offers you options with the sort of welding to do. You can either do the gas-shielded MIG welding or the gas-less flux-cored welding.
There's a selector switch that allows you to swap between the spool gun operation and MIG welding. It makes it very easy and convenient to change guns.
Even though it is obviously a budget model, the Sungoldpower offers lots of control. It comes with knobs to adjust the welding current and the wire feed speed.
Being able to make these adjustments enables you to tweak your machine to your operation and work with various thicknesses.
What about the power, you ask? This little welder supplies enough power to cover all your home needs. It comes in handy for fixing exhaust pipes and other metallic vehicle and farm equipment parts.
It gives you 50 to 140 or to 200 amps of output power depending on the input voltage you're using.
If you're using 110 volts, the limit is 140 amps, and if you're using 220 volts, then the limit is 200 amps.
Being a cheap model, the Sungoldpower 200Amp MIG Welder doesn't come with any fancy features.
For instance, there's no LCD panel to display the volts and amps. Again, the wire speed and voltage are not set automatically based on the thickness of the metal you're welding.
Another issue is that the manual is totally useless. It will drive you crazy if you try to follow it. Well, unless they've changed it.
But that shouldn't be a dealbreaker because YouTube has some helpful video guides from users.
For the price,the welder is worth purchasing.
Pros:
Beautiful design
Dual voltage – 110V and 220V
Wire feed and welding current are adjustable
Relatively lightweight and compact
Easy to operate
Carrying handle for easy moving
Cons:
Last on this list is the Lincoln Electric MIG Welder, which offers you up to 140 amps of welding power.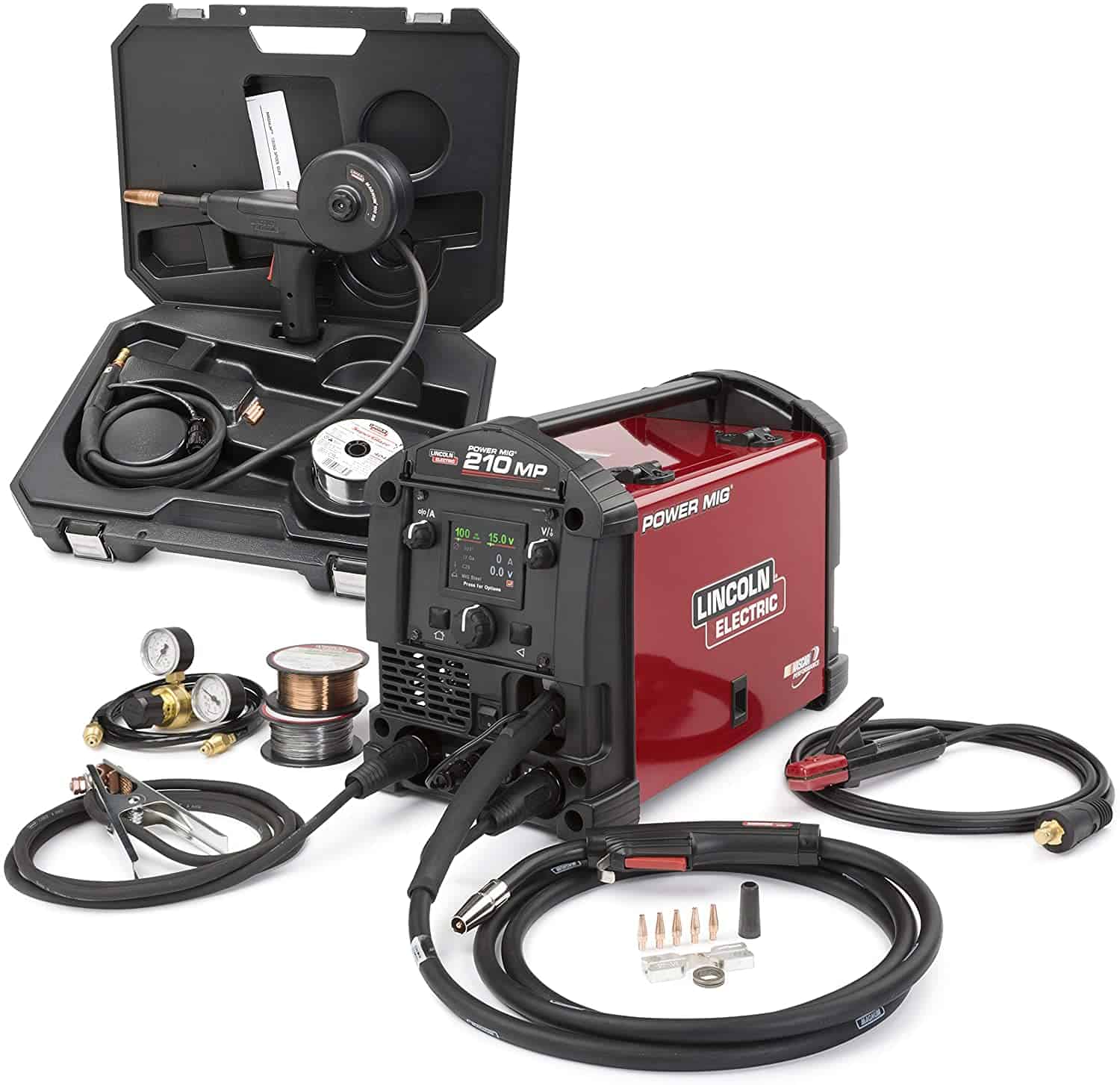 What really impressed me about this unit is that very little spatter is produced. That means the cleanup work afterward is very little.
Getting and maintaining the arc, is something experienced welders can tell you is not always so easy especially for beginners.
The Lincoln Electric's wide voltage makes it easy to get to the 'sweet spot' where the arc is created and maintained.
That's why even if you're a beginner, welding with this machine is not at all complicated.
Many welders out there meant for personal use are only good enough for mild steel. They're mostly ineffective when it comes to stainless steel and other harder materials.
What makes the Lincoln unit special is that it performs outstandingly even when you're welding these harder materials.
The duty cycle did not impress me much. You get 20% at 90 amps. That means that in every 10 minutes, you get to weld for 2 minutes continuously, operating at 90 amps setting.
I have to say, for the price, I was expecting more from this unit with regard to the duty cycle.
Here's Andrew with his take on it:
On the brighter side, the performance is awesome. You can weld metals between 24 and 10 gauge in a single pass. That sort of makes up for the short duty cycle.
The controls for the voltage and amperage are conveniently located at the front. This makes setting your parameters effortless.
Is it portable? Yes, it is. The unit weighs in at 71 pounds. It is compact and has a comfort-grip handle at the top.
Pros:
Easy to get and maintain the ARC
Spatter is surprisingly low
Works great with not only mild steel but also stainless and aluminum
Compact and portable
Beautiful design
Welds up to 5/16-inch steel
Cons:
How do I weld an exhaust pipe?
Your vehicles, lawnmowers, tractors, and garden machines usually have exhaust tubing. When it gets damaged, welding the exhaust tubing yourself can help you save lots of cash.
The process is easy, though it needs a good amount of concentration. Here's a step by step guide to welding exhaust pipe correctly:
Step I: Get the tools
You need the following:
The broken exhaust pipe
Hacksaw or chain pipe cutter
C clamps
Grinder
Welder
Step II: Cut the tubing
I hope before embarking on the process, you have put on your safety gear.
How you cut the exhaust tubing is crucial because it will determine whether or not the tubing will fall into place at the end.
Before cutting, you got to measure and mark the spots where you're going to cut. Make sure the cuts are in such a way that the final pieces will fit perfectly into each other.
Once you have marked, use a chain cutter or hacksaw to cut. A chain cutter is an ideal tool, but if you're on a budget, go for a hacksaw.
After cutting, use the grinder to smoothen the edges that may have roughened from the cutting action.
Step III – Clamp them down
Clamping is an indispensable step. It protects your hands and simplifies the process.
So, use the c clamp to bring the exhaust tubing parts together in the position you want to weld them.
Ensure the parts are in the exact position you want them to be in the final weld because making adjustments afterward won't be easy.
Step IV – Do a spot weld
Welding heat is very high, which could cause warping of the exhaust tubing. And consequently, your tubing is kicked out of shape at the welded spot, which also makes the results not so good.
To prevent that, do spot welding.
Place 3 to 4 tiny welds around the gap. The tiny welds will hold the tubing parts in place and prevent the tubing from going out of shape from the high heat.
Step V – Perform the final weld
Once the tiny welds are in place, go ahead and fill the gaps. Perform a weld all around, making sure there are no spaces left.
And, you're all done.
Conclusion
As you consider factors like power capability, I know the price must also be very important for you. I did my best to include budget models that also offer some good quality.
Go over the reviews and see which one has what you're looking for.
If you're a hobbyist or a beginner, there's no need of getting a model going for over a thousand bucks. Start small and progress to better (more expensive) units as time goes on.
I'm Joost Nusselder, the founder of Tools Doctor, content marketer, and dad. I love trying out new equipment, and together with my team I've been creating in-depth blog articles since 2016 to help loyal readers with tools & crafting tips.