I love creating free content full of tips for my readers, you. I don't accept paid sponsorships, my opinion is my own, but if you find my recommendations helpful and you end up buying something you like through one of my links, I could earn a commission at no extra cost to you.
Learn more
For years, cleaning windows has been an essential part of the domestic cleaning job. Whether you get the ladder and the water out yourself or you pay a window cleaner, it's a job that's hard to neglect.
However, whether it's affording a cleaner or finding the time to do it yourself, most of us never get around to cleaning the windows.
Or at least, not as thoroughly as we'd like. It's easier to clean interior windows, but you still have to get a ladder and stretch your arms to do a good job.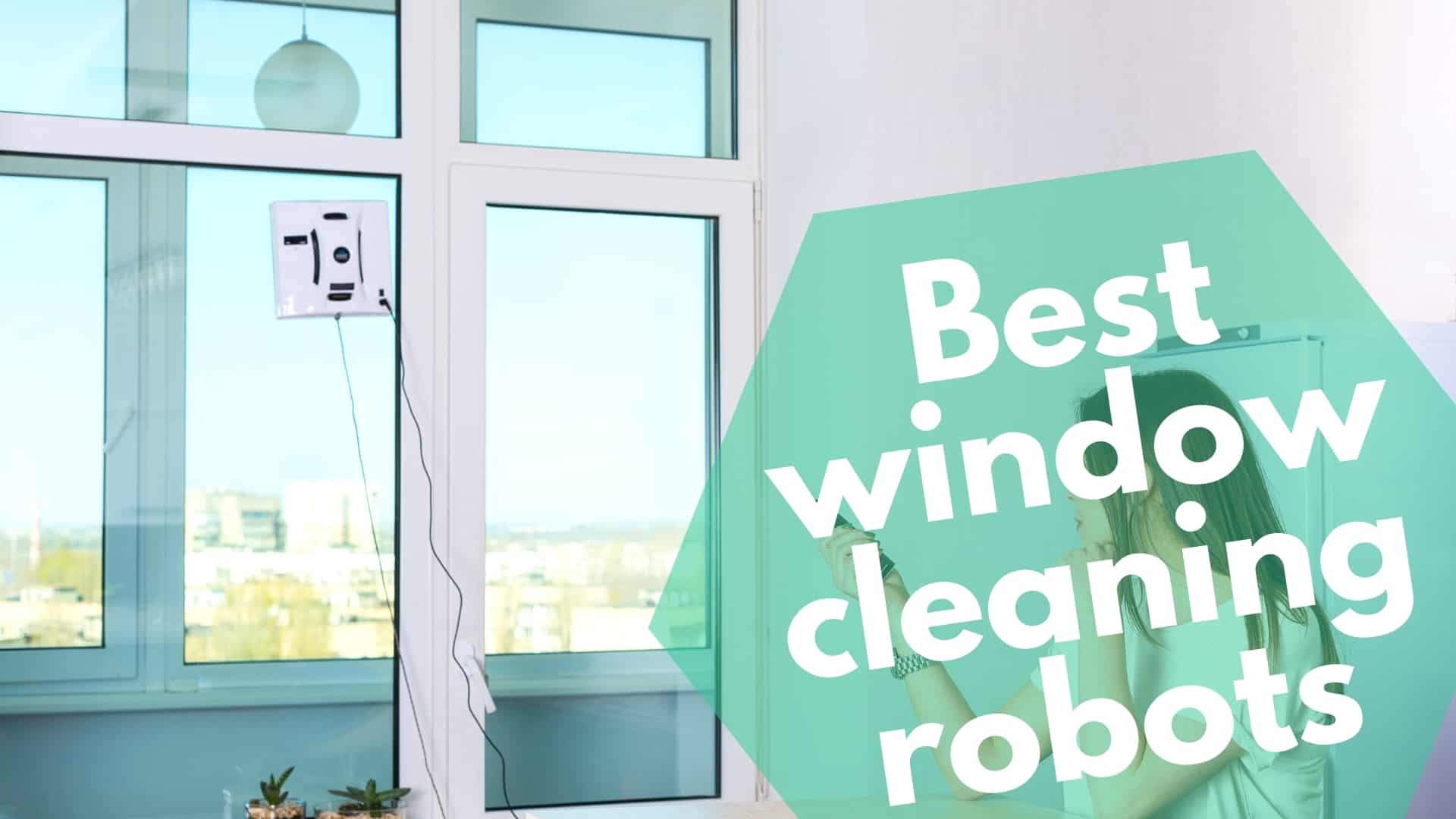 The exterior windows are a real hassle to clean. If you're like me, you probably let the smudges and dirt pile up in hopes of a rainy day that washes it off on the outside.
A window cleaner robot is the quickest window cleaning solution. It keeps your windows clean and saves you the hassle of heavy-duty cleaning!
Our top robot window cleaner is this Ecovacs Winbot; it does the best job at cleaning, it has many features, and it's an intelligent robot, so it doesn't keep breaking down like cheaper models.
If you're looking for convenience, the robots on our list are going to help you keep your home or business cleaner than ever.
Here are the top 3 best window cleaners for the home.
| Vacuum Cleaners | Images |
| --- | --- |
| Overall Best Window Cleaner Robot: Ecovacs Winbot | |
| Best Budget Window Cleaning Robot: COAYU CW902 | |
| Best Smartphone Controlled Window Cleaner Robot: HOBOT-288 | |
What is a window cleaner robot?
This type of cleaning robot is similar to a vacuum cleaner robot, except it sticks to glass and cleans thoroughly. When you use a window cleaner robot, you eliminate the risk of falling and hurting yourself. Also, you can do more important things than wipe windows inside and out. A window cleaning robot is an intelligent gadget. It cleans an entire window from top to bottom and end to end and makes it sparkly clean.
How does a window cleaner robot work?
The robot is a recent innovative invention. It's designed to stick to glass and clean the glass with a special cleaning pad and window cleaner solution. Basically, the robot is motor powered. When you place it on the window, it calculates the window's size and the surface area, then it travels back and forth to clean. The robots have a window detection system that helps them do all the work – both the calculations and the cleaning. You can use the robots to clean all kinds of glass surfaces, including sliding glass doors and single or double glazed windows.
Overall Best Window Cleaner Robot:

Ecovacs Winbot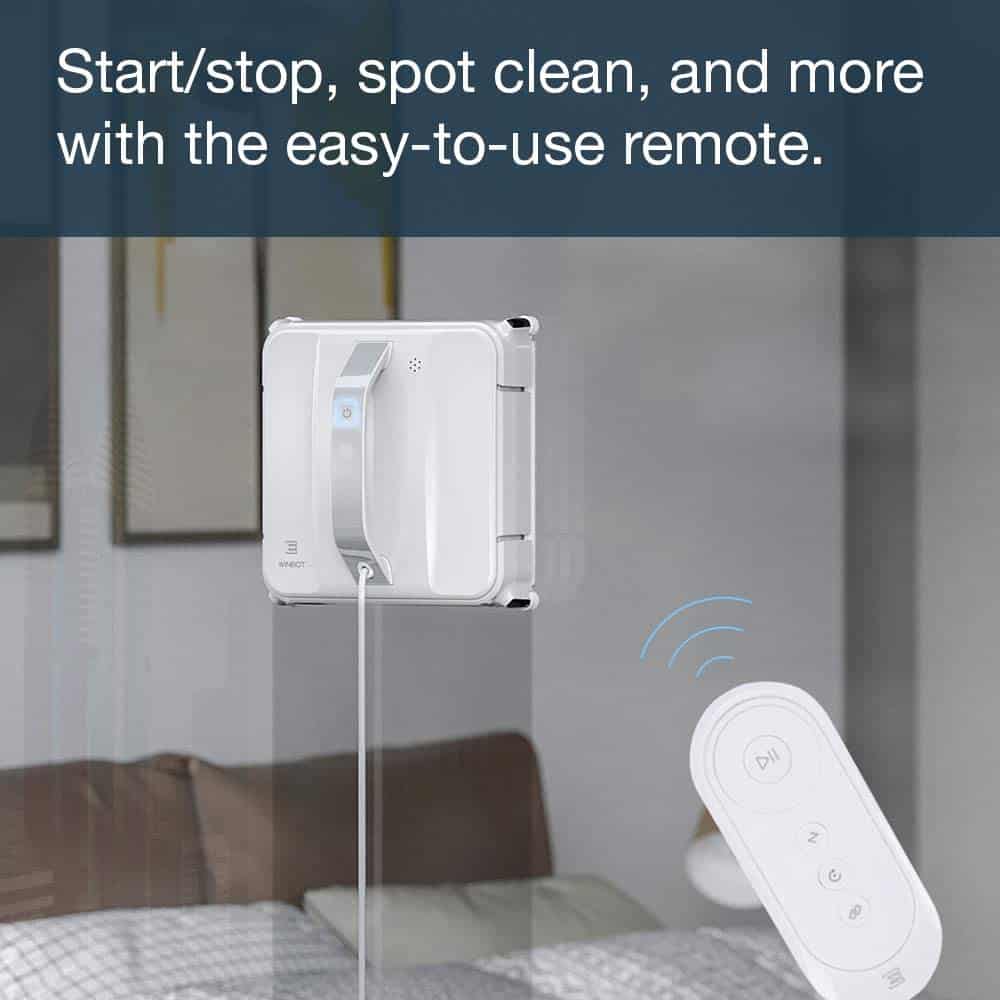 If you struggle to reach the corners of your window and you end up with a mediocre window wash, you need to try the Winbot. This gadget helps you clean the windows quickly and economically. It calculates its paths intelligently to ensure no spot is left uncleaned.
When it comes to innovative robot window cleaners, the Winbot 880 Window Cleaner is the top one on our list. This smart little tool is essentially the next in line of the automated cleaning industry, helping us to keep our windows in top shape without too much effort needed on your part.
While it's not exactly a robot that turns up in the overalls with a ladder, it's an awe-inspiring introduction to the world of automated window cleaning.
It's the best choice because it's capable of reaching all the window surfaces and cleans streak-free. With its impressive 4-step cleaning mode, this goes about cleaning the windows most thoroughly that it can.
We love it because it always sticks to glass and doesn't fall down.
Features
This window cleaning robot is best for edge to edge cleaning because it doesn't get stuck at the edges. It also cleans quickly and moves in all directions, to clean streak-free.
It gets right into the edges of the window, cleaning up any gunk and debris building up and helping to remove anything from bird droppings to an egg thrown by an unruly teenager. That's all thanks to its smart navigation system. It calculates the most economical path to clean all areas of the glass.
With advanced fan-powered tech, this helps to make sure that your window cleaner can keep on moving until the job is done. The robot is equipped with sensors and edge detection technology to ensure it doesn't get stuck near the edges. Cheaper robots tend to get confused and stuck when they reach the margins.
It then moves back to the starting point, waiting for you to move on to the next window and let it get started there.
It's one of the most sophisticated window cleaners ever created. The whole device is high-tech and quite complex. Check out all the components of this machine. 
Most other window cleaning robots function similarly. But, this one knocks them out of the park because it's reliable and stays stuck to the glass firmly.
The robot uses 5 layer cleaning pads and an elastic squeegee to clean. As it moves, it passes around each area 4 times to ensure that it removes all the dirt.
It's a very impressive step in the right direction and should play an imposing role in the domestic cleaning environment for many years.
A New Form of Cleaning Assistant
According to David Qian, the President of Ecovacs Robotics' International Business Unit, this is a bit of a game-changer for both consumer and business. He claims: "The Winbot X represents the next evolution in window cleaning technology. By removing the power cord, the robot can move freely across the surface it is cleaning, regardless of whether or not the window has a frame.
"Our goal with the Ozmo series of robotic vacuums is to address some of the most common frustrations consumers have with their floor cleaning robots, like the inability to clean both hard surfaces and carpets and not mopping effectively."
That's a pretty ambitious plan and should already give you a good idea of where Ecovacs is going soon.
With so many awesome model ideas on the market already, this will be a bit of a game-changer for all the right reasons.
Not only is this going to help reshape the entire industry, but it's also going to help develop a much smarter and more economically viable plan for cleaning companies. So, if you've been wondering if your local window cleaner takes a little too much for their window around, you might want to consider if he or she is worth replacing with a Winbot X!
Best Budget Window Cleaning Robot:

COAYU CW902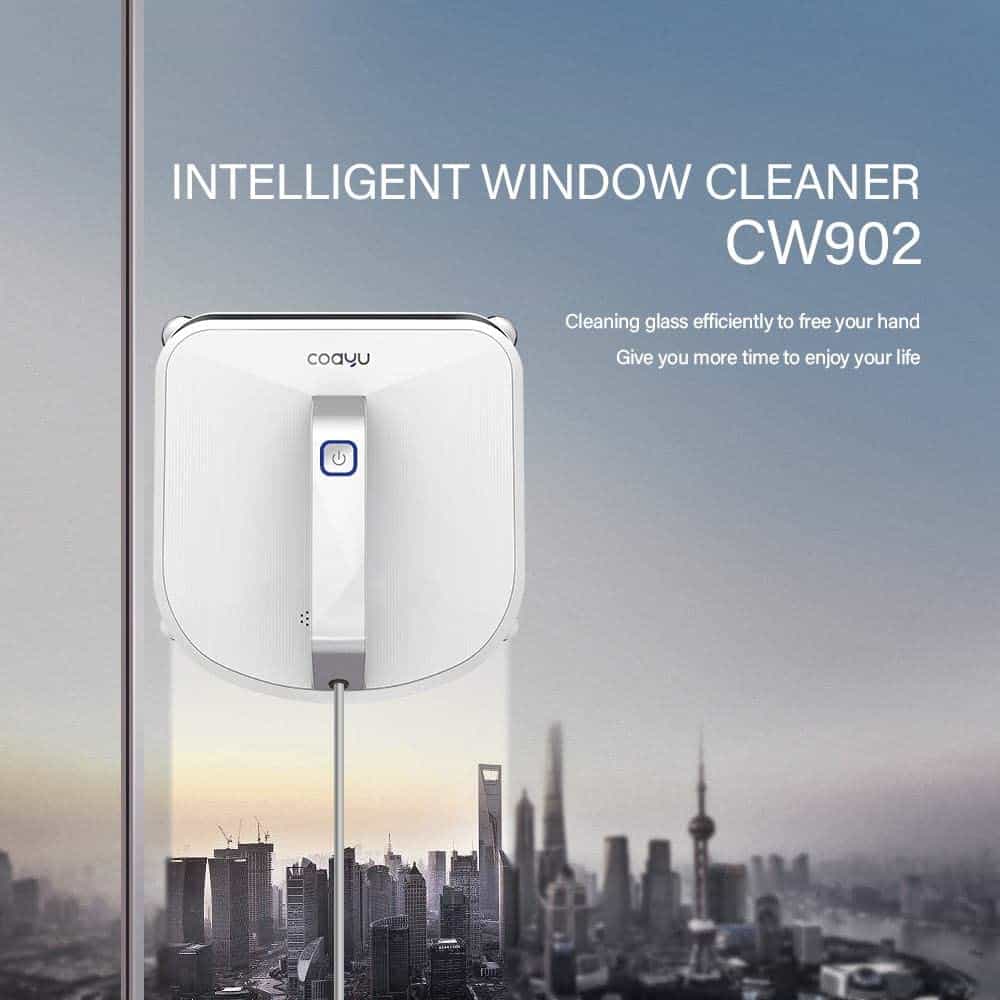 If you're wary of spending lots of money on a window cleaner robot, I understand. How often will you use it? But, believe me, this type of cleaner is very handy in any household, especially if you have large windows. Luckily, not all cleaning robots are expensive!
The COAYU is similar in design to the Winbot, but it's less expensive. This model is the best if you are on a budget but still want a suction powered robot that is not limited to cleaning windows only. Since it attaches through suction, you don't need to attach another piece to the other side of the glass. So, it convenient, quick, and easy to use to clean multiple surfaces.
The problem with many window cleaning robots is that they can only work on windows. But, this model resolves that problem because it can clean windows, glass doors, and even tables, walls, and floors. Therefore, it's truly versatile and a great budget buy because it does it all. So, you're not limited to using it only once a month or so to clean windows, it has more uses! Therefore, this is a 'one machine does it all' type of cleaning product.
Features
Everything about this robot is 'simple'. It's the best choice for those of you looking for a versatile, affordable, and simple window cleaning robot.
It uses a washable microfiber cleaning pad to remove all types of dust and dirt, even greasy smudges. You can wash and reuse the cleaning pad as many times as you need to, so it's a money-saver right off the bat.
Dog owners will appreciate how quickly this machine can clean dog nose marks from glass surfaces. Even if you're not a pet owner, I'm sure your glass surfaces get full of tiny smudges. Manually cleaning those is such a waste of time.
This robot is not a magnetic window cleaner, instead, it uses suction power to stay stuck to the glass without falling. Usually, suction powered robots are more pricey, but this one is less than $300. But best of all, you'll be impressed by the powerful suction (3000Pa).
It does an excellent job cleaning because it moves quickly and efficiently. The many smart sensors ensure the gadget doesn't collide with the window frames and edges or fall off. As it moves up and down to clean, it doesn't leave any streaks behind, so you can be sure you're getting thoroughly cleaned windows.
The robot is easy to use because it only has a simple on and off button and handy remote control. You don't have to worry about any complex programming or settings.
The best feature of this robot is how versatile it is. It cleans multiple surfaces, not just windows. Therefore, you can use it all over the home, to clean glass doors, glass tables, floors, and even bathroom walls/tiles.
So, if you're looking to simplify your household cleaning routine the COAYU is here to help!
Best Smartphone Controlled Window Cleaner Robot:

HOBOT-288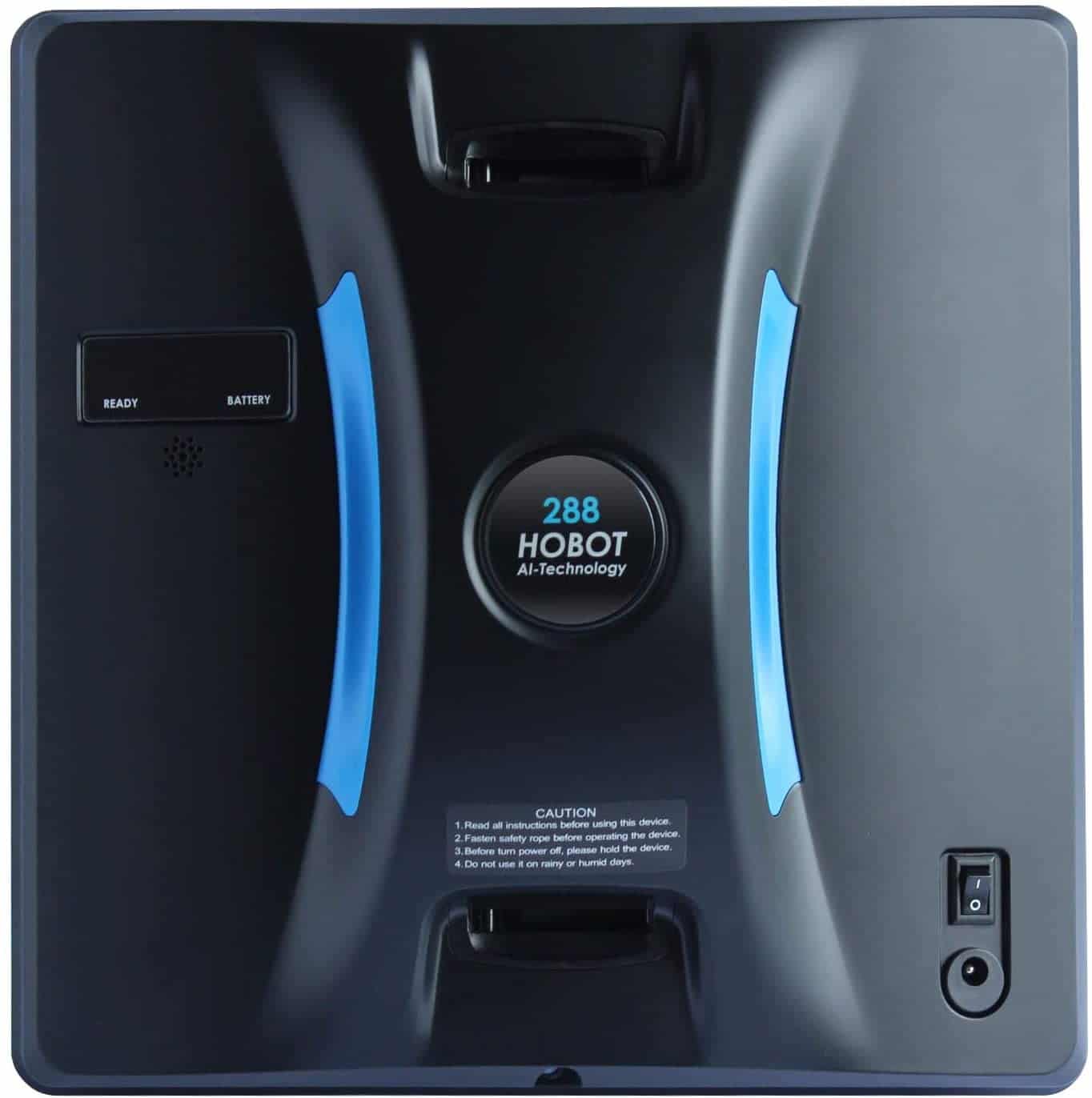 Fans of smart gadgets are going to enjoy this window cleaning robot. It's a highly intelligent cleaner that makes the most of the latest AI technology. It's best for those who want to control the window cleaner robot from their smartphone. Of course, it also has a remote control, but if you fear always misplacing it, you can easily take control of the robot from your phone.
One of my main problems with remote-controlled objects is that I have to either take the remote with me, or I have to keep going back to it to adjust modes and settings. But, since it works with your phone, you can forget about the remote. I'm sure you carry your phone with you all over the house.
If you like smart devices, you're surely going to expect speed and efficiency. When you hear the words artificial intelligence, the expectations are naturally very high. This robot doesn't disappoint because it's full of smart features you don't have to worry about. I am especially surprised that it cleans so fast without bumping into the edges and falling off.
This device lets YOU be in control, through your smartphone. Since it connects through BLUETOOTH, the robot sends alerts and notifications straight to your phone. It tells you when it's finished cleaning, so there's no guesswork needed. Once it's finished cleaning, it stops automatically.
Features
The HOBOT is the fastest window cleaner robot in the world. It gets all the work done quickly, and chances are you won't even realize it's finished, that's how speedy it is. It moves at 4.7 inches per second, which allows it to go edge to edge very fast.
Versatility is one of the best words to describe this robot. It comes with two types of cleaning cloth. The first is designed for dry use to remove dust and dry dirt particles. But the second is made for wet use, so you can use a liquid cleaner to disinfect and polish.
Both cloths are very efficient cleaners and best of all, you can reuse and wash them. The small microfibers pick up all the dirt particles, for a spotless and streak-free clean, every time.
In case you're having trouble imagining what it works like, just think of a washer mop. This works in a similar way, but it moves along the surface of your windows or glass surfaces. It has a vacuum suction engine and sticks to any glass that's thicker than 3 mm.
The power cord is long enough to allow for the cleaning of large windows. And, the robot comes with a safety rope to keep the cleaner tethered in case of a fall.
Buyer's Guide: What to look for when buying a window cleaner robot
When it comes to choosing a window cleaner robot, there are several features to consider. First of all, think about what you need the robot to do in your home. The layout, number of windows, and their size should be taken into consideration. Luckily, robots can tackle small and large windows alike, so they're likely to be an efficient addition to your household.
Here's what to look for before purchasing the robot:
Cleaning Modes and Controls
Most cleaning robots have several cleaning modes, including the deep clean mode. This comes especially handy when the glass is full of sticky messes or mud. The cleaning modes refer to the paths and directions the robot goes as it cleans.  Some modes have quick cleaning paths, and then there are more thorough cleaning options.
Usually, the robots are controlled via remote control, and you can switch between cleaning modes.
Suction vs. Magnetic Connectivity
There are two types of functioning mechanisms. Some robotic window cleaners have motor-powered suction. Others work with magnetic connectivity. The magnetic connection requires a separate attachment that goes on the other side of the window you are cleaning. This keeps the magnetic part stuck to the window.
Most people prefer suction powered robots because you don't need a second part. Simply place the robot on the window and it does the cleaning job. In some cases, the connection can fail, so it requires a safety cable to prevent the robot from falling off the window and breaking.
Cleaning Material and Process
Some models use cleaning pads to clean the windows. Others use a squeegee type material or brushes. All of these cleaning methods can ensure streak-free windows. The number of pads and/or brushes on your robot depends on the model. The Winbot, for example, has one large cleaning cloth pad and it does an excellent job. You also need to add a cleaning solution liquid before the robot can start to clean.
Also, keep an eye out for robots that can clean more than just your windows. Some models also clean mirrors, shower walls, and glass doors.
Battery Life
The battery life is generally short for window cleaner robots. But, most can clean about 10 average-sized windows on one single charge. The cheapest models have a very short battery life of only 15 or so minutes. In contrast, the more expensive robots run for about 30 minutes. They are capable of a deeper and more thorough clean. If you have a large home or your house has many windows, it's worth investing in a premium robot because it's more efficient.
Wet or Dry Cleaning
Your window cleaning robot uses wet, dry, or a combination of both cleaning methods. The most expensive models have microfiber pads that are used for both wet and dry cleaning. This allows for a streak-free and shinier clean.
The dry pads are best for removing dust from the glass. On the other hand, the wet pads are better at removing spots and stains. You can spray them with window cleaning liquid to get a deep clean.
One major disadvantage of cheap dry cleaning pads is that they leave small fibers behind.
Cables
The power cable is a nuisance if it's not long enough. Check out the units with ample cable length to allow you to clean farther. If the cable is too short, you can add an extension cable to make it long enough for your needs.
But, I recommend you avoid anything with too many wires and cables. The last thing you want is an extra tripping hazard in your home.
Price
The prices vary a lot. But, an entry-level window cleaning costs about $100 to $200. Some of these cheaper ones don't have a remote control and it can be quite inconvenient.
Mid-price robots cost about $200 to $300 and offer good value for your buck. They have remote controls and good cleaning efficiency as well as a number of secondary features.
For amazing cleaning results, you must be willing to pay a higher price. According to this useful guide on how window cleaner robots work, the more control and more sensors you want, the more you have to pay. You can expect to pay around $350 to $500 or up.
Advantages of a Window Cleaner Robot
These days, all kinds of electronic devices claim to make our lives easier. But in reality, how many of them do we truly need in our home? Cleaning windows is hard work, so this type of robot is a true helper.
Here are the top advantages of a window cleaner robot:
1. Convenience
When it comes to convenience, a robot is at the top of the list. I'm sure you've tried to clean your windows but never managed to clean every single spot. What about those paper towel streaks? So many people fall off chairs and ladders while trying to reach the top of the window. Let's face it, washing windows is a dangerous task for all ages. Plus, let's not forget the constant and insistent scrubbing. Then, you need to buy all those cleaning solutions.
The window cleaner robot is easy to use. Just turn it on and let it work across your windows. It moves along pre-established paths and leaves behind a spotless clean. It even removes the stubborn greasy stains.
It can also reach all the corners that you may miss if you're using a cloth and scrubbing by hand. The robots operate with internal batteries, so you don't need to trip on cables. Each cleaning mode has it's own programmed cleaning time. So, you really don't need to think or worry about it too much.
2. Effortless
Once you try the robot, you never want to go back to manual window cleaning. The robots are so lightweight you can move them around the home easily. Lifting them up is no problem at all. All you have to do is to attach the robot to the window and let it do its magic. The built-in sensors can detect all the edges and corners, so they don't miss a spot. As well, they don't fall off the window or break due to crashes. The best models have some features to ensure they don't fall of edgeless windows, like the ones in stores or offices.
3. Streak-free
When you clean manually, you miss a lot of spots and end up with streaky glass. That's really annoying and you have to do double the work. Usually, you think you've cleaned the window quite well only to notice all the streaks in the sunlight. If you use a window cleaning robot, you don't need to deal with this problem anymore. It leaves windows without streaks or traces of fiber. Since it moves in a zigzag pattern, it ensures an even clean. Top models even have vibrating brush heads to ensure a deep clean each time.
How to Use a Robotic Window Cleaner
When you think about how the robot works, it sounds a bit complicated. But once you get the hang of it, it's quite easy to use the window cleaner robots. Each model varies slightly but they all work in a similar way. Therefore, there are some general instructions and guidelines to follow.
The first step is to choose the spot where you want the window cleaner to start the cleaning process. The spot may be full of filth, dirt, and dust. Therefore, you need to clear and wash the spot where the robot is going to stick and start cleaning.
Then, you need to make sure that you hook up the tether properly. There needs to be enough room for movement. If there isn't the tether can pull down the robot and it will fall, which is something to avoid.
Now, place the robotic cleaner on the window and push it. Once you press the ON button, there should be some type of clicking or beeping sound that indicates the machine is ready to start cleaning.
By this time you should have selected the cleaning mode. The robot should start to move now, usually up and down, but it depends on its path.
The sensors will guide the machine. Once it's finished cleaning the entire surface it stops on its own.
How do you clean the window cleaner robot?
The window cleaner robot has a variety of components and parts but they are easy to clean and maintain so you don't need to worry about that.
First of all, never keep your robot outdoors or in a humid environment. The machines work best during the warm seasons. In winter, you should not use robots outdoors. Instead, use them indoors only and store them in a warm but dry place.
As far as the cleaning pads are concerned, most are reusable and washable. In that case, clean and wash them after every use. You want to clean the mess not spread it around, after all. But if your pads are not reusable, then change them about once a week.
Make sure to wipe down the robot with a damp or dry cloth if it gets dirty or grimey on the exterior.
Can you clean a mirror with the robot?
You can safely clean most mirrors with a window cleaning robot.
However, look out for cheap mirrors. Those are not the best quality and may break. As well, they can crack, especially if they have glass plates on top of them. This layer is too thin for the robot's powerful suction.
Does the robot window cleaner only work on glass?
Generally, windows are made of glass. The robots work most efficiently on glass surfaces. But, many models also work on other surfaces, including:
shower walls and screens
tile
both indoor and outdoor windows
thick glass windows
glass doors
glass tables
reflective glass
shiny floors
shiny tables
Conclusion
The bottom line is that a window cleaning robot is a handy gadget for households or businesses with many windows. Cleaning glass is a daunting task, especially if it's full of greasy handprints or dog nose smudges. When it comes to cleaning the exterior windows, you risk falling and hurting yourself if you don't call in the professionals. But a small window cleaning robot can offer a deep and thoroughly clean in a matter of minutes. So, you never have to use a cloth and spray bottle to scrub that glass all day.
I'm Joost Nusselder, the founder of Tools Doctor, content marketer, and dad. I love trying out new equipment, and together with my team I've been creating in-depth blog articles since 2016 to help loyal readers with tools & crafting tips.