I love creating free content full of tips for my readers, you. I don't accept paid sponsorships, my opinion is my own, but if you find my recommendations helpful and you end up buying something you like through one of my links, I could earn a commission at no extra cost to you.
Learn more
Safety is a very big concern for those who constantly work in machinery & woodworking. Our hands are constantly in close contact with sharp-edged blades. One minor mistake can become fatal for you if you are not careful. Safety for your hands is most essential.
Woodworking gloves are constantly gaining the spotlight as people are concerned about harm on their irrepressible digits. But there is a lot of variety in this section. You have to choose the right one according to your work & preference.
You may be thinking about how you might make the right choice. Not having any knowledge is not a matter as our buying guide for best woodworking gloves will help you come to light. We have come up with a thorough inspection of every product just for you. 
Best Woodworking Gloves We Picked
We have come up with some of the top woodworking gloves in the market. The pros & cons have been described in an orderly fashion for your convenience. Let's jump right to them.
CLC Leathercraft 125M Handyman Work Gloves
Why the value?
The CLC Custom Leathercraft 125M Handyman Flex Grip Work Gloves are made of Synthetic leather. Leather construction will provide you with toughness & agility. There are stretchable spandex & Lycra side panels that allow your hands to work easily without any hassle.
Moisture resistant is one of the main features of the gloves. You can work outside & even handle watery jobs without any worries as the gloves will not shrink. In winter conditions when we have problems as our hands have a lower tendency to move, these CLC gloves will give warmness for better swiftness.
Concealed inner stitching will prevent any sort of snagging of wood or metal. They are very user-friendly as you can use a touch screen with textured fingertips while working. You can easily use these in carpentry, plumbing, gardening or any outdoor activities. These gloves are one of the finest as a woodworking glove.
Limitations
These gloves have a thick construction to give you ultimate protection while working. But this may come as a hassle while you are performing small tasks such as kitchen cutting or changing bulbs.
Ironclad General Utility Work Gloves GUG
Why the value?
These Ironclad heavy-duty performance gloves are made of 55% Synthetic Leather, 35% Stretch Nylon & 10% Terry. It is equipped with reinforced rubberized knuckles to help you carry heavy loads without hurting your hands. The fingertips also have a non-slippery gripping to slippery loads.
Double stitches are featured in these gloves for maximum durability along with indicated stress points. As the construction material is synthetic leather, the gloves will not shrink or sweat. It will protect you against any sort of sharp edges or rough surfaces.
These machine-washable gloves have adjustable Hook and loop for secured fitting. Ironclad provides a flawless fit system that has almost 16 application-driven measurements to choose from for ideal fit. The most ideal use of these gloves would be for heavy lifting, but apart from that, you can use it in construction, equipment operations, etc. & many more.
Limitations
The gloves have no insulation. As a result, they can be used for the winter season. So during the cold winter season, you will face a hard time with these gloves.
NoCry Cut Resistant Gloves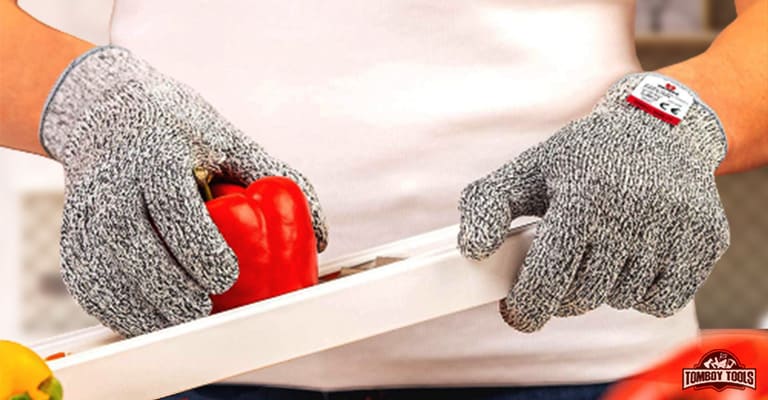 Why the value?
NoCry gloves are made of glass fiber, spandex & ultra-high molecular weight polyethylene. These materials are completely food safe to use if you have any concerns about woodworking safety. But the fact that lies most assured is that it has an EN388 Level 5 cut protection rating. This will undoubtedly reduce your chances of any sort of serious cuts or injuries.
These lightweight gloves are designed to keep you safe from any sharp edges or blades. Build quality of the glove is so great that it will give you almost 4 times the protection from leather gloves. While making sure the gloves are protecting your hand, it will also give you a firm grip that feels soft against your skin for better comfort.
You can easily wash them in your machine. Being available in 4 sizes, make sure to get the perfect fit for your palm. If you are looking for a durable glove to work on everything else like gardening or crafting wood, you can rest assured that NoCry will not let you down.
Limitations
You should keep in mind that these gloves are cut resistant, not cut proof. So if you are thinking of having a blade fight, then you might have an ambulance by your side.
OZERO Flex Grip Leather Work Gloves
Why the value?
If you are looking for genuine leather gloves then you would want to check the OZERO working gloves. These gloves are manufactured from genuine grain cowhide. Cowhide is such a material that is resistant to shrink & also flexible too. The thickness of the material is 1.00 to 1.20mm which is much durable * tear/ cut resistance.
Reinforced palm & elastic wrist gives you an excellent grip & will keep dirt or debris out of the inside part of the gloves. As cowhide material is naturally breathable, sweat-absorbent & gives you ultimate comfort in the inside part of your hands. The seam along the keystone thumb gives you greater dexterity & makes the gloves more rigid.
OZERO has come up with 3 different sizes for these gloves, M, L & XL. Having been made from OZERO's own raw material department, they ensure the quality for you. These gloves work best for heavy-duty outdoor tasks such as gardening, carpentry, construction or in the farms.
Limitations
These gloves are not machine washable, so if you have to get it dirty it would give you a hard time. The wrist of the gloves is non-adjustable. You won't be able to tighten it.
Best for (wet) sanding: Youngstown Kevlar Waterproof Glove
Why the value?
Youngstown Gloves are manufactured in a formulation of Nylon 40%, Polyurethane 20%, PVC 20%, Polyester 10%, Neoprene 7%, Cotton 2% & Velcro 1%. The palm, fingers, thumb, and saddle features a non-slip reinforcement for better grip & durability. The index, middle & Thumb are shortened for better dexterity while working with carpentry.
Soft Terry Cloth is sewn on to the top of the thumb so that users can easily wipe any sweat or debris from their forehead. You won't have the hassle of getting your gloves for these types of situations. The level of dexterity is featured in very few gloves.
With such a combination of so many fabrics throughout the gloves gives ultimate durability & comfort. The gloves are best used in Carpentry, assembling, automotive & other tasks involving small tasks. Choose the perfect size carefully from small to 2XL for this glove.
Limitations
These gloves do not give a durable feel. While working with heavy loads they tend to wear out quickly. So in the woodworking gloves section, these gloves are not for the heavy-duty work.
DEX FIT Level 5 Cut Resistant Gloves Cru553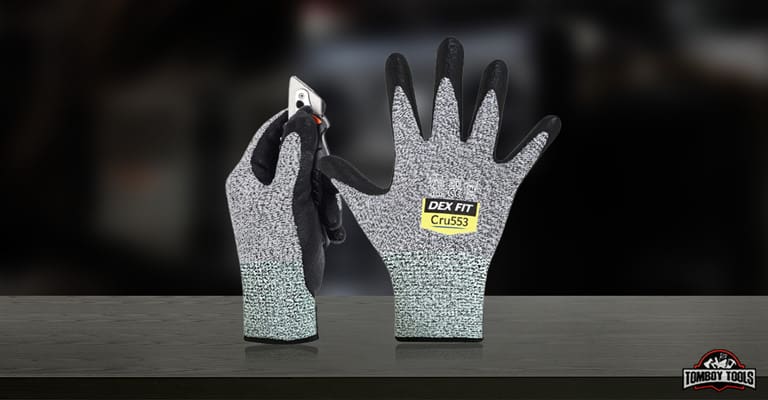 Why the value?
DEX Fit Cut resistant glove will offer you ultimate dexterity because of the 13-gauge HPPE & Spandex build. Having a level five EN388 certification there is absolutely no doubt about the protection it is offering to the users. It also has an ANSI cut-proof A4 for you to work without worrying at all.
Comfortless & agility are two of the best features of these gloves. The nitrile coating on pam & fingertips gives you durability while the anti-slip feature is existent to handle slippery work. The ventilation system of the air is also smooth, so you won't have any sweaty palms while working.
These gloves are multi-variety in both applications & come in over dozens of color schemes. You can easily use them in any automotive, cutting, gardening, carpentry or anything having the risk of harming your hands. The sustainable design allows you to work with a touch screen while working.
Limitations
The gloves will come smaller than expected, so you would have a tight fit while using them at first. You would have to give it some time to break in your hand. The materials also have a tendency to tear easily.
What to Look for Before Buying Best Woodworking Gloves
If you want to get the top woodworking gloves, then you first have to analyze its every aspect. There are a few important matters that you must ensure before purchasing woodworking gloves. Go through this section carefully so that you don't miss out on anything.
Material
The most important aspect is the material that the gloves are made from. There are a variety of components for gloves. Every type of material works in different situations.
If you are working in a cold condition, then it is better to work with a thicker glove. But the gloves need to be breathable so that the inside of the gloves don't get sweaty. Spandex & polyethylene are such breathable materials that give better ventilation.
But if you have allergy for latex, then there is always Nitrile & Polyethylene for you to use.  For heavy uses leather or synthetic also does the work. Materials such as synthetic or leather are used in more abrasion areas.
Dexterity
Dexterity is one of the things that will make your working procedure easier. Every time taking the gloves off & again on can become irritating. It will also ruin the rhythm of your work. So always look for agile quality in gloves.
This can be indicated by the level of hand movements you can make. Some Gloves have shortened the index or thumb so that you can easily wipe any sweat or debris.
Protection
The main reason why you are working with a glove is for protection. Tough materials will give you the best level of protection. Look for protection certifications. These certifications guarantee you safe use.
Resistance
There different types of gloves that give different types of resistance in different situations. If you are going to work outdoors or gardening or doing something involving water then it is best to look for a glove that is resistant to Water.
But if you are doing any carpentry or kitchen cutting which involves working with sharp edges then you have to look for gloves that are cut resistant. But a thing to keep in mind, the more the cut-resistant the more the flexibility reduces.
Maintenance
Gloves will eventually get dirty after some uses. So it's important to keep washing it. But here comes the dilemma. Not every type of gloves is machine washable. The ones that are not machine washable will have to be cleaned manually.
Fitment
Fitment is one of the things that would a hassle if you get it wrong. An oversized would pain as it will just flap around & will even become a danger for your safety too. Always check the size perfectly if you have made your choice.
FAQ
Q: How do I select the size of the gloves?
Ans: Usually, a woodworking glove is measured by the diameter of your hand & the length of your middle finger. Look at the size of the chart carefully to select the right one for you.
Q: Will these woodworking gloves completely prevent cuts?
Ans: No, it will save you're the minor scratches or blunders you make while working with a different sharp instrument. But if you try to put a knife through the gloves then it will pierce your hand for good. These gloves are cut resistant not cut proof.
Q: Are Latex or Polyethylene Gloves safe for food?
Ans: Yes, it is completely safe for your food if no part of the gloves goes into your food. Some gloves also have certifications in this matter. But beware of using low-quality gloves as they contain chemicals that may harm your food.
Q: Will I be able to use touchscreens or smart devices with these gloves?
Ans: Not every type of material allows you to work with touch screens. Like Leather or wool, gloves will not allow you to use touch screens. If your glove has this feature, then it will be shown in the specifications.
Q: What to do if you have an allergy to the material of the glove?
Ans: There are some people who have allergies to latex. The best way to avoid allergies is to stay away from it. There are plenty of substitute gloves that you can use instead of it.
Q: How do I wash a glove that is not machine washable?
Ans: It is best to read the label of the gloves to know how to wash it. If the glove you have purchased is not machine washable. Then you have to wash it manually by hand. These woodworking gloves have to be washed gently. First, you have to create an aqueous solution & then the gloves need to be washed gently.
Conclusion
It is normal to think that the best woodworking gloves shouldn't be so hard to pick, it's such an easy choice. But by reading this far you surely have gotten stuck on so many criteria. The manufacturers these days are not making it easy for you. Competition among the products is huge as new features are coming every day.
Our expert advice is here for you to help make up your mind on the best woodworking glove for you. If you want a one that covers all the areas of your profession, then you need the CLC 125M Handyman will be a fine choice. The level of dexterity & heavy use will be perfect for you.
The NoCry Cut Resistant Gloves are also a nice choice if you want to do professional & household kitchen activities too. It also has certifications on food safety & level 5 cut resistance. Ironclad General Utility Work Gloves can also be considered as great leather woodworking gloves for heavy-duty works.
I'm Joost Nusselder, the founder of Tools Doctor, content marketer, and dad. I love trying out new equipment, and together with my team I've been creating in-depth blog articles since 2016 to help loyal readers with tools & crafting tips.