I love creating free content full of tips for my readers, you. I don't accept paid sponsorships, my opinion is my own, but if you find my recommendations helpful and you end up buying something you like through one of my links, I could earn a commission at no extra cost to you.
Learn more
Everyday more and more women are taking up the toughest jobs and working hand in hand with the men. Whether it's industrial environments or inside an office cubicle, women are conquering 'em all. But rugged jobs require rugged boots for them to be their best.
But why is it so tough to find the best work boots for women?
We can cough up several reasons starting with there isn't just one. If you do your research, you will see that there are companies who have devoted their time to make comfortable and durable work boots for women and you will probably be confused about which one to buy. We are able to help.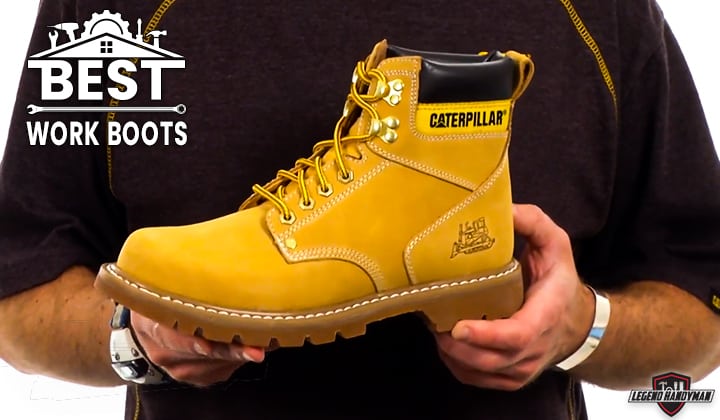 In this article, we have summed up a few tips and tricks to find the best work boots for you and some products for you to choose from.
Best Work Boots for Women
Here are the top 10 best work boots for women we selected and reviewed in details.
Timberland PRO Women's Titan Waterproof Boot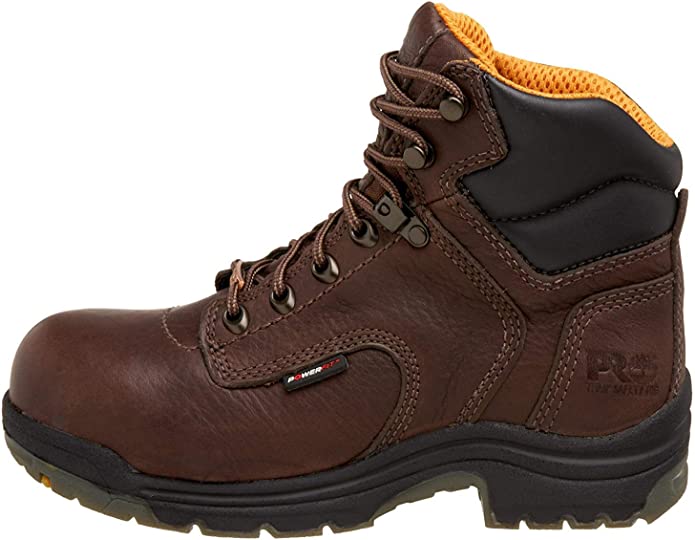 Timberland has been in the industry for forty years and is well known for its comfortable and unique designs with environment-friendly recycling of the materials. Timberland boots are good for any occasions including working or hiking.
Key features 
These boots are comfortable, so much so that the company has a 30-day comfort guarantee. This means if you don't feel comfortable enough in the boots you can get a full refund if returned in the first 30 days! They are also imported and 100% leather upper with a polyurethane molded EVA midsole. Ladies! they don't get any more comfortable than that.
The boots provide open-cell antimicrobial polyurethane cushiony footbed for your feet.  This doesn't only make the boots lightweight but also makes them wearable for a long period of time. Moreover, its mesh lining keeps the feet dry and kills bacteria and eliminates odors.
The Timberland PRO boots are made for workplace safety. Their cement construction makes them very flexible and durable. The alloy toe construction gives ladies protection from unwanted workplace hazards. The boots also come with a padded top collar for maximum comfort and the lightweight nylon diffusion shank ties the knot by adding some extra support to your feet.
These boots are made from waterproof leathers that are sealed as part of the tanning process to keep the feet dry and gives blood-borne pathogen. The tongues and zippers of the boots are also treated with durable water-resistant coatings using integrated gussets to make them even more durable. These boots are not only equipped with rugged slip-resistant outsoles but also the waterproof membrane of them gives abrasion resistance.
Pros:
Durable
Comfortable
Slip and aberration resistant
Electrical hazard resistant
Cons:
May feel a little heavy and stiff for some users
The lining around the ankles can be a little thick
Can be a little warm for summer wear
Caterpillar Women's Kenzie Steel Toe Work Boot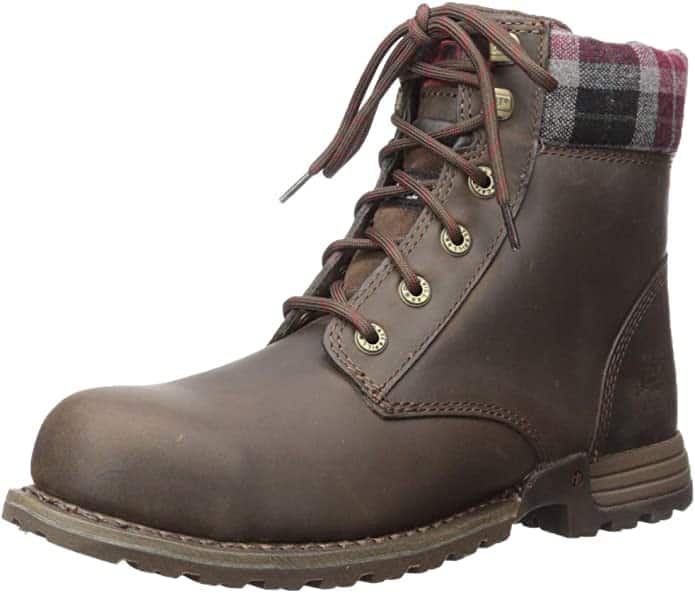 Kenzie is the name when comfort meets style. For a pair of work boots that give you the best time in work while making you look trendy, you can always choose Caterpillar Women's Kenzie work Boots without giving a second thought.
Key features
First of all, these boots are slip-resistant and come with electrical hazard protection. Their Astm F2413-11 I/75 C/75 steel toe can save you from any kind of injuries and Astm F2413-05 1/75 EH protects you from electrical hazards up to 600 volts in dry conditions covering most of the workplace hazards you may face. The boots also have an Eva heel cup. The extra cushioning in them gives you shock protection.
Secondly, they are very comfortable. Their 100% pure grain leather body makes them durable and not to mention stylish. And on top of that, the plaid covered cuffs gives them a look of combat boots just enough to make them trendy.
The boots are made for industrial works. They have a steel shank for you to have some extra support and stability while you work. They also come with nylon mesh lining and microfiber sock liner which allows your feet to breathe all through the day and the rubber outer sole doesn't let you slip either.
Pros:
Comfortable
Trendy
Hazzard resistant
Padded collar
Cons:
Takes a while break-in
Not waterproof
Bates Women's Ultra-Lites 8 Inches Tactical Sport Side-Zip Boot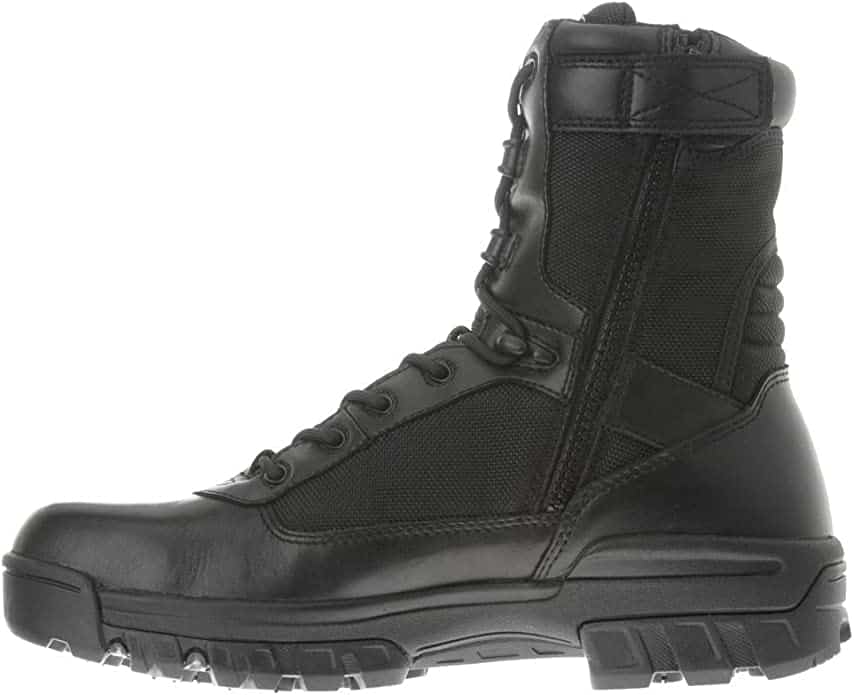 Tactical boots were formerly only worn by the soldiers and people in law enforcement. But nowadays they work perfectly for rough workplaces and can go through the wear and tears of the everyday. Bates has been making tactical boots for over 15 years and the boots have been known for their quality and durability.
Key features
The Bates Tactical Sport Side-Zip Boots is another name of comfort. They come with lightweight EVA insert and the polyurethane padding at heel and forefoot absorbs any kind of shock and not to mention their Cushioned removable textile footbed that gives you the ultimate support and comfort for a long day at work.
The boots are made of full-grain leather and 1680 denier nylon making them durable for years to come. The cement construction they have to make the boots lightweight. So when you go to work tomorrow you won't have to worry about dragging extra weights in your feet.
The last but not the least feature is that these boots have slip-resistant outer sole and mesh lining to keep your feet dry. The friction from the outsole prevents messy workplace hazards from happening. The mesh lining in the boots lets the air pass through your boots and make them breathable and prevents any fungal infection that may occur from wet feet.
Pros:
Flexible
Lightweight
Breathable
Cons:
Sometimes the boots make noises
Some customers complain about the fitting of the boots
Caterpillar Women's Echo Waterproof Steel Toe Work Boot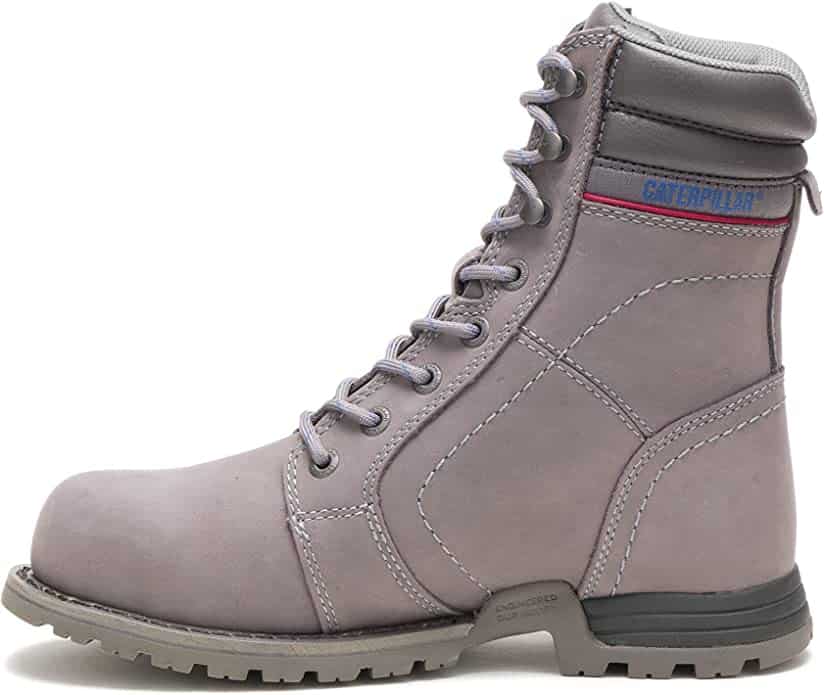 Caterpillar has been a well-known company for making comfortable yet stylish boots for women for a long time now. The Caterpillar Women's Echo Waterproof Steel Toe Work Boot is no different and works equally good as a pair of men's boots.
Key features:
First, let's talk about comfort. The boots are made with premium nubuck leather, which gives you the feel of suede making them very quick to break-in. Their ERGO Technology has given them flexibility and comfort. So when you wear them you can get through anything at work. Moreover, the boots come with a sock liner and PVC midsole offers you comfortable cushioning to give you the support and comfort you need the whole day.
Caterpillar makes work boots keeping extreme work conditions in mind. Their boots are suitable for any kind of work environment, no matter how rugged it is. Their ASTM rated Steel toe gives maximum protection against impact and compression. Not only the boots are slip-resistant they give electric hazard protection too. Their nylon mesh lining gives the breathability of the boot and keeps your feet dry all through the day.
Lastly, the boots are made to last. Their outsole is waterproof and abrasion-proof. Their patented technology and Goodyear welted forefoot together with cement heels make them the ultimate choice for a woman for comfort and durability.
Pros:
Waterproof
Comes in multiple colours
Durable
Gives well hazard protection
Comfortable
Cons:
Can be a narrow fit
Not suitable for cold weather
AdTec Women's Steel Toe Work Boot Brown Work Boot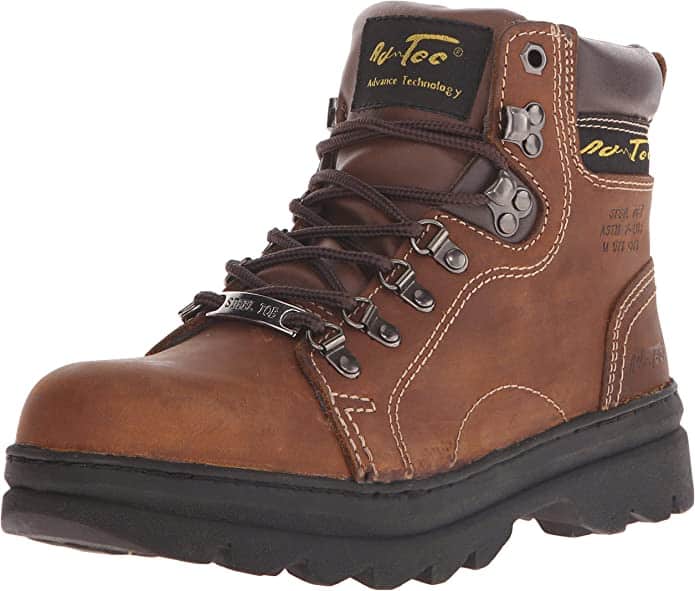 AdTec boots are a great choice for a woman in tough workplaces as they are made for all-day comfort and support. No matter how hectic your workplace is these boots can handle them all.
Key features
The boots are made from 100% premium quality leather also known as crazy horse leather which makes it suitable for everyday workplace wear and tear. These are made with Goodyear welt technique for extra support and durability.
The leather takes no time to break-in and with padded collar and cushioned footpad these boots are as comfortable as it gets. There is enough room on the inside of the boots to give you comfort for the whole day. But make sure to buy a size up as these boots tend to cause a bit problem for the narrow feet.
The boots have ultimate slip-resistant technology and steel toe for any hazards in the workplace. The rubber outsole is oil resistant making the boots last for years.
Pros:
Comfortable
Slip-resistant
Cushioned interior
Steel toe
Cons:
Nor entirely waterproof
No lining to keep the feet dry
Not breathable enough
Not very comfortable for people with narrow feet
Small toe caps
Keen Utility Women's Waterproof Industrial and Construction Shoe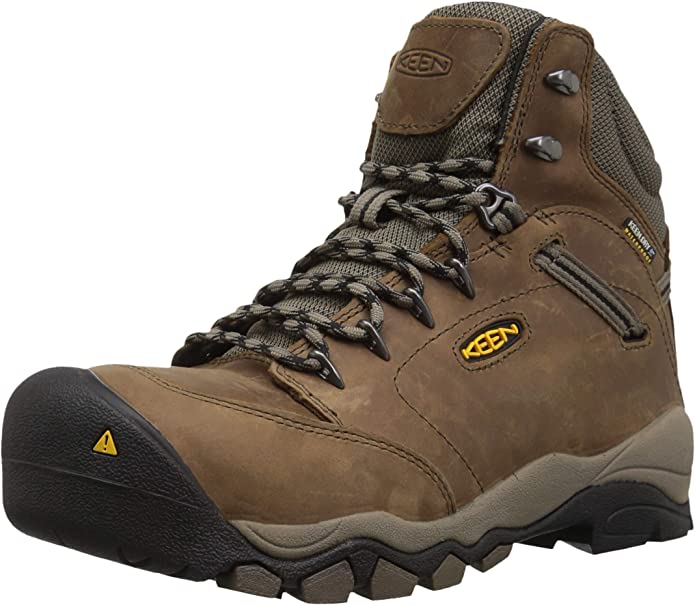 Keen Utility boots cover you in any situation for heavy industrial works to running. These boots are robust, trendy and lightweight, so you can handle anything with a bit of style.
Key features
These boots come with and unique feature of Left and right asymmetrical anatomically correct steel, aluminum, & composite toe. This makes the boots more comfortable and gives them enough space inside the boots for you.
The boots are 100% leather and have a waterproof split suede upper exterior that is also breathable to keep your feet dry even in the dampest seasons. Their non-marking rubber outsole is oil and slip-resistant to help you prevent any workplace hazards. It's lining moisture-locking and keeps your feet dry all day every day.
The boots have removable metatomical dual-density EVA footbed. These are engineered to give your feet the comfort and support they need. The contoured heel lock and cushioned footbed make them good for hiking as well.
Pros:
Comfortable
Removable footbed
Waterproof
Oil and slip-resistant
Cons:
Limited colour choice
Can be stained
Bulky
KEEN Utility Women's Flint Low Work Shoe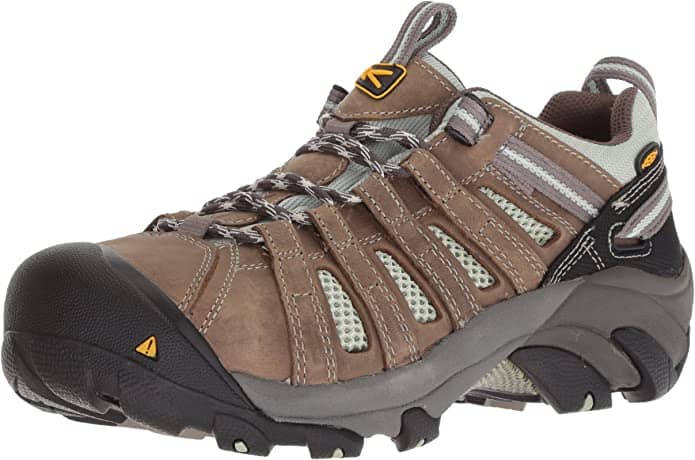 As we have seen before KEEN boots are made for toughest and rustiest environments. They are best for the go-getter women out there. These boots are flexible and have some of the best safety features to prevent slipping and falling.
Key features:
As usual, these boots have left-right asymmetrical steel toe. This gives you maximum protection from impact and compression. Its uniquely designed steel, aluminum, & composite toe gives much room inside of the boots for your toe so you can work in comfort the whole day. It also meets the standard for the electrical hazard to keep you safe.
The boots are made of water-resistant nubuck leather that has moisture-wicking properties to keep your feet dry all day long and not to mention makes them durable. So, you can say goodbye to bad odors and sweaty feet.
The dual-density compression-molded removable EVA midsole used in the boots gives you cushioned footbed and Torsional Stability Shank or TSS fives your feet support for heavy-duty works. What makes them extra comfortable is the padded tongue and collar and the pull loop at tongue and heel makes them super easy to wear.
Pros:
Waterproof
Removable footbed
Contoured heel lock
Gusseted tongue that keeps out debris
Cons:
Can be a bit heavy
Need to buy a size up to feel comfortable
Avenger A7130 Womens Waterproof Safety Toe Hiker Work Boots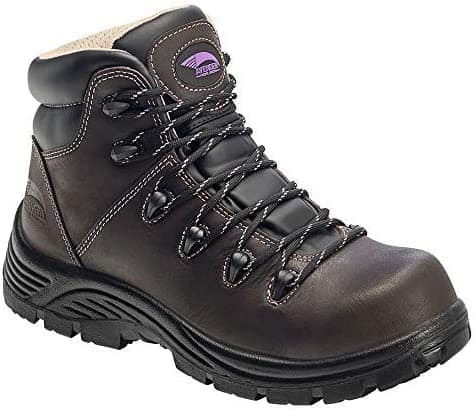 Avengers' boots are known for their toughness and quality. These boots are specially made for industrial or construction works. So, ladies for those who had to seek to men's work boots for industrial works, these pairs of boots are just what you need.
Key features:
Well, the boots are made for hiking, the name says so itself. So, you can easily imagine they can withstand anything. The boots are made from full-grain leather with waterproof upper with a direct-attach construction. This of course, as you know by now keeps your feet dry from the moisture.
The boots have Dual density soles with Outsole and midsole made from Polyurethane. This makes them shock absorbent and lightweight. Their rubber outsole is slip-resistant and they meet the ASTM standers for electrical hazards. The boots also have steel toe for saving so, they basically got you all covered safety-wise.
 The boots come with Soft cushioning at ankle and heel with padded collar and foamed tongue and from this, you can clearly imagine how comfortable they must be.
Pros:
Waterproof
Removable double cushioned footbed
Meets all the safety standards
Steel toe
        Cons:
Cannot be resoled
Needs extra pair for insoles for added comfort
Not insulated
Skechers for Work Women's Workshire Peril Steel Toe Boot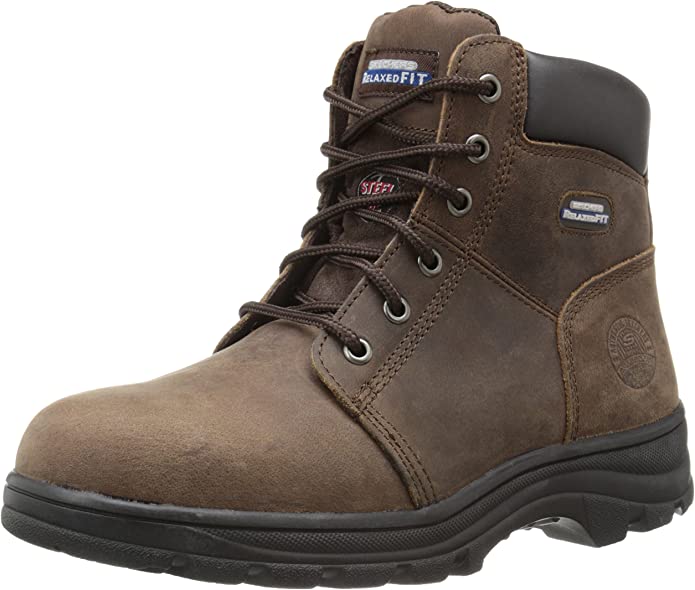 When it comes to steel toe boots, these are one of the best pairs out there. Skechers makes excellent walking boots. So, these boots help you stay on your feet all day with ease and when it comes to safety Skechers makes no compromise.
Key features:
The boots have a traditional lace-up design with buffalo crazy horse leather upper making them durable and not to mention very classy.
The Rounded plain toe front of the boots gives you enough room for your toes to stretch and the internal steel toe is where safety meets comfort.
The boots come with memory foam cushioned removable insole, a shock-absorbing midsole, and an oil-resistant lug traction durable rubber outsole. The boots are made with your comfort and safety in mind. The insole gives your comfort, the midsole gives you protection and the outsole gives you safety from slipping.
The relaxed fit design and Soft fabric boot lining makes the boots a choice of ultimate comfort and reinforced stitched seam detail with side and heel leather overlays make them trendy as well.
Pros:
Comfortable
Removable gel-infused footbed
Lightweight
Breathable
        Cons:
Takes a while to break-in
No arch support
Wears out easily
Dr. Martens Vegan 1460 Smooth Black Combat Boot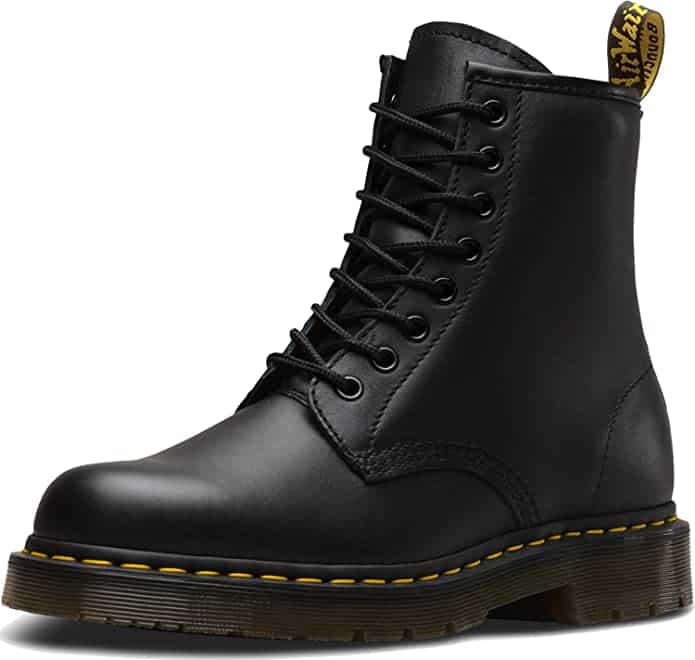 Dr. Martens boots have their own fanbase. With their unique style and design, they have won the hearts of many. These vegan boots are not like any other boots in the list and is a nod to the vegan lifestyle.
Key Features:
The vegan leather is 100% synthetic. They are made from Felix rub off material that might look like leather but actually quite thinner than original leather. The material is quite soft and easy to clean. The sole of the boots is heat-sealed and sewn with Goodyear welt stitching technique making the soles less likely to fall off.
The boots don't come with an inner lining or cushioning. It may make the boots more breathable and roomier, but the lack of insulation requires you to wear heavy socks in cold weather. It is also better to buy a size smaller for a perfect fit as the boots are unisex.
The boots do have an air-cushioned outsole that protects them from slip, aberrations or oil. They have steel toe to protect your toes from any kind of impact. The boots are not entirely waterproof, but water does not easily get in either.
Pros:
Vegan-friendly
Rugged
Very strong grip
Long-lasting
Cons:
Need to buy a smaller size
Not really waterproof
Not much safety protection
Guide to Buy the Best Women's Work Boots
Whether you start a new job or change the field your footwear should be your first concern. You have to stay in your boots for a long period of time. So comfort should be your prime concern rather than fashion, the aspect that the woman shoe industry does not pay much attention to. However, choosing the best work boots may require a little more work than would expect. Here are a few things to look out for:
1. size
Well…size matters! However cheap the boots might be or whatever the design, if it doesn't fit, it's no good. You don't want blisters from too-tight boots or the discomfort from too loose ones.
 The fitting of the boots sometimes depends on the material of the boots. Like for instance leather boots tends to stretch a little and sometimes become the perfect size after a few uses. On the other hand, steel toe boots won't stretch at all. But it is never wise to depend on the shoe to stretch out eventually.
Besides different company uses different sizes for shoes and it is best to buy your boots from a store and in person. If you have to buy the boots online, make sure the seller has a convenient return policy so you can exchange the boots if they don't fit. 
2.  material
The material of a pair of boots can be many types. The most common is leather, of course. There are plastic, nylon, rubber, vinyl, and even cloth. The material you want will mostly depend on your work type.
Leather boots are long-lasting, waterproof and not to mention very aesthetically pleasing. Sometimes leather is treated with suede to make it easy to clean. But leather boots are also quite expensive.
Rubber boots give you electric shock protection. They are also waterproof and quite cheap as far work boots go but so are plastic ones. But the plastic boots don't give you much protection though.
Nylon boots are comfortable and allow light and air to your feet. The boots made of vinyl and cloth, however, are not very durable and you might end up needing a new pair more often than ever.
3. safety
The first and foremost duty of your work boots is to provide you with some safety features and minimizing your chances of accidents. Like for instance, rubber boots give you electric shock protection. Steel toe boots give you safety in the industrial environments. Boots with protective materials gives you protection against chemicals. The sole of your boots must be slip-resistant. Boots with water-resistant ability is also important so you don't get infections or other problem with all the moistures. You might also need your boots to be insulated if you work in a cold environment to prevent your feet from freezing.
4. research
So, research is what you need to do first. List what you need in your boots, what kind of price you are comfortable with, what type of material you need, what safety features they should have, what size you need and so on. Before you go to the store and buy yourself a pair of work boots make sure you know everything to know about beforehand. 
5. colour
There is nothing much to talk about colours of your boots. It is always advised to use dark coloured boots to your workplace cause the wear and tear will be less visible.
6. Warranty
Most boots don't come with any warranty to be honest. But with high-end brands and some online shops provide a replacement for a certain period of time. If you work in an environment where your boots might face a lot of damage then it's better to look for brands with a warranty than buying a new pair every now and then.
7. Cost
The cost of your shoes should not cross your budget. But make sure your budget is not too short. Keep in mind that a good pair of boots will cost you a few extra bucks. But it's better to spend the extra dollar now than having to buy a new pair and spending a lot more every two months.
8. before buying
Before you buy your shoes, here are a few more tips for you:
 It is a good practice to buy your shoes in the late hours of the day. Your feet tend to swell the most at that time. So if you buy your shoes in the evening you will be buying your shoes in the most stretched condition of your feet allowing you all-day comfort.
Take advantage of the sales. If you can get two pairs for the price of one, why not buy them earlier and have an extra pair in the closet? It will be much cheaper as you can imagine.
Bring a pair of socks to the store if you plan to wear socks with your boots. It will help you understand if the boots will fit with socks on.
It is also better to buy laced up boots. They are more rugged and comfortable than the zipped up ones.
So, these are the few things you should consider to make sure you have bought the best work boots for women in the market.
FAQ:
Here are some questions that might come to your mind while looking up women's work boots.
Q: How do you clean your work boots?
A: First of all, washing machine is not an option. Usually, the boots come with instructions not following them serious cut their lives short.
Q: Why do my boots smell and how can I remove the smell?
A: The sweat from your feet causes bacteria to grow in them and causes your boots to smell. Leaving baking soda and corn starch in your boots overnight can help with this. Drier sheets or dry tea bags also do the trick.
Q: How often should you condition leather work boots?
A: Every 3 to 6 months or even more if necessary.
Q: What is EVA footbed?
A: EVA is short for ethylene-vinyl acetate which is a rubber-like plastic with high heat and cold resistance. These tend to last longer and have special cushioning properties to make the feet feel more comfortable.
Q: How long does a boot usually take to break-in?
A: 3 to 5 weeks depending on the amount of use and the material of the boots.
Conclusion
As you can see, there are plenty of boots for you to choose from. The best way to choose a pair of perfect boots for you is to prioritize comfort. You will be working on them the whole day, if they don't break-in easily and you end up with blisters then what good are they, right? But of course, keep the safety features and durability in mind while you buy them. No harm to buying a boot that gives you comfort AND lasts for years. So, say no to men's work boots cause women's feet to have different constructions than men. Don't waste your money on something that doesn't fit you well and invest in the best work boot for women.
I'm Joost Nusselder, the founder of Tools Doctor, content marketer, and dad. I love trying out new equipment, and together with my team I've been creating in-depth blog articles since 2016 to help loyal readers with tools & crafting tips.