I love creating free content full of tips for my readers, you. I don't accept paid sponsorships, my opinion is my own, but if you find my recommendations helpful and you end up buying something you like through one of my links, I could earn a commission at no extra cost to you.

Learn more

If you work at your home with wood or steel-type materials or are involved with building and construction-related jobs, you must work with a drilling machine. And it is obvious to have a drill bit to use a drill machine. A wide range of drill bits is available to purchase. But you must choose the correct drilling tool to get the best output. Getting a perfect hole in a specific surface is not so easy. You will have to consider several things such as materials, sizes, shapes, etc. After considering all these issues, you can get your desired results from your drill bit.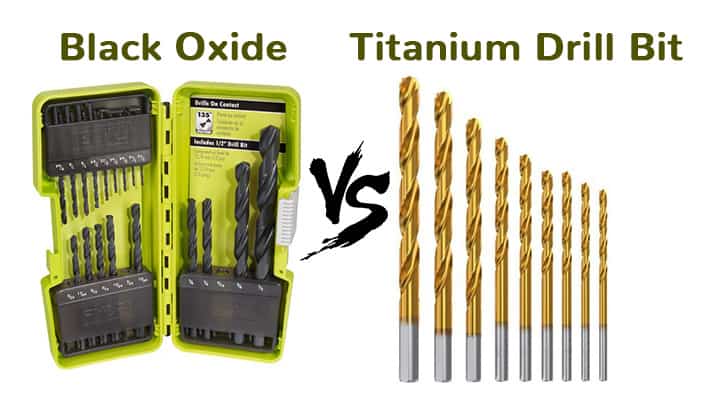 The drill bit itself isn't only responsible for bringing you a greater outcome. Rather, it is more of a combined process. Today, we will focus on the key differences between Black Oxide vs Titanium Drill Bit in this article.

In this post we'll cover:
Drill Bit Explained

A power drill is used to make holes in material or surface. The thin bit attached to the power drill is a drill bit. You will see them be used in DIY projects or machining and building jobs. Each drill bit is made for a specific use. So, you must have a basic knowledge of drill bits. Then you can easily decide whether you should choose black oxide or titanium drill bit.
Black Oxide Drill Bit

The black oxide drill bit has higher-ranking speed and flexibility and is generally used for everyday applications. In addition, black oxide offers a triple tempered finish coating that helps to absorb heat accumulation when drilling. This feature helps to extend the life of the drill bit.
A black oxide bit is more affordable than a titanium drill bit. So, it is a better choice for a low budget.
Black oxide has good heat resistance.
Better than titanium drill bit in case of deterioration, rust, and water resistance.
135-degree split point helps to maintain stability and start fast.
118-degree standard point is available in drill bits which is smaller than 1/8".
HSS Drill with added finish assists to minimize the friction and drill fast.
The black oxide drill bit can drill wood, PVC (polymerizing vinyl chloride) materials, plastic, drywall, composition board, carbon steel, alloy sheets, etc.
The life span of a black oxide drill bit is reported to be twice as much as a regular HSS drill bit. It drills with 3X speed using its speed helix.
Titanium Drill Bit

The titanium drill bit is prevalent for its consistency in repeated drill applications. In addition, it is reported to be the last 6X longer than a standard HSS drill bit.
Titanium drill also comes with a 135-degree split point, which allows a quick start and minimizes skating around the surface.
Better than black oxide for heat resistance.
Titanium bit is coated with any of the three coatings- Titanium Nitride (TiN), Titanium Carbonitride (TiCN, or Titanium Aluminum Nitride (TiAlN).
The unique finish of titanium coating lowers the friction and makes it corrosion-resistant.
Titanium bit drills firmly with the same speed as black oxide drill.
The titanium bit lasts longer than the black oxide drill bit.
You can use a titanium drill bit for alloy, carbon steel, composition board, drywall, plastic, PVC, steels, wooden materials.
Key Differences of Black Oxide vs Titanium Drill Bits
The black oxide drill bit is generally used for drilling metals, whereas titanium drill bit is famous for metal and other materials.
Black oxide drills have comparatively low heat resistance than titanium drills.
Black oxide bits are made with a temperature of 90 degrees Fahrenheit when titanium bits are, in fact, titanium coating in High-Speed Steel (HSS).
Conclusion

A drilling tool is undoubtedly a handy tool among DIY enthusiasts. But, still, it is an essential tool for manufacturing and building construction. Problems arise when people get confused to choose from a variety of drill bit collections. And it is not uncommon many of them cannot decide what to buy in between black oxide and titanium drill bit. Both black oxide and titanium drill bit are basically made with the same material. So, if you are among them, let me tell you, they are just coating that covers the HSS bit. Therefore, they are likely to provide almost the same results and productivity. No worries, you'll do good.
I'm Joost Nusselder, the founder of Tools Doctor, content marketer, and dad. I love trying out new equipment, and together with my team I've been creating in-depth blog articles since 2016 to help loyal readers with tools & crafting tips.