I love creating free content full of tips for my readers, you. I don't accept paid sponsorships, my opinion is my own, but if you find my recommendations helpful and you end up buying something you like through one of my links, I could earn a commission at no extra cost to you.
Learn more
Chalk paint is a water-based paint that contains a lot of powder or chalk. In addition, many more pigments have been added than normal paint. This gives you an extremely matte effect on the surface to be painted. The paint dries very quickly so that you do not get sagging. Chalk paint is mainly used on furniture: on cabinets, tables, chairs, frames, and so on.
With chalk paint you can give the furniture a metamorphosis. This gives the furniture a look that becomes authentic. It is almost the same as patination. With certain products you can give the surface a look that is lived through. For example, with a colored beeswax you give such a piece of furniture a lived-in effect. Or you can create a bleaching effect with a White wash (here's how to use the paint).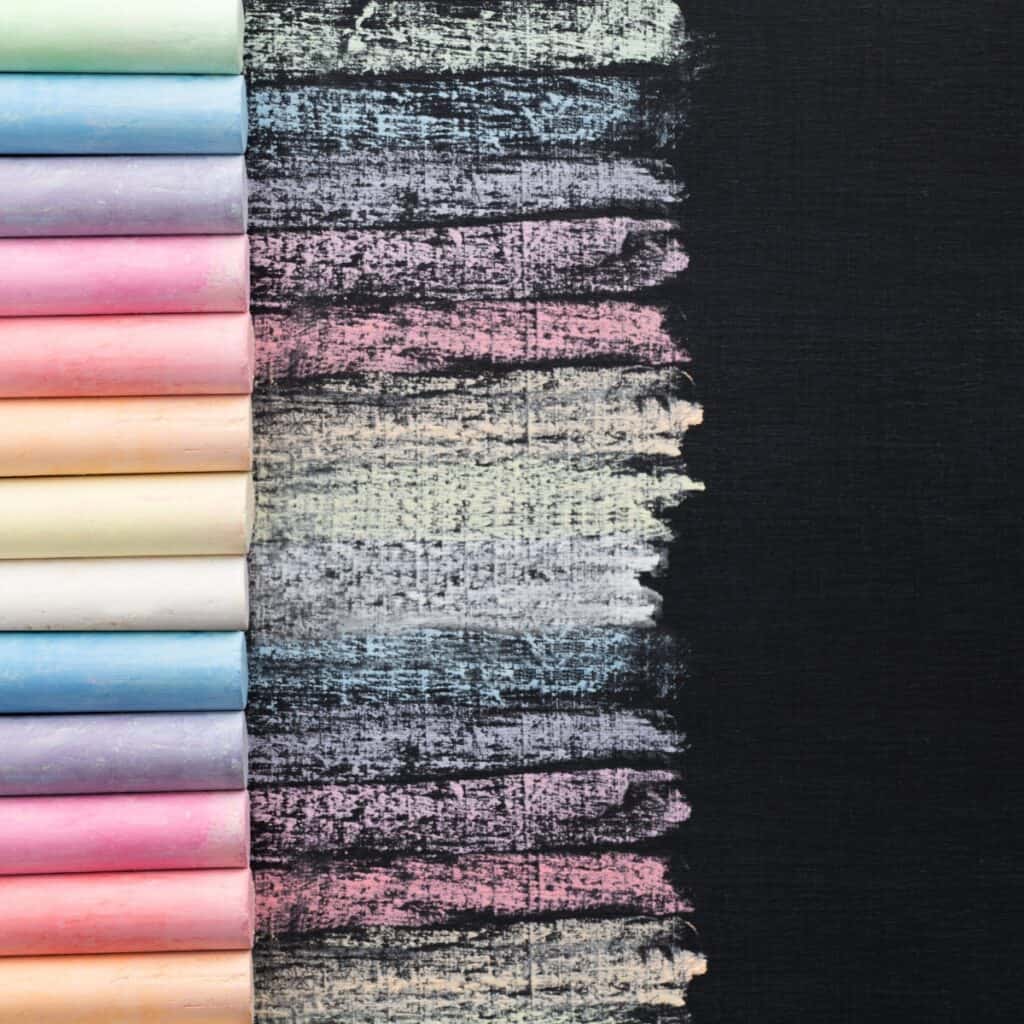 Chalk paint is actually a paint that contains a lot of chalk and which contains a lot of pigments. This gives you a nice matte paint. This chalk paint is opaque and water-based.
This is also known as acrylic paint. Because there are many pigments in it, you get a much deeper color. The chalk that is in it gives a matte effect.
Blackboard paint is a paint that is suitable for cleaning. It is a matte chalk-writable interior paint that can be applied to walls, panel materials and blackboards.
Nice for the shopping notes in the kitchen or of course for a creatively painted children's room.
Chalk Paint: The Ultimate Guide to Transforming Your Furniture
Applying chalk paint is easy and straightforward. Here are the steps to follow:
Clean the surface you want to paint with a damp cloth and let it dry completely.
Shake the chalk paint well before opening the can to ensure that the pigment is evenly distributed.
Use a brush or roller to apply the paint in thin, even coats, working in the direction of the grain.
Let each coat dry completely before applying the next one.
Once you've achieved the desired coverage, you can distress the paint with sandpaper or a damp cloth to create a vintage look.
Finally, seal the paint with a clear wax or polyurethane to protect the finish from chipping or flaking.
What Are the Best Uses for Chalk Paint?
Chalk paint is a versatile product that can be used for a variety of DIY projects. Here are some of the best uses for chalk paint:
Refinishing furniture: Chalk paint is perfect for giving old or outdated furniture a new lease on life. It can be used to create a distressed, vintage look or a modern, solid finish.
Upcycling home decor: Chalk paint can be used to transform almost any item, from picture frames and vases to lampshades and candle holders.
Painting kitchen cabinets: Chalk paint is a great alternative to traditional paint for kitchen cabinets. It dries quickly and can be easily distressed to create a rustic, farmhouse look.
Marking road surfaces: Chalk paint is also used by utility companies to mark road surfaces, thanks to its durability and visibility.
The Fascinating Story Behind Chalk Paint
Annie Sloan, the founder of the company that created Chalk Paint (here's how to apply it), wanted to create a paint that was versatile, easy to use, and could achieve a range of decorative effects. She also wanted a paint that didn't require much preparation before application and could be delivered fast.
The Power of Chalk Paint
Chalk Paint® is a unique version of paint that contains chalk and is available in a wide range of colors, from white to dark black. It offers excellent coverage and is great for achieving a smooth finish on wood, metal, glass, brick, and even laminate.
The Key to Chalk Paint's Popularity
Chalk Paint® is loved by beginners and professionals alike because it is easy to use and doesn't require much preparation. Compared to traditional paints, Chalk Paint® is a convenient choice for those keen on honing their DIY skills.
The Availability of Chalk Paint
Chalk Paint® is available from a range of companies, including the official Annie Sloan brand. Other companies have started to create their own versions of Chalk Paint®, offering a wider range of colors and availability.
The Preparation Required for Chalk Paint
While Chalk Paint® doesn't require much preparation, it is essential to clean the surface before application. A clean, smooth surface will help the paint adhere better and create a smoother finish.
The Final Touches with Chalk Paint
After applying Chalk Paint®, it's important to gently sand the surface with a fine cloth to achieve a smoother finish. Wax can be applied to protect the paint and create a unique style.
The Impressive Effects of Chalk Paint
Chalk Paint® can be used to create a range of effects, from a distressed, shabby-chic look to a smooth, modern finish. The paint can be mixed to create custom colors and is a great choice for those who want to save money on decor.
The Wide Range of Uses for Chalk Paint
Chalk Paint® is a great choice for transforming furniture, decor, and even kitchen cabinets. It offers a unique and affordable way to update the look of an entire room.
The Past, Present, and Future of Chalk Paint
Chalk Paint® has been a popular choice for DIY enthusiasts for many years and continues to be a go-to option for those keen on starting their DIY projects. With its impressive range of colors and effects, Chalk Paint® is worth considering for anyone looking to transform their home.
What Makes Chalk Paint Stand Out From Other Paints?
Compared to traditional paints, chalk paint requires minimal preparation. You don't need to sand or prime the surface before applying the paint. You can simply clean the piece you want to paint and start right away. This method saves a lot of time and effort, making it a popular choice for people who want to get their painting done in a short amount of time.
The Differences: Matte and Vintage Style
Chalk paint has a matte finish, which gives it a vintage and rustic feel. This is a particular style that many people love, and chalk paint is the perfect route to achieve that look. Compared to other paints, chalk paint is thicker and covers more in a single coat. It also dries quickly, allowing you to apply a second coat in just a couple of hours.
The Benefits: Versatile and Forgiving
Chalk paint can be applied to almost any surface, indoors or outdoors. It works well on wood, metal, concrete, plaster, and even fabric. This makes it a versatile choice for people who want to paint different pieces of furniture or decor. Chalk paint is forgiving, meaning that if you make a mistake, you can easily wipe it away with water before it dries.
The Seal: Wax or Mineral Seal
Chalk paint needs to be sealed to protect it from wear and tear. The most common way to seal chalk paint is with wax, which gives it a shiny finish. However, some brands offer a mineral seal as an alternative. This gives the paint a matte finish, similar to the original chalk paint. The seal also improves the durability of the paint, allowing it to last longer.
The Brands: Annie Sloan and Beyond
Annie Sloan is the original creator of chalk paint, and her brand is still the most popular. However, there are many other brands that offer chalk paint, each with their own unique formula and colors. Some brands include milk paint, which is similar to chalk paint but requires a primer. Latex paint is another common choice, but it doesn't have the same matte finish as chalk paint.
The Guide: Simple and Clear
Using chalk paint is a simple and straightforward process. Here's a quick guide to follow:
Clean the surface you want to paint
Apply the chalk paint with a brush or roller
Allow the paint to dry for a couple of hours
Apply a second coat if needed
Seal the paint with wax or mineral seal
Chalk paint is a great choice for both small and large pieces of furniture or decor. It stands out from other paints with its matte finish and vintage style. Whether you're a beginner or an experienced painter, chalk paint is a forgiving and versatile option that allows you to achieve the look you want with minimal effort.
Get Your Hands Dirty: Applying Chalk Paint to Furniture
Before you start applying chalk paint, you need to make sure that your surfaces are clean and smooth. Here's how to prep your furniture:
Clean your furniture with soap and water to remove any dirt or grime.
Lightly sand the surface with sandpaper to create a smooth surface for the paint to adhere to.
Wipe down the furniture with a damp cloth to remove any excess dust.
Choosing Your Paint
When it comes to choosing a chalk paint, there are a few things to keep in mind:
Test the paint on a small area to make sure you like the color and finish.
Decide on the sheen you want- chalk paint comes in a variety of finishes, from matte to high gloss.
Choose a good quality paint- handpick from experts or editors, or go to your local art store to find a good product.
Applying the Paint
Now it's time to bring your furniture to life with a fresh coat of paint. Here's how to apply chalk paint:
Stir the paint well before use.
If the paint is too thick, add a little water to thin it out to a medium consistency.
Use a bristle brush to apply the paint evenly, working in the same direction as the grain of the wood.
Apply two coats of paint, allowing each coat to dry completely before applying the next.
If you want a smoother finish, lightly sand the painted surface between coats.
Remove any excess paint with a damp cloth before it dries to avoid streaks.
Is Sanding Required Before Using Chalk Paint?
When it comes to chalk paint, sanding is not always required. However, it is highly recommended to ensure that the paint adheres properly to the surface and to achieve the best possible finish. Sanding can help to:
Create a smooth surface for the paint to adhere to
Remove any old finish or paint that may be peeling or damaged
Prevent particles from sticking to the surface, which can cause the paint to appear uneven or chippy
Ensure that the surface is in good condition and free from dust, lead, or other contaminants that may prevent the paint from adhering properly
When Sanding is Required
While the vast majority of surfaces do not require sanding before using chalk paint, there are some exceptions. You may need to sand:
High gloss surfaces with medium grit sandpaper to promote adhesion and coverage
Textured surfaces to create a sleek, even finish
Bare wood surfaces to ensure that the paint adheres properly
Damaged or uneven surfaces to create a smooth base for the paint
The Many Ways You Can Use Chalk Paint to Transform Your Home
Chalk paint is an extremely popular choice for those looking to add a good finish to their pieces of furniture. It's easy to work with and versatile, making it a great product for beginners. Here are some techniques to get you started:
Remember to mix the paint well before use, as the water and pigment can separate.
Apply the paint in thin layers, allowing each layer to dry fully before adding a second coat.
Cover smaller items with a brush and larger items with a roller.
For a distressed look, use sandpaper (here's how) to remove some of the paint once it's dry.
The Key to Honed Finishes
Honed finishes are a popular way to use chalk paint, as they give furniture a matte, velvety appearance. Here are some tips for achieving a honed finish:
Use a high-quality chalk paint product from a reputable company.
Apply the paint in thin layers, using a brush or roller.
Allow the paint to dry fully before adding a second coat.
Use a sanding block to smooth out any rough spots or imperfections.
Finish with a wax or polyurethane topcoat to protect the finish.
Adding Water for a Different Look
Adding water to your chalk paint can create a different type of finish. Here's a recipe for achieving a watered-down look:
Mix equal parts water and chalk paint in a container.
Apply the mixture to your piece of furniture with a brush or roller.
Allow the paint to dry fully before adding a second coat.
Use sandpaper to distress the finish if desired.
One of the easiest ways to get your hands on chalk paint is to visit your local home improvement or craft store. Many of these retailers carry popular brands of chalk paint, such as Annie Sloan, Rust-Oleum, and Americana Decor. Some of the advantages of buying from a local retailer include:
You can see the range of colors and finishes in person
You can get advice from the staff on which product is best for your project
You can take the product home with you immediately
Chalk Paint vs. Milk Paint: What's the Difference?
Milk paint is a traditional paint made from milk protein, lime, and pigment. It has been used for centuries and is known for its natural, matte finish. Milk paint is non-toxic and environmentally friendly, making it a popular choice for those who want to avoid synthetic chemicals.
Is Chalk Paint the Same as Milk Paint?
No, chalk paint and milk paint are not the same. While they both have a matte finish, there are some key differences between the two:
Chalk paint comes in liquid form and is ready to use, while milk paint comes in powder form and needs to be mixed with water.
Chalk paint is thicker than milk paint, so it requires fewer coats for an even finish.
Milk paint has a more unpredictable finish, with variations in color and texture, while chalk paint has a more consistent finish.
Chalk paint is more versatile than milk paint, as it can be used on a wider range of surfaces, including metal and plastic.
Which Should You Choose: Chalk Paint or Milk Paint?
The choice between chalk paint and milk paint ultimately comes down to personal preference and the project at hand. Here are some factors to consider:
If you want a consistent finish and don't want to mix your own paint, go with chalk paint.
If you want a more natural, unpredictable finish and don't mind mixing your own paint, go with milk paint.
If you're painting furniture or other surfaces that will see a lot of wear and tear, chalk paint may be a better choice as it is more durable.
If you're looking for a non-toxic, environmentally friendly option, both chalk paint and milk paint are good choices.
Conclusion
So, that's what chalk paint is. It's a great way to transform furniture and it's pretty easy to use. You just need to make sure you have the right tools and the right surface, and you're good to go. You can use it for just about anything, from walls to furniture to floors. So, go ahead and give it a try! You won't regret it!
I'm Joost Nusselder, the founder of Tools Doctor, content marketer, and dad. I love trying out new equipment, and together with my team I've been creating in-depth blog articles since 2016 to help loyal readers with tools & crafting tips.