I love creating free content full of tips for my readers, you. I don't accept paid sponsorships, my opinion is my own, but if you find my recommendations helpful and you end up buying something you like through one of my links, I could earn a commission at no extra cost to you.
Learn more
Creating a customized bookshelf can be hard with heavy materials. The plywood is the most reliable as well as a popular choice of material for lightweight customized construction like a bookshelf. The plywood is made of several sheets of veneers.
These are easy to handle. Once you decide a design with the help of this article you can, however, understand why this is the do-it-yourself bookshelf. The designs are wonderful and efficient. They are a great way of storing and showing your books. If you are a booklover there is nothing more elegant than this bookshelf made of plywood.
DIY Plywood Bookcases
1. Surround Your Flat Screen
Make a show of your space around your entertainment box that is television. Now plywood is the best budget-friendly way to customize your bookshelf according to the required measurement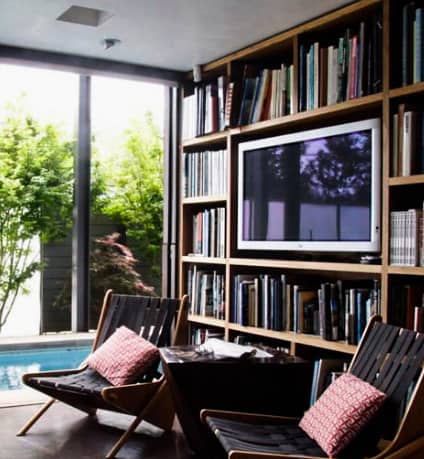 2. Geometrically Exceptional
Now, this plywood bookcase is beautifully designed to create a bookshelf that is not the usual boring type. Now, this is the plywood bookshelf in combination with drawers of 18 and 24mm birch plywoods. This is a great way to show the gorgeous assets that are your book.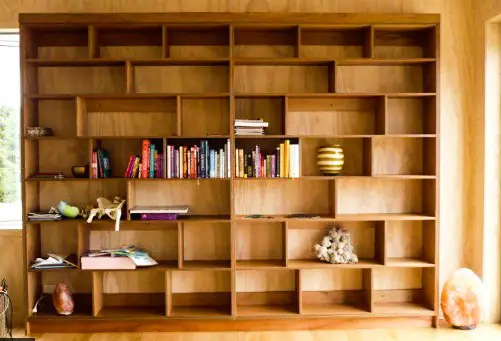 3. A Customized Modular Shelf
A modular shelf is an excellent extension of the wall. This design of the shelf is a space saver as well. Now you customize this wall unit according to your needs.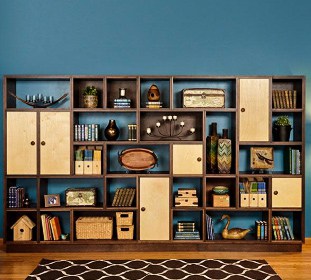 4. The Wall Shelves
This is a low-cost efficient bookshelf idea for plywood. You measure up the wall you want to attach the shelf to then you grab some clamps, cut off and smooth the plywood and voila. A DIY bookshelf is done. Mix it up with your personal needs.
Its a floor to ceiling bookshelf, we have 14 other floor to ceiling bookshelf plans in the collection.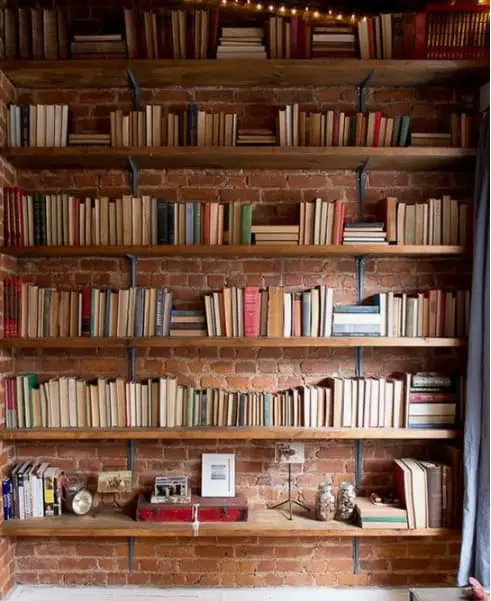 5. A Beautiful Tree of books
A stunning way of showcasing your intellectual assets is to design an intelligent design. The tree of books is that crafty design that maybe wonderfully done with plywood. It is an artistic and amazing piece of craft. In addition to artistically preserving the book, it brings a whole different taste in the decoration of your home.
6. Mounted Shelves
There is always this sneaky space in a house that is empty and useless. But with plywood customizable designs the empty spaces at every nook and corner can be utilized. Be it a wall hanging shelf or a corner shelf. The plywood sheets with these ideas can save the mess of organizing. A quality corner clamp would a great help to build mounted shelves.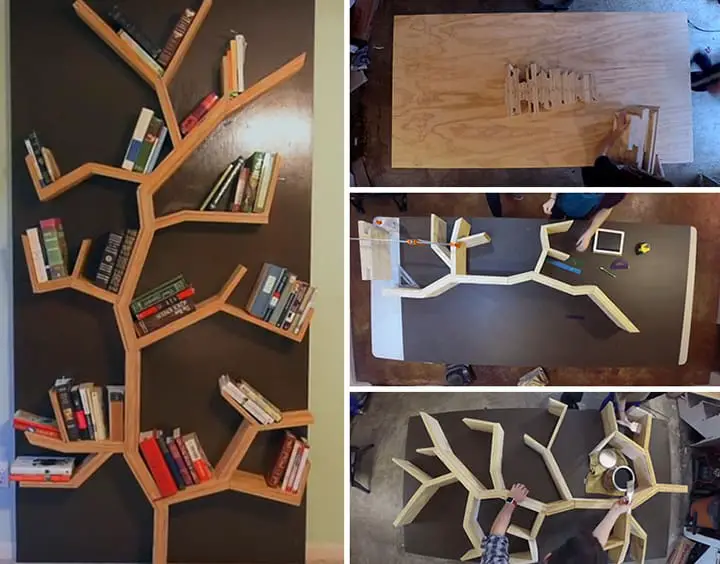 7. Backlit Tree Bookshelf
Illuminating your books for the darker room will help you read the title of the book. In addition to that, bringing some play of light at night time can create a sober look in your room.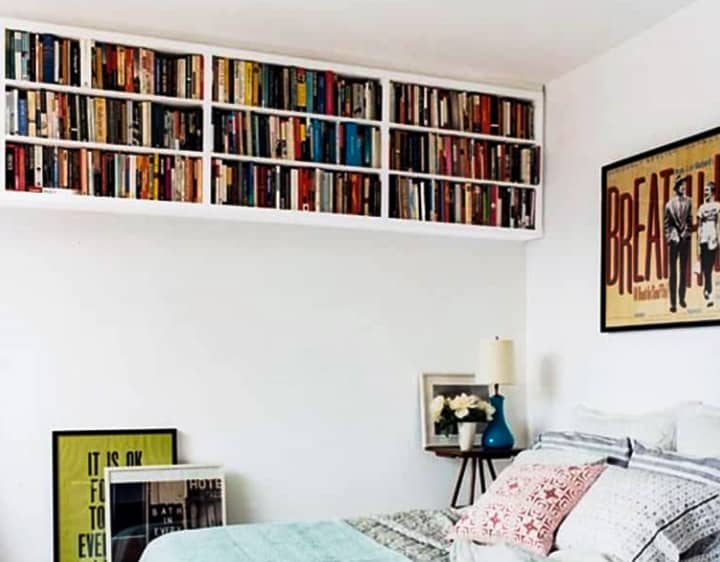 8. Artistic Bookshelf
A little bit of art could bring exceptional character to your room. Though this is a beautiful way of showcasing your book, this particular art piece that is this bookshelf does not provide much storage for lots of books.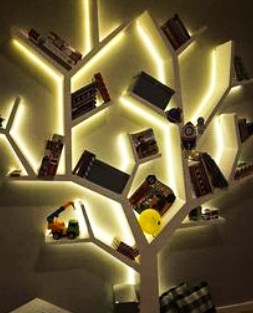 9. The Nook and Corner Bookshelf
Talk about utilizing space; instead of a boring doorway why not spice it up by covering the wall with books. It will be a doorway and entrance made of books. Since plywood is great for customizing, you can measure your space and just cut the sheets by a handsaw according to your specified need.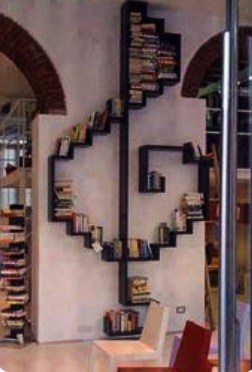 Source
10. Built-In Wall Bookshelf
this wall to wall bookcase plan can utilize the space in a very detailed plan .It captures the overall process including perfect arch making and the cutting techniques so you could simply take the weekend to build this spacious and sturdy bookshelf on your own.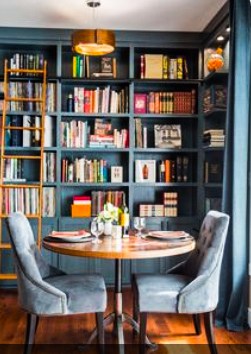 11. A Standing Bookshelf
 The design of this bookshelf is a classic one. The simple base and rack structure. You can build this in a simple design or maybe vary the shelves . This is the easiest DIY bookshelf with plywood since the plan is pretty straightforward.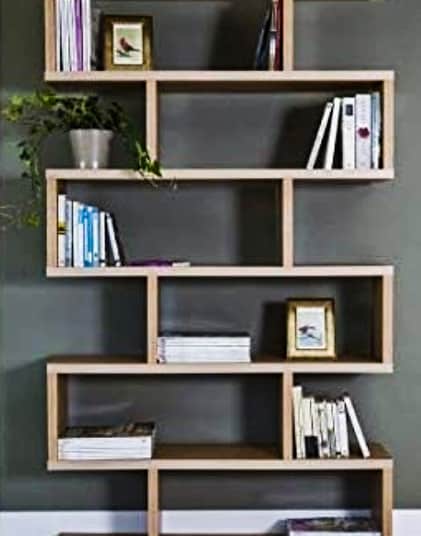 A beautiful well-decorated library is not only an indicator of education but a well-thought bookshelf is a sign of elegance. A towering floor to ceiling bookshelf is a magnificent way to not only as storage of book but wonderfully decorated home. A floor to ceiling bookshelf could bring one the taste of the renaissance library with the spacious space that could serve as not only an elegance to the books but creating a wonderful intellectual décor.
Floor to Ceiling Bookshelf Plans
Here is some well-detailed floor to ceiling bookshelf plans that could enhance your home to its full beauty.
1. An Arched Doorway
Well, it is indeed a different world if you dive into those books, so why not make your floor to ceiling in a design of floor to ceiling doorway. The plan includes a wonderful carving of a bookshelf that looks like an arched door to fairyland.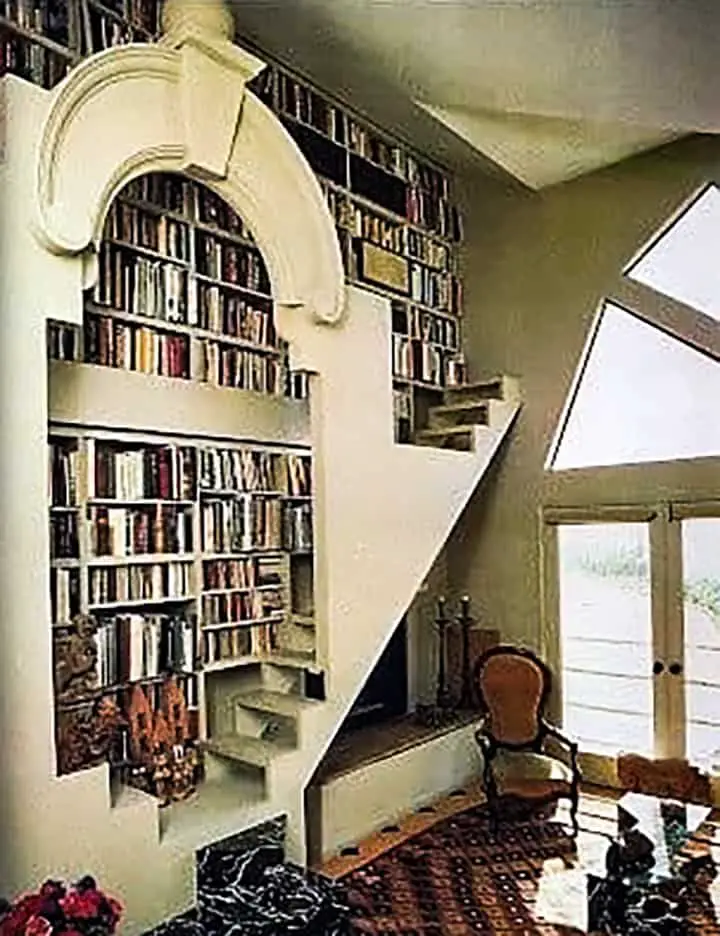 2. The Beauty and the Beast Style, Belle's Bookshelf
The moving ladder that Belle uses on the Prince's castle to surf and reach the books can be done on your bookshelf too. It is elegant and exceptional. And if you are a booklover like Belle is you are going to be as excited and as comfortable with this style of a bookshelf. This bookcase possible to make with plywood.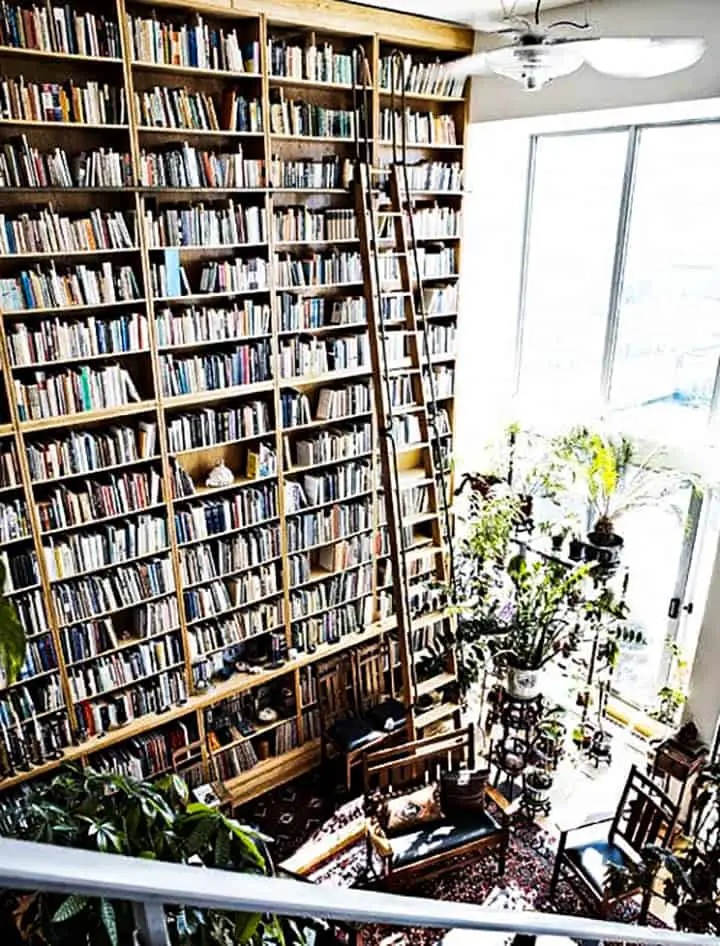 3. The Inclined Floor to Ceiling Bookshelf
Sometimes when the bookshelves stand tall perfectly vertically it can get a bit tough to see what book is on the top shelves. This can bring a different hilly look at your home as well.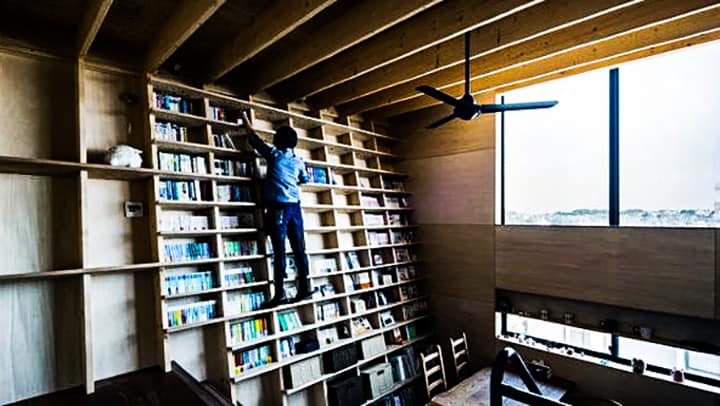 4. The Inclined Floor to Ceiling Bookshelf
Why make extra space by another wooden bookshelf. If you are willing to decorate your walls, walls could be made with shelves to become your bookshelf, imagine a wall of books. This could be a  very vibrant and enlightened room.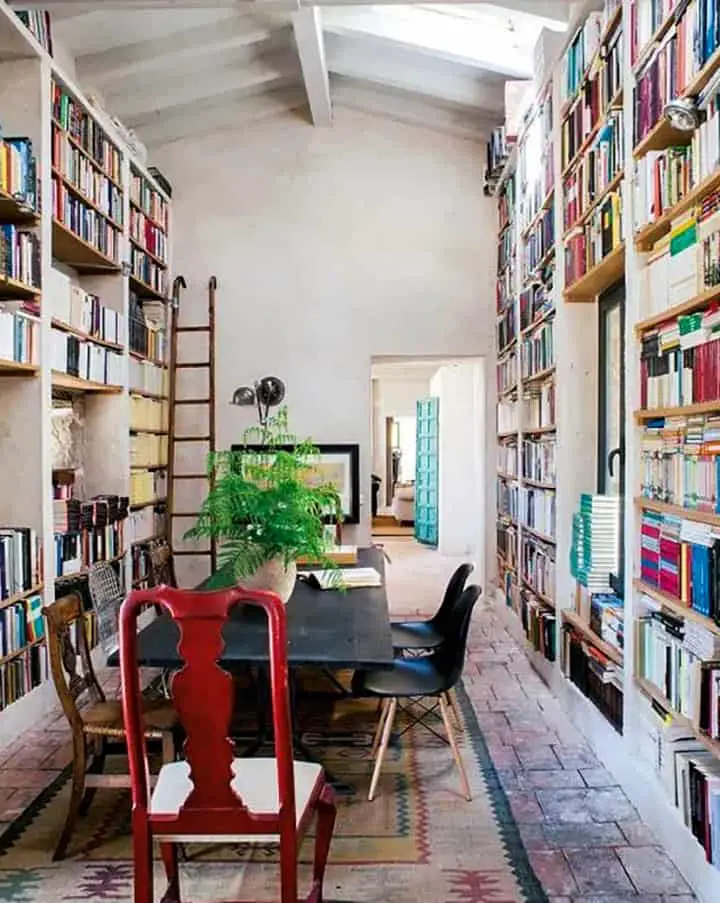 5. Decorating the Rafter
The rafter does not have to be boring; these beautiful shelves on the ceiling could enhance the significance of a room. Books will be at the top.
Source
6. The Gorgeous Geometry in a Bookshelf
The beautiful and mystic environment could be enhanced by some exceptional lines on the bookshelf. Instead of a symmetrical general shelf on each rack; you could just do some different lines and create a whole different look.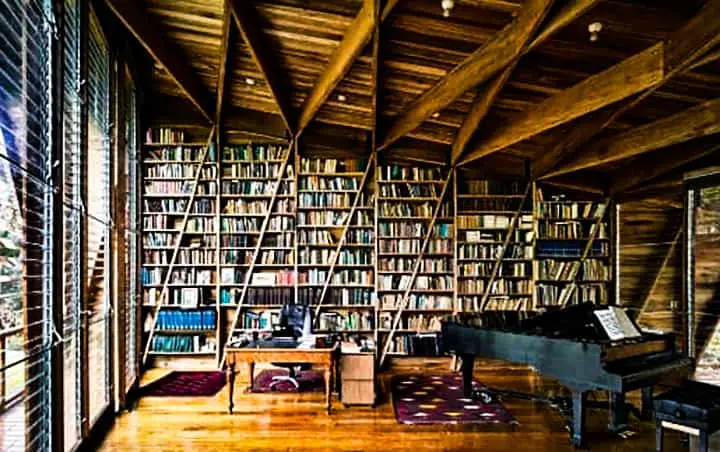 7. The Floor to Ceiling Corner Bookshelf
Why waste space and keep space like any boring house. Utilize and create some sturdy custom made shelf and roll with it. What it means is to hang up some shelves and shine it with your favorite books.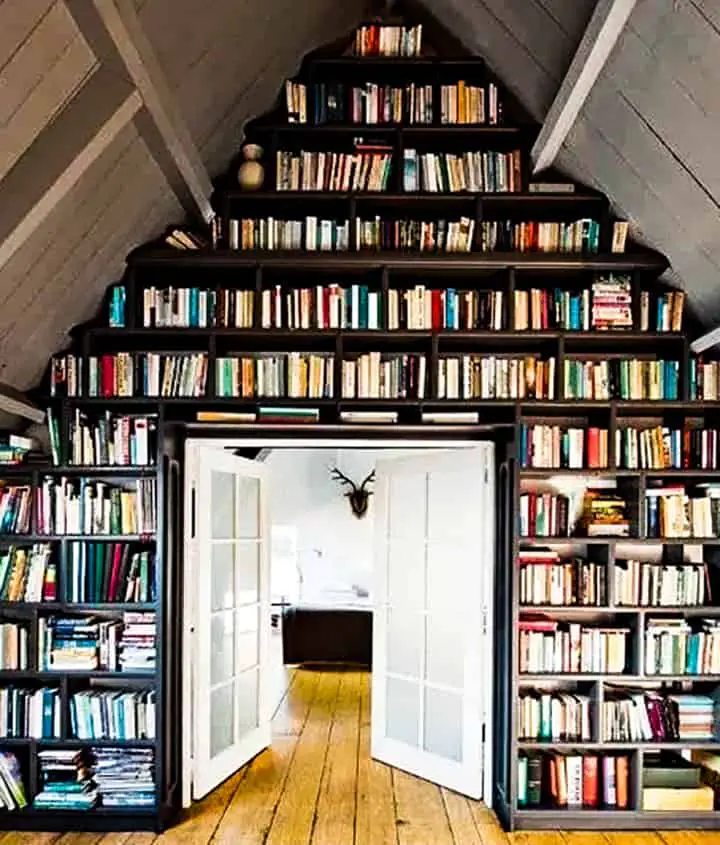 8. The Asymmetrical Bookshelf
Well speaking of not being boring, this is the one for the adventurous. Getting out of tradition with some square non-horizontal shelves can bring an artsy taste to the whole decor. It does not only bring the desired books to the exhibition but it brings a creative taste to the whole atmosphere.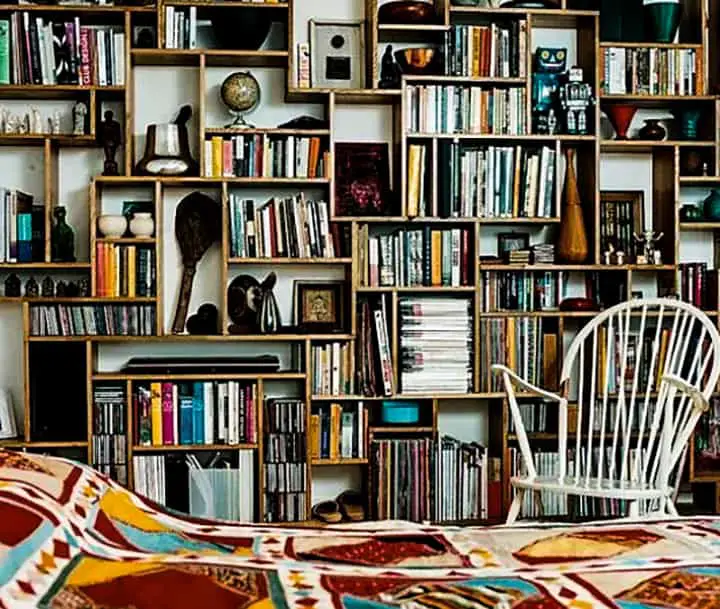 9. The Industry Grade One
The old fashioned woods and plastic may not be the best way to modernize the home. Instead, it would be a great option to switch to the hardcore aluminum for a long-lasting bookshelf without the fear of burnishing and bug infestation.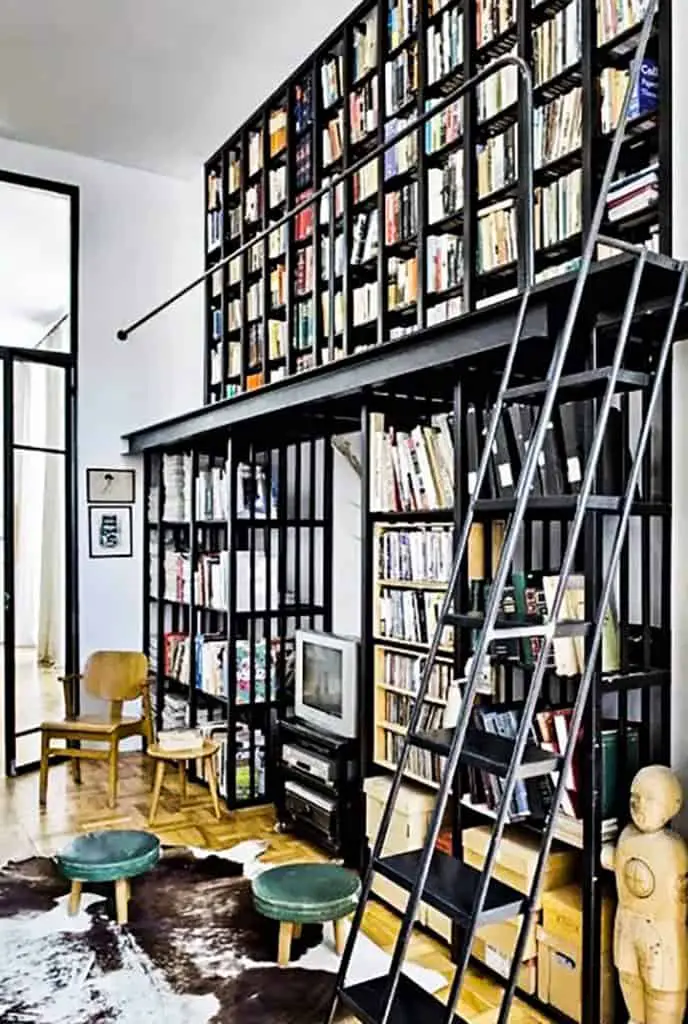 10. The Bookshelf With Own Lighting
The bookshelf with its lighting whether it is backlit or mild lighting on top of each shelf could bring character to a room. The light will also keep the books dry. In addition to making it easy to read the book's name, it enhances the bookshelf's wonderful look.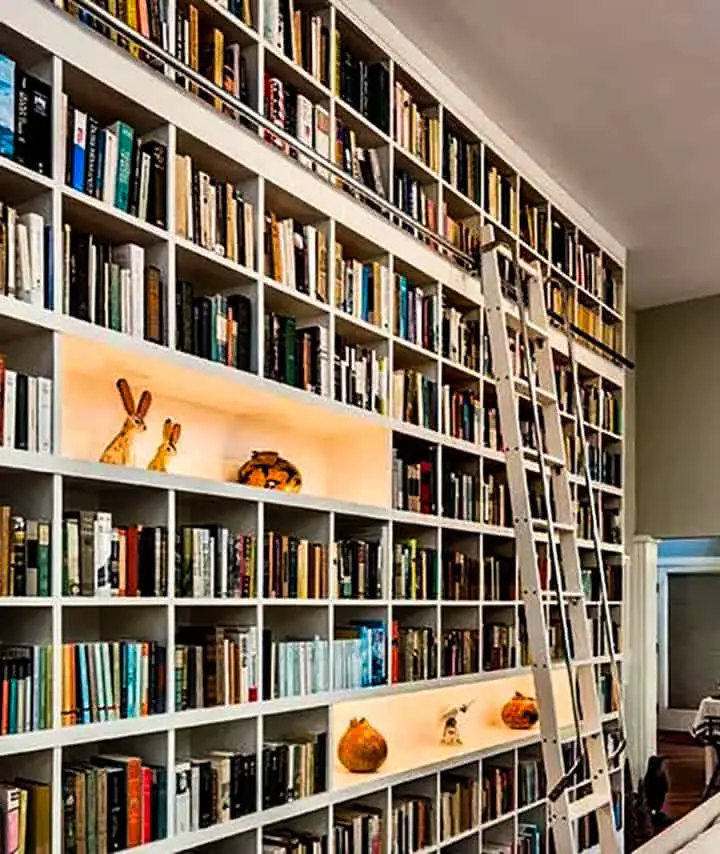 11. The Skewed Bookshelf
One exceptional bookshelf is the one that thinks out of the box. Think about checker boxes a little skewed. It provides the same service being a bookshelf yet brings a whole different contrast.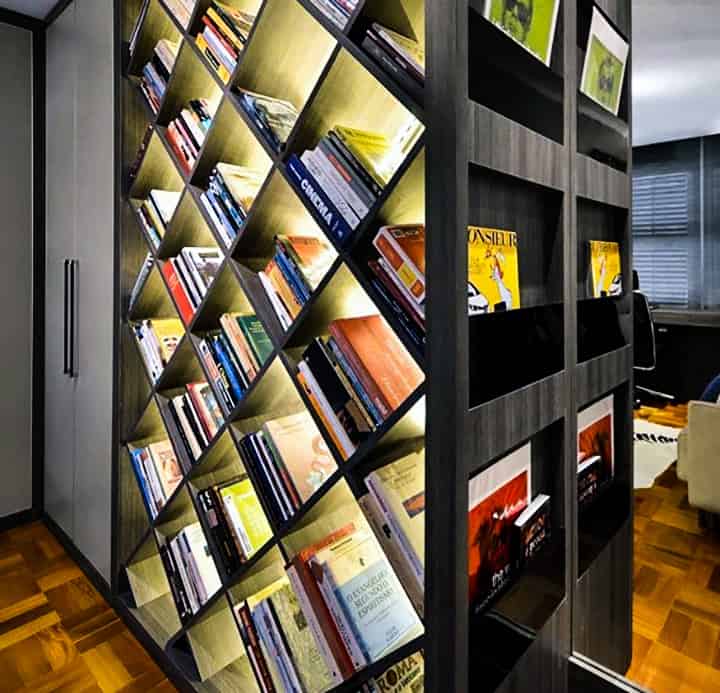 12. The Cupboard Bookshelf
The cupboard does not need to be storage for rarely used tools or space; instead, it could the most intellectual space of your home. Make some smart shelves to contain and save the books in the most beautiful creative way.
13. The Staircase of Books
The rustic staircase does not need to be destroyed instead it could be a staircase to the renaissance library, in a literal way.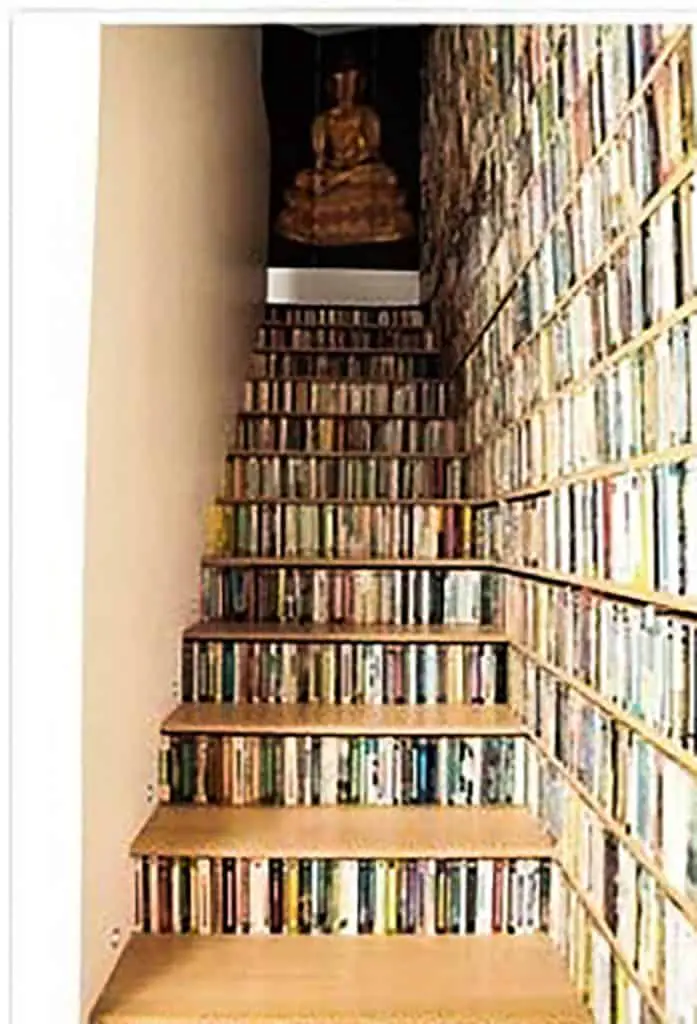 14. Bookshelf with a Stair to Reach Out
A floor to ceiling bookshelf definitely needs a good reaching out to top shelves option. A ladder is typically used but it may have some safety hazard. A good reliable option would be to use a staircase.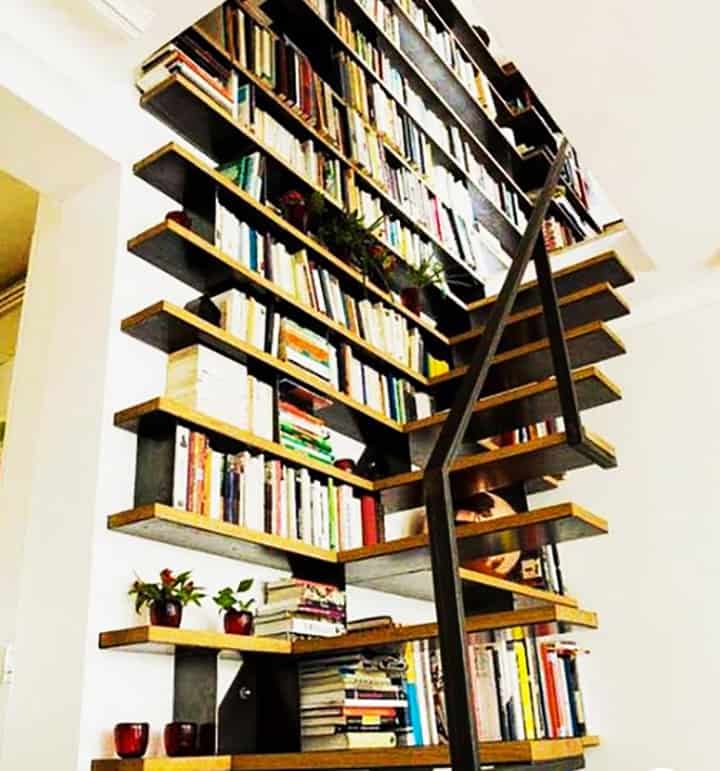 Conclusion
A bookshelf is not only storage for the books. With these plywood made designs one could not only show their artistic side but also add to the décor of the room. The overall look and feel of the room could be altered by one beautiful piece of furniture. And the bookshelf with customized plywood is a sober and intelligent way to enhance your home.
I'm Joost Nusselder, the founder of Tools Doctor, content marketer, and dad. I love trying out new equipment, and together with my team I've been creating in-depth blog articles since 2016 to help loyal readers with tools & crafting tips.