I love creating free content full of tips for my readers, you. I don't accept paid sponsorships, my opinion is my own, but if you find my recommendations helpful and you end up buying something you like through one of my links, I could earn a commission at no extra cost to you.
Learn more
Working on the woodworking world, you might have expectations and dreams of something advanced and great. So that working with the woods would not just feel like physical exertion to you, whereas it can be taken as something you can set as a part of your enjoyment or hobby.
For many years, carpenters or woodworking hobbyists have dreamt about one kind of particular router in their mind. So here to make your dreams come to light, this article brings this Makita Xtr01z Review in front of you.
And the company Makita has decided to put customers' demands and desires into shape and give them incredible features. The product you are about to be introduced to is a cordless, compact router.
This router can be used for any tough to light applications without any worries in your head. Routers are mostly used for trimming or edging. However, this unique machine can round-over as well as decorate and chamfer with the chosen wood piece.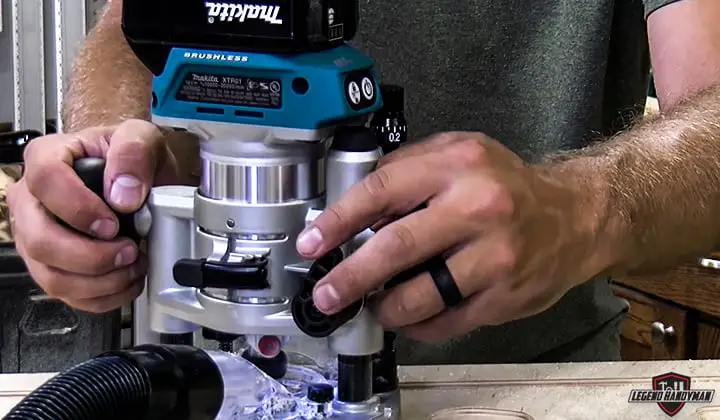 Makita Xtr01z Review
Finding any routers and purchasing them is easy; however, if you decide to get home, the best router in the market. Then a little rummaging is required. This article provides all the essential information for you to make your task a bit easier.
Compliments and appreciations would not stop coming for this particular compact router. It is so well-known for its work. Let's just say as you proceed deeper into this article and learn more about this machine.
It will only allure you to purchase it right away without any wait. So without much wait, let's get familiar with all the great and versatile features and properties this router has to offer you.
Brushless motor
Tool industries are used to cutting off cords on most of their products. For that instance, cordless routers that come along brushless motor are highly benefitted in the market. Keeping that in mind, Makita is at a great advantage on their part with their router.
These routers with brushless routers will offer better running time than the routers with brushed motors. Moreover, a feature like this allows the battery to transfer more power to the motor. How wonderful is that? You are winning all the way. 
Ergonomics
In the ergonomic department, this particular router stands out. Furthermore, the grip of this product is super good. And to mention the best part would be; it does not matter how hard the job is or even how hard the material is; xtr01z will be doing the job without any hassle.
The grip is so super comfortable, and it is known for its precise work. All in all, this router by Makita is going to give a smooth and happy routing session. 
Speed control
Speed is essential to maintain to have a smooth routing. The speed capacity for this compact router is about 10000 to 30000 RPMs; it has a variable speed. The onboard dial is being used to adjust the speed, which has a scale of 1 to 5.
As you can already guess, one happens to be the slowest, and five happens to be the fastest. Using your thumb, you could adjust the dial, and you are good to go to start working with your chosen wood piece.
Two-button on/off system
Now you are about to be introduced to one of the most advanced and innovative features of them all. This router is truly a high-tech hot piece of machine. It comes with two buttons that practically controls the on and off of the motor. Just one click. Moreover, these features promote safety.
Why button, though? To be honest, a button is quicker and also safer than a switch to be activated. Let's talk more about the buttons. The first button is here to arm the router.
However, the second button is there for the unit to turn on. Once you have turned the router on, both the buttons can be used to turn it off. It is fitted there to protect the tool and also the workpiece.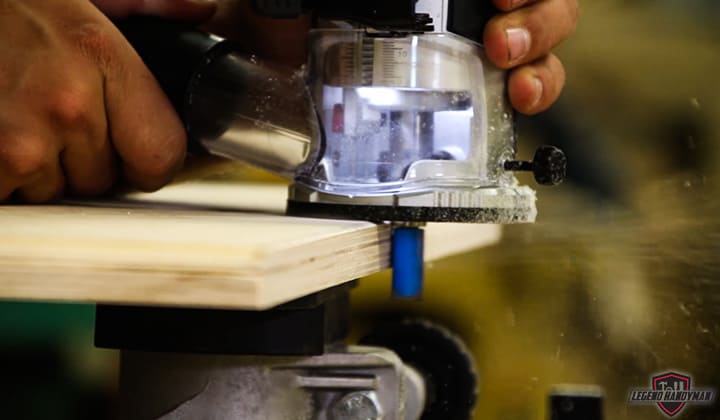 Pros
Cordless
2-step power feature
Variable speed for multiple materials
Quick movements
Separate lock button
Electronic speed control
Brushless motor
Cons
No carrying case is provided with the router to hold the accessories
The operating manual does not focus on one router
Frequently Asked Questions
Let's discuss the frequently asked questions about this particular product.
Q: How is the run time with a 5.0 battery on the Makita 18V router?
Ans: One hundred feet material with a cutting depth of ¾ router bit to be exact.
Q: What size collet does it use? Can it use a ½ inch o maxed ¼ inch?
Ans: This model is a small trip router that works with thickness and laminates, so ½ inch would be too large for this router. It is not assured that it cannot handle it completely; however, there can be a risk of burning. The ¾ inch on the other is more preferably recommended.
Q: What is the largest diameter bit that fits through a stock base hole?
Ans: The diameter of the stock base hole from the inside would be about one 1//8 inch.
Q: Can it be used as a new construction framing router, like windows on plywood?
Ans: This particular model is more suited for trimming and edging shape; using it on plywood is not a good idea. You would need a larger AC powered router for such heavy tasks.
Q: Does it come with a vacuum attached?
Ans: No, unfortunately, it does not. However, if you want to buy it separately, consulting with the manufacturer would be suggested.
Final Words
As you have made it to the end of this Makita Xtr01z Review, you are now well aware of all the benefits and drawbacks along with all the information you need to know about this router.
If you are still in confusion and having trouble figuring out if this is the right router for you, this article will always be here for you to read and decide for yourself if this is the right router for you. With proper rummage, decide wisely and start your amazing days with the woodworking world.
You May Also Review Dewalt Dcw600b Review
I'm Joost Nusselder, the founder of Tools Doctor, content marketer, and dad. I love trying out new equipment, and together with my team I've been creating in-depth blog articles since 2016 to help loyal readers with tools & crafting tips.