I love creating free content full of tips for my readers, you. I don't accept paid sponsorships, my opinion is my own, but if you find my recommendations helpful and you end up buying something you like through one of my links, I could earn a commission at no extra cost to you.
Learn more
Bike riding is a great transportation option.
It is kind to the environment, inexpensive, and it's a great way to stay fit.
One problem bike riders may face is not knowing where to store their bikes, and you have to be able to do better than this: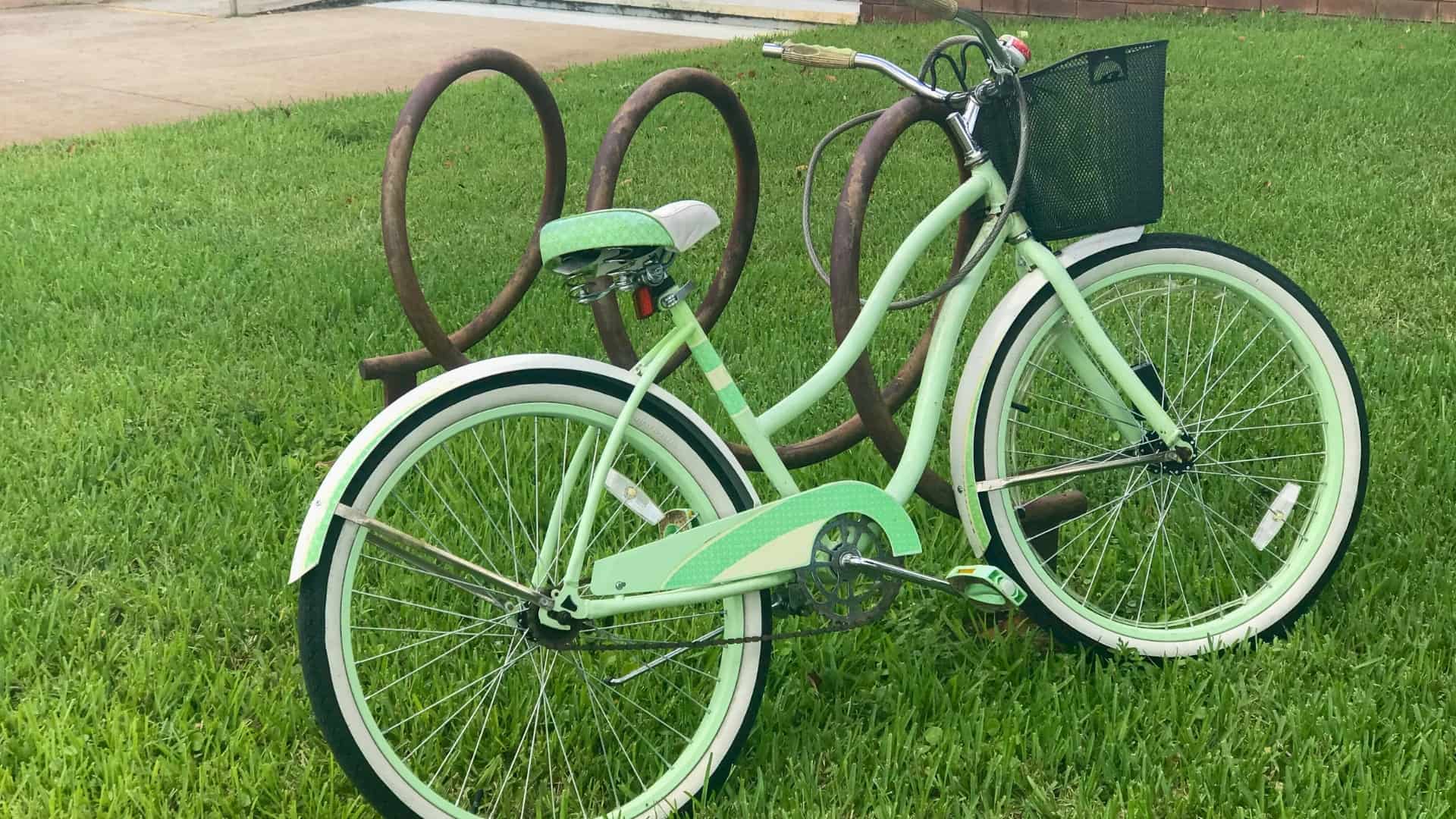 If you have a backyard, this makes for an ideal storage solution. However, there is still the issue of safety.
You must make sure that your bike is safe from thieves and from the elements.
Fortunately, there are plenty of solutions for outdoor backyard bike storage.
This article will go over the various options to help you find one that's right for you.
If you are looking for a bike storage solution, you really can't do better than a shed, and this Trimetals storage shed is probably the best to get right now.
A shed is durable and it will hold up to the elements to provide the ultimate protection for your bike.
The Trimetals shed is recommended because it is the perfect size for your bike and it's made of a durable material that will hold up to the elements.
We'll be talking more about the Trimetals shed and other outdoor bike storage options further on in the article.
In the meantime, let's take a quick look at the top choices.
After that, we'll have a full review of each and let you know how they can help you keep your bike safe when storing it in your backyard.
What to Know When Buying an Outdoor Bike Storage Device
Before we get into which units work best, let's discuss some things to take into consideration when purchasing an outdoor bike storage solution.
The Size of the Bike: No matter what storage solution you choose, it must be able to accommodate the bike. Whether it's a cover, a shed, or any other type of unit, the bike must fit comfortably inside without doing any damage. If you have a normal-sized bike, it's likely it will fit in most units. However, if you have a mountain bike or any other type of bike that is larger than the norm, measure it in advance to make sure your storage will work.
The Weight of the Bike: It is ideal to store your bike inside of a unit, but if money and space do not allow, you may want to lock it to a stand and use some sort of covering for protection. In these situations, you must make sure that the stand can hold the bike's weight. You must also make sure it has enough space to accommodate the bike.
The Weather: If you live in a climate where there isn't a lot of rain and snow, you may be able to get away with storing your bike outdoors. However, if there is a lot of stormy weather, you will want to go with a semi-indoor unit such as a shed. Depending on how much snow and rain you get, even a tent might not hold up well to the elements.
Security: If you plan on leaving your bike in an area where it will not be watched 24/7, you will want to make sure it is safe from thieves. Therefore, the storage unit you are buying must have a good locking system. If it does not have a locking system, you may have to buy your own. If this is the case, take the lock into consideration when determining the overall cost. Also, make sure your unit will accommodate the type of lock you are purchasing.
Cost: Of course, everyone likes to save money. However, when it comes to keeping your bike safe, you want to be sure to go with something that does that job. Make sure you are getting the best of both worlds when it comes to quality and affordability.
Type of Storage Used: When it comes to outdoor bike storage, there is a wide variety of products you can use including tents, sheds, stands, pods and more. Make sure the item you are buying is suited to your needs.
Best Bike Storage Products Reviewed
Now that you know what to look for in outdoor backyard storage solutions, let's review some of the best products out there.
Best Outdoor Storage Shed: Trimetals 6 x 3' Bicycle Storage Unit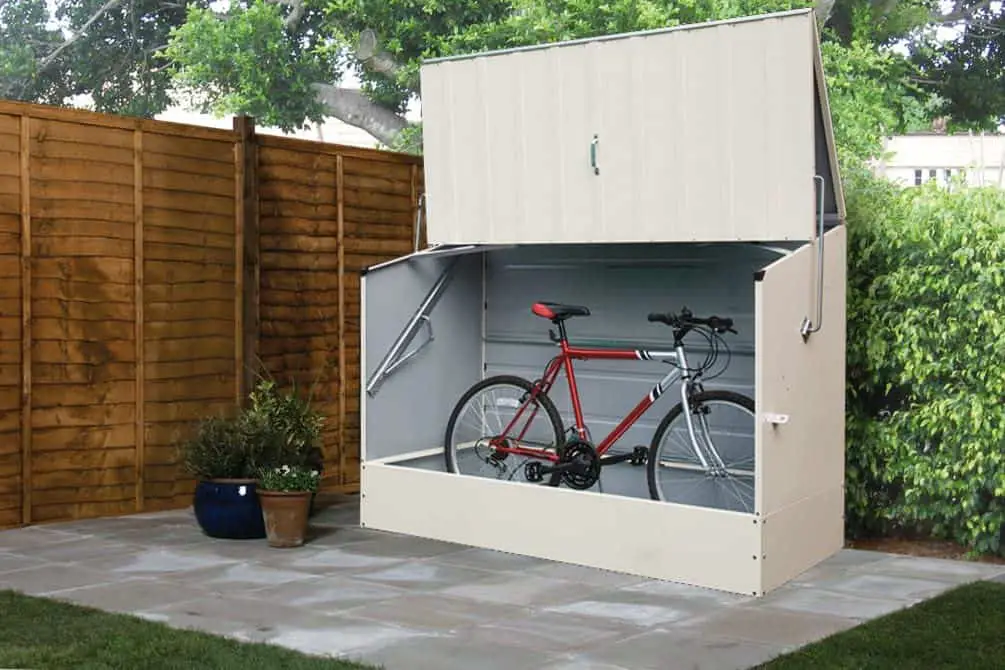 A storage shed may be the best solution for your bike.
It is nearly impossible to move and it provides the best possible protection from thieves and from the elements.
On the downside, a shed will be difficult to assemble and it is a semi-permanent fixture. Therefore, it will not offer portability.
You also might have to get clearance from a landlord or the people you live with before you can set it up.
If you are looking for a storage shed, this Trimetals model is highly recommended. It is perfect for people looking to store up to 3 bikes.
It offers protection in areas that are prone to inclement weather and it has tons of security features.
The shed is made of PVC coated galvanized steel which is fire resistant and corrosion-resistant. It requires almost no maintenance.
It has spring assisted opening action that will provide easy access and, once opened the bike sits behind a shallow ledge that makes it easy to extract.
When assembled, the shed has a width of about 3' and a length of about 6'.
It has two padlock positions and it can be bolted down to provide extra security.
It can accommodate any type of bike and it requires easy two-person assembly.
Check prices and availability here
Best Bike Storage Tent: PrivatePod EighteenTek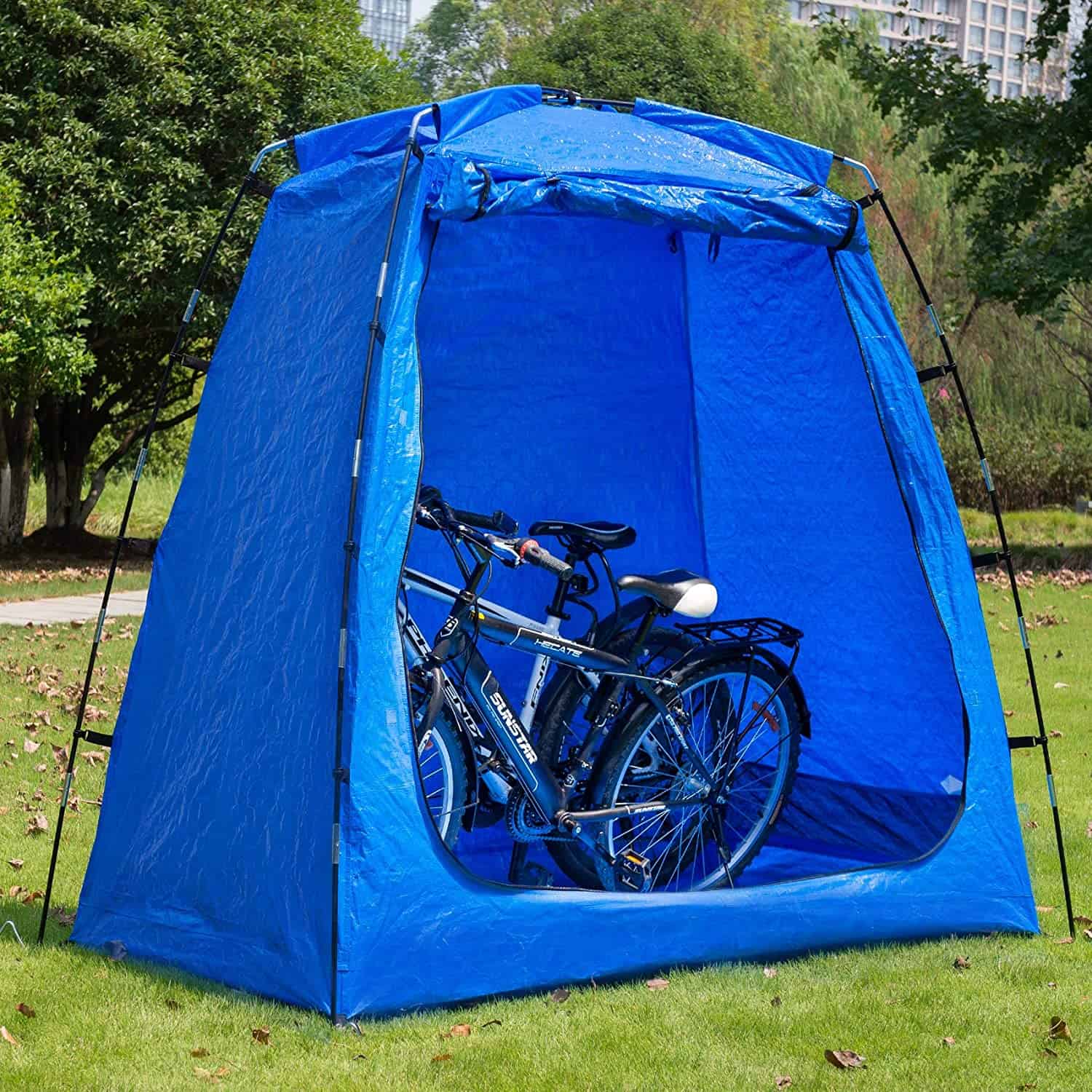 A tent is another good outdoor bike storage solution.
It's portable so you can take it with you anywhere and it's easy to set up.
On the other hand, tents are not as durable as sheds and therefore, they may not hold up as well to weather.
Also, most of them don't lock so you will have to be creative to find the right system for keeping your bike secure.
If you like the idea of a bike storage tent, the PrivatePod is recommended.
It is terrific for people who are looking to store up to two bikes and it holds up well to inclement weather.
In addition to bikes, it can also hold tools or any other items that require storage.
The tent is made of a thick vinyl tarpaulin that's waterproof, tearproof, and heavy-duty. It will also keep out UV rays.
It fits two adult bikes without taking up extra space. It can be set up quickly and easily.
It has large zippers and sealed seams to keep water out. The back Velcro panel will help you lock the bike to a fence or tree and the bottom and back eyelets allow it to attach to the ground so it can't be carried away.
Best Shed/Tent Combo: Abba Patio Outdoor Storage Shelter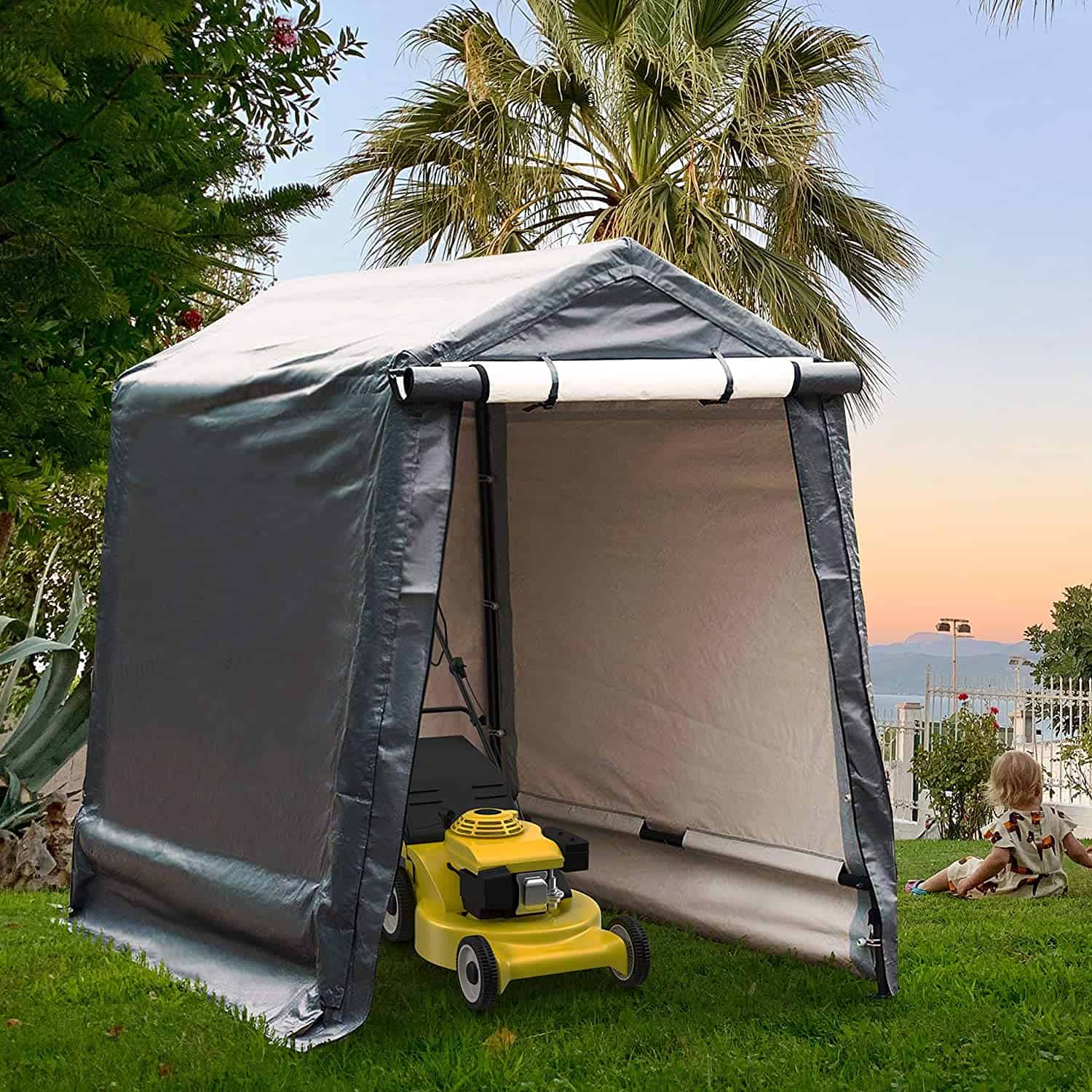 If you like the portability of a tent but want something a little sturdier, you can't go wrong with a shed/tent combo.
At 8 feet long and 6 feet wide, this storage shelter can fit several bikes.
It can also fit other types of items that need to be stored outdoors such as motorcycles, ATV's and children's toys.
If you need more space, you can go for a larger size like 7 x 12", 8 x 14" or 10 x 10".
The base is heavy gauge steel and it has stable corner joints that offer stability. The frame is rust-resistant.
The triple layer UV treated canopy is water-resistant.
It also has a roll up zipper door. The top cover and sidewall design provide a tight fit that makes it even more likely to stay standing.
Its lightweight design makes it completely portable.
Best Motorcycle Storage Shed: Mophorn Shelter Hood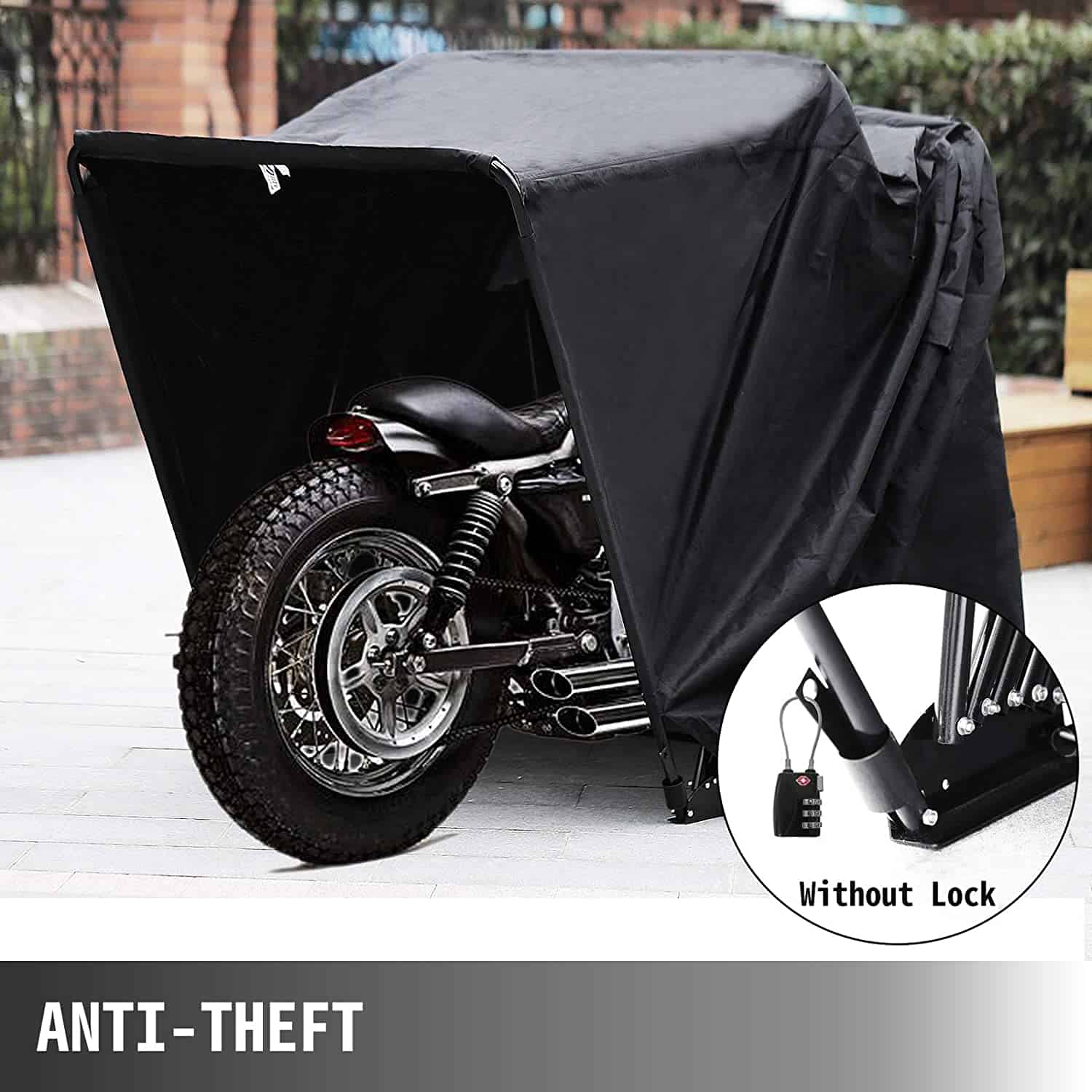 Bicyclists can also use storage units designed for motorcycles to store one or several bicycles.
This motorcycle shed is perfect for anyone who owns a motorcycle but it can also hold up to two bicycles as well as scooters and mopeds. It is easy to assemble and it is completely portable.
The shed has an upgraded powder-coated steel frame that is made of a 600D oxford waterproof fabric.
It is reinforced with a heavy-duty sewing process that makes it resistant to water, dust, snow, wind and UV rays.
It has mesh ventilation windows that are designed to keep the motorcycle from overheating.
It is easy to assemble and it comes with a bag that you can carry the shed in for portability.
It also comes with a black TSA lock that allows it to be safely parked outdoors. The inside has a galvanized bracket that keeps the bike stable while it is being stored.
Best Bike Cover: Team Obsidian Bike Heavy Duty Ripstop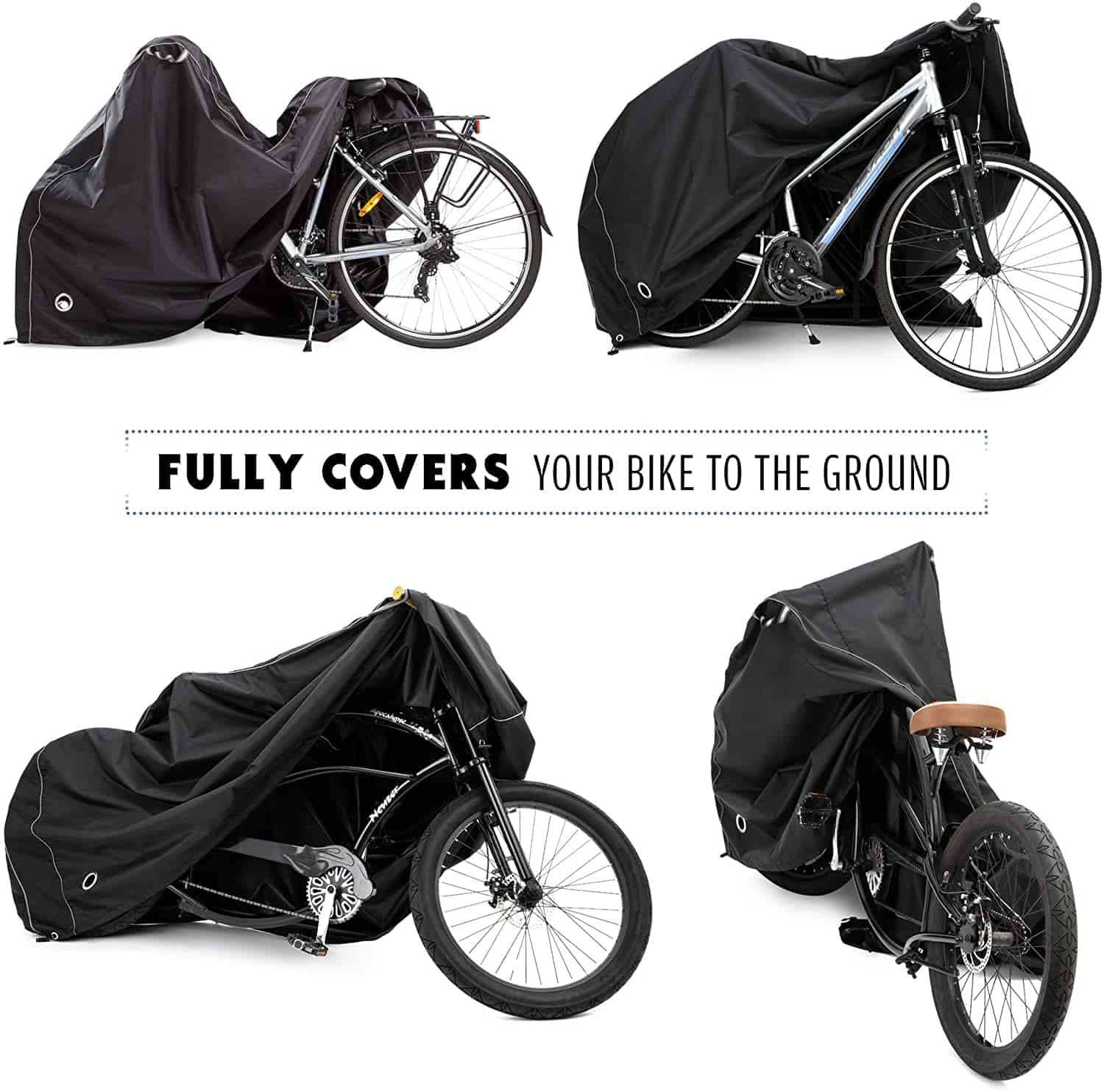 A bike cover is great for protecting your bike from the elements.
While most of them do not lock, many have devices that allow them to be attached to a car or a large stationary object that is difficult to move.
It can also be used along with a shed or tent to further protect your bike from the elements.
The bike cover is perfect for people who like to take their bike with them when they are camping or road tripping.
It is ideal for those who count on outdoor storage devices as it provides extra protection from the elements.
It fits all bikes and it comes in a variety of sizes that can fit one, two, or three bikes.
It is made of a PU coated heavy-duty material that protects the bike from water, snow, ice, and even UV rays.
It has lock holes on both the front and back. It has reflective strips that make it easy to spot at night.
It covers the bike from top to bottom and it can easily be removed using the bike handles.
It has front and rear drawstring chords that enable it to be attached to a car or a large stationary object.
Best Bike Stand: RAD Cycle Rack Two Bike FloorStand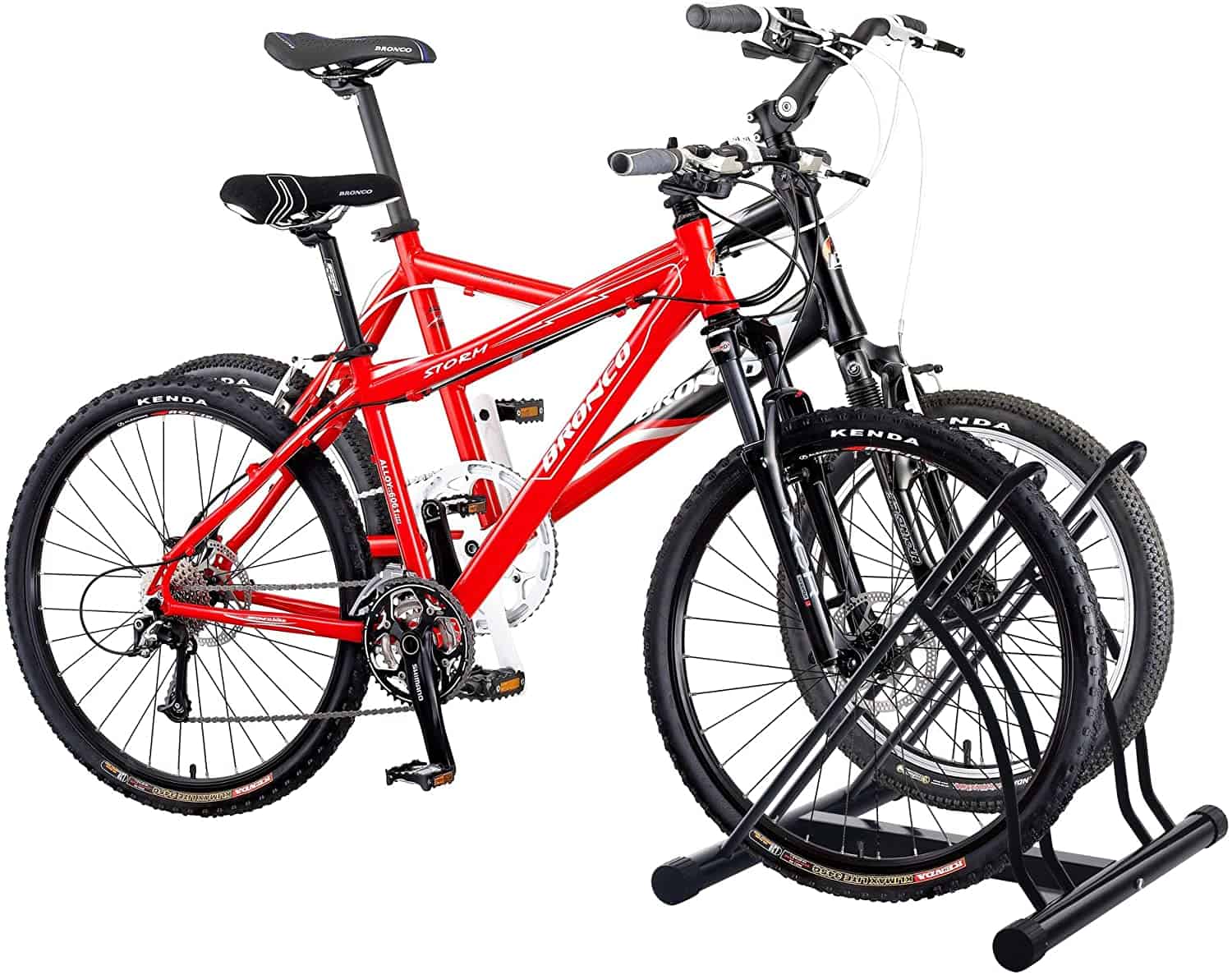 It's likely you won't want to count on a bike stand alone for outdoor storage.
After all, someone could just walk off with the bike and the stand!
However, they can come in handy for keeping your bike upright if it's in a shed or tent.
This stand is perfect for someone who needs something to keep their bike upright in a storage shed or tent. It can hold up to two bikes.
The stand has a tubular steel construction that makes it very durable. It is easy to use; just roll the bike into the stand and walk away.
You never have to use clamps or brackets and you never have to lift the bike.
You can store the bike backwards or forwards, so it works in a variety of situations.
Its glossy finish protects it from the elements. It is also lightweight so you can move it around if necessary.
Best Bike Storage Pole: Topeak Dual Touch Floor to Ceiling Bike Storage Stand
A bike storage pole is a pole-like structure with gadgets that help your bike stand up.
Its narrow design makes it a space saver and it can often be used to hold multiple bikes vertically.
This stand is perfect for someone looking for space-saving storage in their shed or garage in the yard. It holds two bikes but has room for mounts that can accommodate up to four.
The stand has an attractive design that will look great in a home or garage. The handlebar stabilizer keeps the wheels from turning.
It has a 30-degree adjustment for height and it can expand to up to 320 cm. The mounts have rubber-coated hooks so they will not damage the paint on your bike.
The entire stand is supported by a Quick Release rubber-coated locking stepper foot.
Best Bike Storage Pod: Thule Round Trip Pro XT Bike Case
A pod is a step up from a bike cover. It works to encase the bike covering it from top to bottom.
This bike case is a compact storage solution that is ideal for those looking to save space. Its portability makes it perfect for riders who use their bikes for touring and traveling.
The case is made of durable nylon, Ripstop shell, and a polyethylene tub and aluminum base to provide the ultimate protection.
The integrated bike stand doubles as a bike holder and work stand.
It has wheels and a wheels bag that makes it easy to take your bike from place to place.
It is lightweight and its handles make it easy to carry. Thru-axles for 15mm and 20 mm axles are included.
It fits most bikes with a wheel base of up to 46".
Best Bike Storage Locker: Keter Outdoor Resin Horizontal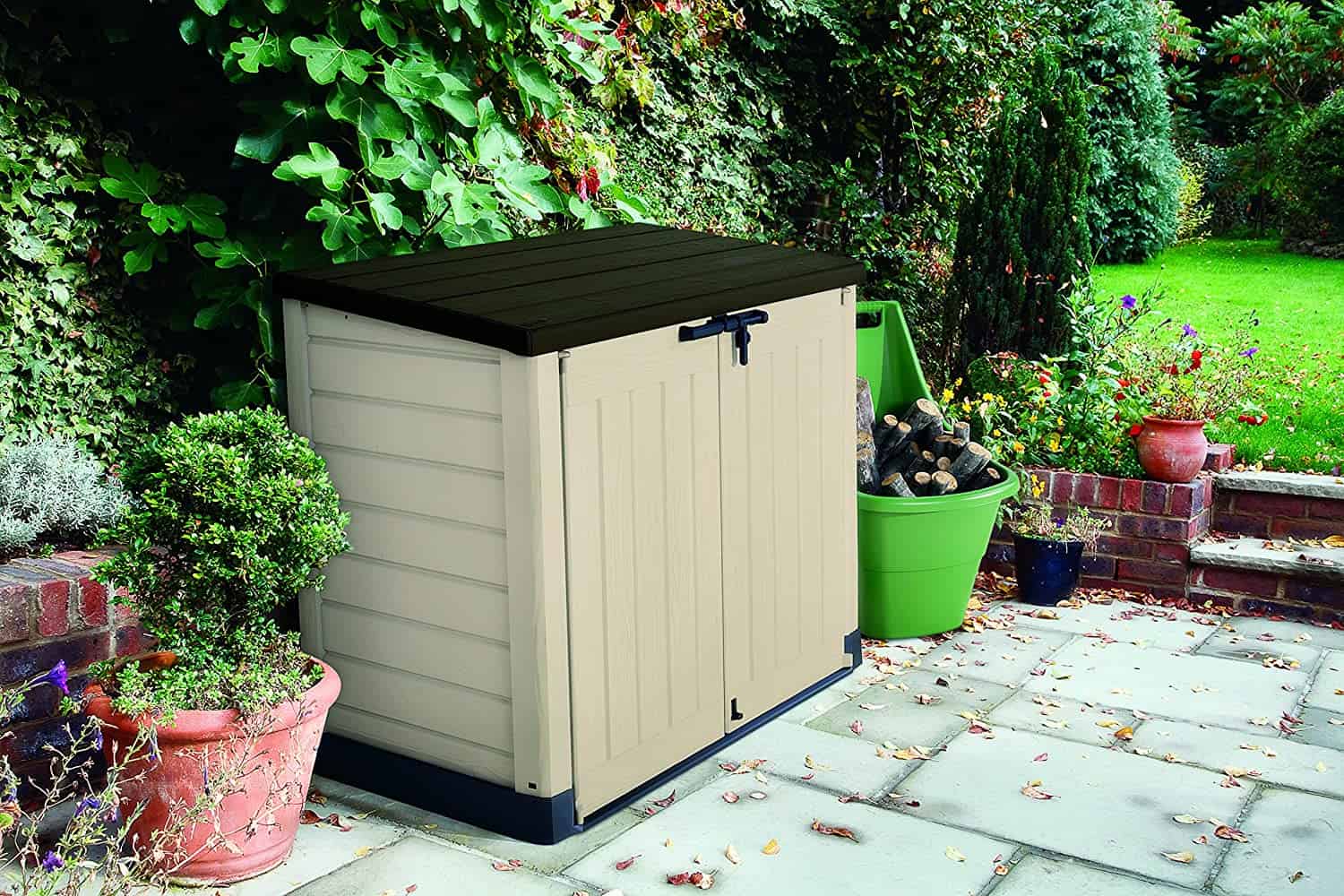 A bike locker is similar to a shed but it is a bit more compact. It is terrific for anyone who has an outdoor space to place it in and is looking for a discreet storage option.
This shed is great for those who are looking for a secure outdoor location where they can store their bike.
The shed features a wood-like texture and neutral colors that will be attractive in any home. It is made from a durable polypropylene resin with steel reinforcements.
It has a 42 cubic foot storage capacity. Its linking system locks the lid in place making for easy access.
The pistons allow it to close and open easily. It has a lockable latch that provides extra security for your bike.
Best Plastic Bike Storage Shed: Keter Manor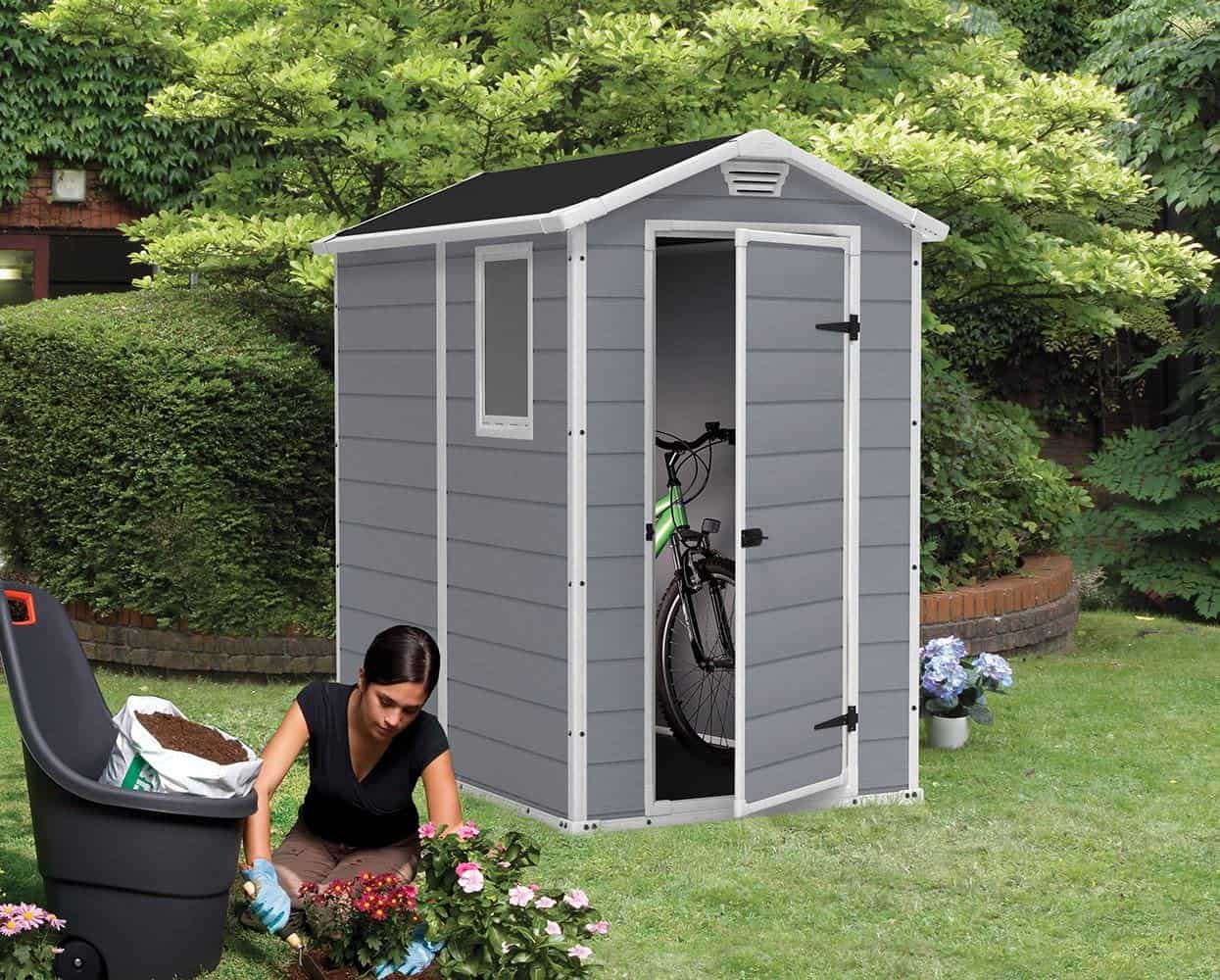 Plastic is a great material for an outdoor storage shed because it's waterproof and lightweight.
It makes an ideal solution for storing your bicycle, garden tools, and more.
This storage shed is the perfect solution for anyone looking to store their bike in an outdoor space.
It can also hold a variety of other outdoor items. It is attractive and will look perfect standing next to any home.
Its compact size means it will not take up a lot of space in your yard.
This shed has a generous storage capacity ensuring it will fit most bikes. It is made from a durable mix of polypropylene resin plastic and steel.
The skylight and window provide an airy interior. It is easy to assemble and maintain.
Is it bad to store your bike outside?
Storing your bike outside for a day or two without any protection won't harm it, but if you leave it outside for long periods of time, the elements will cause it to start to break down and decompose.
The chain will start to rust and the plastic and rubber elements will start to wear.
How do I store my bike outside for winter?
If you plan to store your bike for the winter and don't plan to use it during that time, there are certain steps you should take to ensure it will be in good condition when you come back for it in the summer.
These include the following:
Coat elements with waterproof grease: Waterproof grease should be used to coat your bike chain, bolts, brake bolts, and spokes. This will ensure that your bike does not rust during the winter.
Cover the seat with a plastic bag: This will keep it safe from the elements and UV rays.
Keep the tires inflated: It's a good idea to pump up your bike tires a few times during the winter. This will keep your rims safe from damage.
Get a spring tune-up: Once the warm weather comes, get your bike serviced with a tune-up. Take it into the bike shop so they can clean and lube it.
Is it okay for my bike to get rained on?
Bikes can usually take some amount of rain.
However, if you have a cheap bike, it may not stand up to the elements.
In any case, if your bike gets rained on, it's advisable to wipe it down. This will keep the components from rusting (here's how to clean that).
Does hanging a bike by the wheel damage it?
There are many bike storage units that allow you to store your bike by hanging it from one wheel.
We have done a post before on this with 17 Tips for Bike Storage in a Small Apartment.
This is definitely a space-saving option.
However, it can also put a lot of pressure on your bike causing the frame to warp. If you are considering hanging your bike, make sure you have hangers to support both wheels if not the entire frame.
Conclusion
A backyard is a good place to store a bike, but it's important to keep it safe.
The Trimetals Storage Shed is the best option because it provides solid protection from the elements and from thieves.
However, there are plenty of other products listed here that may be preferable in your situation.
Which one will you choose?
I'm Joost Nusselder, the founder of Tools Doctor, content marketer, and dad. I love trying out new equipment, and together with my team I've been creating in-depth blog articles since 2016 to help loyal readers with tools & crafting tips.