I love creating free content full of tips for my readers, you. I don't accept paid sponsorships, my opinion is my own, but if you find my recommendations helpful and you end up buying something you like through one of my links, I could earn a commission at no extra cost to you.
Learn more
To enjoy the outdoor view of your lawn and garden, after a long tiring day to refresh your body and mind with a cup of coffee, to read a storybook in the afternoon nothing is comparable to a porch swing. Both the kids and the adult enjoy passing time on a porch swing.
You always need a lawn or garden or patio or any free space outside of your home – this concept is not right. You can have a porch swing in your living room or on the rooftop too.
10 Free Porch Swing Plans
Plan 1
You may think that the swing porch shown in the image is suitable for holding only children. But the materials used to make the swing porch is strong enough to hold an adult beside children.
It depends on you that what kind of material you will use. If your target user is only the kids you can use a comparatively weak material but if your target user is both the adult and the kids then you must have to use a strong fabric that can carry the load.
Plan 2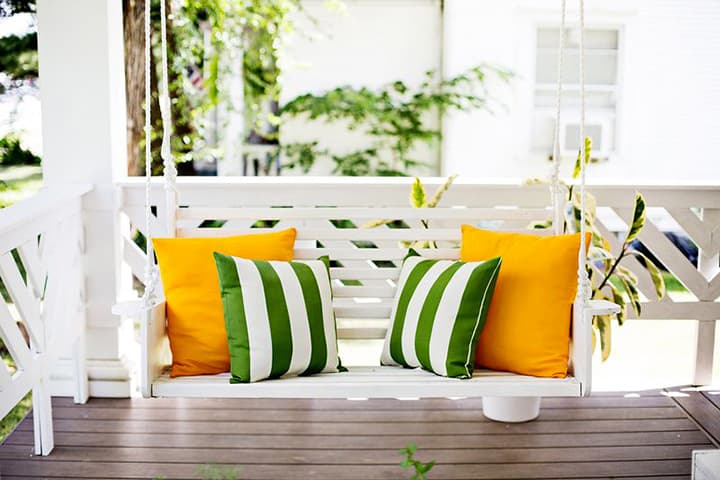 The white porch swing has wonderfully matched with the color and design of your outdoor patio. The rope used to hang the porch can carry a load up to 600 lb.
You can also use chains instead of rope to hang this porch. In this case, you have to use 1/4″ welded rings and two heavy-duty screw hooks.
Plan 3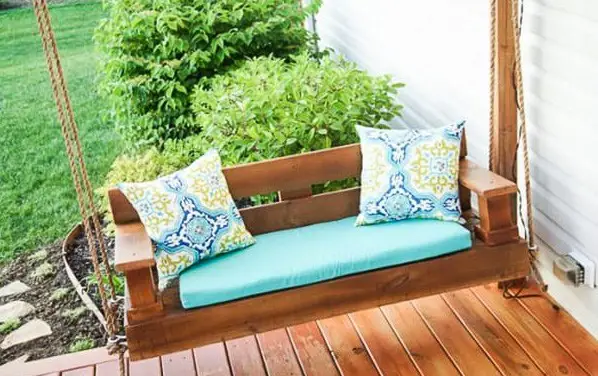 The design of this porch is simple but it is made of strong and durable material. The handles are designed to give the highest comfort to your arm when you will pass your time sitting on this porch.
The back part is not so high that might feel uncomfortable to many. If you choose this free porch plan you should think about this point. If you do not have any problem with the height of the back part then you can make it a member of the furniture family of your home.
Plan 4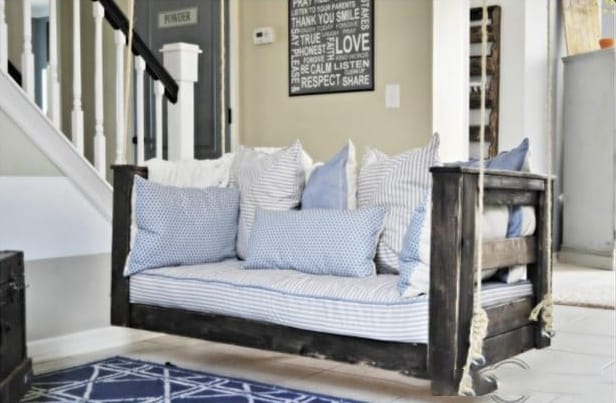 Some people have the attraction to the rustic design and furniture. If you are one of those people who loves the rustic design this porch plan is for you.
The crib mattress and some fluffy pillows made its look alluring. It is a wonderful addition to your living room.
Of course, you can add this porch in your patio too but there should be a shed above the head. If you keep it in an open place with the mattress and pillow you can understand that these will get wet by fog or by rain.
Plan 5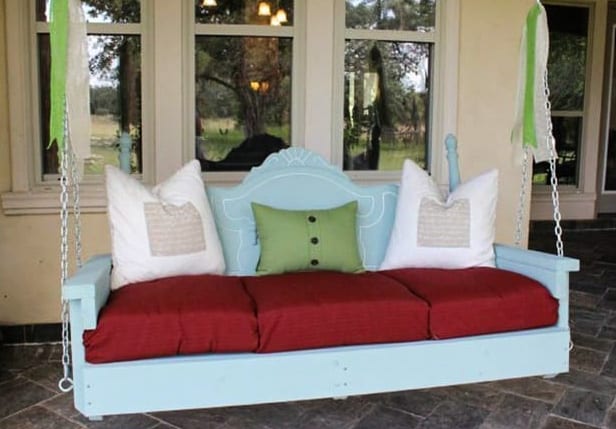 You can turn an unused headboard of your old bed into a beautiful porch. The image of the porch shown here is made of the headboard. The headboard was already designed wonderfully so no time and effort were invested to make it beautiful.
To give it a new look it was painted with a new color. If the headboard is rustic and you love rustic porch you do not have to paint it with a new color. On the other hand, if you want to make it more gorgeous you can use multiple colors to paint it.
Plan 6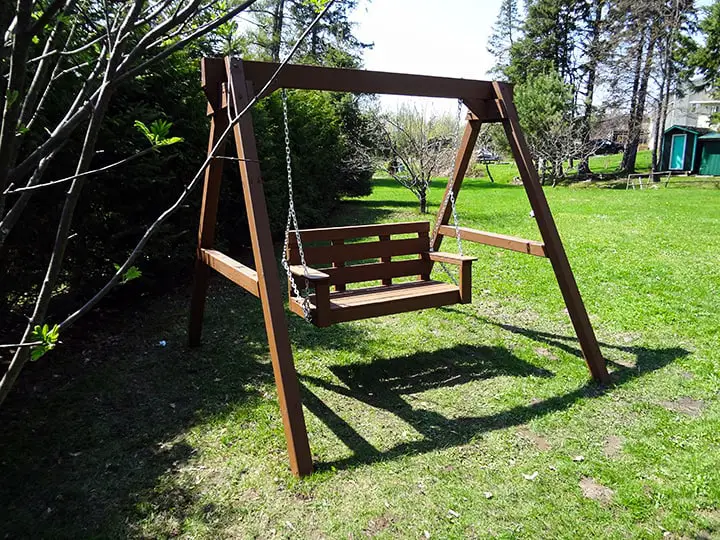 The unique characteristic with this porch swing is it's A-shaped frame. The color of the frame and the porch has been kept the same to look it beautiful. You can change the color combination if you do not like this color.
The frame requires 1/2″ galvanized carriage bolts and a 1/4″ chain to hang the porch swing from the frame because the 1/2″ galvanized carriage bolts and a 1/4″ chain are strong enough to hold the porch securely from the beam.
You can see that the design of the porch is kept very simple and there is no complex cutting of the wood. So, building this A-frame porch does not require much time if you have good woodworking and DIY skill.
Plan 7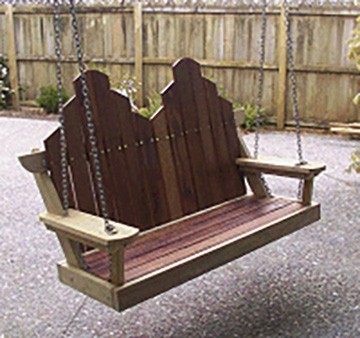 This wooden porch has an adjustable seat. Depending on your mood and need you can either seat straight or you can lie back.
To hang it from the beam two galvanized chains have been used. The design of the back portion of it is also wonderful but easy to make.
Plan 8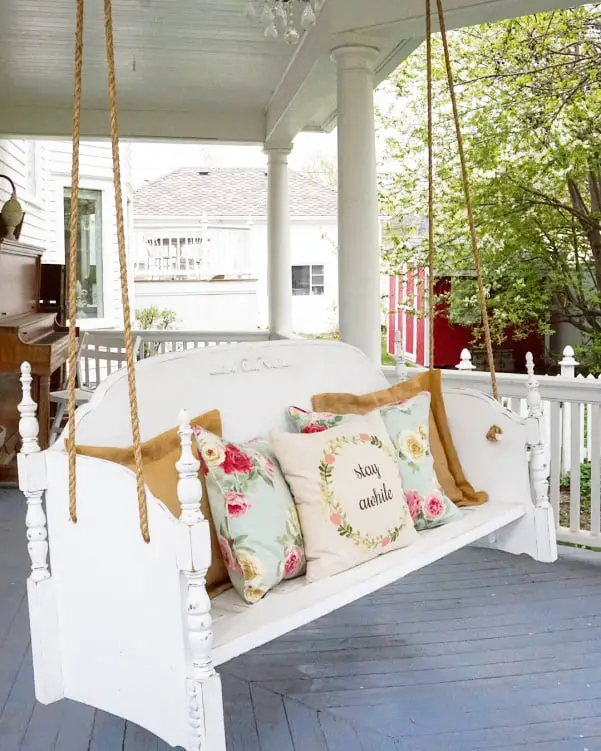 The wonderful white porch shown in this image is made of salvaged materials. If you search in the storeroom of your house you can find the materials used to build this porch swing. An unused footboard, a headboard, and a solid wood door have been used to make this swing porch.
This porch swing looks very aristocratic but the designer did not need to invest any effort to make the aristrocratic design. All the beautiful designs you can see in this swing porch are the design of the door, footboard, and headboard.
You have to assemble the construction material and drill holes to hang this. For more decoration and adding comfort, you can keep some cushion on this.
Plan 9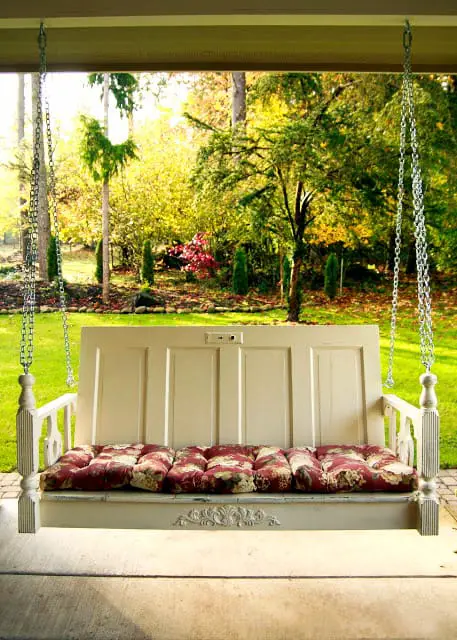 This is an elegant swing porch that may seem you a costlier one. But the truth is it is not a costly swing porch because this is made from recycled material.
We talked some Up-Cycling Ideas here
The seat of this porch swing is made from an old antique table, for building the backrest an old door is used, for building the armrest table legs have been used, and for making the posts the table legs are used.
This swing porch is big enough to accommodate a total of 3 people. It is hard to guess that this swing porch is not made from wood because it looks like a wooden swing porch.
Plan 10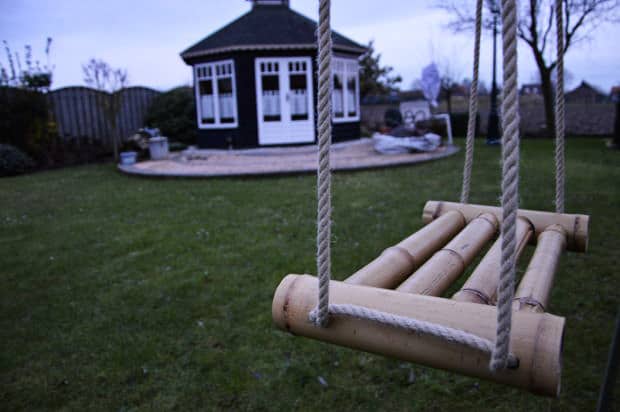 If you are a beginner in the DIY project then you can choose this bamboo porch swing as your practice project. This is a super easy project that requires a few hours to complete.
The bamboo, rope, and metal washers are the building material of this bamboo porch swing. The bamboo has a good load-bearing capacity. So, this swing porch can be used by both adults and the kids.
I would recommend you not to use an electric saw to cut the bamboo as the electric saw is so powerful that it can cause a crack in the bamboo.
Final Verdict
If you have a problem with the budget you can choose the porch swing plans that are made from recycled materials. If you are a beginner then I would recommend you take the simple designs so that you can make it successfully with less chance of failure.
How comfortable your porch swing will highly depend on how you have decorated it. Generally, a comfortable mattress along with some cushions or pillow is enough to make your porch swing very comfortable.
I'm Joost Nusselder, the founder of Tools Doctor, content marketer, and dad. I love trying out new equipment, and together with my team I've been creating in-depth blog articles since 2016 to help loyal readers with tools & crafting tips.