I love creating free content full of tips for my readers, you. I don't accept paid sponsorships, my opinion is my own, but if you find my recommendations helpful and you end up buying something you like through one of my links, I could earn a commission at no extra cost to you.
Learn more
Dethatching is necessary if you want to keep your lawn grass healthy and robust. Because the organic matter that comprises dead grass, grassroots, stem, and dust prevents air and water from reaching the root of the grass. Thus it hampers the rapid growth of grass and its freshness. Having a dethatcher at your home can ensure timely lawn maintenance by uprooting the thatch. But dethatching can be challenging if you do not have the right dethatcher that suits your expectations.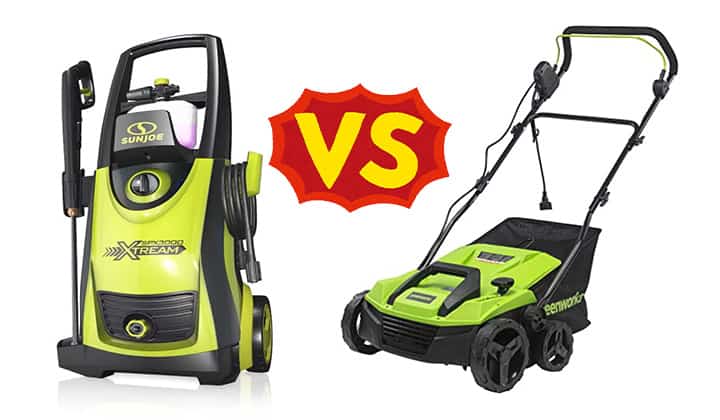 In this article, we will compare Sun Joe vs GreenWorks dethatcher, the two most powerful and popular dethatchers, bit by bit in order to help you choose one over another.
Sun Joe Dethatcher- A Complete Overview
Sun Joe was established in 2004 with a mission to provide all necessary outdoor tools for winter. But later, they started manufacturing outdoor tools for maintenance of our home, lawn, and yards in all seasons.
Sun Joe also manufactures detractors equipped with modern technology and phenomenal features that will make your everyday dethatching more easy and affordable. The Sun Joe  AJ8013 model is basically the flag bearer of standards. The 13-inch width cutting blade is ideal for small and medium-sized lawns. But if you want to detach a larger lawn with this dethatcher, you have to be prepared for the extra time it will take than a lawnmower.
This is an electric model. Therefore in terms of mowing a larger lawn will require an extensively large cord for dethatching. The 12 amp motor power of this tool can impress anyone with its faster cutting skills. Another best part about the sun joe dethatcher is its ability to bring freshness to the lawn. Wondering how? It has a built-in sacrifier that can cut the root of the grass so that it can grow fast, thicker and healthy. It also allows its user to adjust the blades in 5 different depth settings to suit your grass type.
The air boost technology in the Sun Joe dethatcher minimizes the effort for picking up thatch with a rake. The most promising and distinguishable feature that sun joe can offer is its collection bag for convenient disposal. This debris collection bag also comes with all the entry-level detractors. Lastly, the 2-year warranty is just a cherry on top.
Bottom Line Consideration
Perfect for both small and medium organizations
12 amp motor
5 bottom blade adjustments
A thatch disposable bag is provided with all the items in the dethatcher range
Price is comparatively higher than other competitive brands
Equipped with a sacrifier
Greenworks Dethatcher- A Complete Overview
GreenWorks Dethatcher has been providing innovatively sustainable battery-powered products since 2004, the same year of Sun Joe's establishment. It is a USA-based company specialized in making battery-powered outdoor tools.
Greenworks dethatcher is the most consumer-friendly brand for its affordable price structure. Charging a lower price than its competitor brand was not a constraint for the top-notch features and quality of this tool.
Placing both Sun Joe and Greenworks Dethatcher side by side, you will hardly see any difference. But the only thing you will notice is the compact size of the GreenWorks dethatcher. Greenwork dethatcher is more compact and robust compared to Sun Joe. Also, it has a 1-inch extra dethatching path than sun Joe that will help you to accomplish the job faster.
Hence, in terms of control, sun joe gives you a better advantage. If anyone is looking for precision and control over the dethatcher, the 3-position depth adjustment of GreenWorks dethatcher can obviously be the reason for someone to choose Sun Joe.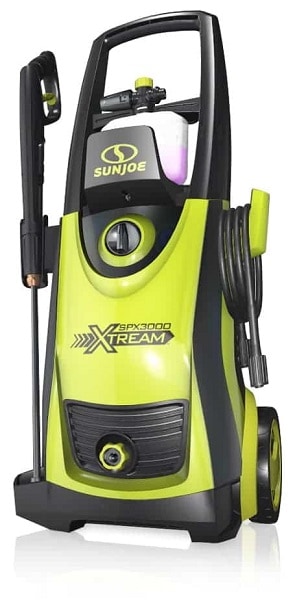 Another disadvantage that comes with the affordability of GreenWorks is its 10 amp motor power which is weaker than the Sun Joe's 12 amp motor. But all those disadvantages turn negligible with the 4-year warranty of each dethatcher from GreenWorks.
Bottom Line Consideration
Affordable and consumer-friendly price.
Most compact and robust design language.
3-position depth adjustment.
10 amp motor.
4 years warranty.
Frequently Asked Questions (FAQs)
Why is a scarifier needed in a dethatcher?
Having a scarifier in a dethatcher means you can cut the grass deep into the soil where the dethatcher blade would not get into. It cleans all the debris, mosses, dust, and other unwanted plants with stainless steel blades placed on a cylinder that rotates. Scarifier makes detaching more easy and effortless for the machine itself. For you to know, sun joe is equipped with a scarifier.
Can I do hatching with a dethatcher?
If you want to collect small leaves or plants from your lawn, you can use the dethatcher to some extent. You can go over the lawn with the dethatcher then use a mower to collect what the dethatcher has pulled up.
Final Words
Don't take too much time to decide which one to buy. If you have a tight budget for a dethatcher and you want a decent quality product GreenWorks is the ideal choice. But if you consider top-notch specs, power, and control, there is no alternative to Sun Joe.
We hope in this article we have made it clear everything you must know about the Sun Joe and Green Works dethatcher. Now the ball is on your court.
I'm Joost Nusselder, the founder of Tools Doctor, content marketer, and dad. I love trying out new equipment, and together with my team I've been creating in-depth blog articles since 2016 to help loyal readers with tools & crafting tips.