I love creating free content full of tips for my readers, you. I don't accept paid sponsorships, my opinion is my own, but if you find my recommendations helpful and you end up buying something you like through one of my links, I could earn a commission at no extra cost to you.
Learn more
Taking a Closer Look at the Trash Cans That Can Keep Your Car Looking Fresh
We've all been there…we say to ourselves that we're going to keep our new car spic and span inside and out, and to be fair, for a certain time, we make good on our honorable intentions. All the junk we pick up on a day out gets ferried to the trash can indoors, but it's not long before we start getting a little sloppy, and it's a slippery slope from there, my friend.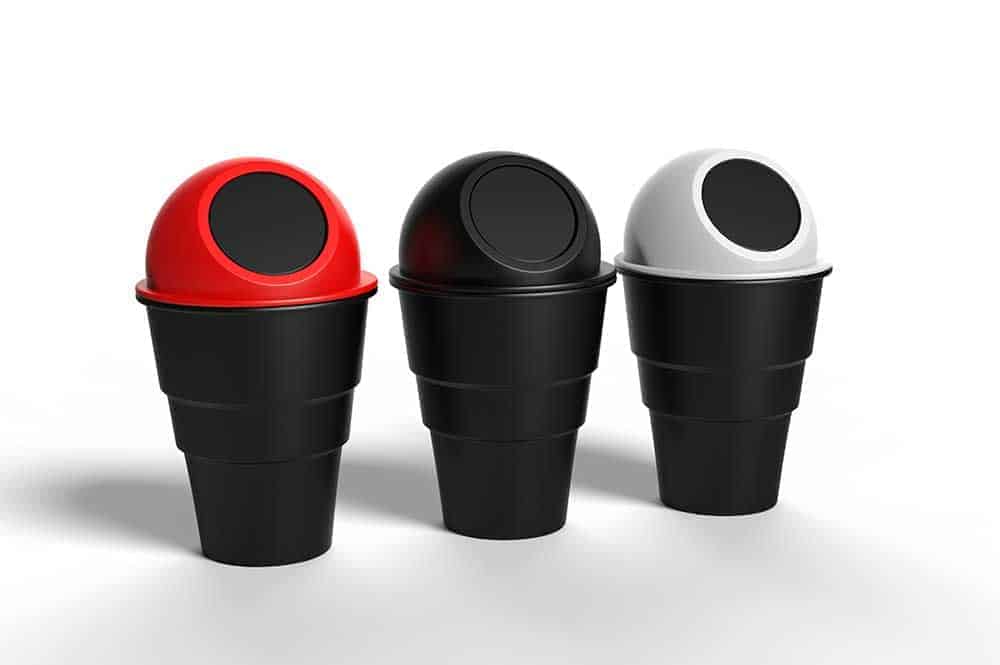 Soon enough, when you open your door, a wave of half-full, old water bottles pours out into the street, along with fifty-odd receipts, a brown banana peel, and at least a couple fatally scratched Springsteen CDs.
But I've got some good news…we no longer have to live this way. Having put in weeks of research, I've composed this list of the five best car trash cans on the market.
Best Car Trash Can – Reviews
This trash can from EPAuto has a 2-gallon capacity, which is large enough to hold a few family trips worth of trash without taking up too much cabin space.
Boasting an integrated, leak-proof, easy-clean interior, you don't have to worry about bringing along a roll of garbage bags; however, if you'd prefer to use them, the can handles will lock it in place.
The lid has an elasticated opening that keeps trash out of sight without reducing ease of access, making it safe to use while driving.
It can be installed just about anywhere in your car, including the back of your headrest, on the central console, or, thanks to the Velcro base, on the floor mat.
Pros
Rigid Sides – Doesn't collapse and spill.
2-gallon Capacity – Won't overflow after a single snack stop.
Strap and Velcro Fixtures – Can be installed pretty much anywhere.
Leak-Proof Interior – No risk of ants with this bad boy in your car.
Side Pockets – The extra storage doesn't go amiss.
Cons
Size – Not particularly suitable for very small vehicles.
Velcro – Doesn't stick to all floor materials.
A trash can that doesn't look like a trash can is exactly what you need in your car, especially if it's a fancy new model, and this Lusso design is as surreptitious as they come.
Looking more like an up-market camera bag than a trash can, it's the perfect way to keep your interior clean without sacrificing style, but this awesome car trash can isn't just eye candy, it's actually incredibly functional as well.
The interior can hold a whopping 2.5-gallons of waste, which is enough for inter-state road trips, and it's lined with waterproof Oxford PVC to keep soda and coffee dribbling out onto your interior.
The flip-open lid grants easy access even as you drive, but keeps all the sights and smells at bay, ensuring you have a pleasant trip.
Fitting options include your glove box, your console, your seat back, and even the door panel (rare in a car trash can of this capacity), so you can tailor your car layout to individual trips with various passengers.
Pros
Flexible Installation – 4 options make it great for any sort of trip.
2.5-Gallon Capacity – Holds a bunch of trash, which means fewer pit stops.  
Aesthetics – You'd never guess it was for trash.
Leak-Proof Liner – No sticky spillages.
Flip Lid – Easy access, zero nasty smells.
Cons
Installation – Can be hard to install on certain seats.
Capacity – Too big for smaller vehicles.
If this was a list of the best named trash cans, the Carbage Can would absolutely steal the top spot, but it's so much more than just a catchy title.
If you got in a car with one of these inside, you'd be forgiven for sitting as far away from it as possible, as truthfully, it does just look like a loose trash can, but don't worry, it's never going to spill.
A handy dual-clip attaches to your floor mat and uses it as an anchor to keep the vestibule secure and up-right, even if you're heading down some particularly sinuous country roads.
What's more, it arrives with a strap to keep trash liners in place and prevent them from falling in under the weight of that large soda you can never finish, but always seem to think is a good idea.
Pros
Liner Strap – Keeps your trash bag in place.
2 Installation Points – Clips to the floor mat or the middle seat.
Internal Storage – Room for more bin bags inside.
Cons
No Lid – Needs to be emptied frequently.
The miniature Oudew trash cans are based on the classic cup design, allowing them to slide neatly into your cup holders, using as little space as physically possible.
At 7.87" tall and 3.13" wide, they're not large enough to accommodate the refuse of a full family drive-through meal, but they're the perfect little assistant when your gum has lost its flavor, or if you like to snack on a candy bar on your work break and never know what to do with the wrapper.
With an attractive diamond edge design, they look more like some sort of time travel device than trash cans. In fact, they look so good, I wouldn't hesitate to use one of the pair as a desktop storage device for pencils and pens and the like.
These handy little waste collectors also feature spring-loaded, push-top lids that grant easy access without stealing focus, so you can use them safely as you drive.
Pros
Dimensions – Great for cramped vehicles.
Push-Top – Easy, safe access.
Plastic Build – Total breeze to clean.
Two-Pack – Use one in your car and one in your office.
Cons
Capacity – Won't hold lots of waste.
You may have seen adverts doing the rounds for this trash can on TV. It's a 3.9-gallon container that doubles up as a cooler, so if you want to take some ice-cold beverages with you on your road trip, or perhaps keep some sandwiches nice and fresh, it can help you do that.
Once you're finished with your snacks and refreshments, simply load a liner, and put everything back where it came from.
Featuring a magnetic lid that stops bad smells in their tracks, it couldn't be easier to open and close. It's also completely waterproof, so you don't have to worry about dregs escaping and messing up your interior.
Pros
Dual-Purpose – Trash can and a cooler.
Waterproof – No sticky liquids will leak.
Magnetic Lid – Stops odors and provides easy access.
3.9 Gallons – Tons of room!
Cons
Dimensions – You need lots of space for this trash can/cooler.
Best Car Trash Can – Buyer's Guide
Trash cans serve a fairly simple purpose, but you'd be surprised at the sheer variety of the designs you'll find when shopping around, and while having options is always a good thing, it can leave you a little bemused at first.
That's why I've included this brief buyer's guide. It will help you decide early on what sort of trash can you're looking for, saving you a bunch of time and effort.
To Lid or Not to Lid
In my opinion, a car trash can with a lid is absolutely essential. It keeps the trash out of sight and prevents the escape of nasty odors, odors that if given half a chance will gladly seep into your interior and never, ever leave!
However, there are a few downsides to a car trash can with a lid. For one, you're far less likely to empty it…it's the whole out of sight, out of mind thing. Without visuals on the trash, it's easy to forget about, and before you know it, it's overflowing.
Storage
Your car trash can is going to take up valuable space in your vehicle; it can't be helped. But you can offset this loss by choosing one with outside pockets.
You can use them to store napkins if you're hitting the drive-through, or you could use them as a permanent wet wipe holder, so you can always clean up before handling the steering wheel after a snack or adventure.
Size
Car trash cans need to be large enough to hold a decent amount of waste, so you never have to deal with an overflow, but they also need to be space-friendly, as unless you're driving a monster truck, your car is a pretty cramped environment.
I'd recommend something with a 2-gallon capacity for families, but if you're flying solo for now, you'll probably be fine with something a lot smaller
Placement
Where do you want your car trash can to sit? Some will clip onto your door, others will strap to the back of your driver and passenger seats or dangle from your glove box. Some offer a more flexible approach, allowing you to choose from multiple different installation points.
My one piece of advice would be to avoid looping your bin over your shift lever and having it dangle into the driver footwell, as it may get in your way and potentially cause an accident.
Rigidity
Car trash cans are rarely made out of plastic or metal. The fabric enclosures help to keep your vehicle look neat and tidy, but they absolutely have to have a certain rigidity to prevent the dreaded flop, so If a trash can looks a little flimsy, stay well away.
Interior
Are you happy to use small trash bags in your car bin, or would you prefer an integrated, easy-clean liner? The latter is far more environmentally friendly, as it cuts down on plastic usage, and they're leak-proof too, but some find them annoying, as you have to remove the whole can from the car to empty and clean them.
Frequently Asked Questions
Let's bring things to a neat and tidy close with an informative car trash can FAQ segment.
Q: Where should I place my car trash can?
A: As long as it doesn't impede your movement in any way, you can put your car trash can wherever you like. If you've got back-seat passengers, hooking it over your headrest is a pretty good idea.
For particularly small vehicles, I'd recommend buying one that clips to the floor of the passenger footwell or sits in a cup holder, as a dangling design may be too imposing.
If you're only ever in your car alone, you'll need the bin within reach of the driver's seat, so you might consider one that straps to the central console. This will cover a lot of media, air, and temperature controls, but if you've got access to some of these functions on your steering wheel, it shouldn't pose too much of a problem.
Q: How do I keep my car trash can from moving?
A: Your car trash can should be fitted with the necessary bits and bobs that hold it securely in place, so if yours has a habit of shifting around, it's either in the wrong place, or it's time to invest in a new one.
Q: What's the best car trash can?
A: I think the best all-rounder is the EPAuto Waterproof Car Trash Can. It's got a decent capacity, so it's suitable for family road trips, it's incredibly flexible in terms of placement, and the integrated leak-proof liner is a godsend if you like to slurp a take-out coffee on the road.
Final Thoughts
There you have it, friend. The EPAuto Trash Can is definitely a favorite of mine, but I believe every featured can brings something unique to the car.
The Lusso Gear Trash Can looks the best, while the Carbage Can is a fantastic floor-mounted option. The Oudew design is perfect for small cars, and the Drive Auto Can kills two birds with one stone.
Loaded with one of these discrete disposal units, your car will never become the trash can ever again.
Also read: these are the best cup holder car trash cans right now
I'm Joost Nusselder, the founder of Tools Doctor, content marketer, and dad. I love trying out new equipment, and together with my team I've been creating in-depth blog articles since 2016 to help loyal readers with tools & crafting tips.