I love creating free content full of tips for my readers, you. I don't accept paid sponsorships, my opinion is my own, but if you find my recommendations helpful and you end up buying something you like through one of my links, I could earn a commission at no extra cost to you.

Learn more

Spray painting has become a much easier task, thanks to air compressors. With the right air compressor, you can spray paint large fences, pavements, and even walls within a few hours. Because spray paint using air compressors has become a common thing now, there are multiple options for you to choose from. But how will you know which air compressor is the right one for your task at hand? The best air compressor for spray painting is one that will work with most kinds of pint and sprayers.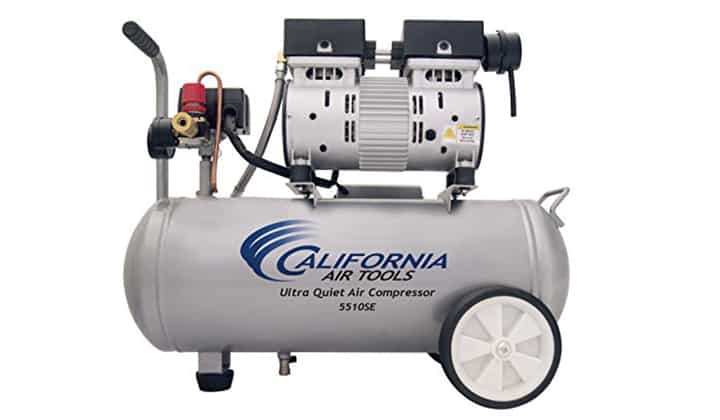 You can get an air compressor that works with most kinds of spray painting jobs, or you could get one made for a specific kind of job. Below, we have all the information you need about the modern-day air compressor for spray painting.
How Do Air Compressors for Spray Painting Work?

Nowadays, most spray painting work requires you to use air compressors. An air compressor is an essential tool for spray painting quickly. But what exactly is an air compressor. It is a tool that compresses air and then releases the air with speed. This helps to generate power. It has a motor which works to fill the tank with a lot of air. When air is put into the tank, it gets compressed and pressurized. As the tank is filled with more and more air, the pressure generated can be used to power a spray gun.
7 Best Air Compressor for Spray Painting

Finding an air compressor perfect for your painting job can be tough with all these options available. If you want to know about the products worth your money, you can check out this list below.
1. BOSTITCH BTFP02012 Pancake Air Compressor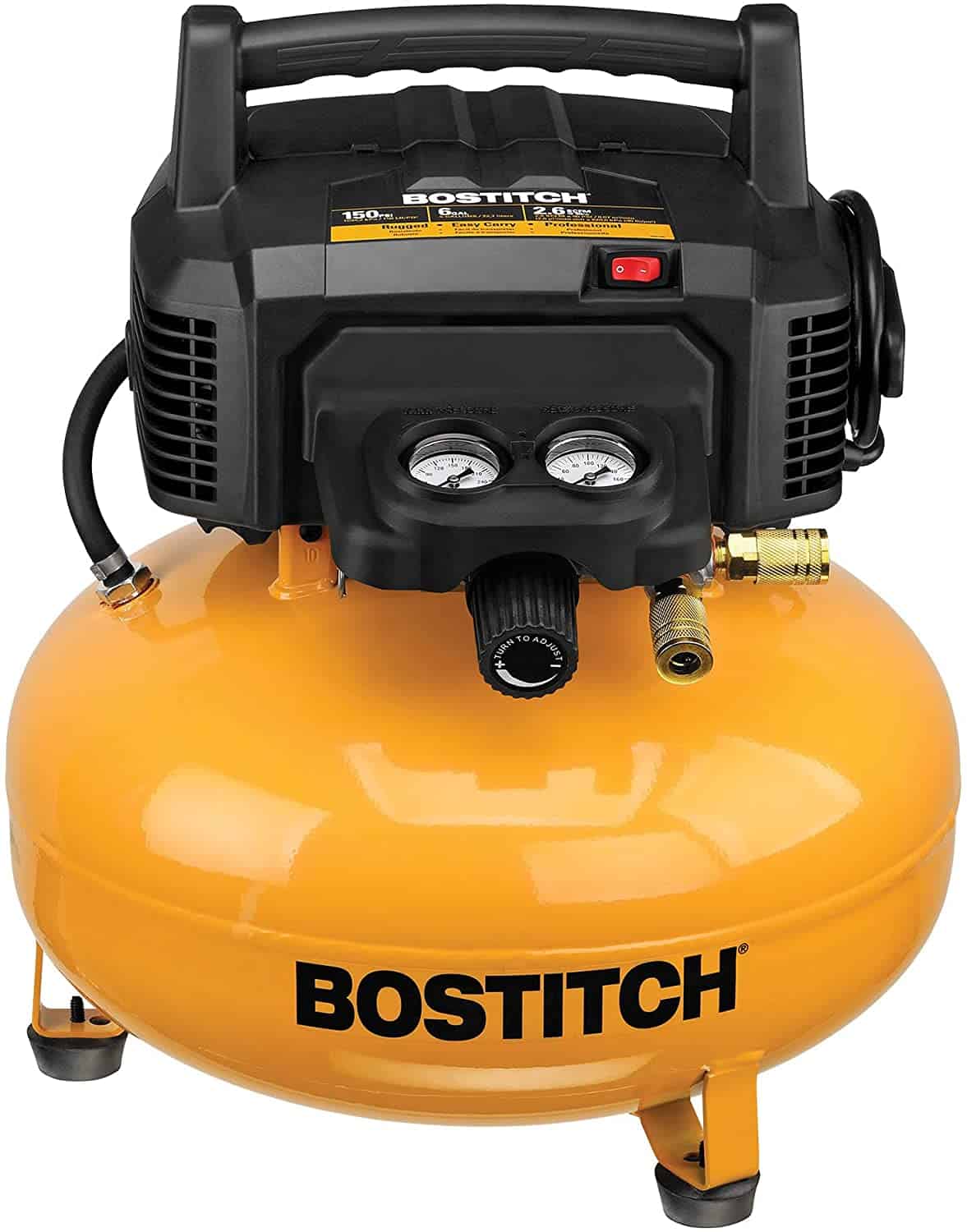 Pros
An oil-free pump does not create any mess
Works on a low 78.5 dBA
Large 6.0-gallon tank
150 PSI pressure for efficient spraying
Requires little to no maintenance
Cons
Some users found that the motor sparks
Verdict A great air compressor to get if you're looking for efficiency. The 6-gallon tank can take care of any painting job at one go. Working pressure of 150 PSI also ensures that your job is done faster. Check prices here
2. PORTER-CABLE C2002 Air Compressor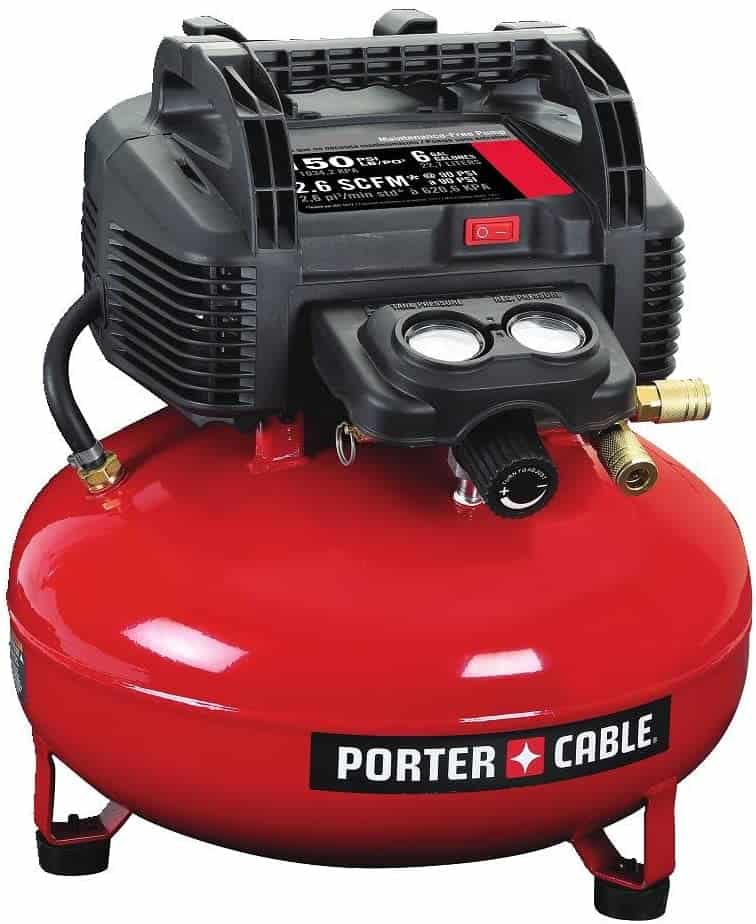 Pros
Two users can use the air compressor at the same time
Low 120V amp for easy staring even in winter
Pancake style compressor is stable
Comes with rubber feet and a water drain valve
Faster compressor recovery with 90 PSI and 2.6 SCFM
Cons
Not the quietest compressor on the list
Verdict The ability to be used by two users are the same time makes the tool quite efficient. Also, a low 130V amp ensures easy startup even in tough weather conditions. One thing to keep in mind is that this tool does make a little bit of noise. Check prices here
3. DeWalt DWFP55126 Pancake Air Compressor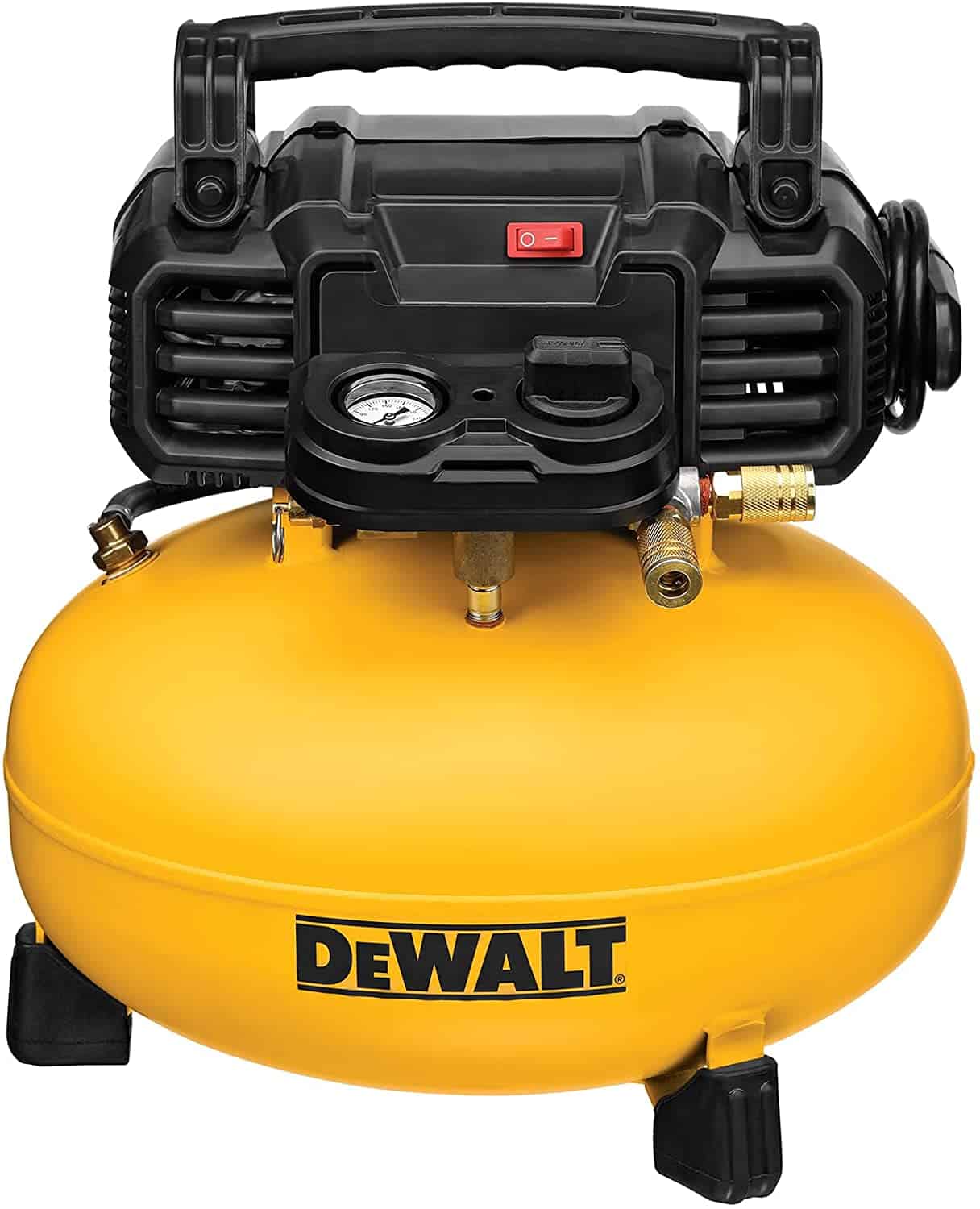 extension cord application. Working at 165 PSI, this air compressor can help you finish your painting tasks quite fast. The 6.0-gallon tank does not need to be refilled too often. You can go through large painting tasks with a full tank. To maximize the air tool performance, DeWalt has added a high flow regulator and couplers. Because the tool operates at the 78.5 dB noise level, you do not have to worry about bothering your neighbors. You can work at any time of the day without worrying about any noise pollution. An added console cover protects the controls on the machine. This cover can be removed when you need to do maintenance. Although the product has an oil-free pump, you won't have to do maintenance on this product that often. Oil-free pumps are also a great addition to air compressors as it helps increase the longevity of the product. Pros
Added high flow regulators and couplers
Console cover keeps the controls protected
Working pressure of 165PSI
A high efficient motor that can be used for extension cord application
Pancake style compressor stays firm on the ground
Cons
Air might leak on some models
Verdict Pancake-style air compressors are great for balance and stability. With low operating noise, 165PSI pressure, and a high-efficiency motor, this one is the perfect pancake-style air compressor for at-home painting jobs. Check prices here
4. California Air Tools 8010 Steel Tank Air Compressor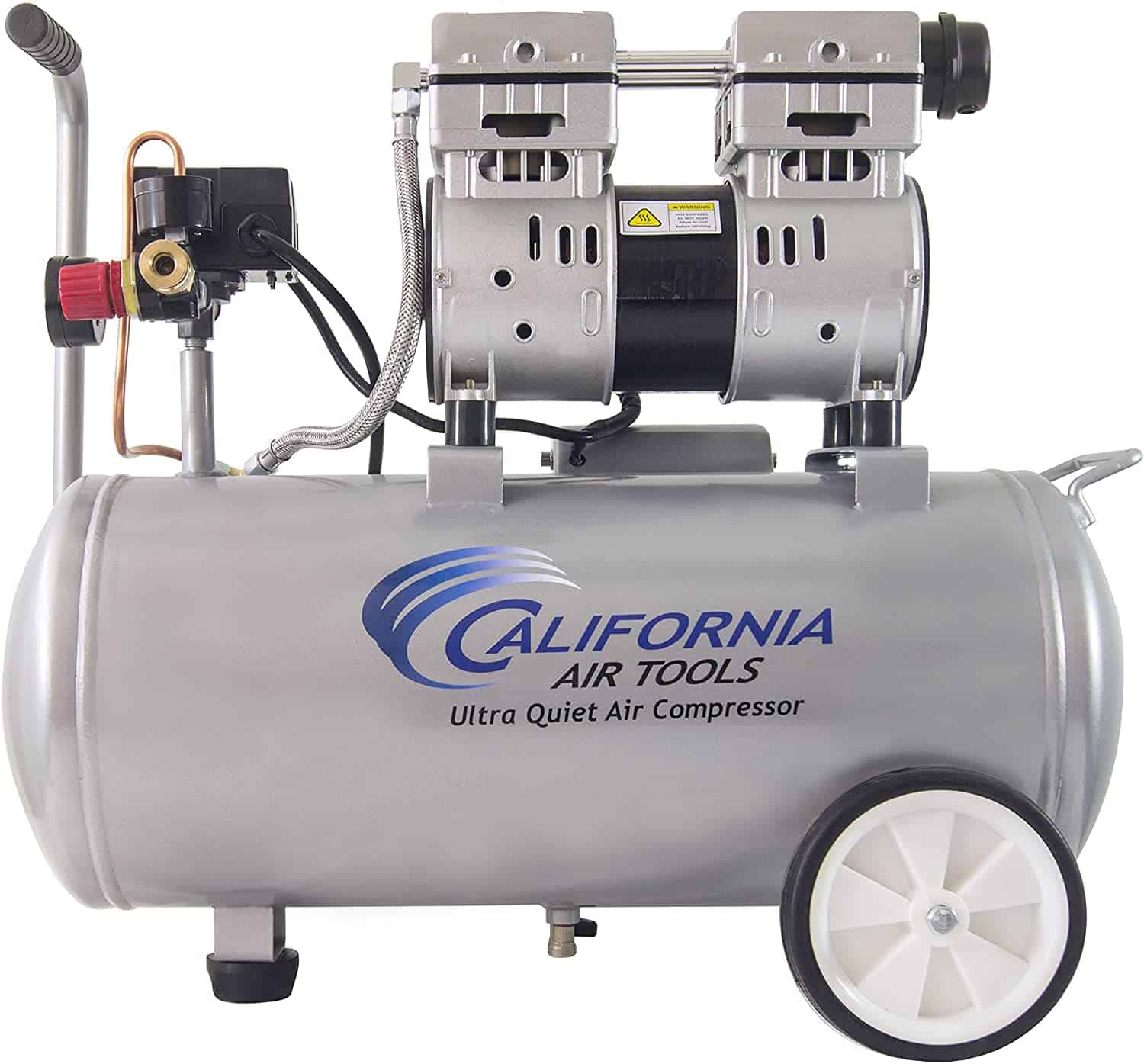 Pros
Large 8-gallon tank
Can be used at 1.0 and 2.0 HP
Continuous running of 30-60 minutes with no overheating
Very low 60 dB noise level
Added wheel kit for ease of portability
Cons Verdict This is a must-have air compressor if you have to deal with large painting jobs regularly. A low 60 dB operating noise on such a powerful tool is quite rare. Sadly, the hose is not included with the purchase, but the unit's other features make up for it. Check prices here
5. Master Airbrush Multi-purpose Gravity Feed Dual-action Airbrush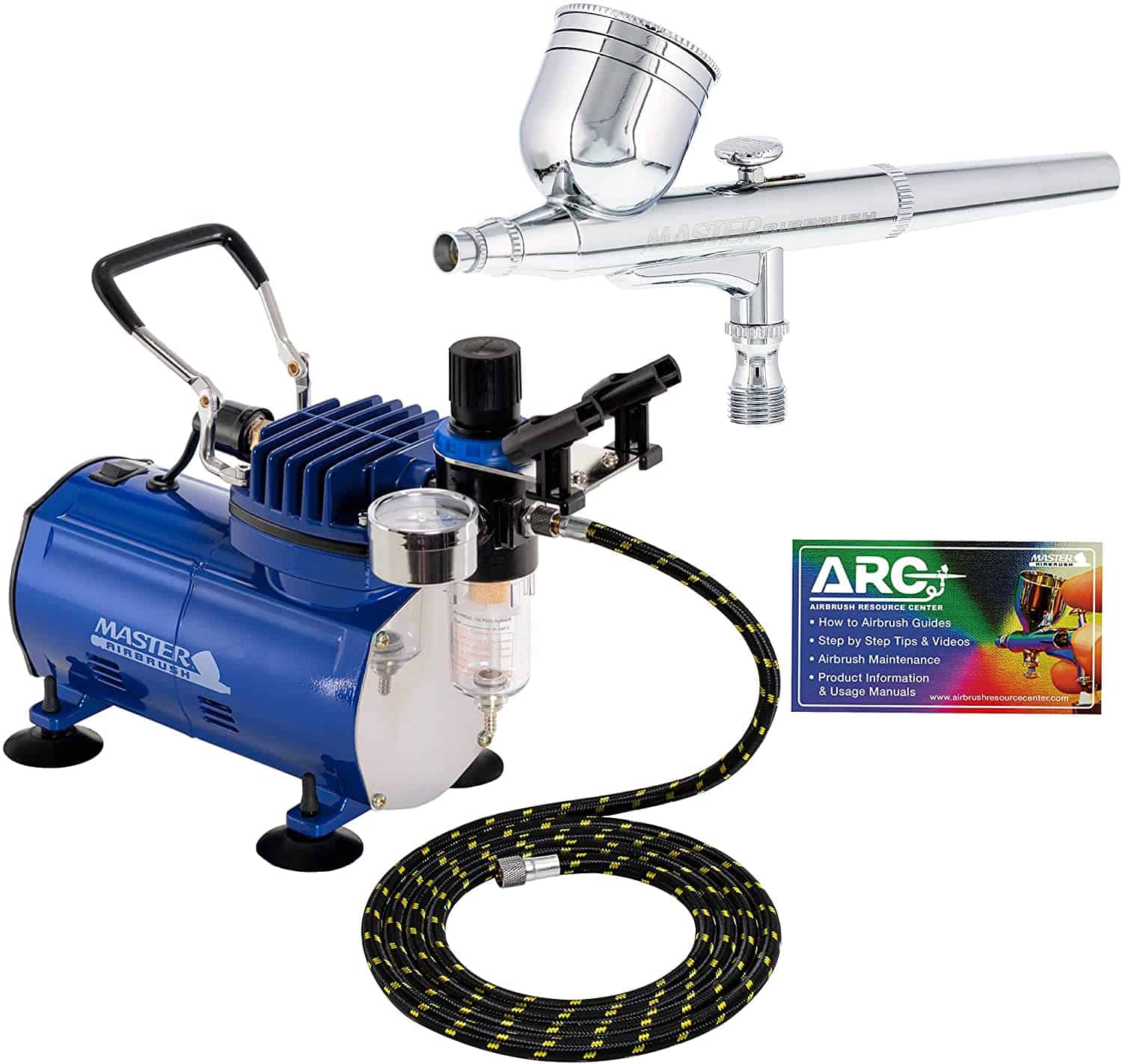 Pros
High performance ½ HP model
Had a holder for two airbrushes
Can be used for anything starting from auto graphics to nail art
0.3 mm fluid tip and 1/3 oz. gravity fluid cup added with the purchase
Great starter tool for beginners
Cons
Not ideal for large space paints jobs
Verdict This is one of the top air compressors to get if you are a beginner. You can learn, and gain experience using a spray painter using this device. The added 0.3mm fluid tip and high-performance airbrush help you get all the details in your art right. Check prices here
6. Makita MAC2400 2.5 HP Big Bore Air Compressor
Pros
One of the most durable air compressors on the list
Added roll cage and cast iron pump gives the tool protection in job sites
Lower amp for eliminating tripped breakers during startup
Four poll motor produces 4.2 CFM at 90PSI
Big bore cylinder and piston gives speedy recovery
Cons Verdict Although this model is a bit more expensive than our other recommendations, the unit has a lot of benefits. No one can beat the durability that Makita gives you. A roll cage, cast iron pump, and four-poll motor give you amazing performance for years. Check prices here
7. California Air Tools 2010A Ultra Quiet and Oil-Free 1.0 HP 2.0-Gallon Aluminum Tank Air Compressor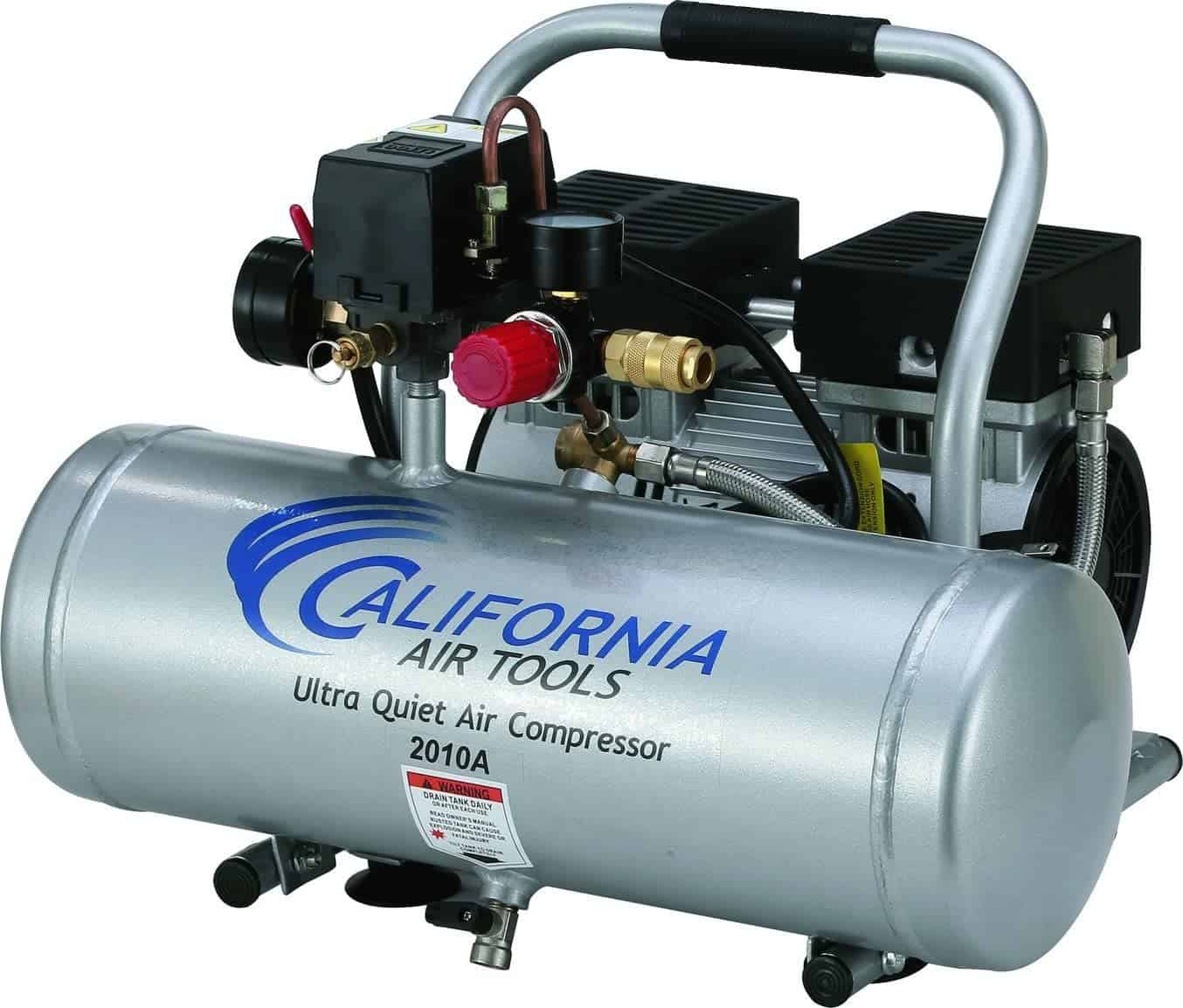 Pros
Gives out cleaner air thanks to the oil-free pump
Ultra-quiet 60-decibel operation
2.0-gallon small sized tank for at-home use
Portable structure, no wheels required
Available at a reasonable price
Cons Verdict This air compressor is one of those rare gems that is affordable and productive at the same time. The 2.0-gallon air compressor is perfect for work around the house and small painting tasks. The aluminum tank ensures durability with its rust-resistant structure. Check prices here
Different Types of Air Compressors

There are lots of different types of air compressors in the market. However, there are mainly four types that professionals mostly use. These include:
Axial Compressor

The axial compressor falls under a dynamic compressor. This type of compressor is usually used for industrial or commercial use. They are designed for heavy-duty work. If you need to use a compressor for a long period, and on top of that, you also need the performance to be better than the average rate, then this is exactly the type of compressor you should go for. This type of compressor uses large fan-like blades to compress the air. There are several blades in the system, and they mostly have two functions. Some blades rotate, and some blades are fixed. The rotating blades move the liquid, and the fixed ones direct the directions of the liquid.
Centrifugal Compressor

It is one of the most commonly used compressors in the market. This type of air compressor also falls under the dynamic type. This means the functions are very similar to axial compressors. The model also has fans like a rotary system which helps to move the air or gas to the desired area. However, unlike the axial compressor, it is not gigantic.
Reciprocating Air Compressor

This type of compressor has two points: one entry point and one exit point. From the entry point or the suction valve, the air is sucked into the tank, and then it is compressed using a piston. When it has been compressed, then it can be used to generate power. This air compressor is very easy to maintain and has very good performance.
Rotary Screw Compressor

This air compressor, as the name suggests, uses a rotor to compress air. The air is sucked at first. Then the air rotor starts rotating at high speed, which compresses the air. Most professionals prefer this type of air compressor because they are very easy to maintain. It has the least vibration compared to all the other types. Rotary compressors are small in size, efficient, and durable.
Frequently Asked Questions
What's the difference in air compressors?
The difference is in the process of how the air is being compressor. Different types of air compressors have different ways to compress air. Some use fans or blades, some use rotors, and some use pistons.
What is a good CFM for an air compressor?
The CFM varies depending on the type of tool you are using. In general, it can be said that you can use 0-5 CFM at 60-90 psi. However, it will change when you are using it on big equipment. Then you might need more than 10cfm at 100 -120 psi.
Can you convert CFM to PSI?
You can calculate CFM in relation to PSI. The pressure level is related to the force of airflow. So if at 140 psi you get 6 cfm then at 70 psi you will get 3 cfm.
Which type of air compressor is used for spray painting?
In the case of spray paint, it's generally recommended to use a Reciprocating Air Compressor. It will give the best quality of work.
What is the best pressure for spray painting?
To get the most out of your spray gun, set the air pressure at 29 to 30 psi. This will ensure that your paint is not spilling and the quality of your work is at its best.
Final words

When looking for an air compressor, look for a feature that meets your job type, in this case, spray painting. Features such as PSI and CFM rating, and the tank capacity are vital when selecting an air compressor. You need to keep these features in mind before making your purchase. Only then will the product you buy be the best air compressor for spray painting for you.
I'm Joost Nusselder, the founder of Tools Doctor, content marketer, and dad. I love trying out new equipment, and together with my team I've been creating in-depth blog articles since 2016 to help loyal readers with tools & crafting tips.