I love creating free content full of tips for my readers, you. I don't accept paid sponsorships, my opinion is my own, but if you find my recommendations helpful and you end up buying something you like through one of my links, I could earn a commission at no extra cost to you.
Learn more
Anvils signify a history of craftsmanship that unfolds the legacy of hammermen over the ages. Since the dawn of civilization, they have been relevant for all kinds of metal workings.
Despite being so old, It would not be a stretch to say that anvils still play the most important role in metal shaping practices.
Whether you are a professional blacksmith or aspiring to be one, you have to have the best anvil at your disposal.
To save you the trouble of scavenging around sporadically, we are here to share some coherent information with you so that you don't have to face the music later on.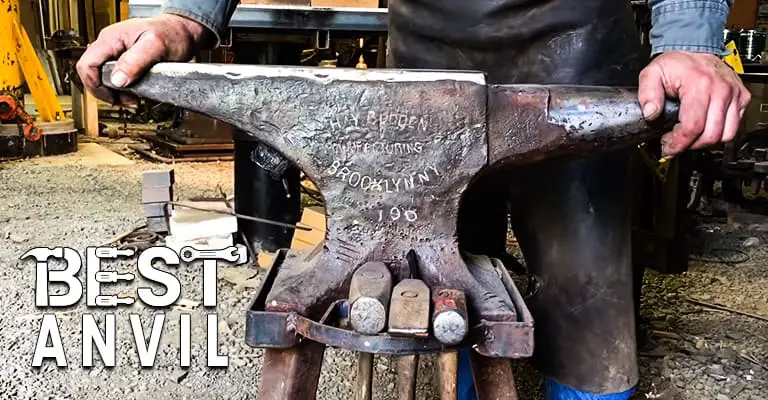 The best you can buy right now is this Happybuy single horn anvil. Don't let the name fool you because it might sound a bit cheap, but it packs a real punch when taking hits and it really isn't that expensive.
There are also smaller anvils if you're in the market for that, plus I have the ultimate professional anvil for you to look at:
Anvil buying guide
Regarding anvils, it will not be a smart decision to buy one looking at the exterior only. Knowing which anvil is appropriate for you can be a daunting task.
We have discussed step by step the things you will need to look out for before buying an anvil.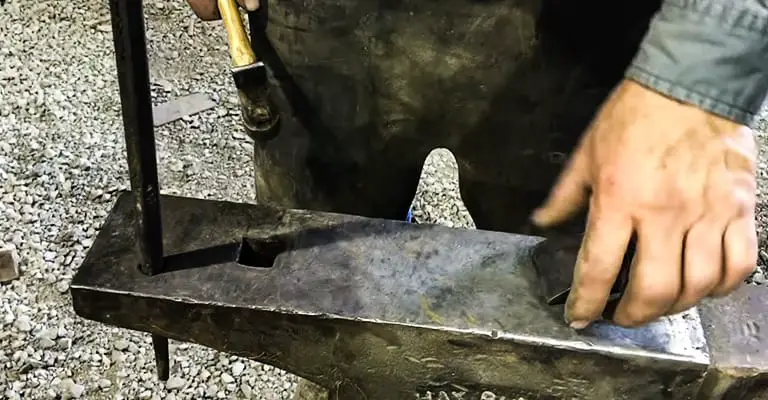 Types of Anvils
There are several types of anvils you will come across in the market. The first ones are the forging anvils that weigh between 75-500 pounds and they are recommended for blacksmiths.
A farrier anvil is more suitable for farriers which they use to make and modify horseshoes.
As a jeweler, you will require a lighter anvil thus a jewelry anvil would be more appropriate. On another note, cast iron anvils, stake anvils, and bench anvils are there for your lighter tasks and small-scaled jobs.
Construction
Anvils are manufactured in two ways-forged or cast. Although cast anvils don't even come close in terms of durability and longevity, they are less expensive than forged ones.
In terms of the materials used, you will find anvils made of drop forged steel, cast steel, cast iron, steel plate on the wrought body, cast iron, etc.
Drop forged anvils are stronger and long-lasting while cast steel anvils will give you more flexibility. On the other hand, cast iron is brittle but suitable if your job is small-scaled.
Weight
Anvils can weigh from 3 lbs to 500 lbs. For an anvil weighing less than 100 lbs is appropriate for small tasks and jewelry. If the weight range is 100-200 lbs, the anvil will be best for blacksmithing and farrier works.
If your job involves large-scale projects, then the weight should be more than 200 lbs. Heavier anvils will give more versatility to your work.
Shape
London Pattern Anvil and European Pattern Anvil are the two common shapes of anvils. A London patter anvil has a tapered round horn, a face, a step, a table, a hardy hole, and a Pritchel hole.
On the other hand, European ones have two horns- a tapered round horn and a square tapered horn along with other features. Your choice and needs are the most important factors in choosing the shape.
Face
Anvil face is generally made of hardened steel. The surface should be flat, well polished, and have rounded edges. A large face will offer you more ground to work on as well as more facilities.
Horn
Horn of an anvil is usually a tapered round projection and made of unhardened steel. If your job involves bending operations, then you should look for an anvil with a robust horn design.
Holes
Holes are usually of two types, hardy and pritchel. A pritchel hole, which refers to the round hole you will discover in an anvil, is to provide clearance for punching tools.
A hardy hole is a squared one that allows you to have a firm hold of various tools in the anvil.
A chamfered hole is another type of hole serving the purpose of turning operations which is found in some anvils. Purchasing an anvil with more types of holes can add to your advantages.
Sharp Edges
Sharp corners need to be rounded off as they are bad for forging tasks. This will reduce the chances of chipping and provide a smooth workable surface. However, a hardy tool can be made if you are ever in need of a sharp edge.
Cost
For a quality anvil, the price range can vary from 3$ to 6$ per pound of weight. This huge gap is due to the various factors in play while deciding a quality anvil.
A forged anvil has a way higher price than a welded one. So is the case when it comes to steel and cast iron.
A forged steel anvil of 270 lbs can be as high as 2500$. A similar anvil of cast iron can be as low as 100$.
So, forged or welded, steel or cast iron and weight, all three play an undeniable and noticeably significant impact when it comes to pricing.
Cost
For a quality anvil, the price range can vary from 3$ to 6$ per pound of weight. This huge gap is due to the various factors in play while deciding on a quality anvil.
A forged anvil has a way higher price than a welded one. So is the case when it comes to steel and cast iron.
A forged steel anvil of 270 lbs can be as high as 2500$. A similar anvil of cast iron can be as low as 100$.
So, forged or welded, steel or cast iron and weight, all three play an undeniable and noticeably significant impact when it comes to pricing.
Best Anvils reviewed
There are several types of anvils with unique features in the market. Proper research along with a clear view of work criteria is required to get your hands on the most beneficial anvil.
Here in this section, we have picked some of the top-notch ones you can grab corresponding to your needs.
Overall best anvil: Happybuy Single Horn
Assets
Happybuy's single-horned anvil is exactly what you are looking for if your job size ranges from small to medium.
Being a mid-sized anvil itself, this tool packs a punch when used for forging, flattening, forming metals or other smith jobs, regardless of you are a pro or hobbyist.
The anvil is made of drop forged steel, providing a higher degree of strength and durability. Besides, the flat polished surface will bring delight as you will love working on it.
Not to mention, through a series of quenching treatments and protective paint, the body is made to resist corrosion and rust.
No questions can be asked about its reliability regarding forging tasks. The anvil is also capable of other functions like bending and shaping; thanks to the rounded horn.
Also, a robust hardy hole with 4 anchor points is there for accessories, punching or bending.
Regarding the design, it is solid and the arc-shaped base provides great balance and sturdiness. The tool weighs 50kg which is appropriate for an anvil served for small to middle-sized jobs.
Overall, a great anvil you can buy for craftsmanship, that too for a cheap price.
Drawbacks
This anvil is not suitable for large works due to its small working area.
It also may have some casting defects.
Best cheap budget anvil: Grizzly G7065
Assets
The feature that sets this anvil apart from others, is its compact design. Weighing around 24.2 lbs, it is the perfect product for you even if you are a beginner.
Saying this anvil is congenial to even the professional blacksmiths or mechanics will be no exaggeration either.
With a large polished flat face, you will be able to do your desired forging, flattening or forming operations without a hitch. To add to that, the smooth round horn will allow you to do operations like bending or shaping.
In short, a decent anvil for any kind of forming application.
The anvil has an overall height of 5 and 3/4 inches, ensuring easy reach and comfort in operation. Also, the product being lightweight, it is portable and perfect for small-sized jobs.
Whether you are just getting into smithing or doing it for years, you are sure to find delight using this ergonomic anvil.
Apart from conventional smithing operations, you will be able to forge knives as well.
Now, if you don't want to spend several bucks behind an anvil and looking to sharpen your smithing skills at the same time, Grizzly's anvil is the best choice for you.
Drawbacks
Working with metallic mallets might damage the surface.
Also, there's no hardy hole for bending or punching operations.
Best mini anvil: Tandy Leather
Assets
At first glance, the Tandy Leather anvil looks small, which it is, but don't let the small size fool you into thinking of it as a weak one.
You will be able to use it for a variety of applications such as jewelry, crafts, rivets, small hammering tasks i.e. using as like as a dead blow hammer, and leather works.
The product weighs only three pounds, thus lightweight and perfectly portable. Whether you are a hobbyist or a smith looking for an anvil for unrehearsed use, this anvil will not let you down.
To your delight, softer materials like aluminum or copper can be easily dealt with.
As for the construction material, it is solid and sturdy as well as free of any kind of weird surface aberrations.
You will be able to mount it easily to a workbench for various purposes that don't involve extensive hammering. The soft rebound that it produces will give you a spontaneous idea about its smoothness and sharpness.
The anvil is about 2 and 3/4 inches tall with an ergonomic design and compactness.
On another note, Its flat surface is polished and devoid of any defects. Overall, a great little tool for a great price if you consider its dynamism.
Drawbacks
The stability of this anvil is poor which causes inconvenience.
This is not the right tool for forging or bending operations.
Check prices and availability here
Best professional anvil: NC Big Face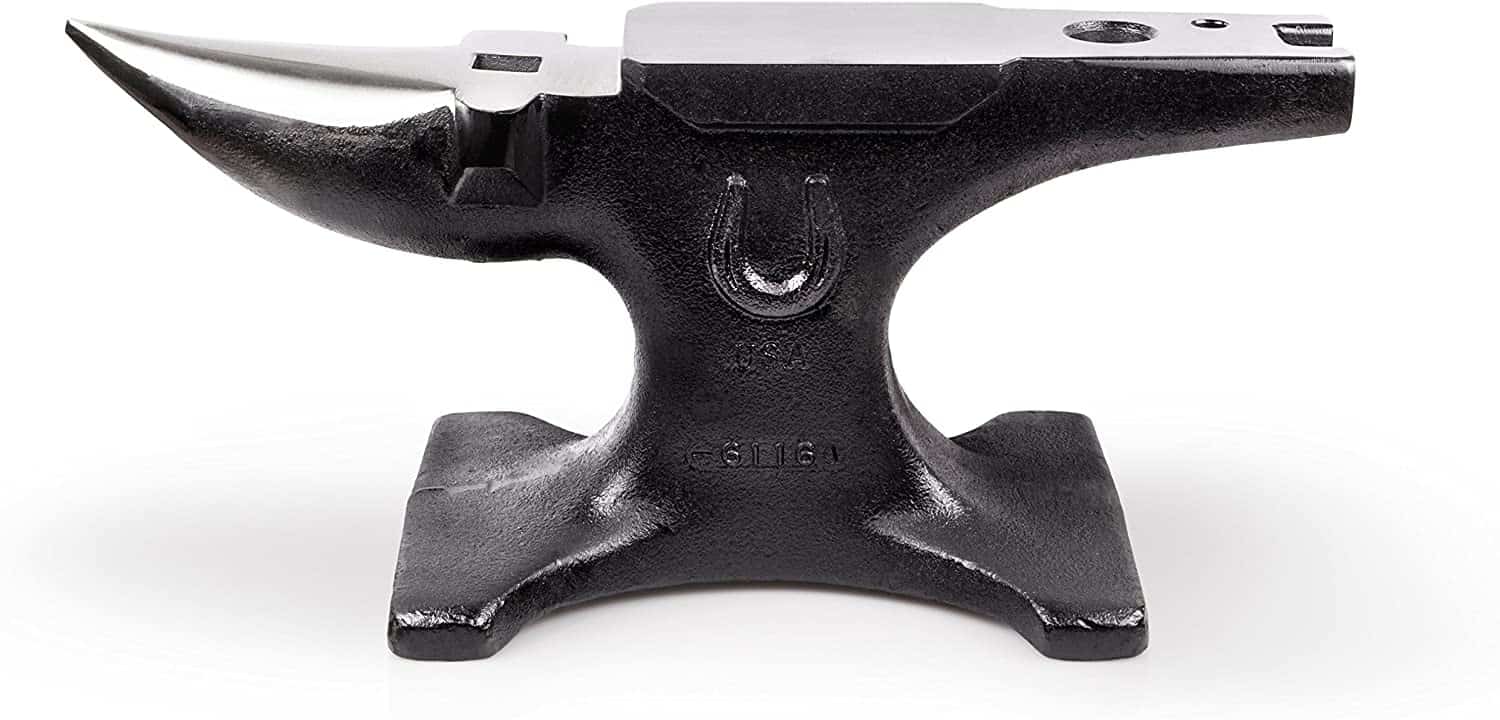 Assets
NC Big Face Anvil can be presented as a farrier's anvil as you will be able to shape or form horseshoes with it. Apart from it, small blacksmithing jobs are performable with this unique anvil as well.
Ductile steel is used for manufacturing this anvil which gives more ductility and strength. Its robust construction ensures that the edges and surfaces are free from unwanted stains.
To add to that, the surface finish is cast with a Rockwell hardness of 48 which gives smoothness to it.
For punching operations, there's a 1/4″ punch slot milled across the face of the anvil. Not to mention, you will find a 1″ hardy hole in the heel, a pritchel hole and a 1 and 1/4″ chamfered hole for turning operations.
As for the anvil, the big and smooth flat face gives you a comfortable experience in making horseshoes or small smithing operations.
Its decency in strength allows you to forge knives or conduct small-scaled forming or shaping tasks.
Although it might seem like the anvil is for farriers, you can perform several other light jobs as well.
Drawbacks
There are no bolts for mounting the tool to the base.
You cannot make a 90-degree bend using this anvil.
Best small anvil for jewellery: Grizzly G7064
Assets
Grizzly's other product G7064 anvil is even more lightweight than the previously mentioned model. But make no mistake, it does not let you down when it comes to strength and convenience in operation.
If you are concerned about the build, then you can rest assured knowing that this anvil is made of cast steel which will provide you more than enough strength and durability.
Even though the anvil is aimed for small-scale jobs, you can use it for bigger operations after anchoring.
The faces are flat and suitable for forging, forming, and shaping on a small scale. Besides, the smooth round horns will allow you to perform any kind of metal bending task.
The overall height is 4 and 3/4 inches along with a weight of 11 lbs giving you convenience and adaptability.
Whether you are a hobbyist, or a shopkeeper in need of anvils, or a blacksmith, this tool will serve the purpose.
Considering the price, the features are just about enough for almost any kind of metal formation job or craftsmanship.
Drawbacks
No hardy hole for punching or riveting.
Also, not suitable for continuous large scale jobs.
Frequently Asked Questions
Common types of anvils available today include London shape, double pike, Coachsmiths, Farriers, Sawmakers, and bench anvil. Many of these are still used in the industry.
Most Boston blacksmiths choose specialized anvils suitable for their own professional to ensure they can create custom designs and components.Jan 11, 2021
What is a good beginner anvil?
The Anvil I Always Recommend
In my opinion, I recommend forging anvils for beginner blacksmiths looking to get started. While it might be tempting to opt for the cast iron anvil, especially since it's cheaper, they aren't designed to handle a dedicated pounding from your hammer.
How do you pick a good anvil?
The size of the anvil should be proportional to the work and the hammer used to perform that work. For forging an average hand hammer to anvil ratio of about 50:1 is normal. Example, a heavy 4 pound (1800g) hammer and a 200 pound (90kg) anvil are a good match.
Why are old anvils so expensive?
There Is A Limited Supply Of Old Anvils (duh)
Just like new anvils, a big reason for the increase in price of old anvils is a low (and constant) supply. So while demand for antique anvils goes up as blacksmithing increases in popularity, the supply of old anvils remains the same.
How much should I pay for an anvil?
For a typical blacksmith anvil, the cost to buy one new is $7-$10 per pound. The average cost of a used anvil is $2-$5 per pound. Anvils can be made of cast iron or steel, and the size and shape vary greatly.
Are Vulcan anvils good?
Vulcan anvils are pretty decent. They're cast iron with a tool steel face. Some people prefer cast anvils, some people prefer wrought.
Why are anvils shaped that way?
Anvils are shaped the way they are because each piece of an anvil has its own separate purpose that, forged together on the anvil, makes up the odd shape called The London Pattern. These pieces are the horn, the step, the face, the hardy hole, and the pritchel hole.
Why do blacksmiths put chains around their anvils?
The main reason that chains are used with anvils is to reduce the amount of noise given off while doing blacksmith work on them. … Putting chains on your anvil seems to work better if you've got a small anvil.
What can I use instead of an anvil?
Instead of an anvil, you can use any large, solid block of steel, which you can transform into a makeshift anvil at home. Some of the best options include railway tracks, scrap metal, or heads of sledgehammers. This article will also give a brief outline of how to use these anvil substitutes and how to create them.
What is a good size anvil for knife making?
between 50 and 100 lb
Typically, somewhere in the range between 50 and 100 lb anvil is an ideal anvil size for knife making. The heavier it is, the better as it will be more efficient to work on. If you plan on moving the anvil occasionally, don't buy the anvil heavier than 100 lb.
Do anvils break?
An anvil typically survives for 25 uses on average or approximately one use per 1.24 iron ingots used in crafting the anvil. An anvil can be damaged and destroyed from falling. If it falls from a height greater than one block, the chance of degrading by one stage is 5% × the number of blocks fallen.
What is a dead anvil?
a "dead" anvil. A dead anvil is soft or non-resiliant. It absorbs the energy and doesn't spring back. This is very hard on the smith whom has to lift the hammer off the work every time rather than having it spring back a high percentage of the way.
What are old anvils worth?
How much does an anvil cost? You used to be able to buy an anvil for $1 or $2 per pound, but those days are largely gone. Now a more common price is between $3 and $6 per pound for a quality anvil.
What happened to all the anvils?
Anvils are no longer needed for most manufacturing, as they have been replaced with technologies such as hydraulic presses that shape metal far more quickly. Anvils that are no longer needed are excellent scrap metal. Iron and steel can be melted down and recycled any number of times.
Q: Why are the anvils shaped like the way they are?
Ans: Anvils are shaped with various forms of segments to allow for different ways of shaping the metal.
Q: For blacksmithing, what type of anvil should I use?
Ans: An anvil weighing more than 70 pounds is appropriate for blacksmithing practices. The hardness of the materials used matters too.
Q: Why are there chains wrapped around an anvil?
Ans: Chains are used to reduce the level of noise and vibration that induce while in use.
Conclusion
Several models of anvils in the market and you will notice each one is applicable for unique tasks. Although some of the models in the market excel in versatility, they are costly and not worth your time.
That is why investing some time in studying your needs and anvils is recommended.
From the sorted out products, the anvil that piqued our interest is HappyBuy's single horn anvil. What made us choose this was its 66 lbs weight allowing it to use it for most of the metal forming works and the smooth surface finish producing exhilarating rebound.
On another note, NC's big face anvil is perfect if you are a farrier or in need of making horseshoes. Three types of holes are embedded that work to serve the purpose.
If you are a blacksmith, you already know what you are looking for. But if you are a novice, we suggest you do a thorough analysis before you throw your money around.
Regardless, our attempts are sure to benefit both parties and will eventually lead you to the best anvil.
I'm Joost Nusselder, the founder of Tools Doctor, content marketer, and dad. I love trying out new equipment, and together with my team I've been creating in-depth blog articles since 2016 to help loyal readers with tools & crafting tips.