I love creating free content full of tips for my readers, you. I don't accept paid sponsorships, my opinion is my own, but if you find my recommendations helpful and you end up buying something you like through one of my links, I could earn a commission at no extra cost to you.
Learn more
For demolition, work sledgehammer is a commonly used equipment. It is a tool of simple design but can do heavy-duty or lightweight demolition work. Various types of sledgehammers are available in the market and unfortunately, everyone claims their product as the best product and encourages you to purchase.
If you are not a demolition expert it is really difficult for you to distinguish the right one from the huge variety. We have designed our article regarding the best sledgehammer effective for both the expert and inexpert people.
From this article, you will be able to know the tips to choose the best sledgehammer and we will show you the best sledgehammers in the market for review. You will also get the answer to frequently asked questions from this article.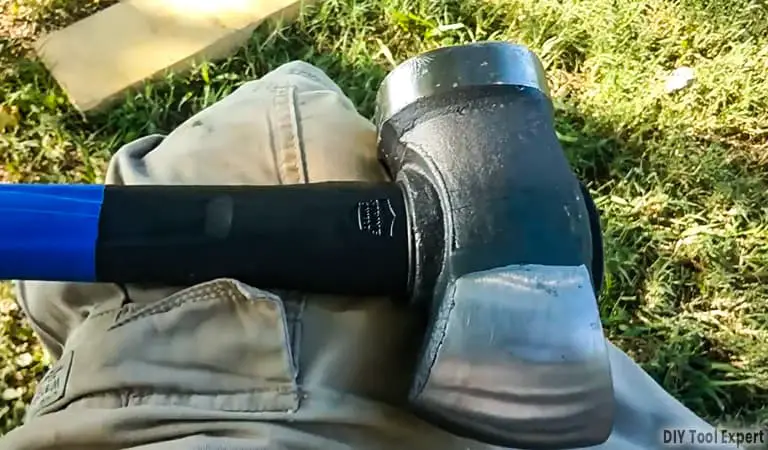 Sledgehammer buying guide
Here are effective tips that will help you to buy the best sledgehammer. Even if you are not a demolition expert these 7 tips will help you to choose the right product.
1. Material
Material is the most important parameter that determines the quality of the best sledgehammer to a great extent.
Generally, a sledgehammer has 2 parts – one is its head and the other is its handle. Head is made of metal such as steel and on the other hand metal, wood and rubber are used as the manufacturing material of the handle.
Sledgehammer made of premium quality material provides better service and lasts for a long time. So, never show any compromise with the quality of the material of your sledgehammer.
2. Design
We always encourage to choose ergonomic design while buying sledgehammer.  If you feel difficulty in swing and balancing your sledgehammer if your hand slips of the handle after every few minutes if you feel difficulties to grip the handle that means your chosen sledgehammer is not ergonomic for you.
A sledgehammer of ergonomic design will provide you comfort and take care of your health while working with it.
3. Weight
You should choose a sledgehammer of such weight that you can pull easily. If the sledgehammer is heavier than your capacity you will not be able to work in a full swing with it.
4. Durability
Obviously, you will not like to change your sledgehammer after a few months of purchasing. So, choose a good quality sledgehammer that will last for a long time.
Length of Shaft
Do not think for a moment that hammer is all about outright force blindly throwing at targeted objects. The lengths of handles are similarly a key factor to watch out for.
Usually, shaft lengths range from 10 inches to almost 36 in. Every variation determines how much force to inflict. Therefore, longer shaft imparts more power when you swing.
As for the shorter lengths, energy is produced enough to aim well and carry out the weight without straining too much. Furthermore, long handles could be difficult in use within constricted spaces.
There are plenty of options to select from. Choose a shaft length that could meet the criteria along with balanced head weight.
Materials of shaft and head
Quality of both head and shaft materials is equally essential. Most sledgehammer heads are built of steel. and all steel is not similar. Hardened or RC rated steel will offer maximum durability.
Industrial grade steel ensures destructive strikes. They are less likely to break or split; has the capacity to withstand repetitive hard impacts.
The handles play a significant role too. It usually comes in hardwood, fiberglass, and steel. Wooden handles are naturally the common choice by all. However, despite its broad popularity, it cannot be replaceable once damaged.
Fiberglass is very practical to hold, grip, and utilize. It is resistant to any weather damage and non-conductive to electricity.
Steel is an extremely durable material for a shaft, probably the best among three. Holding a steel handle with an ergonomic grip enables utmost comfort when working. Therefore, a steel-shafted sledgehammer is also known to be costly.
5. Brand
Fiskars, Wilton, Stanley, etc. are some of the well-known brands of a sledgehammer. To get a product of a good quality brand is a dependable option.
6. Price
Price varies with material quality, size, design, brand value, etc. It is unwise to go for a low price without considering the quality.
Always remember that if you spend less during the purchasing moment you have to spend more after purchasing it since a cheap product causes many problems while working with it.
7. Customer review
You will get a realistic idea about the product from the customer review. So give importance to the reviews of potential customers.
Best Sledgehammers reviewed
From numerous products, with the varying quality, we have sorted out 5 best sledgehammers for your review.
Fiskars 750620-1001 Pro IsoCore Sledge Hammer
The Fiskars 750620-1001 Pro IsoCore Sledge Hammer is made of premium quality forged steel. The unique design of its head maximizes the applied force (up to 5X) and makes the demolition work such as shattering concrete, driving stakes, and wedges, etc. easier.
The head is inseparable. So there is no chance of snapping off the head even when it is swung with maximum force.
The Fiscar engineers have been introduced the IsoCore Shock Control System in their product to make it a perfect ergonomic product. The IsoCore feature absorbs the shock and vibration caused by the strike. It reduces the chance of occurring fatigue in your muscle and also reduces the joint pain.
The driving face of this sledgehammer has been kept extra large to improve the striking accuracy of the Fiskars sledgehammer. The dual-layer handle of this hammer is able to capture any lingering vibration.
The strategic texture of the handle helps improve the gripping system. You can comfortably grip it for a long time and there is less chance of blistering.
This sledgehammer has been passed the test of U.S. standards for striking tool durability to withstand the toughest work environments.
Fiskar is manufacturing functional and living products for centuries and their simple but heavy-duty fiskar sledgehammer of 750620-1001 Pro model is of really good quality and that is why they offer a lifetime warranty.
Some customers found it difficult to keep the balance. If you face any kind of problem with this product you can communicate with them via their provided phone number.
Fiskars Pro is made from premium forged steel. The entire combination of wedged surface of such quality results in five times more driven power than traditional hammers.
This unique yet very reliable structure is able to perform heavy-duty tasks on a daily basis. The sledgehammer can withstand any intensity of work condition due to its extreme durability. 
Highlighted Features
Extra-large wedged face for more powerful destructive force
Wedged face directs debris sideways instead of straight at the user
Constructed from top-quality forged steel that endures
IsoCore Shock Control absorbs 2x more strike shock and vibration
Wilton 22036 Sledge Hammer
Wilton 22036 sledgehammer is super strong to break any hard and tough material. Like normal sledgehammers, it does not break due to overstrike.
Wilton has been used unbreakable technology to make this premium quality hammer.  They have used steel material in the core structure of this hammer. The drop forged 46 HRC steel has been used in its Hi-Vis style head.
The neck is made thick and tapered to absorb vibration during working. Such a design is useful to reduce your fatigue during working.
Vulcanized rubber has been used to make its handle. So it does not slip during hammering rather it is comfortable to grip.
Analyzing the design and the manufacturing material we have come to this conclusion that Wilton 22036 sledgehammer is an ergonomic sledgehammer that takes care of your health.
Since it is super strong and is able to break any hard material it is quite heavy. If you are not physically strong you will not be able to work with this hammer or you will get tired after working for a few minutes with this hammer.
Some customers find the smell of the rubber handle allergic but most of the customers did not find any problem with the smell of the rubber handle.
Another important thing I almost forgot to mention that Wilton provides a limited lifetime warranty with their super duper strong hammer. If you face any problem you can ask for solving the problem to Wilton and no doubt that you will find them friendly with you.
Since it is very heavy, we advise you to consider your options before getting this. 20lb could take a lot of energy if the user is not accustomed to it. We do not wish to see you in fatigue.
Highlighted Features:
Weighs 20 lbs. to allow full force heavy impacts
36 inches long shaft with non-slip grip
Head is Hi Vis, pure steeled core and drop-forged 46HRC overall
Tapered and thick neck to absorb vibration
Safety plate is included to prevent accidental head slip
Stanley 57-554 Sledge Hammer
The Stanely 57-554 sledgehammer is different from all other sledgehammers because of its soft face feature. Whereas other sledgehammers may spark during hammering Stanely 57-554 does not spark because of its soft face.  It is easy to wield but heavy enough to produce an effective result.
Sledgehammers can be divided into 2 important parts – one is head and other is the handle. I already have described the characteristics of Stanley's head and now I am going to describe its handle so that you can get an overall idea of the whole product.
Reinforced steel has been used to manufacture the handle of Stanley sledgehammer. This premium quality material ensures safety and security by resisting sudden break down during hammering. The head is flat in shape and so it can provide enough upright storage.
The handle is covered with Urethane.  Since the handle is covered with rubber material it is comfortable to grip. The dead-blow function of this hammer eliminates bounce back by using a steel shot.
There is a special purpose behind covering the handle with Urethane.  When you work with this hammer it does not make as much noise as an ordinary hammer because of the urethane cover. So, there is no doubt that this Stanley sledgehammer is designed as an environment-friendly product.
Since the entirety is shielded by Urethane, it eliminates excessive noise when hammering. The material provides an ergonomic grip as well as reduces rebound amount.
You can even tether it to a wall or other immobile objects.
Highlighted Features
Weighs 11½ pounds and 36 in. in length
Soft face delivers non-sparks and easy wield
Dead-blow function prevents bounce back
Made from reinforced steel covered in Urethane
Reduces noise pollution, environmentally friendly
Neiko 02867A Fiberglass Sledge Hammer
Neiko 02867A is a lightweight sledgehammer with a steelhead, fiberglass shaft, and rubber handle. It is one of the best sledgehammers for performing your striking jobs.
Since it is not so heavy you will be able to work for r comparatively long time with this tool. It will not give so much pressure on your hand too.
The handle is designed for r easy and comfortable grip. I already have mentioned that rubber material has been used to make the handle. So, it will not slip off your hands even if your hands get sweated.
Now let me tell about the shaft. The shaft is strong enough that it does not easily chip off. It is a shatterproof shaft that causes less vibration during striking.
The heat-treated steel material of the head portion is made with high resistance against corrosion. It is mirror polish, looks beautiful and so you can be sure of its ultra-long service life.
Now let me warn you about an important limitation of Neiko 02867A Fiberglass Sledge Hammer. Since it is a lightweight tool, you should not use it for heavy-duty work. If you use it for heavy-duty work and the hammer breaks then please do not blame me for suggesting this sledgehammer.
Estwing One Piece Sledge Hammer
Estwing sledgehammer is forged in a single piece and so its durability is comparatively higher. You can use it with chisels (here are some excellent options), punches, star drills, and hardened nails and so on for both lightweight and heavy duty purposes.
Forged steel has been used as the construction material for this sledgehammer. It has an ultra-long-life and the patented shock reduction grip of this sledgehammer reduces the impact vibration up to 70%.
It is only 3 pounds in weight and so you can easily pull it for performing striking jobs. It is designed for easy swing and balancing in a perfect manner. The ergonomic design of Estwing One Piece Sledge Hammer provides you comfort while working.
The USA is the manufacturer country of Estwing One Piece Sledge Hammer.  Its aesthetic beauty is eye-catching that will increase the beauty level of your toolbox. The price range of Estwing One Piece Sledge Hammer is reasonable and I hope it will fit your budget.
Sometimes its handles bend because of frequent use and the handle is quite slippery. Since the handle is not covered or coated with any non-slipping material you may face difficulties while working because of dampened hand.
It is one of those undeniably supreme sledgehammers that comes with long term dependability. This tough quality-made hammer ensures durable usage for years to come.
Highlighted Features
Hardened and tempered forged steel head for heavy blows
11in. jacketed handle to prevent slips
Both faces are beveled
Weighs only three pounds, great for use in small spaces
Good balanced and shock reductive
Jackson Professional Tools, 1199600, 16 Lb Dbl Face Sledge Hammer W/Fg Handle

Jackson Pro double face headed sledgehammer establishes the optimum effects when meets concrete forms.
The 16 lbs. hammer is designed with rounded heads. It offers a perfect solution when hitting on concrete, stones, metals. You can even work on drywall, pounding wooden or metal stakes with this one hammer.
Its surface is known for being extra flat, which is quite useful throughout striking hard metal purposes. This specification qualifies to do more than demolishing. The power of 16 lbs. head is not to be underestimated.
Sledgehammers with lengthier shafts are often considered to be advantageous with better leverage. Hence, the long-shafted handle in this model provides easy grab and grip.
Even the impact accuracy will seem different than other ordinary sledgehammers. A 36 in. handle distributes the most strength from the core through overall impact region.
The hammerhead is forged from finest steel quality. Light or heavy, just name the task. Jackson Pro will accomplish it with intense destructive power right at your command!
Consequently, the fiberglass material handle does not only offer maximum strength but also provides reliability and safety while at work.
Jackson 1199600 leveled face proves that knocking things down is fun! The user will barely feel exhaustion due to heavy hammering. This beast combines both labor and merriment with great force.
Highlighted Features:
Hammer head is 16 pounds, ideal for all sorts
Double faced head with forged steel for optimal power
Shaft is 36 inches to provide core strength
Fiberglass made handle for safety and durability
Ideal for demolition and heavy hammering works
Stanley 56-808 8-Pound Hickory Handle Sledge Hammer

Searching for an effective sledgehammer among many on the market could take a lot out of you these days.
If you find a cheap one, the quality deteriorates. But then choosing a quality-made could empty your pocket like magic! If only you could come across one that conveys every need of a hammer, a handyman requires.
Stanley 56-808 might deceive you by its old-school appearance. But it is the most reliable of a sledgehammer that can undergo any task. This carries out excellent performance even after hours of operation.
The 8 lbs. hammer is good for anybody to hold. This weight is ultimately just perfect for easy wield, strike, and whacking down objects. The head has been forged with hardened and tempered steel for balanced and durable quality.
Now the user must feel comfortable when wielding or else how could one achieve winner shots during hours of demolishing tasks? Therefore, the 23½-inch hickory handle is made sturdier.
It will not break or crack due to overstrike. All these are offered within your cost-effective budget for various projects.
This sledgehammer surely clears up frustrating conditions when working. It is versatile in use with those machine-finished dual faces on either side. Mostly convenient for splitting logs by placing a steel wedge in between.
Highlighted Features:
Weighs only 8lbs.; ideal for all purposes
Faces are machine finished delivering an utmost result 
Quality forged steel head for durability
Hammer is joined with a 23½ in. hickory handle
Handle is finished with a clear lacquer to get better grip command
Performance Tool 1935 2 lbs 2lb Fiberglass Handle Sledge Hammer

We end our final review with a 2lbs. small handled sledgehammer. You cannot bring the long-shafted heavy-duty ones anywhere, even if they are useful. That is when the user will require something small, less weighted tool.
This is why Performance 1935 presents a hammer that can be taken wherever pounding objects are involved. It is lightweight to carry and shows quite the performance.
Especially when it comes to mild demolitions, there is no other product like this little monster of a hammer. It can be single-handedly used for driving masonry heads to cut stone or metal with a steel chisel's assistance.
The surrounding surface of the intended knocking area will not be damaged as some sledgehammer cause on account of applying heavy force.
Its head is constructed from steel. So, the hammer's head is pretty hefty even for a 2lbs. It is enough to even break down cement block walls! And still less burdensome to repeat similar tasks.
Along with polished mirror head, the hammer also presents the sturdiest handle you could possibly imagine! The hammer comes with a solid, well-built fiberglass handle.
Usually, smaller hammers are difficult to control since the handle grip is uncomfortably reduced. Keeping that in mind, Performance Tool ensures rubber cushion hold.
The handle does not slip even in little spaced places. Therefore, it prevents severe shock and tremendous vibrations when swung. This could be a great addition to all homeowners.
Highlighted Features
Weighs only two pounds
Produces enough impact to break downlighter concrete
The handle is of fiberglass and only 14-inch
Hammerhead is shaped from steel
Rubber cushion grips avoid shock or vibrations
Frequently Asked Questions
Here are some frequently asked questions and their answers.
What pound sledge hammer breaks concrete?
Photo 1: 12-lb.
A sledge can be surprisingly effective in breaking up concrete up to about 4-in. thick.
Is hitting a tire with a sledgehammer a good workout?
Tire and sledgehammer workouts—when performed correctly (so read on, reader!)—are great ways to improve your confidence, coordination, kinesthetic awareness, and control. They also go a long way toward building full body strength (including the ever-elusive forearm strength!) and endurance.
What size sledge hammer do I need?
Most of those mallets are in the 14-18 pound range (though I suspect some are heavier still). I would recommend a good 8-12# hammer for most purposes.
What is a big hammer called?
Related. War hammer. A sledgehammer is a tool with a large, flat, often metal head, attached to a long handle.
Can a rotary hammer break concrete?
Rotary hammers use an electro-pneumatic hammer piston to generate high impact energy, which allows it to drill or demolish concrete.
How do you break a concrete slab by hand?
What muscles work hammering?
Hammer curls target the long head of the bicep as well as the brachialis (another muscle in the upper arm) and the brachioradialis (one of the key forearm muscles). The hammer curl is a relatively simple exercise that beginners can quickly master.
Is tire flipping a full body workout?
There are, however, some things you can do that will give you the benefits of both. Flipping tyres, for example, will develop athletic prowess. "It's a full-body stimulator," says top strength coach Jack Lovett from Spartan Performance gym.
How strong is a sledgehammer?
1,000,000 Newtons of force is equivalent to the weight of about 102,000 kilograms, or 225,000 pounds.
How much does a sledgehammer cost?
If you're looking for a 3- or 6-pound sledgehammer, you can expect to pay between $15–$20. For heavier models, like a 10-pound sledgehammer, prices range from $40 to $50.
How heavy is a sledgehammer workout?
Selecting A Sledgehammer For Your Workouts
Buying the right size hammer is key, if you are starting off, don't go out and get a 16-pound hammer; this will only get you injured. Start off light and work your way up; a good weight for first timers is the eight pounder.
What type of hammer should I buy?
For general DIY and remodeling use, the best hammers are steel or fiberglass. Wood handles break, and the grip is more slippery. They're fine for the shop or trim work but less useful on a general-purpose hammer. Other things being equal, fiberglass handles are lighter; steel handles are more durable.
Q: Do my sledgehammer needs maintenance?
Ans: A sledgehammer hardly needs any maintenance. We generally recommend to keep it clean after working.
Q: Can I perform both heavy-duty and lightweight work with my sledgehammer?
Ans: It depends on the capacity of the sledgehammer.
Q. What are the uses of Sledgehammer?
Ans: A lot of uses it has like the demolition work, firewood processing like splitting with a splitting wedge or in kindling splitter.
Q: What are the safe ways of using a sledgehammer?
Ans: Make absolutely sure that hammerhead is firmly attached to the shaft. Check the handle for any cracks or splits. If there are any, replace it.
Always wear safety goggles, helmet, gloves, and proper shoes. Remove any debris or other tripping hazardous objects lying around.
Keep animals and other people away from the working area.
Q: How do I adjust accuracy when using a long-shafted sledgehammer?
Ans: Remember, this is no sport. You need not worry about accurate focus. Simply arms relaxed but steady while resting the hammerhead on chosen object.
Have your feet at shoulder width apart and slowly strike the focused area. Let the hammerhead do its work.
Q: Does a sledgehammer need any maintenance?
Ans: No. occasional cleaning up after working is sufficient.
Q: Can a single sledgehammer be used for both lightweight and heavy-duty work?
Ans: It depends on the weight and capacity the sledgehammer can carry out.
Conclusion
We have spent hours to identify our enlisted best sledgehammers. We have tried to show both the advantage and disadvantages of each product. If a single customer faces any problem with any of our chosen products we tried to inform about that also.
After making a close inspection about each and every product we have decided to choose the Wilton 22036 Sledge Hammer as the best among the best sledgehammers.
I'm Joost Nusselder, the founder of Tools Doctor, content marketer, and dad. I love trying out new equipment, and together with my team I've been creating in-depth blog articles since 2016 to help loyal readers with tools & crafting tips.