I love creating free content full of tips for my readers, you. I don't accept paid sponsorships, my opinion is my own, but if you find my recommendations helpful and you end up buying something you like through one of my links, I could earn a commission at no extra cost to you.
Learn more
Being a leatherworker you'd very often feel the necessity to cut a perfectly circular hole on your workpiece. Using a nail and a framing hammer or rip hammer to do so has its limitations. Firstly that's not cutting a hole, it'll just be one giant pore. But that'll soon start getting large and start tearing from there.
Arch punches aka hollow punches is a solid piece of metal lathed to have a cylindrical hollow with sharp edges. Place and slam it with a hammer to get that perfect circular hole. Precision and perfection that the best arch punches create will keep your artistic mind in peace.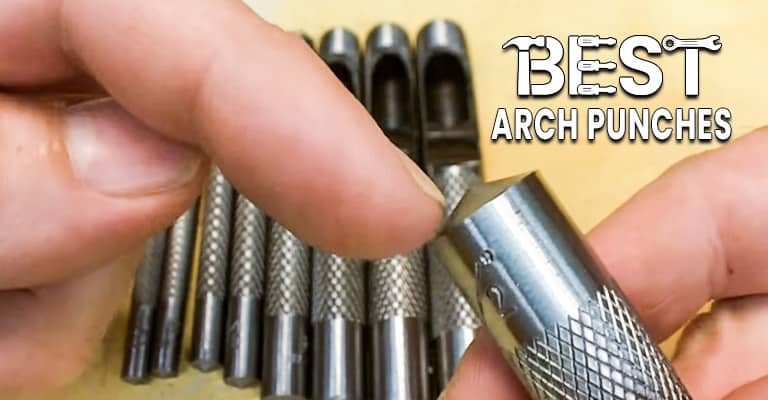 Arch Punch buying guide
To fulfill your hunger a bit easier, this guide focuses on both rightful information and the specifications. Let's bring about a balance of both need and affordability. Going through all the specifications will be helpful to have the best punch set.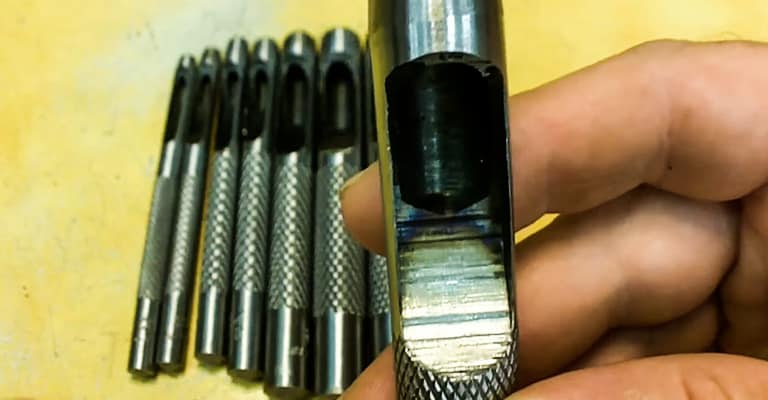 Material
The quality of steel defines its warranty. Prefer if it's heat-treated since that ensures long-lasting performance. Most of the punch sets contain carbon, chrome-vanadium, etc. Forged steels are thus always the better choice.
Case
There are both plastic and metal cases. Plastic cases are, presumably, lightweight but attract a lot of dirt. They are prone to cracks which may lead to deterioration of the cutting edges. If the set doesn't offer multiple sized punches, most likely you'll not get a case along with it.
Punch Handle
For ideal punch handles the size differs from 4 to 5 inches. If the outer portion of the punch handle is rough, it may cause difficulties while punching out holes in rubber or cardboard. Metal cases often have a separate section for mandrel storage. Such is better to keep its surface texture smooth.
Various Sizes of Punch Set
Not leaving your need behind, more the size variations available, more versatile it is. These sizes include 5/8, 3/8, 3/4, 1-1/2 inches and 3mm to 20mm, 3mm to 30mm, 3mm to 50mm, etc. Do make sure your required size is on the checklist. Always try to have 5/8 to 3/4 inches since most punches fall in this range.
Sturdiness
Always use a rubber mallet to keep its sturdiness high in quality. Using such mallets ensures better performance for not damaging the punches. For having a high quality of sturdiness, this kit is useful for not only hard materials but also soft materials. Especially when producing gaskets, it leaves no irregularities.
Accuracy
Do make sure each time, alignment of hole centers need to be marked on the metals, leather, rubber consciously. In the meantime, you need to fix the dimensional tolerances of the equipment. For instance, while adding more buckle holes, it provides a clean and sharp cut through a leather belt.
Sharpness
This is the specification that aids the performance while punching out holes. Some of the products have a sharp circular tube that is mainly used for leatherworking. Similarly, other punch sets including sturdy cylinders help out to get sharpened easily.
Best Arch Punches reviewed
There are a few collections of arch punches for which you need to get notified about the specifications. Sometimes your working purpose and choice make the variation in course of having this. Whatever it is, these product reviews shown below will help you to come to have the most valued arch punches.
1. General Tools 1271G Arch Punch, 5/8-Inches
Superiorities
This specification comes with different sorts of sizes for punching. But this product by General Tools is specially designed for punching a 5/8 inch hole and works great to that extent.
It is also suitable for punching out 1/8 inch hard wools. However, it is well fitted in the field of leather, rubber, canvas, plastic, sheet metals, cardboard, and softer metals.
Having sharpness of a circular tube mainly used for leatherworking. It's also beneficial for punching out cardboard, cutting edges inductively hardened, sealing materials and soft materials. Getting an easy operation on your required materials, you can easily rely on its performance undoubtedly.
For being heat-treated forged steel, the punches assure long-lasting performance. For having its heat treatment, the cutting edge will stay sharper longer which aids its better performance.
Apart from that, its affordability may grab your attention toward having this on your list. However, you can pick up the suitable one by your nearby stores.
Hindrances
For cutting any type of fabric, its dullness may disappoint you.
However, you can overcome this problem by inserting a knife edge to it.
The other faulty portion is that it's not suitable for heavy-duty work.
2. Lang Tools 950 Gasket Hole Punch Set
Superiorities
The basic function of this punch set Lang Tools is to punch out holes in soft materials like rubber, leather, foam, cork, silicone, and paper. It's a great tool for placing a small piece of the hole in your required workplace.
Including sturdy cylinders of the appropriate sizes make the punch to get sharper easily. For which it results in a short and shallow angle that punches well.
The other specification that comes with ten different punch sizes for which you need to make sure before buying according to your demands. These different punch sizes help to make a friendly choosing option.
Each punch sent contains a long driving mandrel. It's smartly designed to cut flawlessly. You can execute all sorts of functions with accuracy by this tool.
In the field of mechanics, it's a highly recommended tool. Occupying both affordability and durability, its usefulness is increasing day by day. It helps out easily to sharpen on a belt sander and to cut industrial Velcro flawlessly. However, this set is strong, accurate, heavy-duty and handy.
Hindrances
To make multiple holes, sometimes the punched material can get jammed.
Even if they are not designed to punch metals.
Sometimes the cutting edges of the punches aren't ground down to a sharp edge.
3. Mayhew Pro 66002 1/8-Inch to 2-Inch Imperial SAE Hollow Punch Set
Superiorities
With a structure in the plastic case, this hollow punch by Mayhew Pro is very sharp enough to get a clean cut in kinds of stuff like rubber, leather.
The best part of this hollow punch set is that this set has the capacity of punching out holes not only in the inner diameter but also in the outer diameter of the material conducting for gaskets, spacers, etc.
This specification includes different sorts of sizes that offer a friendly choosing option toward the consumers. Considering this kit used for creating precise gaskets and washers in softer materials make it quite different from the other tools. For fabricating and repairing, its uses are unlimited.
Apart from that this hollow punch set features a dual cutting edge that gives allowance to the users to punch concentric circles in one strike.
Having both sharpness and precision ground tip makes it a superior quality compared to another punch set. This precision ground tip connects to the punch handle holds on tightly that makes your job more comfortable.
Hindrances
Sometimes, it's not as sharp according to buyers' expectations.
Due to its being expensive, it's not affordable to the middle-class society.
Apart from that, you'll not be able to punch more than a few holes at a time without taking it apart to clean the material out of it.
4. Connex COX662020 Arch Punch, Red/Silver, 20 mm
Superiorities
This product by Connex comes with five different sizes including 4mm, 6mm, 12mm, 16mm, and 20mm that may invite the consumers a rightful choosing option.
The core material of this punch set is chrome-vanadium steel which is high in quality and lasts up to many years. The outer portion of this product is red-powder coated, hardened and annealed cutting edges.
Modishly designed to use for leather, cardboard, rubber, etc. Besides, to punch a hole in a groundsheet, its finishing ends up extraordinarily. Also in the field of fabric, it works great.
However, if you want to punch holes in a sealing material, it accomplishes the task flawlessly.
Owning both sharpness and affordability, it gets priority to the buyers' choice list. You can get the work done what you paid for. You don't need to worry about the sizes. All the sizes of this set are designed well enough to lessen your day to day work. Thus, it is a sharp, flawless and great tool for punching.
Hindrances
Sometimes the punching edges are not sharp that makes your job a bit interrupted. This is because the steel manufactured by the company is not good quality and most certainly not hardened.
5. C.s. Osborne K-14 Arch Punch Set
Superiorities
Having a sturdy tool makes this punch set very useful. For having sturdiness, this punch set by C.S Osborne is useful for both hard and soft materials. It has a round shape for which it is easy to use. The material comes with carbon steel which is high in quality and a better work-piece.
This set includes seven different sizes which are 1/4, 3/8, 1/2, 5/8, 3/4, 7/8 and 1 inches. This specification helps you to get the required size according to your purposes.
Apart from that, it is light in weight which is a plus point towards the users and makes it a handy tool. For being a light tool, you easily carry it wherever you need. Thus, this specification aids easy portability.
Having both easy operation and sharpness makes it a different tool from above the list. For which you can easily gamble on its performance 100%. It finishes your required work so smoothly that it aids your ratings on its performance.
Hindrances
Sometimes it becomes unusable for its dullness which interrupts the users a bit. However, you can overcome this problem by re-sharpen it.
FAQs
Q: Are these punches well fitted for heavy-duty use?
Ans: Well, not all the punches are suitable. Some of these are preferred for only light use.
Q: Is it possible to use the same punches on both hard and soft materials?
Ans: No, not at all. The punches are designed in such a way that is suited for a particular material.
Q: Do all the sizes of a punch set provide the same specification?
Ans: Yes. These just differ from one size to another size.
Conclusion
Having enough knowledge about a product doesn't make you an expert until you also take suggestions from the pros. You must go through all the specifications for every product before buying this. Being a mechanic may help you to have the most valued punch set. Here the buying guide will show you how and why to have the best arch punches.
For me, arch punch by General tools is qualified enough because of having those special properties. It has the heat-treated forged steel that ensures long-lasting performance. For this, it is widely used to a great extent.
Other than that, arch punch by Lang tools is quite good for punching because it has the sturdy cylinders that make punch set to get sharpened easily and results in a shallow angle that punches well.
I'm Joost Nusselder, the founder of Tools Doctor, content marketer, and dad. I love trying out new equipment, and together with my team I've been creating in-depth blog articles since 2016 to help loyal readers with tools & crafting tips.