I love creating free content full of tips for my readers, you. I don't accept paid sponsorships, my opinion is my own, but if you find my recommendations helpful and you end up buying something you like through one of my links, I could earn a commission at no extra cost to you.
Learn more
If you've ever worked with furniture and wood materials, you know how hard it is to smoothen the surface properly. Normal sanding machines just don't cut it these days.
Luckily, handheld belt sanders are becoming more and more popular these days due to their portability and superior power. No matter how strong bench sanders are, you'll find that handheld ones perform better.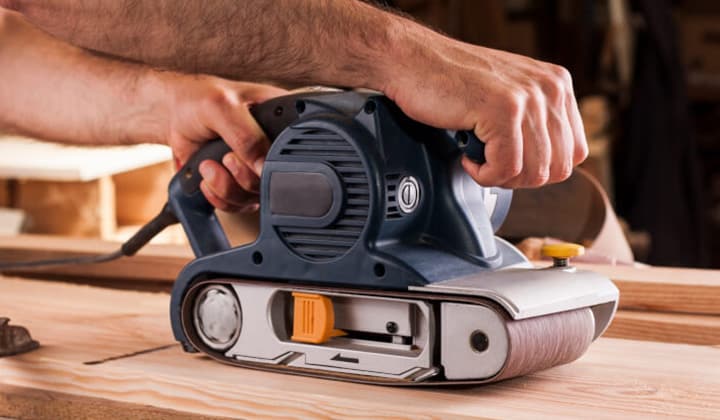 If you're looking to get one for yourself or try one out, we have you covered with our detailed review guide on five of the best handheld belt sander on the market!
Benefits of Handheld Belt Sander
We spoke about how handheld belt sanders are superior to bench sanders, but how true is the claim?
Well, if you take a closer look at them, you'll see that handheld sanders possess a lot of qualities that work better for the purpose of sanding wood.
Better Scribing
One of the common techniques woodworkers use is called Scribing. They use the sanding machine to make fine adjustments to the wood material so that they can fit certain specifications or sizes.
A handheld belt sander is perfect for this technique as it allows you to make adjustments at any angle you like. With bench sanders, you are restricted at just one angle. But the handheld sander opens up a world of possibilities for fine-tuning your furniture.
Better Than Bench Sanders
On the other hand, a handheld belt sander is well suited if you're looking to level your wood surface. Only a little bit of pressure is needed when using handheld sanders.
5 Best Handheld Belt Sander Reviews
Now that you know some of the benefits of a handheld sander, you must be looking for recommendations. Fear not, as we've compiled all of our reviews into a neat list for you to gloss over.
1. WEN Variable Speed File Sander
Handheld belt sanders can come in all shapes and sizes. But, depending on the furniture you're working on, some shapes have benefits over other ones. For example, a knife-shaped belt sander can better smoothen the edges of a tabletop than a box-sized one.
So, if you are looking to level the edges of your table, we suggest the variable speed sander by WEN. It is a knife-shaped belt sander with just the right amount of power in its small form factor. Since it is s a knife-shaped sander, you can operate it with one hand efficiently.
The first thing that catches attention is the belt system that can track itself. Meaning, you won't have to manually put on the belt or adjust it to fit the drums as it fits itself.
You can also adjust the speed of the sander manually using the switches on the body. These speeds can range anywhere from 1080 feet per minute and all the way up to 1800 feet per minute. You could say that it is more than enough for leveling the edges.
With the pivot on the drums, you can move the belt up and down more for length if you want to level wood blocks wide in size.
As for additional features, you can also collect the dust and grain coming from the material with the dust collection attachment on the body of the sander.
Pros
Automatically tracking belt
Manually adjustable speed option
High-speed operation
Belt can be protruded using pivot
Easy belt installation process
Cons
Not suited for thick wood material
No wide range motions
Verdict
If you're working on a tabletop or thin wood material and want to quickly smoothen the edges without any problems, you can get this belt sander as it can adequately level the harsh edges. Check prices here
2. WEN Corded Belt Sander
Bench sanders are limited in their mobility as they are attached to a work desk. As such, you can't use them in any way you want. But, their power is something to write home about.
If you're looking for the same power as a bench sander but on a handheld one, you can try out the corded belt sander by WEN. It is a box-shaped belt sander with high power and portability. With a belt sander like this, you can level any material you want effortlessly.
First off, this sander features a 7 amp motor that can rotate at 13 feet per second. What this means is that despite its size, you are getting a belt sander that can outperform any bench sander. This speed is almost unmatched for any bench sander.
When you look at this belt sander, you might wonder that it might be cumbersome to use. You'd be dead wrong if you thought that as this machine weighs just under six pounds. This weight is ideal because it won't tire you out if you exert extra force on the sander.
With a belt sander like this, you won't have to worry about any dangers as it has a safety lock feature that allows you to use the machine without gripping the trigger constantly.
Pros
High power motor for durability
Can sand tough materials in no time
Machine can be operated without constantly holding the trigger
Lightweight design for less fatigue
Dust bag for automatic dust collection
Cons
Needs power from an outlet
Can't be operated with one hand
Verdict
It is no question that this is a highly durable and resilient belt sander. If you're looking for a heavy-duty belt sander that can level the toughest of wood materials, you can check this one out as it is a lifesaver. Check prices here
3. SKIL Sandcat Belt Sander
When you're sanding a wood surface, you'll notice that a lot of dust and grain are being blown in your face. To combat this, most sanding machines have a dust collection system on the body that automatically collects the dust and stores it in a container.
A good dust collector can go a long way in smoothening wood surfaces, so with respect to that notion, we suggest you check out the Sandcat Sander by SKIL. Apart from the motor and belt, it has an extraordinary dust collector that sets it apart from other handheld sanders.
The first thing that will come to mind when you look at this sander is why it doesn't look like a normal sanding machine. But, bear in mind that this design is essential to the functionalities of this sander.
For starters, it has a pressure control technology that will warn you when you are applying more pressure than is needed. The belt tracks itself and keeps it in the center as it can adjustments on its own.
Now we come to the heart of the matter, which is the dust collection system. To collect dust, the machine has a container in the back that automatically picks up dust and grain particles. The container is transparent, making it easy for you to decide when to clean it.
Pros
Automatic pressure warning
Self-centering belt system
Micro filtering dust collection system
Transparent dust canister
Works with vacuum hoses
Cons
Flimsy sanding belts
Generates a lot of static
Verdict
Sometimes, a wood surface generates a lot of dust and grain when you are trying to smoothen it. This is where a sander like the SKIL Sandcat comes in. It is well-suited to collect excess dust from your project, providing you with a cleaning sanding experience. Check prices here
4. Craftsman Belt Sander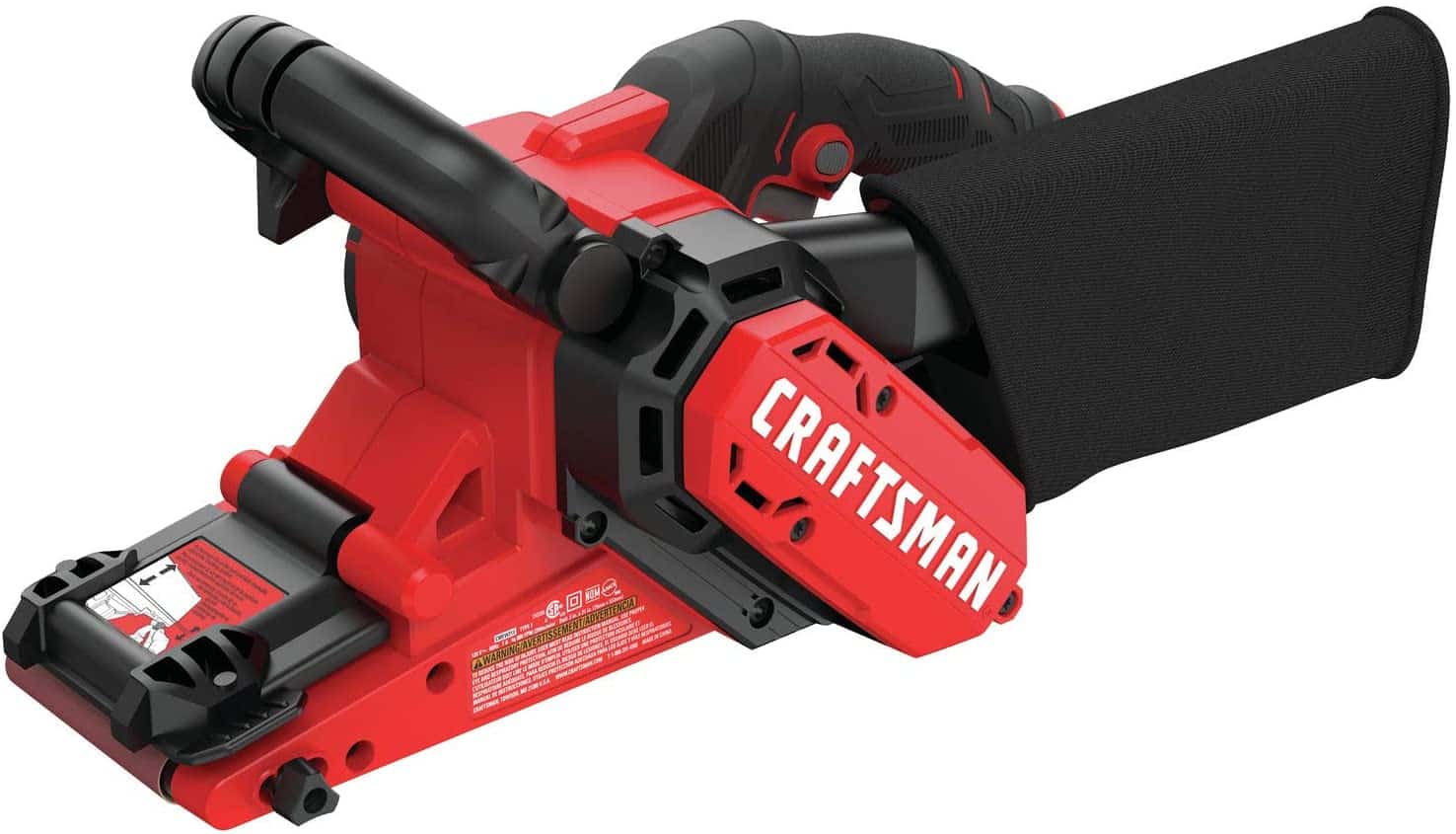 Handheld belt sanders might be the best tool for sanding wood surfaces, but there's a red herring. Sure, they may be portable, but their power requires the user to be extremely careful with them.
Without proper gripping, the machine might slip and cause a dangerous accident. If you want to avoid this and get a safe belt sander, you could try out the sander by Craftsman. Its speed and power might not be all that powerful, but its safety factor is unparalleled in the market.
Firstly, this belt sander has a box-shaped design with a bright red finish. The belt is angled so that you can use it to sand wood surfaces without exerting much force. With the tool-free belt design, you can easily replace the belt with a new one whenever the current belt runs out.
In terms of safety, Craftsman went above and beyond to ensure that their users wouldn't cause accidental harm to themselves. To achieve this level of safety, they designed handles with rigid rubber gripping.
This gripping provides you with two positive aspects: the comfort you get while gripping the rubber and the safety you get because of the tight gripping.
Since the rubber grip serves two purposes, you are ultimately safe from any accidental mishaps while using the sander. You are also protecting anyone else from danger by securely using the machine.
Pros
Angled belt design for easy use
Belt can be replaced without tools
Ultimate safety measures
Rubber gripping to secure sander in place
High performance dust collector
Cons
Small belt size
Belt can slip while operating
Verdict
Whether you are new on the job or a veteran, you cannot deny the sense of comfort you get when you have safety in your job. Hence, the Craftsman sander is perfect for that because of its superior safety measures. Check prices here
5. Makita Belt Sander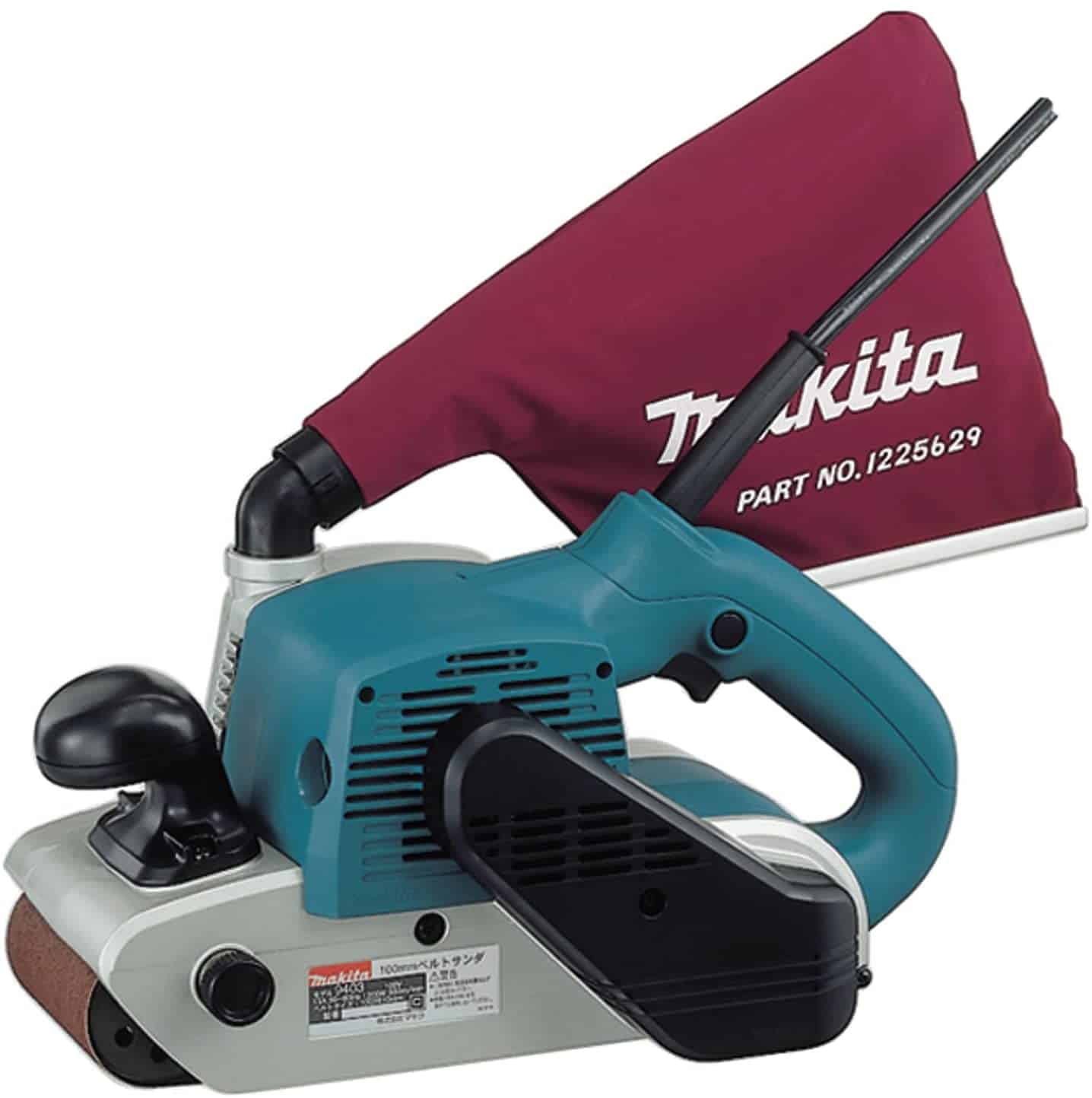 If you are a veteran woodworker, you will know just how loud belt sanding machines can be. Sometimes, their sound can go above the audible limit for human beings, causing great distress and discomfort.
One way to reduce the noise is to get a handheld belt sander that is silent in its operation. In our opinion, the belt sander by Makita is perfect for that job. It is a belt sander that won't rupture your eardrums while you're using it to smoothen rough surfaces.
At first glance, this sander might look like an ordinary handheld belt sander, but it is far more outstanding than you think.
To get the technicalities out of the way, the sander has an 8.8 amp motor that can produce a hefty amount of power. Bundled with this motor is the adjustable speed setting, allowing you to manually tune the speed of the motor from 690 fpm to 1440 fpm easily.
You also get an automatically tracking belt system that centers itself. However, the most enticing aspect of this belt sander is the low noise operation.
Even though the motor is so powerful and can produce such an amazing speed, the noise generated by it falls just under 85 decibels. Eighty-five decibels is nothing when you consider that most sanding machines operate at well over 110 decibels.
Pros
Powerful motor for high speeds
Manually adjustable belt speed
Self-centering belt system
Silent operation due to quiet design
Comfortable front gripping
Cons
Dust container fills quickly
Heavier than most sanders
Verdict
If you are someone who works at home and prefer not to disturb your light sleeping family members, you could definitely check out this belt sander. Even though it can operate at high speeds, its low noise design makes it perfect for working at night or home.
Frequently Asked Questions
What is the difference between a handheld belt sander and a bench sander?
Bench sanders are pretty self-explanatory, as they are stationary sanding machines that are attached to work desks. On the other hand, handheld belt sanders are portable in their design while being unrelenting with the power output.
What types of handheld belt sanders are there?
Depending on the shape, there are many kinds of handheld belt sanders. You will mainly find knife and box-shaped sanders as they are popular and easy to use.
What is the best handheld belt sander?
In our opinion, the SKIL Sandcat belt sander is the best handheld sander on the market due to its unmatched dust collection system and micro-filtering dust collectors.
How do I use a handheld belt sander?
The process of using a handheld belt sander is simple as you use one hand to hold the sander while the other hand grips the trigger handle.
Does the quality of the belt matter?
The belt is one of the most important parts of a sanding machine. Without a good belt, you wouldn't be able to sand anything properly.
Final Words
To summarize, handheld belt sanders are wonderful tools as they allow you to shape your furniture as you see fit.
Hopefully, our review guide of the five best handheld belt sander has helped you make a choice that best fits your project!
I'm Joost Nusselder, the founder of Tools Doctor, content marketer, and dad. I love trying out new equipment, and together with my team I've been creating in-depth blog articles since 2016 to help loyal readers with tools & crafting tips.