I love creating free content full of tips for my readers, you. I don't accept paid sponsorships, my opinion is my own, but if you find my recommendations helpful and you end up buying something you like through one of my links, I could earn a commission at no extra cost to you.
Learn more
Wood-workers and we hobbyists need a second, even a third helping hand while working with larger surfaces, wood, or metals. And a bench vise serves you that purpose. Because slipping, damage due to falling is common terms. And you need stability and security in this type of work.
To an untrained eye, every bench vise is the same. But specifications, details are what keeps you at confusion. A perfect bench vise provides you optimal stability and a strict surface to work on. Because a trembling or a shaking one is not you want.
So rather than going for the traditional and best ones, opt for the ones suiting your task, while maintaining its traditional and optimum features. And we all know that while shopping we can be pretty easily overwhelmed by the various options of bench vises.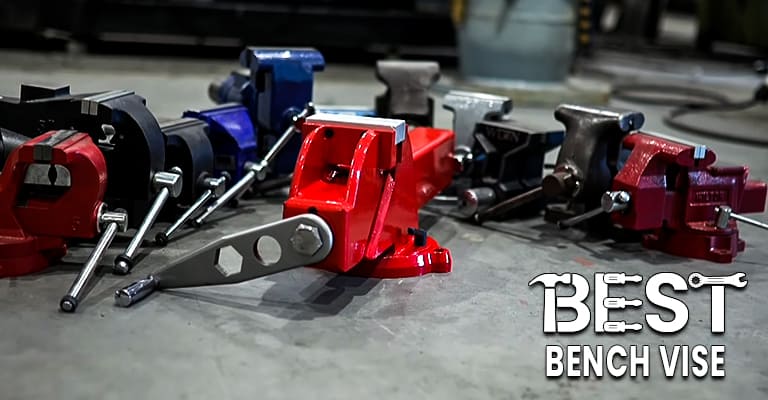 So we have assembled the traditional and top-notch bench vises that you might want to have a look. Whatever you buy, you need an informing elaboration. That's why we have invited you here. So let's hop right into the best bench vise.
Bench Vise buying guide
Any bench vise shouldn't be your choice, your preference should be which suits your task and your work-piece the most. And that, our fellow readers is what you will be stepping in the next few minutes.
Because when you are off to buy a product in the market you are left with multiple options which get you confused. But you only want the one which suits your task or get your job done pretty efficiently and quickly. Let's hop in!!
Throat Depth
This measurement comes from the top of the jaws of the vise to the top of the slide below it. When you have a throat depth that is longer, then it allows you to hold larger pieces more securely as well.
Constructing material
You need to ensure that your vise is made of the highest quality material. And the traditional vises are made of steel, cast-iron, aluminum, and even plastics. So what do you need?
Steel and cast-iron bench vises are back to back. Both of them stand out, yet the steel provides more rigidity, and lightweight, and longer durability.
Size
For household objects, a 4-5 inch vise would suffice (this measurement is the length of the jaws from end to end). But for heavier workloads opt for greater size and shape.
Jaws
Jaws are the most crucial aspect of a bench vise as they are the only thing that will securely hold the workpiece that you are working on together. Keep in mind how much space you are going to require in between the jaws when you are out in the market.
As most of the jaws of a vise can open up to a specific length and have different width and depth. Also, certain types of jaws can only handle specific workloads. So, if you are going to do hefty works, choose the one that will be able to hold that pressure.
Anvil
An extensive and flat anvil comes in handy. Also, if the anvil is durable enough, then you do not even have to think about settling your workpiece on the workbench to hammer it down.
If you work with metal pieces quite often, you will appreciate a vise that features a large and durable anvil. You can gracefully hammer down your workpieces without having to worry about the lifespan of your workbench.
Swivel
The swivel in a vise is very significant. It adds flexibility to your work. It is basically positioned around the base. So make sure that the swivel in your bench vise can rotate up to 180degrees.
Mount type
Without mounting, a bench vise is useless. And an easy and less friction mounting gives you the upper hand. If you are going for the bolt-type mounting, make sure there are 4 bolts to allow less pressure. But if you are going for a clamp type, make sure that it includes enhanced security.
Quick-release
The quick-release of a bench vise means that you don't have to twist the spindle manually each time you want to release an object from its jaws. This makes the process quicker and easier. Be advised to check if the quick release is something that particularly interests you.
Best Bench Vises reviewed
Here we have included some of the best bench vises to get you started, along with the features that will catch your attention. These stand out among all the other ones for their unique structures. Let's take a look.
1. Yost LV-4 Home Vise 4-1/2″
What meets the eye
The Yost LV-4 Home Vise 4-1/2″ is a lightweight duty bench vise weighing less than 10 pounds. It adapts to any work-piece as the swivel base (A swivel is a connection that allows the connected object to rotate horizontally or vertically) allows the vise to rotate 240 degrees showing unique versatility.
It holds 0. 6″ D to 1. 85″ D pipes and tubes, which makes it efficient for using larger tools. With a jaw width of 4-1/2" and the jaw opening is 3". To hold a larger tool steady, this model has come up with a throat depth of 2.6".
This vise features 4 mounting tabs with bolts measuring 3/8" x table thickness. The vise is painted with a durable blue powder coat which helps it to last longer than traditional bench vises. The vise is manufactured from cast iron featuring steel vise jaws, threaded spindle assembly, and a chrome lockdown.
The bench vises are made of steel containing higher rigidity. It has a very sturdy construction with easy installation. It is considered to be an ideal hand tool for home accessories.
Maybe not!!!
The Yost LV-4 Home Vise 4-1/2″ is not for a heavy-duty. As the center hole is too big for the bolt.
The durability of the whole unit is on another level because of the construction in cast iron and steel. Also, the diamond-serrated jaws are fully capable of exerting the pressure required to hold your object and are easy to replace as well.
 It has the pipe capacity of one eight inches by two diameters, and the pipe jaws have been cast in place too. It will allow clamping down with higher pressure, which regular vises are not capable of usually.
Highlighted Features
Comparatively large anvil area
Precisely machined screws
Diamond serrated machined jaws
Cast in place pipe jaws
'U' channel steel bar for additional durability
Dual lockdown feature
360 degrees swivel base
2. Yost Vises 465 6.5″ Heavy-Duty Utility Combination Pipe and Bench Vise
What catches your attention
The Yost Vises 465 6.5″ Heavy-Duty Utility Combination Pipe and Bench Vise is a heavy-duty bench vise with higher stability. It's exclusive interlocking gear base securely attaches the bench vise to your work-piece or mounting surface.
This model has improved in slippage casualties and is immune to scratching or any kind of abrasion. Engineered with optimal safety this model has a high clamp force of 4,950 lb. It features a torque rating of 116 ft-lb which strongly grips any metalwork, wood-working projects.
It even works quite efficiently in cases of car repairs, pipework, and other home or industrial precision vice projects. It can adapt to any work-piece through rotating 360 degrees with its base with exclusive interlocking geared base and 2-point lockdown.
This ensures maximum stability and alignment for light or even heavy-duty work. This model consists of large capacity and also replaceable hardened steel serrated top jaws. The grooved pipe jaws firmly grasp irregular and circular work-pieces in place along with standard metal sheets.
The jaw width being 6.5" gives it upper-hand while working and also the jaw opening 5.5" is the icing on the cake. The throat depth of 3.75" helps you to have a steadiness on larger work-pieces.
Let's not rush
The Yost Vises 465 6.5″ Heavy-Duty Utility Combination Pipe and Bench Vise is a prudent choice, yet arises a certain durable issue, as it dulls due to long-time use and the clip that holds the spring to push the jaws apart breaks.
3. Bessey BVVB Vacuum Base Vise
What that stands out
The Bessey BVVB Vacuum Base Vise has come up with an advanced quality structural component with vertical and horizontal rotation. The vacuum base mounts on any smooth surface. The vacuum base is designed to hold onto any surface firmly. V-grooved jaws are designed to grasp circular objects.
This vise can be rotated 360 degrees and pivoted 9 degrees to adapt while working optimally without even removing clamped part of the vise jaws. The enhanced robust jaw caps are installed to hold work-pieces without marring which allows the user to have an efficient interface.
This vise has also improved on durability by including steel structure and die-cast parts. The easy suction release and lightweight aluminum construction allow maximum portability making this a great hobby vise to paint figurines, work on RC cars or other small projects.
The rubber jaws allow you to have a non-abrasive finish after holding together even for quite a long time. The rotating handle is great in length so that you have a friendly and comfortable rotating with less friction.
What that draws you away
As it is said with great size comes great difficulties, being a large vise it is sometimes tiresome to get it to stick on any work-piece. Apart from that, the machining on the vice is not very precise and there is a lot of play when tightening or loosening.
4. PanaVise Model 201 "Junior" Miniature Vise
Methodical features
The PanaVise Model 201 "Junior" Miniature Vise comes up with a pretty unique and versatile design for light work. The single knob is quite comfortable to handle smaller objects and it controls movement through 3 planes by tilting 210 degrees, 360 turns along with a 360 rotation.
The robust structure of the knob controls the jaw pressure for delicate and fragile work. The furrow jaws are precise for holding small objects and are made of reinforced thermal composite plastic. This vise has an increased temperature tolerant feature of 350F with variation up to 450F.
Also, this vise includes a limited lifetime warranty which is quite a relief in cases of maintenance. It offers great flexibility for its mounting possibilities. The zinc base included can be used as stand-alone support when working with light items or can be used to secure the vise permanently to a flat surface.
With a vise opening of 2.875″ (73 mm), and jaw width of 1″ (25.4 mm), and jaw height of 2″ (50.8 mm) including a 4.3125″ (109.5 mm) diameter bolt circle this vise shows quite an efficiency in household work-pieces.
In addition to this, this vise is compatible with base accessories that allow for mounting and using your vise wherever your work takes you.
Setbacks
It should be noted that this vise works quite efficiently in cases of smaller objects, but it isn't very good for PC boards. It doesn't open wide enough to hold aboard.
5. Wilton 11104 Wilton Bench Vise
Let's take a look
Resembling the structural design of a previous vise the Wilton 11104 Wilton Bench Vise has come up with enhanced robust jaws. It is constructed from very high-quality steel. And to improve on the grip it includes a double lock-down providing a large anvil work surface.
It is made from 30,000 PSI gray cast iron for better durability. It includes grooved steel jaws for improved steadiness and a firm grip. This bench vise boasts a 4″ jaw width. The swivel rotates up to 180
degrees with the opening capacity of maximum 4".
The jaw throat depth being 2-4" allows you to work at ease with larger work-pieces. It includes a lifetime warranty ensuring you of stress-free maintenance. This 4 standard bolted bench vise can be installed in minutes.
The structural component of this bench vise being hardened still is advantageous in comparison to other cast-iron vises and it is reflected in the unit's weight which is 38.8lbs. Clamping capacity of 6-inches by 6-inches, there's plenty of room for this vise to grip big objects. What's more, the vise jaws are replaceable.
You will be glad to know; it offers every functionality that a bench vise should feature and stays up to par with others. It comes packed with a dual lockdown swivel base and also offers an ample anvil space. The swivel rotates at 90 degrees. It is also quite easy to turn the swivel, and you will find yourself making a minimal effort while adjusting it.
The jaws are replaceable, and the included ones offer a generous amount of grip as well. The clamping capacity is 6 inches, so you will have plenty of space to securely place any object that you are planning to work on the vise.
Highlighted Features
Built like a tank
Dual lockdown swivel mechanism
Replaceable jaws
Generously wide for placing any object in between
Large anvil surface
Easy to work with
Let's take a deeper look
This vise shows is somewhat vulnerable to heat rise and also the paint chips off after a heavy-duty. The jaws being of steel structure sometimes mar the workpiece.
6. TEKTON 4-Inch Swivel Bench Vise
Magnificent features
The TEKTON 4-Inch Swivel Bench Vise somewhat resembles our previous model but with varying structure and fundamental components. This bench vise is constructed with cast iron (30,000 PSI tensile strength), giving it more strength and firm grip.
It includes a 120degrees swivel base with a dual lock-down nut positioned perfectly for adjusting to your work-piece. It includes 3 mounting holes to workbench ease and securely. It has a jaw width of 4" and the maximum jaw opening of 3". The throat depth being 2-3' helps you with a larger work-piece.
The polished steel anvil offers a smooth, consistent work surface for shaping metal pieces. The acme-threaded screw glides smoothly without binding.  The serrated steel jaws provide a very steady and non-slip grip which makes work that little bit easier.
The steel jaws are replaceable too, allowing you to keep the vise going even after lots of wear and tear. In summation, this vise shows versatility in smaller projects.
The durability of the whole unit is unquestionable as it has cast iron construction. It comes along with replaceable serrated jaws. The jaws have a rating of 30,000 psi tensile strength. So, you do not even have to worry about your workpiece setting itself loose after you secure it in place.
It will stay right in place without any chance of budging out. It comes featured with 120 degrees swivel base that comes packed with two lockdown nuts. You will be able to set your workpiece at any position that your heart desires.
Three mounting holes that will allow you to secure the vise on your workbench firmly and securely. You will be able to work on your small DIY projects without any hassle at all.
The polished steel anvil will offer you a smooth and consistent working area for contouring any metal workpiece. The screws are also acme-threaded, which glides smoothly without any signs of binding.
Highlighted Features
Lightweight but fairly strong
Durable
Replaceable steel jaws
120 degrees of swivel base rotation
Dual lockdown feature
Secure and anti-slip grip
Acme-threaded screws
Polished steel anvil
What we missed
The TEKTON 4-Inch Swivel Bench Vise doesn't include mounting bolts for which the grip doesn't stand quite steadily and firmly as expected.
7. DeWalt DXCMWSV4 4.5 In. Heavy-Duty WORKSHOP Bench Vise
What that stands out
The DeWalt DXCMWSV4 4.5 In. Heavy-Duty WORKSHOP Bench Vise is an ideal and versatile bench vise for home, shop and constructor usage. It shows better durability and enhanced dependability. This vise is constructed from 30,000 PSI cast iron. This 4" bench vise can rotate vertically as well as horizontally.
The jaws are constructed with hardened steel and these micro-grooved jaws are replaceable. These jaws provide a stronger grip once clamped in place. The built-in cast iron jaws provide easy clamping of pipe and other circular metals.
This bench vise consists of a large anvil work surface on the back and is quite efficient for the hammering and shaping of metal pieces. The swivel base can rotate to 210 degrees allowing the vise to be positioned for the work-pieces to be clamped with ease.
This bench vise shows greater holding power. The clamping force is 3,080 lbs. The steel main screws are machined with rolled threads and are wear-resistant which provides smooth work. This bench vise includes a limited lifetime warranty which is quite a relief in maintenance.
Let's take a deeper look
The DeWalt DXCMWSV4 4.5 In. Heavy-Duty WORKSHOP Bench Vise shows much strength, yet sometimes when you try to tighten it on a hammer, the rod bents. The vise itself is good, the locking screw is not so impressive.
IRWIN Tools Multi-Purpose Bench Vise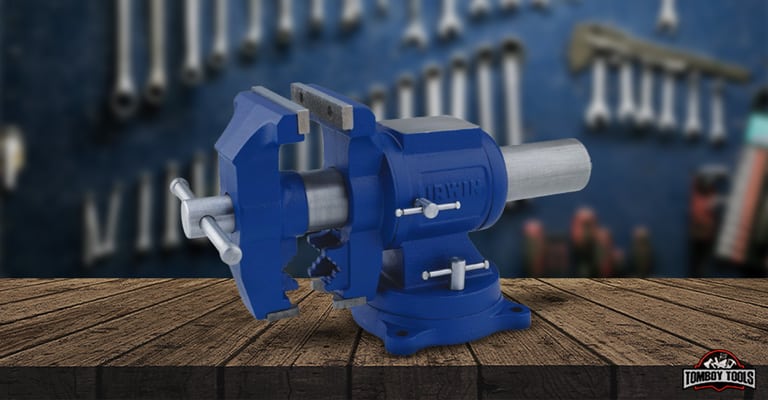 If you often find yourself requiring a jaw that can hold different workpieces that you usually work on, you are looking for a multi-purpose bench vise. Luckily, IRWIN has the right bench vise to meet all your demands.
The IRWIN multi-purpose 5-inch bench vise will offer you the versatility of attaching the object that you are working on that can fit itself to the extremely versatile jaw. It opens as full as five inches, and the depth of the throat is three inches.
The bench vise comes along with rotating pipe jaws, and the base is entirely 360 degrees rotatable. Along with that, the fused steel handle makes adjustments look like a child play.
You can expect full stability while working on as the incorporated anvil keeps the whole unit steady and secure. The vise is quite heavy as well, and it will be able to maintain its weight even when you are working aggressively.
The swivel base is 360 degrees rotatable, so you will be able to place the object that you are working on accurately. The machined screw is wear and tear-resistant, also screwing on feels butter smooth because of the clean threading.
The pipe attached along the jaws rotates, and the fused steel handle makes adjustments smooth as a baby's bottom. The whole unit offers an excellent price to the value proposition and will not let you down. You will be able to do medium to moderately large-scale projects with a breeze.
Highlighted Features
Incorporated anvil helps it to be substantially stable
Rotating pipe jaws
Fused steel handle for butter-smooth adjustment
Jaw opens up to five inches
Solid design
Exceptionally durable
Smooth screw threading
Olympia Tool 4In. Bench Vise 38-604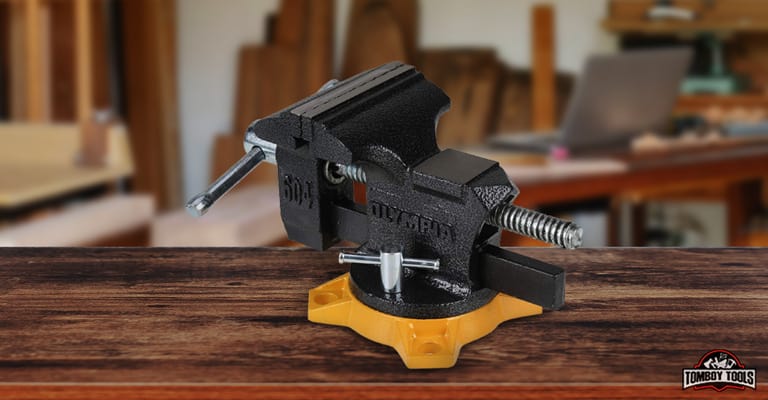 Like an oven in the baker's home, bench vises are an essential tool in the garage. You might think you will never have the use of it, but eventually, you will find yourself looking for something that offers the functionality of a bench vise.
Also, like every other competitive vise that is available in the market, Olympia is offering a banging option at a competitive price point.
The hardened steel jaws of this particular bench vise can open up to four inches wide. You might never have to replace them because of how durable they are, but you can easily replace them if they lose their functionality. The throat depth of the jaws is two inches.
You can easily maneuver the handle for tightening or setting loose the object that you want to work with, and they offer generous leverage. The base swivel rotates at 270 degrees, giving you ample headroom for medium workloads.
The size of the anvil is also quite large, and the whole unit will remain steady while you are hammering down the workpiece. To add extra stability, it comes with four lugs to let you attach it to your workstations securely.
The whole unit has a construction of a tank. It weighs at about 12 pounds and built with 20,000 psi malleable steel casting. So, you do not have to worry about its durability. It is going to absorb most of the abuse at ease.
Highlighted Features
Replaceable hardened steel jaws
Remarkably durable
The jaws offer a firm and secure grip
270 degrees base rotation
Comparatively large anvil area
Powdered coated body finish
How to Mount a Bench Vise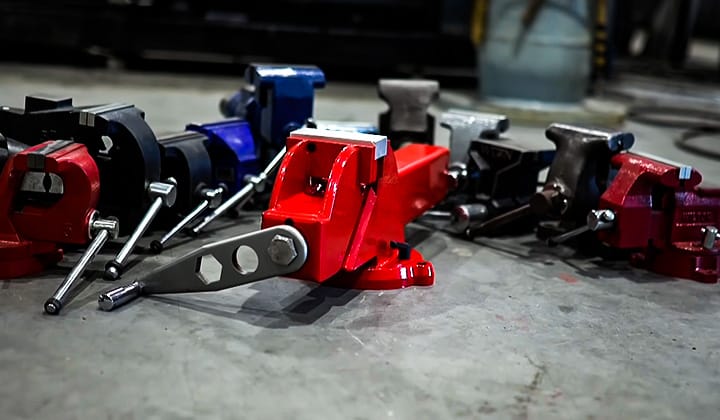 Mounting a vise may seem tiresome, with a perfect guide, you will grasp it pretty easily. Now the process may vary depending on the structure and fundamental components of the bench vise. Though it has an inadequate impact.
Pre-requisites
Bolts
Washers
Nuts
Cordless drill
Socket
Wrenches
Let's dig into the process
You need to measure the mounting hole positioning the vise where you want it and then place a pencil in the mounting holes to mark them. The template you will use should match the vise base.
By using a sized bit, drill out the mounting holes. Be advised not to apply too much pressure when working on plywood, as this can cause the bottom to splinter when you breakthrough.
Then gradually test fit a washer over the holes on your vise base. You can easily use a metal file to flatten out a portion of the edge for a better fit.
Try to align the vise over the holes and place the bolt into each hole. On the underside of one hole, place a washer, lock washer, and nut, hand tightening. Repeat this for all bolts.
Using the socket wrench on the bolt and standard wrench to tighten all of the bolts. You'll want a close fit, but be careful not to tighten too much in cases of wood. Double-check the bolts if they are tightened perfectly.
Bench Vise vs Woodworking Vise
A  vise with jaws that are padded in order to hold lumber without denting it is taken as a woodworking vise. A woodworking vise is different from a bench vise in size and also a slight difference in the mechanism. Woodworking vise holds together larger projects, even the size of doors.
Woodworking vise may include piercing through the wood to hold it together, where, on the other hand, a bench vise holds together smaller objects but never needs to pierce through the wood. Both of the vises have parallel jaws, but in case of woodworking vise, both of the jaws are fixed.
But on the other hand, one jaw is fixed and the other is moveable in cases of a bench vise. In cases of a bench vise, the jaws are tightened through a single screw, but on the other hand, woodworking vises are tightened with 3 larger rods or screws (number may vary due to models)
A rather fundamental difference between a woodworking vise and a bench vise can be carried pretty easily (may vary due to models). In summation, because of the varying models, it cannot be stated significantly, but we have proposed a general discussion for your information.
What is a Bench Vise?
A bench vise is also known as a woodworking tool which is usually a tool made of metal or wood. Their sole purpose is to hold the object underneath, with grip, and thereby work on the object. A bench vise is basically used for enhanced stability and to allow a firm grasp.
A bench vise holds together a block of wood or any kind of object with the parallel jaws and can adapt to any work-piece through rotating, tilting at a certain angle. This can save your other hand from the dangers of holding down the material while you cut with your other hand.
You can level the surface of a larger work-piece with the vertical rotating screw in a bench vise and to your preferred level.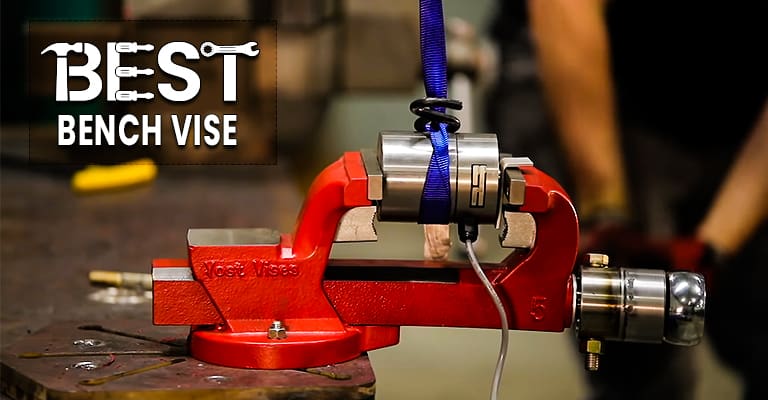 FAQs
Here are some frequently asked questions and their answers.
Why Are Wilton Vises So Expensive?
The current rage over them is largely due to three factors: One, they're American-made, which is becoming more and more of a rarity these days. Two, while Wiltons can still be had new, they're hugely expensive, where even a little 4″ one can run $600. Find an old one, fix it up, and you've saved a bundle.
How Do I Choose a Bench Vice?
Choosing a Bench Vise
Step 1: Jaw Width. The jaw width is key in selecting. …
Step 2: Jaw Opening. If you wanna grip big steel pipes, you need a big opening. …
Step 3: Mounting. Most vises are mounted using 3 or 4 bolts. …
Step 4: Pipe, Bench or Combo. A serrated bench jaw can easily hold pipe and rectangular objects. …
Step 5: Mounting.
What Size Bench Vise Should I Get?
For general household DIY, a 4- to 5-inch vise is large enough to handle most tasks. (This measurement is the length of the jaws from end to end and is maximum amount of contact your vise has with the workpiece.)
What Bench Vises Are Made in USA?
American Made Bench, Machinist & Woodworking Vises
Benchcrafted. Benchcrafted was founded in 2005 producing some of the finest workbench hardware available anywhere. …
Conquest Industries. …
Hovarter Custom Vise. …
Lake Erie Toolworks. …
Milwaukee Tool & Equipment Company. …
Orange Vise Co. …
Wilton Tools. …
Yost Vices.
Are Wilton Vises Good?
The high quality Wilton vises are of the bullet style, in the Tradesman (budget), Machinist (classic), and Combination (pipe/bench) lines. If you want a new one, your best bet would be to get one from Zoro.com when they have their next 25% or 30% off sale. Also consider getting a smaller vise.
Are All Wilton Vises Made in USA?
The Wilton Bullet Vise family has improved over the years but has always maintained the same high quality and integrity since 1941. … The Wilton Combo Pipe & Bench and Machinist Vises are proudly built in the USA.
How Old Is My Wilton Vise?
You can tell the age of the vise by looking at the bottom of the guide rail (with the vise opened wide). As can be seen, it is stamped with 4-53. Wilton provided a 5 year warranty on their vises with the expiration of the warranty stamped on the vise, so this vise was made in April of 1948.
Do I Need a Bench Vise?
The type of vise most commonly used as a woodworking vise is the bench vise. … Bench vises do not necessarily need to be attached to workbenches—as long as the working surface is stable, a bench vise can be attached either directly to the surface or the side.
Q: How does a bench vise work?
Ans: A vice has two parallel jaws that work together to firmly clamp an object and hold it in place. The working procedure is quite similar to a drill press vise except for the latter having a flat base.
Q: Which type of thread is used by a bench vise?
Ans: The screw thread that a Bench Vice uses is called a Buttress Thread. This Type of thread withstands heavy thrust in one direction yet unscrews easily in the opposite direction
Q: How is a bench vise measures?
Ans: This measurement is the length of the jaws from end to end and is the maximum amount of contact your vise has with the workpiece. The throat depth, measured from the top of the jaws to the top of the slide below it, is also something to consider.
Q: Does the PanaVise have rubber jaws so as not to mar silver and gold pieces?
Ans: No, the jaws are hard plastic. You could put something on the jaws to prevent this issue as gold, silver, carbide, etc.
Q: What can I do by using a bench vise?
Ans: A bench vise will allow you to do multiple works with the most efficiency and accuracy. You can work like cutting, drilling, sanding, and even gluing with the help of a bench vise. You can do them without a bench vise. It is a utility, not a necessity.
Q: Do I need to buy replaceable jaws along when I buy a vise?
Ans: No, you do not have to buy any replaceable jaws when you first buy a vise. The jaws that come included with the bench vise are durable enough to last for a while.
You only will need to replace them when they show the signs of wear and tear, and when they do not firmly grip the object that you are placing.
Q: What is a swiveled base? Do I need it?
Ans: A base that can be rotated will offer you extra convenience when you are working. You can also choose the ones that do not feature this mechanism. However, a swiveled base will let you change the position of the object without having to set it loose frequently.
Q: Should I go for medium or high duty?
Ans: It all boils down what type of work you want to do with the bench vise. If your workload is much extensive, then go for the high duty ones other than that you will be all good with a medium-duty bench vise.
Q: What about warranties?
Ans: Different manufacturers will offer different warranty policies. It all depends on which one you want to rely on. So, do your research accordingly and choose the one that is suitable for you.
Conclusion
There are various reasons why these are becoming trendier than all other alternatives present in the market like easy installation, firm grasp, portable feature. Due to these alarming features, these are considered to be the best among the other ones.
These best bench vises provide you firm grasp, enhanced stability, and corrosion-free work-piece. So now, if you're looking for something robust but small, then the PanaVise Model 201 "Junior" Miniature Vise is a prudent choice as it works with a single knob and is quite efficient for smaller objects.
But also if you are looking for a heavy-duty bench vise with a great clamping force then the DeWalt DXCMWSV4 4.5 In. Heavy-Duty WORKSHOP Bench Vise will just suffice. As it has a clamping force of 3,080 lbs.
And it is constructed from high-strength steel and cast iron components with micro-grooved, replaceable steel jaws. We hope you have found your bench vise and have already bought it, if not, what are you waiting for, hurry to your nearest shop.
I'm Joost Nusselder, the founder of Tools Doctor, content marketer, and dad. I love trying out new equipment, and together with my team I've been creating in-depth blog articles since 2016 to help loyal readers with tools & crafting tips.