I love creating free content full of tips for my readers, you. I don't accept paid sponsorships, my opinion is my own, but if you find my recommendations helpful and you end up buying something you like through one of my links, I could earn a commission at no extra cost to you.
Learn more
What do you know about benchtop jointers? I know that there are a lot of options in the market at an affordable price range. Quality should be our priority, and hence we mustn't base your buying decision on a judgment call.
If the best benchtop jointer is what you are looking for, then you have come to the right place. We have scavenged through all the stores and learned a lot about each of the options that are out there. From them all, we have personally hand-picked the seven best benchtop jointers for you.
Stay tuned to find out more.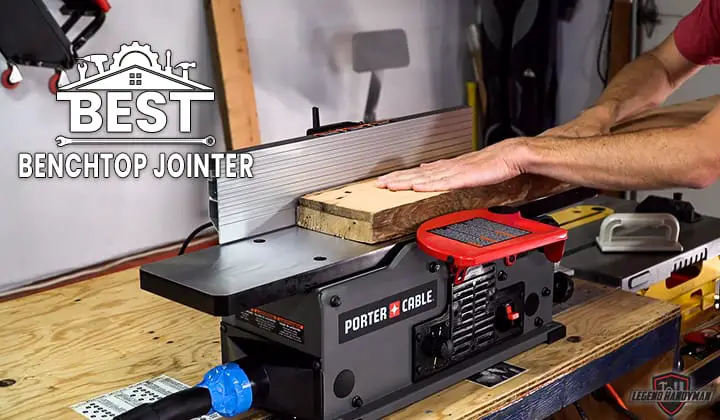 What Is a Benchtop Jointer?
If you have worked with woods, you will be familiar with its function. A jointer is used to smooth out the surfaces of any wooden panel. They are also used to smooth out and curve the edges of the end of the wooden boards or panels before two boards or panels are put together.
When two boards, whose edges are flattened, are put together, it tends to give it a "wider" look. In simpler words, it can make the corners of two wooden walls look bigger. A perfectly efficient jointer can flatten out surfaces and straighten out the edges in one quick go.
Best Benchtop Jointer Reviews
We all look for something perfect. Also, the perfect something at the lowest price possible. Here is a list of the best benchtop jointers reviewed and weighed out on the pros and cons. Let's see if you can find the perfect one for you!
PORTER-CABLE PC160JT Variable Speed 6″ Jointer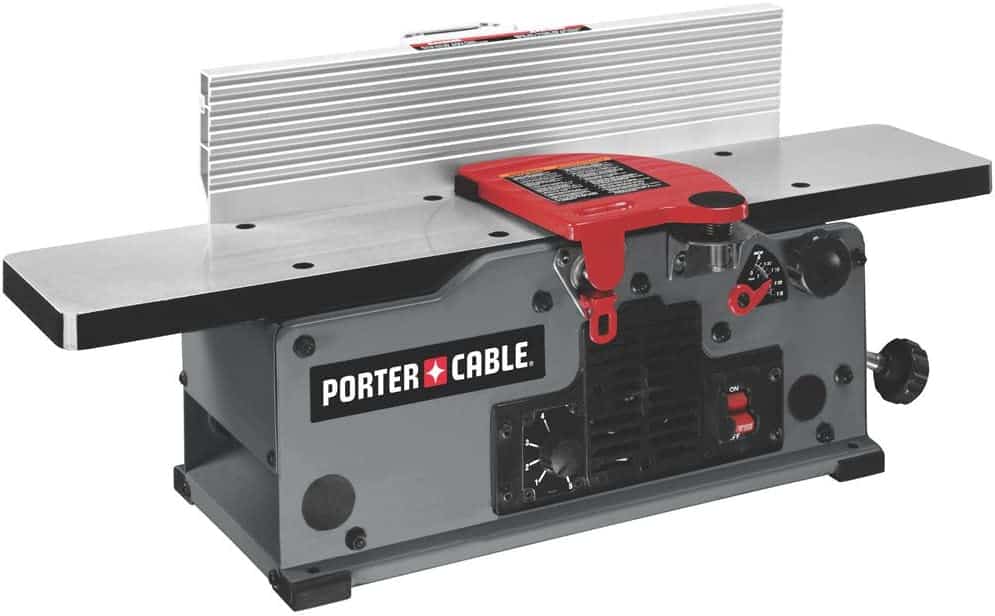 The amazing jointer that comes in an excellent color contrasting model of red and silver. We can guarantee you that its performance is just as good as its appearance.
It comes to a wide range of speed selection that allows you to choose the right performance speed for the different kinds of material that you are working with.
The speed of the jointer can be moved up and down from 6000 to up to 11000 RPM as you can see that there are two knife cutters at each end of the jointer.
These knives are very sharp and very precise with the jackscrew leveling. Which means you can easily adjust the knife's placement or angle for precision. And also, these are easily replaceable as well.
The long, narrow jointer is more spacious than it may seem. This 6″ long table is quite big for the size of the jointer on it. It provides a lot of work surface and also leaves out a lot of free space to hold up the woods when you are working with a batch of woods.
The cutter of the jointer is placed at the center, and it is placed into the device. There are no chances of the cutter coming out while you are working.
You can adjust the cutter to the desired position and lock in that position. Also, you can do the same with knives at both ends. The adjusting lock system is a plus point to this jointer.
Both the knives and the cutter are easily replaceable as well if they wear out. The fence of the PC160JT is also in the center position, and it is fixed. This provides the necessary support to curve out the edges at accurate angles.
PROS
It weighs only 35 pounds
Does not run on battery power
Great for cabinet resizing
Professional users approve it
Can work with different kinds of wood
The table and the fence are made from good steel
CONS
Fence may need quick replacements
Cutech 40180HCB 8″ Bench Top Spiral Cutterhead Jointer

This beautiful masterpiece is the perfect one for your big workshop. Its name suggests that this benchtop jointer comes with a cutter head that moves in a spiral-like motion. The cutter head moves at a speed of 11,000 RPM, which is fast speed for some robust cutting.
It is also made of top quality material, which ensures its durability. A robust motor also controls the speed of the cutter. This is a good quality motor that runs on 10-ampere power and allows it to cut up to 1/8 inches deep. It guarantees that you can work with thicker woods than usual.
The cutter head is exactly 2 inches wide. You can get maximum work done.
The table comes with a side dust port, which keeps the messy workshop area clean as you are working. Also, the size of the dust port might amaze you. It is two and a half inches wide and has the storage capacity to hold up to 4 workloads of wood dust.
Moving on to the table, there is a lot of space to move around the woods while you are working. It is 30 inches wide and 8 inches long. This long and narrow table gives you a lot of space to move the jointer back and forth at ease and have a smooth surface.
Moreover, it is only 40 pounds in weight and is easily slideable too. The whole jointer machine takes up only around 4424 and 1/4th inches space. Its dimensions are as follows; 32″ by 12-1/4″ by 11″. And it leaves you with enough to move the jointer freely.
PROS
12 2-sided inserts (HSS or carbide)
Light in weight
Affordable
Easy to use
Comes with a dust port
120 V motor power
The fence can be tilted up to 135 degrees
CONS
The height of the jointer may be too low for some people
WEN JT833H 10-Amp 8-Inch Spiral Benchtop Jointer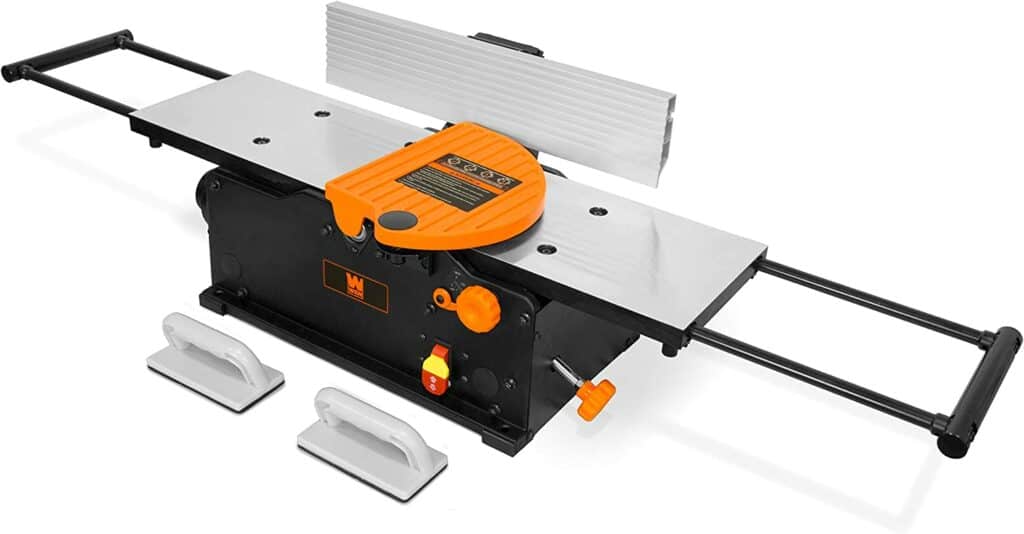 Filter bags are a necessary accessory for jointers. It gets a bit expensive when you go out to purchase them individually. So, here is the amazing news. The 6560T comes with this handy filter bag. You don't need to buy it separately and increase your expenses. This could be a great deal for you.
Like the previous model discussed above, these models also get their work done with spiraling cutter heads. The cutter heads come with 12 HSS inserts that improve the work being done on the benchtop jointer.
It is powered by a 10-ampere efficient battery that runs on 120 voltages. So, you can plug into any convenient socket, since almost all outlets at home are 120 V.
The model also comes with fences. Fences are necessary for the support of the wood that you will be cutting. Also, the fence of this model is adjustable. It can be tilted and shifted from 90 degrees angle up to 135 degrees.
The bed that this model comes with is made from unique quality material that ensures sustainability, durability, and longevity of the product. Not just that, the bed is also adjustable to the levels, which ensures that you can work at comfortable angles at your workshop.
PROS
Very much affordable
The machine does not vibrate when it is on, stays in a fixed position
The fence can be tilted
Efficient motor power
CONS
The fence is hard to adjust
RIKON Power Tools 20-600H 6″ Benchtop Jointer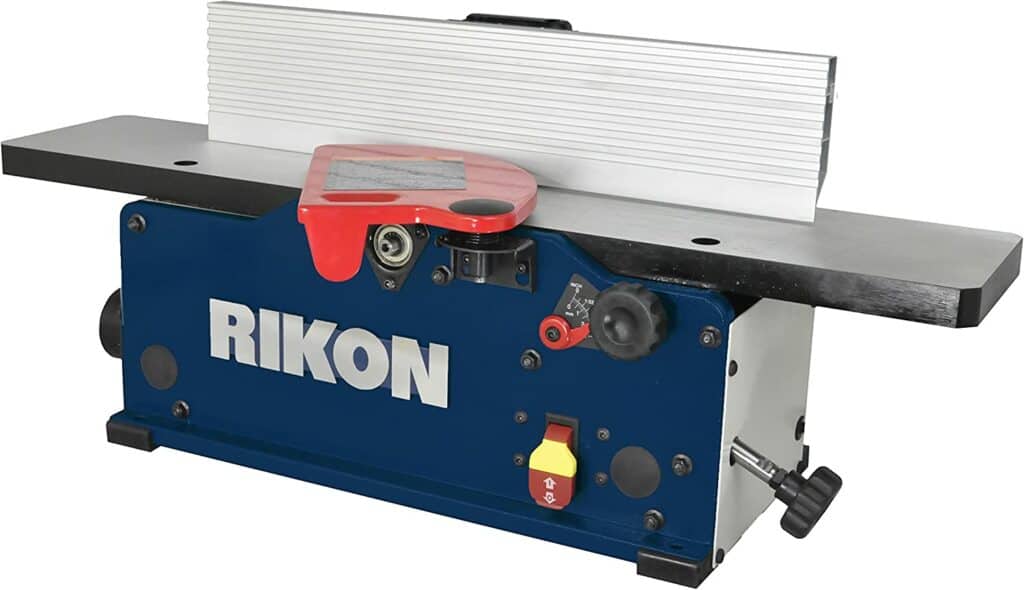 It is a powerful package that has a whole lot to offer. The number of features that it comes with is jaw dropping. It has a 6-inch jointer, which is quite frankly, a big deal. Since they are benchtop jointers, it is attached to the machine, and it is not detachable.
Another feature that takes this jointer's game to the next level is its cutter tool. This model does not work on a spiraling cutter, it rather operates on a "helical-style" motor. There are six of these helical styled cutter heads in this benchtop jointer that makes it work faster and gets the job done quicker, in a short amount of time. Also, the cutter head comes with a 12 HSS.
It has a 12 HSS that provides a great deal of help when using the machine for smoothing out purposes. It also comes with two-sided inserting cutters. We all know what that means. It goes into super action mode if you use this feature. So, you should get this benchtop jointer and try using it to its maximum capacity.
Wait till you see the end results; you will be astonished to find out how finely defined work this jointer can do. The two-sided cutter is 12 inches by the way. Imagine the work it can get done per second. Like many other models, this model also runs on 10 amperes powered. The motor is very powerful and runs at high speed.
With this high-speed motor and high speed spinning steel knives, the job will be done faster. The table or bench on this benchtop jointer is ginormous. It is 30 inches by 6-3/16 inches. So, you can work with large wood pieces on this compact jointer.
PROS
Double knives/ cutter
Aluminum table quality
Safety guard
on/off switch
The fence adjusts from 45 to 90 degrees
CONS
Powermatic 1610086K Model 60HH 8-Inch 2 HP 1-Phase Jointer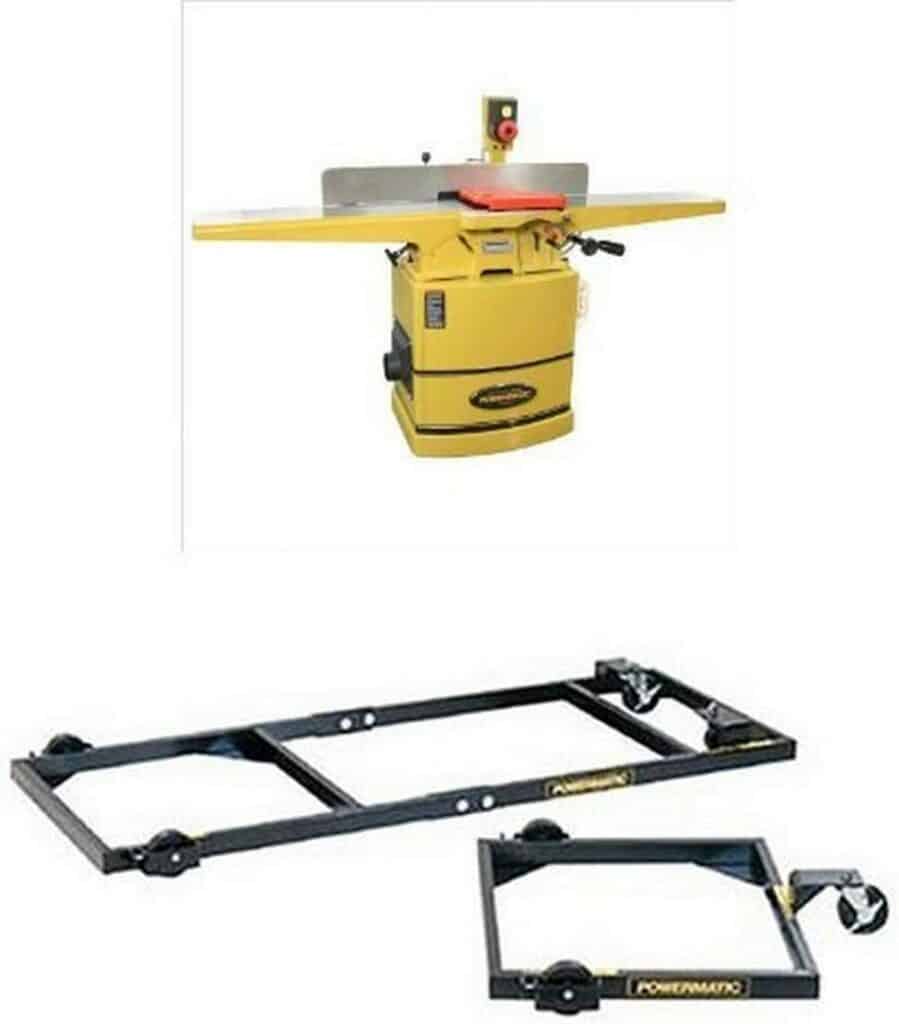 The 518 pounds weighing gigantic benchtop jointer with the dimensions of 25 inches by 73 inches by 46 inches will sure take up a lot of room in your workshop, but believe me, it has a whole lot of room for a whole lot of quality work to be done. This strong benchtop runs on 120 voltages and operates smoothly.
Unlike many benchtop jointers, the 1610086k is very quiet comparatively. It does not make any loud noises or heavy thuds, making the whole process much quieter.
Another unique feature of this jointer is that the cutter head is four-sided, meaning  it produces smoother, faster, and quality work with premium quality results. They are also designed to work quietly, which is a bonus.
The table is called the XL sized table. Its large machine comes with a large table. Both the ends are extended on the two ends that provide extra workspace and a lot of places to move the jointer back and forth.
The lever on this benchtop is adjustable. Adjusting lever is used to change the position of the table easily with the pull of the lever.
The tuning of the lever is also possible with this adjuster, and it can also be used for adjusting the cutting depth of the cutter.
PROS
XL sized table
Comes with a handwheel
Smooth adjustment lever
Cuts very smoothly
Does not produce any loud noise
CONS
Delta 7. 6″ Bench Top Jointer 37-071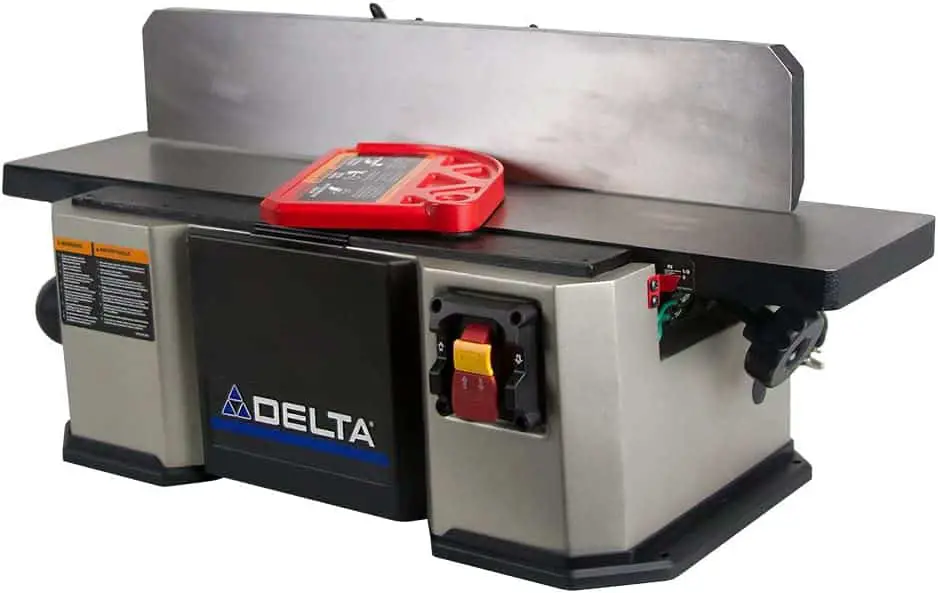 The 76 pounds weighing AC powered benchtop jointer is a topper in what it does. It is a topper in terms of speed and efficiency, and its construction of the structure of the body and jointer and the bench is unique.
The body of this machine was made, keeping in mind about durability and comfort while working at angles for users.
Casted iron is used to sustain the longevity of the jointer. It is also heavy compared to other metals and steels. The extra weight adds steadiness to the noisy machine and reduces the machine from vibrating and dispositioning itself to a great extent.
The table and the fences of the 37-071 were also designed and built to produce accurate and precise work done, making your life that much easier.
The fence, especially, was designed with the integration of flexibility and heavy-duty in mind. Like the rest of the machine, the fence is also made from casted iron.
Along with all the other plus points of the cast iron, the fence build of casted iron provides an extra amount of support to the wood while it's in the process of smoothing out the wood surface.
It also ensures accuracy in the process of joining the woods with the jointer. Like all the other fences, this one can also be tilted and repositioned.
While most of them can only be adjusted in one direction, this fence can be adjusted from 90 degrees clockwise and 45 degrees clockwise and anti-clockwise. The cutter also works amazingly. It can cut up to 1/8 inches deep and up to 20,000 cuts by the minute.
PROS
Made from good cast iron
Does not run on battery
Powerful motor amperes
Can make 20,000 cuts per minute
Fence moves clockwise and anticlockwise
CONS
Before You Buy What to Look for
Benchtop jointers are the easiest kind of jointer to use for woodwork. They are efficient and affordable. Now that we have reviewed the best affordable benchtop jointers, it's time to get more specific. Here is a list of things that you should keep an eye out for when choosing a benchtop jointer.
The size of the jointer
You can decide on the size of the jointer you want by looking into your workshop for the type of wood sizes that you typically work with.
It will be a waste of money and space in your workshop if you end up with a giant, heavy-duty jointer. Always make sure that you get a machine that you can use to its full capacity.
This way, you can decide on the length and the breath of the jointer you would want to place on your benchtop. A jointer's size varies with the size of the knives that you would want to go for. Another point to be noted is that you should be able to work with the size that you pick comfortably.
It should not be too big for your height, and neither should it be too small and low if you are a tall person. You should measure the size of the wood that you would want to work with at first, then pick the size of the board of the jointer. Usually, you should go for half the length of the bed size for that of the wood size.
A jointer can work with woods that are commonly twice its bed's length. The two most excruciating parts of measurement consideration would be the jointer's blade and the length of the jointer's bed.
Jointer's cutting depth
We know how vital the benchtop jointer is for you, as without the tool, your workshop will be incomplete.
But what if you buy a jointer and later find out that it does not work out for you because you picked a tiny detail like, it's cutting depth, wrong then it would be a big disappointment.
You would have to throw it away or sell it off for a small, tiny reason as this. So, before buying and investing in a work tool like this one, I think it is a good idea to measure the average thickness or width of the woodwork that you usually work with.
It has a great impact on the result because you would have to cut the same wood many times to obtain the result.
Sometimes, with the wrong cut depth, you may end up cutting more than what was necessary, which would waste wood and your time. For example, if you use a ½ inch cutting depth to obtain a ¾ inch result, then you would have to run the same wood through the jointer more than once.
Or if you had used a ¾ inch cutting depth to cut ½ inches deep, that won't get you any results, waste of a lot of wood. For benchtops, the cutting depth of 0.5 to 0.75 inches is just sufficient and can cut the wood in one go.
To sum up, here, the cutting depth of a jointer decides on the number of passes that you will have to put a piece of wood through.
Type of fence
The fence is necessary to support or is the backbone of any jointer, literally. Once you place the plank of wood on the table or bench, the rest of the support comes from the fence. Support is not all that it is needed for. Fences are also required to align the wood perfectly in line so that you get a straight and neat cut.
When the wood is pushed along the surface of the table or bench, the fence holds it in position and ensures a clean cut. Now, a couple of things you should keep in mind about fences, what they should be able to do, what features should they come with, etc.
The fence on benchtop jointers should always be adjustable. This is very important. If you ever end up with a jointer whose fence is not adjustable, then you have ended up with the worst benchtop jointer that money could have bought. Let's discuss why the adjustment is so important.
Firstly, you will not be working with the same size as the block of wood or plank of wood all the time. You will need to be able to adjust the machine with the size of the wood so that you can flatten out the wood at the correct angle and edges.
This makes it easier for you to adapt and get used to using your brand new machine of choice.
It also makes it easier to cut out the edges of the wooden parts smoothly with the different tilt degrees and angles. You don't have to run the corners of the woods multiple times to get the finish if the fence is adjustable.
Table size
The table should be flat. A flat, straight surface is very necessary. Otherwise, you will end up cutting woods un-uniformly. Another thing is that the knives or cutters should inline or be aligned with the surface.
Everyone suggests that you should get a longer table than needed. This is because longer tables will give you a better grip to move the joint and give you a sharp joint.
Frequently Asked Questions
Q: How does jointer work?
Ans: A jointer is used to flatten board surfaces made from wood. A wooden block is pressed under the knives and pulled out from the other end, which evenly smoothens out the surface of the wood.
Q: Why is the table size bigger than the actual machine?
Ans: Top 7 Best Benchtop Jointer Reviews [Recommended for You] With a larger surface, you will be able to get easier results at a faster rate since there is more space for you to hold the wood.
Q: How much does it cost to maintain a benchtop jointer?
Ans: It does not cost more than maintaining a drill machine.
Q: How to clean a benchtop jointer?
Ans: Use a handheld vacuum machine.
Q: Are they beginner friendly?
Ans: No. No machine related to woodwork is beginner-friendly. You will need someone to guide you and teach you.
Final Words
To sum it all up, benchtop jointers are a top-notch choice out of all the different kinds of jointer machines out there. Off the top of my head, here is a reason why they are the best choice. They are built in a compact design and carry out a lot of functions without taking up too much room.
By now, we all know that jointers are used to flatten out and smooth out the surfaces of woods. And hence, they are a basic necessity for any workshop.
Benchtop jointers are light in weight comparatively and are flexible. That makes them portable to some extent. They are excellent in providing planning solutions due to the flexibility feature.
I'm Joost Nusselder, the founder of Tools Doctor, content marketer, and dad. I love trying out new equipment, and together with my team I've been creating in-depth blog articles since 2016 to help loyal readers with tools & crafting tips.