I love creating free content full of tips for my readers, you. I don't accept paid sponsorships, my opinion is my own, but if you find my recommendations helpful and you end up buying something you like through one of my links, I could earn a commission at no extra cost to you.
Learn more
When it comes to cleaning up messes, a handheld vacuum cleaner is a handy tool to have around the house. Not all messes require the big bulky vacuums.
These smaller handheld cleaners are easy to hold, portable, and have good suction power.
Best of all, most are rechargeable and have a run-time of about 30 mins, which is enough time to do quite a lot of spot cleaning.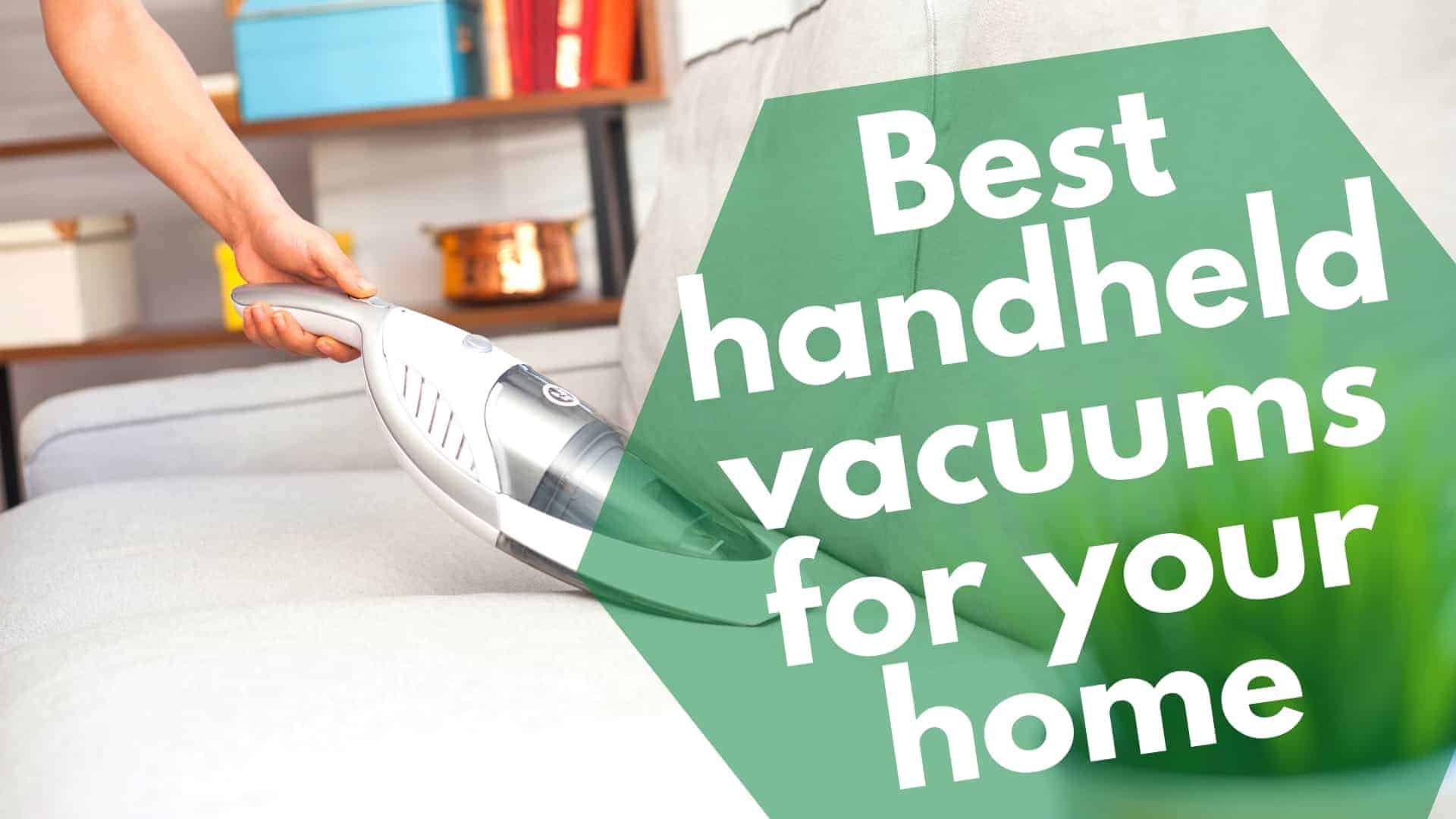 One of the main advantages of owning a handheld vacuum is the versatility it offers. With it, you can reach any place in your home.
According to Jeff Flowers:
"If you buy a handheld vacuum cleaner with plenty of attachments and you'll be able to clean virtually every space in your house."
That's because you can get in the crevices, clean cushion, pick up dust in the car, clean cobwebs, and even reach underneath cabinets.
If, like me, you struggle to vacuum those hard to reach places. then you need a versatile handheld device that is also easy to clean and has a long run time.
The best handheld vacuum cleaner that can reach all the tight spots and help you keep your home clean is the Black + Decker CHV1410L
Since getting a handheld vacuum, I no longer need to carry around my big bulky cleaner. It's more convenient and a lot quicker to use.
I've included many other great models in the reference table, so let's take a look at the top choices and I'll discuss each one separately down below.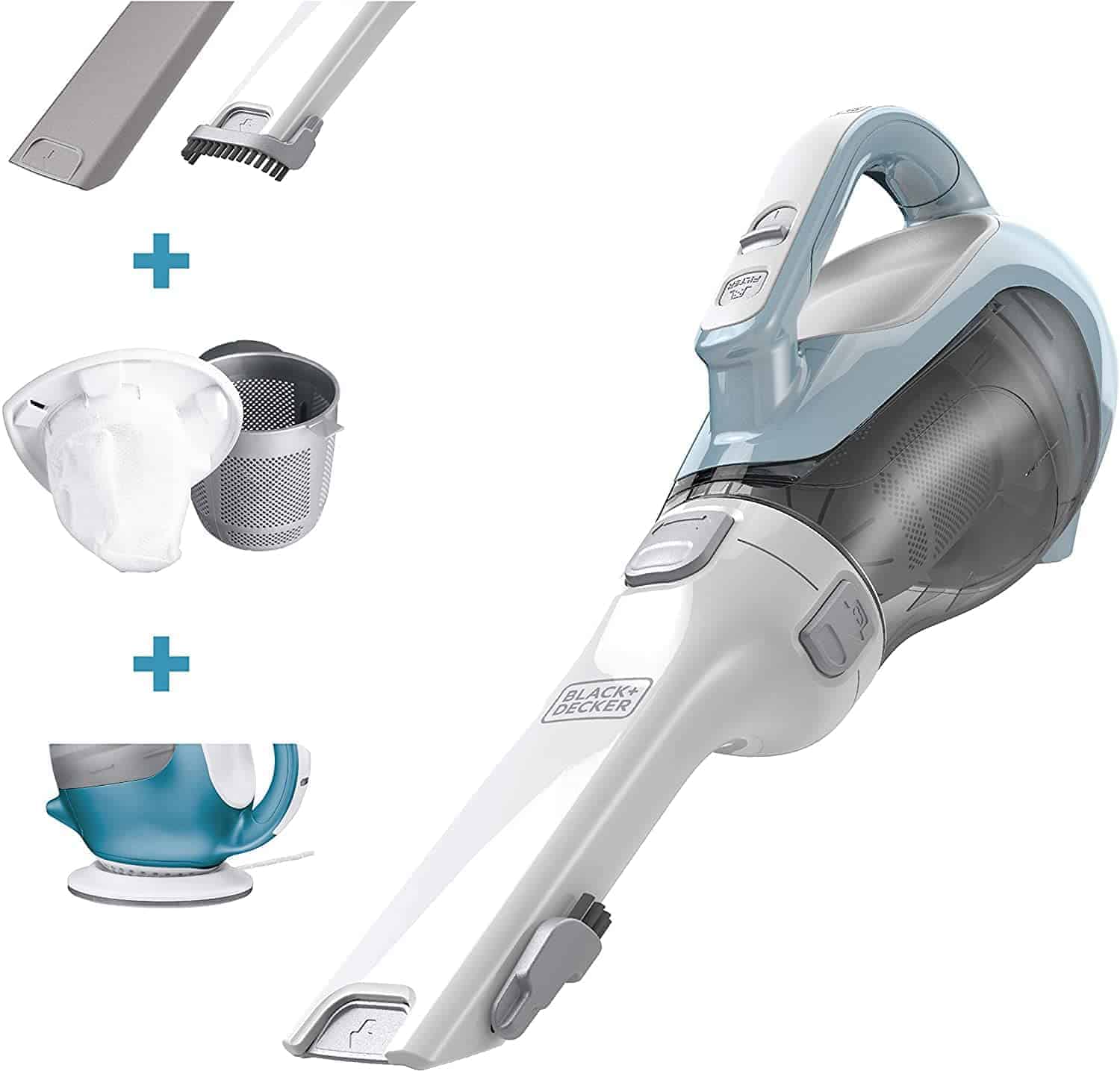 Helpful Tips when Choosing a High-Quality Vacuum Cleaner
If you are looking for a high-quality vacuum cleaner, then you need to know what you are looking for, and which model you are going to buy.
Without the right knowledge and research, you will likely turn up and just buy the first one that comes to mind.
Naturally, impulse buying can lead to disappointment.
If you are not sure, then here's what you need to know.
This guide will ensure that you can walk into any store, or visit any website, and feel 100% certain you have the knowledge needed to buy the perfect piece of equipment.
Questions to consider
You'll want to know what you'll be using your new vacuum cleaner for. Will it just be for cleaning the carpets? Will you want to vacuum your furniture? What about cleaning cobwebs off the ceiling, or cleaning the interior of your car? Determine what your actual ambition is when buying a new cleaner.
The next thing to determine is where you'll use your new vacuum cleaner. Are you using it indoors? For cleaning the office? For cleaning a hotel? You'll want different performance and features depending on where you're going to use your vacuum cleaner. Is it for personal use, or professional?
Why are you replacing your vacuum cleaner? Maybe you're replacing your vacuum cleaner because it's not working anymore. Perhaps you can't find the tools, spares, or accessories you need to carry out your cleaning jobs. If this is the case, ensure that your new tool is easily sourced in terms of parts and replacements.
It might be that your current vacuum cleaner doesn't clean well enough, so you want one with better performance. Make sure that you check things like suction strength and the power performance to ensure it's actually got more kick to it than the model it's replacing.
Other factors to consider
You'll want to know that you can get the right vacuum spares, in case your vacuum cleaner stops working.
By having bags and filters at all times, you will be able to carry on cleaning even when the filter or bag needs replacing.
You must be aware of the primary specifications such as water lift or also known as sealed suction, volts, amps, watts, airflow, air watts, and horsepower.
This is what will make the difference in determining if it offers suitable power output.
Lastly, consider your budget and keep in mind that the most expensive devices are not always the best.
When Not to Choose a Handheld Vacuum Cleaner
If you are purchasing a new high-quality vacuum cleaner for your home, then you might want to consider a robot vacuum cleaner. This offers the benefit that it spontaneously moves around your home and all you need to do is move it from room to room. They are also very quiet in operation too, so they don't disturb people in the room.
A traditional upright vacuum cleaner might be ideal if you want excellent cleaning performance and don't have a lot of storage space. With a wide variety of accessories and tools for most upright cleaners, you'll get the cleaning versatility and power you need.
A canister cleaner is perfect if you have a smaller home, or maybe struggle to push an upright cleaner. By just moving the hose around, rather than the whole cleaner, you'll find it easier to get to those hard to reach places too. A canister vacuum cleaner might be just what you need to keep upstairs so that you don't have to carry your upright cleaner up and down the stairs.
A rechargeable or handheld vacuum is really useful for those small cleaning jobs, such as for doing the stairs, or even your car interior, so remember that sometimes a more minimalistic size can make a big difference. Something too large can be hard to work with and therefore if you are doing smaller, more minuscule jobs a smaller size will make a big difference.
Best Handheld Vacuum Cleaners reviewed
Overall best handheld vacuum: Black+Decker CHV1410L 16V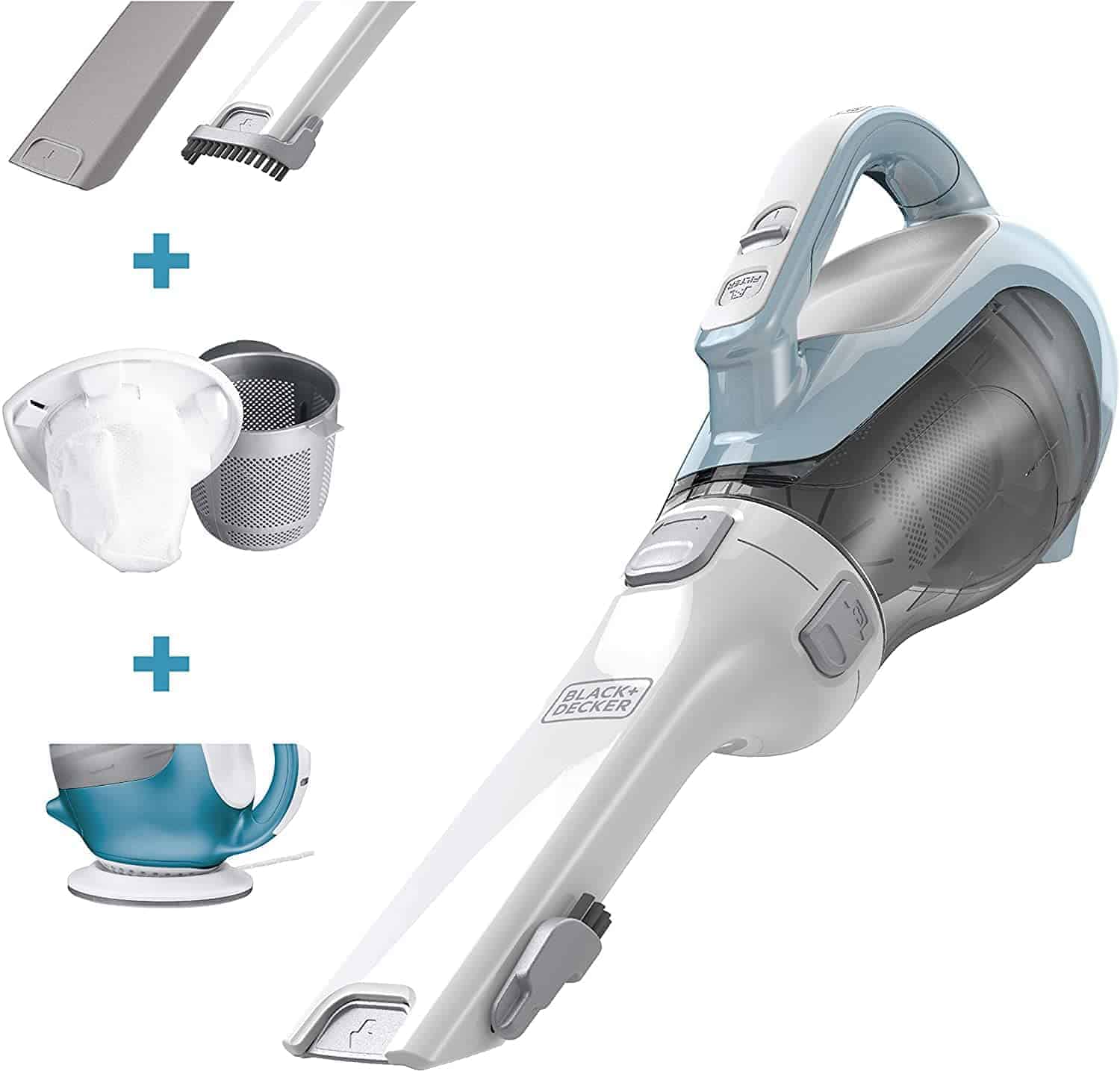 This small handheld vacuum cleaner is the best overall product because it works well and has many features.
When I use this vacuum, I never have to worry about the battery dying on me mid-way because it has long-lasting battery life.
Usually, one of the main downsides to a handheld vacuum is the limited battery life but since this one has great suction, it picks up messes quickly.
I am also impressed at the spacious dustbowl because it saves me from having to constantly stop and empty it. I can actually get more cleaning done in one go.
PROS
This is a reliable and efficient handheld vacuum. It works well and it's lightweight and compact, so it fits in your storage space.
CONS
The vacuum cleaner is loud while in use. As well, the charging plus is a bit awkward and with its short nozzle, it can't pick up wet messes.
Here's Peter checking out this model:
Vacuuming Performance
We already did try other hand vacuum cleaners but this product is the best when it comes to vacuuming performance.
This is known for its very outstanding performance especially because of its lightweight, long life, and no memory effect.
Added to its performance is the smart charge technology that utilizes up to fifty percent less of energy.
Through its cyclonic action, it further spins debris and dust away from the filter and that helps keep the suction even very strong.
Only the most powerful suction is delivered wherein users need it the most. As compared to other battery types, this one does not fade and loses its suction.
This does not make it difficult for users to complete the cleaning task before they run out of power.
And thus, we could say that this vacuum completes the task efficiently, conveniently, and quickly.
Portability
This vacuum is indeed the best when it comes to portability. This is easy to carry because it's so lightweight. There is no hassle as well when it comes to it picking up around the home.
It is really is portable to use because of its lightweight and innovative shape that features great suction and power.
Thus, use this for everything from ceramic tile to carpet, furniture, and a whole lot more.
Design Features
The Black+Decker CHV1410L 16V Cordless Lithium Hand Vac comes with its excellent design features that include a slim rotating nozzle.
This is basically fifty percent greater than the previous Black+Decker models.
Another impressive thing about it is that it comes with a built-in crevice feature making it ideal for difficult to access tight spots and areas.
In addition to that, its wide mouth design will scoop up larger debris. That one thing that makes it even more perfect is its quick charging base.
This can just keep the unit completely charged while the accessories stay organized.
It is also designed with a translucent bagless dirt bowl that makes it much easier to see the dirt and emptying it when needed.
Other design features include a machine-washable filter and easy to use dirt bowl.
WARRANTY AND SUPPORT
The product comes with a 2-year limited warranty against defects in the product and its workmanship.
This warranty applies in the two years after the date of purchase and only if the product is used in the home environment.
VERDICT
The Black+Decker CHV1410L 16V Cordless Lithium Hand Vac is the best because of its strong suction, lithium technology, and fade-free power.
This also provides consumers with all things needed in a hand vacuum, including its long battery life.
This is impressive as well because of its features and specifications. Users will love it more due to its powerful suction, brush, and crevice tool.
FINAL WORDS
The Black+Decker CHV1410L 16V Cordless Lithium Hand Vac is indeed the best handheld vacuum type due to its excellent features, outstanding performance, and long battery life.
Its great suction and power, cyclonic action, multi-surface cleaning attachments, and other features just make it a reliable and dependable vacuum.
Best handheld vacuum cleaner for carpet: Black+Decker BDH2000PL Max Lithium Pivot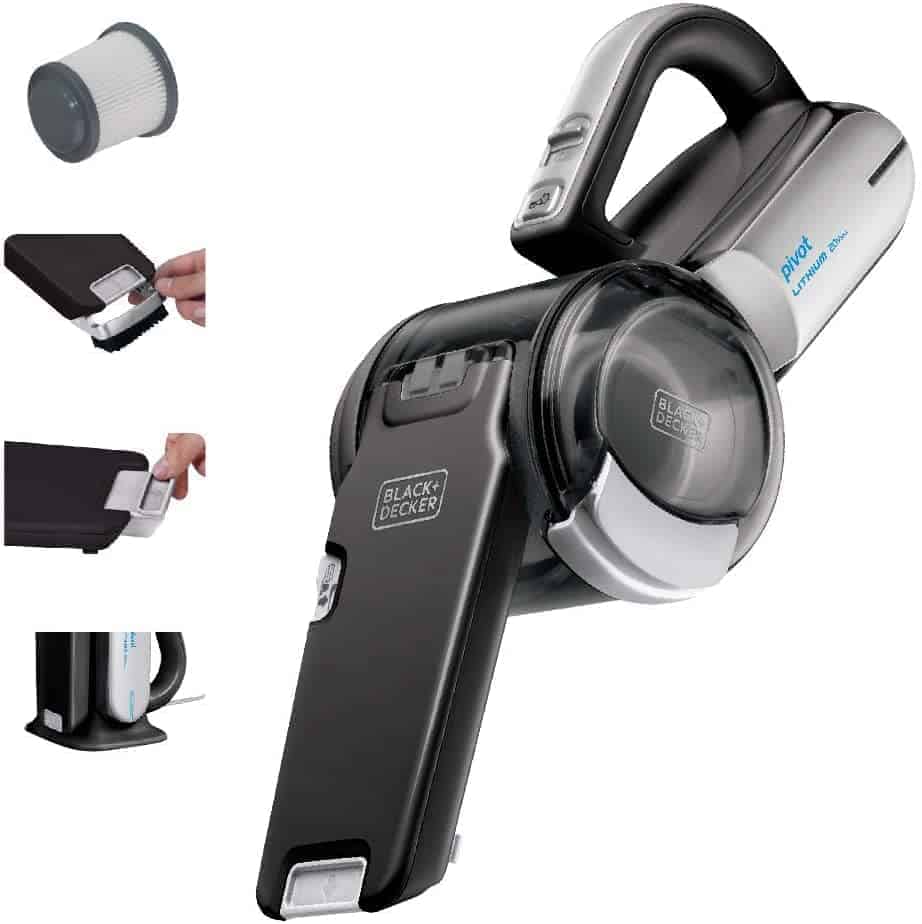 My carpet is full of thick fibers, so a pivoting vacuum cleaner is a great way to get deep into the fibers and pick up crumbs and large dust particles.
This is a sturdy and durable vacuum cleaner, made for tackling the tough messes.
With this device, you can clean spot messes and those scraggly carpet edges that look dirty and yellow.
PROS
Very powerful and indeed, the best class of vacuum cleaner designed to last.
CONS
Dirt, dust, and all unnecessary debris always get into the pivoting nozzle joints that make the vacuuming process noisy and difficult.
Bestkitchenreviews has a nice video on this:
VACUUMING PERFORMANCE
The Black+Decker BDH2000PL Max Lithium Pivot Vacuum highlights such an exclusive pivoting nozzle which means a huge power of reaching difficult-to-access areas in your space.
It also has its high performing motor that delivers the most excellent suction capability as compared to other vacuum cleaners.
Its cyclonic action can spin the debris and dust away from the filter that keeps the suction power the strongest.
Other batteries that are commonly used in vacuum cleaners lose suction and fade because of being low quality.
This also makes it very difficult for you to complete the cleaning task.
As far as this Black Decker vacuum cleaner is concerned, it actually uses a lithium-ion battery that provides such a fade-free and strong suction power all throughout the vacuuming task.
You will now get confidence and peace of mind as you could complete your task in an efficient, quick, and convenient manner.
PORTABILITY
Most of the time, cleaners at home refuse to use a vacuum cleaner as it is too heavy for them to carry.
This is most especially true as they clean every area of their house or commercial space. Well, there's nothing to worry about choosing the Black Decker as it is very lightweight.
This only means to say that you can bring this very powerful vacuum cleaner to any place you want without any hassle or stress at all.
DESIGN FEATURES
When it comes to the design features of this vacuum cleaner, you will be amazed by the design features that make it different from all other vacuums you have used.
This offers its pivot vacuum design featuring a pleated filter design including its excellent filtration that helps clean the air exhaust.
It also has its wide mouth design that scoops even the largest and smallest debris or dust in your home. It also has its quick base of charging that will help you charge the vacuum.
WARRANTY AND SUPPORT
Black+Decker BDH2000PL vacuum cleaner comes along with a 2-year limited warranty against any defect in the material or workmanship of the product.
VERDICT
The Black+Decker BDH2000PL Max Lithium Pivot Vacuum is one of the best vacuum cleaners that can make your vacuuming process easy and convenient.
This is also considered to be very impressive and high quality due to its specifications and features you will not find from other vacuums in the market.
You would also love to use this vacuum as it can clean your area the way you want it to be.
FINAL WORDS
The Black+Decker BDH2000PL Max Lithium Pivot Vacuum is indeed one of the best vacuum cleaners that you should give a try with.
From the powerful suction power it offers, long battery life, and amazing design features, you will never regret it choosing this vacuum cleaner over the others.
So, give this vacuum cleaner a try today!
Best handheld vacuum cleaner for your car: Black+Decker HHVI320JR02 Magic Blue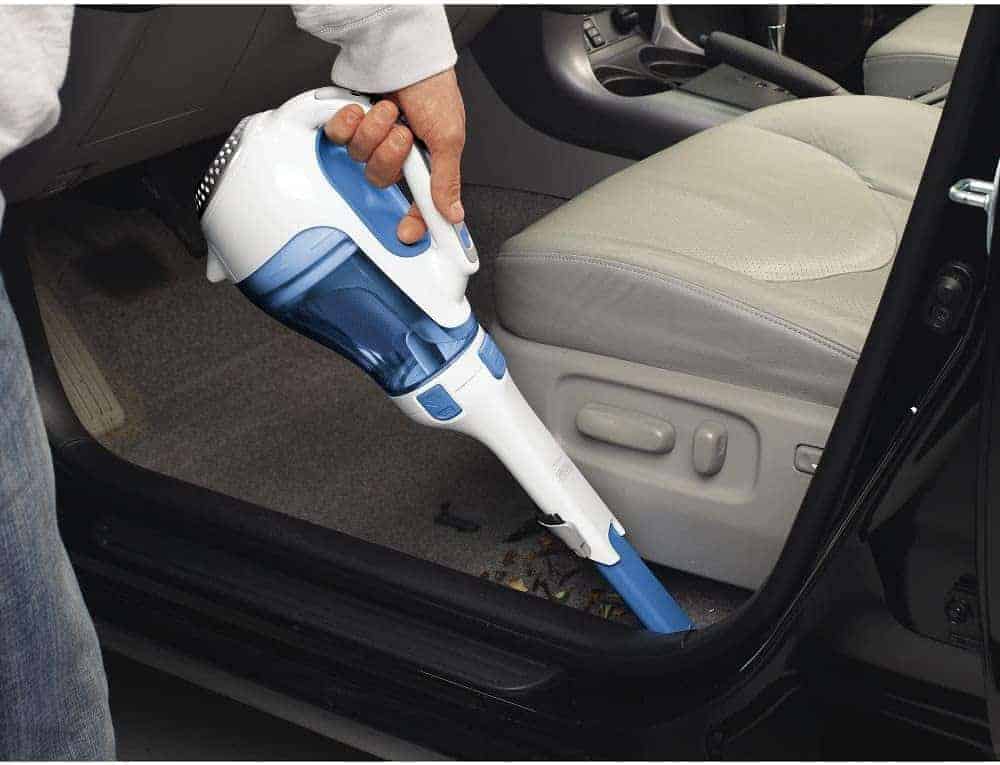 If your handheld vacuum cleaner doesn't have a long nozzle, you can't pick up all the small dust and crumbs hiding in all the crevices.
That's why you need this particular Black + Decker model. It allows you to get under the seats, between the car seats, and under the floor mats.
If you kids, chances are you have food bits rotting on the backseat. But, since this vacuum has great suction, there's no need to worry.
PROS
It is a very lightweight and portable designed vacuum cleaner that provides such a convenient and easy cleaning process.
CONS
You may somehow experience a difficult time using it to suck up tiny particles of, dust, and sand. This is also because of the fact that the brush works in one direction only.
Here's Peter again with his take:
VACUUMING PERFORMANCE
The Black+Decker HHVI320JR02 Dustbuster Cordless and Lithium Hand Vacuum is ideal for multi-purpose cleaning of your area.
It also has its lithium technology that delivers such an extended running time and strong suction performance.
In addition to that, it has its washable bowl and filter that allows a thorough cleaning process between jobs.
The translucent bagless dirt bowl makes it easy for you to recognize dirt and determine if it is already empty or not.
This vacuum also has its rotating nozzle to put your hand in the most comfortable position. This is especially true when trying to have an access to some difficult areas.
It also has its crevice tool that offers access to difficult-to-reach areas. It also has its flip-up brush allowing you to vacuum and dust upholstery.
Its cyclonic action also helps keep the suction strong and filter clean.
PORTABILITY
As far as portability is concerned, you will appreciate this kind of vacuum cleaner as it is very lightweight. It also has a very portable design.
You can carry this vacuum cleaner anywhere you want to go to do the cleaning process.
Unlike other vacuum cleaners, this will simply make your cleaning process easy and convenient at all times.
DESIGN FEATURES
We have been impressed with the impressive and high-quality design features of this vacuum cleaner.
This is indeed very lightweight and this brings out the portable design that enables it to promise a convenient and easy cleaning process.
It also has its wall mount that delivers versatile and amazing storage solution. It also has its jack plug charger, hand vac, wall mount, flip-up type of brush, and extendable crevice tool.
You will be impressed with the amazing features and designs of this vacuum cleaner as it is designed with users in mind.
WARRANTY AND SUPPORT
This vacuum cleaner comes with a full 2-year home use warranty against any possible defects in workmanship or material.
The defective vacuum cleaner will also be repaired or replaced without any charges.
VERDICT
The Black+Decker HHVI320JR02 Dustbuster Cordless and Lithium Hand Vacuum is a great vacuum and you should give a try.
This is because of the fact that this vacuum cleaner is designed with the best features.
All these features just make it easy and convenient for you to clean your area.
It will also give you such a powerful suction process that you will love and will be most impressed with.
FINAL WORDS
If you are in dire need of the best vacuum cleaner to give you such a convenient and easy cleaning process, then the Black+Decker HHVI320JR02 Dustbuster Cordless and Lithium Hand Vacuum is right for you.
You will never regret it choosing this vacuum cleaner as it is fully equipped with high quality and impressive features designed to last.
For the convenient and easy cleaning process, this vacuum is the best for you.
Best cheap cordless handheld vacuum: Black+Decker HHVI315JO42 Flexi Blue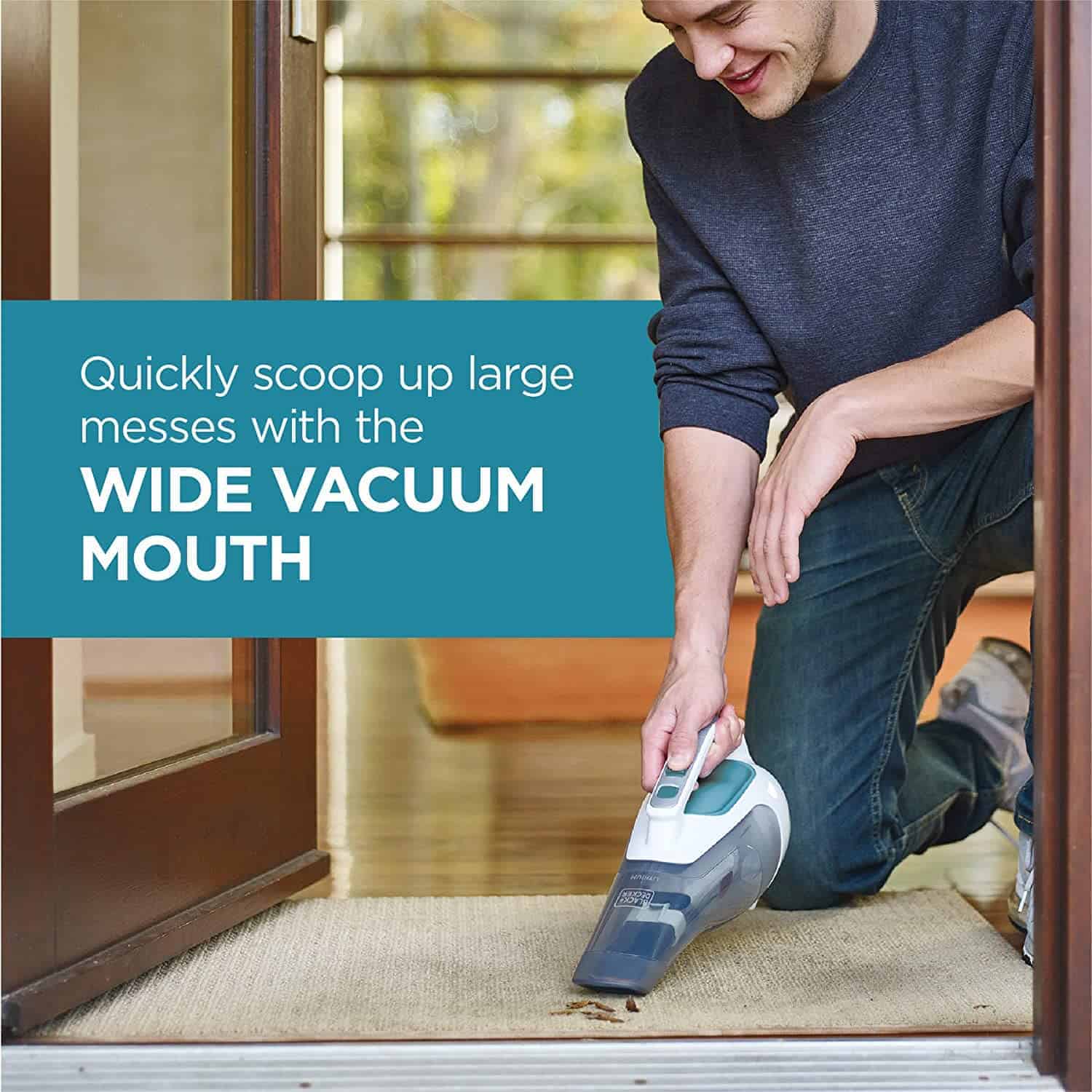 The BLACK+DECKER HHVI315JO42 has been on the market for a while, having established itself as one of the best handheld cleaners on the market for various reasons.
It's lightweight yet sturdy style makes it great for most cleaning, but does it live up to the expectation you might have given the manufacturer?
It certainly does, because even though it's a cheap cleaner, it does an excellent job. The battery life is good and the suction is quite powerful.
So, for everyday messes, this small vacuum is the best option. You can easily clean that front hallway several times a day so you avoid bringing in messes from outside.
FEATURES
Makes use of a very impressive Lithium technology solution to make it very strong. It's a 1.5AH system that runs for a long time, meaning that you can use it to get hours of cleaning done in a very short and simple space of time.
Very impressive power with a decent bowl capacity means that it can be good for dealing with all manner of scenarios. A washable bowl and filter ensure you can easily keep it very clean and performing to the highest standards, as well.
The extra crevice tool provided ensures that it can get into even the most challenging of areas, making it better to use for smaller parts of the home and getting in and around furniture without too much irritation or time wasted along the way.
The wide design allows it to make a great cyclone effect, excellent for creating the kind of power and action that you need to get the best possible filter cleaning made possible.
Very easy to work with and its nimble frame and portable design ensure that you can carry it around with you as you do the cleaning around the home. A great choice for those who don't want large, cumbersome vacuums.
SUPPORT & WARRANTY
Like all good B+D products, the BLACK+DECKER HHVI315JO42 offers you a solid domestic warranty.
It offers you a 2-year warranty from the date of purchase so long as it is only used for home cleaning.
The warranty is a bit conditional, though, so please check over the manual when your BLACK+DECKER HHVI315JO42 arrives to ensure you fully agree with the warranty that is provided.
PROS
Lightweight and easy to carry around without feeling as if it's an excessive burden or irritation.
The wide-mouthed design ensures that it can provide a high-quality cyclone action to help keep the filter clean and the suction as impressive as possible.
Great for getting into small areas thanks to the crevice tool, making it more accurate than most handheld cleaners.
CONS
Could do with being a little more reliable in terms of the storage inside; not go a great room for capacity which leads to a lot of empties.
Here's Large reviews talking about this model:
VERDICT
The BLACK+DECKER HHVI315JO42is a very good piece of hardware, and offers a fine alternative to many other forms of handheld cleaner, giving you a very impressive piece of kit in general.
While it has some limitations, they are generally quite fair for the price.
FINAL WORDS
Overall, then, the BLACK+DECKER HHVI315JO42 is a very good and impressive piece of kit.
It might not be for everyone, of course, but the majority of home cleaners will find that this offers you a credible and effective cleaning companion.
Check the latest prices and availability here
Best handheld vacuum for furniture like couch and sofa: Black+Decker HNV215B10 7.2V Hand Vac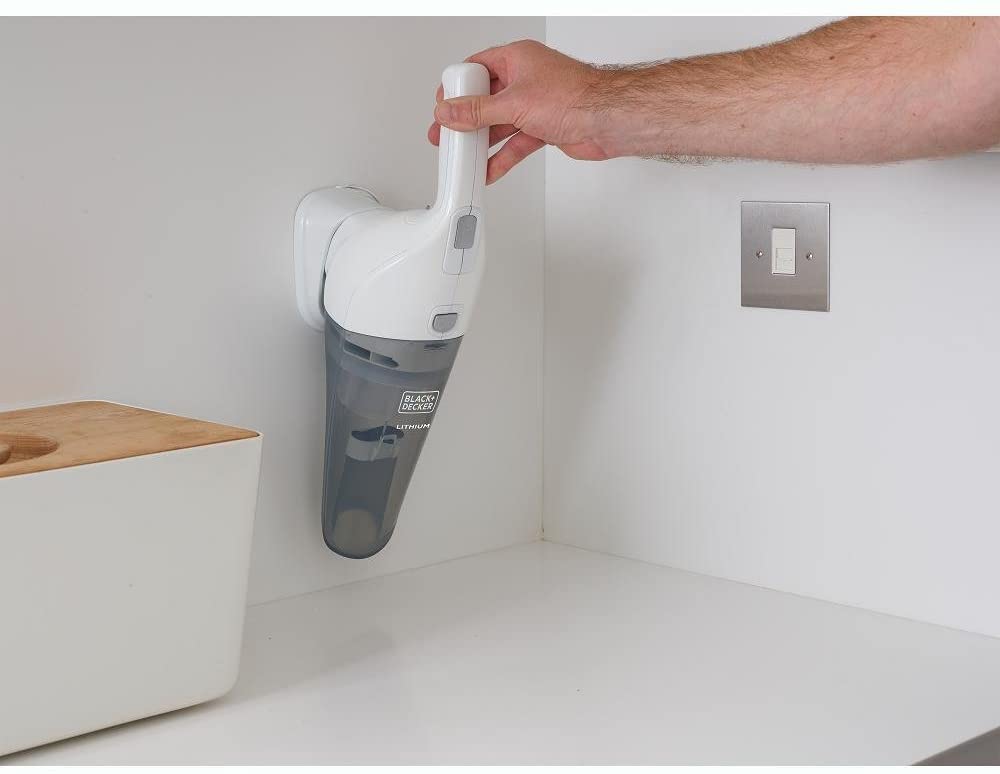 I'm sure you've found all kinds of random objects hiding in your couch. You can avoid that from now on if you use this vacuum cleaner.
It has powerful suction so it can pick up any type of dust, food debris, and even those pesky coins.
Therefore, when you have guests over, you don't need to worry about people sitting on a dirty sofa.
PROS
A heavy-duty cordless hand vac capable of cleaning your home and your things in a more efficient and reliable way.
CONS
This hand vacuum cleaner is known for its light approach and may not suit some people who need ultimately intense and deep cleaning.
Vacuuming Performance
This premium quality hand vac is noted for its reliable functionality and performance. Black+Decker HNV215B10 is specially designed for easy, quick, and hassle-free cleaning.
This is lightweight but when it comes to performance, this exclusive Black Decker model has ultimately powerful performance.
This is easy to clean and also easy to charge. The lithium technology adapted by this brand paves way for its stronger suction.
Portability
The portable and lightweight design of this cordless hand vac makes this tool easy to use.
With its great portability, users will surely find cleaning a more manageable thing to do.
This hand vac is also very flexible and you can clean different things and spots without worrying about messy wires and complicated vacuum cleaner features.
Design Features
One of the great things that set Black+Decker HNV215B10 Cordless 1.5 Ah and Compact 7.2V Lithium Hand Vac is its sets of impressive and outstanding design features.
This tool is designed for easy and quick cordless cleaning. Also, the portable, lightweight, and unique design of this cordless hand vac make this easier and more convenient to use.
This includes a wall-mountable charger that allows one-step storage and charging.
This product has actually undergone excellent craftsmanship and is designed with included a bag-less dirt bowl making it easy to see the level of dirt and making it easy to empty the bowl as well.
WARRANTY AND SUPPORT
This handheld vacuum cleaner is backed by 2-years limited warranty.
The Black+ Decker Company guarantee the product to be completely free from defects in workmanship and materials for a period of 2-years following the exact date of purchase but only when the product has been used in a home environment.
This 2-years limited warranty does not actually include or cover failures because of accidental damage, abuse, or when the repairs have been attempted or made by a person other than the company's staff or its fully authorized service.
VERDICT
The Black+Decker HNV215B10 Cordless 1.5 Ah and Compact 7.2V Lithium Hand Vac is a reliable product that offers decent value to consumers.
This product also boasts outstanding features that will surely convince you to invest in this hand vac.
When it comes to quality, efficiency, and excellent cleaning results, this is a great product for the price.
FINAL WORDS
The Black+Decker HNV215B10 Cordless 1.5 Ah and Compact 7.2V Lithium Hand Vac is one of the most reliable handheld vacuum cleaner loaded with excellent features that promote better performance and functionality.
With its unmatched vacuuming performance, impressive design features, portability, and benefits delivered to users, this product is indeed worth investing for.
Having this hand vac at home will surely benefit every homeowner in many ways.
Check prices and availability here
Best handheld vacuum cleaner for curtains: Dirt Devil Scorpion SD20005Red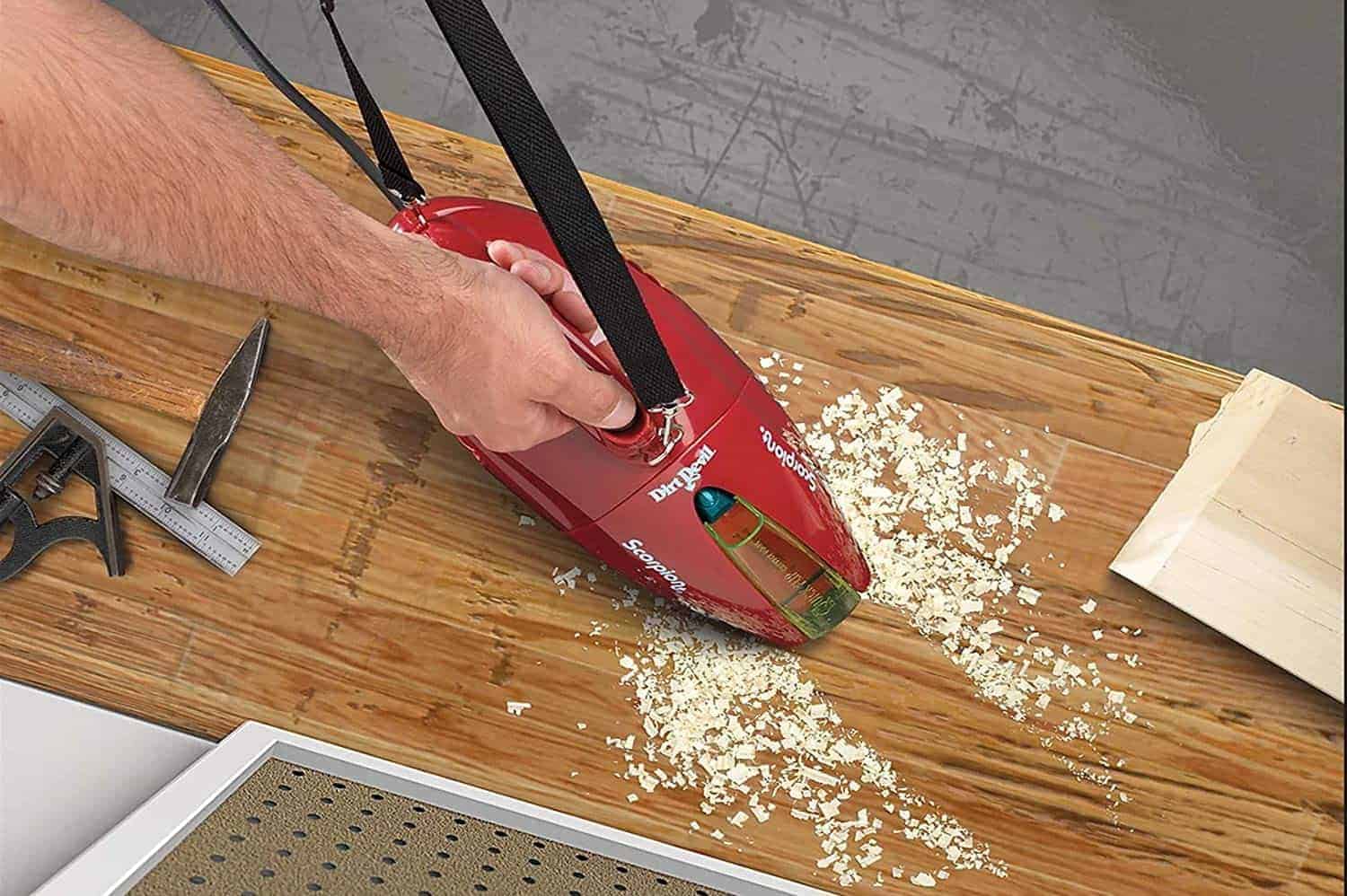 I honestly never thought about cleaning my curtains with a handheld vacuum cleaner. I struggled with the large extension nozzle of my big bagged vacuum for years.
But, with a small handheld device, I can reach the curtains and clean every bit of dust off.
It's similar to using a steamer expect you are getting rid of those nasty dust mites that cause allergies.
PROS
This is a light, small yet reliable and portable handheld vacuum cleaner that includes a quick flip crevice tool allowing users to get into tighter and more complicated spots.
You can count on this tool to perform well on bare floors.
CONS
This does not work perfectly well on carpets. There are a short battery run-time and brief peak runtime function or performance.
Vacuuming Performance
Lots of users would agree that this cleaning tool works brilliantly.
Since this product adapts the basic yet extraordinary mechanism known as the Quick Flip crevice tool, users can expect greater performance.
With its amazing features and vacuuming performance-cleaning debris, spills, and dirt in edges, small openings and corners turn out to be a lot easier.
Portability
The portability of this vacuum cleaner is also amazing. This feature is something that the product owes from its portable designs.
Design Features
The portable, convenient and portable design features of this cleaning tool make it an ideal handheld vacuum cleaner for the home.
You can take advantage of this in both small and medium cleaning jobs. With the right designs and suitable features used in creating this product, this turned out to be a simple yet highly functional device.
The excellent design features are actually one of the reasons why more and more consumers and shoppers love the Dirt Devil vacuum cleaner.
Though this cleaner is designed for most small cleaning tasks, the fact that this comes with attachments and accessories means that this cleaner is still capable of doing bigger cleaning jobs utilizing consistent and reliable suction power.
WARRANTY AND SUPPORT
The manufacturer warrants this branded vacuum cleaner 3-years to be completely free of defects in terms of workmanship and materials commencing after the date of purchase.
Customers are advised to keep the original copy of their sales receipt in order to validate the warranty period.
If the cleaner becomes defective during the warranty period, it will be replaced or the right personnel will repair the defective parts.
The item must be delivered to the company's authorized service center outlet.
The warranty does not really include damage or unusual wear resulting from unreasonable use of the vacuum or accident.
VERDICT
If cleaning speed, convenience and portability are things you are looking for, then Dirt Devil Scorpion Handheld Vacuum Cleaner SD20005 Red is the most leading candidate.
This is packed with unrivaled features making this product more attractive and worth buying for.
FINAL WORDS
The Dirt Devil Scorpion Handheld Vacuum Cleaner SD20005 Red is a great product offering decent value at the right price.
This is designed for quick cleanups and users will surely appreciate its convenient and lightweight designs.
This product is reasonably priced and offers good value for the money.
The vacuuming performance of this cleaning tool is great, the portability is impressive and the design features are outstanding.
No wonder more customers prefer this vacuum cleaner for their cleaning tasks.
Check prices and availability here
Best cheap corded handheld vacuum: Bissell 33A1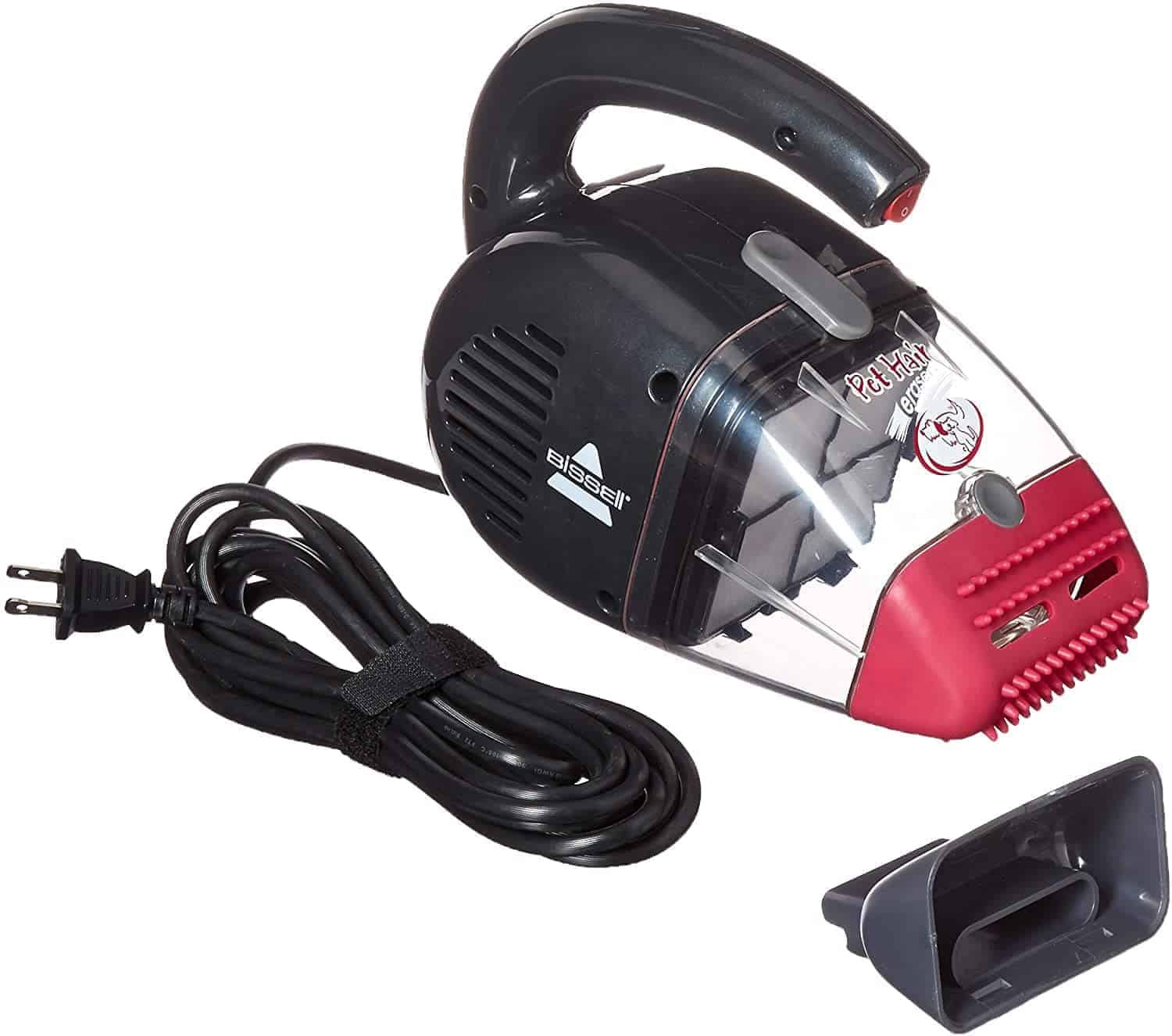 If you have pets, you know that hairs stick to every type of surface. The couch becomes flooded in cat or dog hair and it takes a lot of time to clean it properly.
That's why the corded vacuum is handy; it has unlimited battery life so you can clean every spot for as long as you need to.
PROS
Bissell 33A1 Pet Hair Eraser Corded Handheld Vacuum exactly delivers the power that is required for faster and better results.
In addition to that, this is effective when removing pet hair and dirt from stairs and upholstery and in cleaning automobiles and dry messes.
CONS
The main issue when it comes to this vacuum is that it leaves grooves in the material starting from the rubber studs down to the bottom of the unit.
VACUUMING PERFORMANCE
Since trying this product, we are still impressed by its vacuuming performance. There is nothing that could contest the fact that it picks up dry messes on all surfaces.
In addition to that, it is convenient and powerful for easy and quick clean up.
Being a versatile handheld vacuum, its contour nozzle feature pulls out the hair and dirt on areas like upholstery and stairs.
In addition to that, this pet hair eraser handheld vacuum is great when it comes to cleaning up all those messes.
It promises the only convenience and cleaning for the guaranteed peace of mind of users. This is definitely perfect for all those homes with pets around.
The vacuum picks up all pet hair and debris, especially dander stuck in corners and crevices. Its powerful suction also does promise easy and quick cleaning results.
PORTABILITY
The impressive thing about the Bissell Pet Hair Eraser Handheld Vacuum 33A1 is that it is portable to use especially when it comes to cleaning dry messes and pet hair.
This is by far manageable to use and this does its impressive cleaning results.
DESIGN FEATURES
The Bissell 33A1 Pet Hair Eraser Handheld Vacuum is backed by its excellent design features that include multi-layer filtration and sixteen feet power cord.
Its specialized rubber nozzle, as mentioned, will be useful in attracting and pulling out dirt in some areas.
In addition to that, it has the 2 specific nozzles that make it just impressive and appealing.
Other significant features highlighted about the product include a filter screen, pleated post-motor filter, sixteen-foot power cord along with a cord-wrap system.
This measures approximately ten by five by eight inches.
WARRANTY AND SUPPORT
The Bissell 33A1 Pet Hair Eraser Handheld Vacuum comes with a 1-year limited warranty that just makes it even a better choice for a vacuum cleaner.
VERDICT
The Bissell Pet Hair Eraser Handheld Vacuum Corded 33A1 is the best tool to consider when it comes to picking up pet hair around the house.
This is also fully equipped with a lot of its features and this is also easy and comfortable to handle. Thus, this is the best choice to consider for a pet hair eraser handheld vacuum.
FINAL WORDS
The Bissell 33A1 Pet Hair Eraser Handheld Vacuum is the best, most convenient, and most powerful vacuum cleaner to use in removing dirt and pet hair around the house.
This is versatile in its sense and this is specialized with all its features. This is specifically designed to bring out all its excellent cleaning results.
Check the lowest prices here on Amazon
Best HEPA filter: HoLife Quick Charge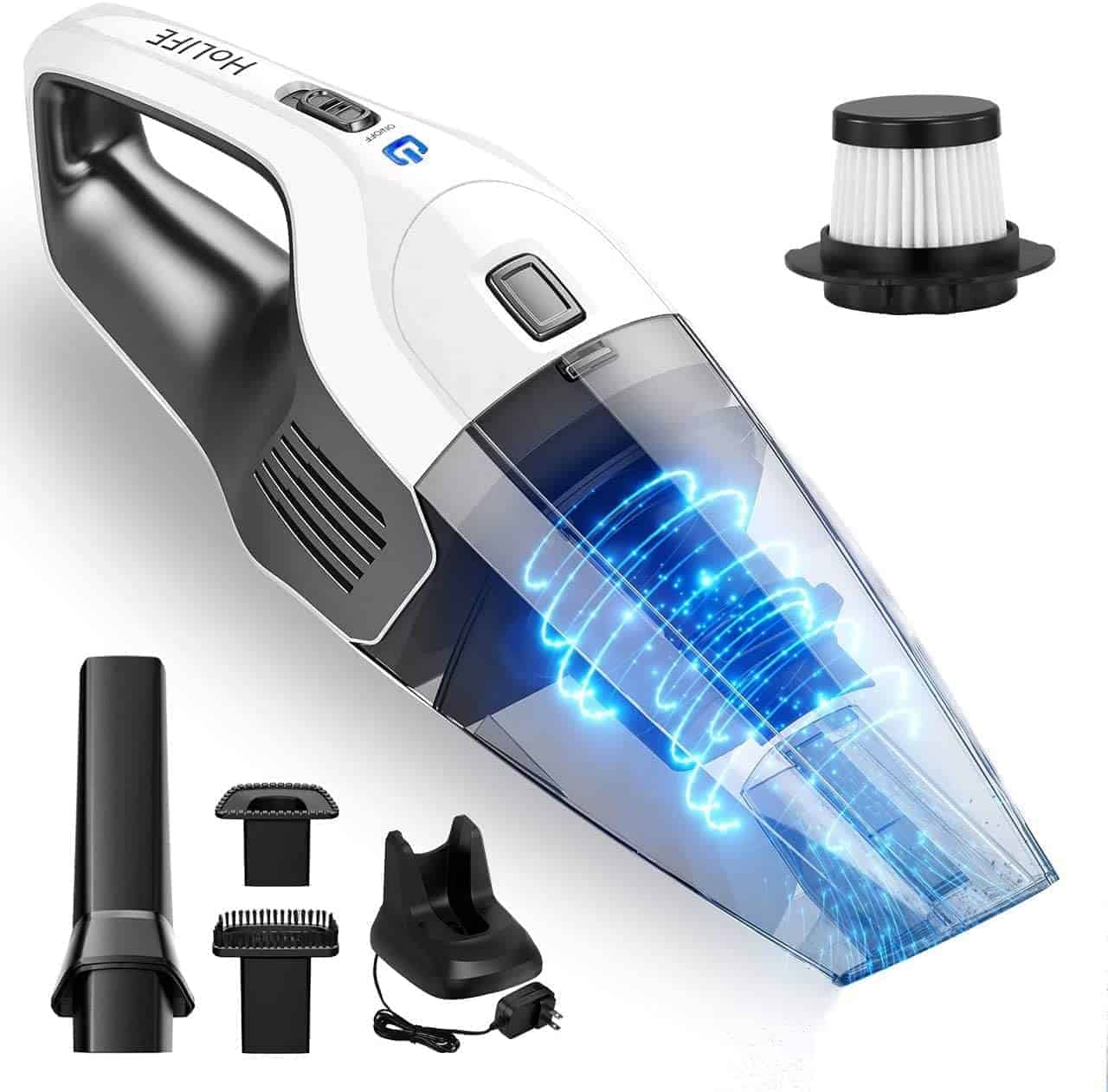 Smart and simple, this HoLife Handheld Cordless Vacuum is the very definition of reliability.
When you need a handheld and fully cordless vacuum that is free of any of the usual stresses and irritations, this is almost certainly the perfect place for you to start.
How good, though, is the HoLife Handheld Cordless Vacuum in comparison to other cordless numbers on the market today?
FEATURES
Very powerful motor and cyclone function ensure that this HoLife Handheld Cordless Vacuum offers you one of the most reliable cleaning performances of handheld vacuums out there at the moment.
The very quiet function ensures that it can give you high-power suction without all of the bombast and noise that usually accompanies this. Great for cleaning without waking up the whole house.
Lightweight, portable design at just 3.27lbs allows you to carry and use this with the absolute minimum of fuss as you work.
Great for dealing with liquids as well as it handles dust, crumbs, crusts, hairs, and everything else that you might need to suck-up; strong enough for just about any standard home use or need!
SUPPORT & WARRANTY
The HoLife Handheld Cordless Vacuum has a standard warranty policy that you will get from all dealers who you buy from.
Most of the time, you get the standard one-year option but we recommend checking with HoLife' support team when you purchase the hardware as various dealers have their own warranty to pick from.
Contacting them directly is your best bet.
PROS
The high power nature of its cyclonic suction and the 90W motor allows you to know that this does a pretty damn fine job of cleaning up after your without much issue.
45 minutes of cleaning time is pretty damn impressive so something so small in size; it might not look like much, but this is a ferocious piece of kit!
Power settings allow you to manage all kinds of flooring and upholstery with the minimum of fuss.
Good for getting into small sections like corners of rooms, stairs, and under furnishing without too much effort.
CONS
Some find that the 45 minutes cleaning time begins to wear out quite quickly and that the engine is clearly not as good as is sold in some cases. While this can usually be solved with a return and a replacement, it's still an irritation.
VERDICT
The response to the HoLife Handheld Cordless Vacuum has been just as we would have expected; wholly positive.
It's a very smart solution and one that is almost certainly going to give you the help that you need for making home cleaning easier.
Whether or not it 100% suits what you need is a different debate, but it is a very impressive vacuum.
FINAL WORDS
While it might lack a little in subtlety, the 14.8V lithium solution gives you a reliable home cleaning option.
Add in the reliable nature of its cyclonic suction and the quick chargeable nature of it, and this makes a very good starting point for effective cleaning.
Best handheld vacuum for cleaning blinds: Hikeren Wet Dry Mini Cleaner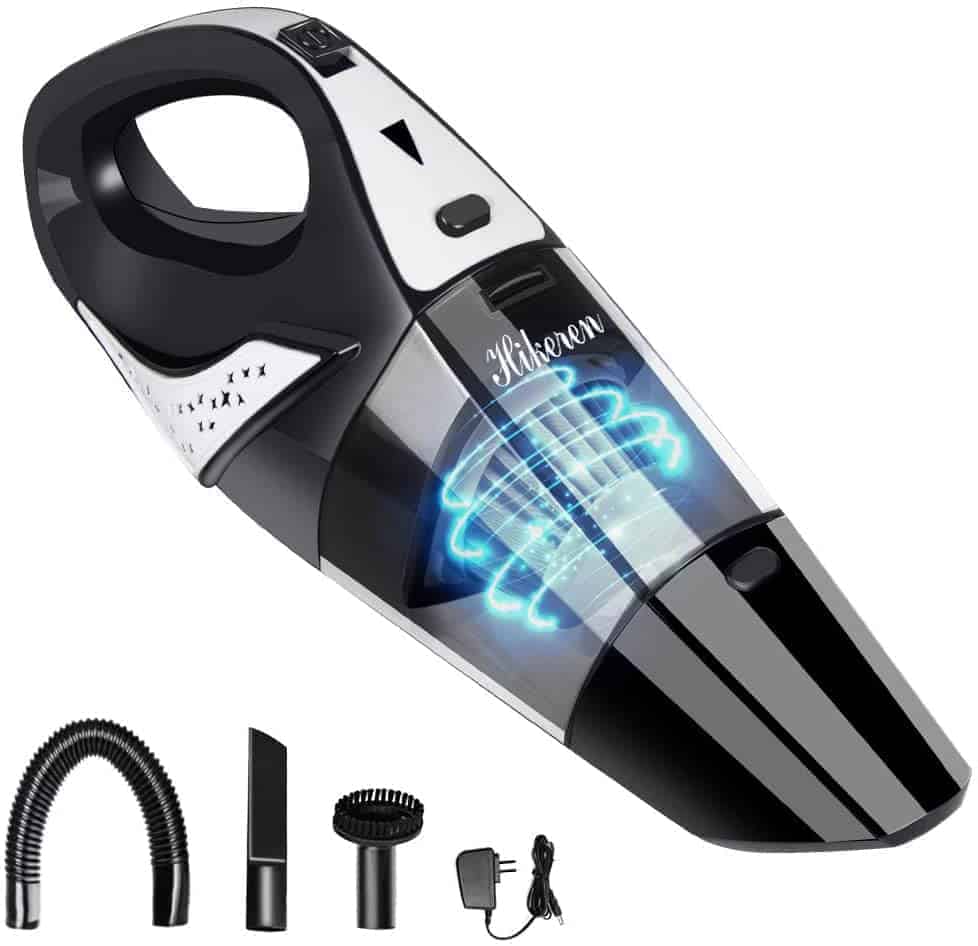 I'm sure you forget to clean the blinds on a regular basis. But did you know that large amounts of dust accumulate in blinds?
It causes you to sneeze and cough and it's a definite health hazard. That's why blinds must be cleaned regularly.
This vacuum has a thin nozzle to help you reach between the blinds and it picks up all the dirt.
PROS
Powerful suction that effectively works keeping car clear, even little sands or dust on the floor.
CONS
It has decent suction but not really ideal for animal hairs in a carpet.
Here's Scott with his honest review video:
Vacuuming Performance
We've tried other car vacuum cleaners before, but we found this Car Vacuum Cleaner by Hikeren a truly outstanding choice.
It features a really strong suction with a HEPA filter that it was capable of cleaning the littlest details on our car including dust, crumbs, and pet hair.
Having an extended mouth, Hikeren's upgraded handheld car vacuum cleaner is capable of cleaning every corner of the car.
But it isn't only the strong, extended suction that we found the reasons for its great performance, there is also the fact that it comes with a brush that can be used for thorough cleaning of the car.
Convenience and Ease of Use
Indeed, using Hikeren's car vacuum cleaner is truly convenient.
With its power cable capable of extending up to 5 meters long hose, we were able to easily vacuum normal and even damp garbage out of my car.
It didn't have to use anything else to clean our car as this car vacuum cleaner takes care of everything else for us.
The very design of the vacuum also makes up for its ease of use. Unlike with other car vacuum cleaners, this doesn't have any complicated instruction for use.
To turn it on, we simply have to push the switch forward and it begins working.
To turn it off, then we only need to pull it back and it's off. This is all so easy that we could help but use it again and again.
New Generation Design Features and Extra Accessories
The new generation of the 12-volt vacuum cleaner by Hikeren also comes with outstanding design features.
It's not only easy to use and a tough cleaner, it also features a low noise design with 75db which gives quite a comfortable usage.
That, plus it comes with a 10A current fuse, which we find helpful in avoiding power supply damage.
Car owners will also surely love the added accessories to this car vacuum cleaner.
Along with the cleaner itself, the package comes with three accessories:
the brush
the soft hose
and the hard hose.
Each one can be used for a variety of cleaning with the brush for when there's something sticking out of your car, the soft hose for the leather, and the hard hose for under the seat or the trunk.
The Popularity of Wet and Dry Vacuum Cleaners
Wet and dry industrial vacuum cleaners are double-function machines that utilize powerful suction together with big storage capacities to clear up wastes, both wet and dry.
The benefits which could be had from utilizing these types of vacuum cleaners are almost endless.
They are certainly more efficient than household vacuums. In industrial and commercial premises, big amounts of waste accumulate on a frequent basis.
Wet and dry industrial vacuum cleaners make the cleaning process done faster to secure a clean and safe setting for both staff and clients.
Some other benefits of utilizing these extremely efficient vacuums are listed below:
Wet and Dry Industrial Vacuum Cleaners Make Big Chores Go By Fast
Cleaning commercial and industrial premises like office buildings, supermarkets, warehouses, and factories will often prove time-consuming and very labor-intensive.
With a wet and dry vacuum cleaner, controlling suctions picks up all waste materials in one go to avoid repeat cleaning and huge storage capacity means not having to constantly cease the process of cleaning to empty storage tanks in order that a maximum level of productivity is reached. Thus, substantial amounts of time are saved.
It comes with a variety of state of the art features
What makes wet and dry vacuum cleaners set apart from the rest and specifically favorable is the wide range of special and state of the art features.
Casters are linked to the unit for fast and easy movement and mobility. On the other hand, the push handle is integrated for easy maneuverability and control.
Also, there is a blowing port that makes it likely to reach even those narrow and hard to access spaces in order that no areas are left unclean and a number of vacuum cleaners are integrated with a squeegee to get rid of liquid on a flat surface.
Facilities are safer and cleaner setting
Any establishment that allows staff and clients to enter requires to be kept clean and fresh as well as safe and sound.
Wet and Dry Vacuum Cleaners get rid of dust particles as well as pollutants that trigger asthma and allergies to enhance overall air quality, and because of the additional benefit of being capable of suctioning wet wastes, also get rid of the spill to avoid slip and fall hazards.
Thus, facilities could become a cleaner and safe place for everyone.
The benefits of wet and dry vacuum cleaners vary from shorter clean times as well as special features for improved and enhanced cleaning to enhancing the quality of air inside the room and getting rid of hazards to allow for a cleaner and safer environment.
These extremely efficient vacuums are simple to utilize and have many functions that will assist to lower cleaning expenses and times.
There are many types of wet and dry vacuum cleaners available on the market today. So, you need to choose the best one that suits your needs.
Keep in mind that wet and dry vacuum cleaner is not just for industrial purposes but also for home or residential uses.
VERDICT
For common car vacuuming activities, this is a great vacuum considering its small and compact size.
With all the design features and the storage bag, it includes, cleaning the car as well as keeping the vacuum and all its attachments all together is very easy.
For a car owner who likes everything tidy, this is a highly recommended car vacuum cleaner.
FINAL WORDS
This Car Vacuum Cleaner 12 Volt New Generation by Hikeren is a real treat for a car owner.
With the better cleaning performance, ease of use, and added features, it goes to say it is one of the best car vacuum cleaners you can find for an affordable price out there.
Best handheld vacuum cleaner for pets: Bissell Cordless Pet Hair Eraser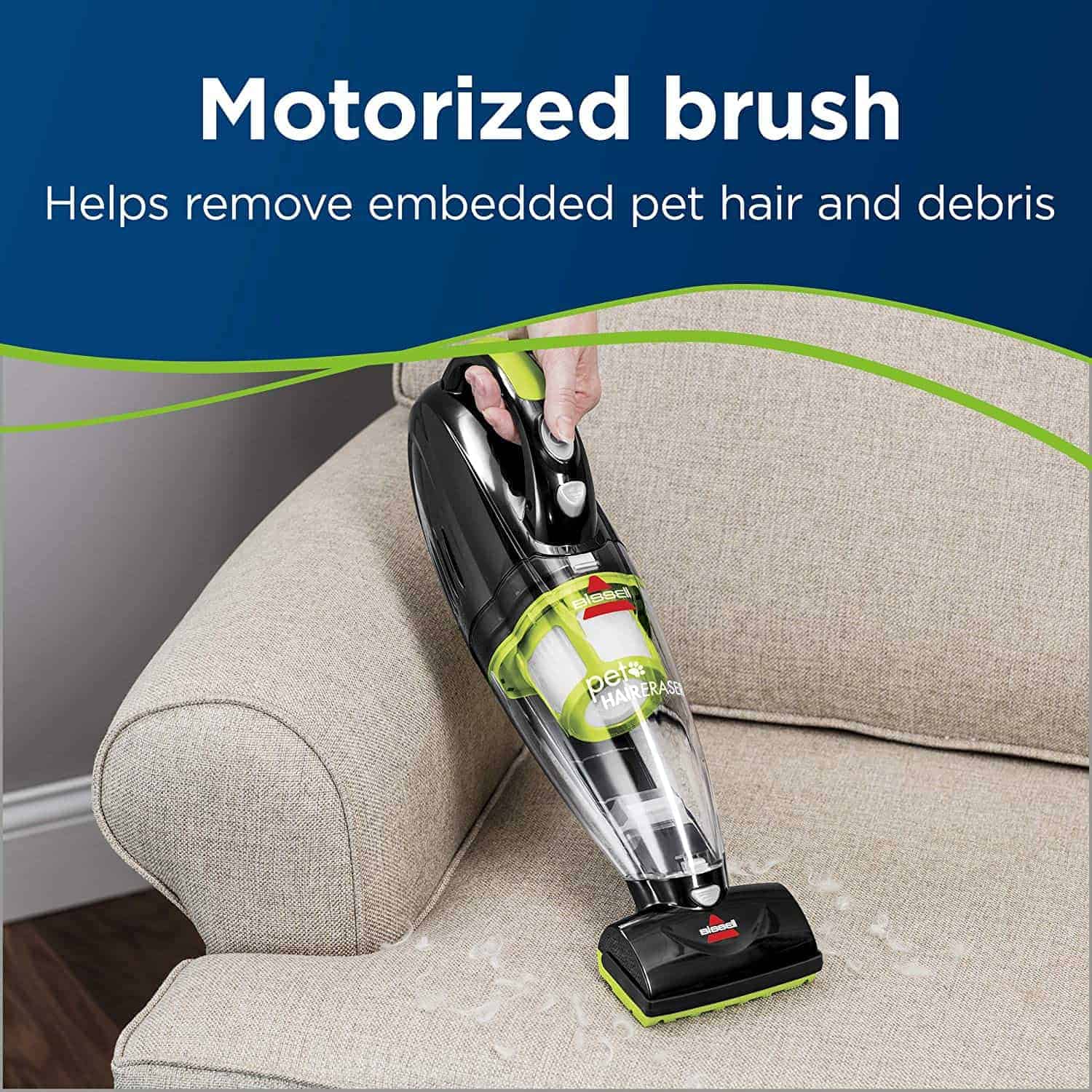 The Bissell Cordless Pet Hair Eraser is a very impressive solution for those who want to make cleaning up after their pets a lot easier.
It is challenging to clean up after pets all the time and this vacuum makes it less frustrating.
Is the Bissell Cordless Pet Hair Eraser a good choice for making getting rid of all that hair and dander?
Yes, it helps you get rid of even the tiniest hair and the most stubborn dirt particles.
FEATURES
The entirely cordless solution makes it easy to follow your pets around and get the cleaning done on-the-go. Also easy to get into corners, utilities, appliances, and pet dens to help clean up where the hair is at its worst.
Powerful motorized foot makes it very easy for you to produce high-quality suction for a deep, lasting clean. Offers greater suction to really force those pet hairs up off the upholstery.
Good crevice add-on ensures that you can get into those tight nooks and crannies without any stress.
Easy to empty bin solution ensures that you can get rid of all the build-up, dirt, and dander without any problems. One of the simplest solutions on the market to operate.
Dual-action filtration offers a much higher level of performance, making it easy for this to be an efficient handheld home cleaner for any pet owner.
Support & Warranty
This comes with a simple and easy to work with a 2-year warranty which is limited to domestic use.
When you make your purchase, you should be given a full and clear idea about what your Bissell Cordless Pet Hair Eraser can and cannot be used for, and what constitutes a fair return.
Pros
Very easy to carry around thanks to its very impressive and lightweight material.
Cost-effective purchase, which makes it a great choice for those caring for their pet on a budget.
Strong motorization ensures that it can easily get that hair and mess lifted up much quicker than other handheld models.
Improved toolset makes this very easy to use and to get into even the most challenging of spots.
A fine choice for anyone at home looking for a stress-free cleaning solution.
Cons
Batteries aren't the best and are prone to running out mid-job.
The dirt container is efficient and very easy to clean out, but probably lacks a little bit of extra size.
Here's Bissell on how to use it:
Verdict
The perfect choice for a simple pet management tool, the Bissell Cordless Pet Hair Eraser Handheld Vacuum is an excellent choice for anyone looking to help make cleaning and caring for their pets a little easier.
While it would be nice to see the batteries improved for a longer lifespan and perhaps a larger dirt container, it does a fine job of making pet clean-up a lot less problematic than it may have once seemed.
Final Words
Overall? The Bissell Cordless Pet Hair Eraser does just the job that you would have expected. Great value and a very impressive solution for just about any typical need.
Best handheld vacuum for stairs: Eureka 71B EasyClean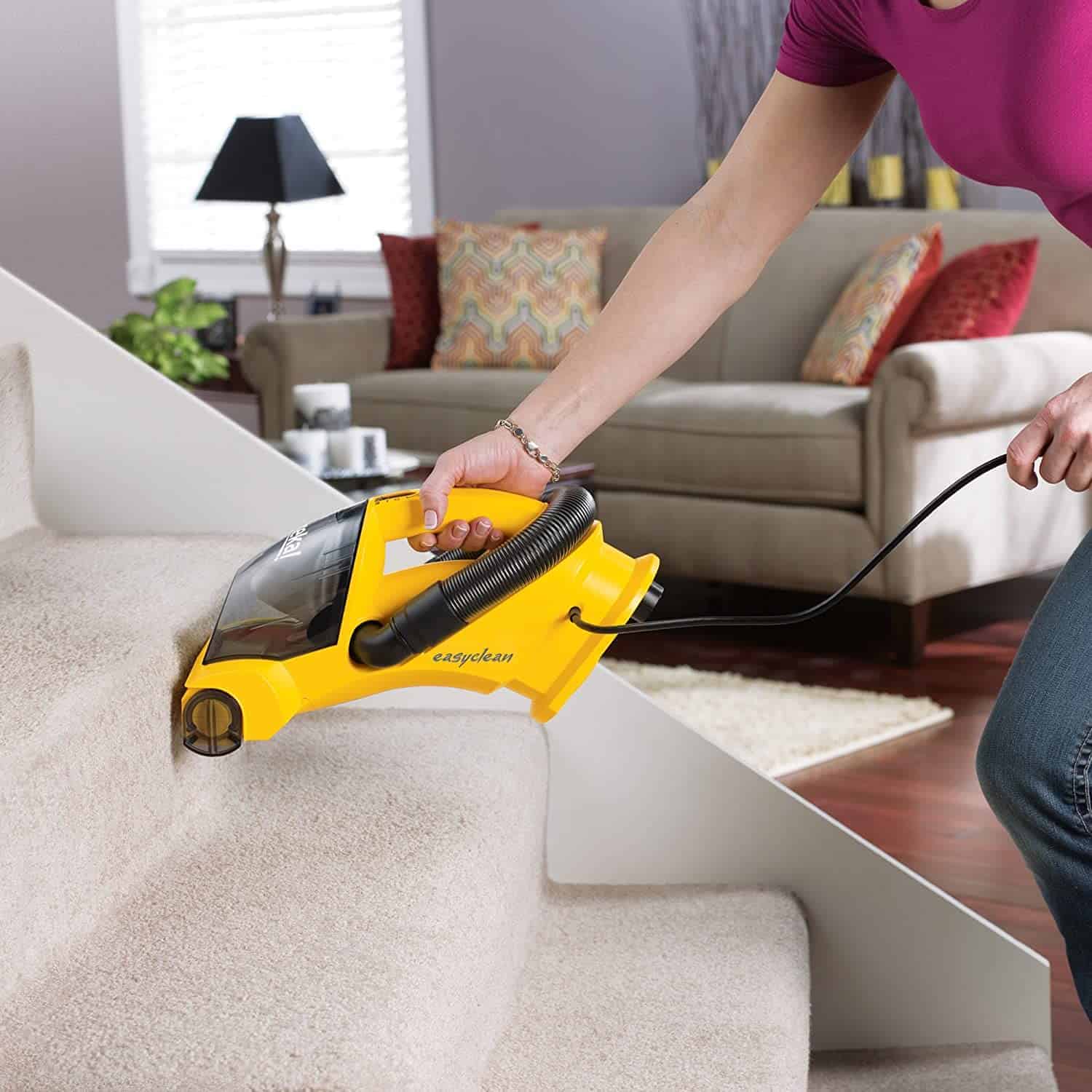 If you have carpeted stairs, you know the struggle is real when it comes to cleaning them.
But, this corded vacuum cleaner has powerful suction to pick up the dirt that is stuck deep in the fibers.  So, even when your kids drop food bits onto the stairs, you don't need to worry about smells and stains.
With this device, you can clean vertically to get every inch of dust.
PROS
Eureka 71B EasyClean Corded handheld vacuum is powerful to use when cleaning and picking up smaller spaces and all of those messes. This is also very lightweight and this provides such a comprehensive and clean.
CONS
The minor issue of the product is that it is not useful when it comes to vacuuming the stairs.
VACUUMING PERFORMANCE
The Eureka 71B EasyClean Corded Handheld Vacuum
product is known for its excellent vacuuming performance.
This is also able to bring a comprehensive and quick clean which is why it is called "Quick Up." In any area of your car or home that needs to be removed with dirt, this one is the most ideal to use.
This will also clean any of your areas with a revolving brush roll, stretch hose including other attachments.
The crevice tool will also get into those difficult-to-reach places that are small to reach.
PORTABILITY
When it comes to portability, this product has just met our expectations because of the fact that it is very lightweight.
We would definitely purchase it again in doing simple to difficult tasks. Due to the very reason that it is moveable, it might mean to be really portable to use.
Thus, there is no longer a need to search for other handheld vacuum products.
DESIGN FEATURES
The handheld vacuum comes with its excellent design features that include fingertip controls, cord wrap, crevice tool, and brush roll, and riser visor.
Prior to the fingertip controls, these are easy and convenient to use. These enable you to turn the power on and then, off.
The cord wraps the easiest and fastest way possible. Thus, it is just easy and convenient for you to store.
The crevice tool will also get into the places that are quite too small for brush roll to get to.
Even the riser visor has its rotating cover feature right through the brush roll. The brush roll will clean the stair steps, flat areas, and upholstery.
Its great suction feature will help pick up dirt and debris from upholstery and carpets.  When you want to clean staircases with ease and convenience, this cleaner helps a lot.
This is definitely perfect for a car and a vehicle. Its washable dust cup will eliminate the need to buy replacement bags.
WARRANTY AND SUPPORT
The impressive thing about Eureka 71B EasyClean Corded HandHeld Vacuum is that it comes with a 1-year warranty.
If ever you still have more questions, Eureka is always ready to answer any technical support you need.
VERDICT
The Eureka 71B EasyClean Corded Hand-Held Vacuum is the best equipment to use when cleaning upholstery and stairs.
Since it is backed by its strong suction features, riser visor including an onboard crevice tool, the carpeted stairs, upholsteries, and car interiors will be left completely clean.
FINAL WORDS
The Eureka EasyClean Corded HandHeld Vacuum 71B is definitely a must-have handheld vacuum cleaner as it works well and is easy for you to clean.
This is well-built and this comes with great suction that makes it all the more the best choice.
Best handheld vac With Replaceable Battery:

Hoover ONEPWR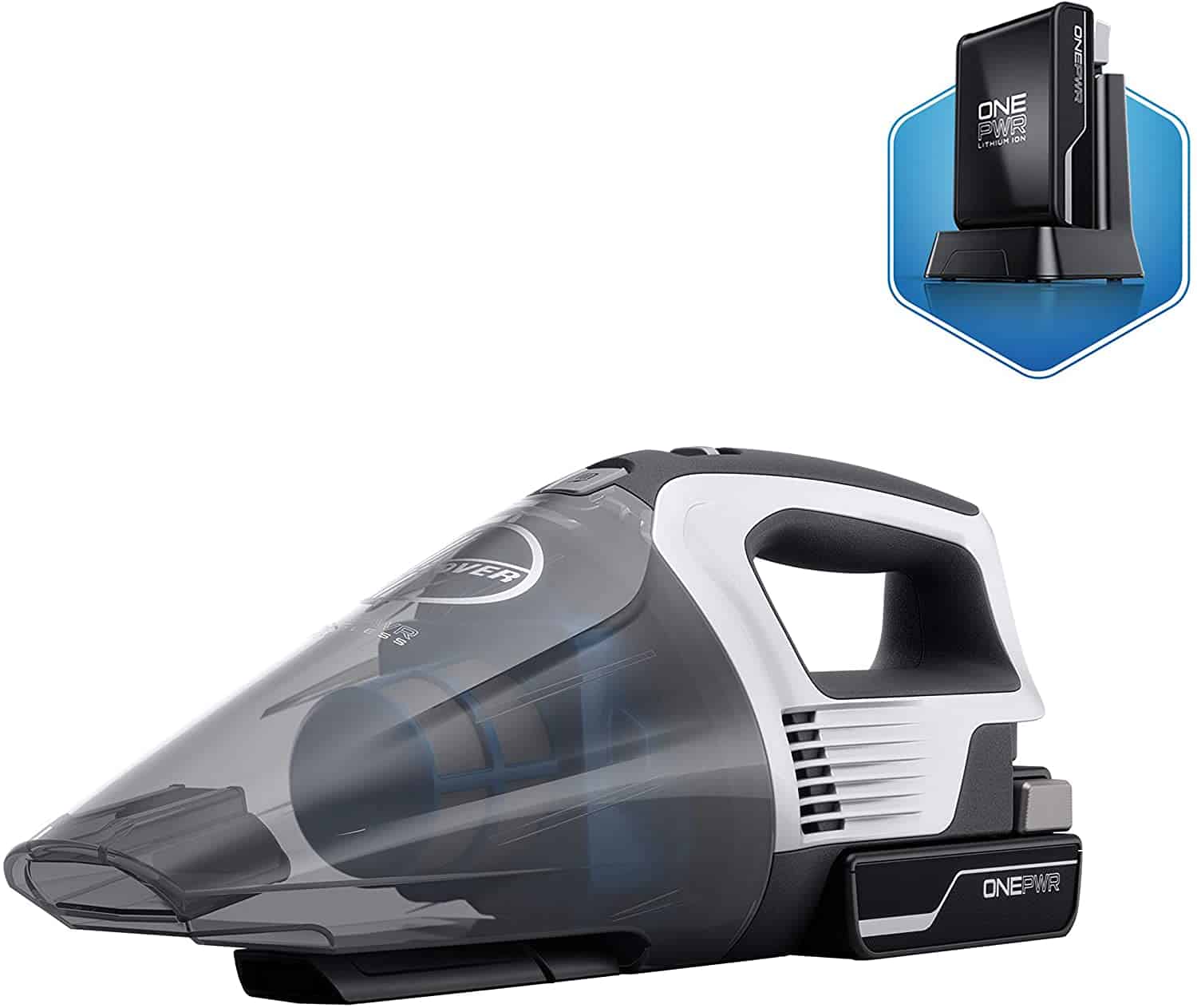 One of the main problems with handheld vacuum cleaners is that the battery dies after a while.
Why throw out the vacuum cleaner if you can simply replace the battery? With this great Hoover cleaner, you can be sure it will last many years.
As well, if you have other Hoover vacuum cleaners, the batteries are interchangeable so you can always put in a charged one to finish off your hoovering task.
PROS
The battery is easy to replace so the vacuum cleaner lasts longer.
CONS
It is heavy compared to some other similar models.
Versatile
Crevice Tool – this vacuum cleaner has an on-board crevice tool which makes it easy to clean tight spaces and corners.
You can easily suck out any crumbs from between the couch cushions. Or, you can get under the car seats, between the rubber floor mats, and even the tiny space near the windows.
You can clean any surface big or small, so it's very versatile.
Powerful Suction
Considering how small this vacuum is, you'll be surprised at how powerful the suction is.
That's thanks to the powerful lithium battery that maintains its power throughout the cleaning session.
Powerful Lithium-Ion Technology
The ONEPWR battery delivers the fade-free power and performance you need without being tethered to a cord. So, you never lose suction power while vacuuming.
Easy To Empty
The bin is easy to clean to ensure that you don't make a mess while emptying it. This vacuum has an extra-large dirt cup which is easily detachable.
So, emptying is always hassle-free and mess-free.
Compact
The vacuum cleaner is very small, compact, and thus easy to store. It doesn't take up much space. The lightweight design makes it easy to store even in an overhead cabinet.
The best way to store it is to place it upright.
Washable Filter
The filter is washable and rinsable to ensure that you always have a clean filter that is going to attract all the dirt and dust.
Since the filter is easy to wash, you don't need to spend money on filters anymore.
WARRANTY
This product comes with a 3-year manufacturer's warranty.
VERDICT
You can always buy a spare battery and keep it charged so you never run out when you need it most.
What we love about this vacuum cleaner is that the battery is interchangeable with other Hoover battery devices.
So, the removable and rechargeable ONEPWR battery is compatible with all ONEPWR products for the ultimate cord-free versatility.
This makes this vacuum cleaner the best option if you already have the whole product range and you like to keep your home spotless.
FINAL WORDS
The Hoover cleaner is affordable and suited to most budgets. It does an excellent job, it has very good suction, and it comes with an on-board crevice tool.
This makes it extra versatile, so it's a great choice for any home. We definitely give this one a thumbs up!
Check prices and availability here
Best Corded Handheld Vacuum Cleaner:

Bissell Cleanview Deluxe 47R51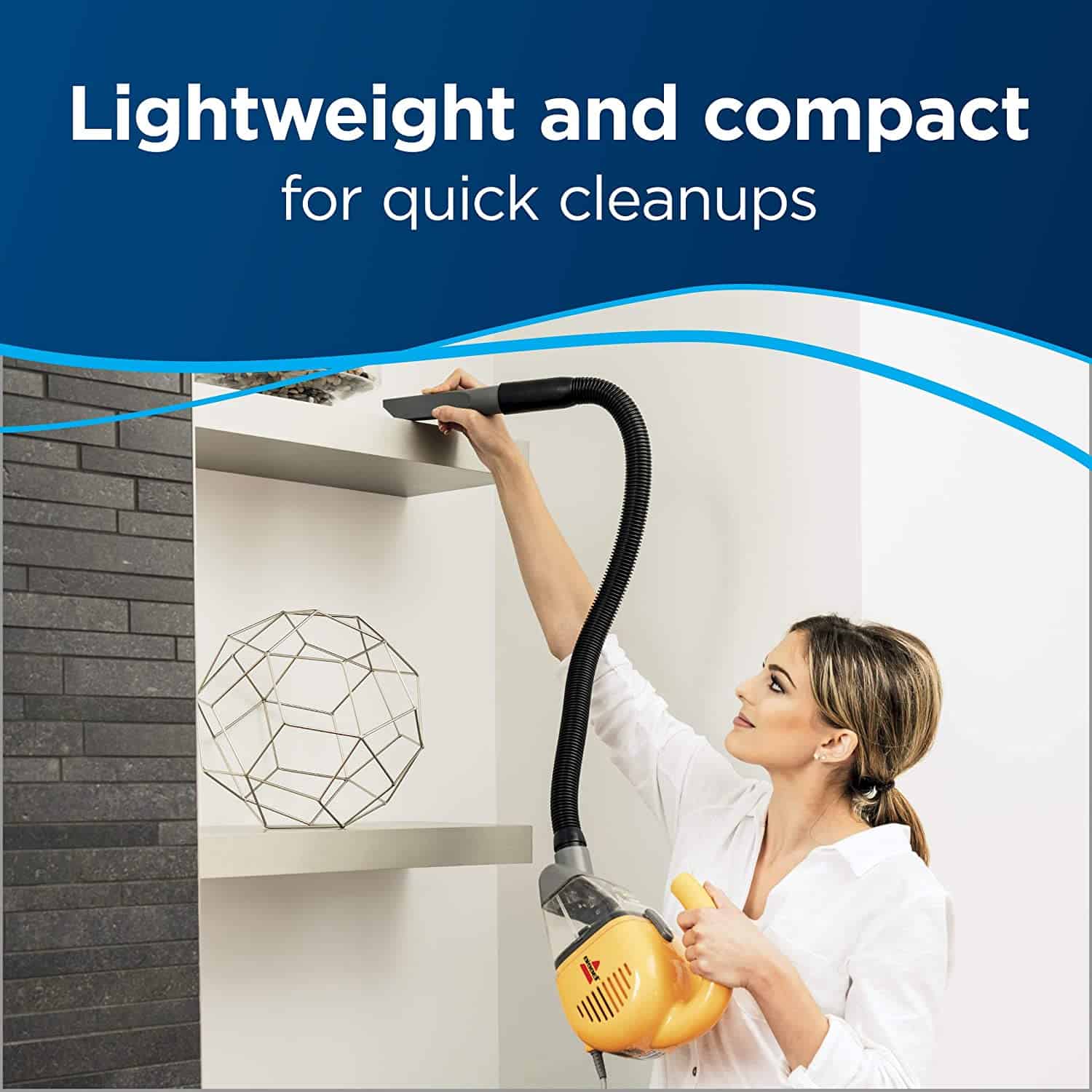 Don't underestimate the trusty corded handheld vacuum. While it may seem counterintuitive, this cheap corded vacuum is very efficient.
It cleans up everything from dust, crumbs, sand, to pet hair and tough messes.
It is extremely small and compact, so you don't need to worry about storage space.
Also, it's lightweight and easy to take with you to clean all the hard to reach places.
PROS
Very small and compact and easy to carry with you anywhere. It's so easy to use you don't even realize it has a cord.
CONS
Can't pick up larger debris like big crumbs.
Long Power Cord
It has an 18-foot power cord so you can move around with it comfortably. You can even vacuum the stairs by pulling lightly on the cord.
This lengthy power cord lets you clean interiors easily. For example, you can clean the interior of your car without having to change outlets.
Powerful Motor
This product has a four amp motor, which is pretty powerful for such a small handheld vacuum.
It can pick up almost all kinds of messes. The best part is that is works well and picks up lots of pet hair.
Compact
If you worry about space, this small vacuum cleaner is impressive. It is compact, lightweight, and tiny. It has the following dimensions: 10 x 5 x 8 inches.
Since it has a rectangular design, it fits anywhere without taking up too much space.
Accessories and Attachments
When you buy this vacuum, you get several attachments. These make cleaning even easier. There are a few different attachments.
These include a hose adapter nozzle, contoured rubber nozzle, two-foot cleaning hose, wide mouth too, and a crevice tool.
With the crevice tool, it's easy to get into corners and tight spots.
Easy to Empty the Bin
This vacuum cleaner has a bagless dirt bowl. It is easy to detach and clean so you don't end up making a mess as you empty it.
Simply remove the bowl, and pour it into the garbage can. Although, you might have to empty it often because the bowl is small.
HEPA Filter
This cleaner has a HEPA filter which traps many more fine dust particles, which means you get a cleaner home and cleaner air.
Warranty
The Bissell handheld vacuum only has a 1-year limited warranty. This is quite limited, so it's not the best in terms of the manufacturer's warranty.
VERDICT
We recommend this small vacuum for those of you with small homes. This product is compact and easy to store so you can keep it handy when a mess happens.
Overall, this is a great little vacuum because it has a cord, it's powerful, and it picks up a lot of dirt.
The cord is long enough so that you don't need to keep looking for a power outlet and you can actually do a lot of vacuuming without worrying about the battery dying.
FINAL WORDS
If you like small handheld vacuums, but hate charging the battery, then a corded device is a top choice.
If you've been wondering "What's the best corded-handheld vacuum?" Well, this Bissell one is our top pick for you.
It is extremely affordable and lightweight so it's sure to please.
Buyer's Guide – How do I choose a handheld vacuum?
There are several aspects to consider when you purchase a new handheld vacuum cleaner. Let's take a look at the features.
Cord vs Cordless
Most of the handheld vacuum cleaners are cordless. It makes the most sense because the idea behind handheld devices is portability.
If you have a cord, you need to be careful not to get it tangled and it feels like you're using a classic large bag cleaner.
The disadvantage of cordless vacuums is that they like the power or torque of their corded counterparts.
But all of the vacuum cleaners on our list have efficient motors to pick up dirt and dust.
They are small, compact, and very portable, so you can carry them around the home with ease.
Weight
When you have to carry the vacuum cleaner around with you, you quickly realize that the lightest cleaners are the best.
But, by design, most handheld vacuums are a bit heavy and that's because they have incorporated a motor and a vacuuming mechanism.
These components are weighty because they need to be powerful.
If you're looking for a lightweight hand, you can expect less suction power. But, in the end, it comes down to design.
Some models have a unique design. They reduce the weight in your hands, so the vacuum doesn't feel too heavy.
Capacity
The capacity depends on the design of the vacuum. Some models use dirt cups and hence will have limited capacity.
Others combine a small filter with a dirtbag and offer a higher capacity, which means you can pick up more dirt in one go.
Battery
Charge time and run-time really do matter when it comes to handheld vacuums.
The battery determines how long you can use the device before it stops. It's best to pick a cleaner with a long-lasting battery and short charge time.
Some of the cheaper models have very small batteries which only have a 10 minute run time.
This is not efficient if you want to clean more than just one small area. The better models have about 30 minutes of continuous run time.
Power
Vacuum cleaners derive power from a powerful motor. In the case of handheld vacuum cleaners, the power must come from the battery pack.
So, the battery directly influences the power of the vacuum.
Most devices have 5 Volt batteries that can have varying power levels. The Air watting level determines the power.
In general, larger handheld vacuum cleaners possess larger batteries, which means they have more power.
The smaller vacs tend to compromise on battery life and power.
Accessories
Accessories are extras that are sold alongside the vacuum cleaner. These include brush attachments, extension wands, crevice tools, and pet hair accessories.
These tools make the cleaning process faster and easier.
Accessories such as a long hose, an extension wand, or dedicated furniture brushes can make your vacuum cleaner even more versatile.
Although you might be guided by the price, it is important to buy the vacuum cleaner that meets your needs, rather than just buying the cheapest.
So, it's up to you to consider what you need your cleaner to do.
FAQs about Handheld Vacuum Cleaners
If you still have questions, find out more information below and make sure you pick the best cleaner for your home.
What is a handheld vacuum cleaner called?
In some parts of the world, this type of vacuum is called a dustbuster. The term 'dustbuster' is a genericized term for a handheld vacuum cleaner named after the popular Black & Decker model. Since that model is so popular worldwide, its name is a general term for a handheld vacuum.
Are cordless vacuum cleaners worth it?
If you vacuum often and want to reach every corner of the home, then yes, a cordless device is worth investing in. This type of vacuum is extremely versatile and portable so you can always move it around the home easily. Since you don't use a cord, there is no tripping and tangling.
But, you have to consider that these devices require frequent charging. Usually, one charge gives you between 15-35 minutes of runtime. Batteries also tend to break down after a few years.
Most of the handheld vacuums are worth the buy because they are user-friendly, affordable, and portable.
What is the use of a handheld vacuum?
The role of handheld vacuums is to help you clean your home faster. They reach those hard to reach places your bulky corded vacuum can't. The classic vacuum cleaner is handy if you clean large area rugs, carpets, and hardwood floors. But there are cracks, crevices, and places you can't reach with a big vacuum cleaner. Imagine if you need to get crumbs out of the car seats. Then, a small handheld vacuum is the best choice.
How long do handheld vacuums last?
Compared to classic bulky vacuum cleaners, the handheld version has a short lifespan. Most handheld devices last about two or three years. It all depends on the battery. The motor is far less powerful. So, the vacuum relies on the battery for the hard work. This is heavily solicited so it breaks down quicker.
But, if you take care of your device or replace the battery, it can last for many years.
Conclusion
If you follow the tips above, you can rest assured that you get the best vacuum cleaner to suit your specific needs.
It's important that you take the time to look around and dig deeper into the actual mechanisms needed for successful usage.
With the information above, though, you should find it much simpler to break free of your inertia and make the right decision.
Don't disregard it, though; the highest quality of vacuum cleaner makes a huge difference to performance.
Also read: this is the complete guide on dustbusters for your home
I'm Joost Nusselder, the founder of Tools Doctor, content marketer, and dad. I love trying out new equipment, and together with my team I've been creating in-depth blog articles since 2016 to help loyal readers with tools & crafting tips.