I love creating free content full of tips for my readers, you. I don't accept paid sponsorships, my opinion is my own, but if you find my recommendations helpful and you end up buying something you like through one of my links, I could earn a commission at no extra cost to you.
Learn more
Have you ever had a job that entails chopping through formidable heavy materials and you are left dumb? Probably, you're having hand fatigue without the proper tools.
Bolt cutters are exactly what you need. Now, what is the significance of a bolt cutter if we wonder? What if you can cut something strong by applying comparatively less force? Wouldn't it be spectacular!
A typical bolt cutter can generate approximately 4,000 pounds of pressure from your hands. With compound hinges it allows you to maximize leverage and cutting force.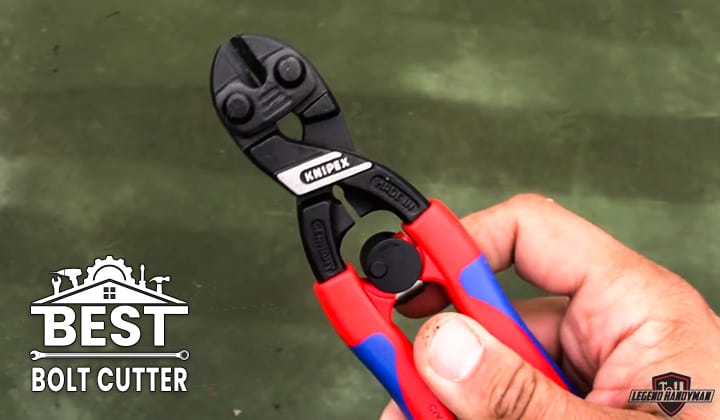 It will enable you to chop through any level of materials for your construction, fencing, for your home decorations, etc.
This cutting tool cuts through locks, chains, soft wires, medium-hard wires, hardwire, etc.
With the added leverage, it handles edges pretty well and provides precision cutting. So that is what we will be briefing you with. Our comprehensive guide will be introducing you to the top-tier and best bolt cutters available to order online.
Best Bolt Cutters out There
Here we have included some of the best bolt cutters to get you started, along with the features that will catch your attention. These stand out among all the other ones for their unique structures. Let's take a look.
TEKTON 8-Inch Mini Bolt and Wire Cutter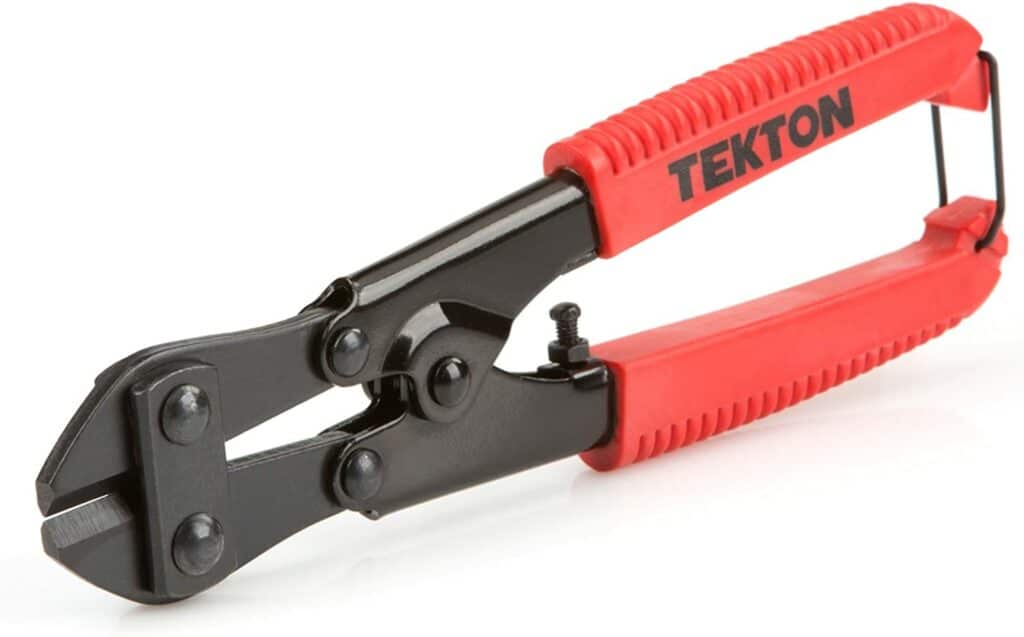 What that attracts you most
As any traditional bolt cutter, the TEKTON 8-Inch Mini Bolt and Wire Cutter have come up with drop forged and hardened alloy steel jaws to cut through tougher materials. With the help of this cutter, you have to put the minimum effort into alternating cutting jobs. Moreover, the tool is easy to deal with as it has rubber grips on the handle.
Also, the handle is configured with rolled steel and the grips are cushioned and non-slippery. With the sharp cutting edges, this tool can cut bolts, chain, threaded rod, and even heavy gauge wire grip up to 3/16 in diameter. This mini cutter is 8.5 inches in length and with a jaw width of 2.3 inches giving you a lightweight of 0.57 lb only.
Along with the jaw capacity of 3/16" and driven by a compound hinge, this tool delivers utmost cutting experience and the strong handle won't twist due to cutting tougher materials. Being user-friendly and smaller in size this cutter comes in variation differentiating on the jaw width and height and can easily be carried anywhere. It helps you to cut through materials from small to large.
Still some drawbacks
The handle length of the TEKTON 8-Inch Mini Bolt and Wire Cutter is smaller in comparison to other tools of these criteria and this might be an issue for some people while cutting. It somewhat reduces stability.
Knipex 7101200 8-Inch Lever Action Mini-Bolt Cutter

Magnificent features
Maintaining the shape of a traditional screwdriver the Knipex 7101200 8-Inch Lever Action Mini-Bolt Cutter comes up with plastic coated handles to give you lightweight. With the help of this tool, you can cut through materials like bolts, nails, and rivets up to 5.2mm.
With sharp and precision matched cutting edges of approximately 64 HRC, this cutter is configured with chrome vanadium electric steel. It is a high lever cutting tool that includes a lever-action mechanism that applies 20 times more physical force for superior and enhanced cutting power with surprisingly less effort.
With the use of vanadium steel, it is assumed to be long-lasting. This tool also features gripping jaws below the joint for gripping and pulling nails and wires. The steel knipex uses is significantly hardened by including 0.8% carbon and defined parts of chromium and vanadium.
With a length of 8 inches and 11.8 ounces of weight this tool is ideal for automotive or construction applications and cutting cotter pins. The significance of this tool is that it requires minimum effort due to lever-action design.
Missed something?
The handle of this tool is plastic coated for which it shows less immunity towards corrosion or any kind of abrasion while working. The small length of the handle might be an issue while working.
KNIPEX Tools 71 12 200, Comfort Grip High Leverage Cobolt Cutters

Might be of interest
This Germany based KNIPEX Tools 71 12 200, Comfort Grip High Leverage Cobolt Cutters comes up with a spring locking device for the handles to squeeze and release very easily allowing the user more comfort. Also it is safe. This cutter can cut its components like bolts, nails, rivets, etc. up to 5.2mm diameter
This bolt cutter is forged from chrome vanadium electric steel which makes it long-lasting. It is constructed with multi-component comfort handle grips for a wider grip. Moreover, this tool features gripping jaws below the joint for gripping and pulling nails and all kinds of wires.
The lever design allows you to put less pressure on the handle and get optimum and enhanced cutting experience on the other end. The cutting edges include hardness of approximately 64 HRC. It can cut up to ¼ inch of soft wire, 13/64 inch of medium-hard wire, 5/32 inch of hard wire, and even 9/64 inch of piano wire.
With a lightweight of 13.8 ounces and a length of 8 inches this cutting tool includes a configuration of 0.8% carbon and defined parts of chromium and vanadium in the steel for rigidity. this high-leverage CoBolt cutter includes a lever-action design that applies 20 times more physical pressure for higher cutting power with less effort.
Maybe not?
The small length of the handle might be an issue while working. But it works quite fine with smaller workpieces.
WORKPRO W017004A Bolt Cutter

Must take a look
The WORKPRO W017004A Bolt Cutter is constructed with molybdenum steel and jaws being powder coated to provide optimum cutting and longer life. The unique part of this tool is the bar handle with ergonomic grips with the mixture of two components and also immune to slippage. This bi-material construction gives it more strength and immunity towards crack and abrasion.
Molybdenum adds corrosion resistance and high-temperature strength.  molybdenum increases the elevated temperature strength of stainless steels through solid solution hardening
The handle serves your comfort in cutting and allows you to apply less force on the tool with enhanced stability. The classic lever fulcrum design and the perfectly aligned sharp blades give you an upper-hand in this criteria. The hardness of the blades is measured approximately ≤42 with the length of 7/32 inch. And the 1/4-inch with an approx. the hardness of <25 HRC.
With the variation in sizes and shapes, this cutting tool is an Ideal for cutting soft metal, bolts, rods, rivets, and chain. With compound cutting action this bolt cutter is professional and there are two screws embedded in the blades to make it stronger and stable.
Still some setbacks
Because of the small grip handle, you might get scratch or rashes on the hand. Otherwise, it is quite a prudent choice.
Capri Tools CP40209 40209 Klinge Mini Bolt Cutter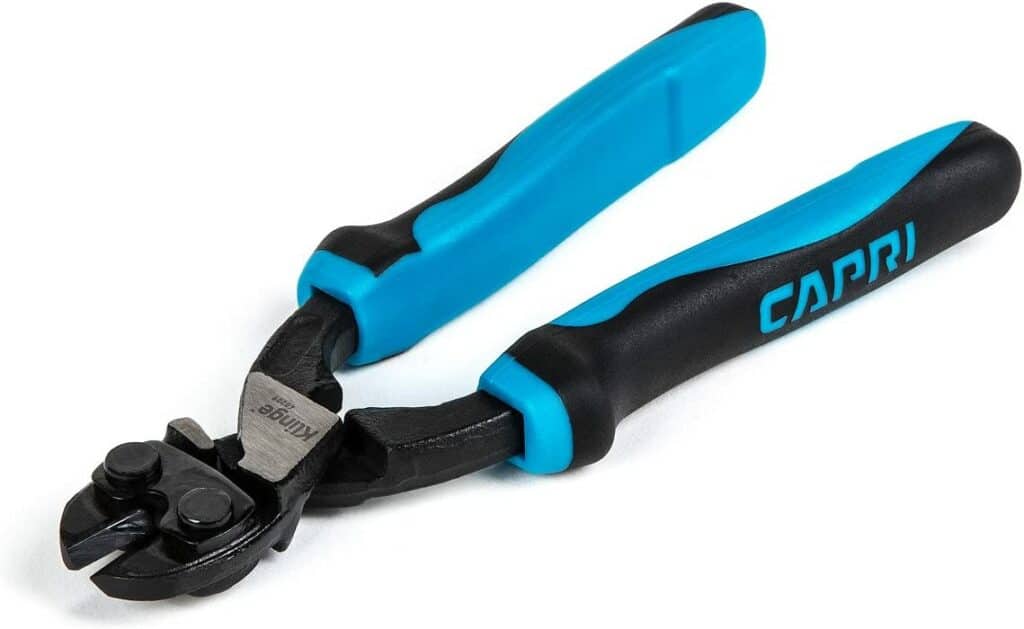 What that digs in your eye
With precision cutting edges and smaller blades the Capri Tools CP40209 40209 Klinge Mini Bolt Cutter has come up with a variation in cutting angles like deep angle, beveled cut and also scissors cutting. Its strength and sharpness have proven to be effective in cutting through wires, threaded rods, bolts, chains, and more.
The CrMo blades which work quite well even in high temperatures can cut through hardened materials with optimum precision. The unique part of this cutting tool includes the high leverage design that allows you to put less force to get the optimum cut.
Also, the specially designed ergonomic grips serve your security and let you cut with ease. This compact tool comes with a 10year warranty and is easy for maintenance. This 8-inch cutting tool is constructed with top-notch material for long life.
You will be served very cleaner cuts due to its sharpened and non-serrated steel jaws. Molybdenum adds corrosion resistance and high-temperature strength.  molybdenum increases the elevated temperature strength of stainless steels through solid solution hardening
Still an itch
Because of the smaller sharp edge of the blade, this cutting tool deals with workpieces with a small width.
HK Porter 0190MCD Power Link Bolt Cutter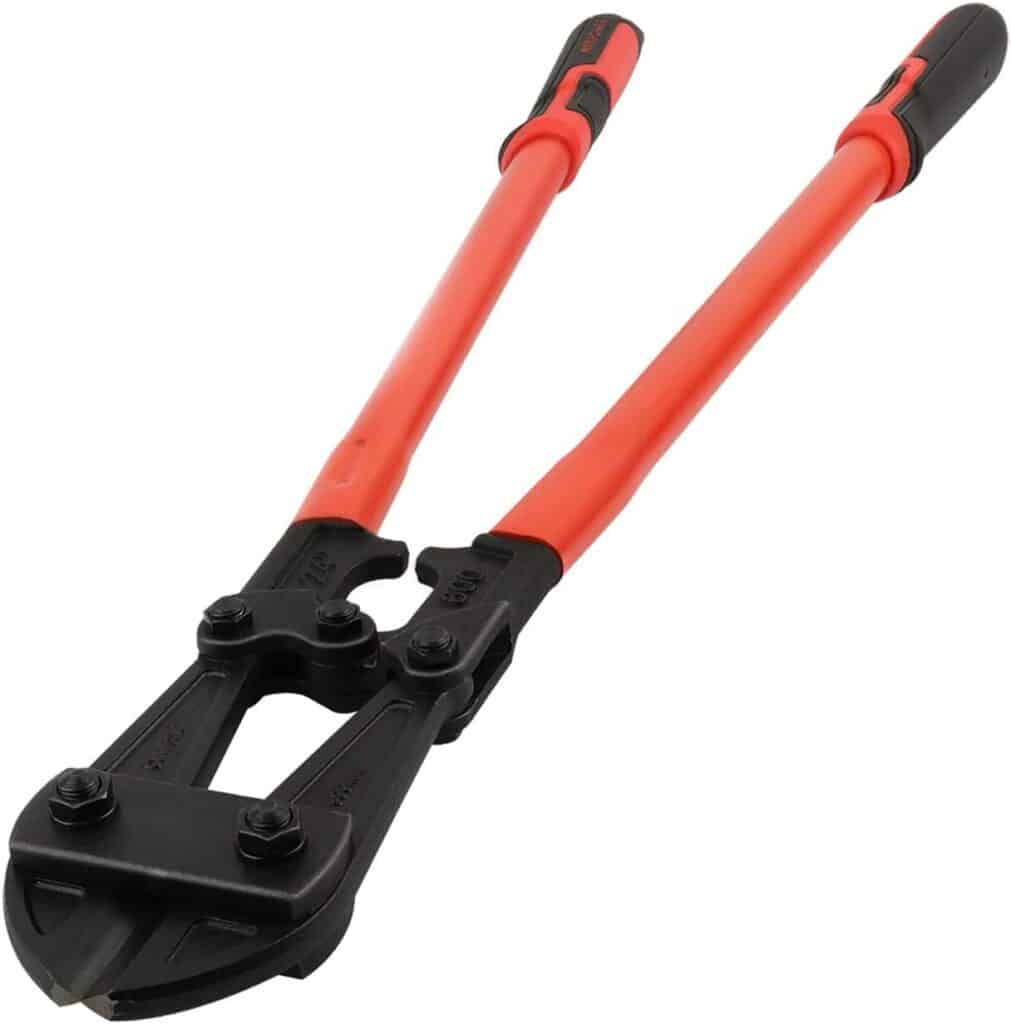 What that catches your attention
Including longer and thinner handle the HK Porter 0190MCD Power Link Bolt Cutter can cut through the likes of bolts, rod, metal, screws, chains, soft wire, iron, steel and other workpieces which have a greater diameter. This cutting tool is constructed with precision ground and hardened and sharpened blade edges to cut through tougher materials.
In comparison to other standard cutting bolt cutters, it is very easy to deal with and it takes less effort resulting in optimum output. And this is possible with the use of Powerlink technology that provides more power, decreasing an astounding 30% in terms of cutting effort.
This Powerlink geometry was developed using advanced computer-aided design to create a double compound action system with great efficiency. The HKP center-cut blades provide a cleaner cut than usual. The tubular steel blades with the help of the Powerlink technology delivers optimum power and deals with production facilities and etc heavy duties.
This tool includes a cutting capacity of 7/16″ for soft materials and 5/16″ for hard materials such as steel rod with HRC 48 hardness. And this tool comes in various sizes starting from 18" to 24".
Setbacks
Because of the smaller blade edges, this tool deals with smaller items and that creates a nagging issue while cutting wires and you will need to twist and even pull the wires continuously. This often delivers an uneven finish.
Knipex Tools 71 01 250 CoBolt Compact Bolt Cutter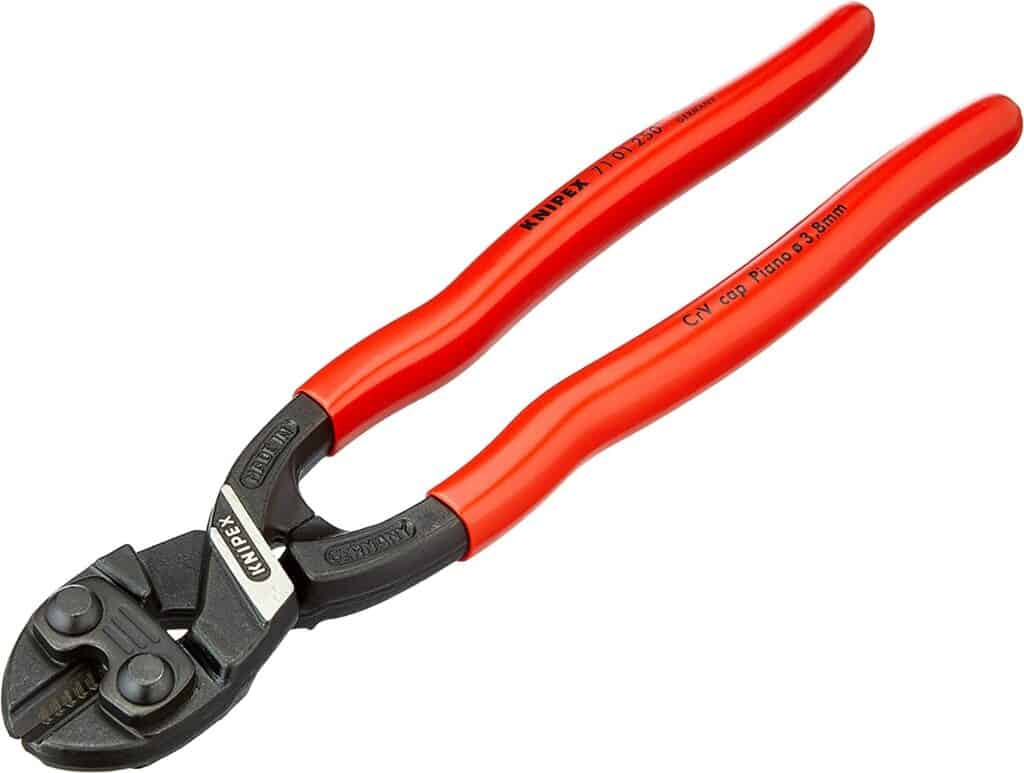 Magnificent Features
With longer handlebar and smaller blade edges the Knipex Tools 71 01 250 CoBolt Compact Bolt Cutter comes up with powerful cutting force to chop through strong and smaller materials. It can cut large cross-sections as well as rigid workpieces with a diameter ranging up to 0.157 inches.
Moreover, it includes a high transmission ratio which helps you to cut smoothly at a quickening pace. The constructing material cobalt helps you with added leverage by enabling you to apply less force and get 60 percent more output. Also, the gripping surface under the joint for gripping and pulling nails or wires or screws with a diameter of 0.039 inches.
It is an extra added feature not included in the previous cutters. It gives you the benefit to pull out easily by having long handles. The hardened blades are induction heated not affecting the whole material rather the blades. The blade edges consist of sharpness up to approximately 64 HRC with an intention to last long.
This Germany based bolt cutter is constructed with German chrome vanadium heavy-duty steel, forged, and oil-hardened. Vanadium helps the tool to be malleable, ductile and be enriched in corrosion-resistant qualities. With the help of this bolt cutter, you can cut chains, bolts, hardwires, soft wires, etc.
Take a deep look
Because of the thin and long handle, you might face fatigue while working with the hand. Other than that it serves just fine.
Olympia Tools 39-118 Power Grip Bolt Cutter

Awe-dropping features
With a unique design, the Olympia Tools 39-118 Power Grip Bolt Cutter has come up with blades with adjusting bolts. Moreover, it includes the equal distribution of pressure on your hand. This cutting tool consists of Cr-Mo steel cutting heads that cut with utmost precision and stability.
This bolt cutter includes blades which can work in even high temperature and drop-forged alloy steel jaws which are ideal for cutting hard and soft materials with comfort. Also, it comes in variation in the handles including 18 inch and compound hinges to maximize the force put on by you. This cutter can easily fit in a bag due to patented folding handles.
The patented folding mechanism refers to the handles being bent alongside the blades making it smaller and easier to carry. The ergonomic comfort grips and heavy-duty cutting strength of the blades and the extra-wide handles significantly reduce pressure on the hands.
Moreover, it is a durable bolt cutter showing immunity towards heat, corrosion and can be applied in numerous workpieces. It comes in a variation of 14 inches to 42 inches. The handle grip is of rubber coating and easy to work with.
 Few Issues
The red latch to keep the handle in place after unfolding is offset. So sometimes opening the cutter head is a bit tiresome. Also, this bolt cutter is difficult sometimes when cutting 1/4 item bolts.
What to Consider Before Buying the Best Bolt Cutter
You often work with wires, bolts, etc. materials you need to cut in order to shape or add or reduce components in your workpiece. That is when you need a bolt cutter the most, with this you can easily have a smooth cut. But you can't just pick any from the market. You need to know what suits your task the most and what to exactly look for.
That is what we will be informing you about in this section. There are a few fundamental components and features a bolt cutter should have in order to serve you to the optimum level. Whenever you are to buy a product, you are overwhelmed with the various choices, but after this short briefing, you won't be, hopefully!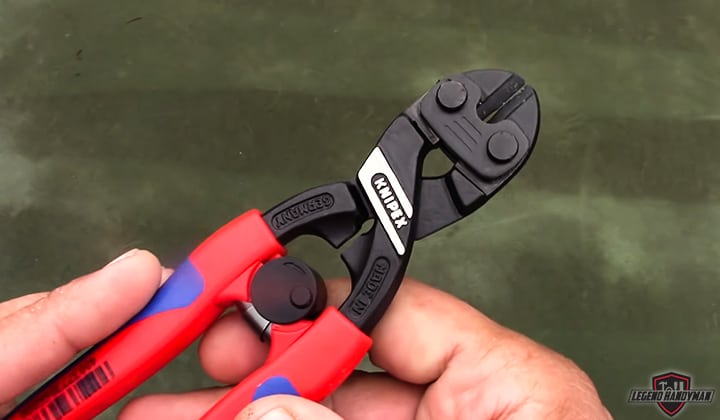 Blade Quality
The blade quality is the criterion to measure the performance of a bolt cutter. The rigid blades are the more clean-cut you will have. And steel made blade will serve just fine. The blade of a bolt cutter must be configured with steel with a hardened edge. It will make it strong and durable.
Handle
A comfortable handle is a key behind the smooth cut in your workpiece. You will cut by holding the handle of the bolt cutter. So if the handle slips, it can lead you to unfortunate accidents. So, you must pick a bolt cutter that has a long handle with a non-slip surface.
Long handles usually provide much leverage. Aluminum handles are lightweight and easy to move. There is also steel, plastic-coated handle. You should pick up your working tool and preference.
Weight
The bolt cutter must be portable and lightweight. Short handled bolt cutters can be heavy. On the other hand, long-handled bolt cutters will be a lightweight option and also efficient.
Grip
A grip allows you to hold the bolt cutter in a stable position. Not only that rubber or even softer grips protect your hands from any kind of abrasion or scratch or rashes. Because while working with steel, metallic tools it is common for your hands to get cut. So it is a considerable issue.
Size
It always depends on the working piece. But in the case of bolt cutters, smaller sized ones won't cut through strong materials but gives you stability. On the other hand, large cutters cut through all kinds of materials giving you less stability. So, buy the one that fits your workpiece.
Cutter heads
The bolt cutters come with a great variety of heads like angle cuts, clipper cuts, shear cuts, end cups, and center cuts. Each one comes with its own set of benefits and limitations that fits your task.
You may also like to read – best bolt extractors
FAQs
Q: Could I cut a lock with a bolt cutter?
Ans: Yes, that depends on the jaws. The cutter jaws open up to about 3/4″ at the widest point. The handles are about 25″ long so you have good leverage.
Q: Can these be used to cut through aluminum alloy sheets?
Ans: Yes, the drawback would be very short cut strokes, the bolt cutters are very efficient tools for cutting single strand wires of varying sizes.
Q: Can the lock be operated with a gloved hand in KNIPEX Tools 71 12 200?
Ans: Definitely. You will be able to operate the lock with a gloved hand.
Q: What is different on the different lengths besides the length? Anything? Are the blades the same?
Ans: The blades are the same, but the longer length of the blade provides more leverage which means less effort is required to perform cuts.
Conclusion
We have assembled some of the best bolt cutters and have presented you with detailed specifications and benefits of each. And as always we will be suggesting a few, from our perspective.
Now if you want smaller blades to cut smaller materials, then you should opt for the Capri Tools CP40209 40209 Klinge Mini Bolt Cutter. It consists of sharp and hardened small blade edges.
But also if you want long handles for comfort then you can go with the Neiko 00563A Heavy Duty Bolt Cutter. It has a long handlebar with added stability and precision.
I'm Joost Nusselder, the founder of Tools Doctor, content marketer, and dad. I love trying out new equipment, and together with my team I've been creating in-depth blog articles since 2016 to help loyal readers with tools & crafting tips.