I love creating free content full of tips for my readers, you. I don't accept paid sponsorships, my opinion is my own, but if you find my recommendations helpful and you end up buying something you like through one of my links, I could earn a commission at no extra cost to you.
Learn more
Butane torches complete the circle of an all rounder handyman's toolkit arsenal. It is a very versatile and powerful tool. From lighting a cigar to cutting through metal, this tool can go through all, with your minimum possible effort.
Choosing the perfect butane torch for your regular work can be confusing and overwhelming as it is a multipurpose tool and there are various options available in the market. That's why we have extensively researched and have chosen the best butane torches that will serve your purpose much more efficiently.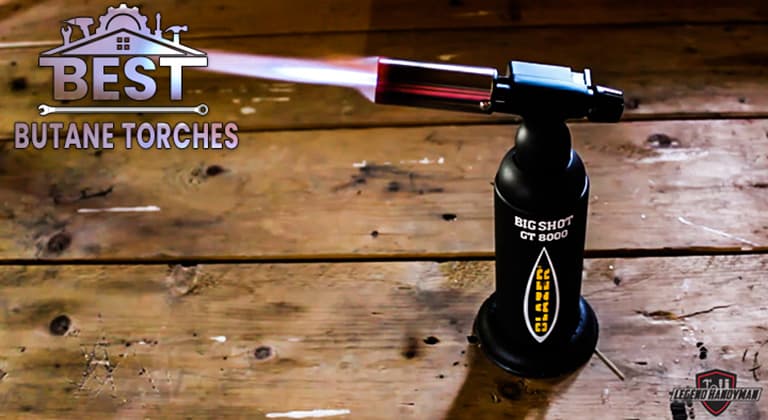 What is a Butane Torch?
A butane torch is flame producer which uses butane as the fuel. It has a vast field of usage from craftworking to culinary works. Either brown meringues or fix a joint of an aluminum chain, this little beast can handle it all.
Butane torches vary depending on size, burning time, flame length and price. Depending on your work you must choose the best butane torch that suits you. The buying guide along with the reviews will lead you to your perfect torch.
Thirst-Quenching Best Butane Torches
Cross-checking all the features and working conditions we have selected some butane torches that will be perfect for your work as well as help you with your side projects. So, let's dig into it. 
JB Chef Culinary Butane Torch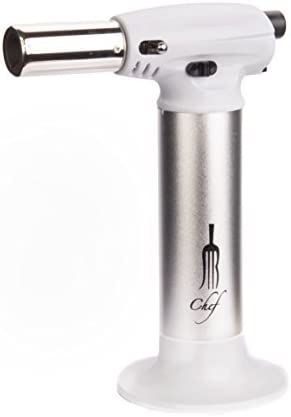 Why pick it?
JB Chefs' kitchen utensils are remarkable for their craftsmanship so the JB Chef Culinary Butane Torch is. Its ergonomic size makes it very easy to use and the metallic finish also creates an aesthetic vibe while working with it.
A safety lock is there to save you from any accidental press that can cause ignition. The simple slider is just below the ignition button in a natural thumb resting position. The ignition button is designed to use with a low effort and for comfortable using.
The flame control feature lets you control the flame according to your needs. For shallow usage like lighting a cigar, you can use the less powerful yellow flame and for extensive usage like welding, you can use the more powerful blue flame. Also, there is a continuous mode on the left side for a long time comfortable hand-free usage.
The torch gun can be easily refilled through the hole below the base. A gentle press of the refill through the hole, wait a few seconds to stabilize the gas and you are ready to go.
Drawbacks
The torch has enough features to play with. But what may be painful for you is that the flame isn't much power in the highest settings as you would expect if you are into dabbing as it will take much more time to heat things up.
Blazer GT8000 Big Shot Butane Torch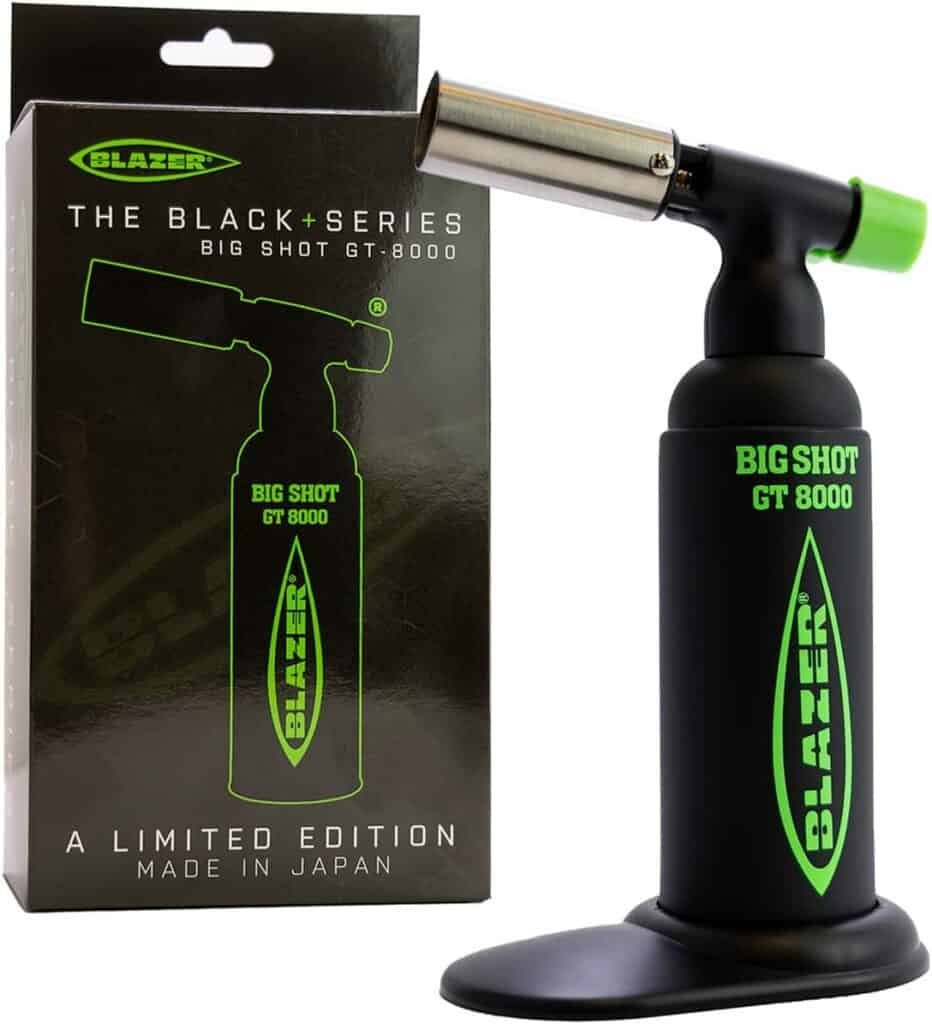 Why pick it?
The Blazer big shot torch will redefine power and robustness to you. The torch has a premium non-slip grip with a large fuel tank which makes it really easy to hold and to work with. It is both sturdy, comfortable as well as lightweight to use for a long extreme work session without any muscle pain.
The gas flow control dial of the torch is the one thing that makes the product robust. The dial can deliver both yellow and blue flame. The torch can deliver flame that can reach up to 2500°F which can be easily used windy situations also.
The large fuel tank ensures a hand-free use of continuous flame up to 35 minutes. The torch comes with an extended base which is easily attachable for long time hand-free usage. Just below the base is the refilling point. The torch ships without fuels.
Drawbacks
Though it's kinda best for the buck, some users reported the metal sleeve to be too hot where some products use some kind of insulators to prevent accidental touch. This is not a big deal if you are careful enough to not touch the metal portion after long use.
The flame is also found to be barely adjustable according to some users.
Culinary Blow Torch, Tintec Chef Cooking Torch Lighter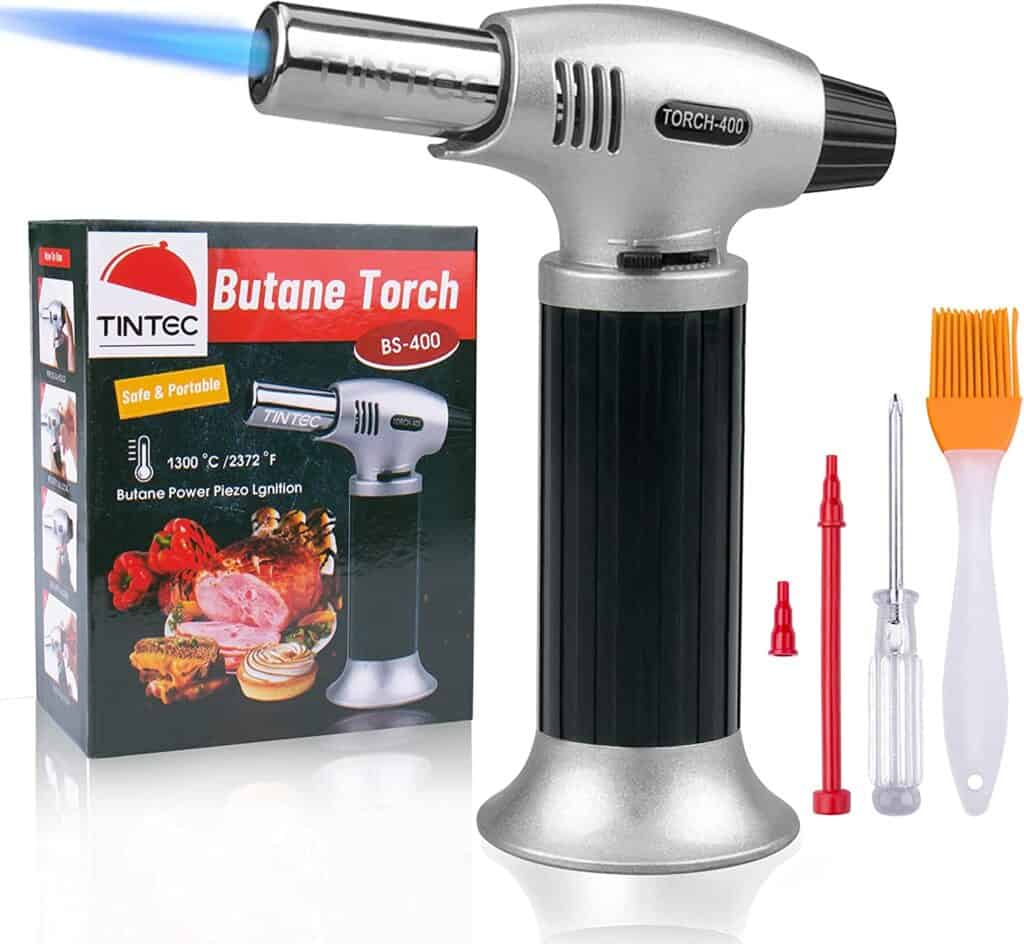 Why pick it?
The culinary torch by Tintec Chef offers a great value for money. The torch has an aluminum finish with a plastic grip. The muzzle is resistant to high temperatures up to 446°F. The weight of the torch is evenly distributed making it incredibly easy to handle.
The torch delivers a single blue flame that can be up to 2500°F. It also has a continuous flame mode for time hand-free usage. There is a flame controller dialer at the side of the torch. So you can either use it to glaze a baked ham or use it to get rid of surface bubbles in your art resin
Accidental pressing of the ignition button can cause a disaster and to prevent that Tintec has implemented a security lock to save you from damaging your belongings. A wide base is also added for a long-time hand-free safe usage.
The torch is compatible with a wide number of butane refills. To refill from larger cans you have to simply remove the metal base to fit. The torch comes with a set of equipment that consists of a screwdriver to unlock the metal base and a silicon brush to implement recipes. 
Drawbacks
The torch is overall good unless you are into QUARTZ heating as the flame is found to be too small for the work thus consuming much more time than usual.
SE MT3001 Deluxe Butane Power Torch with Built-In Ignition System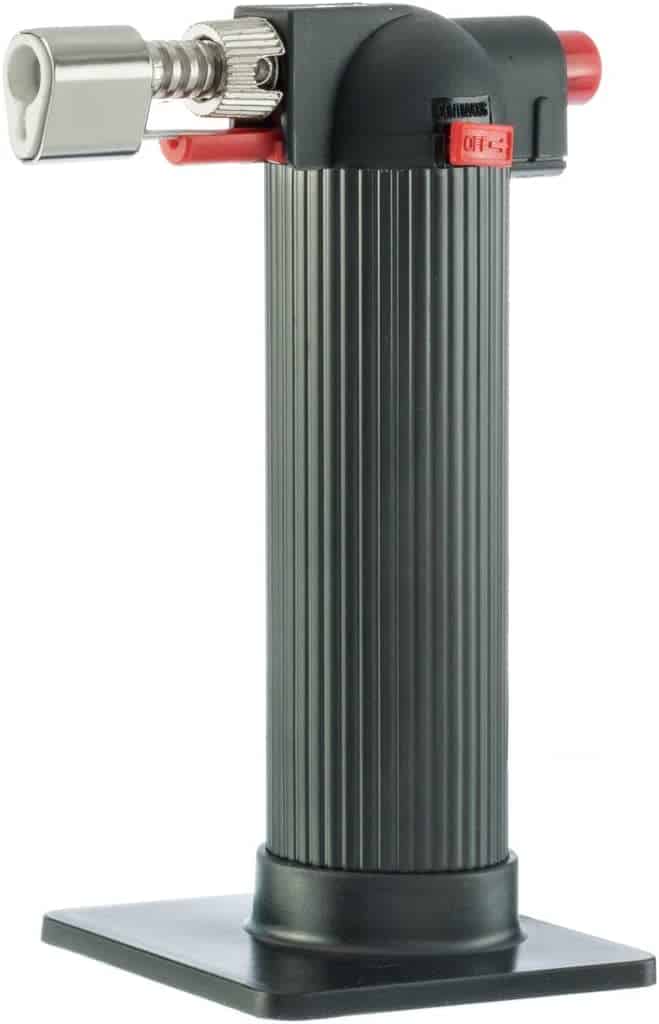 Why pick it?
This product can be compared with a powerhouse as it can deliver continuous flame up to 60 minutes. It can achieve it because of its large fuel tank. Depending on the nozzle size there are two variants of the product, small and large.
The torch is lightweight and sturdy as it is made out of plastic. The circular body with interesting design provides a good comfortable grip.  It has a removable wide base for longtime hand-free usage. The torch comes with a thumb release lock mechanism to ensure child safety. The lock is there just below the ignition button. To ignite you just have to release the lock and press the ignition button.
The torch can reach up to a very high temperature of 2400°F. This makes your dabbing or culinary artworks very easy. If you don't want that high temperature, no worries! A slider is just there at the side to adjust the flame according to your needs.
Drawbacks
The build quality is not up to the mark as after a couple of months usage the base loosens and falls off frequently. According to some users, some buttons start malfunctioning.
Blazer GB2001 Self-Igniting Butane Micro-Torch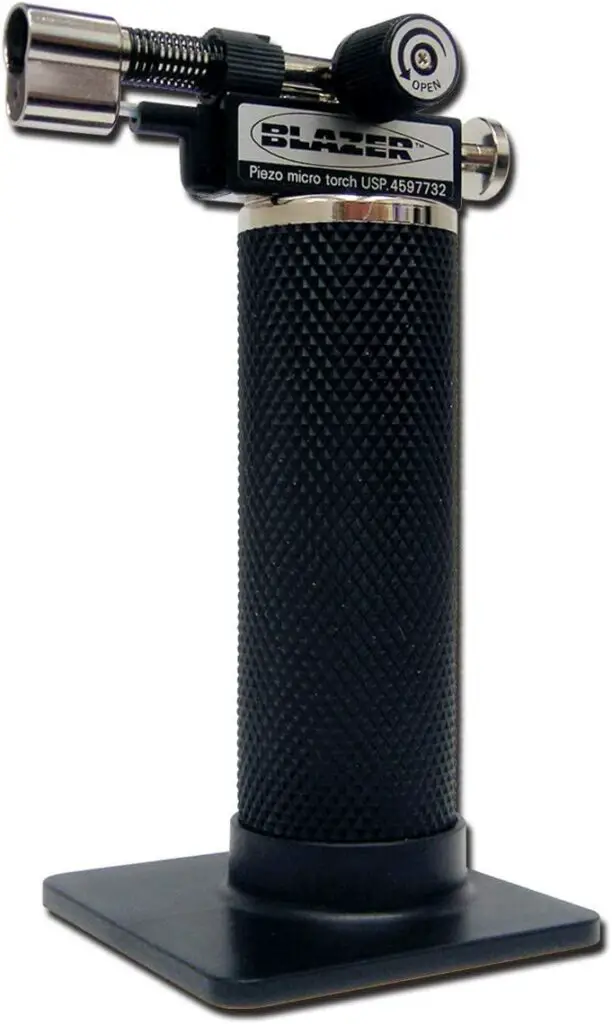 Why pick it?
The product of Blazer is beautiful from outside and beast from inside. The rubber wrapped grip is non-slippery and at the same time comfortable to work with. A removable base is attached to the body for hand-free usage.
The torch has a self-ignition method which uses piezoelectric materials. Thus, you don't need any electrical connection to create a flame. The torch head is 90 degrees angled that can produce both strong blue and softer yellow flames. The flame range is up to 1.25 inches.
The torch has a unique flame controlling system consisting of two dials located at the top. The bigger dial controls butane and the dial located at the stem nozzle controls airflow. Properly combining both you can get flame up to 2500°F. Again, increasing the airflow will allow you to use softer flames when you don't need the top heat.
The large fuel tank of the micro torch can hold gas up to 26 grams that will offer a long time continuous hand-free usage. The burn time of the torch is up to two hours when full with butane. The torch ships without any fuel inside.
Drawbacks
The product's flame controlling is unquestionable but it lacks an on/off switch. In case of a loose dialer, the fuel will leak away.
Dremel 2200-01 Versa Flame Multi-Function Butane Torch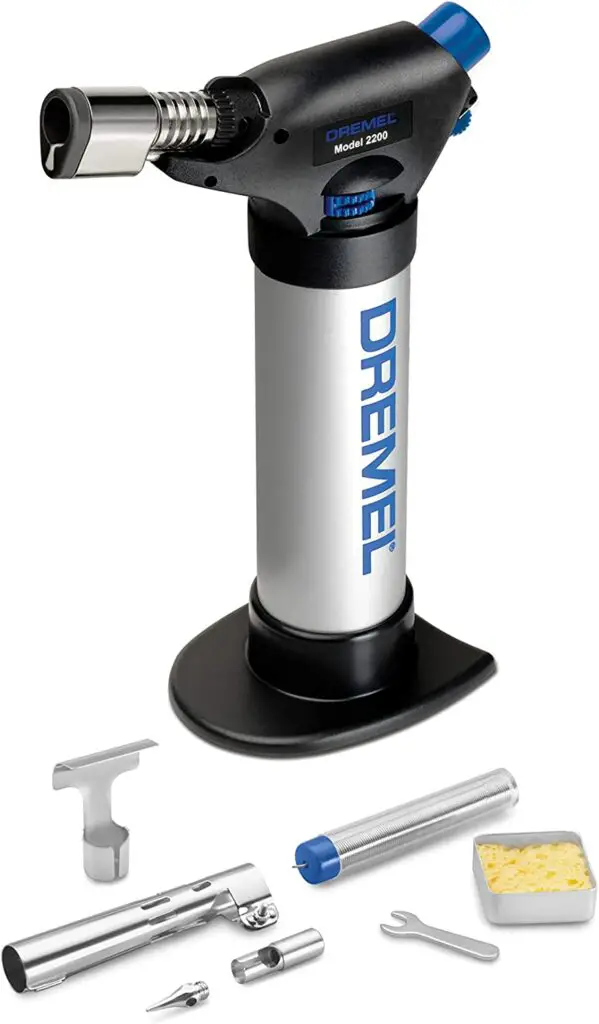 Why pick it?
The Dremel torch is a multi-functional butane torch with a great and unique design choice. The torch has a steel finish which gives a premium and comfortable feel to the hand.
The flame controlling of the torch depends on two dials, one for fuel control or the temperature control and the other for airflow control. If you want the highest temperature you have to set the airflow to the lowest and for a softer flame, u have to increase the airflow.
The torch has a dedicated button to the left for continuous hand-free usage. The large fuel tank can hold the flame up to 75 straight minutes before burning out. There is a removable base attached to the bottom to avoid it from tipping over.
The torch comes with an accessory kit containing a total of nine accessories which makes the simple torch a multipurpose machine gun.
The blower can be used as a general heater as well as a paint or coat remover. The deflector can be applied to shrink the heat-sensitive insulator around an electrical wire. The soldering tip is used along with the diffuser to solder or join wires or components to a circuit board.
The remaining components are solder, sponge, win, and wrench. To carry all these a storage case is also provided by the manufacturers.
Drawbacks
The Dremel torch is found to be extremely fragile by some of the customers. The base is not found to be much strong for daily usage.
The ignition system is not reliable. You may need to carry a match now and then. However, the manufacturer provides two years of warranty for the users to claim.
5 Pack Angle Eagle Jet Flame Butane Torch Lighters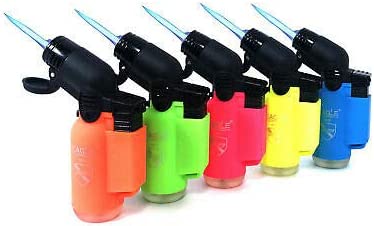 Why pick it?
The pack consists of five Angle Eagle pocket torches which are also available in five different colors. Basically, these are mini torches that will easily fit in your pocket. You can carry these anywhere for either lighting fireworks, cigars or even melting glass tubes.  
The torch has a self-ignition system that delivers a single flame. The crisp blue flame is created at a 45° angle for better accuracy. Depending on your usage, you can always adjust the flame intensity using a simple dialer that is right below the nozzle.
The safety lock is an important feature of butane torches and this mini torch also has a safety cap to prevent accidental ignition. The cap is attached to a chain. Simply loosen the cap and you are ready to go. 
Don't think that they are a one-time material! U can always refill the torch and reuse the way you were using. There is a small circular hole right beneath the body where you can inject butane refills. The torch su[ports universal butane refills.
Drawbacks
The ignition button is really hard to push. The longevity of the product is questionable. According to some users, the product stopped working after two or three weeks. 
In many cases, users found either three or two of the whole batch not igniting or working at all. Informing the manufacturer immediately after noticing is the only solution though the manufacturer doesn't provide any official warranty.
Sondiko Culinary Torch, Blow Torch Refillable Kitchen Butane Torch Lighter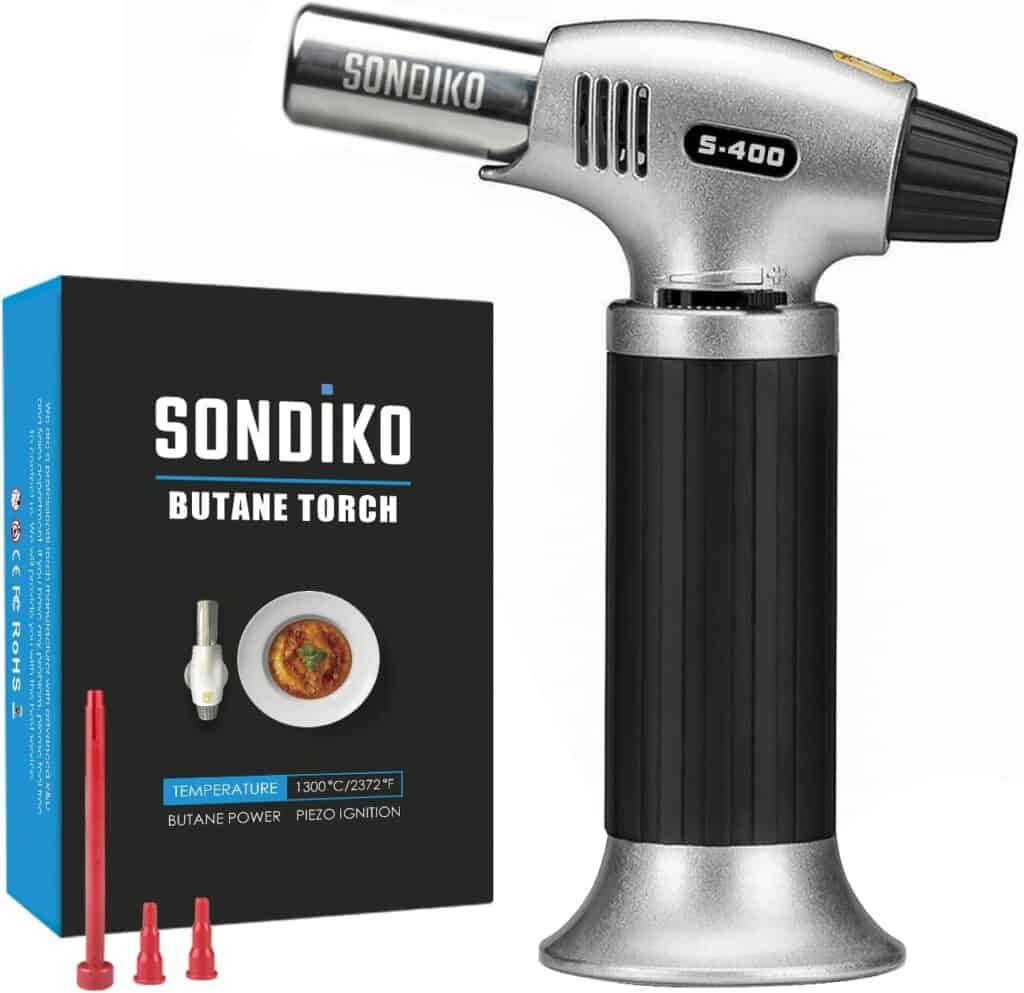 Why pick it?
The Sondiko torch offers a handful of features in a very reasonable price tag. The torch is designed to be a durable masterpiece as the nozzle is made of aluminum alloy and the base is made out of zinc alloy. The body has a rugged plastic layer that provides a good grip and comfortable use.
The safety lock of the ignition button is there for you to ensure that no accidental touch can cause big harm to you. The flame can easily be adjusted by the slider according to your needs. The flame can reach the temperature up to 2500° F which is enough for your kitchen work as well as dabbing.
The torch is refillable and easy to refill. But in order to refill, you must use the long universal refill tip. Otherwise, the gas will leak out. After refilling thirty seconds are required to stabilize the gas and then you can use it.
The torch comes with a mini screwdriver to use it to remove the base (if you want to) and a silicon brush to use for your cooking. The torch ships without gas.
Drawbacks
Some of the users find the flame to be too low at full throttle. In some cases, customers reported the torch not to be working after only two weeks. However, the company does give a 90 days money back and 18 months guarantee.
Facets that Produce Best Butane Torches
There are plenty of butane torches out there in the market. Finding the best butane torch can be really difficult as they are used in various fields. To select the top product, you need to know the key features of the product.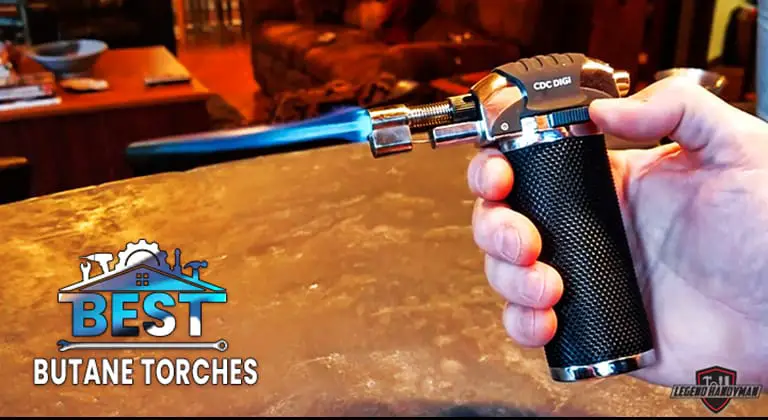 In order to pick the classiest butane torch for your usage, we prepare a buying guide for you that will destroy your dilemma and lead you to the right butane torch from all. At first, let's look at some of the key features of a quality butane torch.
Rigid Build Quality
Butane torches have two types of build. One with aluminum or steel body and the other is of the plastic body. Depending on usage both are equally versatile.
Plastic builds are more durable as the material ensures safety from accidental damages. These torches are heavier but nobody heating occurs as it is an insulator. The torches with aluminum or steel build are more portable and lightweight which prevents fatigue of your hand and wrist muscle for long usage.
Flame Control Accessibility
Flame controlling is a key feature of butane torches as the heat intensity directly depends upon it. A good butane torch must have a flame adjustment system to have complete control over how big or small the flame would be.
Some butane torches control flame through a single dial. These types of torches are mainly for culinary usage though they can hit up to 2500°F. Mainly these torches lack precise and intense flame for which they take a long time to heat if you are into dabbing or jewelry work.
The other types of torches control flame through both air and fuel flow. For a light flame, you just have to increase the airflow and vice-versa. These types are torches are preferable for crafting and heavy working.
Ignition Lock
The ignition lock locks the manual ignition and delivers continuous flame. So it is a crying need if you are into dabbing or jewelry working where a continuous flame is required.
Burn Time
The time a full torch will survive burning is rather known as burn time. The burn time will vary significantly over different models as it directly depends upon the size of the fuel tank.
The sweet spot of burn time among the butane torches lies between 35 minutes to even 2 hours. So, depending on your work you have to choose the size of the fuel tank as the more you are into hand-free continuous work, the more burn time you will need.
Safety Lock
The most important feature that might slip your mind is the safety lock. It will protect you from any accidental press that can cause ignition. It is really important for you if you have small children in your house.
Some manufacturers implement the lock right into the ignition button with a dial while the rest uses a dedicated switch for the purpose. And some others achieve it with a cap!
Why Miss Accessories?
Accessories are not a must, but sometimes they will increase the efficiency of your work drastically.
Some manufacturers provide accessories for cooking such as silicon brush. Again some deliver for more precise crafting works such as soldering.
FAQ
Q: How to refill my butane torch?
Ans: All the butane torches are refilled in the same basic procedure. At first, make sure the torch is turned off and there is no gas flow. For safety turn the safety lock on. It will stop the gas flow completely.
Remove the base and you will see a small hole. Hold the torch in an upside-down position. Shake the refill and align it with the hole in a straight position. Press the nozzle into the hole until hearing a sputtering sound. It indicates the tank is full.
Never refill over a sink or in a slopped area. Butane is heavier than air and it will remain trapped in places which are dangerous.
Q: How do I clean the nozzle of the torch?
Ans: You can deep clean the nozzle of a butane torch by simply applying compressed air. Don't use it directly into the nozzle as it will jam it more. Apply at an angle as it will dislodge any trapped particle that can block ignition. It will also solve the sputtering flame problem.
Q: Are butane and propane torches the same?
Ans: No, absolutely not. They use completely different fuel to work. Moreover, propane torches can produce flame up to 3600° F which is more needed in industrial workplaces. The nozzle structure is also different in the propane torch which leads to more precise and powerful flames. In short, the flames are less powerful in butane torches which are meant to be for small scale applications.
Conclusion
Considering the key features the Blazer GT8000 Big Shot and Dremel 2200-01 Versa are the topmost torches out in the market. If you are into dabbing or jewelry making the robust flame control of the GT8000 Big Shot will be your perfect companion.
Again, if you are into more precise work like soldering, shrinking insulators or even culinary work Dremel 2200-01 is the best for business. It is lightweight which will not cause any pain to your hands for long usage. The perfect accessories will also ensure the highest efficiency of your work.
It is necessary for you to choose a decent torch that can handle your routine work easily as well as support you in other scenarios also. As there are several ones out in the market, you need to consider the key features and limitations that will end up with the best butane torch of your dream.
Also read: these are the best torches for soldering
I'm Joost Nusselder, the founder of Tools Doctor, content marketer, and dad. I love trying out new equipment, and together with my team I've been creating in-depth blog articles since 2016 to help loyal readers with tools & crafting tips.