I love creating free content full of tips for my readers, you. I don't accept paid sponsorships, my opinion is my own, but if you find my recommendations helpful and you end up buying something you like through one of my links, I could earn a commission at no extra cost to you.
Learn more
A chain hoist is the modern version of the pulley. In job site, garage or workshops chain hoist are used for hoisting heavy items. It makes the hoisting work easy, comfortable and fast by reducing the effort and manpower.
Though it is designed to carry a heavy load, accidents may occur due to various reasons such as- exceeding the recommended load, rusting the chain etc. So, choosing the best chain hoist as well as taking all of the safety precautions while using it is very important.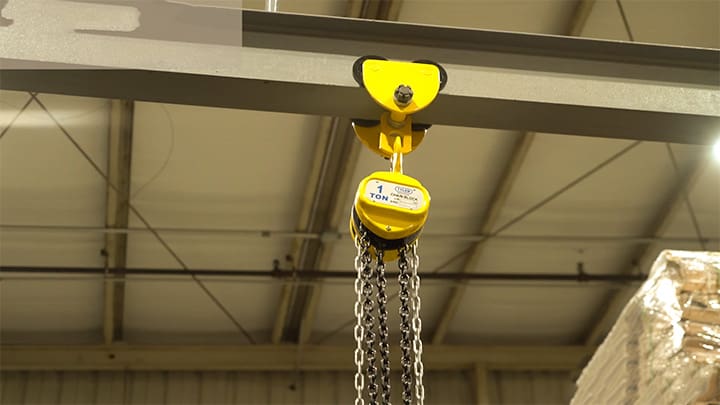 What is Chain Hoist?
A lifting device consisting of a drum or lift-wheel wrapped with rope or chain wraps works by transforming small force over a long distance to large force over a short distance is known as chain hoist. The tooth and ratchet system incorporate with the hoist prevents the item from slipping down.
It can be operated manually or using electrical force or pneumatic force. The most familiar example of the application of chain hoist is in the elevator. The car of the elevator is lifted or lowered by applying the hoisting mechanism.
7 Best Chain Hoist
Here are top 7 best chain hoist we selected and reviewed –
Harrington CX003 Mini Hand Chain Hoist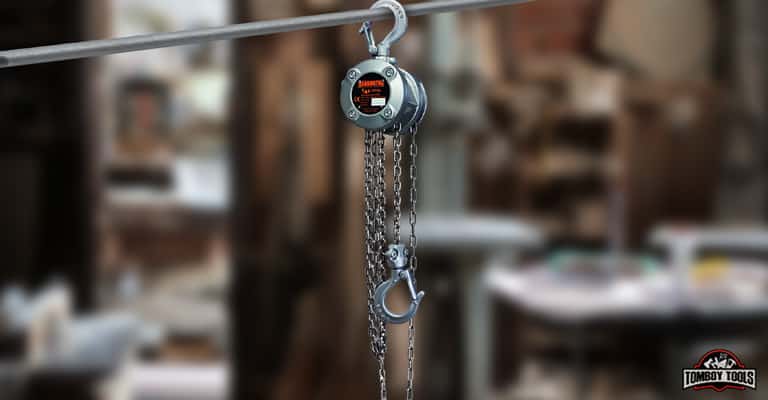 Harrington CX003 Mini Hand Chain Hoist is a manual machine that requires a small, hand-exerted force to start the lifting operation.
Its body is made of aluminum and the frame is made of steel. You will be surer about its quality by knowing that Harrington is manufactured by a Japanese company and you must know Japan is how much sensitive to maintain quality.
Headroom (distance from the bottom of the load hook to the top of the hoist) of this chain hoist is designed to add extra strength. It can lift the item up to 10' distance and to hold the item it has an opening of 0.8''.
Load bearing capacity of this hoist is a ¼ ton. If you apply load higher than this recommended limit the longevity will decrease.
To prevent such mistakes a load limiter is added in Harrington CX003. There is also a friction disk brake. The load limiter along with the fiction disk brake helps to avoid damage and ensures safety.
If you have to work in any narrow space Harrington CX003 will be the top chain hoist for you. It is able to fit into mobile storage carriers. You will be amazed to know about its huge application scope.
You can use Harrington CX003 Mini Hand Chain Hoist for plumbing repairs, crane repairs; home workshops, repairs, or automobile maintenance, heating, ventilation, and air conditioning (HVAC) system installations or repairs and many more applications. Check prices here
Torin Big Red Chain Block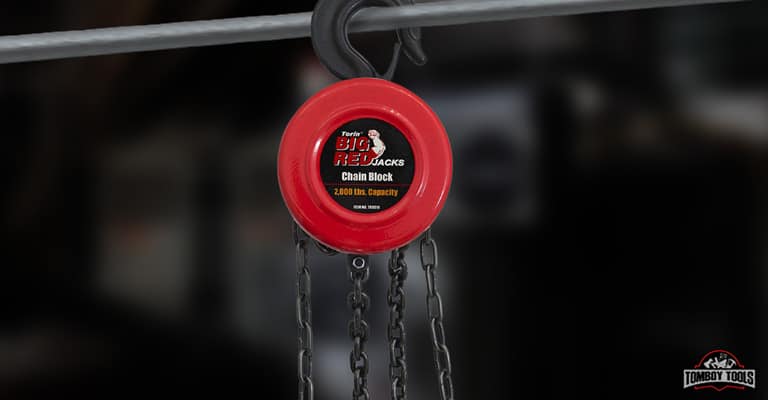 Torin Big Red Chain Block is a manual chain block that uses hook mounting suspension for lifting the weight.  It is a high-quality product that meets ASME Overhead Hoists B30. 16 standards.
The load sharing gears included in Torin Big Red Chain Block has made this tool able to lift weight up to 2000 pound. The range of its weight lifting distance is 8 feet.  It is considered an ideal chain hoist for any kind of industrial hoisting application.
You can lift a car engine or any other heavyweight that does not exceed the recommended limit using this Torin Big Red Chain Block up to 8 feet lifting distance safely.
Steel is used to manufacture this hoist. So, there is no doubt about its long life span and durability. It consists of a grab hook at the top and a swivel hook at the bottom of its frame.
You can hang this hoist chain from your ceiling or any other overhead construction with the aid of its grab hook.  The load you are intended to lift should be hanged from the swivel hook.
But keep in mind that the ceiling from where you are hanging the chain hoist must be strong enough to bear the total load of the item and the chain hoist; otherwise serious accident may occur at any time.
It is an economical product that helps to complete your operation easily. You can include this product to your priority list. Check prices here
Maasdam 48520 Manual Chain Hoist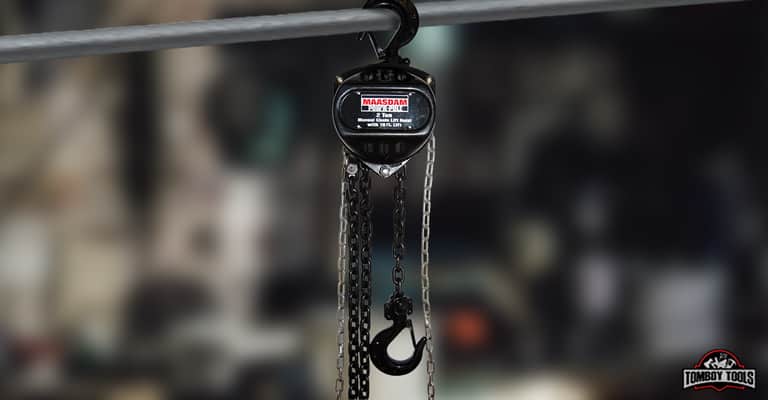 Maasdam 48520 Manual Chain Hoist is a heavy duty product with 2-ton lifting capacity which is higher than the previous ones. You can lift any heavy item less than 2 ton around 10 feet high using this top class product.
Strong steel has been used to construct this Chain Hoist. It does not get rusted by coming in contact with moisture because its body is coated with rust preventing powder.
Since it is very strong, it does not crack or tear or wear because of continuous heavy-duty operation and it also does not get rust it lasts for a long time.
Maasdam 48520 Manual Chain Hoist has a compact frame and so, the space of your working place is not big deal – you can use it at any narrow space for heavy weight lifting.
The chain hoist is strong but not heavy. This wonderful advantage of Maasdam 48520 lets you handle the device without facing any trouble. To make your operation smoother a needle bearing has been included in its configuration.
A common problem with chain hoist that lessens the longevity of it is lifting more weight than its capacity. So, to prevent the problem of lifting extra weight than the recommendation, a fully enclosed brake system has been included in this chain hoist.
It is an economical hand chain that you can use for years after years. So, if you choose Maasdam 48520 Manual Chain Hoist for hoisting heavy weight it will obviously be a wise decision. Check prices here
Neiko 02182A Chain Hoist Winch Pulley Lift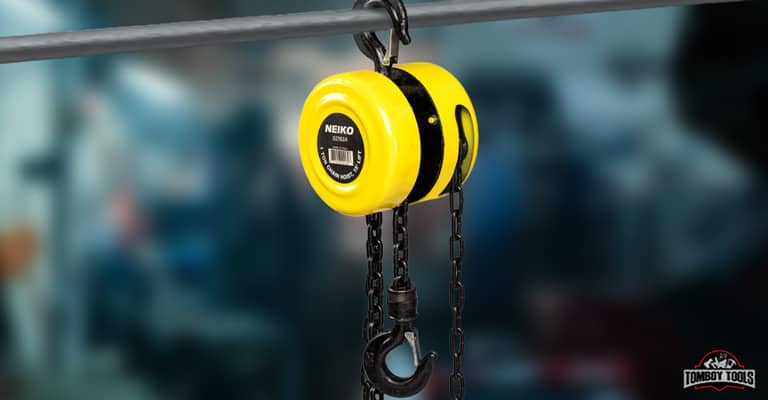 Neiko 02182A Chain Hoist Winch Pulley Lift is a heavy duty product of premium quality including the longer chain.  It is a compact and durable product with all the necessary safety features and you can use it for versatile applications.
The frame of the chain hoist is made from heavy-duty steel. 20MN2 steel has been used in this chain and the hooks are made from full-forged drop steel.  I think you can understand how strong and sturdy this chain hoist is!
The black oxide finish of its frame has been added great aesthetic beauty to this product. You can realize its durability by observing the heat-treated forged and milled steel gear; cold rolled steel hoist cover.
The recommended load lifting capacity of Neiko 02182A model is 1 ton. You can lift anything below this range safely at about 13 feet in height with the aid of its 13 feet chain.
For ensuring safety a mechanical load brake with 45 steel gears have been included in its configuration. So, you can easily hoist a heavy load with safety and precision with it.
It is a great tool for industrial usage requires minimal maintenance. For example, you can use it in mines, factories, farms, construction sites, wharves, docks, and warehouses.
The hooks can swivel and a safety latch is included in it. So, if you need, you can attach it to a trolley. The high resistance against corrosion and grime has been made it a reliable and durable product. Check prices here
VEVOR 1 Ton Electric Chain Hoist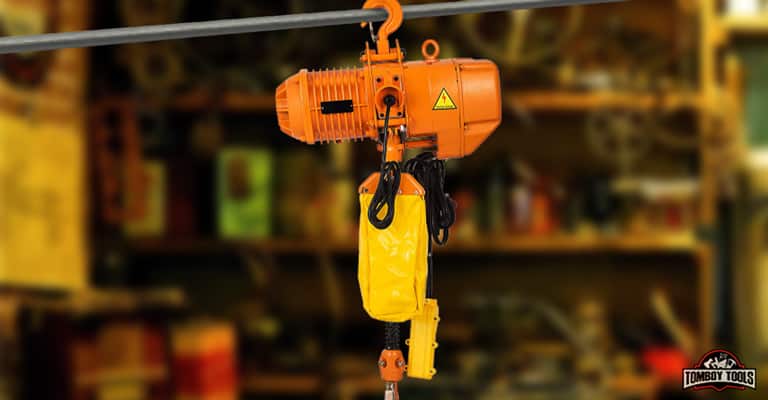 From the name, it is clear that VEVOR Chain Hoist works using the power of electricity.  You can use it anywhere, where there is 220V voltage electric connection.
The strong and sturdy aluminum alloy hooks, G80 chains along with aluminum alloy frame have made it a great heavy-duty and durable product.
Since the weight is hung from the hook, the hook has to experience tension. To make the hooks strong against the effect of tension hot forging metal has been used to manufacture hooks. To prevent any kind of accident during operation safety latch has also been included.
The lifting motor with 1.1KW power can lift a weight of 1 ton up to 3 meter or 10 feet in height. The lifting speed is 3.6 meters/ minute which is really satisfactory.
It has a side magnetic braking device that acts immediately when the electric power is disconnected. Pressure transformer has also been included to prevent electrical accidents.
Since it uses power, it gets hot and to cool it quickly a special cooling fan has been added in its configuration. Unlike other, the double braking system is used in VEVOR 1 Ton Electric Chain Hoist.
You can use this advanced electrical chain hoist in factories, warehouses, construction, building, goods lifting, railway construction, industrial and mining enterprises, and others. Check prices here
Black Bull CHOI1 Chain Hoist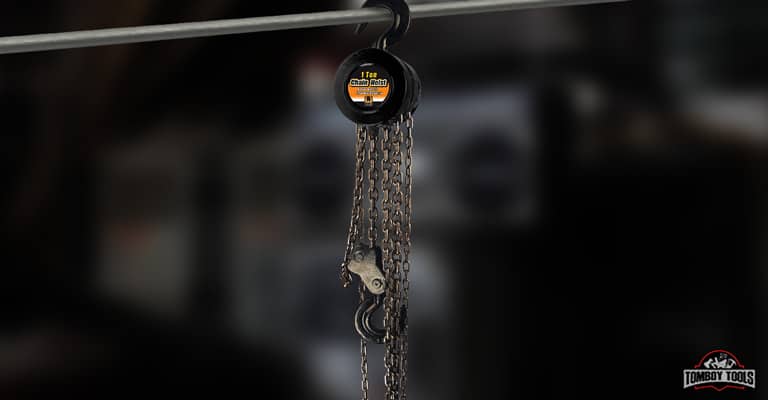 Black Bull CHOI1 chain hoist added a new dimension in the market. This masterpiece lets you do your Hoisting work easily and quickly with comfort.
The heavy-duty construction has made it an ideal product for heavy duty works. Using this Black Bull CHOI1 chain hoist you can lift a 1-ton weight up to 8 feet in height. It is engineered for easy operation.  You can use it in the garage, shop or farm to hoist heavyweight.
The chain is very strong because hardened steel has been used to manufacture it. It will not get damaged due to continual heavy weight lifting.
Extreme resistance against corrosion is another factor of its long life span. Its mechanical lead break prevents lifting extra weight than the recommended weight.
All the properties that should be possessed by a high-quality chain hoist such as high weight lifting capacity, good lifting distance, and good construction materials etc. Black Bull CHOI1 chain hoist has all those properties.
Moreover, it is not so pricey rather it's the price is very reasonable. If you choose this product, I can assure you that you do not have to regret your money at all. Check prices here
Happybuy Lift Lever Block Chain Hoist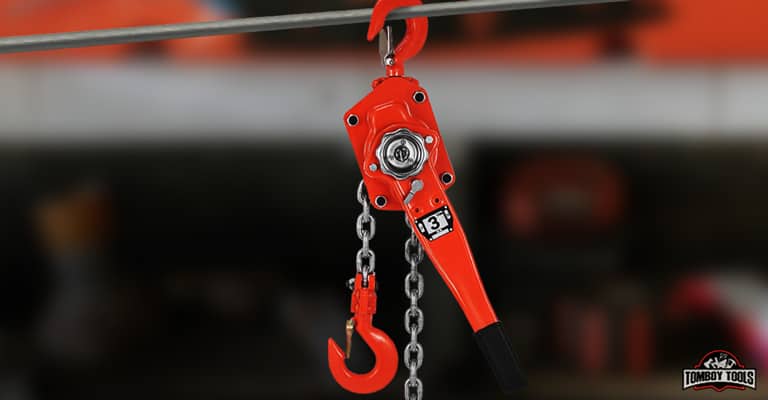 Happybuy Lift Lever Block Chain Hoist is another new name of happy and comfortable hoisting. It is a product of giant capacity.  You can lift up to 3-ton weight using this one.
Hardened, heat-treated and forged steel has been used to manufacture the hook of this Happybuy Lift Lever Block Chain Hoist.  To manufacture the gears heat-treated, forged and milling carbon steel has been used.
The black oxide finish over the outer part of its body has made it aesthetically beautiful. It is also unique in design and it has a neutral position to pull the chain out.
The corrosion resistance property of this product has made it strong against the effect of moisturized environment. The high-quality material and well-engineered design and configurations are the reasons for its inclusion in the list of best.
To eliminate the problem of carrying extra weight, a mechanical brake has been included. It has many more uses in the field of auto shops, construction site, and warehouse. You also can use this product for machinery, tree limbs, radio towers and lifting engine as well.
The product also has an attractive color. So, if you are thinking to buy this product then go and happily buy Happybuy Lift Lever Block Chain Hoist. Check prices here
How to Recognize the Best Chain Hoist?
If you have some basic knowledge about chain hoist, selecting the best product will become easy for you. But, do not worry; if you do not know about these basic factors here we are to help you to recognize the best quality hoist that you are looking for.
Weight Lifting Capacity
Chain hoist of varying weight lifting capacity is available in the market.  What you have to do is to determine the right or the average weight you need to lift using the chain hoist. After determining, the weight you need to hoist, round up the figure to the nearest ¼ ton, 1/2 ton or ton.
The most important information you must need to keep in mind that the most chain hoists are calibrated in ¼ ton or ½ ton increments. So, if the weight you require to lift or lower exceeds 2 tons, you must select a chain hoist of 3 tons weight-lifting capacity.
Lifting Distance
Lifting distance is the second most important criteria for consideration to choose the best one.  You can determine the lifting distance by subtracting the storing position of the product to be hoisted from the hanging position of the chain hoist.
For example, if the item is located on the floor and the beam of your chain hoist is at 20 feet high distance, then the length of your chain hoist must be 20 feet. It is always better to use a chain of some extra length than your requirement.
If the chain of your chain hoist is damaged somehow, you cannot remove the damaged part and add a portion of good chain with the existing one; you have to replace the whole chain with a new one.
Construction Material
Material that is used to manufacture chain hoist has a significant effect on its life span and safety standards. Chain hoist made of steel shows high resistance against corrosion as well as wear and tear.
Temperature has a significant effect on the longevity of chain hoist. Chain hoist constructed from heat treated materials shows good resistance against the variation of temperature.
Suspension Type
The suspension means the escalating method used by your chain hoist. There are various types of suspension methods used by chain hoist.  Some suspension methods are common and some are designed for meeting special requirements.
To select the best type of hoist for your work you should have the basic knowledge about the common suspension method.
Hook Mounting Suspension Method
Chain hoist with the hook mounting suspension method consists of a hook located at the top position of its body.  The hook aids to suspense item from the suspension pin of the trolley.  The chain is welded with the hook and it always remains in the same line with the top hook.
Lug Mounting Suspension Method
Chain hoist that lifts item using lug mounting suspension method consists of lug at the top position of its frame. It helps to suspend the item from a trolley.
Trolley mounted hoists are hook mounted, clevis mounted or lug mounted hoists suspended from a trolley or trolleys; or a hoist having an integral trolley as part of the hoist frame, that allows travel motion on the lower flange of a monorail beam, or the lower flange of the bridge beam of an overhead crane.
Trolley Mounting Suspension Method
Chain hoist that uses trolley mounting suspension method has a trolley as an integral part of its body. It may be a lug mounted or a hook mounted but it must have a trolley.
If the above suspension methods are not enough to fulfill your task you can search for special suspension methods used for chain hoist.
Weight Lifting Speed
It is the crucial part for consideration to buy the best chain hoist.  You have to consider some important factors to determine the lifting speed you need. For example-
Type of the item – hard/soft/fragile etc.?
The condition of the surrounding environment
Sufficiency of empty space around the hoisting area and so on.
The weight lifting speed of a conventional chain hoist ranges from 2 or 3 feet per minute to 16 and 32 feet per minute but some special models has a higher speed. For example, some pneumatic chain hoists can lift item around 100' per minute.
Since it is a crucial task to determine the necessary weight lifting speed and without experience, it is impossible to figure out this criterion properly, we will suggest you take help from an expert if you are not a specialist in this field.
Energy Source
You can operate some chain hoists manually and some can be operated through electrical power and pneumatic power.
Frequently Asked Questions (FAQs)
Q. Can I increase the lifting height of the electric chain hoist?
Ans: Since the load chain is heat treated you cannot add extra chain with the existing one. You have to replace the existing one with a new one.
Q.Which chain hoists are comparatively cheaper?
Ans: Manually operated chain hoists are comparatively cheaper.
Q.When should I consider manual chain hoist better than an electric chain hoist?
Ans: If you do not need to lift frequently and lifting speed is not also an important matter of concern you can choose manual chain hoist over an electrical one.
Q.Should I be concerned always about the adverse conditions while using my chain hoist?
Ans: Yes, you must be considered about the adverse environment, corrosive, explosive and high temperature while using your chain hoist.
Q.Should I be concerned about this noise comes from my chain hoist?
Ans: Noise from your chain hoist is really a matter of concern; it is the warning of any disturbance in your device.
Q.What should I use to lubricate my load chain?
Ans: Grease is the widely used lubricant for load chain.
Q.How to lubricate my load chain with grease?
Grease should be applied over the inner part of the links where the chain is connected.  Take grease in a bucket and placing it under the chain hoist run out the load chain inside the bucket. It is an easy way to lubricate your load chain.
Conclusion
In case, you do not have a clear concept about chain hoist you will be overwhelmed by a lot of varieties of it available in the market and there is a great chance of failure to select the chain hoist to meet your need.
So, it is better to gather all the necessary information about the brand, quality, and features of best chain hoist before investing money for it.  Hopefully, our highly researched article including all the necessary information will help you to meet your need.
I'm Joost Nusselder, the founder of Tools Doctor, content marketer, and dad. I love trying out new equipment, and together with my team I've been creating in-depth blog articles since 2016 to help loyal readers with tools & crafting tips.