I love creating free content full of tips for my readers, you. I don't accept paid sponsorships, my opinion is my own, but if you find my recommendations helpful and you end up buying something you like through one of my links, I could earn a commission at no extra cost to you.
Learn more
From east to west, no matter where you go, you will get to see fascinating arts on wooden materials. This rife work of manipulating woods has been around from the ancient time up till now. If you are a professional carver, then you probably tried carving with many kinds of knives. But the result wasn't the best, right?
That's because all the knives have different purposes. And for a delicate workpiece, you need a specialized knife along with the wood carving tools you have. If you are a beginner or want to carve as a hobby, you need that essential tool too along with your patience and time. So, giddy up to know about that magic tool, the best chip carving knife!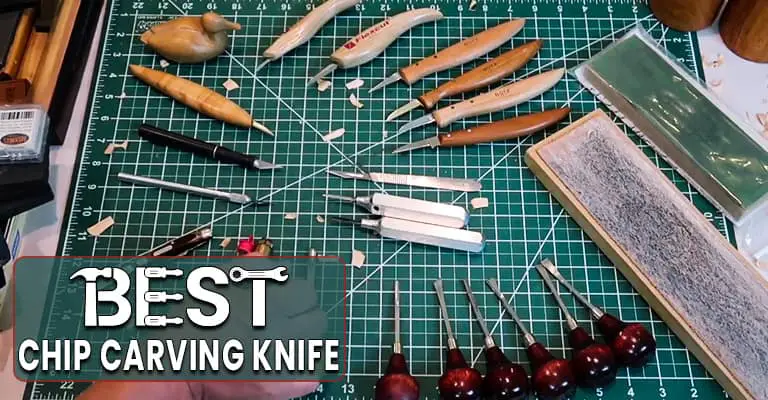 Best Chip Carving Knives reviewed
Say goodbye to the time-consuming comparison of hundreds of products. We have sorted out some of the best carving knives to help you find your perfect tool easily.
1. FLEXCUT Carving Knives
Positive Features
FLEXCUT manufacturer offers a set of 3 pieces of carving knives at an average price. These flexible knives have a razor-sharp high carbon steel blade for smoother cutting. The blades are not only super sharp when you first get them, but they are also simple to keep sharp for a long time.
As the handles are designed ergonomically, you can use the knives for a long period without hand fatigue. The carved handles are made from ash hardwood that fit comfortably in your palm while the texture helps to grip firmly. Even if your palm gets wet, you can work with it without any drag.
Every set includes the cutting knife, detail knife, and roughing knife featuring different types of blades for different types of cuts, such as the vertical cut. The knives are made in the USA and they are not like other cheap imported low-quality knives. If you are a professional, this tool is the best choice for you.
Negative Features
It is difficult to cut smaller details with these blades.
Not for beginners due to a very sharp downward tip.
2. BeaverCraft Cutting Knife
Positive Features
BeaverCraft manufacturer offers a chip bench cutting knife to address the needs of the amateur and professional woodcarvers. This knife is designed especially for wood carving, curve cutting, etc. and best for whittling and beginners. The thin pointed tip of the knife allows delicate cutting on tight areas of detail designs.
Hardwood oak is used to make the handle of the knife and which is also processed with natural linseed oil. And the ergonomic design of the handle allows you a long period of comfortable carving without any hand fatigue. The blade is made of high carbon steel, sharpened and polished so that users can use it right from the box.
The cutting edge of this knife is super sharp and durable that it can cut hardwood as well as detail cut at softwood. You will be gifted 3 eBooks with this product! The company stands by their green woodworking tools quality, so you can get all the necessary information.
Negative Features
The blade of this knife is relatively thicker than other knives.
Not suitable for detailed or fine woodcarving.
The finishing of the knife isn't great.
3. SIMILKY Cutting Knife
Positive Features
SIMILKY manufacturer boons you with 1 & 2 sets of whittling knife and 12 sets of carving tools along with other kinds of knives. As this producer stands by the green woodworking tools quality, you can get any kind of info about this product. It offers a 100% money-back guarantee if you are not satisfied with the knife.
As the blade of the chip carving knife is very sharp, it allows you to cut softwood smoothly to make fine cuts and small details. These blades are made of high carbon steel and it is hardened to proper firmness. You can use the thin pointed tip of the blade for delicate wood cutting.
A long period of comfortable wood carving without hand fatigue can be achieved by the ergonomic handle. The handle is made from hardwood oak and processed with natural linseed oil. You can use this knife for general wood carving, fine cutting, green woodworking, and detailed designing in both hard and softwood. The smooth cuts won't leave much dusty mess for the dust extractors.
Negative Features
The tools of the kit are not suitable for harder wood pieces.
Sometimes the tips are not well glued.
The finishing of the knife is not so good.
4. Elemental Tools Whittling Knife
No products found.
Positive Features
Elemental Tools boons you with an amazing carving knife at a fair price. This knife has a very unique style and artistic touches to it. The knife is so smooth and clean when you carve it. You can do detailed softwood carving, whittling, round edge sharpening with this knife.
Black walnut is used to construct the ergonomic handles and they are so comfy for hours of carving and feels great in hand. The blades are made of using high carbon 65MN steel that makes your knife super strong and it remains sharp for a long period.
One of the best things is, if you are not 100% satisfied with this product, the manufacturer will refund your purchase but you can also keep the knife! You can also gift this item as the knife comes with a stylish bamboo box. This box offers storage and safe organization of the knife.
Negative Features
Not suitable to work on the hardwood.
The blade doesn't come pre-sharpened.
Not so durable compared to other knives on the list.
5. Allnice Wood Carving Tools
Positive Features
Allnice manufacturer offers two carving sets of 5 and 6 tools. These tools can meet different carving needs from rough working to detailed working. This kit covers all the needs, to carve round edges, delicate wood cutting, whittling and roughing wood out of different sizes.
Made with Fraxinus wood and covered with natural oil make the handles durable. The ergonomic design makes the knife to fit perfectly in your palm. The blade is made of 65 high manganese steel that is ready to use and no need to sharpen often. Both the handle and the blade stay the same for a long time.
Every package includes a carving hook knife, a whittling knife, and a chip carving knife. You will also get a leather strop and polishing compound. All these tools come with a canvas roll-up bag that has individual sloths for each carving tool. It offers the maximum protection and organization of your tools.
You may like to know other best wood carving tools
Negative Features
Unlike other knives, the hook knife isn't sharp enough.
The blades are not always attached properly, so they fall out while working.
6. Wood Carving Whittling Kit
Positive Features
4JUMA manufacturer offers a kuksha knife that is also known as the spoon carving knife used for carving and whittling bowls. You will get a chip carving detail knife for delicate wooden cutting. There will be leather fingertip and sandpaper also and all of them comes in a stylish pinewood box.
Not only on wood, but you can also use these knives for carvings on the soap and pumpkin. These fixed blade knives are ideal for everyone regardless of your skill as they are easy and effortless to use. The finishing of the knife is so good and the blade holds its sharpness for a long period.
After you purchase, step by step tutorial guides on woodcarving will be emailed to you. So, even if you don't have any idea about carving, you will get it for free. As the storage box is made of rich pine, you can gift this fancy item to anyone.
Negative Features
You will not get any warranty with this product.
There is no proper information provided about the knife material.
7. Two Cherries Long Chip Knife
Positive Features
Two Cherries provider provides a long skew-edge knife that is designed for only chip carvings. The great German chip carving quality and edge performance of this product is hard to beat. You can remove the logo of the manufacturer easily if you want to.
Not only the blade material but also the handle has excellent quality as the knife is made of quality steel and handle is made from hornbeam. The edge angle of the blade is perfect, so it's easy to sharpen. The best thing about this long chip knife is, it is ideal for any detailed work on wood.
You can buy an individual knife or a set of 10 knives from this manufacturer. The beech shaped handle offers better control over it. This good quality knife comes with a nice package at a lower price. If you are a beginner, this product is a good one to start with.
Negative Features
The grip is smaller and not comfortable for people with big hands.
Blades are not pre-sharpened
Blades require sharpening and honing before use and maintenance regularly.
The handle is not designed ergonomically and it is slippery too.
Trip to Find the Best Chip Carving Knife
To find the best product, you must look for some specific criteria before buying.  This section comes with the specifications you need to know about carving knives.
Knife Types
For random works, you use pocket knives, but they are not suitable for carving. There are mainly 3 types of carving knives- Chip Carving knife, Stab knife, and detail knife. And the carving knives can also be of 2 other basic types, they are Folding and Fixed-blade knife.
Chip Carving Knife
In chip carving, this is the primary knife. The blade of this knife is comparatively shorter for more comfortable and accurate cuts. Also, the blade is curved to an angle with a sharp and pointy nose to be able to cut deep in the material.
Stab Knife
To make straight lines in your chip pattern, this stab knife is used. The blade of this knife is straight-edge and can be sharpened easily for precise cuts. You can't cut small details with this knife as it requires a larger working surface. The same applies if the surface is glazed with Epoxy resin.
Detail Knife
As the name suggests, the purpose of this knife is to do detailed work. It has a pointy blade tip that can penetrate deep and allows you to make very accurate cuts even in a smaller area.
Folding Knife
The folding knife is more portable and legal in almost everywhere as it causes less alarm in public. But they tend to be weaker and hard to clean. It can become dangerous if the locking mechanism malfunctions.
Fixed-Blade Knife
This blade is durable and less likely to break. You can clean it easily and it's more useful for large carving works. But this knife is not always legal to have in public. It is less portable and can't be folded for better storage.
Blade
To work on both softwood and hardwood, the blade must be very sharp and durable and of course, must be made of steel. For strength, you should prefer carbon steel than stainless steel blades. Some knives do not come pre-sharpened and some require routine honing and sharpening, avoid them if you want to.
Handle
For normal handles, you will have hand fatigue for a long period. Fraxinus wood, hardwood oak, and hornbeam are usually used to make the handles. Sometimes they are polished with natural oils, such as linseed oil for more durability and better finishing.
Tang
The tang is the way the tool is attached to the handle. There are 2 types of tang, full tang, and partial tang. In a full tang, the steel goes all the way through the handle, but in the partial, it goes a little way. So, for the durability and safety reasons you should go for the full tang knives.
Kit
Some of the manufacturers offer other toolkits, such as box, sandpaper, honing stone, etc. with the chip carving knives. All these tools are essential since you need them for storage and maintain the cleanliness and sharpness of the knives. If you get a kit, you won't have to buy them later individually and pay extra for all these features.
Instructions
For a beginner, instruction on tools is a must. Though all providers do not offer manuals, some provide instruction books on the tool and as well as guides on woodworking. The instructions can be provided as hardcopy or PDF. Don't skip the instructions if you are not professional.
Size
Before buying a knife, make sure the size is suitable for you and fits your hand properly as not all the knives are standard sized. And for blades, you should go for the longer and thinner ones for removing crusts. But for detailed works, get a short thin blade so that your hands are close to the chip and you can cut accurately.
Warranty
Try to find a product that provides a lifetime warranty. Some manufacturer offers a 100% money-back guarantee if you are not satisfied with the tool. You should go for these items as they won't offer a refund with a bad quality product.
FAQs
Here are some frequently asked questions and their answers.
What Is the Sharpest Carving Knife?
The Best Slicing and Carving Knives
Dalstrong 12-Inch Shogun.
Wusthof Gourmet 14-Inch Hollow Edge Brisket Slicer.
Dalstrong 12-Inch Gladiator.
Wusthof Pro 11-Inch Hollow Ground Roast Beef Slicer.
Global G-10 12.5-Inch Flexible Slicing Knife.
Icel 12-Inch Practica.
Victorinox 12-Inch Fibrox Pro Slicing.
Who Makes the Best Whittling Knives?
Flexcut is another trusted brand among the best wood carving knives list, especially when it comes to woodcarving and whittling. The Whittlin' Jack is the perfectly portable companion to do whittling anywhere and at any time. This tool is similar to a pocket or utility knife, sitting at just over 4 inches long.
Is Oak Easy to Carve?
Oak is also a popular wood for carving, with a range of features that make it almost ideal. It is a strong and sturdy wood. … With power you can more easily carve a hard wood and get great detail while the same hard wood might be very frustrating for a hand carver.
What Is the Difference Between Whittling and Carving?
Carving employs the use of chisels, gouges, with or without a mallet, while whittling involves only the use of a knife. Carving frequently involves powered equipment such as lathes.
What Knives Does Gordon Ramsay Use?
Chef's knife is the backbone of every professional chef and will speed up a chef's progress. Gordon Ramsay uses both Wüsthof and Henckels branded knives; the brands are known for quality products, and they are two of the best knife manufacturers in the world.
Can You Carve Meat With a Chef's Knife?
Chef's knives are used for cutting meat, dicing vegetables, disjointing some cuts, slicing herbs, and chopping nuts, but there are a number of different varieties for separate purposes, including carving, slicing and bread knives for specific ingredients.
What Do You Use a Santoku Knife For?
Santoku knives or to give them their full name Santoku bocho knives, which translates as 'three uses', are ideal for mincing, dicing and slicing, as they feature a straight edge with a narrow sheep's foot blade. These knives have evolved from the traditional Japanese vegetable knife which has a rectangular blade.
What Is the Best Pocket Knife for Whittling?
7 Best Whittling Knives of 2021:
Morakniv Wood Carving 120. …
Flexcut Carving Jack Wood Carving Knife. …
Flexcut Whittling Jack Knife. …
Flexcut Tri-Jack Pro Whittling Knife. …
Morakniv Wood Carving 164. …
Fury Nobility Raindrop Razor Edge. …
Case Cutlery 06246 Black G-10 Seahorse.
Q: Do I need to take any protective measures to work with a carving knife?
Ans: Of course, you do. These knives are super sharp and is no less hazardous than a drawknife. It can cut through your skin deeply, so you need to wear gloves. You should also wear goggles to prevent unexpected accidents.
Q: How should I control the whittling knife?
Ans: To control the whittling knife, make sure you use your wrist, not your elbow. Otherwise, performance and accuracy will decrease, and using a wood filler will be inevitable.
Final Statements
Even if you are just a beginner and have checked the buying guide as well as the product review section already, then you should know which knife suits you best. But if you don't have all the time, want a quick answer or confused, then sit tight. We are here to help you find the best chip carving knife.
At first, we recommend you buy any knife from the SIMILKY manufacturer. You will get some amazing features with the product, such as durability, ergonomic handle, and green woodworking. And even if you don't like it, you will get a refund!
Aside from that, we recommend you buy the knife from FLEXCUT if you are quite skilled at carving. This knife set is long-lasting and super sharp and best for professionals. We also recommend you buy the knife kit from 4JUMA since it offers the best quality knives and comes with a fancy box that is perfect as a gift.
I'm Joost Nusselder, the founder of Tools Doctor, content marketer, and dad. I love trying out new equipment, and together with my team I've been creating in-depth blog articles since 2016 to help loyal readers with tools & crafting tips.