I love creating free content full of tips for my readers, you. I don't accept paid sponsorships, my opinion is my own, but if you find my recommendations helpful and you end up buying something you like through one of my links, I could earn a commission at no extra cost to you.
Learn more
Wood chisels are one of the best performing tools for professional woodworkers. No matter whether you are a hobbyist, or you love making your workpiece, excellent edging tools are mandatory for woodworking.
However, the market is inundated with enormous products, so we have put together a list of the best wood chisels that could satisfy your requirements.
This small unit can serve different purposes, as it can efficiently work on woods, and also on stones for cutting or craving.
Besides, it has a sharp blade on its end with a wooden or polypropylene handle. Additionally, using this precision tool is quite simple and straightforward. 
While reviewing these wooden chisels, we have interviewed experienced sculpture maker to provide you the latest catalog of the products.
Therefore, this article aims to educate you about these items and assist you to cut out the best from this massive crowd of options.
Best Wood Chisels Review
Whether you want to create pits or holes, or you simply want to shave down rough edges, wood chisels are essential if you are into handcrafting trade. Here is a list of 8 wood chisel sets that should help you create your craft.  
PSI Woodworking LCHSS8 Wood Lathe HSS Chisel Set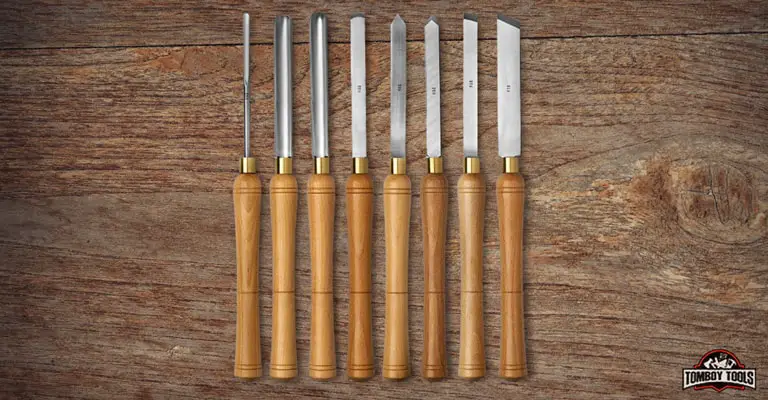 Do you want to turn your hobby into a profession and amaze people with your extraordinary skills? Then grab the opportunity of holding onto PSI Woodworking LCHSS8 Chisel Set to make yourself known as a qualified turner. This eight piece chisel set will facilitate you to produce a variety of shapes.
Large projects can be handled easily with these well-built eight tools. The 5-1/4-inch blades feature the M2 high-speed steel for perfection. Its rigidity and strength ensure durability. These tools will not break easily, which means you do not have to buy a new set the next year.
The blades of each tool are available in the desired size. Each of it is shaped wonderfully to remove the smallest or largest materials; to make beads, slopes for the detailed structure and result in a notably smooth finishing. The handles are of 10-3/4-inch, to allow a very comfortable holding for a longer duration. You can turn it in any direction to create a smooth edge.
Every device is lightweight so that you can carry it anywhere at any time. Shaping objects become a tough job if you fail to work for hours continuously. Therefore, being effortlessly carried prevents you from becoming tired within an hour. It is of light color to create a joyful ambiance.
Pros
The M2 high-speed steel ensures more extended durability
Its lightweight property denotes easy transportability
For a comfortable grip, the handles are made well
Tools with required sizes of blades are available
Cons
Stanley Wood Chisel Set 150 Series Short Blade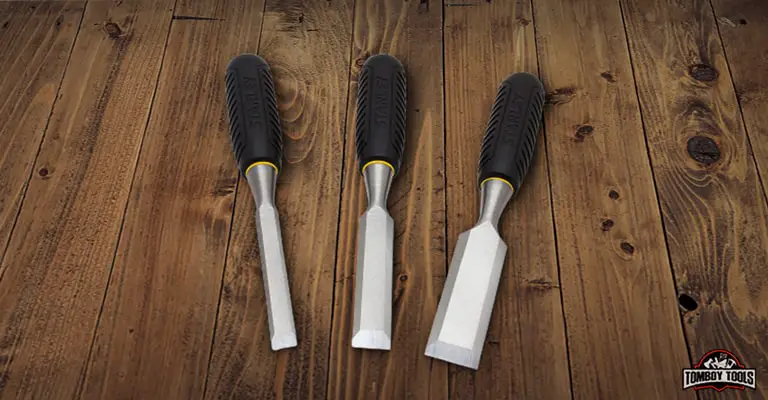 Many inexpensive wood-cutting tools are available in the market but not qualified enough to satisfy the customers with the proficient outcome. A company has come up with Stanley 16-150 150 Series Wood Chisel Set with new features for hobbyists like you.
One of the most desired features is to have a weather-resistant handle that results in many advantages. The inexpensive black polypropylene is waterproof, so it prevents it from quick destruction.
You will be amazed to know that this polymer is an insulator, which means it will save you from electric shock. Furthermore, it does not get deformed easily, but if it does, the repairing process is effortless.
Carbon steel blades are the most beneficial to be used in wood shaping tools. The steels are heat-tempered to give them perfect structures for effective results. Carbon, which is popular than other metals ensures toughness and robustness. Therefore, the gadgets can be used for a long time.
The blades are moreover lacquer-coated that prevents it from rusting. As lacquer is thinner than others, it is highly efficient to protect them from quick corrosion.
Additionally, the hardening process is uniform, so any part of those can be used to shape or cut the woods. You do not need to sharpen them before use, which means faster work.
Pros
The black polypropylene handle cannot be deformed
For making solid blades, manufacturers use carbon blades
They need no sharpening
You can use them holistically
Cons
The blades are not sharp enough
VonHaus Craftsman Woodworking Wood Chisel Set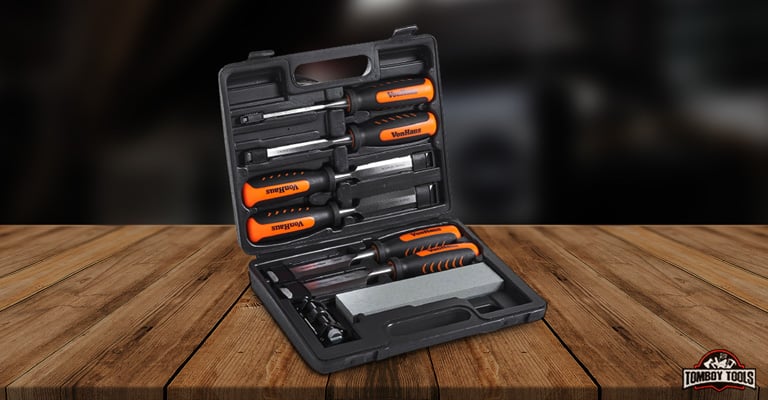 VonHaus has designed a good wood chisel set with tools to be used both at home and in any professional place. You will be delighted to know how the blades of VonHaus Craftsman Woodworking Wood Chisel Set are prepared to satisfy you with the perfect carving of wood.
The blades are made up of chrome vanadium steel alloy for having improved properties. Chromium and vanadium are added with steel to ascend the degree of their strength, robustness and make this corrosion resistance. Thus, you can use these for about years. 
Moreover, the alloy is heat-treated for it to accumulate desired chemical properties so that it can be used to build expected blades. The blades have narrow side-bevels, which are inclined to an angle to ensure acute sharpening and precise shaping.
You will love to use these tools, chiefly due to the handles. These are rubberized for your comfortable grip and prevent slipping from hands. It also features heat-treated chrome vanadium steel. 
The box contains six chisels, each with different sizes of blades. Therefore, you can use each for distinct purposes, like for creating holes, shapes, or smoothening edges. The kit has a honing guide and a sharpening stone to let you check and make sure of the bevels' sharpness before use. You can carry the plastic storage case anywhere.
Pros
The use of alloy maintains all the required properties
Heat-treated chrome vanadium steel
For angled shaping, side bevels are essential
Proper handle for a controlled grip
Six chisels with different sized blades are present
Cons
REXBETI 10pc Premium Wood Chisel Set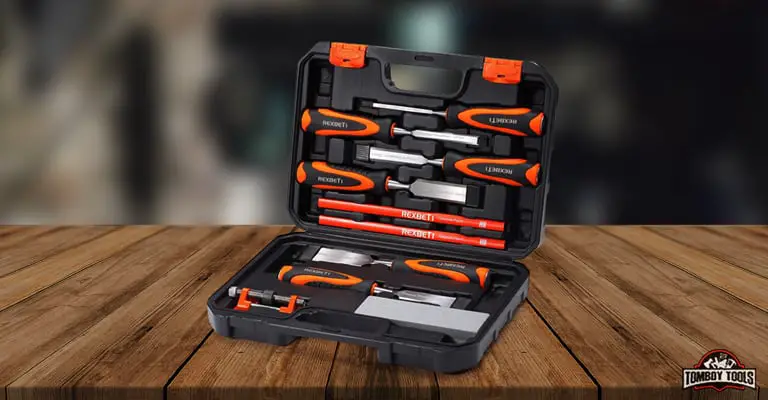 For starters, who are looking for a toolkit with all the essential items required for learning and gaining experience, Rexbeti 10pc Premium Wood Chisel Set is a complete package. Even to professionals, they'll recommend this box as the best woodworking chisels.
To be able to comprehend every tool's specific use, the box contains six chisels with different structures of blades. Chrome vanadium steel alloy is used to make the blades, to intensify their physical and chemical properties. The items are now more enduring to regular use due to their strength and toughness. You can use these to shave off thicker wooden material.
Bevel edged chisels are very useful for trimming dovetails or tenon faces. You can get into corners and shape the wood for detailed work. Slipping off of the tools from hands is prevented by rubberized handles. It allows you to tightly hold on to the handle and feel comfortable while working.
You can hit the chisel with a hammer without harming it as a metal cap covers it. Your hands or wood surfaces might go through unexpected cuts, so protective caps are used to cover the blade while it is of no use.
However, you can set your equipment inside the honing guide at a particular angle. Finally, when the blade is dull or damaged, you can use a sharpening stone for sharpening.
Pros
Thick rubber handle prevents the hand from becoming slippery
The use of steel alloy ensures durability
Blades with bevels result in precise work
The metal cap allows the use of a hammer on chisel's end
Cons
It is difficult to use the short sharpening stone
Narex Woodworking Chisels 863010
The affordable set Narex Woodworking Chisels 863010 has everything that you need either at home or working place. You will be blissful to use each of the balanced and significantly processed chisels.
For efficient use, the company has used a chrome-manganese steel alloy to construct the blades. It is chiefly used to produce stronger and smoother blades than carbon blades.
Without any use of a coating, manganese prevents corrosion, making this set heat resistant. The items hardness is noticeable by its RC59 rating, resulting in a more extended hold on the sharpness of the edges. 
To ensure durability; the handles are made up of lacquered European Beechwood, which is shock resistant. These can be polished well allowing for a firm and comfortable grip. 
Furthermore, the handles are not completely oval and have some curves. So, they do not roll off the benches and have your time wasted in picking up the tools repeatedly. Moreover, lacquer consists of waterproof materials that provide excellent protection to the tools.
It also makes these shiny. The bevel angle of 25° is ideal for retaining the sharpness of the edges, for removing most or least amount of wood, and for giving a perfect finishing touch. You do not need to sharpen the edges before every use.
Pros
The manganese blades are more durable
Well-polished handles are more convenient for daily use
An angle of the bevel results in precise woodworking
Shock-proof lacquer saves you from accidents
Cons
Irwin Tools Marples Woodworking Chisel Set
Irwin is always thinking of ways to help you improve your craftsmanship. You do not need to be adept to buy specific tools. The Irwin Tools Marples Woodworking Chisel Set contains six of them to enhance your potentiality.
With all the different types of chisels, you can ensure extreme precision, especially while making dovetails or shaping mortises or tenons. It also includes 1-inch chisel for a larger cut.
Each tool has a robust structure to withstand the driving force of wooden mallet or any hammer. The end of the handle does not get deformed easily. To create cutting tools carbon element is the first choice. In the alloy, carbon is added to steel to improve its physical properties to a great extent.
This inexpensive carbon makes the steel harder and stronger, which is essential to maintain the durability of the devices. Moreover, the alloy makes the blades lighter and safer to use. Therefore, the hardness is rated as 58-HRC.
Your hands will not get slipped off the tools easily due to the shock-proof polypropylene used to manufacture the handles. The properties of the handles maintain both tight and comfortable grips.
Moreover, the structure is slim for sturdy control. After sharpening the blades, you can cover them with protective caps to prevent hand-cut.
Pros
You can use each tool for different purposes
The blades are tough enough to be used for years
Shock-proof handles offer reliability and security
You can use hammers to strike the tools
Cons
You need to tune the handles
WORKPRO 3-piece Wood Chisel Set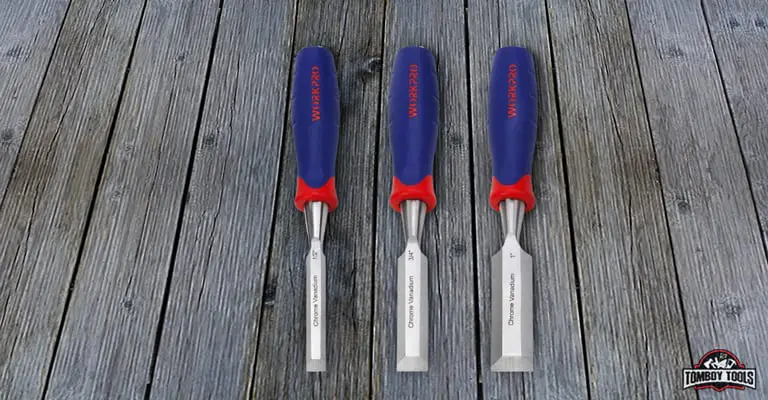 Are you looking for tools to carve wood of any thickness to decorate your house with wooden showpieces or fulfill other purposes? If you are not a professional, then you can grasp the WORKPRO 3-piece Wood Chisel Set to let your talent burst out.
To maintain the sharpness by ensuring proper inclination of the bevel edge, it is heat tempered. The mixture of chrome and vanadium to steel strengthens the physical ability of the blades.
Being stronger, more robust, and harder, it can bear frequent usage over the wood of any depth. Weather cannot cause rust over the surfaces and make these blunt easily.
Whenever necessary, you can use a hammer to hit the end of the tools to produce your desired artifacts. The equipment is designed in a way to be able to withstand force upon them.
These will not get disfigured with such blows. To be able to grip the handles for a long time comfortably, these are made up of suitable materials. Amidst working, the handles will not skid off your hands and cause accidents.
The bevel-edged chisels are safe to use. To shape any corner of the woods effortlessly, this type of product is very beneficial. You can adjust the angles of the bevels by sharpening the edges for particular work. It is very applicable to shave off materials from any wood.
Pros
The use of vanadium alloy has made the tools durable
You can use bevel-edged chisels to work on corners
The handles can bear hammer's weight upon them
The application of proper materials resists corrosion
Cons
There are no protective caps
DEWALT 3 pc Side Strike Wood Chisel Set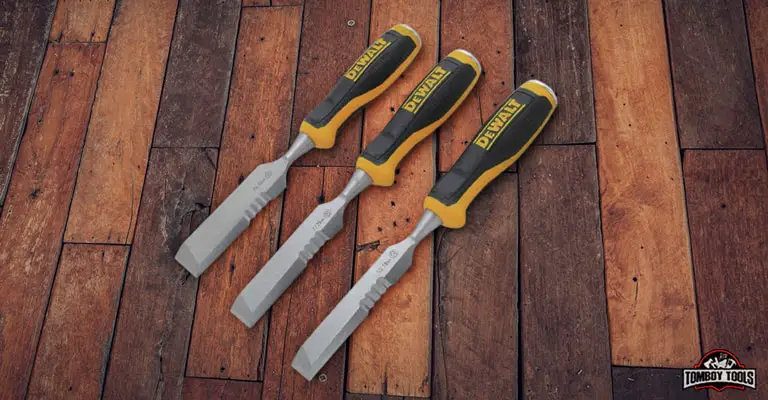 Starters, who are looking for chisels with convenient features to practice and shape their skills, for them DEWALT 3pc Side Strike Wood Chisel S is a good choice. Before turning your hobby into a profession, you can use these tools to improve your abilities.
The carbon steel blades are stronger and more durable than other blades. No matter how many times you use these, your equipment will not break. As a beginner, you might be using the tool in the wrong way.
So, these blades extend your chance of practicing more. Moreover, you need not worry about the price as the use of carbon decreases the expense of the set.
With this device, users usually prefer scraping. Therefore, you need to have reasonable control over your hands so that you do not take the wrong turn and put scratches on your wood's surface.
The bi-material handle reduces vibration and ensures a comfortable grip. It has a curved shape to hold it tightly. Furthermore, hard caps are present at the end of the handles to protect them from a hammer strike.
To retain the sharpness for a longer time and cut through tough materials; a serrated cutting edge is helpful. Having serrated edges mean you have more option for designs. The sharp points are necessary for particular shaping; therefore, you can use these tools for a variety of purposes.
Pros
Serrated cutting edge means versatility of use
Each chisel is durable due to carbon steel
The caps protect the handle at the end
You can have a comfortable grip on the handles
Cons
It is difficult to sharpen the serrated blades
Features To Consider Before Buying The Best Wood Chisel Set
You are probably wondering, what aspects should you concentrate after scratching the list to narrow down your research? Hence, to help you make an intelligent and informative choice, we have developed a definitive guideline. 
Chisel Sizes 
The size of the chisels mainly depends on where you are going to use it. However, larger and smaller tools offer you different facilities. With that said, if you want to work on smaller projects flexibly and with details, then small chisels can be the best choice for you.
Moreover, larger ones offer you more leverage in massive projects. Thus, the type of work will be deciding what size you require for it.
Blade Material 
The most important feature of a wood chisel is the quality of its blade. So, enormous features get wasted when it does not provide a high-quality edge.
A quality blade has a lot to offer. It can hold the handle well, even if you use it very often.
Besides, many people consider that blades are sharpened by themselves are better than pre-sharpened blades. It is indeed a wrong perception because pre-sharpened weapons are versatile.
Moreover, if you need to sharpen your edge by yourself, then it means the company does not perform its service well. It is better to avoid buying those products, which has a frequent complaint about sharpening.
Purpose
There are various numbers of wood chisels available in the market, and those are manufactured according to different work types. Furthermore, beginners might start with standard chisel blades, but professionals need a skilled accent on their work. So, there are vast options for them when it comes to choosing the best wood chisel. 
Chopping Chisel
If you want to chop out your mortises, then this type of tool can work well. However, instead of the blade, you might use a drill. But this heavy-duty unit makes it possible without a mortise machine or drill.
Corner Chisel
Corner chisels help you to make a smooth and perfect square corner. Besides, it can also be useful for things like rabbets, dadoes, and mortises.
Crank-Neck Chisel
This unique type of unit helps you to remove excess materials from your project very quickly. It has a bent handle, which makes it more comfortable to hold. Besides, this will be a great choice if you want to get away from glue or making dowels.
Bench Chisel
Bench chisels are known as a standard chisel. These are quite long and might be a bit large for small projects. However, you will need this type of unit for most of the purposes.
Paring Chisels
As opposed to mortise chisels, which produce larger joints, paring chisels produce smaller and more intricate ones when working on finish carpentry. Their long and thin blades make them ideal for working in tight spaces. 
You should only use your hand force when cutting them because they make such meticulous cuts. This will make sure you don't apply too much pressure. And not remove an excessive amount of material. 
Paring chisels can be used independently, but they're commonly used together with bench or mortise chisels. A mortise chisel is used to create the "rough" joint, which can then be fine-tuned with the paring chisel.
Skew Chisel
Skew chisels are perfect for tight areas as it has angled blade. It allows you to get into smaller areas more specifically. Moreover, there are two types of it; one is right-sided and left-sided. Hence, if you are more dedicated to your project, then go for both.
Japanese Chisel
Japanese chisels are comparably durable than any other standard tools, is its blade is made up of steel forging. Besides, it has a very sharp edge.
Butt Chisel
It is another standard type, but smaller than bench chisels. For a smaller project and working in tight space, this is a must.
Mortise Chisels
The largest, thickest, and heaviest mortising chisels are ideal for carving deep mortises into even the toughest hardwoods. Among the many joinery techniques used in cabinetmaking, mortise and tenon is the most popular. Mortise chisels were especially designed with these in mind. 
Bench chisels are theoretically capable of making these joints, but regularly mortising requires them to be pounded and pried on. A bench chisel tends to chip the blade or fracture the handle, which is why the mortise chisel was first developed.
As well as large mortise chisels, the company produces smaller (called 'sash') chisels that can handle more intricate workings on mortises than the large, standard mortise chisels.  Sizes range from 18 to 12 inches, with the most common being 14 inches.
Overall Quality
Even though you are sure to get the best quality blade, never forget to consider the quality of handles. The handle is another significant part of a wood chisel.
Most of the durable handles are wooden. And also, there are plastic handles, and those are worse. The plastic handles are not sustainable and often less comfortable.
Socket vs. Tang Handle
According to how the handle is secured to the blade's base (or 'shank'), chisels can be classified as either socket or tang. 
The handle of the socket chisel is shaped in a cone-shaped protrusion and fits over the cupped indentation on the shank.  In general, socket chisels cost more than tang chisels since they are a little more durable. 
As opposed to socket chisels, a tang chisel has a pointed tip (or 'tang') that is attached to the handle. When enough force is applied, Tang-types can act like a wedge and crack wooden handles. 
This is why socket chisels are more popular than tang chisels, and they are an excellent choice if you want your chisel to last as long as possible. Tang types, when used properly and with care, can still live a long life.
Benefits of Using the Best Quality Wood Chisel
The advantage of using the best quality wood chisel is one step toward getting a higher result in your wood carving jobs. It can be particularly helpful while woodworking, sculpting, and woodturning by craving tiny pieces from the object.
Besides, the best quality ensures flawless, perfect, and smooth cut on your piece of wood. However, power tools are unable to create pits or holes in the middle of the woods. Most of them will come with cases and sharpening stones. 
Regardless, it helps you to scrape paint from any objects. And also, it comes with different shapes and sizes, so each of their function is slightly different from others. Thus, this versatile unit offers so many sophisticated options to make your project unique.
Sharpening A Wood Chisel With A Sharpening Stone
Sharpening and preparing chisels are necessary after they are manufactured. However, how do you check if they are flat and how do you get them as sharp as possible? Find out how Paul does it. He does this to get the clarity and precision needed for quick and accurate work.
Frequently Asked Questions
1. What is wood chisel?
Wood chisel is one of the most popular tools that are used by carpenters and professional woodworkers. Most of the time, it is used for cutting hard materials with its sharp blade.
2. What material is preferable for the handle?
Quality handles are mostly wooden. It is durable as well as offers you a comfortable grip. Besides, there are plastic handles which are less efficient as it ends up creating very high center gravity. 
3. What material is used for the chisel blade?
Chisels blade can be made of different materials. It can be aluminum or copper, but steel is popular among them. Moreover, steel is often durable and tempered than any other metal.
4. What are the different types of wood chisels?
According to different functions, there are wide ranges of wood chisels. Some of them are Butt, Bench, Mortise, Corner, Pairing, and Flaming.
5. What is a firmer chisel?
These types of chisels are best for heavy work as it has a rectangular-shaped cross-section blade. It is durable and suits in heavy-duty projects.
6. What is the difference between wood carving tools and the wood chisels?
Wood carving tools are also some type of wood chisels but carpenters uses it to carve wood.
Final Thoughts
It can be difficult for you to figure out which one is suitable for you, among these various types of chisels. However, if you are a beginner, then it is always better to start with a bench or butt chisel. Our list of the best wood chisels is an expert recommendation, and we believe each of them is worth investing.
However, as there is a variety of options, so we recommend considering your purpose before purchasing the product. Therefore, if you are working on extensive projects, then go for professional tier tools.
For more specification, try chisels with various shapes. Remember, never compromise the handle quality over the sharpness of the blade. We hope our piece on chisels is informative enough, and you already feel confident to make a smart purchase and become more confident in your woodworking tasks. 
I'm Joost Nusselder, the founder of Tools Doctor, content marketer, and dad. I love trying out new equipment, and together with my team I've been creating in-depth blog articles since 2016 to help loyal readers with tools & crafting tips.