I love creating free content full of tips for my readers, you. I don't accept paid sponsorships, my opinion is my own, but if you find my recommendations helpful and you end up buying something you like through one of my links, I could earn a commission at no extra cost to you.
Learn more
Both fashionable and warm, coveralls are the perfect comfy covering clothes you need in extreme conditions. The best coveralls are not always very easy to find. This is why we have come up with this article that'll help you pick a coverall that's not only comfy but also efficient.
Coveralls are definitely an investment, which is why you would want to purchase something that is both durable and long-lasting. There are many different types of coveralls, including the all in one and bib overalls. Firefighters wear fireproof ones.
These products are basically designed to protect you from tough conditions and dust or debris. So, the first thing you need to look for in a coverall is how protective it can be. We have mentioned other important features a coverall should have in our buying guide.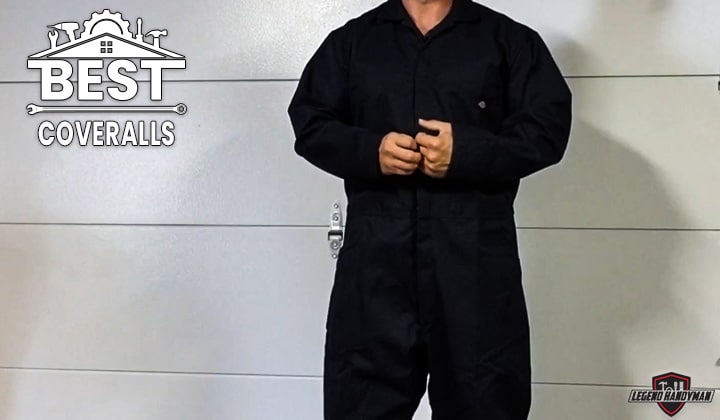 Read on to check out the products we have chosen for you. Then go through the buying guide so that you make the best purchase.
Best Coveralls Review
Looking for comfortable coveralls that'll protect you during construction work? Below we have listed the best seven along with a thorough review of each of them; read on to check them out.
Dickies Men's Basic Blended Coverall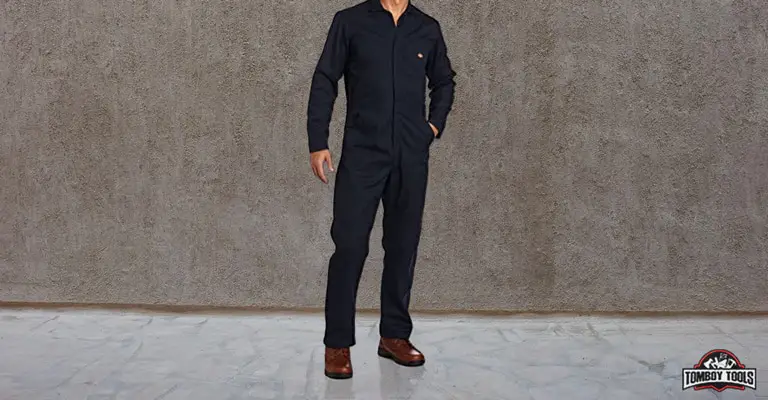 Made of synthetic materials and build to last, this coverall is the ultimate safety coat you need. The clothing is 1.5 inches in height and 12 inches in width. It comes in a dark navy color, which goes well with all skin tones.
Have you ever worn Dickies coveralls that limit your motion? With this particular product, you will be able to swing your arms in any direction without resistance from the clothing. The coverall fits your body and keeps a generous space for breathing.
The piece of clothing is slightly fitting yet comfortable to wear. It has a bi-swing back that allows wearers to move their arms freely back and forth. Elastic is attached to the waist for a perfect fit. 
You will be able to have a more secure fit by snapping the concealed buttons at the neck and waist. If you don't like the full sleeve version, you can look at Dickies short sleeve coveralls. 
Dickies coveralls are designed to be used for long hours and are appropriate for fieldwork. It has a 2-way front zipper made of brass, which makes the whole coverall more durable. If you work with small tools, you will be able to keep them in the front or back pocket of this coverall.
Highlighted Features
Secure fit with concealed snaps at neck and waist
Elastic attached to the waist for a better fit
Not baggy yet keeps enough breathing space
Highly durable
Long sleeve coverall
Carhartt Men's Arctic Quilt Lined Yukon Coverall X06
Equipped with all the pockets and buttons you can imagine having in a coverall; this product is the best clothing for any craftsmen and construction worker. Need two rear pockets, front chest pockets, and zipper closure? This coverall comes with them all. 
The coverall is made of 100% Cordura nylon. This type of nylon is great for working in the rain and during adverse temperatures. Thus, the clothing is waterproof and self-extinguishing. If you're a firefighter, we recommend this product for you.
Although the coverall requires a bit of maintenance, it's worth all the work. It will last a long time if you take care of it.
These products are designed to be extremely flexible to use. There are two-way zippers from ankle to waist along with snap storm flaps. If you need kneepads, you will be able to tuck them in the double knees.
There are zippered pockets attached to the chest and regular slanted pockets attached to the arm of this coverall. The vents attached to the underarm eliminate sweating up user's body and keeps it cool.
If you need a hood, then you can attach it to the under the collar of this clothing. There are built-in snaps attached to them under the collar, but you'll need to buy the hood separately.
Highlighted Features:
Made in the US
Zippered chest pockets for storing tools
Two-way zippers from ankle to waist
Vents attached to the underarm
Made of 100% Cordura nylon
NATURAL WORKWEAR – Mens Long Sleeve Basic Blended Work Coverall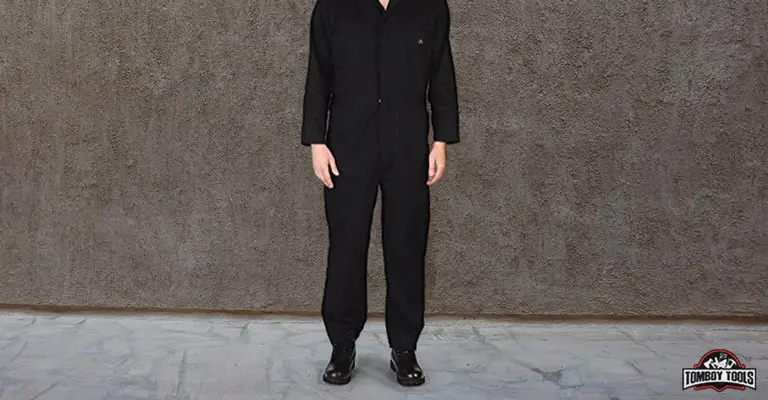 If you want a simple-looking, efficient, and comfortable coverall, this is the one for you. It comes in many different colors; the basic khaki and orange are our favorites. There are also blue, black, grey, and many other colors you can choose from.
The whole clothing is made of 35% Cotton and 65% Polyester. This makes it both comfortable and safe to use during extreme conditions like fire or rain. If you often work in dirt or rain, you can definitely use this coverall as it doesn't get damaged even if it's washed often. Washing the product is also simple; you can use a machine washer and dryer.
These coveralls are perfect for busy people as they require zero to no maintenance. The clothing is resistant to stains, doesn't shrink, and eliminates wrinkles itself.
The product is available in small to triple extra-large for all workers; you will definitely find your fit here. Regardless of what size you take, if they fit you, you won't face any resistance while moving your arms around.
The waist of this clothing has elastic sealed to it for ensuring a better fit, and the bi-swing back also provides more flexibility if you want to move. The coverall is designed to be used by construction workers and field workers who need the pockets. It has six pockets on chest, back, and hands.
Highlighted Features:
Six pockets
Safety stitched seams 
Bi-swing back
Available in 7 colors
Low maintenance
DuPont Tyvek 400 TY122S Disposable Protective Coverall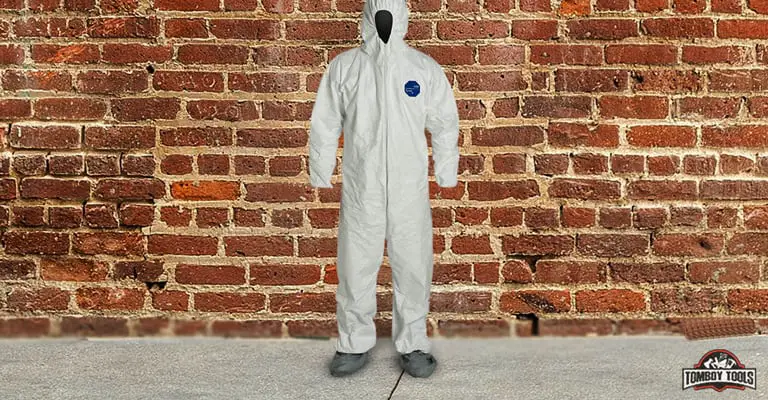 In this era of widely spread diseases like coronavirus, you need this coverall for the highest level of protection. The coverall is engineered to cover your whole body, including your head. It's a disposable product and comes in a pack of 25.
Some coveralls have the option of attaching hoods but do not offer hoods in the package. This one comes with hoods and boots attached to it so that you're fully protected from any airborne diseases.
The whole clothing is made of white fabric. It's basically designed to be used in labs or by doctors. Your face will be completely covered, and only the area for the mask will be kept open if you're wearing this coverall. It has a comfy fit and is very comfortable to wear.
Some people might raise concerns about the fabric boots, but they're skid-resistant, so you won't fall in them. The coverall has a very long zipper to easily take it off or put it on; this zipper reached up to the chin for better coverage.
Elastic is attached to both wrists and waist for a perfect fit. We highly recommend this unique coverall for doctors or lab workers who work around viruses and dangerous environments.
Highlighted Features:
Full coverage
Non-skidding boots
Comes in a pack of 25
Disposable
Comfortable to wear for a long time
Walls Men's Zero-Zone Duck Insulated Coverall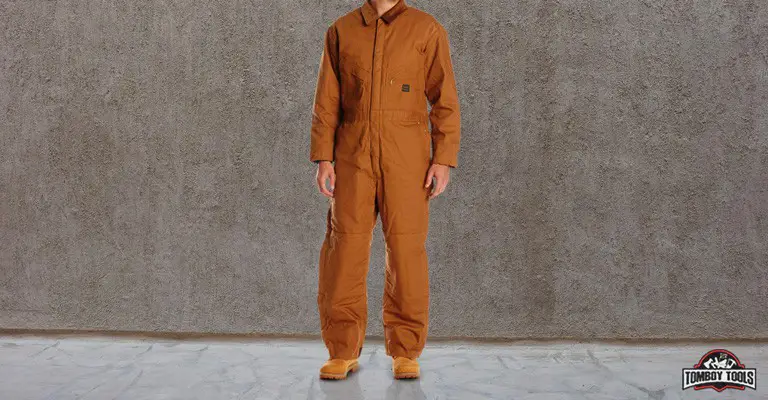 This one is popular among users because of its 100% cotton fabric. The coverall is insulated, so it will protect you during cold temperatures. Along with nylon, this product has taffeta in the lining, which gives a snug feel.
The whole body of this clothing is a water repellant. It also has cuffs that make the clothing more appropriate for all weather. This particular coverall is well built and sturdy yet very lightweight on the body. Cotton gives it an airy feel.
If your work requires you to move a lot, you certainly will enjoy wearing this coverall. It doesn't limit mobility; rather, the thick elastic enhances this activity and makes working around easier.
It has many pockets and hand warmers to keep your palms warm during the cold. There is also zip pockets attached to the sides and an interior patch. The coverall also features a scuff guard which protects it from wearing down due to rain, dirt, or grime.
You can easily take this off and put it on using the two-way zipper. If you're a big person and don't get your size often, you can check out these coveralls as they are available in a variety of sizes.
Highlighted Features:
100% cotton made
Lightweight
Scuff guard protects coverall from wear and tear
Two-way zipper
Machine washable
RefrigiWear Men's Iron-Tuff Insulated Coveralls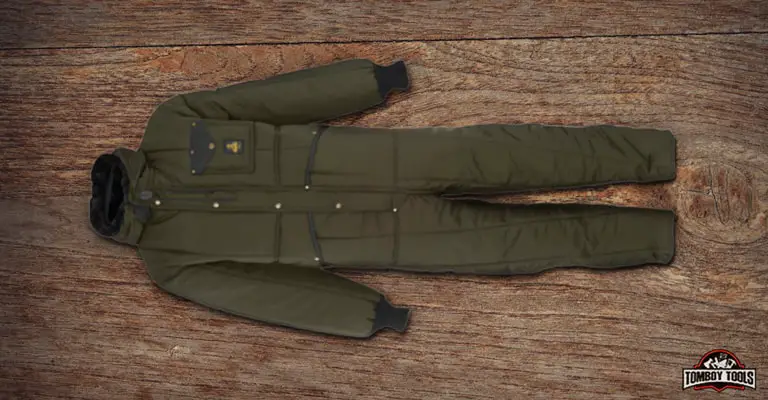 Excellent for extreme cold, this coverall is an insulated one. You can even wear this suit at -50F and feel nothing at all.
Specially designed to trap heat and keep the human body warm, this coverall is the best invention for people living in areas with extremely cold temperatures.
The outer shell of the coverall is both wind-tight and water repellent. So no amount of cold breeze will shiver down your spine. If you often have to work in the snow or live in a place where it snows a lot, you can try this product out.
The hood in this clothing is fleece-lined and has a knit border to keep cold air out. This product is made of nylon, which resists wear and tear. To seal out drafts, bound seams and reinforced brass rivets are used in this clothing.
You will have enough space to store food or tools in the pockets of this coverall. It has enough pockets as well. There are 2 large insulated pockets for warming your hands and a chest pocket for storing things.
We definitely recommend this coverall for very cold areas.
Highlighted Features:
Keeps the human body warm in -50F
Comes with two large insulated pockets
Fleece-lined hood
Outer is wind-tight and water repellent
Made of nylon
Red Kap Men's Long Sleeve Twill Action Back Coverall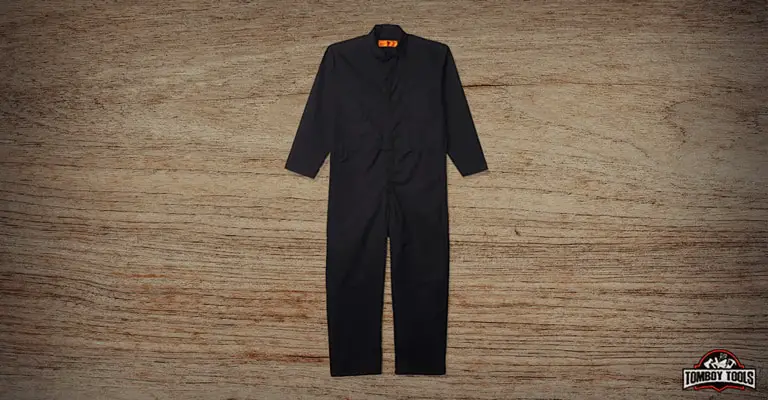 The Twill Action Back Coverall for Men gives you plenty of room to move for all workers. These Red Kap coveralls have an oversized fit so they can be worn over clothes. A pleated backside offers additional range of motion and movement across the back. 
The side vents on this coverall provide easy access to pockets and tool belts when the garment is worn over clothes. Also, vents allow for easy movement, so you won't be restricted in your movements if you're covering up. 
Their weight is sufficient for most stuff without weighing them down. As they offer more sizes than Dickies, it is possible to find an appropriate fit. You'll stay looking pressed when wearing these jackets, because they are finished with wrinkle-resistant finish. 
This coverall requires little pressing or ironing due to the Durable Press Finish. Thanks to strategically-designed garments, paint jobs and surfaces are protected from scratches. Button, snap, and zipper covers keep these elements out of sight.
Highlighted Features
Pleated elbows and roomy fit
Versatile fabric and provides a relaxed fit
It can be machine washed 
Buying Guide To The Best Coveralls
From the reviews, we can agree that coveralls are very versatile products. You can use them to dress up your kids or to
From the reviews, we can agree that coveralls are very versatile products. You can use them to dress up your kids or to protect yourself from extreme cold. 
So when it comes to choosing a good quality coverall, comparison becomes difficult. This is why; we have designed the following guide to help you out. Below we have listed all the features a great quality coverall must have:
Utility Pockets
Whether you need it for work or not, a coverall should have enough pockets to store your stuff. As the clothing is already covering most parts of you, it's not logical to carry a bag while you're wearing it.
We recommend choosing a coverall based on how many pockets you need. If you are a craftsman, then you need more hip pockets and rear pockets. 
But if you work in the lab, one or two chest pockets should be fine for you. There are no specific numbers of pockets when it comes to these clothes. Just go with whatever you need.
Breathable
A coverall will be covering the major part of your body. Sometimes this clothing covers the whole body and only leaves the face exposed. This is why you need something baggy and breathable; so that you don't feel suffocated.
Choose a coverall that is not fitted and maybe a size or two larger than your regular clothes. This way, your body will have enough space to breathe, and you won't feel suffocated even if you wear it for longer hours.
Low Maintenance
Some coveralls require being hand-washed and drip dried. Many of us might think that they are worth it, but most of the times, they aren't.
Look for something that is machine washable and very easy to maintain. Don't spend extra for maintaining the coverall you bought.
Even when you're wearing coveralls, you would want to look good. So the product needs to be ironed before you wear it. But what if it was wrinkle-free? Some coveralls mentioned above don't wrinkle and retain their smooth surface. These are easier to use and maintain.
Additional Features
Insulated, Zippers on sides, reinforced double knees, water repellent, etc. are some of the many features we have mentioned in the reviews.
Look for features that make your life easier. For example, the long zipper in Adidas baby coverall is excellent for parents. If you are a construction worker, look for coveralls with more pockets, and if you're a firefighter, look for the fire-resistant ones.
Types Of Coveralls
Professionals around the world rely on coveralls for their work, from mechanics at gas stations to engineers designing and building the latest aerospace technology. It is important to realize, however, that not every coverall is the same. You will be able to figure out the best coveralls for your needs from the information provided here on the different types of coveralls.
High Visibility
In certain heavy duty jobs and work settings, it is necessary to be alert for safety reasons. Most of the best high-visibility coveralls are available in bright, safety-first colors such as yellow, green, and orange. 
This type of clothing makes the wearer more visible against the surroundings in which they work. Maybe there is heavy equipment on a construction site, or there is also a tow truck that's stopped on the roadside. Even a local volunteer group can take part in search-and-rescue missions by wearing this type of coverall. 
Their reflective strips improve their visibility in headlamps, flashlights, and other situations. It is possible to alert teammates, operators, and motorists of their presence with these materials. The result is improved safety.
Basic Protective
Basic protective coveralls will keep you clean every night when you work at jobs that tend to be dirty and greasy. A basic coverall is made of durable materials such as cotton, nylon, and polyester.
Wearers are protected against liquid, oils, and grease with these materials that resist rips and tears. The waistband on these basic coveralls usually hugs the hips, so the coveralls don't catch on equipment.
The legs usually have zippers so that they can be easily slipped over work boots. During cold weather, choose the best insulated coverall with thick insulation that will trap body heat and block out the wind. It is possible to wear insulated coveralls down to -50 degrees Fahrenheit in some cases.
Flame Resistant Coveralls and Arc Rated Coveralls 
People who work in potentially dangerous positions may want to consider wearing flame- and arc-resistant coveralls.
Neither of these types of coveralls protect against burns identically, but they do protect from different types of injuries. To provide these protections, some manufacturers weave specialty materials into clothing, such as Nomex.
An arc-rated coverall is another animal altogether. Applied to industrial and heavy electrical settings, these shields protect against electrical arcs causing flashes. While flame-resistant materials are also arc-rated, arc-rated materials are not necessarily flame-resistant. 
Most coveralls that resist flames are resistant to catching fire, meaning they keep the wearer from catching fire. Wearers won't be protected against dangerously hot environments, but they will be shielded from sparks created during welding and grinding.
Disposable Coveralls
If a job is so dirty and unappealing that coveralls will be thrown away after completion, rather than brought home for washing. In addition to preventing contaminants from escaping, disposable coveralls keep sweat, dirt, dust, and pollen from entering your body.
Disposable coveralls are ideal for these kinds of projects. Synthetic materials are used, which have pores that are so small that mold spores, asbestos fibers, chemicals, liquids, or other harmful substances cannot penetrate them.
It is crucial to protect sensitive environments like clean rooms, laboratories, and server rooms from lint, body hair, and skin cells by using disposable coveralls.
Not For The Style Minded
Mechanics don't wear coveralls to look cool. There wasn't a single jumpsuit that I tested that fit in a way that I would call flattering. 
There are even models with elastic waist insert and quilted lining that leave you looking as if you are wearing a burlap sack. 
These bulkier workwear suits are easier to get into and out of, and they're also more comfortable, but shuffle around the shop in these clothes and you'll look shabby.
FAQs
Q: What should I wear under my coveralls?
Ans: We would recommend wearing long-sleeved shirts or t-shirts under your coveralls as it will eliminate any contact between your skin and the coverall. The coverall fabric might cause damage to your skin.
Q: Can I wash my coverall in the washing machine?
Ans: Sometimes, yes. But not always. Whether a coverall is machine washable or not depends on its fabric and brand. Check the tag of your coverall before tossing it into the washer.
Q: What should I do if I don't find my perfect size?
Ans: Always choose the larger size than yours if you cannot find the perfect size. It's always wise to pick a loose and baggy coverall because you'll be wearing it for longer hours.
Q: What are the other uses of coveralls except for safety?
Ans: You can use these products to make costumes for different events and even wear them outside as a fashion statement. Some models like to squeeze the waist elastic and wear these clothes as jumpsuits.
Q: Do I need hoods and boots with my coverall?
Ans: Depending on where you are, you might need hoods and boots and other protective clothing with your coverall. If it's snowing and is very cold, we highly recommend using these two extensions.
Outro
We hope that our reviews and buying guide have given you enough ideas to choose the best coverall. This decision is definitely hard as there are so many options from so many different price ranges.
Just keep your budget and purpose in mind; you will make a great purchase. Make sure you are not looking at attractive features that have no relation with the line of your work. Good luck shopping!
I'm Joost Nusselder, the founder of Tools Doctor, content marketer, and dad. I love trying out new equipment, and together with my team I've been creating in-depth blog articles since 2016 to help loyal readers with tools & crafting tips.