I love creating free content full of tips for my readers, you. I don't accept paid sponsorships, my opinion is my own, but if you find my recommendations helpful and you end up buying something you like through one of my links, I could earn a commission at no extra cost to you.
Learn more
If you need one thing while heading for the work to keep your tools organized, it would be the tool bag. And since it's so essential, you want to buy the best leather tool belt that the market has ever produced. Now, what is the fastest way of making that possible?
Well, that's where we step in. We want you to read this article where we will talk about the top products on the market in detail. There won't be anything left unmentioned about them, be it good or bad.
So, you won't have to buy your unit without knowing the most important things about it.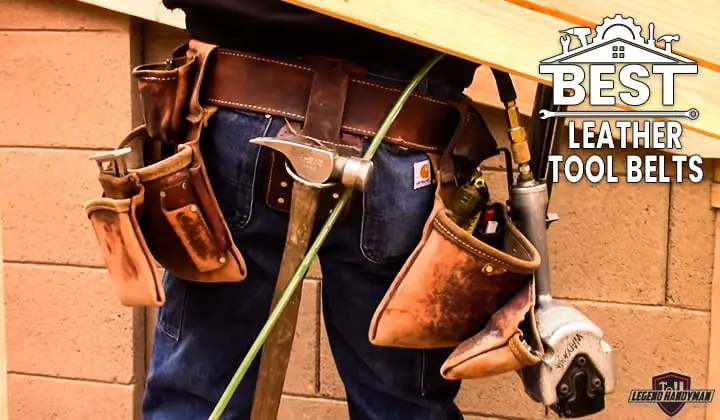 Best Leather Tool Belts Reviewed
We will talk about the products that will be worth your money. You should find them useful for multiple different purposes. Check them out.
CLC Custom Leathercraft 527X Top Grain Suede Construction Work Apron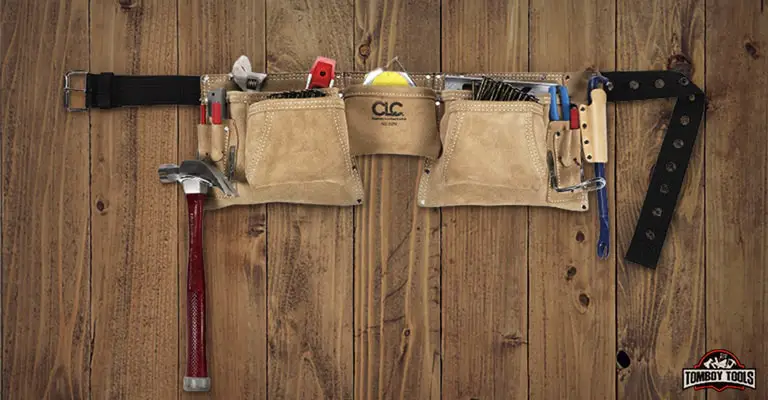 The topmost product on our list comes with plenty of impressive features. Its construction should be sturdy. For, we are talking about suede leather over here that isn't known to mess around. You can use this unit in any season. It will last a long time, alright.
And the best thing about this model is the front pockets. There are two of these. And they offer easy access. Manufacturers have done a great job by making them double gusseted. Now, how many pockets are in this tool belt in total? Well, there are a bunch of them, 12 to be precise.
So, accommodating all your tools shouldn't be a problem with such options in place. You can use the big 4 pockets for keeping your tools and nails. And the rest of the pockets will come in handy by carrying your smaller gears. You will also find the belt to be comfortable around the waist.
Moreover, the belt is a 2-inch poly web one. It also has a roller buckle. Now, what about the size of this thing? Well, if your waist size is anything in between 29 to 49 inches, you are game. So, you can guess that it wouldn't be much trouble to find the perfect fit.
Among other features, the square holder is worth mentioning. Now, as for drawbacks, the belt's eyelets could've been sturdier. And for one user, the belt loop rings bent. He wasn't happy with the material. Also, the grommets of the belt felt out on one occasion.
Pros
A large number of pockets including large main pockets
Great size options
Front pockets are easy to reach
Offers versatility by carrying various types of tools
Cons
The eyelets weren't that sturdy in one case
One customer found the loop rings bent
Occidental Leather 5191 M Pro Carpenter's 5 Bag Assembly
Here's another cool product you should check out. The belt is made of leather. Therefore, you can expect it to be comfortable and sturdy at the same time. What's also assuring is that the model is made in the USA. So, as far as craftsmanship goes, the belt should impress you.
The design of this unit is also quite fascinating. You will find all of the components connected, making it a single piece tool belt. This is so that you can have quick access to all the pockets and wear the belt fast. Moreover, they've used top-grain leather as the material of this bad boy.
Another good thing about it is the hand specificity it comes with. You will notice that the tool holders are designed in a way so that they can carry tools that are comfy to use with respective hands. So, it doesn't matter whether you are a right-handed or a left-handed person; the belt will be useful.
What's more, the main pockets come reinforced with copper rivets. So, if you are worried about the unit's durability, then you shouldn't be so anymore. Also, there shouldn't be any nasty spill with this fine tool belt. All of the 22 pockets should carry your tools efficiently.
Now, we didn't find any significant drawbacks to this product. Everyone seemed to be quite happy with its fit, construction, and pocket layout. So, yes, I would recommend this unit highly, considering the positive customer reviews.
Pros
The design of the pockets make them comfortable for both-handed use 
Construction is appreciably sturdy with the leather material
Main pockets come reinforced with copper rivets
22 pockets; so a great option in terms of versatility
Cons
Dickies Work Gear Carpenter's Rig Padded Suspenders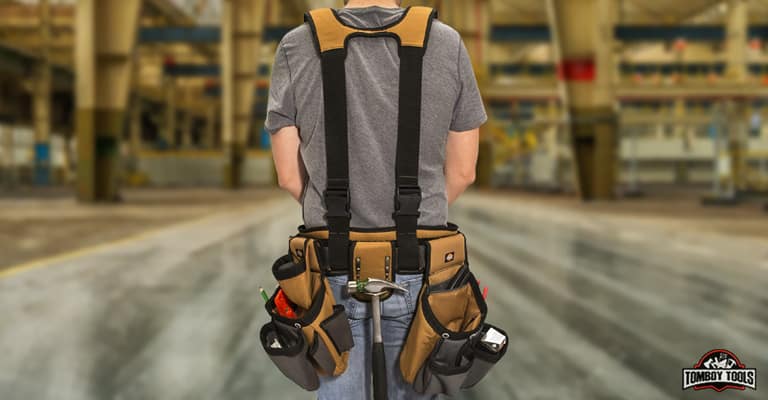 Let's check out another good product with several useful features. It comes with a cooling mesh, something unique for a tool belt. We are talking about 5 inches moisture wicking over here. So, you can imagine how comfy it will be to wear when it's humid out there.
The belt will be useful for anyone having a waist size of 32-50 inches. And its construction should be sturdy with the canvas being resistant to rip. So, you can carry heavy tools without any worry. Moreover, it comes with a large number of pockets on both sides.
You will find 3 large pockets along with 3 small ones on its left side. Also, there's a pair of tool loops in place. And on the right side, there are 7 pockets in total for convenient carrying of different types of tools. What's more, the belt comes with suspenders that consist of a device pocket and a hammer holders reviewed | Free up your hands on the job">hammer holder.
So, you will get all the storage you need. What's also great is that the suspenders come padded. Yes, they also have moisture-wicking mesh as the belt itself comes with. Therefore, weight distribution with this model is going to be on another level, thanks to such padding.
Also, it has an accessory belt so that you can add extra pouches. Another worth mentioning feature is the roller buckle it comes with. Now, the suspenders might add to the weight of the unit, making it difficult to move around. But you can remove them. However, a speed square slot would've been appreciated.
However, one customer has complained about the straps refusing to stay together.
Pros
Moisture-wicking offers proper weight distribution and comfort
A large number of pockets on both sides
Rip-resistant canvas makes the model durable
Suspenders for device pocket and hammer holder
Cons
Straps didn't stay together for a user
No slot for a speed square
McGuire Nicholas Pro Carpenter Pouch in Tan Full Grain Leather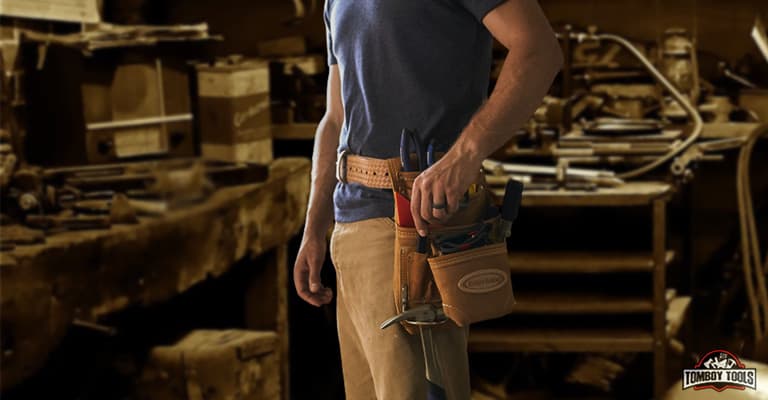 The next product on the list is a pouch, not a tool belt. We are reviewing this because of the awesome features it comes with. It will help you carry your tools with the multiple pockets it has. And the one in the front is of the best use among them.
You will have to appreciate the hammer loops the pouch comes with. They will allow you to connect the pouch to any side of the tool belt. Moreover, it has a framer's square pocket that is both comfortable and beautiful. The pouch comes with quite a few pockets, 10 of them.
When it comes to construction of pouches, full-grain leather seems to be a good option. And that's what they've gone with for this unit. However, the quality of the leather wasn't too impressive for several users.   
Now, there are a few issues with the unit. A customer is very disappointed with the rivets being unfinished. He said that it hurt him every time he put his hands into the pouch. Another buyer had issues with the durability of the model. It fell apart before he could use it for a month.
Pros
Multiple pockets for carrying all sorts of tools
Hammer loops are introduced for attaching the pouch easily to the belt
Comfortable framer's square pocket
Cons
For one customer, the rivets were unfinished inside the pockets
On one occasion, it lasted less than a month
Best Leather tool belts for kids – Allwaysmart Real Leather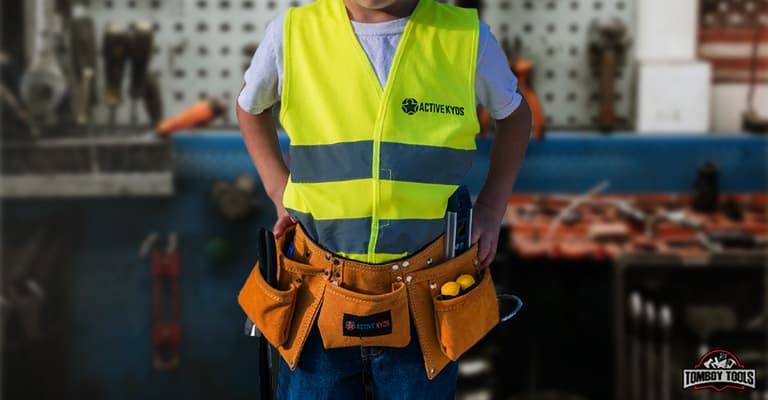 It's time we talked about a kid's belt. Yes, the brand has come up with this idea of making a nice tool belt for kids. And by the looks of it, we can say that it has done a good job. Now, though this belt is for role plays and stuff like that, it comes with perfectly genuine leather.
So, we are looking at a durable product. You won't have to worry about ripping or tearing of the pouch. After all, the leather isn't a material that messes around.
Another cool thing about this unit is that it includes hammer loops. Yes, you've read it right! So what if it's for kids, it should let the little user stow his hammer right.
Also, it should assure you that the product is made in the USA. As far as the quality of construction and craftsmanship is concerned, you should be cool. Now, what about the size of this thing? Well, it will fit waists that have a size of 21-32 inches. Keep in mind that it won't be useful for a kid older than 10.
The pouch comes with a few pockets so that the little champ can carry some stuff with him. And these are also quite large. Moreover, the waistband is nicely adjustable. So, it will be comfortable on the delicate waist.
As for drawbacks, there are not many. Only one buyer thought that the belt might be a bit bulky for little ones. Another user found the hammer loops to be a bit too large for a kid's hammer. Also, it might not suit a 3-year old. But, for older kids, this would be an excellent option.
Pros
The leather construction is spot-on
Hammer loops for stowing hammers
Multiple pockets, useful in carrying small tools
The waistband is comfortable and very efficient
Cons
The hammer loops might be too large for very small hammers
Task Tools T77265 Carpenter's Apron, Oil-Tanned Split with Leather Belt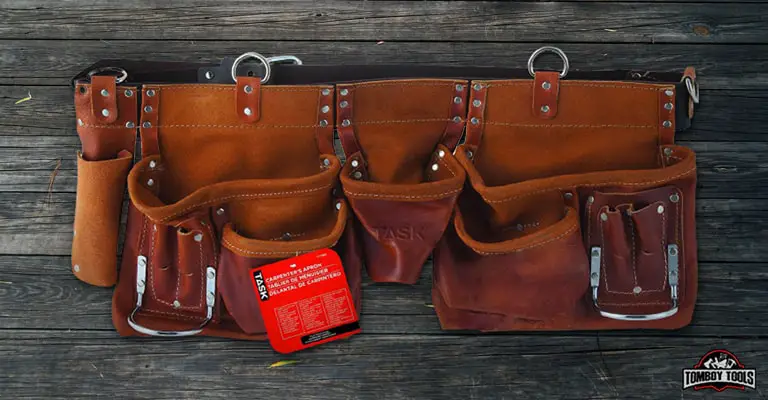 Here's another top product you should check out. This guy comes with rounded corner pockets. They are excellent for preserving the tools. What's more, they are reversed so that you can have access to them easily. The unit comes with 12 pockets. They are different from one another in size and shape.
Also, there are two hammer holders in place. They will be quite useful in stowing the hammers while you are heading towards the workplace. And they will be resistant to rust. Now, what about the belt? Will it be sturdy? Well, it should be, with the leather used for the purpose.
The unit is made of oil-tanned split leather. And it includes a roller buckle that will provide the user with safety as well as comfort. Moreover, you can carry your cellphone in the pocket designed for devices.
Now, there's a strap that comes with a D ring. A user thinks that it's wrongly placed. He had to modify it. Also, he found a rip on the product after five months of use. And another customer was unhappy with the lack of enough holes on the belt. He wasn't cool with it hanging and flapping as it shouldn't be.
Moreover, one user found the pockets to tear after two months of use. Nevertheless, most of the users like its design and appreciate the durability. They were happy with the sturdy construction and large size of it.
Pros
The corner pockets are rounded for easy access
Roller buckle for safety and comfort
Rust-resistant hammer holders in place
High-quality leather is used for construction
Cons
One user found a wrong placement of a D-ring
A buyer found rip on the product after five months of use
LAUTUS Oil Tanned Leather Tool Belt/Pouch/Bag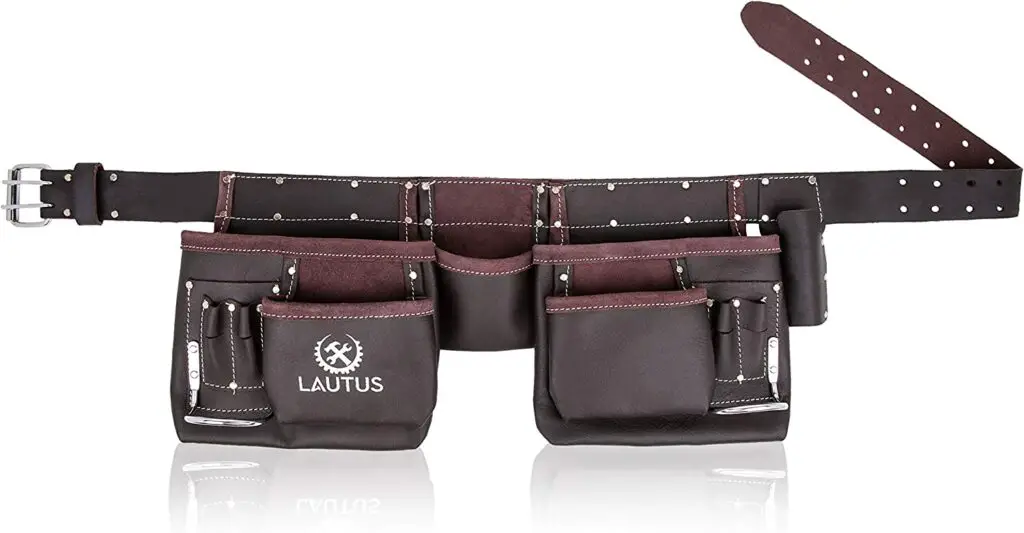 The last product on our list comes with a beautiful look. You will be amazed at a large number of pockets introduced in it. Also, the unit comes with a wide range of size options. It will fit the waist sizes of 30 inches to 46 inches. And the quality of the construction should be satisfactory.
Now, the best thing about this model is the genuine leather used in it. They've gone with an oil-tanned one for this unit. And this type of leather is superior to suede or polyester in terms of quality. So, be it carpenters tool belts, framers, or handymen, anyone will find this tool belt useful.
Also, the unit comes with 11 pockets. They are efficient for carrying different types of tools. There are two large, two medium, and two small pockets. Also, there's a leather box square introduced for the tape measure. Moreover, for carrying screwdrivers and small things like these, there are four pockets.
And the model also has two leather hammer holders. Each of them has a metal loop. You will also like the roller buckle, which is a double prong one. Now, let's talk about a few issues. A customer wasn't cool with the adjustment of the pouches. Also, he found the size of this unit to be too small.
Another user wasn't very comfortable wearing this tool belt. Apart from these, we've found the customer reviews to be quite positive. Therefore, we are recommending this product if you are looking for good-quality leather.
Pros
Oil-tanned leather suggests that the unit will be durable
Roller buckle will ensure safe and comfortable using
A considerable number of pockets for carrying numerous tools
Leather hammer holders are introduced
Cons
One user found the adjustment of the pouches to be not so great
Guide to Buy the Best One Available
You need to take some time to make the buying decision. For, you are about to buy something you shall carry most of the time. The quality of your tool belt will affect your work efficiency. Also, it will make your life a lot easier if it's a good one. Therefore, let's talk about the things to look for.
Fabrication
The most important factor to consider is the quality of the fabrics. It could be leather. But, then you would find that it is too thin or cheap. Yes, such things happen with products like this. Therefore, it's an absolute necessity that you make sure of the durability of the fabric.
Also, check if the pouch comes with finished riveted pockets. We've come across a review where the customer got hurt because of the unfinished riveting of a defective unit.
Construction
The overall construction of the belt or pouch should give away a vibe of strength. See, you will have to carry a lot of tools in the belt at times. And it's only natural that there will be considerable weight carrying involved.
If the unit comes with sturdy materials, there shouldn't be anything to worry about. But if not, then you are in trouble. So, make sure that the product will let you take your necessary tools with efficiency.
Holes
Though it might not seem like a big deal, your tool belt must have enough holes in it. This way, you can adjust it the way you want. Lack of sufficient holes leads to problems. For instance, the belt will hang and flap unpleasantly. And the fit will be messed up too.
Speaking of which, see if the fit will be perfect. Check the size of the waist and make sure that it won't be too small or big.
Pockets
There should be quite a few numbers of pockets on the pouch. This way, it's easier to manage your things and keep track of them. Also, the design of the pockets matter. For example, rounded corner pockets can be incredibly comfortable in having access to the tools.
Besides, there need to be variations in terms of size. It will be cool if the pouch has both large and small pockets. While the large ones will be useful in carrying the tools and nails, the small ones will carry the screwdrivers and such things for you.
Roller Buckle
This is a feature you should expect to find in a good product. It helps in securing the belt around the waist and also provides comfort for the user.
Hammer Holder
The belt should come with a hammer holder. And if there's a couple of this, it would be awesome. Also, it should be rust-resistant.
Suspenders
If you want the belt to carry as many tools as possible, check if there are suspenders. But be aware that these things make the belt a bit heavy.
Phone Pocket
Whether or not there's any other device with you, there will be a cellphone for sure. And keeping it safe can become a matter of concern for you. So, it would be fantastic if the product comes with a pocket only for this purpose. We've seen users appreciating this particular feature and knew exactly why.
Customer Reviews
Yes, reading online customer reviews is a smart thing to do before buying your tool belt. Find out what the people with experience have to say about the product. This way, you might come across one or two reviews that will play the most crucial role in making the buying decision.
Cleaning Tips for Your Leather Tool Belt
Here's how you should do it:
Step 1: Use a soft bristle brush. Apply a castile soap to it. Then use water for lathering the soap. Scrub the exterior of your tool belt. Use a soft damp cloth for wiping off the excess soap.
Step 2: Use a toothbrush. Again, apply the soap to it. Lather it once again. Scrub the interior of the pouch. Use a damp cloth for wiping the excess soap off. Leave the belt for drying and wait for 4 hours.
That's about it. Here I've talked about the easiest way of cleaning the tool belt.
Frequently Asked Questions
Below we have some of the most commonly asked queries regarding leather tool belts:
Q: Who can use a leather tool belt?
Ans: A carpenter, construction worker, tradesman, handyman, or anyone who wants to carry his tools in the job site will find a tool belt very useful.
Q: Is it possible to soften the tool belt?
Ans: Yes, it's possible, and it's necessary too. You will find the leather units to be stiff at first. So, you must use any sort of moisturizer to make it softer. Vaseline can be an excellent option in this case. Also, natural oil will do.
Q: What are the things I can carry in my leather tool belt?
Ans: You can carry numerous tools in the pouch. Be it a hammer, flashlight, tape measure, screwdrivers, or nail pullers, it can carry them all.
Q: Is it difficult to maintain a tool belt?
Ans: Not necessarily. Spending a couple of minutes at the end of the day on maintenance should do the job. Keep it clean, remove the dust, if there's any split, fix it with any repairing tool.
Q: What is the best type of leather for a leather tool belt?
Ans: It's the oil-tanned leather you want to buy because it is better than any other type of leather for the purpose.
Final Words
Now that you've learned about the products, does anyone of these sound like the best leather tool belt to you? Go through the pros and cons of these reviewed items before making the decision.
I'm Joost Nusselder, the founder of Tools Doctor, content marketer, and dad. I love trying out new equipment, and together with my team I've been creating in-depth blog articles since 2016 to help loyal readers with tools & crafting tips.