I love creating free content full of tips for my readers, you. I don't accept paid sponsorships, my opinion is my own, but if you find my recommendations helpful and you end up buying something you like through one of my links, I could earn a commission at no extra cost to you.
Learn more
Whether you work on wood as a hobby or whether it is your profession, at some point, you will have to cut grooves on your workpiece. For that, you are going to have to be precise and accurate, or else the slots are not going to line up in the finished product.  That is where dado blades come into play.
Having the best dado blade set with you will let you cut grooves not only precisely but also effortlessly. But, with so many options in the market, how will you pick the right one and not make an expensive mistake by investing money on the wrong set? That is where we come in.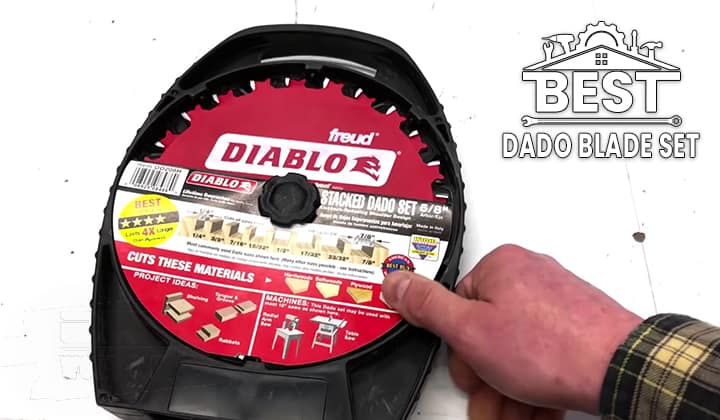 We will guide you through, and hopefully, by the end, you will be able to settle down with the one that you think is the most ideal one for your workload.
7 Best Dado Blade Set Reviews
Having options is a great thing, but it can sometimes create difficulties in choosing the right one. That is why, for your convenience, we have scoured through the entire market and picked the ones that stood out the most to us.
Oshlun SDS-0842 8-Inch 42 Tooth Stack Dado Set with 5/8-Inch Arbor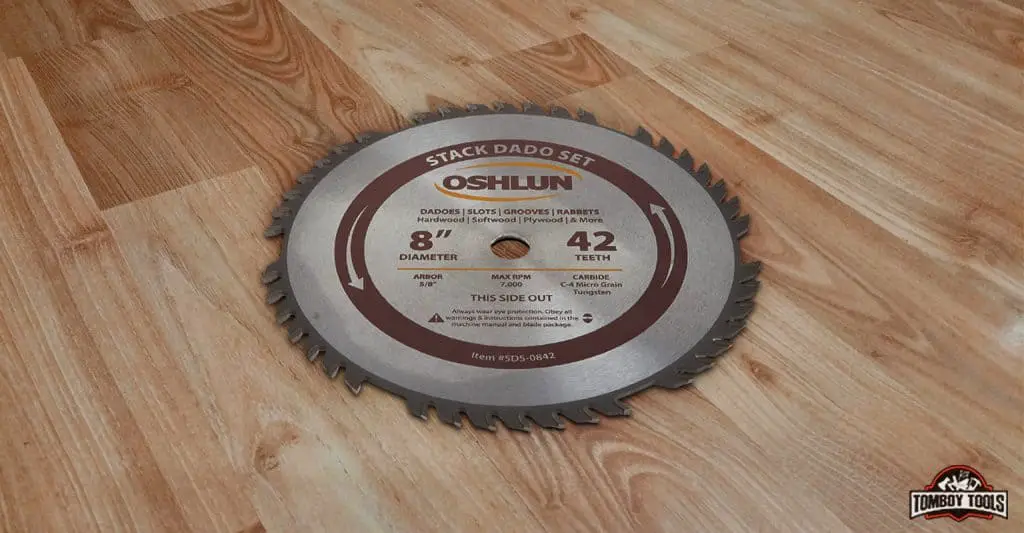 | | |
| --- | --- |
| Weight | 9.94 pounds |
| Dimensions | 10.5 x 9.9 x 3 in |
| Material | Carbide |
| Size | 8-Inch Dado |
Oshlun is one of the efficient manufacturers that are making the dado market competitive. They are offering specialized blades that are of high-quality. And, this set from them is one of the prime examples of their product quality. It includes a shim and chippers for finely adjusting your woodworks.
You will know about the build quality of this set right after you get your hands on them. They are of premium C-4 carbide material and boasts professional in every angle.
The ground carbide teeth will provide you the precision that you will require for every wood cutting project. Going through hardwood, plywood, and softwood is like a walk in the park for this set.
You will not have to worry about these blades losing their sharpness any time soon. For the incorporation of tungsten carbide tips, they will retain their edges for an extended period of time. You can expect them to cut through all types of hardwood easily for a long time.
The blades are eight inches in diameter, and each of them has forty-two sharp serrated teeth. With the high-density teeth and chippers, they will be able to give you a smooth finish in your projects.
They are super flexible, and you will not troubled to adjust them on your table. Other than that, the full-body chippers will eliminate most of the vibrations that occur during sawing through harder materials. Your workflow will go on uninterrupted and steady.
The full-bodied chippers on this set help in reducing vibrations and are also easier to set up than the wing style ones. This set also includes shims for making fine adjustments, detailed installation instructions and a full-color storage case.
But the problem is the many pieces featured in the set make it quite a heavy one.
This 16-piece stack dado set is cheap in price and it also has more blades than most others in the market. All these make it perfect for a woodworker that wants a premium cutting dado set without spending a lot of money.
Pros
High-quality C-4 Carbide construction
Offers professional-grade performance
Stays sharp for an extended amount of time
Easy to set up
Super flexible
Cons
Might not fit 5/8 inch arbors
Some sets ship with broken teeth
MIBRO 416381 8″ Carbide Stacking Dado Blade Set – 14 Pieces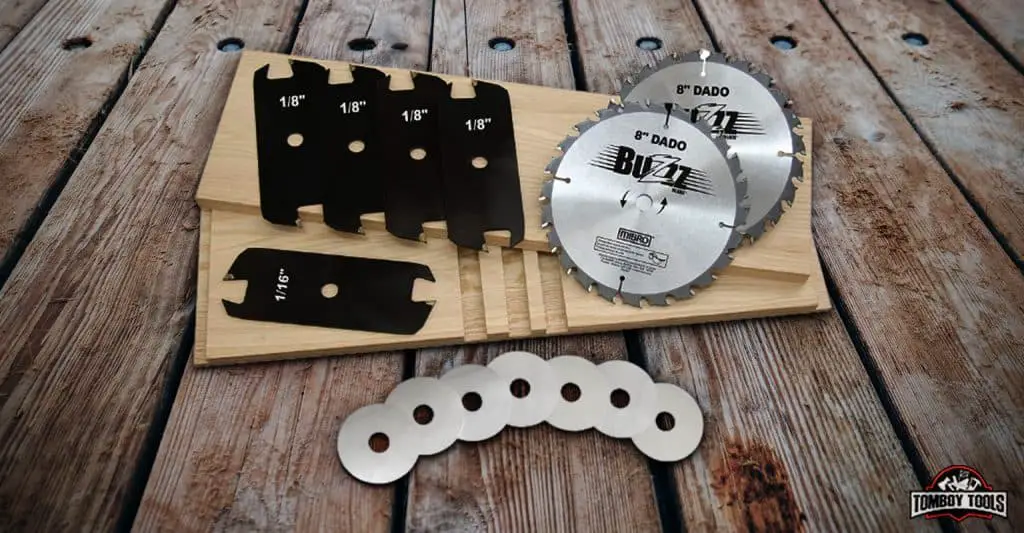 | | |
| --- | --- |
| Weight | 3.2 Ounces |
| Dimensions | 9.65 x 9.25 x 1.77 in |
| Material | Carbide |
| Batteries Included? | No |
| Batteries Required? | No |
While working on your latest wood project, you might feel the requirement of cutting grooves that are of different widths. But, it is not possible to get a unit for every width, is it? That is why you should take a look into this set from Mibro.
You will probably not have to look into any other blades after getting this for a specific width of cut because these can cut a plethora of sized grooves on your project. It can get you any width within the range of  ¼ inches to 13/16 inches with 1/16 inches increments.
They will offer you excellent precision and get you grooves that have clean edges, flat bottoms, and square shoulders. With this set, it will be easier for you to get smooth cuts in your wooden workpiece. You will be pretty happy with the cuts
You will also be able to get a different type of cuts in your workpiece with this set. It can give you dado groove, fillet, rabbet, mortise, and lastly, tenon. All the instructions are clearly labeled on the guide that comes included with the set.
The set includes two 8-inch blades, seven metal shims, and five two-winged chippers. In the case of the edges, there are carbide tooths that are incredibly sharp. The chippers have hook angles that are virtually free of splinters.
Lastly, it comes with a durable case for easy carry. It has internal dividers that will keep all the components organized and secure.
Pros
Splinter free chippers
Sharp edges with carbide teeth
Comes with a durable case
Offers a wide range of cuts
Comes with an instruction guide
Cons
The 1/8 inches chipper is not that precise
Some set ships in damaged condition
Freud SD208 8-Inch Professional Dado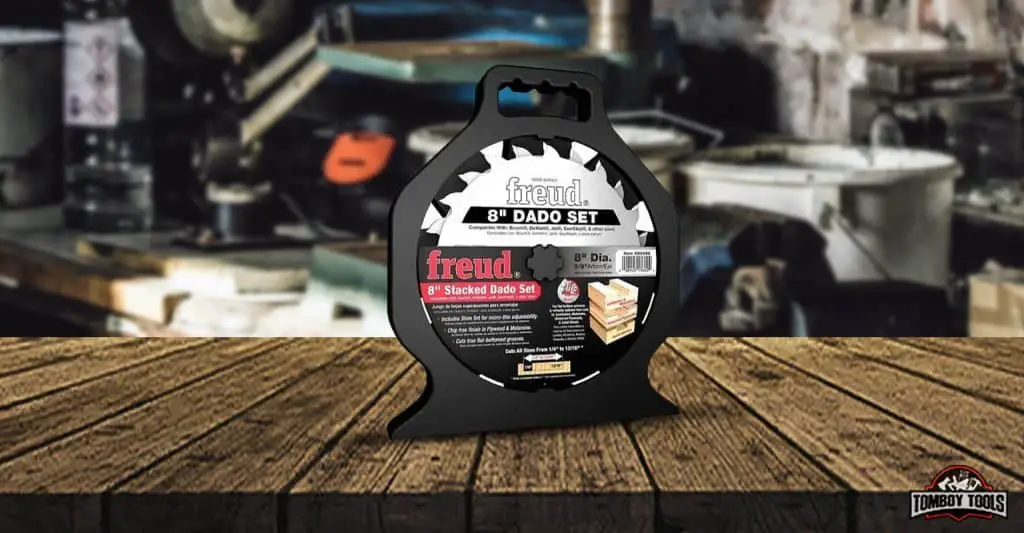 | | |
| --- | --- |
| Weight | 4.8 Ounces |
| Dimensions | 11.4 x 8.7 x 1.65 in |
| Material | Carbide |
| Warranty | Lifetime Guarantee |
In your search for the best dado blade for table saw in the market, you will find yourself in between a plethora of sets that are from different manufacturers. But you will have a tough time getting something that will offer you as much durability as this one from Freud does.
Unlike most of the available blade sets, it comes with TiCo carbide teeth of Hi-density Titanium. This construction, along with the flawless finish, will ensure long service life. You will not have to worry about the teeth losing their functionality anytime soon.
Also, the carbide tips are incredibly sharp and will retain its edge for an extended amount of time. You will not have to get a new set for your professional woodworks for a long while.
The chippers also come with negatively angled hooks that will provide you  clean flat bottom grooves. Because of utilizing this angled design, they are virtually free of splinters. That means you are going to get cleaner cuts every time.
Other than that, you will also be able to get a wide variety of differently sized cuts with this set. With 1/16 inches increments, you will be able to get slot widths that are between ¼ inches to 13/16 inches.
The set includes three two-winged chippers and two blades that go along the outer side. Other than that, it also comes with a shim set that will allow you to tune your cuts finely.
Pros
Sports excellent durability
The blades retain its edge for an extended amount of time
Will provide splinter-free cuts
Offers a wide range of cut size
Includes a shim set
Cons
The blades tend to come out loose while working
Does not fit 5/8 inches arbor
DEWALT DW7670 8-Inch 24-Tooth Stacked Dado Set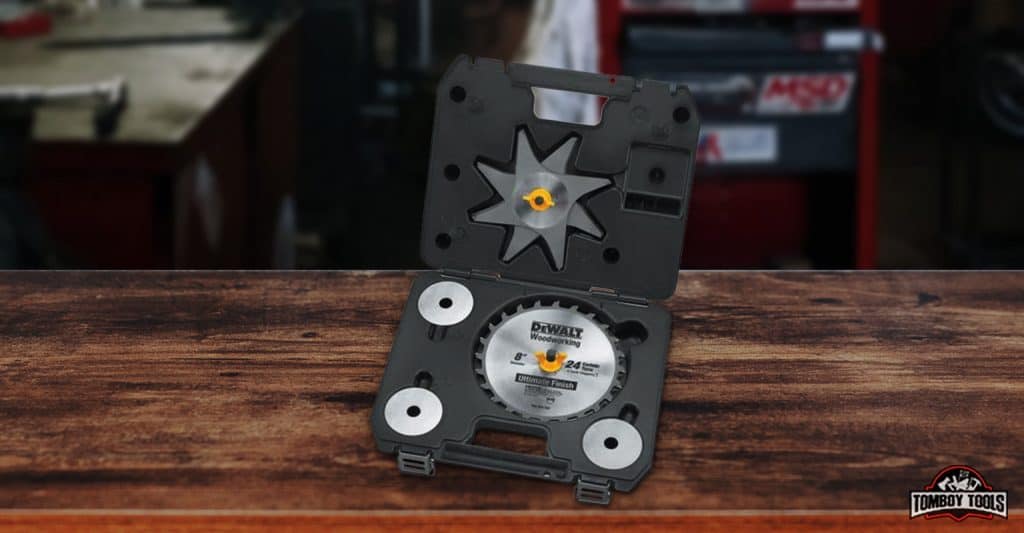 | | |
| --- | --- |
| Weight | 9.1 Pounds |
| Dimensions | 15 x 3.25 x 12.5 inches |
| Material | Stainless steel |
| Warranty | 30 Day Money Back Guarantee |
If you are a little familiar with the power tools market, you might have heard about Dewalt and its products. They are incredibly reliable and are widely known for offering high performance. This particular set is an excellent example of why there is all this craze about them.
Compared to most of the units that are out there in the market, these plates are laser cut. That means you are going to get cuts that are going to be extremely accurate and precise.
Also, the heavy gauge design will make sure that they are of service for an extended amount of time. You will not have to worry about these losing their functionality after a few cutting sessions.
Other than that, the teeth are of micro-grain carbide. They eliminate the splintering effect that most of the blades do. As a result, you will end up with clean cuts that are smooth and are not jagged.
You will also receive chippers in the box. They have four teeth on the outside and will enhance the overall quality of the cuts. Flat bottom cuts will be smoother with these.
Other than that, it comes with shims of stainless steel. They are relatively durable, and will you allow you to fine-tune the width according to your preference.
Lastly, you will receive a durable storage case in the package. It will help you in organizing and carrying the blades. Also, it will protect them from chipped teeth scratches and other damages while transporting.
You can use this stack to make anything from dados to half-lap joints in hardwood.
But the problem is it leaves a slight ridge on the outside section of a dado cut.
If you are a quality conscious woodworker who wants to get smooth and clean dados consistently, this is the best dado blade set as it guarantees this and much more.
It is perfect for woodworking professionals dealing with a broad range of materials.
Pros
Laser-cut plates
Offers precise cuts
Carbide teeth reduce splintering
Includes stainless-steel shims
Comes with a durable storage case
Cons
Some packages ship with broken chipper nuts
Does not include any sort of manual
Oshlun SBJ-0830 8-Inch Box and Finger Joint Set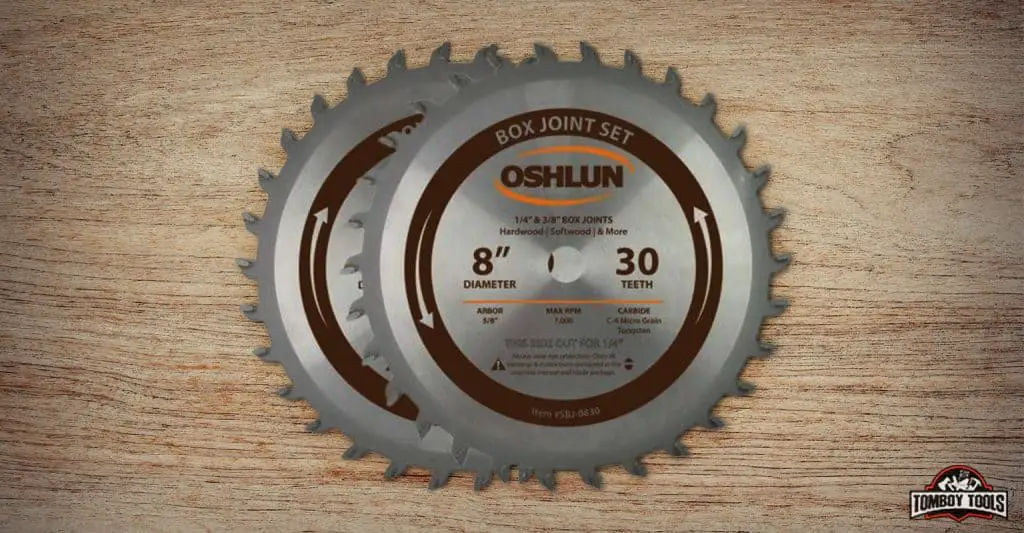 | | |
| --- | --- |
| Weight | 3.15 pounds |
| Dimensions | 10 x 9.8 x 1.5 in |
| Material | Carbide |
| Cutting Diameter | 8 In |
When it comes to professional blades for woodworks, Oshun has been one of the top choices among many. It is because their products are incredibly reliable and high-quality. But quality comes with a price, and not all can exceed their budgets, and that is where this set comes in.
This set portrays that getting good quality blades does not always mean that you have to break your bank. It comes with two units along with a finger joint that is perfect for the ones that are looking for precise cuts in their wood but has a budget constraint.
Each of the blades is 8 inches in diameter and has a total of 30 teeth surrounding the exterior. This high teeth count will get you square notches, finger, and smooth cuts in two of the most used width. You will be able to get both the essential ¼ inches and 3/8 inches cut with these.
Even though they are affordable, they have the construction of the premium blades in the market. The micro-grain tips are of C-4 tungsten carbide. That means that they will retain their edge for a longer period of time.
Speaking of sharpness, they will have no difficulties whatsoever in cutting through all types of softwood and hardwood. You might be skimping on the number of blades, but not on the overall quality with these.
They come in a storage case too. You will find a detailed instruction manual inside the case.
Pros
Excellent value proposition
Cuts in two essential widths
Detailed instruction manual
Comes in a storage case
Premium construction
Cons
Can not provide perfectly flat ¼ inches cuts
Cutting square grooves can be a little tricky with these
Porter-Cable 7005012 Oldham 7-in Adjustable Dado Blade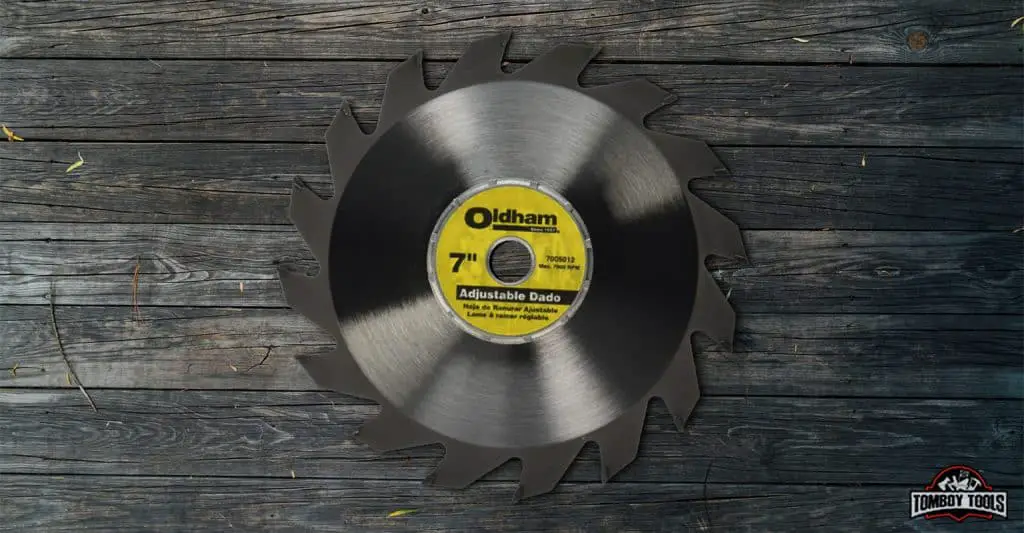 | | |
| --- | --- |
| Weight | 1.4 Pounds |
| Dimensions | 8.5 x 1 x 10.38 in |
| Material | Carbide |
| Cutting Diameter | 7 in |
Dado blades are an absolute essential when it comes to getting precise cuts in your wood projects. But with all the 8 inches unit that is flowing in the market, it can get hard to find something smaller that offers decent performance. That is why we have included this 7-inch blades from porter-cable in our list.
Just like the name suggests, these blades are adjustable. You will be able to easily switch between seven different widths by simply adjusting the hub. With that, you can cut 3/16 inch, ¼ inch, 5/16 inch,3/8 inch, ½ inch, 9/16 inch, or 7/16 inch grooves.
Each of the blades comes with industrial-grade tips. These carbide edges will get you clean and smooth cuts on your wood piece. They are reasonably sharp as well. You will not have to put that much effort into these just to get a precise cut on your project.
The set is also compatible with most of the full-sized table saws. It will easily fit in tables that are eight to ten inches and have a 5/8 inch arbor. But, they will not fit in saws that have ar arbor less than 1-3/8 inches in size.
As we have mentioned above, the blades are 7 inches in diameter, and they are rated to spin at a max RPM of 7000. Overall, this set an excellent pick to cut through hardwood, plywood, melamine softwood, and wooden composites.
Pros
7-inch diameter blades
Will offer precise cuts
A wide range of cutting width
Adjustable hub
Fits in most of the table saws
Cons
Does not fit in tables that have smaller arbors
The blades are a little flimsy
Irwin Tools 1811865 Marples 8-Inch Stack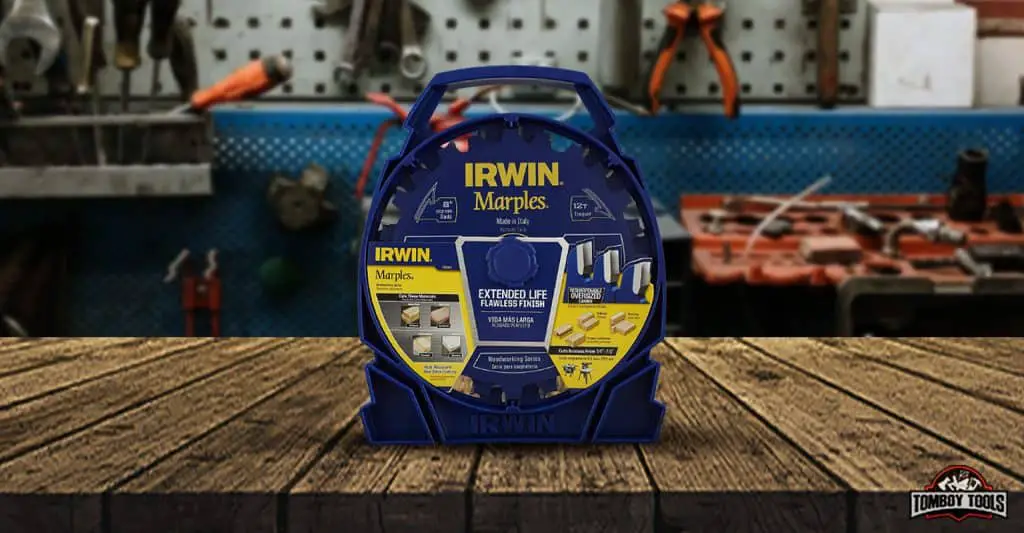 | | |
| --- | --- |
| Weight | 1.8 Pounds |
| Dimensions | 1.65 x 8.88 x 11.5 in |
| Material | Carbide |
| Cutting Diameter | 8 in |
We are going to finish off our recommended list with this set of dado blades from Irwin. If you were looking for something that will not only fit in table saws but also in radial arm saws, then we think you should have a look into this set.
These blades are designed to work optimally in both radial arm and table saws. After a secure fit, they will be able to get you groove cuts, Rabbets, tongue cuts, and you can also do shelving with them.
Other than that, they come with comparatively oversized teeth. They are of carbide and offers an adequate amount of sharpness. You will able to go through most of the hardwood, softwood, and plywood comfortably.
Also, the edges retain for a comparatively longer amount of time. Even when the sharpness gets dull after a while, you can resharpen them easily. That means these blades will be of service for a long time.
Other than that, they are capable of cutting a wide variety of grooves. It can get you cuts between ¼ inches and 7/8 inches. You are getting a lot of options in this regard.
The blades come with a non-stick coating. They are also heat resistant, which means that they will not get discolored with prolonged use.
Lastly, the package includes two outer blades, three chippers, three spaces, and seven shims. Overall, this is an excellent pick for getting precise cuts on your wooden workpiece.
This dado blade set is a versatile one as it is usable with plywood, melamine, hardwood, and softwood nicely.
These blades have a precision tension that ensures consistent and flawless cuts always. This makes it a good one to be considered.
But the problem is that it tends to lose its edge faster than many other top brands on the market.
The oversized carbide blades on this stack blade set will always offer flawless finishing and are also durable. It makes them ideal for regular use by a professional woodworker.
 Also, it works well for woodworkers that prefer to use light blade sets.
Pros
Fits on both radial arm saws and table saws
Oversized carbide teeth
Resharpenable edges
Non-stick coating
Heat resistant exterior
Cons
Some packages ship with missing items
Once you start resharpening, the edges become dull quite fast
Freud SD508 8-Inch Super Stacked Dado Blade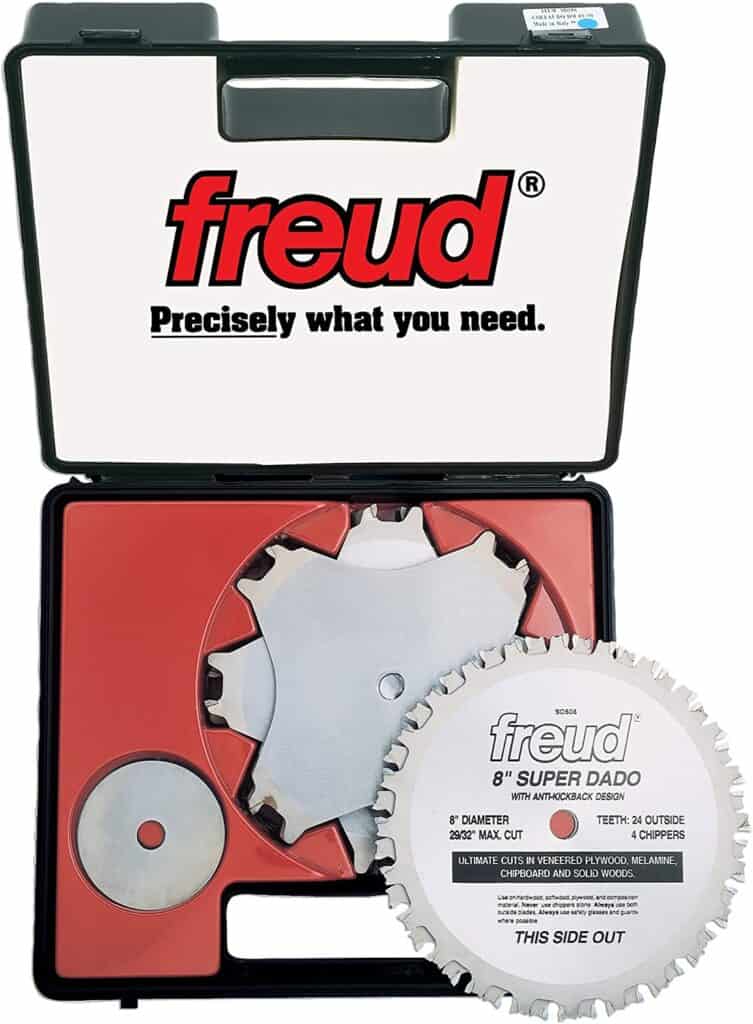 The Freud SD508 is one of the best dado stacks that you can get anywhere. This 8-inch set includes two outer blades and six chippers. It also features a shim set, dado tips, and tricks and a storage case.
This dado blade set includes hi-density carbide and titanium blades for durability and flawless finish. These materials are long-lasting and sturdy enough as blade materials. The 8-inch stack provides deep cuts.
It can cut a broad range of woodworking materials which makes it the best-stacked dado set. This tool can be used for chipboard, hardwood, softwood, plywood and many other types of materials.
These blades fit all radial arms and table saws. This stack can cut dado widths that are between 1/4-inch to 29/32-inch. It also includes 3/32 inch clipper that is perfect for cutting dadoes on the modern plywoods which are quite undersized.
Freud SD508 dado blade set has some high-quality 24-tooth blades that have 5/8 inch arbors. These blades will always create dadoes and grooves that are clean, flat and free from splinters. This tool can create grooves and dadoes on chipboard, hardwood, softwood, and plywood.
The cuts that they make are accurate the first time which eliminates the need for repeated passes. The anti-kickback design ensures safe operation of the blade. The company backs it with a limited lifetime warranty.
Though this dado blade set is worthy enough, it is quite a pricey dado blade stack. This is a better option for you.
Advantages Of Having A Dado Blade At Hand
There are certain advantages that these blades bring into the table that the other tools are not capable of. These are:
Ease of Use
Unlike the other power tools that are used for cutting woods, dado blades feature a design that will let you quickly make joint cuts, rabbets, grooves, and different types of slots on your wooden project.
Set up Process
They are also reasonably easy to use, and setting them up is no hassle at all. Most of the sets will ship with some sort of included guideline in the package, but even if they do not, you can easily figure stuff out by yourself.
Also, they will fit in most of the saw tables. Even if you do not have a particular table for installing them, you can construct a makeshift one by using the wood that is lying around you.
Precision
Besides that, they offer an incomparable amount of accuracy, and you will be able to get precise cuts that would be quite hard to get with other tools. You will have not even have to put that much effort in lining up the slots of your wood piece with them.
Lifespan
As most of the sets come with high-quality construction, they last for a longer amount of time. The edges remain sharp for a long time as well.
What To Look For Before Buying
Not all the units that you will find in the market will give you the optimal performance. That is why you have to scrutinize. And, to do that, you have to keep a couple of things in your mind before heading out. These are: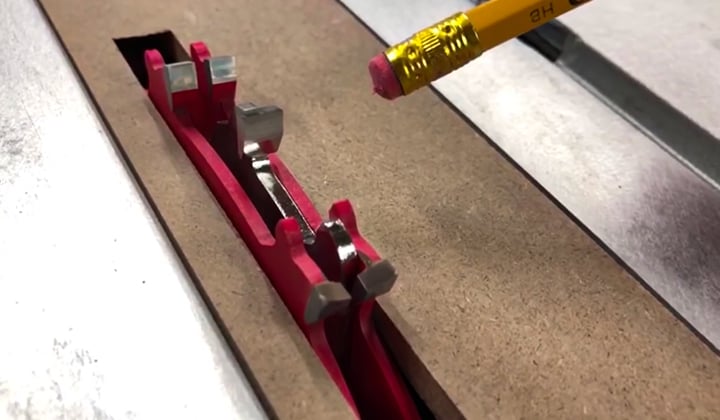 Types
Before you start searching for a dado blade, you should know their types. There are usually two of them. One is the stacked ones, and the other one is the wobble type.
The stacked ones are the ones that most of the woodworkers prefer because of how precise and comparatively easy to maneuver they are. They are called stacked because they have one blade stacked right next to the other one, and in between them, there is a "chipper" blade.
Depending on the manufacturer, the units will ship with 18 to 40 teeth. They are comparatively precise than the other one.
On the other hand, the wobble styled ones have only one circular blade. These blades are generally mounted at an angle that allows them to wobble forward and backward.
This wobbling is where the name comes from, and because of this wobbling, they tend to output inaccurate cuts. That is why this is usually not picked up for professional wood cutting projects.
Teeth Count
The number of teeth that a blade features will have an impact on the overall cut on your wood. With higher density teeth, you will be able to get much finer and smoother cuts.
Also, the number of teeth that a disc might have depends on the overall size of the blade. The larger the size, the more teeth it will have.
On that note, the market has units that are between six inches and eight inches. Among them, the most popular one is the eight-inch one because it can give comparatively deeper grooves than the other one.
Sharpness
The overall sharpness is a crucial factor, as well. You would not want to get something that will not be able to go through hardwoods, would you? That is why you should factor in the sharpness of the blades as well. The sharper they are, the easier it is you to cut through your wood piece.
The Quality of Cuts
Many of the available units usually give a jagged cut. In that case, what you have to look for is the hook angles. If they are negatively angled, they will be virtually splinter-free and will give you a smooth and flat cut on your wooden project.
Durability
As a tool, you would want the unit that you are investing your valuable money to last. In that case, if you get something that chips after just a few uses will be an expensive mistake. So, you should put the durability of the units into your consideration too.
In the case of durability, it all depends on the overall construction material. Even though most of the units are featuring a high-quality carbide construction, some might not. In that regard, look for the ones that state C-4 carbide or TiCo carbide. Some are of stainless steel, but they tend to lose the edge retention pretty fast.
Compatibility
Compatibility is another crucial factor that you should consider before you make a purchase. You should know the size of the arbor that your saw table feature and get a unit accordingly. It will be a big hassle to return the set that you just purchased only to know that it will not fit in the arbor that you have.
Cut Widths
Even though most of the blades in the market nowadays can cut different sized cuts, many of them also sport an on-the-go adjustment knob. But, few might not be able to get the cut width that you might specifically require.
In that case, you have to consider whether the unit that you are getting can cut the width that you are looking for or not. It should be stated on the packaging.
Manual
If you are a veteran, you can skip this part. But if you are relatively new to the overall concept of dado blades and just got yourself a new saw table for cutting precise grooves, then you should consider this part.
Manuals state the installation process and about all the adjustments that the unit is capable of, and thus it gets a little bit easier for the beginners.
Diameter and Power
Being a woodworker, it is important to make sure that the dado blade matches to a saw to run it optimally. Most dado blades come with a diameter of 6 or 8 inches.
The larger 8-inch blade is ideal for deeper cuts. It requires a saw like a cabinet saw due to its power and some types of or contractor saws to operate it.
On the other hand, a 6-inch dado set can work on contractor saws, cabinet saws and also with the portable and bench saws.
Insert Plates
An insert plate is where the blades protrude from. It is an important factor to consider in the search of the best dado blade set. For a table saw, it would be necessary to install a customized insert plate to use the blade.
For this, choose between a pre-cut dado insert plate and a zero clearance one which does not have a pre-cut slot for the blade and so you have to make it with your dado blade.
Consider these points before buying dado blades.
Frequently Asked Questions
Q: Which type of blade is the one for me?
Ans: Among both the variants, the one that most go for is the stacked one because they are easier to work with and output a precise and accurate cut. Keeping that in mind, if you are doing professional wood works, we recommend you to go with this one. Other than that, you can pick the wobbling one.
Q: In what type of saw should I attach my blades?
Ans: You should attach the dado blades in a table saw, or circular saw. The one saw that you should steer away from in case of these dado blades is the circular saw.
Q: What are the safety measures that I should keep in mind?
Ans: You should not use the blades by removing the throat plate, and you should always make sure that the arbor nut is tightly secured. Also, you should maintain a safe distance from the units while working.
Q: What is a Rabbet joint?
Ans: It is a groove that is usually cut at the edges of a wood piece. They are two-sided when viewed from a cross-section.
Q: Can the teeth of a dado blade chip off?
Ans: Yes, they can. If the blades are of low-quality materials and are not durable, they can chip off. Also, it can happen during shipping.
Why are dado blades illegal?
In many parts of the world dado blades are not illegal. … The main reasons are because to use them the blade guard and riving knife have to be removed. These are two safety features that are essential for the safe use of a table saw.
Are dado blades dangerous?
Yes, a dado blade is potentially hazardous. Heck, most woodworking tools (like these here) can be hazardous. It's how you use the equipment that reduces the potential for injury. In regards to making a dado at the end of a piece, it would be better to use a sacrificial fence with the dado blade slightly buried.
Where are dado blades illegal?
As already mentioned dado blades are illegal on UK (EU) table saws because in order to use them the guard and riving knife have to be removed, and is therefore unsafe. This is not the case in the USA. Because of this, all UK or european table saws are deliberatley fitted with short arbors to prevent their use.
How deep can a 6 dado blade cut?
The radius of a 10″ blade is 5″ so if you have 3″ above the table so you need 2″ from the arbor before the business starts. A 6″ dado has a 3″ radius, so that puts you at roughly 1″ cut depth.
Can I make my own dado blade?
yes. A self made stack will cut grooves but the bottom is likely to be riddled with ridges. Stacked dado sets have bevel edges on the outside cutters, and flat teeth on the inside chippers that are all very closely matched to give low tearout at the exit of the cut, plus leave a nearly perfectly flat bottom….
Can all table saws use dado blades?
Many table saws accept dado blades with a maximum width of 13/16 inches. Dust port: Table saws produce a lot of sawdust, but table saws with cabinets keep dust fairly well-contained. On all types of table saws, look for a dust port if you want to connect to a dust collection system as you cut.
Can you tilt a dado blade?
You can certainly tilt your dado stack to the roof pitch and run the roof boards over it, but when you put them in place the sides of the dado will be ninety degrees to the roofs pitch, not plumb!
Can you Dado MDF?
Dados are too tight in MDF

Since MDF dulls blades fast, I prefer to cut them with a straight cutting carbide router bit instead of dado blades. The new Bosch 3/4 inch straight cutting carbide router bit leaves a dado that the 3/4 inch MDF cannot fit into — VERY close.
Can I put a dado blade on circular saw?
Dado joints are a simple way to join wood together, but they require a precision cut to be effective. If you don't have dado blade or table saw, you can still cut dado joints using a circular saw and a couple jigs.
Why can't you use a dado stack in Europe?
To European regulators dado sets are not considered safe. Part of this may be related to blade brakes. A dado set is heavy, and can spin off if the arbor stops too quickly.
Are dado blades legal in Australia?
They are certainly not illegal in Australia, nor is there any need to import one from the US. At least 2 companies, Northwood Tools and Carbatec, sell dado sets.
Q: What saw types can be used with a dado set?
Ans: Dado sets can be operated with either table saws or circular-arm saws. The type of dado blade you can use varies depending on the saw you have.
Home table or bench saws will work best with six-inch dado blades that are relatively lightweight. On the other hand, contractor saws will work with either six- or eight-inch dado blades as long as the chippers are lightweight.
Q: What kind of joints can be made with dado blades?
Ans: Dado blades are designed to cut grooves best known as dadoes or rabbet joints. These grooves help to fit the edge of one piece of wood into the groove for gluing or holding in place with pressure. 
Final Words
Accuracy is always the topmost priority when it comes to cutting grooves in wood pieces. Among all the other capable tools, the best dado blade set can offer you an incomparable precision. We hope that after going through the entire article, you were able to pick the right one for you.
I'm Joost Nusselder, the founder of Tools Doctor, content marketer, and dad. I love trying out new equipment, and together with my team I've been creating in-depth blog articles since 2016 to help loyal readers with tools & crafting tips.