I love creating free content full of tips for my readers, you. I don't accept paid sponsorships, my opinion is my own, but if you find my recommendations helpful and you end up buying something you like through one of my links, I could earn a commission at no extra cost to you.
Learn more
Ever wanted to get some work done around the house by yourself instead of hiring a technician? Or you want to get into woodworking? Or maybe, you're a professional at this and are looking for a set to start things?
If so, look no further. Routing is the answer, and if you have a router, you need router bits. And I'll be talking about the best router bits in this article to help your find you your right pick.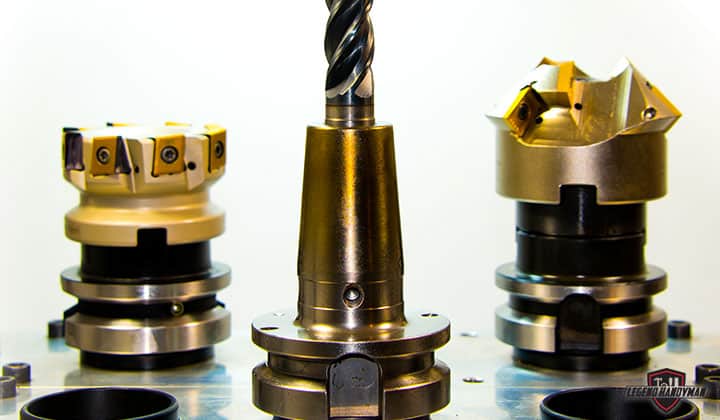 What Are Router Bits?
Before we talk about router bits, you should know what a router is. A router is a device that is used to hollow out sections of wood. It is sort of a drill but covers a larger area. The router bits are the cutting tools that routers use to hollow out and mold a piece of wood.
There are different types of router bits. They come in a wide variety of shapes and lengths and therefore the way the wood is routed depends on the shape of the router bit. So usually, a selection of router bits are used to craft various different shapes and profiles on the wood.
Also read: how to use your router bits
Our Recommended Best Router Sets
On the market, there are several brands. So you might be confused as to get which one. But worry not, here are some choices for you to consider.
Hiltex 10100 Tungsten Carbide Router Bits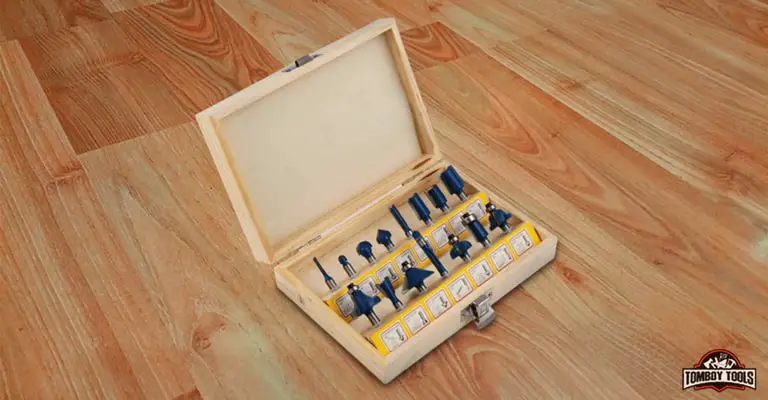 One of the key elements for a router bit is the sharpness and Hiltex has you covered. It's got sharp edges on all of its bits and you can use it to plow through wood quite easily. These bits are constructed from hard tungsten carbide steel which makes it very resilient and stiff.
The tungsten makes this heat-resistant as well. The heat will definitely evolve from routing as things rub together and friction is created. If your router bits are made of just metal they will be deformed in the heat. However, having a tungsten build fixes that as tungsten is very resistant to heat.
This set of bits employs the use of a bearing roller and that means that the boring and hollowing is smooth. You might need to apply sandpaper just a little bit afterward but it is still worth it. The profile of the shape that you route out is very prominent so you do not have to route through it again for better accuracy.
If you're a novice woodworker, this is definitely the set for you. It can be set up rather quickly and you can get working on it just as fast. Also, it is ideal for some work around the house and for you to make some knick-knacks in your garage. It's perfect for the hobbyist as well.
As it is a starter set and made for the beginners, it isn't too surprising to know that when placed under professional toll it will give way. It just isn't built for that. If you try the bits on industrial materials, chances are, they will snap. Keep that in mind. If you're a professional, there are others on this list for you.
Pros
It has good sharpness and is resistant to heat. The routing is smooth. This thing is ideal for beginners.
Cons
It is unsuited for extended use.
Stalwart Router Bit Set- 24 Piece Kit with ¼" Shank And Wood Storage Case
This amazing set comes with bits that are quite easy to add on the shaft and begin work. The setup is quite easy to grasp and get started with. So if you're looking to get into woodworking, this is probably for you. Also, the design is simple and almost anyone can begin using it with no prior experience.
As such, it's great for work around the house. More and more people are discovering that some basic DIY skills can save you a lot of money and as such, are getting interested in this. And this is suited just for that. It is not too complicated and hits the minimum requirements to be a router bit set quite well.
Since it is suited for such light jobs around the house, it isn't too surprising to know that it is more suited for softer woods. While, yes, it can be tried on harder woods, there is always the chance it'll snap. Better safe than sorry. On softer wood, however, it does an excellent job and cuts with precision. 
The set also encompasses a very wide variety of bits. In total there are twenty-four parts and among them are fifteen different bits. This is the reason why it's very good for the hobbyist. They usually experiment with different shapes and as such, they would definitely appreciate the rich selection of bits.
However, you should know that it is for casual use. If a professional tried it, the set would wear away in no time. Extended use will definitely cause it to become blunt rapidly. And, excess pressure will most likely result in a snap. So if you're a professional, this isn't for you.
Pros
It's a great option for amateurs and has a good variety of bits. Also, it's excellent for DIY work around the house as it cuts well on softwood.
Cons
Hardwood can snap it and it's unsuitable for professional use.
Bosch RBS010 Carbide-Tipped All-Purpose Professional Router Bit Set
Unlike the aforementioned sets, this one, by Bosch is made to be resilient and it operates very well under high demand. It can handle professional work quite seamlessly and is something you could consider if you are looking for a professional setting. This can handle high volumes of work rather easily.
As it is suitable for the professional, it should not come as a surprise that it is made to be very tough. It can definitely handle the pressure of high powered routers and still provide peak performance. The robust structure of this tool makes it able to handle thick wood as well. It'll never snap under any circumstances.
While it is more suited for professional use, setting it up does not require any professional knowledge of any sort. It's rather simple. Fixing them on is quite easy and doesn't need any prior knowledge. So if you want to spare the bucks, you can get this for casual work too. That way it'll last longer as well.
The bits are made to be extremely precise. They cut at sharp angles. You don't need to worry about bumps or ridges. The cutting action is also very smooth so it requires little manual adjusting. And the shapes on the bits are cut very accurately so they can make complex shapes with no flaws.
This set also contains a good collection of bits. While not the most varied, it is enough for starter level woodworking. However, for experts, the lack of variety starts to show. Certain complex bits are missing from this set which some expert woodworkers use. However, for you and me that will hardly be noticeable.
Pros
It's ideal for professional work has a robust frame. The cuts are really acurate and the tools is quite versatile.
Cons
It has a somewhat limited array of bits.
Whiteside Router Bits 401 Basic Router Bit With 1/2-Inch Shank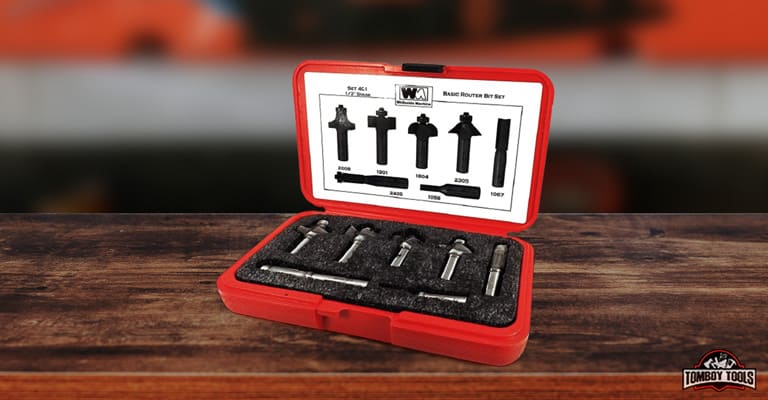 The best woodworking router bit set, and arguably one of the best sets overall, this is made by Whiteside. Hence it's an excellent choice for any hobbyist. You can set it up very easily. Operation is easy too. The bits themselves aren't very difficult to interpret either, so they're excellent for a beginner too.
On the note that it is great for hobbyists, the bit set contains a great variety of bits. That means that if you're someone who plays around with woodworking, you'll definitely love this. It has bits of distinct shapes that are often not employed professionally and therefore are missing from those sets.
Don't think they can't handle being used as a professional tool, however. They work really well and are of optimum sharpness. This tool can cleave through soft wood without breaking a sweat and even harder woods like redwood. The high sharpness means you don't need to push it down as hard.
Its high sharpness also makes it very smooth. Most routing operations usually send sanding afterward. Ergo, you need to smooth it out with sandpaper. But not this one, this set has bits that route so smooth that the surface comes to you in a plane and perfectly uniform way.
Also, the bits themselves are also extremely resilient. Just because you don't need to apply pressure doesn't mean they can't take it. They hold out under high stress and provide great performance as well. They are also very durable and last long even if used extensively for heavy work.
Pros
It has a smooth routing. This thing can be perfect for people with little experience. You'll find the device long lasting and it has a good selection of bits. The cutting power is also great.
Cons
It's quite Expensive
MLCS 8389 Woodworking Pro Cabinetmaker Router Bit Set with Undercutter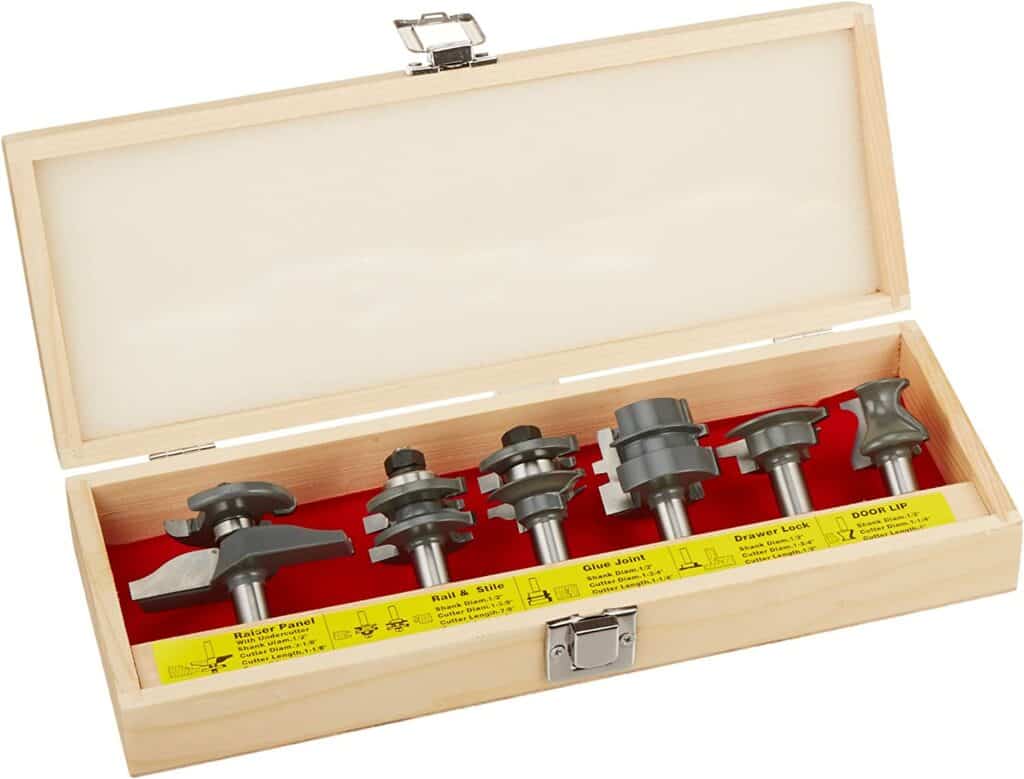 We're switching back to beginner sets again. This one is unique in that it is rather easy to recognize which bit does what and thus you don't have to undergo trial and error. You don't need any prior experience to start with this and soon enough you'll feel like you're carving wood like a pro.
This also makes it a very convenient tool for the hobbyist who isn't really looking to be a professional. It is a rather small investment so you need not worry. Chances are if you have a router, you are invested in it enough already. The bits also come in distinct shapes for you to try out with.
Incredible as its merits are in non-professional spheres, it does fall short in the professional realm and given its price, that should be expected. Don't put it under heavy stress. It'll probably not be able to function under those conditions and thus wear away soon.
As such, the bits aren't really strong enough for extended use. They will rapidly wear down if you keep using them for long hours. And, on hardwood, they give way and snap rather easily. So all in all, it is definitely not a good idea if you're looking to start working professionally with this one.
However, despite not being very good with hardwood, it does work wonders on softer ones. In fact, it bores through them with relative ease and the cutting is rather smooth as well. While you still need to apply some sandpaper, it still isn't that big of a chore.
Pros
It's a great starter set and a fine option for hobbyists. You can use this for cutting softer wood.
Cons
It's not the ideal option for commercial work.
Freud 91-100 13-Piece Super Router Bit Set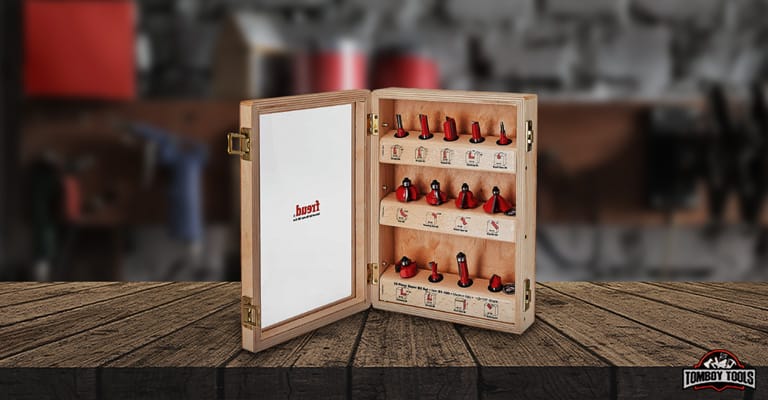 The bits described here were manufactured by Freud and they are made to be extra sharp. The cutting on all of these bits is amazing and you don't need to push it too far to make the cut. Even wood that is on the harder side can easily be cut thanks to its amazing sharpness.
Also, the sharpness makes the routing operations very smooth. There are no jagged parts on the wood and you only need to do a little bit of sanding. The set also contains very precise bits so that you can choose the ones you like and perform tasks that need an above average level of accuracy.
Setting up the bits is pretty simple. You unpack it and fix the bits on the shaft and then you secure them right in place. That's really all there is to it. This makes it an ideal set for people looking to start woodworking or just doing some routing around the house.
Moreover, the routing operation itself is also pretty easy thanks to these bits. It runs very smoothly. You can be very gentle with it and still have it cut through inches upon inches of wood. There is also very little vibration generated from these bits so you can have a smooth ride through and through.
There is one technical issue that should be considered. The box that is used to store the bits isn't the best. Taking them out of the box is sort of hard. You might consider using a different container but then again that means finding the one bit you need from the dozen of them.
Pros
It has a cutting edge and allows you to operate it easily. You'll love the fact that there's little to no vibrations.
Cons
The unit is a bit difficult to unpack.
Yonico 17702 70 Bits Professional Quality Router Bit Set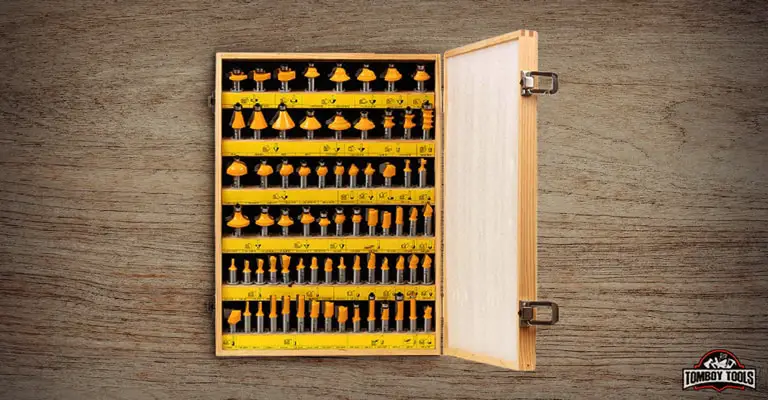 Manufactured by Yonico, this set has a wide collection of router bits. This is great news for the average user, as well as for the woodworker. The good choice of bits lets you experiment and produce more complicated shapes. It also lets you grasp the basics of working with routers.
Don't scoff at its performance just because it is a beginner set. The bits are well reinforced and they will last you a long time. Even high-performance usage is of a little issue for this. If you're a professional, this could serve as a cheap startup set before you move on to more expensive ones.
The bits are extremely precise and thus you can use them to make clean and accurate cuts. They are also sharp so cutting and routing are easy. You can make very accurate and sharp angles with this and construct very precise shapes with this. The sharpness also means less pressure on the bits.
However, that doesn't mean that it can't take the pressure though. The bits are very rigid. And while that does mean that they are prone to snapping, it'll only do so if you press it too hard. Good luck on that, as this set is strong enough to seamlessly plow through even the harder woods.  
There is one complaint that I have to acknowledge though, and that is that the shaft on all of these is actually short. That sort of limits the mobility on these. You often have a hard time reaching all the nooks and crannies. Despite the bits being precise, having this flaw prevents you from doing certain types of precise work.
Pros
This thing has a great variety of bits and offers clean cut. Construction is good.
Cons
The bit shaft is too short.
Best Router Bits Buying Guide
There are factors that you need to consider before you start hunting for your bits. And I'm here to outline them. They are as follows: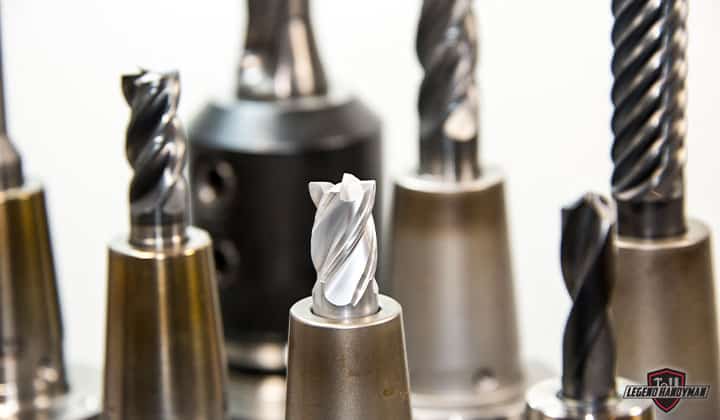 Sharpness
By sharpness, I mean the ease at which the material can be cut. It usually is a prerequisite for any router bit. Solid carbide or even carbide tipped bits are sharp enough for you to cut through most types of wood. It is especially important for routing harder wood. 
Durability
Again, this is a key factor for routing harder wood. However, it is also something you need if you turn to routing rather frequently. Over time the bits do tend to dull and wear down. 
Precision
Precision is basically the accuracy of shaping when routing the wood. It is particularly important if you're looking to do woodworking as a hobby, as you will be carving out some unique and unconventional shapes. 
Smoothness
Smoothness is important as after you are done routing you have to sand the thing. The higher the smoothness, the less you have to sand.
Frequently Asked Questions (FAQs)
Q: Can you use these on metal?
Ans: That isn't usually recommended as the bits might snap. However, softer metals like aluminum can be routed with bits made of carbide.
Q: Can I use them on a router table?
Ans: That depends on the shank length. While most router bits have the required length, some are not long enough for a routing table.
Q: Do they work on polymer materials?
Ans: Short answer, yes. However, most bits tend to heat up when routing so you might end up melting or charring your material. Look for ones that generate less heat. Also, don't route continuously on polymer materials as this also builds up heat.
Q: Can I sharpen the bits?
Ans: Yes, but it is way cheaper to get replacements. You can get it sharpened at a shop, but that'll cost you more than the bit itself. Alternatively, you could learn to sharpen bits by yourself.
Q: What kinds of wood are suitable for routing?
Ans: All routers mentioned here can work with softwood really well. Some are a bit fragile and can't cut harder wood though. Exotic wood isn't an issue either, as hardness is usually the only factor.
You may also like to read – best plunge router and best trim routers
Conclusion
I have outlined various types of routers. They all have their fair share of advantages as well as disadvantages. What you are to do is recognize which one suits your needs. Look through them and then decide which one is the best router bit. Weigh your options and know what you want. Good luck. And happy hunting.
I'm Joost Nusselder, the founder of Tools Doctor, content marketer, and dad. I love trying out new equipment, and together with my team I've been creating in-depth blog articles since 2016 to help loyal readers with tools & crafting tips.