I love creating free content full of tips for my readers, you. I don't accept paid sponsorships, my opinion is my own, but if you find my recommendations helpful and you end up buying something you like through one of my links, I could earn a commission at no extra cost to you.
Learn more
For craftsmen, not too many tools can rival the usefulness of die grinders. Die grinders are rotary tools which are used to manipulate materials such as plastic, metal or wood by hoping, sanding, shaping and so on. However, as useful as die grinders can be, an inefficient purchase will only prove to be detrimental.
That's where we come in! In this article, not only will we help you find the best die grinder to suit your needs, but also provide a buying guide, talk in details about the two types of die grinders and answer some frequently asked questions. So without further ado, let's jump into it!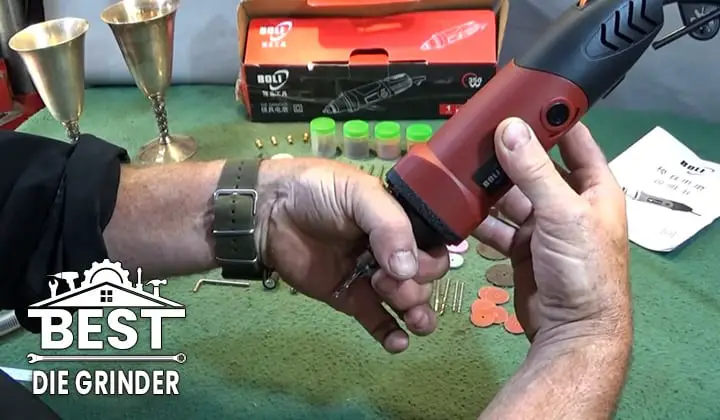 Advantages of Die Grinder
As discussed before, die grinders are all the hype. Why so, and should you give into the hype? Let's find out!
Time Efficient
Die grinders are an incredibly fast power tool. It can, among several other tasks, polish a surface within seconds, saving you the hassle of slaving off for days with sandpaper and such.
Easily Reaches Hard-to-Reach Areas
It helps you get paint off of every crevice that a drum sander, benchtop sander, orbital sander, or disc sander cannot reach. The tool can only be used to polish stainless steel and get rid of bumps and irregularities on stainless steel project.
Multipurpose Tool
Die grinders are useful with several different materials – metal, steel, wood, plastic, the list just goes on. This incredible tool can even be used during auto repair to strip surface paint.
Great for Woodwork
Moreover, woodworkers love die grinders too. It helps to improve the finish of wood by polishing it, so die grinders are very popular for professional use.
Die grinders can replace sandpaper entirely when it comes to woodwork. Additionally, this tool can also be used to carve wood into beautiful decorative pieces.
However, die grinders are not limited to polishing and cutting. It can also be used to drill holes, clean mold, and machinery maintenance and so on! This is one power tool that is a hundred percent worth investing in.
7 Best Die Grinder Reviews
In making this list, we have considered every category of die grinders – pneumatic, electric, angle, straight, you name it! Hence, we're certain your next favorite die grinder is lurking in here.
Ingersoll Rand 301B Air Angle Die Grinder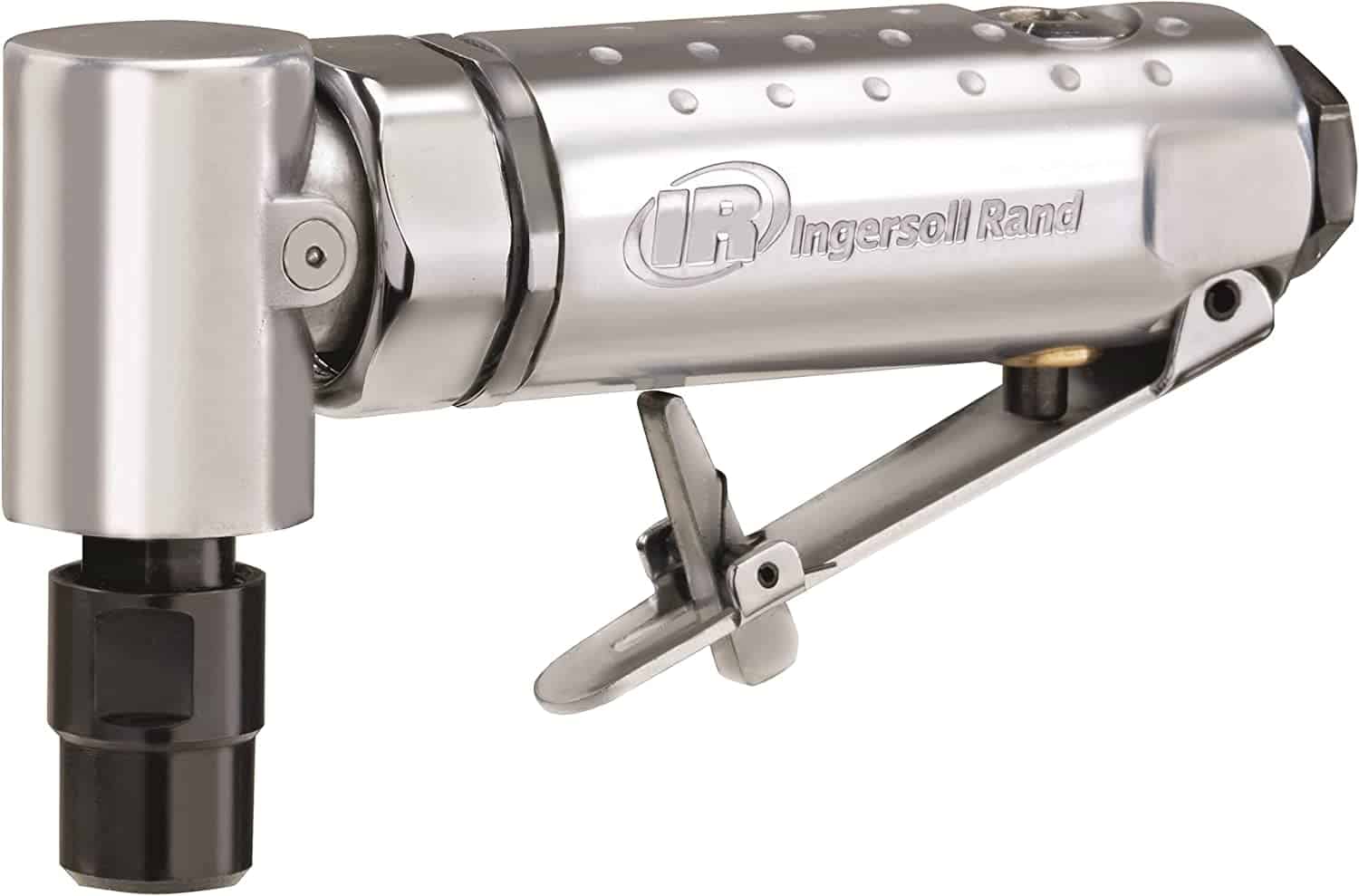 | | |
| --- | --- |
| Weight | 1.1 pounds |
| Dimensions | 5.27 x 1.34 x 2.91 inches |
| Color | Black |
| Warranty | 12 months parts / 12 months labor |
For a manufacturer that has been in the business for over a century, performance, reliability and durability go unquestioned. Of the several die grinders offered by the company; this model happens to be a cult favorite. Compact and lightweight, this budget friendly die grinder promises a long service life and great performance.
The die grinder features a powerful 2.5 HP motor which provides the tool with a 21,000 rpm speed which is great for light maintenance work. Working with hard to reach crevices has never been easier than this thanks to the right angled design. Additionally, balance is improved by a durable ball-bearing construction.
Housed in a durable aluminum casing, the die grinder is very straightforward and easy to use. It also features a safety lock to make sure the motor does not start on its own, thus helping prevent accidents. The placement of the exhaust helps to keep your work surface clean and uninterrupted at all times.
This pneumatic die grinder can be relied on for performance and durability. All throughout its service life, it provides powerful performance and impressive results. It is easy to see why it has made our list as one of the best angle die grinder.
Pros
Lightweight and compact
Strong aluminum build
Powerful motor
Low noise
Safety lock
Cons
Vibrates a lot
Emits water and vapor during use
Makita GD0601 ¼inch Die Grinder, with AC/DC Switch

If your goal is to purchase the best air die grinder which is lightweight and easy to handle, you do not need to look any further.
The grinder comes with a fixed single speed setting which is considered a downside. But you would be hard pressed to find such a high performing die grinder with this many bonus features.
Firstly, the gear housing is rubberized which provides great comfort to the handler. Additionally, a protective zigzag varnish separates the coil from the dirt, preventing any debris from entering the coil.
Along with these two features, a high heat resistance ensures that the grinder delivers uniform performance all throughout its impressive service life.
At only 3.7 lbs, the grinder is easy to handle and comes with a fixed speed of 25,000 rpm. A stepped neck design further improves the lifespan of the tool and adds to the ergonomics of it.
The tool also comes with an AC/DC switch which allows you to alternate between power sources, which improve the versatility of the tool.
For nearly industrial performance, this die grinder is one of the best options on the market. With the addition of being energy efficient and cost efficient, we cannot recommend this model enough.
Pros
Energy efficient
High heat resistance
Low noise
Rubberized housing
Powerful motor
Cons
Fixed speed
Heavier than several other grinders
DEWALT Die Grinder, 1-1/2inch (DWE4887)

| | |
| --- | --- |
| Weight | 4.74 pounds |
| Dimensions | 17.72 x 4.21 x 3.74 inches |
| Material | Plastic |
| Warranty | 3 year limited manufacturer's warranty |
Cutting, smoothing, drilling – our next candidate is set to do it all. With impressive performance which rivals that of several industrial die grinders; this product weighs more than several competing models. It is bigger in size too, but it is a small price to pay for the results and durability it has to offer.
The tool weighs 3.65lbs and is 14inches in length. Included in the purchase comes two wrenches and a ¼inch collet.
In terms of speed, the die grinder offers a fixed speed of 25,000 rpm which is slightly above the market average of fixed speed setting. A 4.2 amp motor makes for a great grinder which can do several tasks effortlessly.
For a die grinder of this size which offers such top-notch performance, its operation is surprisingly noise and vibration free. Despite the weight, the smooth, easy grip tool does not feel heavy on the hands and it comfortable to use for a prolonged period.
Additionally, the grinder comes with an AC/DC switch, allowing for alternating power sources. With incredible performance and durability, this particular die grinder has gained immense popularity among customers and we are sure you will love it too!
Pros
AC/DC switch
Easy grip
High power motor
High speed
Durable build
Cons
Fixed speed
Large in size
Astro Pneumatic Tool 219 ONYX 3pc Die Grinder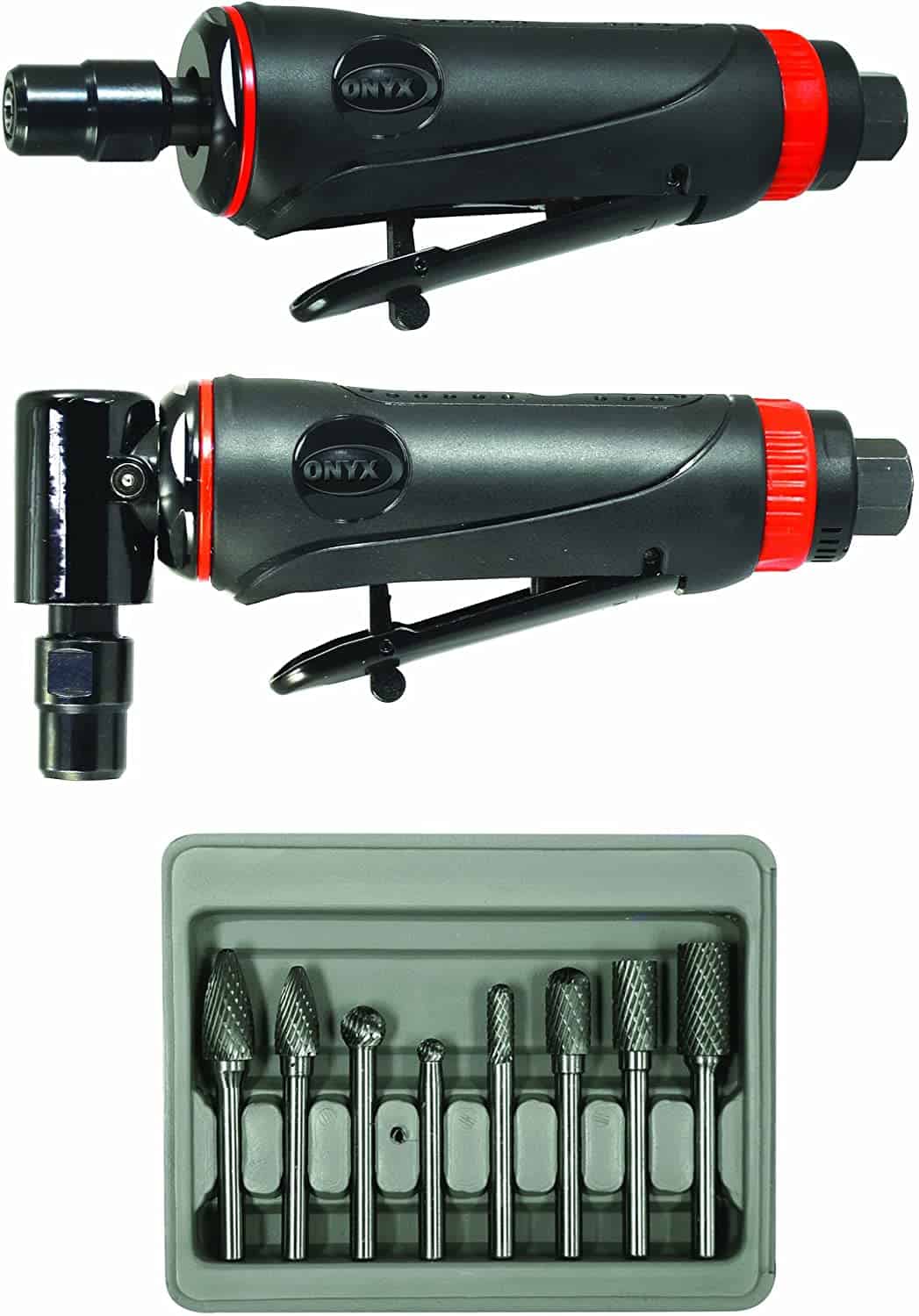 | | |
| --- | --- |
| Weight | 3.2 pounds |
| Dimensions | 12.5 x 8.25 x 1.75 inches |
| Material | Carbide |
| Batteries Included? | No |
For those looking for the best pneumatic die grinder, we may have just the product you need. Made of high quality materials, this air powered die grinder is set to serve you for several years.
Lightweight and compact, the grinder does not come with the hassle of handling a cord and is easy to use for people of all levels of expertise.
The handle on this product is designed in a way in which the vibration is reduced during operation. This prevents the handler from experiencing any discomfort and also prevents accidents. More so, the rear exhaust keeps the work surface clean at all times.
Some bonus features of this die grinder are the built in regulator and safety lever. Power tools can cause massive injuries if they switch on off cue, so a safety lever is a great feature. Moreover, your purchase will also include an eight piece rotary burr set – essentially, your kit it ready from the get go!
With over 40 years of experience in this industry, the manufacturer designed this die grinder with precision and functionality in mind. It is a great purchase – that too at a price that does not burn a hole in your pocket.
Pros
Reduced vibration
Feathering control
Lightweight
Compact
Rib textured for firm grip
Cons
Carbine burr chips easily
No speed control
Chicago Pneumatic CP860 Heavy Duty Air Die Grinder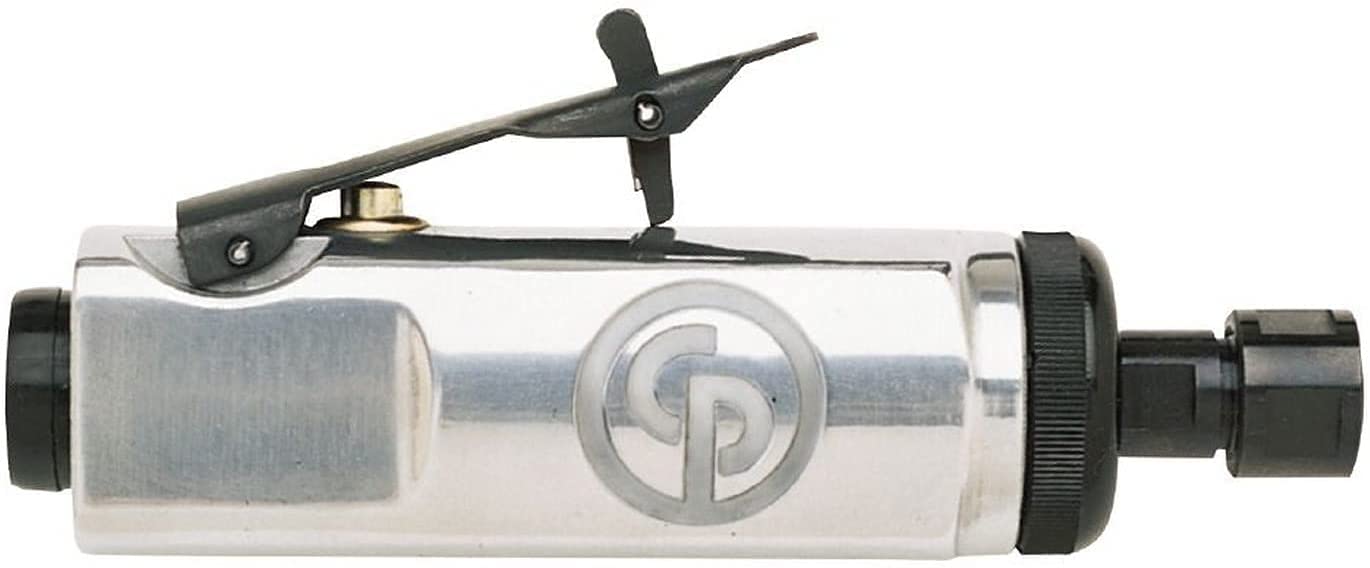 | | |
| --- | --- |
| Weight | 1.25 pounds |
| Dimension | 4.02 x 2.99 x 7.99 inches |
| Material | Metal |
| Warranty | 2 year limited warranty |
Our next product recommendation is a pneumatic die grinder which has proven to be one of the best performing die grinders on the market across categories.
Equipped with a 0.5 HP motor, the grinder offers a speed of 24,000 rpm which is on par with the industry average. The performance, however, is beyond the average!
Some of the best uses of this die grinder include cleaning molding and tires, porting, polishing, relieving engines and grinding. The ¼inch collet grinder comes with an adjustable speed setting, which makes the tool all the more versatile. A built in regulator helps ensure the speed matches the use.
It is very comfortable to hold and use thanks to the square shaped handle design. Being air powered, the die grinder does not require a cord to function thus it is also one of the best cordless die grinder available for purchase!
Additionally, a lock-off throttle ensures that the tool does not start accidentally. With great speed, durability and power, this particular die grinder is more than fit to take care of all your general maintenance work.
Pros
Energy efficient
Built in regulator
Powerful motor
Adjustable speed
Lightweight
Cons
Oddly placed exhaust
Can get hot with prolonged use
Omni High Speed 25,000 RPM ¼inch Electric Die Grinder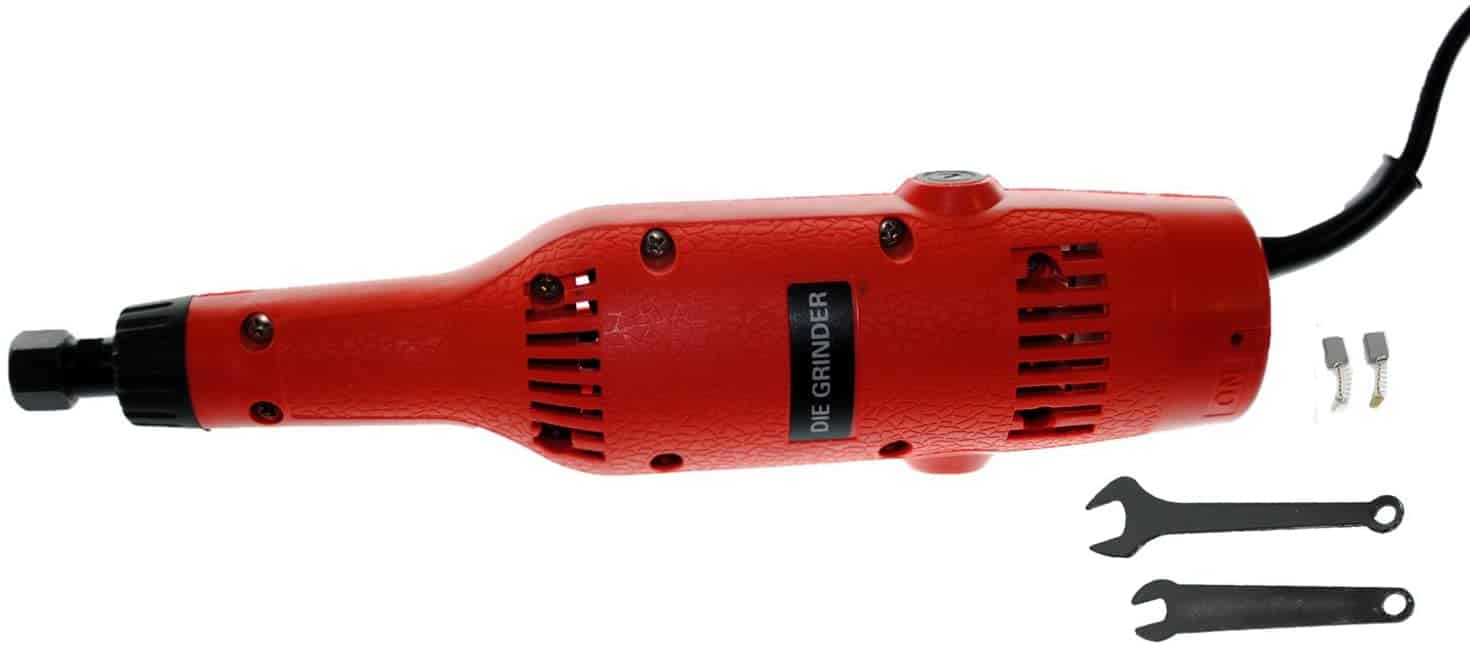 | | |
| --- | --- |
| Weight | 2.88 pounds |
| Collet/Shank Size | 6mm (.237 Inches) |
| Motor Power |  230 Watts |
| Speed | 25,000 RPM |
Yes, you're reading the price tag right – but don't be fooled by it! The shockingly inexpensive price of the product is not to be mistaken for a cheaply made one. Coming with a fixed speed on 25,000 rpm, this die grinder comes with a 230 watts motor that is adequate for a die grinder of this size and weight.
At 2.89 pounds, the super lightweight die grinder is easy to use for everyone. The ample power and speed ensures that the handler does not feel any sort of discomfort while using the tool, as lighter tools can disintegrate or heat up if the motor power is too high.
In terms of quality, the housing is also strong and durable.
Coming with a pair of carbon brushes, the die grinder operates on AC as its power source. It is a great product for all kinds of general maintenance such as polishing, sanding, grinding, and honing and so on.
If you are on a budget, we would definitely recommend this die grinder to you. For an affordable price you can acquire a great power tool which will outperform and outlive some of the more expensive tools available on the market.
Pros
Very affordable
Lightweight
2 carbon brushed included
Solid housing
Adequate power
Cons
Odd switch placement
Given tools don't fit the collet
AIRCAT 6201 Composite Quiet Straight Die Grinder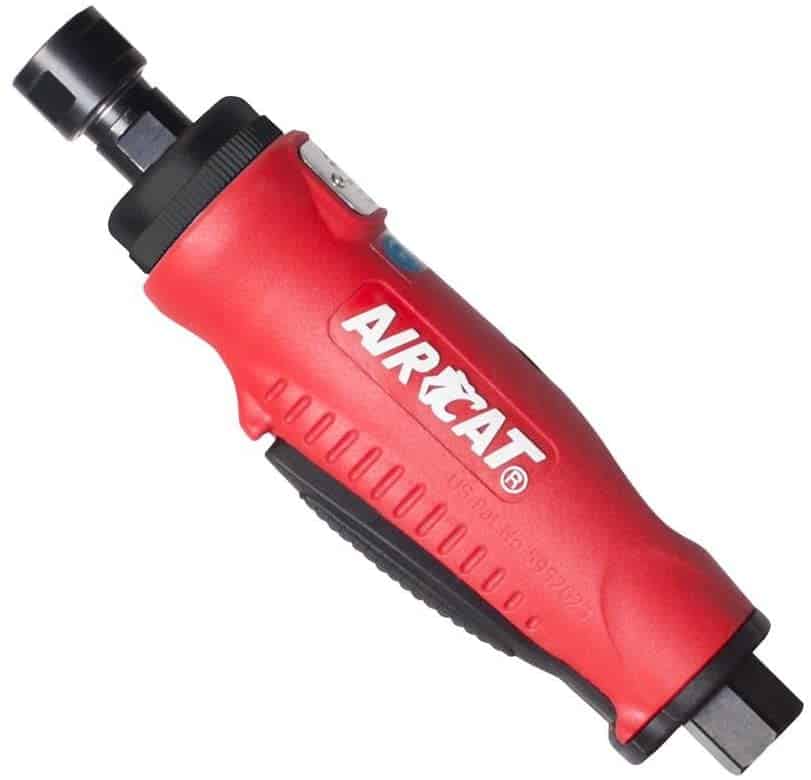 | | |
| --- | --- |
| Weight | 1.39 pounds |
| Dimension | 7.8 x 2 x 1.57 inches |
| Material | Composite |
| Warranty | 1-year limited |
We couldn't help but add yet another affordable die grinder to our list – this time, it's pneumatic. This powerful die grinder weighs only 1.1 lbs and comes with a 0.5 HP motor and 8.5inches in length with a ¼inch collet.
Although the size of the tool is on the larger side, the feather light construction and ergonomic design makes the grinder very easy to handle and use. Plus, the tool boasts a patented quiet tuned exhaust which keeps the noise level at 82 dBa only, making the operation impressively noiseless.
A rear exhaust on the tool ensures that your workspace remains clean and debris free at all times. The free speed on this tool is 22,000 rpm which is enough to get many tasks done.
The feather trigger on the tool makes speed control a breeze. With high quality steel ball bearing, this die grinder is set to last you for several years which can only be expected from a manufacturer with decades of experience.
Pros
In accordance to EU safety, health and environmental regulations
Noiseless operation
Ergonomically designed
Very lightweight
High quality steel bearing
Cons
What to Look for Before Buying
What distinguishes a good die grinder from a great die grinder? Read on to find out.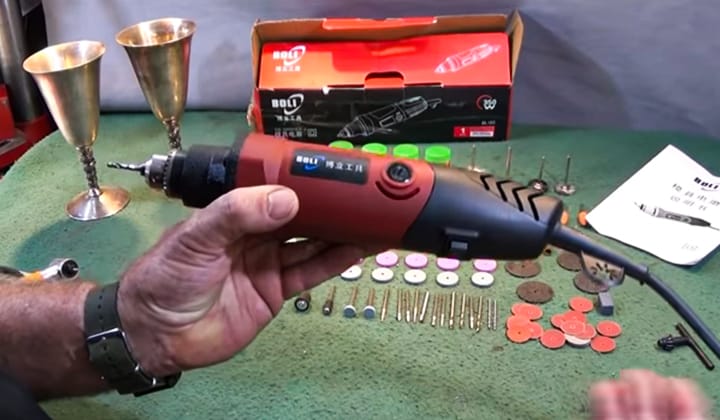 Size and Weight
Size and weight of your die grinder will depend on both your tasks and comfort. While heavier and larger die grinders are meant for industrial work, they may not be easy for beginners to use.
Rather, it will only lead to inefficiency. Match the size and weight to your requirement, comfort and skill level – and you're halfway to having a killer grinder already!
Collet Size
The collet size of a die grinder, expressed in inches, refers to the chuck size of the tool. The most common size is ¼inch as it is considered to be the size that's able to get all basic jobs done.
However, it is very important to keep in mind the nature of tasks you're looking to complete with your die grinder before making a purchase. Several detailed guides are available on the internet to help you find the collet size that will best suit your needs.
Speed Settings
Die grinders can come with one set speed or a range of speeds you can choose from depending on the intensity of the task at hand. It is not entirely necessary to purchase a multi-speed grinder, especially if you are looking to complete basic tasks. However, heavy duty craftsmen can definitely benefit from multi-speed.
Low speed settings are great for plastic or wood work. On the other hand, a higher speed setting is required when working with metals. When making a purchase, ensure that the speed settings are in accordance to your preference and need.
Motor Power
The motor power and performance of the die grinder are directly linked. Motor power is the main feature which controls the speed of the tool. For general maintenance work, 0.25 HP is ample. However, for expert users looking to do more intricate tasks, 0.5 HP may be a better option.
When choosing motor power, look into the weight of the tool as well. If a lightweight tool has an overkill motor, the tool could fall apart and malfunction, rendering your purchase useless prematurely.
Power Type
Die grinders can be of two types, electrically powered and air powered – also called electric and pneumatic, respectively. The two types are discussed in detail later in the article. Both types have their own sets of pros and cons and the type of die grinder you choose will depend on your comfort and tasks.
Position of Vent
An oddly placed vent might result in a messy workspace or debris being catapulted towards you. It is well worth your time to look at the placement of the vent as it will greatly contribute to the comfort of using the tool!
Right Angle vs. Straight Head
The performance of a die grinder will not depend on whether it is straight or angled. However, the utility you get out of it might.
Angled grinders are more popular as they can be mounted with a grinding wheel and be used to reach hard to reach spots but if neither of these factors concerns you, feel free to pick either.
Electric vs. Pneumatic Die Grinder
The task of choosing the right die grinder is tedious enough – and now I have to choose between two types? Fret not, because we are here to explain the two types of die grinders, electric and pneumatic, to you and also lay out the pros and cons for each type. This way, you will be able to make an informed choice.
The key Difference
Pneumatic die grinders are air-powered and electric die grinders, as you may have already guessed, are powered by electricity. This is the main difference between the two types. However, they both have their upsides and downsides which may affect your experience in using them.
Advantage of Pneumatic Die Grinders
Air-powered or pneumatic die grinders are shorter and lighter. But, it has the speed and power of its electric counterpart. Not having to trade the performance for portability is a great advantage.
Disadvantage of Pneumatic Die Grinders
As far as the cons on pneumatic die grinders go, you may run out of air halfway through a project and have to wait for it to refill. This becomes a challenge when completing more intense projects.
Additionally, pneumatic grinders can be loud when in use. This is a problem you will not face with electric die grinders.
Advantage of Electric Die Grinders
The biggest advantage of using an electric die grinder is that you do not need to wait for your power source to refill with electric die grinders; all you need is a steady electricity supply.
Disadvantage of Electric Die Grinders
Electric die grinders are bigger and heavier than pneumatic ones. Moreover, running the grinder on electricity for a prolonged time can also cause the motor to burn out. The corded nature of the tool also limits you from taking it along on outdoor projects.
So as you can see, both pneumatic and electric die grinders have their own advantages and disadvantages to them. Consider your personal preference and the nature of projects you wish to undertake before making your purchase.
Frequently Asked Questions
Answered below are some of the most frequently asked questions about die grinders.
Q: Are die grinders and angle grinders the same?
Ans: While these two tools essentially do the job, angle grinders are far more powerful than die grinders. Die grinders have motors with less than 1 HP. On the contrary, angle grinders have motors that boast 3 to 7 HP.
However, if you don't need an industrial strength grinder there is no need to opt for an angle grinder simply for the higher HP on the motor.
Q: Do I need to purchase any protective gear?
Ans: As with all power tools, you will definitely need safety gear to keep yourself safe. The three basic items you should have are goggles, thick gloves, and a shield to protect from spark or debris.
Q: What materials can die grinders be used with?
Ans: Metal, steel, wood, plastic – the possibilities with die grinders are endless. You may need heavier-duty die grinders for metal and steel but wood and plastic do just fine with light to medium-duty die grinders.
Q: What is the correct angle for a grinding wheel?
Ans: If you are using a grinding wheel, you will want to use the flat part of the attachment and bring it into contact with your object at 15 to 30 degrees.
Q: Can I use a die grinder with concrete?
Ans: For materials like concrete it is suggested that you use angle grinders as they have a much more powerful motor suited for such heavy-duty work.
Final Words
We hope we could help you understand die grinders a bit better. Regardless of whether this is your first purchase or you are looking to upgrade your tool, our recommendations will definitely help you find the best die grinder to suite your needs!
I'm Joost Nusselder, the founder of Tools Doctor, content marketer, and dad. I love trying out new equipment, and together with my team I've been creating in-depth blog articles since 2016 to help loyal readers with tools & crafting tips.