I love creating free content full of tips for my readers, you. I don't accept paid sponsorships, my opinion is my own, but if you find my recommendations helpful and you end up buying something you like through one of my links, I could earn a commission at no extra cost to you.
Learn more
We understand the importance that you know the types of power tools and the primary uses of them. We bring you a complete list.
Here, I will show you all the essential information you should take into consideration if you want to purchase one.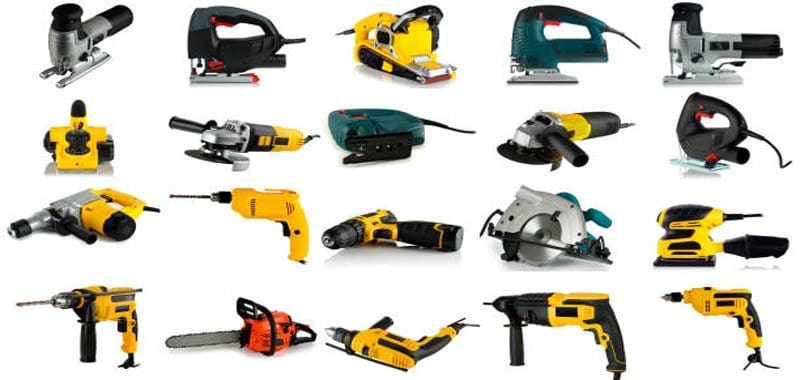 What is an Electric Tool?
First, you must know what a power tool is. Therefore, it is a machine or a device. Second, it always works with an additional source or mechanism; this means that it is not our human body.
As for their energy source, most are based on electric motors, but others could be powered by gasoline, internal combustion engines, and tablets.
Types of Power Tools and Their Uses
Do you know how many types of power tools are there?
Well, nowadays, brands are increasing and with them the models of their products. Therefore, it is hard for customers to find the right one.
That is why we understand your needs and the importance of having a guide to follow. It is all about to know exactly the functionality of every tool and the main points of it.
Therefore, we give you a detailed list of the best 20 types of power tools. With this list, it will take absolutely nothing to find the best one for your home, your store, or any particular project.
You can find a description, its uses, pros, and cos. You must read them carefully so that you can find the one that will benefit you most according to your needs.
Please note that we are continually working for you. Therefore, updates to this list are often regularly. Just to point it out, you can use any tool in this guide without any doubt.
#1: Chainsaw
Versatile is one of the words that characterize this type of power tool. If you have noticed, this tool appears in all kinds of field activities, such as tree trimming, cement cutting, among others. It is worth mentioning that it is essential to know how to handle it since it is a potent tool. Besides, you have to be cautious to avoid any type of accident.
Its saw design features a series of teeth; these are attached to a rotating chain. It slides along a chain saw bar that functions as the guide. All this that we have shared with you makes the chainsaw a hazardous portable tool. That is why you must read each of the indications that this tool brings with it. Even if you are experienced using these tools, it is best to read the manual for any significant changes in model or type.
These chainsaws, also, are a tool of total help for the industries. An interesting point to know is that they appeared in 1927, but these were operated with a gasoline engine that gave them the power to operate.
The people who use these tools are many, starting from loggers, forest workers, firefighters, landscapers, carpenters, sculptors, among others. They are designed so that the central handling is with the right hand and arm. That doesn't mean that left-handed people can't use it.
USES
The chainsaw is present for different types of daily activities, such as:
Cutting down trees
Firewall cut to prevent forest fires
Cement cutting
Wood collection
Spilled
PROS
You can do cutting jobs in days in just hours.
It is much faster than manual chainsaw.
This type of electric tools does not emit smoke, nor any harmful substance.
They can reduce kickback better than a manual saw.
They are very affordable in the market.
CONS
Chainsaws take a long time to maintain.
They have a problem called kickback; the chain can be hooked, but the motor continues to rotate.
#2: Electric Drill
An electric drill can be used in different ways. It is a very convenient tool and that most people have it at home.
Besides, it is beneficial since it is designed to be able to drill different types of materials.
For example, you can drill, fiberglass, wood, metal, drywall, plastic, and others. Also, it has another function of being able to place and remove screws, sand, or polish wood.
Also, thanks to the new brands that have emerged, some of these may be designed with cables or without cables.
USES
As you already know, it is mainly used for drilling or for creating holes. But, it can also be used as:
Sanding: You can put sandpaper on its head, and thus you can work sanding as well.
Screw or unscrew: With the reversible drills, you can add a screwdriver tip, and thanks to the rotary movements, you will perform that function.
Grinding: This can be used to carve or engrave metals.
Sharpen.
Create holes.
PROS
Thanks to its rotary movement, you can achieve the goal of opening a hole much faster.
It is allowed for more forced labor.
It is a very versatile tool, thanks to its different accessories.
There are different types of drills; corded or cordless, for example.
You can use it not only to drill and make holes.
CONS
Depending on its weight, it can be a bit more difficult to hold.
You must adapt to the vibrations that this tool generates.
#3: Air compressor
The function of this type of machine is to collect air from the outside and then compress it inside.
At the exact moment of expelling the air, it provides enough energy to another tool to operate. These custom compressors pass the time; they are used in activities and DIY tasks. It turns out that these tools are versatile, easy to use, practical, and effective.
For example, nailers or staplers use this compressed air to save costs and can be more secure. This way is more effective than other forms of obtaining energy.
Air compressors include different accessories and nozzles; this allows different jobs to be done.
It should be noted that the pressurized air will not go out of control since the compressors contain a manometer that allows having control over the pressure.
USES
It can be used for different activities such as inflating wheels and other tasks that require greater force. In addition, they can be used in different domestic and industrial affairs. Also, as we have already mentioned, it can be used in DIY tasks and small repairs.
Inflate car wheels
Inflate bicycle wheels
Furniture varnishing
You can paint with the compressors
Also, you can clean
PROS
Simple operation
Beginners can use them in DIY.
You will be able to do these activities in the comfort of your home.
They can be used in industrial activities such as lifting or cooling systems.
Power Tool appreciated by factories and industry corporations
CONS
The compressor air has high temperatures, which generates that when crossing the distribution line, cooling occurs, which then creates condensation, which produces the presence of water in the pipes.
They can generate high noise when operating the power tool. So you can look for one that includes a muffler system.
#4: Circular saw
Circular saws are tools usually used for carpentry work, but thanks to the fact that there are different types of blades, they can cut practically any material.
It is highly necessary to emphasize that its functions are applied to professional and domestic matters. When choosing the type of circular saws, it is important to consider the tasks to be performed and each material to be used.
This power tool is for any job that requires regular straight cuts. Also, you must take into account the depth of the cut you want to make.
USES
This circular saw allows sawing longitudinally or transversely. It has an electric motor that rotates the circular blade at high speed:
Speaker box cuts.
Dishwasher support cuts.
Curved cuts in wood.
You can cut plastic
Can drill aluminum and metal
PROS
It has a cutting disc that enables straight line cuts.
Circular saws have more powerful motors.
Make faster and more precious cuts.
The more teeth you have, the higher the cut.
Its weight allows much easier mobility compared to table saws.
CONS
Not the best machine for deep cuts
Charging connections can wear out or fail over time.
#5: Floor sander
If you want to do carpentry work, it will not be possible to do it 100% if you do not have a good electric sander. When we mention the term sanding, it means that you can polish a surface while doing a rough treatment.
If you want a very well developed sanding technique, you can carry it out using electric sandpaper. Different types of sandpaper will adapt to your needs.
USES
The primary function of this sander is to remove small mistakes in the wood. But, also, you will be able to carry out different activities in a faster way, and more comfortable. In other words, they are the best way to make excruciating work a little more enjoyable.
Smooth rough or bumpy surfaces
Paint or stain the wood surface
Sanding softwood wood and hardened putty
Round on sharp edges
Knockdown dry layers of paint or varnish
PROS
Avoid wasting sandpaper.
It is light and easy to control with just one hand
Relatively quiet tool.
It saves time, effort, and is productive.
A better job term is obtained.
CONS
It will not allow you to sand in difficult areas.
It must be used on flat surfaces.
#6: Band saw
The band saw is a pedal or electric tool that has a long, narrow, flexible, serrated metal band. The band moves on two wheels that are in the same vertical plane with a space between them.
These saws can be used in carpentry and metalwork, as well as to cut various materials, and are very useful in cutting irregular shapes.
The market offers three types of band saw, each with specific functions and care, according to a particular kind of work: manual, semi-automatic and automatic, which perform horizontal, vertical, and angular cuts.
Band saws for metal cutting
Band saws for wood cutting
Automated band saws
USES
Used to cut wood
The band saw is used for metal cutting
They are handy for cutting irregular or curved shapes
It can also be used to produce straight cuts.
In carpentry, you can make curved cuts
PROS
Sawdust losses are less than in other types of mountains.
Power consumption is less than in chain saws.
Cuts are much more effective
Long tool life as their teeth are stronger and more resistant
It has greater durability.
CONS
Its cutting capacity is slightly less than the disk saw.
Maintaining sharpening rooms is a little more complex
#7: Vacuum cleaner
Vacuums are electric tools that are used very commonly today. These types of tools have been almost obligatory in homes for a long time.
That is why there are too many types of tools on the market. There are different types of vacuum cleaners, for example, sled vacuum cleaners, upright vacuum cleaners, among others.
The different types of vacuum cleaners are very comfortable and can adapt to almost all situations; they can help you pick up as much lint as you have in the hall, on the sofa, and in other places.
USES
The vacuum cleaner can help you clean the floor.
It helps with cleaning carpets in the home or workplace.
You will be able to clean your mattresses since dust accumulates on them.
You can vacuum in places of difficult access, under the bed, among others.
Vacuum any type of dust off the floor
PROS
It will help you get the job done in five times less time than a broom.
You will have a total cleaning, without leaving residues.
The vacuum cleaner does not pick up dust as it absorbs it.
The vacuum cleaner allows a better posture.
It has a HEPA filter, which filters the smallest particles.
CONS
The price could be a little high.
This type of tool is not suitable for soft floors.
#8: Washing machine
Are you lazy to do the laundry? Today's washing machines include a wide variety of innovative features, applications, and enhancements that make the task of doing laundry much more accessible. And if you also include a large capacity model in the equation, then everything becomes even more natural.
Washers are one of the most commonly used power tools everywhere. Generally, it is necessary to find a washing machine that adapts to the needs of each user. The different brands in the industry have been innovating in terms of their models.
But the main point is their capacity. Thanks to technological advances, with new designs and functionalities, they make large capacity washers a handy appliance in any home, even if we are few at home. Owners can choose from several different types of machines, as well as washers that are part of a complete washer-dryer unit.
USES
You can wash duvets.
It can wash large textiles.
You can wash clothes without any effort.
You will have the ability to wash shoes in it.
You can wash mops.
PROS
You wash in less time and with much more versatility.
You will have the ability to wash large clothes.
You will save water and detergent.
It offers you comfort to carry out this activity.
It is a long term investment.
CONS
Not all clothing is suitable for washing machine use.
In the long term, it damages the fabrics, the colors, or lace.
#9: Scroll saw
Scroll saw is a tool that is made up of a body to which a blade is attached, which is free at one end. This tool is specially designed to make curved cuts and sinuous shapes. In addition, you can make cuts in a straight line.
This type of tool is quite practical for making cuts, since it has different accessories, such as maximum speed regulators. This will be very useful, since depending on the type of material you need, you should regulate the speed.
USES
You can extract the dust
It is used to cut wood and chipboard.
Using a suitable blade, metal and plastic materials can be cut.
You can make straight cuts on almost any surface.
Designed to make curved cuts
PROS
You can quickly fix the sheet.
These tools usually have a blade guard to prevent accidents.
Fully versatile tool.
They have an affordable price.
We can buy different blades to cut different materials
CONS
The cuts are not fast.
The cutting blade tends not to be as stiff.
#10: Snow Blower
To solve problems with the arrival of winter, there are snow blowers. Of course, given the number of models on the market, it is essential to know how to choose the most suitable one according to what you need.
The snowblower, also known as a snowplow, is a machine whose function is to remove snow from specific areas such as a roadway, an access road, a sidewalk, etc.
USES
You can eliminate obstacles on the way.
You will have the ability to remove snow that is on your patio.
You can remove a large amount of snow at the entrance of your house.
You will remove the snow from the most difficult places.
You can put the snow in a container
PROS
Electric start is simple and easy
Some have LED lights included
Can clear several pounds of snow per minute
They are easy to use
It includes the instructions
CONS
You need to spend a considerable amount of money
The power tool may go through some rocks if it finds it.
#11: Grinding machine
This tool is mainly used for grinding. It is fully mechanized, so it uses an abrasive wheel that is used as a cutting tool. This grinding is normally used to finish workpieces that must show a high surface quality.
USES
It will help to cut some materials
Some grinders remove even metal.
It is used for grinding different materials.
Cuts a small chip from the workpiece via shear deformation.
Removes high volumes of metal quite rapidly
PROS
The elements that you can grind are of different sizes and shades.
The finishes obtained are of high precision.
You can machine hard materials.
They can work when they are at a high temperature
A smooth surface can be obtained.
CONS
The power tool can be a little bit expensive
People who use it must work carefully
#12: Table saw
Circular table saws are handy tools in blacksmithing or carpentry workshops. They allow you to do a lot of professional or DIY jobs. To use them, it is necessary to have a constant source of electrical energy.
Among the different types of saws that exist, you can choose stationary and portable. The first ones are recommended for professional or more substantial work. The other ones are used in simple jobs. In the market, you will find different brands, all with something good to offer. Keep reading this guide so you know which one is best for you.
USES
You can make cuts throughout
Also, you can make cuts of pieces of different materials
You can cut metal, plastic, wood, and among others.
You can make cross cuts, straight, miter.
Also, another type of cut that you can make is the slope or angle
PROS
It contains a powerful motor.
It contains a high operating speed.
It will allow you to work faster and efficiently.
It cuts large types of materials.
You will save energy.
CONS
It provokes vibration.
It could cause harm to your ears.
#13: Sander
Sanding work, mainly wood, but also other materials such as plastic, metal, glass, or ceramic, has never been too favored. It is because it is considered a tedious, time-consuming activity and covers everything around with dust all the workpiece, not to tell the operator himself.
The use of hand or portable sanders has, for years, been essential in many industrial sectors. However, in recent times its domestic use has been gaining more and more presence. Discover the multiple applications that can be made of these versatile devices.
It has sandpaper attached, and it rotates at high speed and with a second rotary movement of the shaft to avoid scratching. It is used to give a more or less fine finish, both to wooden and metal surfaces.
USES
Give a fine finish to wooden and metal surfaces.
Round corners are used.
It eliminates burrs that occur after cutting.
They are used in the automotive.
You can smooth concrete floors.
PROS
You can treat pieces with volume and different shapes.
You can transport them and carry out work in places that suit you best.
They are versatile and versatile tools.
They can be used to treat different types of materials.
You can adjust the speed of work.
CONS
You will have to use hand protection.
You should change abrasive depending on the type of material
#14: Wall chaser
A wall chaser will allow you to have a powerful tool that will specialize in cutting grooves in the walls. Imagine you want to make a slot for laying electrical cables; this would be a perfect option. This tool works with an electric motor.
The function of this motor is to drive the abrasive discs that are placed carefully together. Besides, it cuts quickly on solid walls, helping cables and pipes to be completely buried and hidden from view.
USES
You can cut concrete.
You will be able to manage some cut from plaster.
You will be able to perform difficult tasks.
The stone will be so natural to cut.
PROS
It will give you precision in the work
You will be much more efficient
It offers you greater security
The works will be carried out more easily.
You can optimize the time
CONS
Those power tools can be a little bit robust.
You might spend a considerable amount of money.
#15: Impact Driver
An impact driver is very similar to cordless drills, with the difference that this tool uses a hammering action. Besides, it incorporates a special force to carry out any type of work. This power tool can be used for similar tasks like drilling, but they work as separate tools.
That type of tool works perfectly on massive projects because they can fit larger screws on even harder surfaces.
USES
You can fit a dozen screws about three inches.
You can repair anything without effort by its quick action.
You can tighten the nuts.
You can put screws on any wall
You will put pictures in your company wherever you want
PROS
It will have an impact on the action you are doing
It is a versatile tool
Has a powerful range
They are a compact product.
There is a minimal kickback
CONS
They do not have torque control
You may need to purchase impact bits
#16: Heat gun
A heat gun is an electric tool that is used to emit a stream of hot air. On the surface, we could say that it is similar to a hairdryer, but a heat gun operates at a much higher temperature.
They are also used in electronics to de-solder the components of a circuit board. Usually, the air outlet is done at temperatures ranging from 100 to 550 ° C (200 to 1000 ° F), and in some models, even hotter reaching 760 ° C (1400 ° F).
USES
You can peel paint
You will be able to dry paint
You can apply in heat shrink pipes
Dry moisture from the wood
You could bend plastic and smooth.
PROS
They do not generate flames.
They generate heat quickly.
They cool quickly.
They include security mechanisms.
It is Versatile.
CONS
Accidents are easier to occur if not used safely.
They require more maintenance.
#17: Iron
Iron is an appliance that is used to smooth clothes by removing wrinkles and marks, which is achieved by applying heat, pressure, and usually also steam. There are different types of clothes irons: pure irons that only work with heat and pressure, steam irons that work with temperature, pressure, and steam, and ironing stations or centers that incorporate additional features.
USES
You can repair scratches on wooden furniture.
Iron all kinds of clothes.
Remove wax stuck to your tablecloth.
Eliminate marks on your table caused by heat.
You will remove the wallpaper.
PROS
They are easy to clean.
This power tool controls the temperature.
You do not need to heat up.
The safety of this power tool is amazing.
It works quickly.
CONS
You will not be able to use it without energy
Sometimes, the electric cord can cause some interruptions in your way
#18: Jointer
With the electric jointer, we can solve the essential problems with wood, and many more, that may arise in the home. You will be able to do it as if you were playing. It is a simple, light, and easy to use tool that you will love it.
With the electric jointer, you will be able to do it similar to the manual jointer, but when connected to a power outlet. The speed up the work time and our effort will be less.
USES
Grinding old beams
Install doors and windows
Remove saw marks on cut planks
Shape the edges of the board posts and fences
Grinding cabinets easily and quickly.
PROS
They come in a variety of sizes.
It has a cable long enough to carry out any task.
You can make cuts in a single pass.
It is effortless to use and versatile
You can replace the sheets.
CONS
Maintenance can be a bit rigorous.
The blades must always be well sharpened.
#19: Nail Gun
Nail guns are an incredibly convenient tool to have on hand, whether you're a serious builder, a woodworking enthusiast, or a weekend project warrior. Although there are many different types to choose from depending on the job to be done, they all work to provide the same result: driving a nail where you need it.
Regardless of the type of gun you have and what you're using it for, how to use a nail gun is a common question to ask after making such a purchase.
USES
You can push a nail into the wood.
You will have the ability to nail.
Ideal for assembling structures such as decks, sheds, fences, or any other that has to support the weight.
They are those used in case you need to fix tiles.
They are used in the assembly of furniture, corbels, mirrors, frames, crafts, and window fixing, among others.
PROS
They are smaller
It has greater complexity than Pneumatics
Different types are depending on the need
It can help you with various tasks such as assembling furniture, among others.
CONS
They have less power than the tires
They will only work with an outlet
#20: Leaf blower
If you have a garden at home, you will know that every fall the leaf fall season arrives, so it is advisable to have tools that make cleaning work more comfortable.
A gasoline or electric leaf blower is the tool you'll need to save you time cleaning the garden. A blower will allow you to get rid of your leaf problems in the garden just by pointing it at them, as the air will do all the work.
This tool is practical, useful and it is also incredibly fun, that's why in this shopping guide we will teach you how to find the best blowers on the market.
USES
You can stack the dirt.
They help clean up debris.
They help in the grouping of objects and dirt.
You can clean in parks.
It helps clean up at outdoor events.
PROS
Its maintenance is very simple and straightforward.
Makes less noise than gasoline.
It is a tool that weighs less than gasoline and, therefore, will be more comfortable to work with.
Its purchase price can also be much lower.
These electric blowers are much more environmentally friendly.
CONS
The cable has a certain length, so you cannot move on large surfaces.
It has less power and strength than a gasoline one. Remember, the higher the power, the faster the working speed.
What are the Basic Power Tools?
A drill is a fundamental tool, and many times they have them in their homes. Besides, it is a versatile tool that every person passionate about DIY should have in their workplace.
This tool allows you to carry out different types of work, such as screwing, drilling holes in the wall, carpentry, screwing, among other activities. The percussion function is one of the best for achieving quality results.
If you need to hang a painting, you only have to drill the wall and then put a screw. Tasks like these that are easy are what you can do, but also with greater complexity.
Sanding jobs are the primary function of this type of tool. They perform them accurately, efficiently, and quickly.
People who are engaged in carpentry and DIY need to have a tool as a tool to finish their activities. This electric tool dramatically reduces the time it works, and thus achieves high-quality finishes.
This is another electric instrument that is used very often and is totally essential for each person who performs these types of activities.
This works through batteries; this allows them to have great versatility and manageability when carrying out the relevant work. This type of tool is essential for domestic use, for daily use, professional use, among others.
It allows you to mount a piece of furniture to remove a screw that does not work at all. This electric tool should not be missing in your toolbox.
This tool will allow you to renew all the furniture you need, as well as make repairs. You can give a different look to the home.
The jigsaw is a perfect electricity tool for making cuts in wood, but thanks to its resident blades, it allows working on plastic and metal materials.
With this type of brushes, you can lower and smooth the wood. They will enable you to make different grooves and edges to all the straight pieces.
This power tool comes with a chip bag that will go off while you work and a vacuum cleaner, just like sanders. If you dedicate yourself to carpentry and you are looking for precision in what you do and fast effective and easy results, this is what you need.
Electric milling machines
They are versatile pieces that will allow you to do woodwork. You can carve and print intricate designs on wood. With the use of this machine, you will be able to create fast jobs due to the high manageability of the pieces you are going to work on. Besides, you can make complicated carvings exerting great precision.
This electric will offer you different uses, starting from professionals to domestics. When you use it, you will realize that it is one of the indispensable instruments in your home or your workplace.
To clarify, it is very similar to a handsaw, but it will allow you to cut with precision and accuracy all kinds of material, brick, plastic, wood, or metal. These types of materials offer strength, durability, performance. This will allow you to generate good grip, firmness, and comfort in the cuts made.
The primary function of these wet and dry vacuum cleaners is to vacuum, clean, and absorb dirt from different places. For your knowledge, dry vacuum cleaners help you remove dirt and dirt particles.
These tools are handy, since they can be cleaned in a much more effective way, and without much effort, places like gutters, emptying tanks, sinks, and even tanks with liquid content, as well as many more tasks.
In addition to helping you with your daily tasks, also, the correct use of them can help you reduce the rate of diseases, and leave you free of contaminants.
Dust Collectors and Air Purifiers
This tool can help you improve the quality of released or escaped air. This electric tool will help you collect all kinds of impurities, dust, or gas impurities.
These tools are air purifiers; in addition, they help to eliminate different pollutants such as toxins, infected particles, fumes, and various contaminants found in the air.
Who does not have tiles in your home? This is an essential tool in your tools. It will take care of making detailed and precise cuts of any type of tiles.
You can make different types of thickness, thickness, and other necessary factors. You should only find the model that is most necessary depending on your needs, and the end you need.
These are convenient tools that you should have with you at all times. If you are a builder who likes to be serious about what he does and is a lover of carpentry, this product is for you. It will help you create projects in a faster way.
This instrument will help you drive a nail where you need it. A nail gun, or nailer, has two functions: to concentrate enough force to drive a nail into the material you are working on, be it furniture, baseboards, moldings, floors, or a construction frame.
With this tool, you can engrave various types of figures and shapes on a surface. These can be images, letters, or figures. That is why, if you need to make different designs or letters, you should not miss this tool.
This model of power tools is specialized in softening and removing all types of old paints. This machine can remove paint from different surfaces.
But they are specially designed to remove oil paint on wood. This thermal stripper can be used through the use of a gas torch or some hot air gun.
It should be noted that you must be very careful when using this tool since it can cause burns and even flames.
Oscillating Tool or Multi-tool
In this world, in these times, and with our situation, if you are practical, you should have a multi-tool. This has interchangeable accessories.
Yes! Interchangeable accessories… These can help you sand, grind, polish, scrape, and even cut. If you are one of the people who do not like having so many electric tools, it is all in one; it will make your life easier.
Also, you will not have to worry about the materials, since this multi-tool will be able to cut practically any type of content that you have in mind. This includes construction, such as metal, cement, wood, plaster, plastic, fiberglass, mortar, among many others.
Lathes are known for being able to perform a variety of processes mechanically. For example, you can thread, cut, roll, thread parts, and drill holes.
All these tools that are on the list will definitely help you achieve quality jobs in record time. If you want to have the basic instruments in your toolbox, you can build on this list.
With them, you can repair and renew all the household items you want, and each time, you will improve your technique. You are going to love the results!
How Do You Use Power Tools?
Proper handling of power tools makes work easier, more efficient, and much faster to complete improvement projects at home or elsewhere.
Just as time progresses, so do power tools. Today, there are power tools for almost every type of task to be performed.
These tools allow us to do grinding, drilling, cutting, sanding, and many other functions. By investing in a necessary and correct tool, you can have everything just to do the job efficiently, but we run different risks that endanger our well-being.
Every day and every year, the number of people who are seriously injured during the use of these electric tools is greater. Therefore, it is essential to know the power tools uses, and the measures to be taken.
Being electric tools, they are easier and simpler to use. We just have to plug in the machine and turn it on carefully. Depending on its functions and uses, we can fix, improve, rehabilitate, and expand anything.
Always Use the Right Tool for the Job
Using an appropriate tool will avoid different problems for your well-being. If the right tool you need is not available, you could rent it, buy it, or lend it to a neighbor. The manufacturer always includes a guide with the tasks that can be carried out by the tool according to its design and properties.
Carefully read the instructions
Do not be like many people in the world who just take out the tool and start using it. Even if a person has experience with these types of tools, it is recommended that they read the instructions. This is because some models and brands have different specifications, and others are designed to achieve different things.
Also, variations in power tools create different types of risks. If you read the instructions carefully, you can get additional tips that you didn't think existed.
Keep fingers away from on/off switches
The tools are designed so that they do not accidentally start. But that doesn't take away from being careful not to press these switches while handling them accidentally. Just to mention, if you are going to move the tool to another location, you need to make sure that your fingers are not close to the power button.
Unplug power tools when not in use
Some people leave tools plugged in at all times. But, it is recommended that if you are not going to occupy them for a specific time, you must disconnect them. Besides, it should be noted that these are also disconnected each time the parts or accessories must be replaced.
Inspect power tools regularly
If not inspected daily or weekly, serious damage can occur that goes unnoticed. Sometimes substantial damages can also be generated from a damaged cable, which can be harmful to health. If it is a deep cut or break in a cable, it should be replaced.
When using a power tool, you need to avoid wearing loose clothing, as it can catch on tools. Also, you should not have long hair loose; it is better to pick it up and thus not make contact with the tool. The same applies to jewelry. In addition, you must use suitable protective equipment such as helmets, dust masks, glasses, work boots, and others.
No matter the type of work you are going to do, your eyes must be 100% potentiated. These power tools can release an unimaginable amount of dust and/or debris. Or also, tools can generate particles that fly through the air. This is why a person should wear impact-resistant safety glasses.
Store power tools where children cannot access them
The children in your house are curious about the tools. Even when given a command not to approach these tools, the temptation may be greater. So the best thing you can do is save them where they cannot reach you in any way. Power tools should never be set aside, even if they are to be used the next day again.
Conclusion
In this guide, you can find the most common power tools that may exist. They are fully detailed, with the uses, the pros, and cons necessary for you to make the most accurate decision when buying.
All those tools are ready to use at the right moment you put them in the outlet. Therefore, these power tools are necessary for every house, every industry, and it is always necessary when performing any task.
I'm Joost Nusselder, the founder of Tools Doctor, content marketer, and dad. I love trying out new equipment, and together with my team I've been creating in-depth blog articles since 2016 to help loyal readers with tools & crafting tips.