I love creating free content full of tips for my readers, you. I don't accept paid sponsorships, my opinion is my own, but if you find my recommendations helpful and you end up buying something you like through one of my links, I could earn a commission at no extra cost to you.
Learn more
Who compromises their safety? Your assets, your savings, your valuable stuff are your fuel of life. And basically, you will have to be conscious if the place you're storing those is safe. Your home, or lock-ups, or the safest places are needed to be strongly encrypted.
The best door lock installation kits are allowing you to set the proper pattern for a strong lock system. The greater the finishing the fine the lock setup will be. And it's a visual result that if your lock is mounted well, you are able to clear the sweat of tension from your forehead.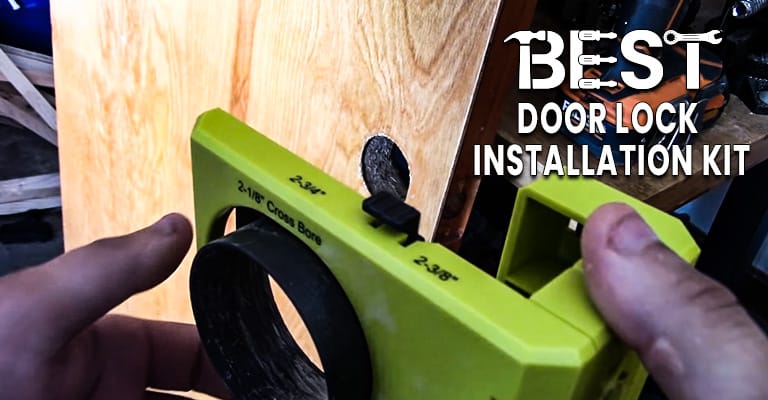 You basically cannot be less serious regarding this case. The loss is all yours. So being a little vigilant from the very beginning is not a bad idea after all. Therefore, guiding you to choose your most trustworthy toolkit.
Best Door Lock Installation Kits reviewed
There's always plenty of collection available in the market place. If you're not a professional then you generally will not understand the specified needs and the features. So for finding the most reliable kit from the board even if you are a newcomer or professional, we have tried to focus the most common and best ones for you. Give a look!
1. DEWALT Door Lock Installation Kit, Bi-Metal (D180004)
Thumbs up
The DEWALT door locks full installation kit is quite a remarkable one in the market being a very common fit to any of your wooden pieces or door and any metal item. It's a great C-clamp design having the fascinating backing plate system.
The backing plate is a reinforcing component that holds the grip with the working surface without any additional mark. There is two inclusive hole-saw, one for the main lock system and for the side ones there's a bore saw. There's no additional screwing system to attach the boring side. So no fear of having scars and displacement. The kit weighs only 1.58 pounds.
The hole-saw can be fit to 2 3/8" and 2 ¾" backplates and the side bore saw fit almost 1 3/8" and 1 ¾" thick doors. The main hole-saw has a pilot drill bit set up in the middle so you get no misalignment of measures. Besides you can set your preferable heights for operation without pain with this toolkit. There's a mandrel adapter inclusive with a washer.
The saw is made up of M3 steels that named as high-speed steel for a high accuracy working capability. The warranty rate is about a year. And the versatile stuff is you need no surplus tape or screw or any binding material. Just set, tight and good to make the holes.
Thumbs down
You might find difficulties removing the mandrels after drilling. And the clamp or the backplate seems to be overlapping the destined hole making area. So you might be complaining about this later.
2. IRWIN Door Lock Installation Kit for Wooden Doors (3111001)
Thumbs up
IRWINTOOLS most of the time comes with satisfying toolkits and the door lock kit they are representing has a 4 step easy installation capability. And guess what you are good to go!
Firstly mentioning that the whole kit weighs less about 9.6 ounces. And comes with a pre aligning holder to mark the wanted height. Otherwise using a laser tape could not be avoided. After that, there is this latch pattern plate to make the measure work more properly. When the marks are done you are to drill the points with screws so the tool has a deadlock set up.
Two carbon mandrels, one is the hole-saw that creates the lock hole (comes with 2 3/8" and 2 ¾" backsets management) and the bore saw for latch adjustment. There is also a drill bit included so the cut gets no warps and misallocates the saw. Hence the router bit, hinge plate and the bolt plate templates are to create a blueprint for the operation.
This blueish kit additionally will need two screws and that's all. Other necessary things are all included. After removal of the kit, there are no additional marks other than the screw-holes. Eventually, that disturbance is covered up when you'll be fitting the latch of the lock. It's an easy come easy go tool for your expediency.
Thumbs down
The drill speed maxes at 2000 RPM which is not something good to have fine finishing. You might need to buy extensional saws for that purpose. And the additional router bit, hinge and bolt plate just makes the installation work heavy. You can just get rid of that using a simple pencil and compasses if you wish to.
3. IVY Classic 27003 Carbon-Steel Lock Installation Kit with Guide Template for Wood Doors
Thumbs up
The IVY classic comes with 4 different setups for your flexibility of usage. The backsets are situated with 2 ¾" and 2 3/8" designs and each one of these is compatible with 1 ¾" and 1 3/8" sized latch hole, which basically indicates the thickness of your workpiece. The saws are a little smaller in diameter than the holes as it needs to fit perfectly while drilling.
The hole-saw is measured to be 2 1/8" and the side saw is 1" to be precise. The pilot drill arbor is about 1/8" and provides a great finishing touch. The saws turn out to be carbon steel metal and the layout for the door adjusting part is not a full metal body, but more like a quality plastic product.
Works in a very easy installing process. First set the patterned block to the door. There's two screw alignment in the latch side to give the tight grip in the door. You'll need two screws and a driver additionally. Then just make a hole in the backset and a borehole in the side for installing the lockset.
When the drill bit is appearing in the backside of the starting side, it's better to just take the drill off and reset to the back. By this, there will not be any rapture in the working process and you'll have a nice shot.
Thumbs down
You can be disappointed with the attachment assurance with the door. The door thickness is not often covered according to most of the consumers.
4. Ryobi A99DLK4 Wood and Metal Door Lock Installation Kit
Thumbs up
Limiting the working area of door thickness the Ryobi still has a remarkable working pitch. The overall toolkit has almost all major necessary stuff and if you're a professional worker you are good to run.
The Ryobi has a different featured auto-strike locator. Basically, the main lock-setup hole can be operated in two different diameters of 2-3/4" and 2-3/8" and to switch according to the need the locator is used. Just you need to push the locator. The latch sided hole basically has no locator like that.
The block is by far one of the most flexible ones to be fit, as you see the whole body is segmented and it's just not the regular stiff one. Comes with two steel drill bit, 3/34 and 1 inch each for different assignments. There is a flat wooden spade bit for marking purpose and so you get accurate measures.
The overall kit only weighs 3 lbs. the saws have a sharper teeth allotment and seem to be better than any other ones. It gives you a fine finish without a worry. The installation process is reduced and is only 3 steps to operate and there you are.
Screws are needed to be mounted, place the drill bit to the drill and saw the wood-pieces. Set the lockset. And the work is done as easy as you expected it to be! The Ryobi almost gives a year's warranty and the work efficiency is enough high.
Thumbs down
They saw holes wear off really fast as they are not made up of metal stuff and rather synthetic manufactured. Other than that it's a tough competitor.
5. Milwaukee 49-22-4073 Polycarbonate 1-3/8″ – 1-3/4″ Door Lock and Deadbolt Installation Kit
 Thumbs up
This specified kit comes with 10 piece items and let's check. With guidance, you are getting an anti-splinter depth stop, 2-1/8" and 1" ice-hardened saw, small arbor and a pilot bit (3/32" and 1/8"), arbor adapter and spacer. So there are some additional components to rev your work up.
The saw tooth seems quite fabricated and has a sharper configuration. They are quite sturdy and therefore named "ice-hardened". The pilot bits are varying because one is for the main hole-saw and the other is for side hole-saw. The overall component for the tool kit has only 8% cobalt and is highly wear resistive.
Cross bore-hole capacity is 2-1/8" and latch bore-hole capacity is marked as 1". Then we see door thickness capacity is 1-3/8"-1-3/4" and the backset capacity is 2-3/8" to 2-3/4". The Milwaukee kit is just a reliable one for remodeling or installing your indoor and outdoor lock fittings.
They provide a one year warranty and seems to be a strong component in the market for having stubborn saw teeth and fewer wear assumptions. Most interestingly it is an auto clamped work friend. So no tension of having screw setups for a tight grip on your door.
Thumbs down
The auto clamp is fine but we are disappointed to point out the grip might irritate you a bit.
Door Lock Installation Kit buying guide
Some specified segments are definitely needed to be on check if you are to choose the best one for you. For example, if the saws are reliable, if they cut abruptly or smooth, how's the grip of the tool setup and if I am getting all that I need from a single toolkit. So we'll be highlighting the raw features that are needed to be inspected.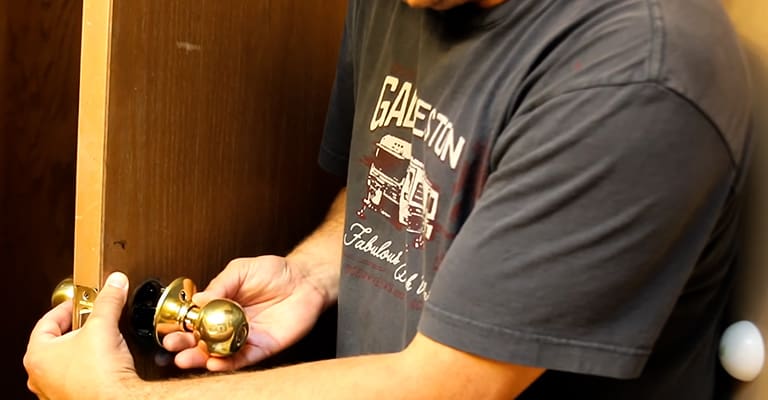 Cutting saws
The saw material is basically carbon steel in most cases. However, there is also some saw that is made of highly consistent components like M3 steel. That indicates more sturdy behavior than that of carbon steel. While working with the carbon steels do not show any less as well. So you are good to go to any of these.
Another thing is if the saw is of high metal then they will have a higher RPM rate. So consequently, if you need the work to get done fast you might go for a strong steel saw setups. The tooth alignment and their sizes are also a matter to reconsider. If the teeth are greater in number then the RPM rate also is higher. So you get the idea.
The sizes of the saws for most of the specifications are similar. It's 2-1/8" in most cases for the backset and 1" for the latch bore side. They are in this diameter because they are needed to be fit in the boreholes for proper insertions. Else you'll end up having a disturbing work-done.
Tool body
The tool body's material doesn't matter too much but it needs to be assured that the material is not lower quality. The high RPM speed drilling is quite a strong thing to hold. So it needs to be that much of a strength.
Drilling bits
The bits are like a guide towards the door holes. The absence of this bit might make you end up having a weird hole. And making the hole is the main work here, so you need to be precise.
The sizes also depend on how the drill work will operate. If you set a smaller sized bit for the backset hole then the work will not be apt and prompt.so the sizes also matter. And the most common sizes are 3/32" and 1".
Clamp?
Well, clamps have a negotiating grip. You see if the surface of your door is slippery and perhaps there is another fabricated door, then the clamps can fall. And you'll be resulting in miscalculated work.
As a preventive measure, we can switch to screwing systems. But a lot of users are looking forward to the modern clamp system to get better for having less time-consuming work experience.
Some additional elements
These include the hinge bit, wood spade bit, a locator, latch pattern maker, etc. They are not the most necessary stuff but will give you an accurate work attempt. The more accurate you measure the finer results you deliver.
FAQs
Here are some frequently asked questions and their answers.
How much does it cost to install a door lock?
Expect to pay $80 to $300 per lock, depending on quality, and up to $200 more for professional installation. Many door locks, however, are DIY-friendly and come with installation instructions.
How much does it cost to install a keyless entry lock?
Average Keyless Security Door Lock Costs
Working with an entry door that already has a lock in place will be much easier, so installing a keyless door lock will cost less on the labor side. Contractors will charge the homeowner around $50 to $100 per each keyless deadbolt or other smart lock they install.
Can you put a deadbolt on any door?
All the exterior doors of your house should have deadbolts — even the ones that lead to the garage or to a closed-in patio. As long as you don't have a steel door, installing a deadbolt is a job that you can do yourself, including making the cutout to chiseling in the strike.
Is it cheaper to rekey or replace locks?
Rekeying your lock is almost always cheaper than replacing a lock. This is because of the cheaper price of the key pins inside the locks, whereas when you replace a lock, you are paying for all brand-new parts.
Do locksmiths install smart locks?
Are your locksmiths trained to install smart locks? Yes! … A majority of the smart locks that are populating the industry come with their own sets of specific instructions, and our technicians have carried out many smart lock installation, so they know their way around your smart lock.
How much does an electronic door lock cost?
There are several different types of keyless electronic door locks, including those that have keypads, fobs or key cards and biometric locks. Integrations for keyless electronic door locks include surveillance security and smart devices. High-quality keyless electronic door locks cost between $125 and $299.
Does Home Depot install door locks?
Available options include fitting a doorknob, handle or lever, installing a deadbolt or security lock, and installing new hinges or door accessories like kick plates, knockers, and peepholes. … A pro can install most exterior and interior door hardware in less than an hour.
Can smart locks be hacked?
Yes, like most other digital devices, smart locks can be hacked. In fact, most smart locks have more than one vulnerability that puts them at risk for hacking, including plain text passwords, decompiling APK files, device spoofing, and replay attacks.
Are deadbolt locks illegal?
The city of San Jose in California prohibits the use of dual-cylinder deadbolt locks in homes. According to San Jose's Uniform Building Code, "deadbolts must be openable from the inside without a key or any special knowledge.
Can you unlock a deadbolt without a key?
Pick the Lock Using Bobby Pins
One of the best-known ways to unlock a deadbolt without a key is by using two bobby pins. … This motion should set the pins and cause the deadbolt to unlock. If this doesn't happen within a couple of minutes, you should remove the first bobby pin and reinsert it before trying further.
Q: Is it possible that the saw can be warped?
Ans: Basically no. You see the saws are either made of high-quality steels or carbon fabricated components. So, as a result, there is less possibility for you to be disturbed. Yes, of course, wood door working would take less time than that of a metal door working capability.
Q: Is the drill bit a necessary thing?
Ans: Apparently yes. You see, if you don't have a guiding bit then the saws will be either warped or the whole drilling process will not be apt as you are expecting. You'll end up having an unfinished and disturbing cyclops eye!
Q: Is clamping better or the screw system?
Ans: Okay. Clamping is apparently a weak gripped thing up to most of the users. So basically it's better to look forward to the screw system. Else you might screw yourself up!
Conclusion
It is indeed a tough call to select the best door lock installation kit. Everyone has different insights into work. Some might have a slippery work-piece, so he might need a fine grip. While someone might need a fast drill and nice finishing while some might want a lifetime companion. So the whole matter is a variant situation.
Well, most of the tool has a two screwed setup process that basically ensures a hard grip on the doors. So no pain of having a shaky or displaced alignment. So in this specified featured category, we choose the Ryobi Toolkit and the body is quite flexible as well. The locator is also an addition to better center positioning.
The next we would like to highlight is the DEWALT and the Milwaukee. In a parallel way, we are setting the choice. Both of them have a clamping facility. So as a consequence you can basically clamp any door of any thickness by the DEWALT and by the Milwaukee you can only clamp the body with the door. Here you are limiting the thickness portion. So the choice is yours.
I'm Joost Nusselder, the founder of Tools Doctor, content marketer, and dad. I love trying out new equipment, and together with my team I've been creating in-depth blog articles since 2016 to help loyal readers with tools & crafting tips.