I love creating free content full of tips for my readers, you. I don't accept paid sponsorships, my opinion is my own, but if you find my recommendations helpful and you end up buying something you like through one of my links, I could earn a commission at no extra cost to you.
Learn more
Consummate customization on glass asks for a butterlike surface to start with. Often these improvisation needs perfect holes in glass. There is a dizzying number of ways to do that. Because if you're here, then assumably you are looking for a better, actually no, the best finishing on your workpiece.
So what you are drilling holds a great significance as you need a neat and clean hole in your workpiece. As glass is a very brittle and delicate material to drill, so only the top drill bits of many types can serve your purpose and provide you with the utmost efficiency in your drilling.
Just follow our eclectic buying guide to narrow down your options for the best drill bits for glass and have your desired outcome with optimum efficiency.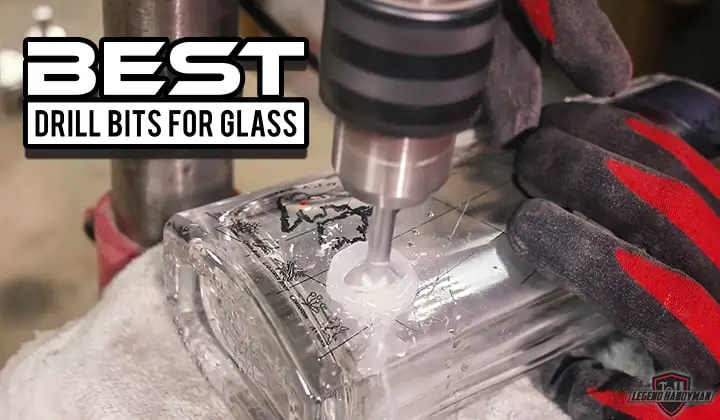 What is a Drill Bit?
Haven't you ever worked with glasses and other materials and needed a hole in your material? Drill bits serve that purpose. Yes, you can also get it done with a traditional hole saw. But what you are seeking here is perfection and smoothness in your work.
Drill bits are the tools that help you to literally dig a hole in any material with utmost ease and less physical pressure and also less heat emission. It gives you great accuracy in your work and adapts to any position through the rotation.
Best Drill Bits For Glass Review
You will be having a lot of options when you set out to buy a drill bit. We have sorted out the top-notch drill bits available near your abode consisting of all the top components.
Neiko 00823A Diamond Grit Hole Saw Drill Bit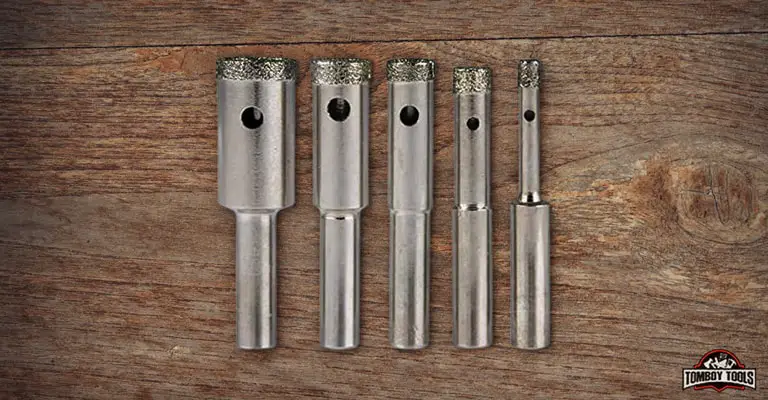 Is it what you need?
The Neiko 00823A Diamond Grit Hole Saw Drill Bit is a sagacious choice for cutting through a fragile glass and a wide variety of materials. It has a diamond featured coating which enhances and gives a certain edge to drilling.
This diamond coating gives it preference to any other traditional carbide or metallic hole saw. One of the nagging issues in metallic or ceramic or glass components is a slug. This drill bit model uses side holes to get rid of the slugs after drilling.
This unique model is preferred to any other instruments because of its nickel plating that prevents corrosion thus prolonging the lifetime of the tool. This unique model comes with a set, varying in sizes and shapes to give you options for your preferable customization.
It also comes with variation in cutting depth that allows you to have a tight grip on your drill bit accordingly.
Setbacks
The Neiko 00823A Diamond Grit Hole Saw Drill Bits is preferred to other instruments, but a depressing fact is that it gets dull pretty fast.
Also, this model sometimes cannot cut through heavy tiles or glass workpieces with perfection and thus leaves a nasty spot on your workpiece.
Bosch GT2000 Glass and Tile Set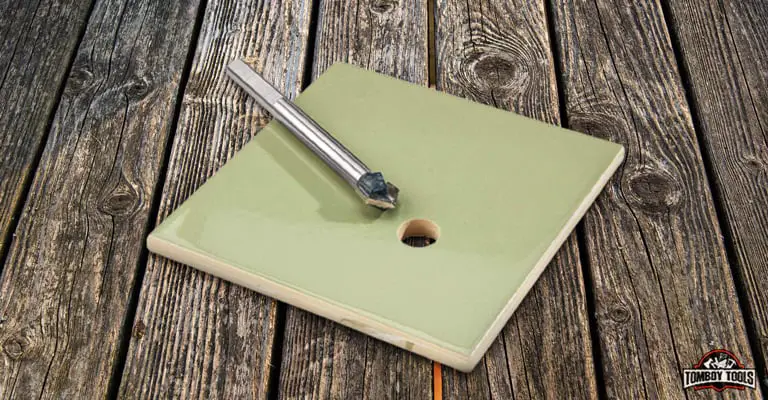 What meets the eye
Improving on the carbide, the Bosch GT2000 Glass and Tileset has come up with an innovative geometry allowing more precision and faster drilling. This unique model has a carved edge on its peak which basically is a precision tip to help solve any bit wandering or bit walking.
This model is basically featured on carbide, which includes its awe dropping stress-reducing reinforced head. Thus preventing bit cracking and providing a longer life through a diamond ground cutting edge to provide detailed precision.
This model comes with exotic versatility such as relief holes(to help weaken the glass structure for drilling) for glass cutting, bathroom and shower install, setting concrete screws in tile and many more.
 It comes in variation, offering rigid reliability through flat shanks which helps you to have a superior grip on larger bits. It offers you multiple sizes and shapes for your ease and comfort in working.
 The flat shank reduces slippage through its variation of shanks. This model has basically improved on its carbide quality which prevents cracking even when working on hard materials. It quickens your drilling and serves you butterlike drilling on glasses.
What might drive you away
The bosch GT2000 Glass and Tile Set drilling equipment has a possibility of wearing down due to heavy and longtime drilling. You are gonna need to frequently cool this drilling bit in order for it to work just fine.
 Though it works perfectly fine in glasses, still it poses a threat of gashing the glass through jagged spots.
BLENDX Diamond Drill Bits for Glass and Tile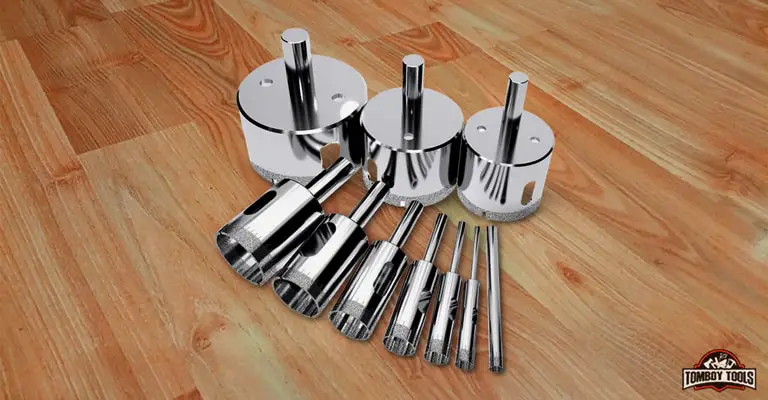 Admirable features
The Blendx Diamond Drill Bits is used for drilling larger holes in comparison to other drill bits. This is a core style drill bit that helps to grind larger holes with top precision. It works more like a hole saw but with more perfection and re-enforced robust diamond edges.
This drill bit reduces your physical exertion and sweating off your skin, as you need not much pressure, only a little will do the trick. Also, it's the latest addition is the use of increased water lubrication which helps extend the lifetime of the drill bit at a certain level.
This model includes side holes to remove material and to give you a clean, deep and wide holes on the glass. These holes help you with the process as you need not pause your work to remove the mustered material.
It comes with great versatility, giving you variation in size and shape. It covers from the smallest drill to the largest, providing clean and neat drilling.
What might draw you away
Though giving you neat holes, it requires patience as this drill bit provides slow drilling.  Also not using this drill bit for depths beyond about ½" is a wise choice.
You should keep in mind about the lubrication. You will need to put in enough water for lubrication and cooling while drilling.
Drilax Diamond Drill Bit Cylindrical Burr Kit
Apple of the eye
The Diamond Drill Bit Cylindrical Burrrr Kit handles very delicate and smaller drilling which requires much precision. This drill bit set consists of varying smallest diamond-edged tips(shank diameter) starting from the range 1mm,2mm,3mm to more.
The set includes drill bits varying from the range 45mm to more. This adapts to your workpiece quite smoothly. Also, to add comfort and ease to your work these drill bits can adapt to any rotating workpiece, for which you will be able to handle different types of tools with this set of sharp drill bits.
This drill bit is made of hard and quality material and also well tested by the manufacturer, and the icing on the cake is that it is replaceable. So even if your drill bit wears down due to heavy work or unavoidable circumstances, no need to worry as this model gives you the opportunity to replace.
Drawbacks
The Diamond Drill Bit Cylindrical Burr Kit is pretty fragile to work with. So while working you must be careful that the diamond tips don't break or come off. Be advised not to use these drill bits on heavy and robust metal as these drill bits handles small and sharp tools.
It needs to be supplied with water for lubrication and cooling while working. So you should be well aware to have supplied enough water while drilling to keep your work steady and clean.
Masonry Drill Bits Set for Glass with Carbide Tips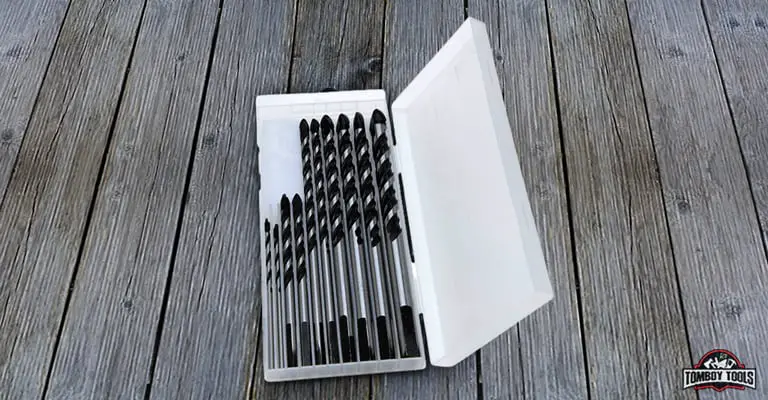 What draws the attention
The Masonry Drill Bits Set is an alloy metallic carbide tipped drill bit with sharp edges to help you cut through any material for smooth and neat holes. The carbide tips are much durable and are of industrial grade which gives you delayed longevity.
A  little nagging issue sometimes occurs when you are carrying these tools. But this unique model comes with a handy hard plastic case. This way your drill bits stay organized.
Also, this drill bit comes up with variety in size and shape to your preference and your workpiece. Starting from 1/8" to 1/2". This is a multi-material drill bit which helps you to dig in through almost all types of material including ceramic, glass, concrete, hard plastic, cement and so on.
The sweet thing is that it includes a life-time guarantee with full replacement or refund if you want.
Let's think again
Though it is a pretty efficient drill bit, one issue that comes to is that it takes a bit of time when drilling holes in glass. And also, the bits dull in time and due to the material of your workpiece (if your workpiece is a hard one). Heavy drilling can be tedious if you drill with this.
Buying Guide for The Best Drill Bits For Glass
Are you confused as to which drill bit will serve you right? Buying the right product requires inner knowledge about the fundamental components of your product. No worries. You don't need to roam anymore looking for the perfect drill bit for your workpiece.
We are here with a rational and copious buying guide which will help you to choose the perfect drill bit. This will inform you about the components of a drill bit and which one of the following will be your preference for implementation. Now without further ado lets hop in.
Side holes
Are you worried about corrosion on your workpiece by insects or slugs? Then you should have side holes in your drill bits which will enable you to easily pull out the slugs damaging your workpiece.
Very often we face casualties such as damaged glass due to drilling, and this is due to the slugs that inhibit your workpiece longevity. But side holes pull in those slugs in their holes while drilling
And comes out preserving them and then you can easily remove those with bare hands. This way you don't have to worry about corrosion while drilling and you will be served a neat and clean hole.
Nickel Plating  
An unparalleled characteristic in a drill bit is nickel plating. This helps with your anxiety about corrosion on your workpiece. Nickel plating serves the utmost resistance against abrasion. If you want your drill bit not to underperform, then it's a must.
Because nickel plating provides you tight tolerance work which is actually the minimum deviation from specified components and features. It helps in reducing friction and it's a uniform plating with no edge build-up.  
Carbide
Carbide is a fundamental component of a drill bit. It is a binary chemical compound of carbon especially used in metals with lower electro-negativity. Also, carbide is among the hard substance in comparison to others. It is denser than steel and provides you a butterlike surface finish.
Carbide provides the utmost efficiency in your work by retaining the cutting edge. Carbide helps you maintain hardness in your drill bit even in high temperatures which generate high drilling speed. This way you get a smooth and neat hole in your workpiece.
Carbide also enhances your drill bit longevity. Also, carbide resists abrasion. Carbide provides you a sharper edge to drill through pretty easily. 
Relief holes
When do you get the desired outcome in cases of drilling? How would you like it if your drill bit serves you a smooth and butterlike hole through drilling right from the very base of your workpiece in order to avoid rough outcome!! Yes, relief holes serve you that purpose.
Relief holes basically drill by weakening the glass structure at first so that your workpiece is dealt with less friction. This way it takes off the pressure from your hand and lets you drill at ease.
Flat shank
You might be wondering, why a flat shank? First, let's take you to the concept of a shank. A shank is basically another word for the handle. When you are using any kind of tool, a handle to connect you with the operating end gives you the upper hand in your work.
A shank is the end part of your drill which acts directly with your workpiece. Now a flat shank reduces slippage while drilling, allowing higher torque and greater centering accuracy. Thus it helps you to adapt to any kind of workpiece through smooth rotation and also with little pressure from the upper body of your drill bit, thus your hand.
Diamond Edge
Are you looking for something small but sharp and robust? Glass is among the delicate materials as a workpiece and very ductile to deal with. So you are gonna need something small and sharp. A diamond edge will just serve you just right. Diamond is known to be the hardest substance in the world.
It is considered as a prime candidate in drill bits for its sharpness and larger drilling surface. Diamond edges help you cut through glass with the larger cutting surface. Drill bits with diamond edges have higher drilling efficiency and prolonged lifespan.
Diamonds will embed into saw edges and drill ridges through a metal bonding process that utilizes heat to seal the crystals into the edge of the tool. It protects your drilling end from abrasion. It can withstand heat and produces less debris on your workpiece.
It provides you a neat and clean drill with higher accuracy and emitting less heat while drilling.
FAQ
Q: Is a flat shank helpful?
Ans:   Yes. This will help you in getting greater accuracy and also will help you to adapt to your workpiece through rotating.
Q: Are these better than a hole saw?
Q: Yes, you can say. As these drill bits provide you a cleaner and smooth surface and also including the slugs being pulled out.
Q: Can this drill through porcelain?
Ans: Yes, they definitely can.
Q: Are relief holes really necessary?
Ans: If you want a perfect drill, then yes. Basically from the fundamentals reduces the pressure and roughness in your workpiece.
Q: What is a reinforced head used for?
Ans: A reinforced head at the end of engaging part of a drill bit is for protection of the drill bit, thus it prevents cracking of the bit and prolongs its lifespan.
Q: Can diamond edges pierce through softer materials?
Ans: Diamond edges are best in working with softer materials because of their sharpness and larger surface drilling. So, yes.
Conclusion
Choosing the perfect way to drill not only indicates that you get the right hole in the right place, but that you get it with the least amount of trouble and without damaging the workpiece. Your drill bits should be able to take off the pressure from you and give you ease in drilling through allowing you to apply steady pressure parallel to the bit.
These best drill bits for glass will help you reach that goal. So now if you are looking for something dynamic and sharp to cut through hard materials then The Diamond Drill Bit Cylindrical Burr Kit is a prudent choice. As it has the diamond feature which is sharp and one of the hardest materials on earth.
But also if you are looking for something steady and faster but smooth, then Masonry Drill Bits Set for Glass with Carbide Tips will be a wise decision. Because this model has improved on its carbide feature thus enabling you to have a faster drill and also it can withstand high temperatures with less heat emission.
We hope you have sweet glass holes and happy drilling!!
You may like to read – the best drill bits for aluminum and best drill bit sharpener.
I'm Joost Nusselder, the founder of Tools Doctor, content marketer, and dad. I love trying out new equipment, and together with my team I've been creating in-depth blog articles since 2016 to help loyal readers with tools & crafting tips.