I love creating free content full of tips for my readers, you. I don't accept paid sponsorships, my opinion is my own, but if you find my recommendations helpful and you end up buying something you like through one of my links, I could earn a commission at no extra cost to you.
Learn more
If you do lots of carpentry, plumbing, and other similar handy jobs, a great hole saw for stainless steel is one tool you should not skimp on.
It's really not only for professionals but also DIYers who like to handle their own handy chores at home. With it, you get to bore holes in metal such as pipes, sinks, cable boxes, even workbenches.
Buying the wrong one will result in it getting blunt after just a few uses (the best one can last up to 500 drills!), or not being able to cut through even the thinnest stainless steel. So that's why I've written this guide for you.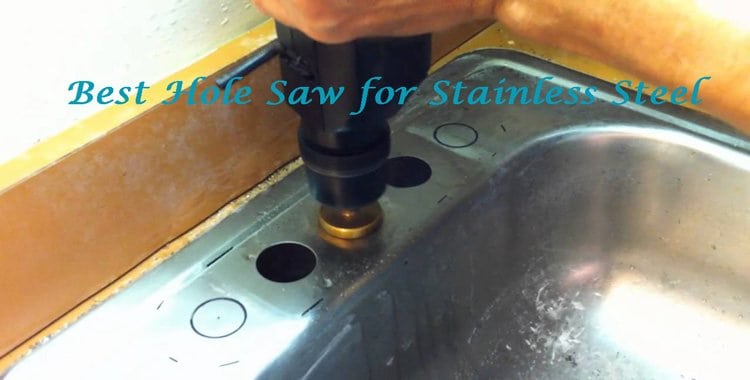 If you know exactly what size(s) to get, you could go for one or a few of the separate Ezarc Carbide drill bits, they are just about the industry standard and can last you up to 500 hole drills. That's A LOT!
These are the 6 best hole saws for stainless steel and metal that I recommend for different budgets and situations. I'll also walk you through tips that will help you choose the right tool for the job.
Best overall hole saw drill bits
EZARC Carbide Stainless Steel Hole Saw
If you're looking for specific sizes, buying one or a few of these EZARC hole saws is the best option.
Best hole saw kit for under $100
Dewalt 3-piece
If you have a little more to spend on a whole set, this Dewalt box offers durability for any project you can think of.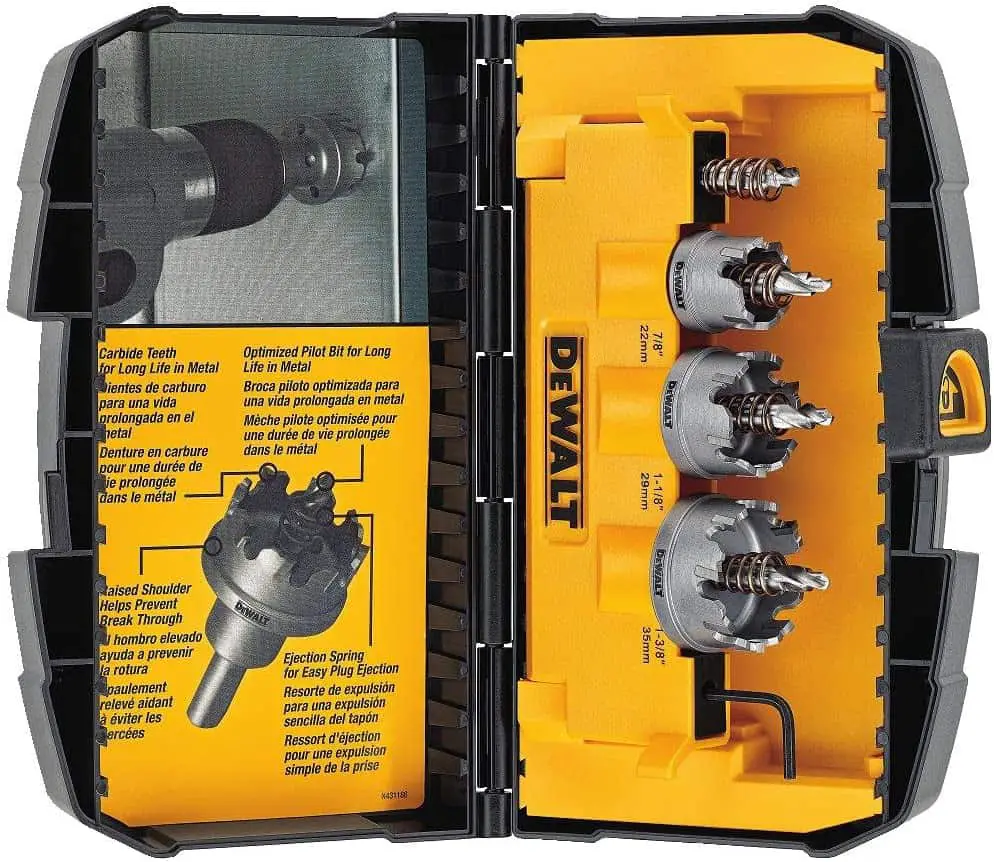 Premium hole saw set for sheet metal:
Bosch HSM23
If you need to cut through sheet metal, you might something with a little more power like this Bosch premium set.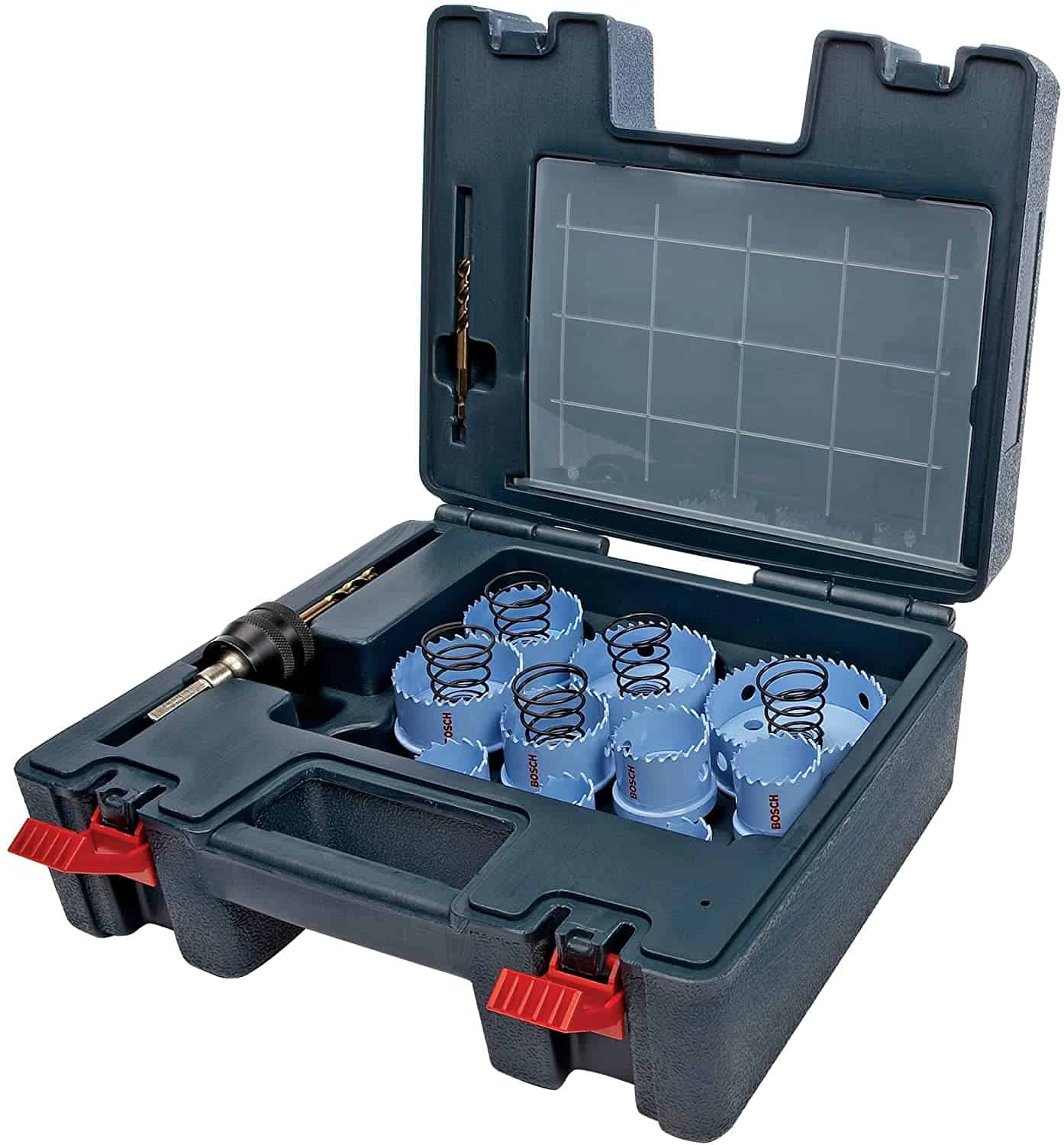 Most versatile hole saw Kit
Comoware multi for Metal, Wood, PVC
If you need a full kit to be able to cut through multiple materials, this 19 piece set does the job.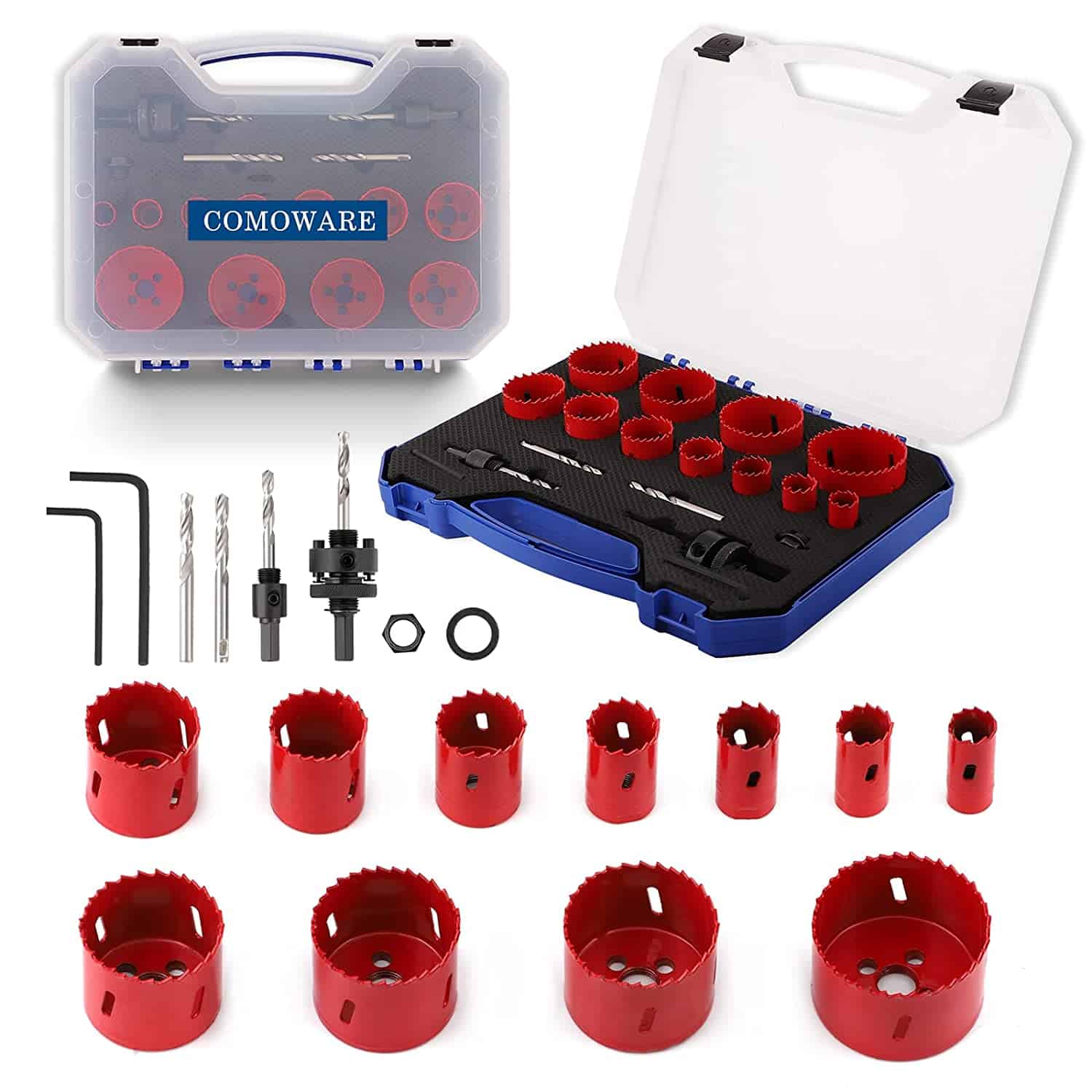 Best hole saws for cutting thick metal
EZARC Carbide Hole Cutter
The only brand on this list that can cut through thick metal like it's butter. These will last you a long time.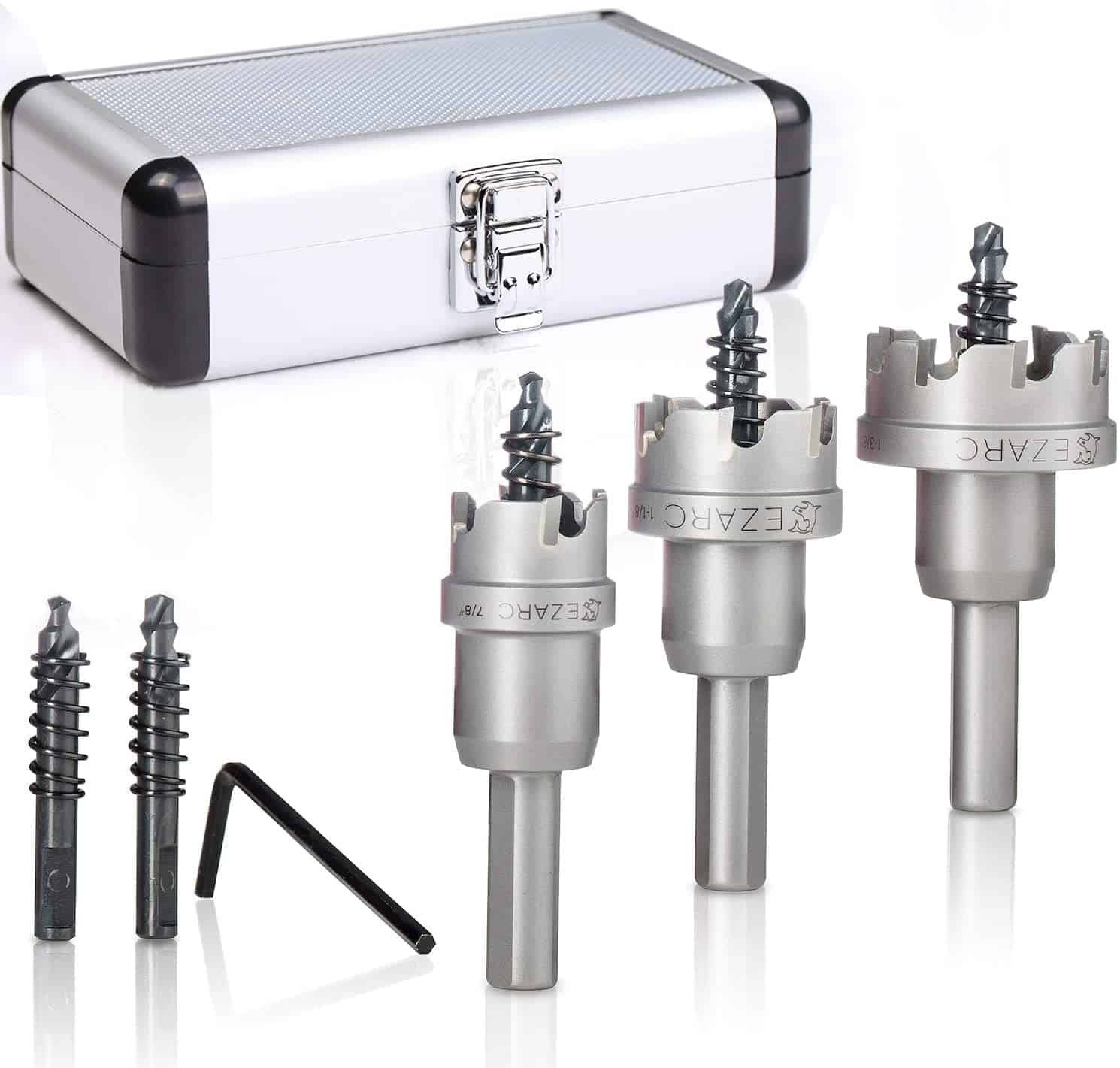 Rocaris High-Speed Steel (15 pcs)
There's no shame in being on a budget, I get it. You can still buy a decent set with this Rocaris 15 piece. It'll get you through most jobs without incident.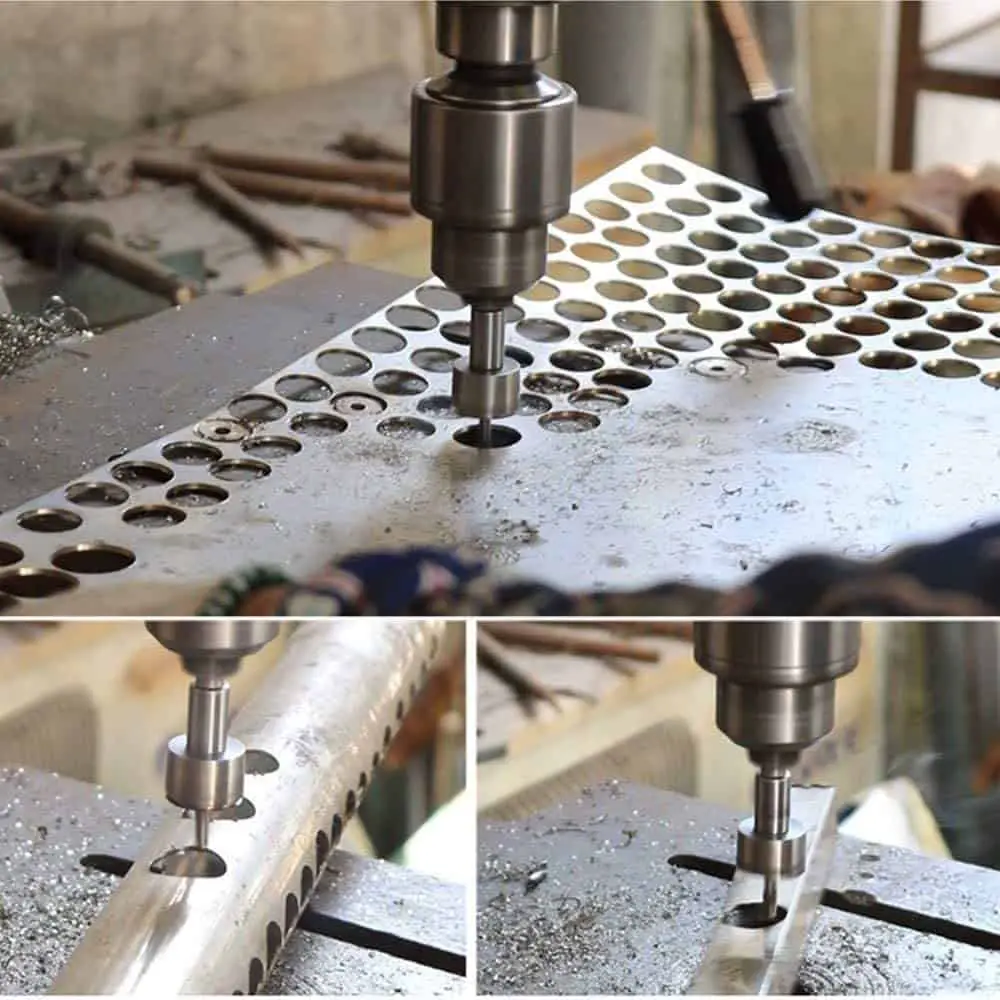 Hole Saw for Stainless Steel Buying Guide
There are lots of manufacturers these days that make hole saws. While this is good for giving us many options to choose from, it might leave you confused.
To avoid confusion, there are several factors you should take into consideration when looking for the best hole saw for stainless steel.
Sturdiness
Sturdiness will be defined by the material that the unit is made of. Hole saws have two parts – the body and the tip.
It's okay for the body to be made of ordinary steel, but the tips should be made of something harder like black oxide, carbide steel, or cobalt steel.
These materials will bore you more holes before they finally become dull.
Tungsten tips would be better if you can get them, but these are costlier and more suited for professional use.
Compatibility with powered drills
Hole saws don't usually come as complete units with a drill attachment. They usually come as bits meant to be attached to drills.
It makes sense to get bits that are compatible with the handheld-held drill, mobile magnetic drill, vertical drill, and more. This is especially crucial if you're a professional.
Replaceable parts
When the pilot drill wears out, that doesn't have to mean that your hole saw set becomes obsolete. But then again, that depends on whether the pilot drill is replaceable.
Ease of replacement is an important factor to look at. Make sure the manufacturer has stated that they sell replacement parts to extend your kit's lifespan.
Drilling efficiency
Though I have written this factor last, the truth is that this is the most important feature to look out for when shopping for a hole saw for metal.
You want a hole saw that works and drills clean holes according to your needs.
Go for a good unit with good performance. The saw should be able to make precise cuts that are clean so the cleanup afterward is not too much.
Sharp teeth are essential if the efficiency is to be high.
Listen to what people say (or read reviews like the ones in this article) to find out how well the unit drills.
It should be able to accomplish the work quickly and without too much effort or splatter.
I also have a related guide on best chainsaw bar.
How Is a Hole Saw Measured?
Before buying a hole saw for cutting stainless steel, the size is one of the paramount factors to take into consideration.
These tools come in a variety of sizes, going from ½ inch to a little over 8 inches wide. Some of them have their size written on the cutting blade.
Well, here are the common ways of sizing hole saws:
Diameter
The diameter of the hole you're boring is likely the most important size.
As stated earlier, most units have a diameter going from ½ inch to around 8 inches. But a majority of people don't need large diameters. The most commonly used diameters go from 9/16 inches to 3 inches.
These are ideal for boring small holes on pipework, sinks, and cable boxes, and other items at home.
The 2-inch saw is a popular choice for making holes on desk surfaces for computer cables to pass through.
For light fittings and drainage pipes, larger diameters, around 4 to 5 inches, tend to be the preferred choice.
Diameters larger than that are seldom used at home. These are more suited to professional work at industrial levels.
Cutting Depth
This refers to how deep a hole saw can bore without using an arbor extension or breaking off the slug. The cutting depth is directly proportional to the saw blade length.
Models can have a cutting depth anywhere between 5 and 350 mm.
Note: if a unit is stated as having a cutting depth of 5 mm, that essentially means you can bore holes that are up to 10 mm. that's because you can flip the workpiece over and bore from the other side.
If you need more depth, you can always use an arbor extension.
Best Hole Saws for Stainless Steel Reviewed
Best overall hole saw drill bits: EZARC Carbide Stainless Steel Hole Saw
Durability and efficiency are some of the most important factors people look for when purchasing a hole saw for stainless steel.
These are the same factors that attract buyers to the EZARC Carbide Hole Saw.
If you're looking for the best hole saw for cutting stainless steel, it's a product that will not disappoint you. Why? Let's see.
Hole saws for metal are put through a lot. Drilling through metal is no easy task, and many of the saws don't last. So, to see a saw that lasts is really something special, isn't it?
And that's just what the EZARC saw is – special.
Here you can see some uses for the Ezarc Carbide:
It is made of high-quality carbide grit, which gives it the power to hold up to abuse for extremely long.
Many users that have tried out several brands can tell you that this one lasts even 10 times as much as most other saws.
When the pilot drill cuts through material, the carbide teeth impact. This is one of the factors that make metal drills wear quickly.
But with this particular drill, the pilot drill features a stepped design. That way, the carbide teeth are protected from impact.
And like that, the longevity of this unit is boosted.
Ever used a hole saw that made very rough and ugly holes? Such a saw can be quite annoying because apart from making holes that are unsuitable for the intended purpose, they are hard to use.
If you're looking for a perfect hole cutter for stainless steel that will make nice and smooth cuts, the EZARC would be a good choice.
It cuts smooth, precise holes through materials with a thickness of 5 mm. If you need a deeper hole, you can flip the material over and drill from the other side.
You can use the EZARC carbide hole saw for a wide range of applications around your home. The tool cuts through stainless steel, PVC, plastic, aluminum, high-alloy steel, wood, and more.
Pros:
Extremely long lifespan – up to 20 years
Smooth cuts
Drills up 5mm deep (10 mm when workpiece is flipped)
Comes complete – drill bit, wrench, spring
Versatile – can be used to drill wood, stainless steel, aluminum, pvc, and more
Pilot drill bit is stepped for teeth protection
Cons:
Not very suitable for drilling panels with a cavity – due to the depth stopper
Check out the different sizes here on Amazon
Best hole saw kit for under $100: Dewalt 3-piece
In the world of tools, Dewalt is most definitely one of the most respected brands. From batteries and power saws to drills and hole saws, they provide some of the finest quality ever.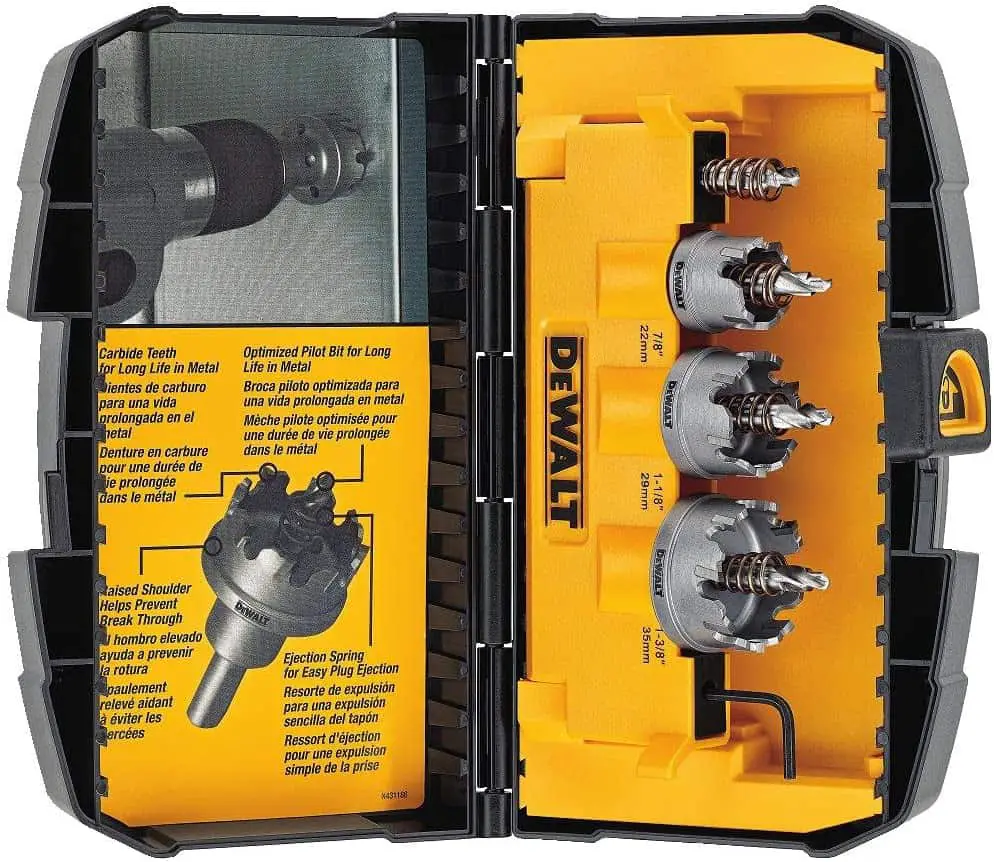 When I first came across this kit, the first thing that came to my mind was "Wow! What an expensive set!" But it wasn't too long before I realized what the product offered.
If you're looking for the best hole saw for cutting thick metal, you will find the Dewalt Hole Saw Kit quite useful.
Yes, compared to other hole saw sets, this one is a little high in price, but similarly, its quality is unmatched.
As the title suggests, the product comes with several things needed for the drilling task. In the package, you will find three cutting heads of different sizes alongside the optimized pilot bit.
There are 7/8, 1-1/8, and 1-3/8 cutter head sizes. That means you can drill holes of different sizes based on your needs.
Ever faced the problem of ejecting the plug after drilling through metal? Not a good thing, is it?
Well, this Dewalt unit comes with an ejection spring for easy plug ejection. You don't have to struggle anymore to release the saw after making the hole.
Durability is one of the benefits that are guaranteed when you purchase this unit. Made from high-grade materials, the unit is able to withstand abuse for an unbelievably long period.
The teeth are made from carbide, which makes the durable. The optimized pilot bit also gives the unit a good deal of sturdiness, making it reliable for many years.
Pros:
From the renowned brand, Dewalt
Versatile – 3 different cutter head sizes
Ejection spring for easy plug ejection
Strong and sturdy carbide teeth
Durable
Easy to use
Can be used on metal, wood, and stainless steel
Cons:
Seen as a bit expensive (but the quality is excellent)
Premium hole saw set for sheet metal: Bosch HSM23
Looking for a hole saw that allows you to drill deeper holes? The Bosch HSM23-PieceM comes with a 3-3/8 inch pilot bit to make that happen.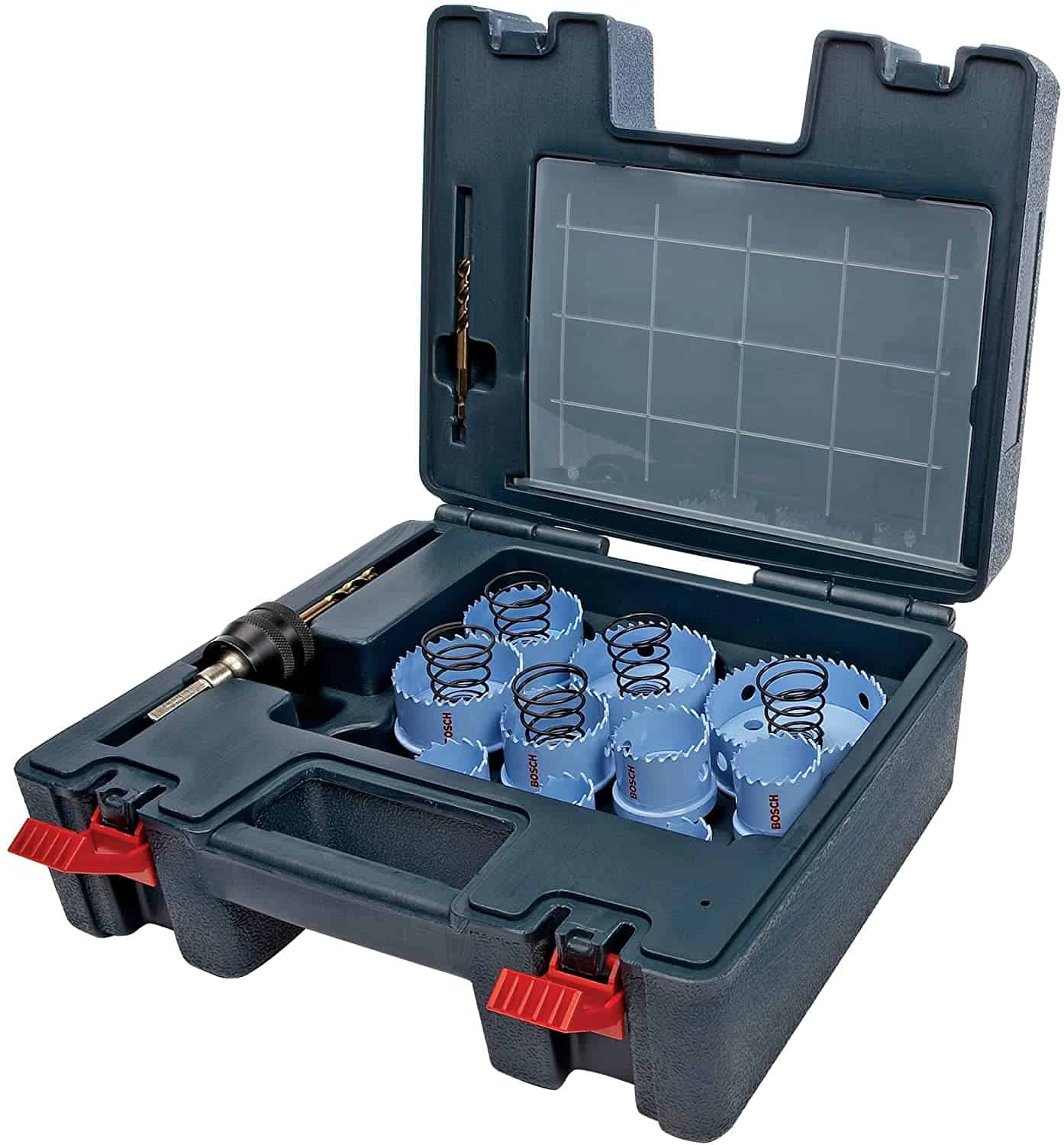 Apart from that, this is one of the most versatile sets. It comes with 10 saws to widen the scope of what you can accomplish with it.
In the set, you will find cutter heads with sizes going from ¾ inches, 7/8 inches, 1-1/8 inches, all the way to 3 inches. The heads number 10 in total.
With such a broad range of choices, you have the ability to handle almost any DIY project at hand.
One of the factors that says whether a hole saw is easy to use or not is the effort you have to put to eject the plug.
Some units are so hard to eject that drilling holes becomes a daunting task. But not the Bosch saw.
This unit comes with an ejection spring that makes plug removal much easier.
Another ease of use factor that folks like to look out for is the difficulty of changing the cutter heads.
You will be glad to find that this unit comes with a quick-change mandrel that makes changing the heads not only easy but fast.
The threadless design also contributes to the ease of changing heads.
As for the longevity, this is a reliable kit. It packs great quality, making it possible for the bits to last years. The provided carry case also helps a lot.
It's a sturdy thing that keeps your pieces protected and makes transportation convenient.
Pros:
Versatile – 10 saws in the kit
Minimum wobble – positive lock
Ejection springs – for easy plug removal
Threadless – makes switching saws easy
Robust carry case for simple transportation and storage
Made from quality materials
Strong and durable
Cons:
Check prices and availability here
Most versatile hole saw kit: Comoware multi for Metal, Wood, PVC
Do you have a small business that involves drilling holes in metal or wood or even PVC for clients?
If you're looking for a suitable hole saw that is suitable for professional use, then the Comoware hole saw might be just the unit for you.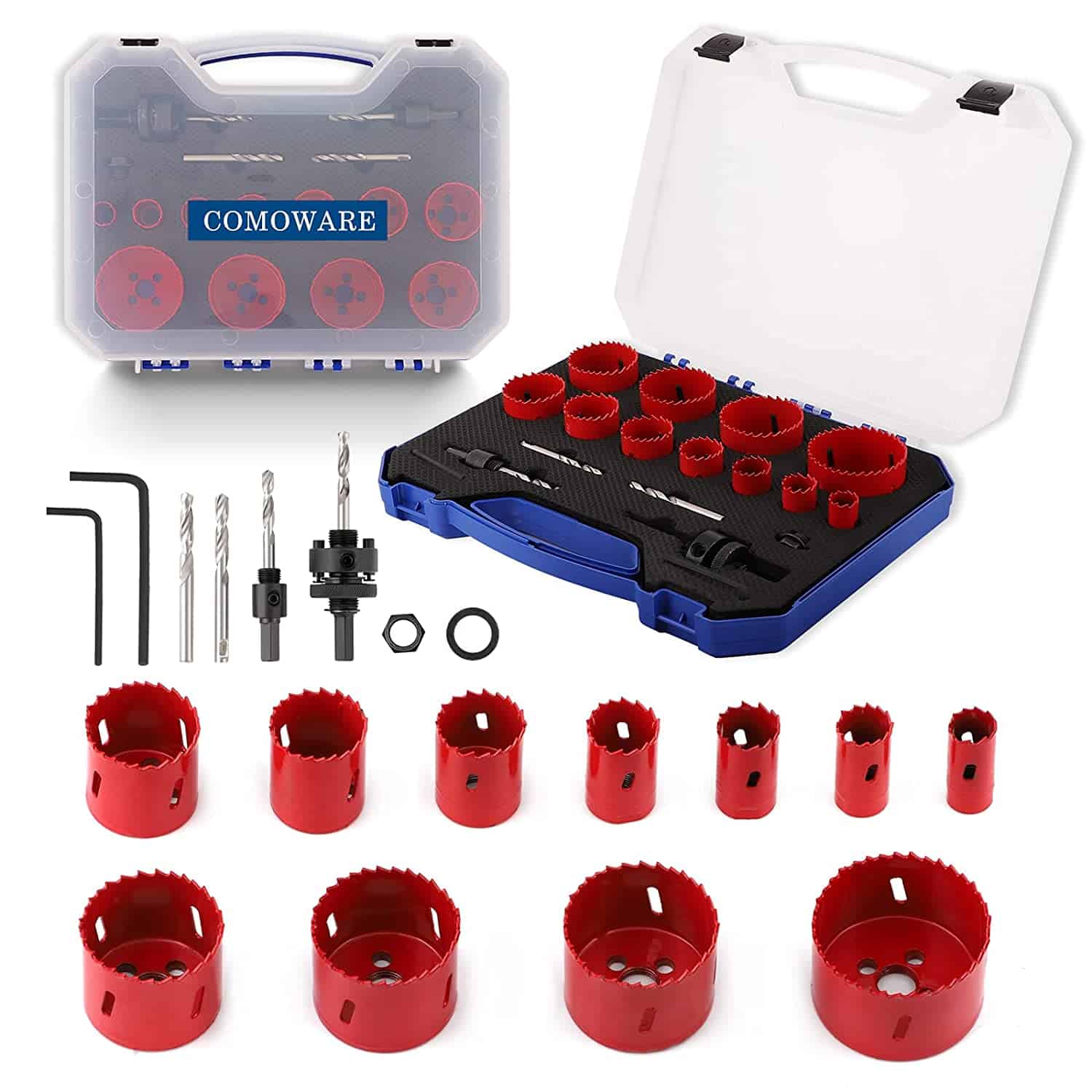 Why? The unit is compatible with almost all drills. It works with vertical and handheld drills and mobile belt magnetic drill.
By powering it with your drill, you get to accomplish more with less effort. It's one hole saw that will not disappoint you if you're looking to speed things up.
As the title suggests, this product is a kit. It comes with 13 sizes of hole saws to ensure you're able to meet your professional needs. The sizes range from 0.63 inches to 2.09 inches.
Quality is what the Drillpro is based on. Crafted from high-speed steel (HSS), the saw packs enough strength and resilience to cut through metal without getting disfigured.
The blade is super sharp, making it easy to cut metal with less effort. That means the power consumption is kept to a minimum without decreasing the efficiency.
These facts give the hole saw impact and wear resistance, essentially boosting the durability.
Precision and efficiency are the main benefits we look to enjoy when purchasing hole saws. No one wants a saw that makes rough cuts or out-of-shape holes. Tell you what?
The Drillpro has sharp, high-grade carbide teeth that are able clean and precise holes with a nice rough shape and no rough edges.
It's a versatile saw that is able to cut through iron, mild steel, stainless steel, aluminum, brass, copper, plastic, and even wood.
With such versatility in the materials the saw can cut, you're able to expand the scope of the projects you can handle.
Pros:
13 different sizes to meet your professional needs
Compatible with almost all powered drills
Sharp carbide teeth for high precision
Makes clean cuts in metal as well as wood and pvc
Made of high speed steel for strength and durability
High wear and impact resistance
Wide array of applications
Versatile with regard to the materials it can cut – steel, copper, aluminum, etc.
Inexpensive
Cons:
Best hole saws for cutting thick metal: EZARC Carbide Hole Cutter
If you're looking for the best hole saw for professional use, the EZARC carbide hole cutter is yet another option that you can depend on.
This unit offers you industrial-grade metal drilling power, widening the range of projects you can handle.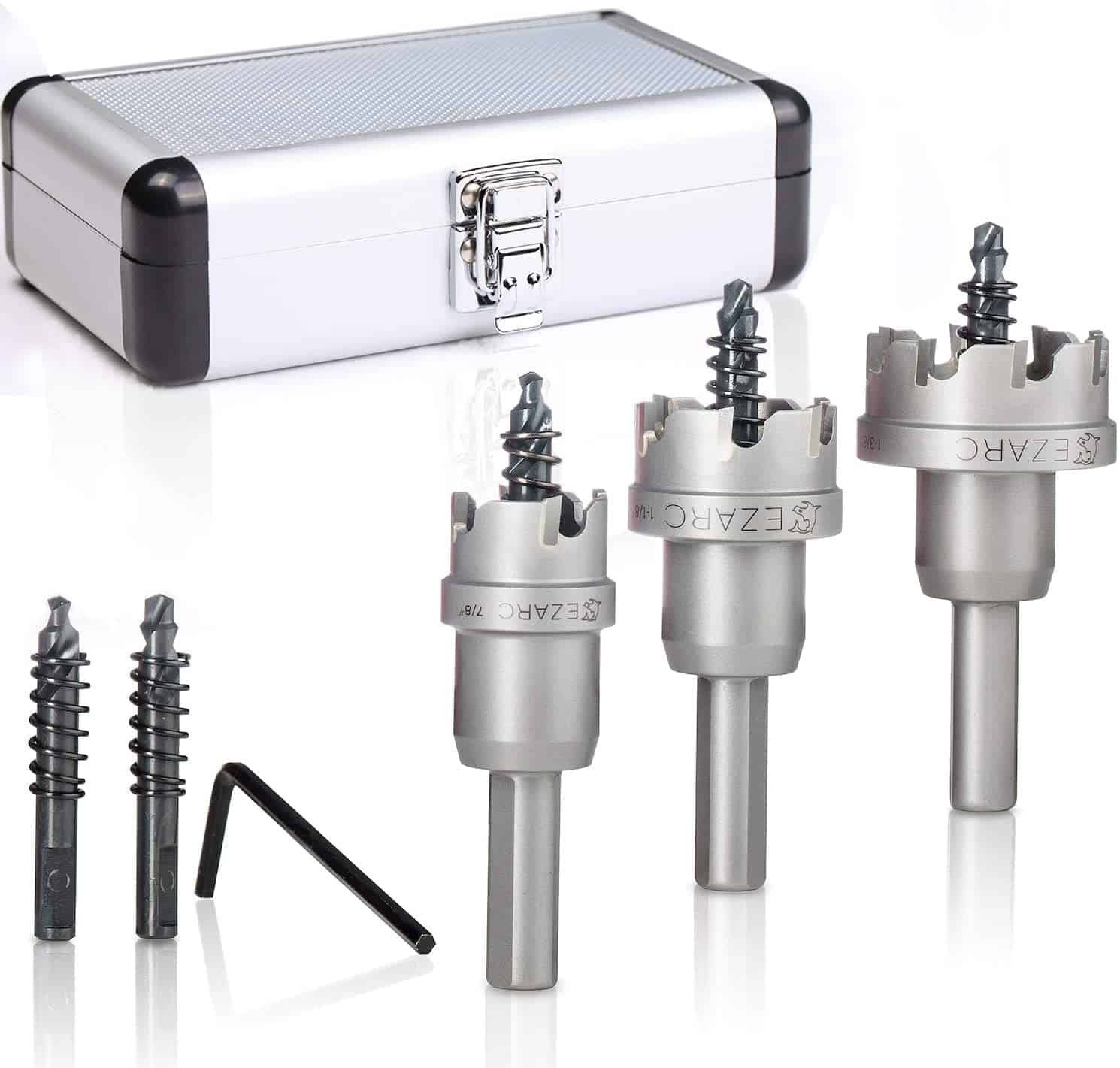 As the title indicates, the set includes 6 pieces. You get 3 hole cutters of different sizes – a 7/8-inch, a 1-1/8-inch, and a 1-3/8-inch cutter head.
The other three pieces include a hex key and 2 pieces of pilot drills.
As you can agree, the set is quite comprehensive, making it possible to start right away if you have a drill. And yes, you can use this product with almost any electric drill you might have.
Longevity is a quality we all love to see in a hole saw, and if it is crucial to you, then the EZARC saw is a suitable choice. How so?
The tips are tungsten carbide, meaning they're extremely resilient. They feature an impressive brazing technology, which further increases the durability.
Lifespan-wise, the EZARC saw is much better than most other units I have come across.
How are the cuts, you ask? Very smooth! The sharp carbide teeth on this one are able to make precise round holes with remarkable smoothness. Get this saw and say goodbye to rough edges.
The tool makes cuts on material that is up to 5mm thick. It is quite versatile, cutting through stainless steel, wood, PVC, plastic, and aluminum.
You can use it for a wide range of applications from drilling holes on metal plates in kitchens to doing decorations on door structures.
It is especially suitable for drilling holes on sinks and cable boxes.
Lastly, the product comes with a super elegant carry case. It is very presentable and makes storage and transportation a piece of cake.
Pros:
3 sizes of hole saws
Extremely long-lasting
Cuts material that is up to 5mm thick
2 high-speed steel pilot drills
Beautiful carry case
Industrial grade drilling power
Carbide steel teeth for precise cuts
Cons:
Centerpiece is a little brittle
You can buy this set here on Amazon
Best budget hole saw kit: Rocaris High-Speed Steel (15 pcs)
The last item on my list is for those who are on a budget but need the best hole saw for stainless steel for personal use.
The Rocaris High-Speed Steel Hole Saw Kit comes with 15 saws of different sizes, going from 0.59 inches to 2.09 inches.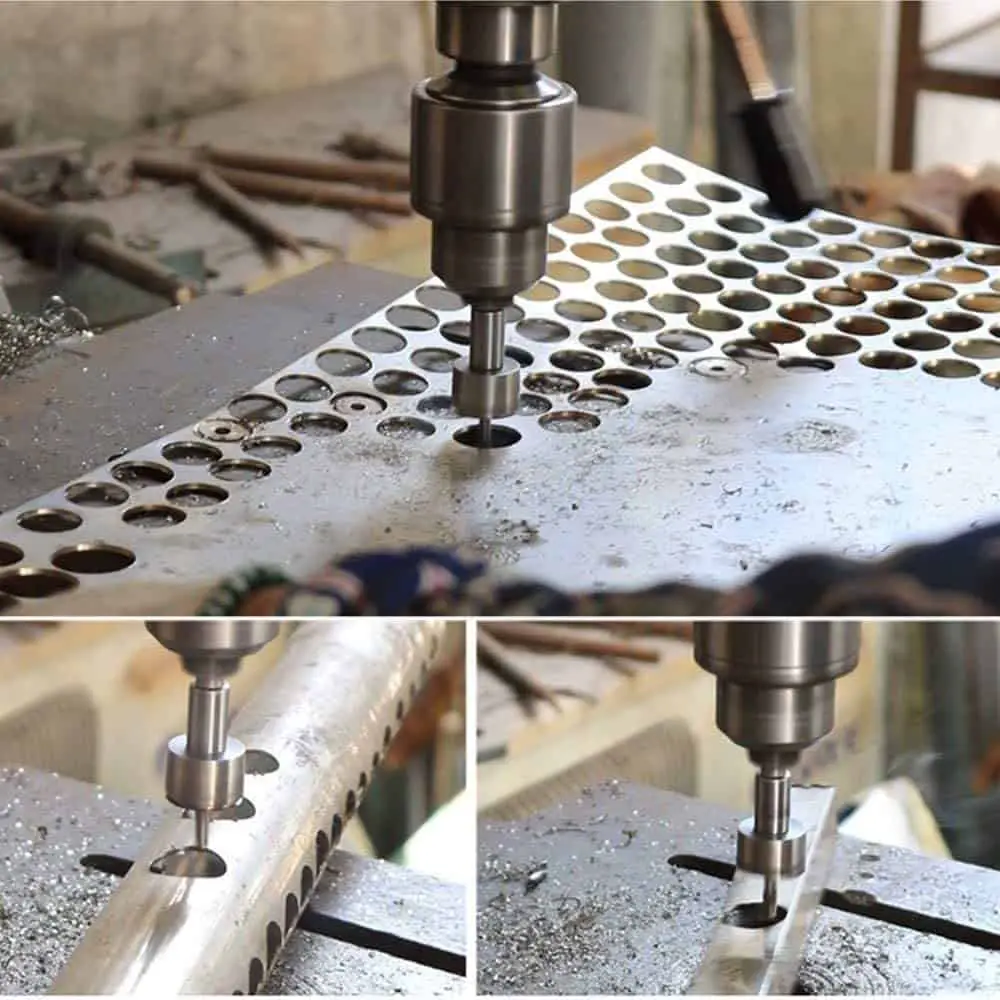 Even with 15 saws, this set goes for less than 40 bucks. That's the price of a single saw with some other models!
With such a broad array of options, you can handle almost any DIY hole drilling project you might have at home.
Yes, the Rocaris saw is a budget unit, but it is of reliable quality. In that regard, it is made of good-quality iron alloy material that is quite resilient. The carbide teeth are able to cut through metal without much trouble.
By connecting the saw to an electric drill, you can use it to complete your personal projects without a hitch. Fortunately, the unit can be used with most drills, including the hand-held electric drill, the mobile magnetism drill, and the motor-driven type.
What items can the unit cut through? Unfortunately, the saw only reliably cuts through relatively soft material like mild steel, wood, and aluminum.
If you attempt cutting very hard materials like stainless steel, there's a high chance that you will end up with a broken saw.
On the brighter side, the unit is able to make relatively clean cuts. You will only need to do very little clean-up afterward.
For an inexpensive hole saw kit that will serve your personal needs well, try the Rocaris High-Speed Steel Hole Saw Kit.
Pros:
Great price
Wide range of options – 15 pieces in the set
Works with most powered drills
Cuts mild steel, wood, and aluminum pretty good
Carbide teeth for power and speed
Decent quality
Cons:
How Do You Drill Through Hardened Steel?
If you're a DIYer, it is almost certain that there'll be a time when you need to make a hole in a piece of metal.
In this section, I am going to spell out tips that will help you use a hole saw to drill holes through metal.
Let's jump in.
Wear protection gear
Drilling metal usually sends splatter flying around. All it takes is one of these little fragments to reach your eyes, and you're looking at a serious medical emergency.
Why go through the pain?
Wear suitable goggles to protect your eyes. Go for safety goggles (like these) that wrap around the sides so there's no entry point for the splinters.
Create a dimple
If this will be the first time you bore holes through metal, there's something you might not know. It is the fact that when drilling metal, the drill bit can wander a lot at first.
This can make an irregular hole, which is not what you're hoping for.
Making a dimple will prevent that. Use a hammer and a center punch to create a dimple on the point where you want to drill the hole.
This will give your drill bit a spot to hold on to and prevent the wandering.
And that way, your hole will be just as you pictured.
Lubricate
Drilling holes on metal without lubricating is a bad idea. Why? It increases the friction between the drill bit and the metal.
High amounts of heat are generated, making the drilling process harder. An even more critical problem is that it causes the drill bit to wear faster.
Therefore, be sure to lubricate the drill bit with a suitable oil like multipurpose oil or cutting fluid.
Clamp the workpiece
I have seen some people hold with one hand the piece they're drilling while trying to drill with the other hand. That is dangerous, not to mention inefficient.
What if the drill bit to catch and the workpiece spins out of control? If there are sharp edges on the workpiece and they come into contact with your body, you can only imagine the pain.
If the workpiece is not heavy and stable on its own, use at least 2 clamps to hold it in place.
Begin with a small hole
Maybe you want a wide hole, say 1-1/8 inches. If you want the best results, begin with a smaller hole, perhaps a ¾-inch.
From there, drill successively bigger holes till you get to the size you're looking for.
Use low speeds
High speeds will drill fast and help you finish the work quickly, right? While that may be true, it presents a drawback you can't afford to put up with – it dulls your bit quickly.
Thus, it's recommended that you use as slow speeds as possible when drilling metal, especially if it is hard metal like stainless steel.
Try sticking to speeds between 350 and 1000 RPM. The harder the metal, the lower the speed required.
Try a wood sandwich for cleaner projects
If you're drilling through a thin metal sheet, and would like the hole to be very clean and precise, you'll find a wood sandwich most helpful.
Just sandwich the metal sheet between two pieces of wood and clamp the whole thing down on a workbench.
The wood pieces will ensure the metal sheet stays flat and make sure your drill bit does not wander as it creates the hole.
Clean the hole
Once you're done boring the hole, the process doesn't stop there. You got to remove any burrs or sharp edges created. There are two options for this.
The first one is to use a larger (in diameter) drill bit than the bore you just created. Just hand-twist the bit gently over the hole to smooth out the edges and remove the burrs.
The second one is to use a deburring tool. These are available online and work better to smooth out sharp edges.
Frequently Asked Questions (FAQs) around hole saws
Will a hole saw cut through stainless steel?
That depends on the material it is made of. A good hole saw made of resilient materials like cobalt steel will cut through hard materials like stainless steel. In addition, it will easily cut softer materials like wood, PVC, and plastic.
Will a diamond hole saw cut steel?
Diamond saws are not as tough as they might seem. When you try using diamond to cut steel, especially hardened steel, the saw becomes clogged with steel and fails to work.
Diamond saws are more suited for softer materials like porcelain tiles, PVC, plastic, wood, and concrete.
Can hole saws cut through metal?
Yes, there's a whole assortment of hole saws made just for metal. But to cut efficiently, it is recommended that you use low drill speeds. The idea is to minimize friction and the subsequent heat, keeping in mind that metals like stainless steel become harder when heated.
Final Thoughts
Friends, we have come to the end of the review. At this point, I hope my work have proven helpful.
Remember, getting the best hole saw for stainless steel rests on one aspect – your needs. For instance, there's the size that will fit your needs depending on the projects you have in mind.
But considering you may not want to bow the same size of holes all the time, I would encourage you to go for a kit that comes with saws of different sizes.
That way, you stand a better chance of handling whatever project might come your way.
Be sure to get a model that is strong and sturdy enough for your needs.
Carbide and cobalt steel are two popular materials that many people find useful for boring through metal, wood, and other items.
I'm Joost Nusselder, the founder of Tools Doctor, content marketer, and dad. I love trying out new equipment, and together with my team I've been creating in-depth blog articles since 2016 to help loyal readers with tools & crafting tips.
Product prices and availability are accurate as of the date/time indicated and are subject to change. Any price and availability information displayed on Amazon.com at the time of purchase will apply to the purchase of this product.