I love creating free content full of tips for my readers, you. I don't accept paid sponsorships, my opinion is my own, but if you find my recommendations helpful and you end up buying something you like through one of my links, I could earn a commission at no extra cost to you.
Learn more
We all at some point of our lives needed a towel rack to mounted or hung a hook on the tile and thought to ourselves why not do it ourselves? Well, as much as that would be a money saver, there is always the fear of ruining your beautiful porcelain tiles. I mean, they are absolutely gorgeous but very delicate.
You can not take a risk of ruining them using the wrong equipment. You need to know exactly what type of drill bits to use and which would be the best drill bit for your porcelain tiles. Well, we are here to help. Let's go through some options and some tips to keep in mind while buying.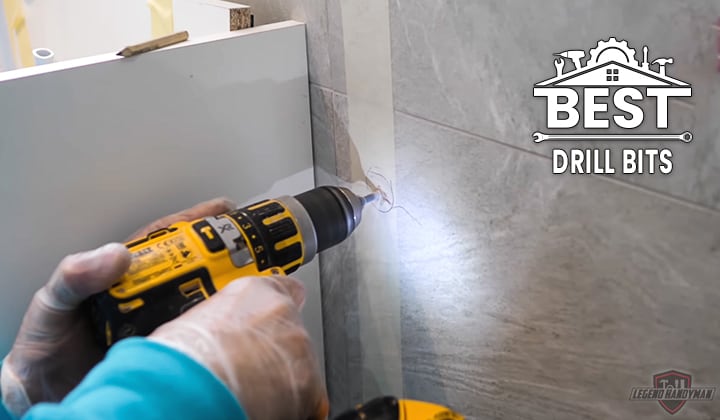 Best Drill Bits for Porcelain Tiles
Bosch HDG14 1/4 In. Diamond Hole Saw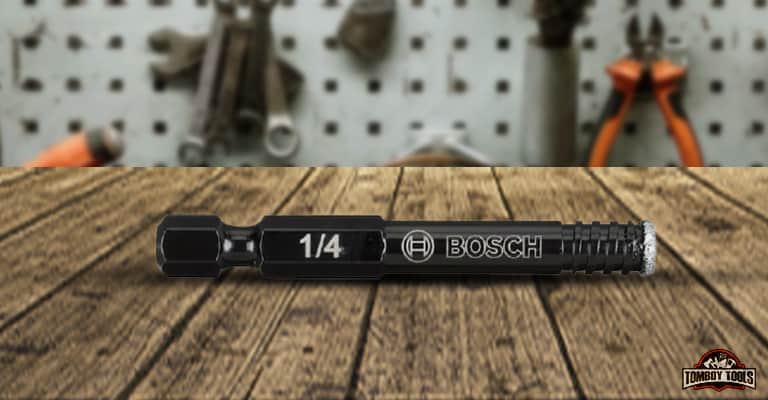 This product is one of the latest additions to the Bosch's line of whole saws. The saw is designed for wet sawing and to use only with machines. As usual, Bosch has made a tool of professional quality with a well-built structure, smooth action and precise cut. The saw is specially built for drilling porcelain tile, limestone, travertine, slate, granite, ceramic tile and marble.
Key Features
Vacuum-brazed diamond grit: The saw is vacuum-brazed with diamond grit, which makes it very strong and also durable. So, the saw starts very fast and easily cuts through even the hardest materials like masonry, ceramic tile, porcelain tile PE5 and stone.
Segmented teeth: The segmented teeth of the saw make less debris and low heat. But it is best to keep a cup of cold water beside you while you drill. Dipping it in the cold water will help you work with ease.
Quick Change design: The adapter is designed in such a way that hole saw sizes and types can be changed easily and quickly. So, you can interchange between bits with ease. It also allows you a quick, easy removal of material plugs.
Pros:
Powerful and strong tool
Easy to use
Quick change design
Excellent design
Cuts fast
Cons:
BLENDX Diamond Drill Bits for Glass and porcelain, ceramic tile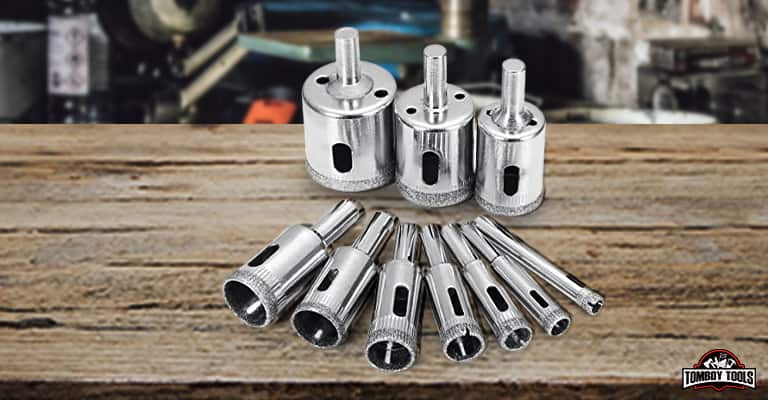 BLENDX Diamond Drill Bits are one of the best drill bits for porcelain tiles. These drill bits are designed specifically for low drilling speeds with diamond core and are best for delicate tasks where precision meets finesse.
Key features
These diamond drill bits are excellent for drilling large holes in your tiles. They are designed for coring action, so they don't really penetrate. This allows you to work more efficiently and you can keep the center of the hole if you want! They are suitable for Stone, tiles, limestone, marble, slate, ceramics, glass and granite. However, they are not usable for masonry works.
BLENDX Diamond Drill Bits come in 10 Sizes: 6mm, 8mm, 10mm, 14mm, 16mm, 18mm, 22mm, 35mm. 40mm, 50mm giving you a wide range of sizes to choose from. The shaft on each bit is made of hardened carbon steel. After the drilling is done any leftover slug from the center of the core using the side hole in the drill bits.
BLENDX provide you with drill that allows you to control the speed as per your like, however, these drill bits are built for slower speed. With lower pressure and constant lubrication of the drilling surface with water ensures a long life for the drilling bits.
These core style steel bits with diamond edges are powerful enough for drilling clean and accurate hole on glass and porcelain tile. The hardened carbon steel is to last a lifetime and the steel shaft that comes with them makes them strong enough to create deep holes in toughest tiles.
Pros:
Ten different sizes
Highly durable with strong constructions
Core style drill bits
wide slug removal holes
Cons:
Not suitable for masonry works
May slip on smooth surfaces
A little heavier
Uxcell Diamond Grit Hole Saw Bit Set Includes for Porcelain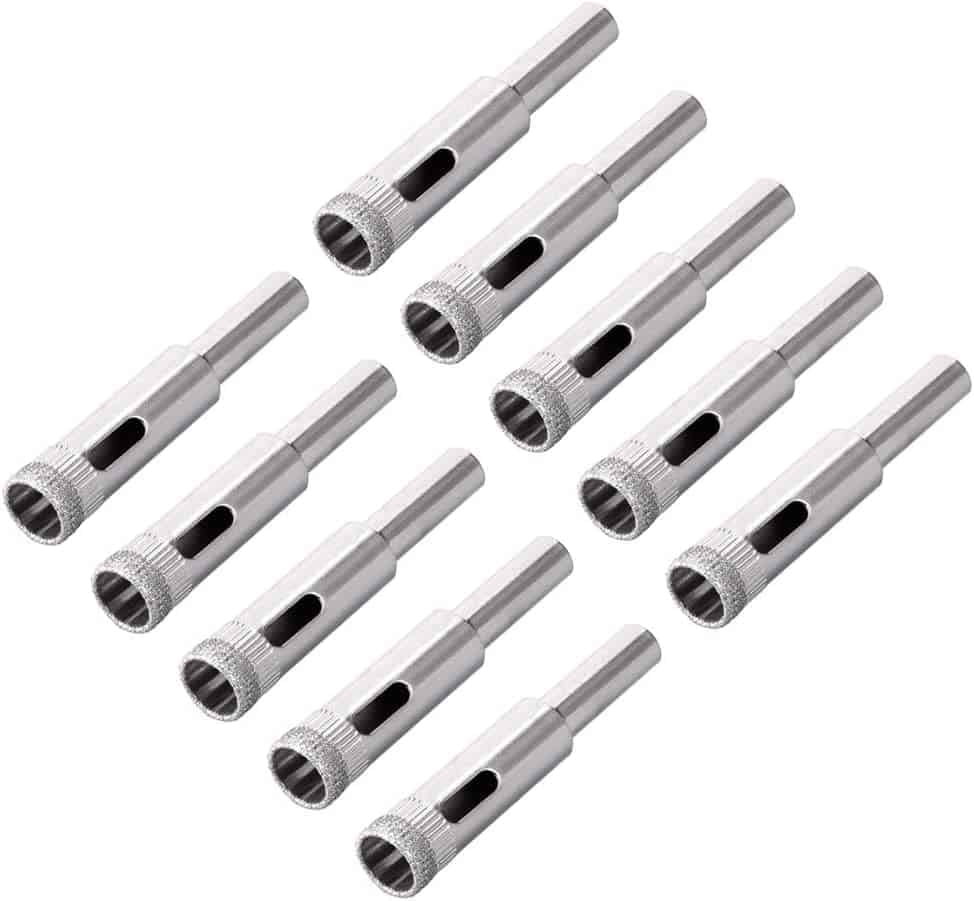 Bastex brings you these superior quality long lasting drill bits that have been precision tested till perfection. These electroplate bonded diamond drill bits are perfect for DIYs or professional drilling alike.
Key features
These drill bits are made with carbon steel makes them indestructible yet precise. drill bits durable and precise. This unique construction make them long-lasting and they are also nickel-plated with diamond edges gives them the ultimate strength to drill through toughest surfaces.
Bastex Diamond Grit Hole Saw Bits can get through anything. They are suitable for glass, ceramics, porcelain, limestone, slate, marble, ceramic tile, porcelain tile, granite, light stone and fiberglass. They give out smooth and accurate hole every time. If finesse is what you want this is the drill bit for you. However, it is advised, as with every drill bits, to use water to keep them wet to prevent the drill bits from heating.
 The drill bits set comes in 3 different sizes: 6mm, 8mm, 10mm for you to decide which size hole you want. The shaft is however a little shorter than the usual drill bits. This is why these drill bits are more suitable for DIY projects. There is also a 30-day money-back guarantee on the product.
Pros:
Gives out precise cuts
Strong structure
Robust design
Best for DIY projects
Reasonable price
Cons:
DRILAX100750 Diamond Drill Bit Set Hole Saws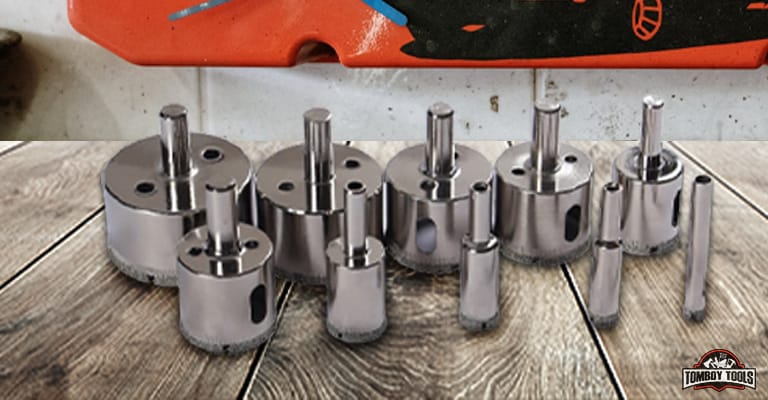 These diamond drill bits come in a set of 10 pieces to meet all your needs. These are long-lasting and easy to use tools that do not need any center pilot and comes in an elegant PU zipper storage case.
Key features
This hole saw set is made with premium diamond with size ranging from 1/4 inch to 2 inch for wet cutting porcelain, glass, fish tanks, tiles, marble, granite, ceramic, bottles, quartz sinks, faucets and so on.
 These steel drill bits with their nickel coating is long-lasting and not to mention taller than most drill bits out there. The bits are electroplated with diamond but be sure to keep the drill bits wet as the coating wears off if the bits are too hot.
As said earlier they come with a pouch with the high-density poly insert to use as a guide to store the bits.
Pros:
Comes with a pouch
Strong diamond edges
Wide lubricating and slug removal points
Cheap
Cons:
Doesn't cut very deep in the granite
Gets dull easily
Qwork Masonry Drill Bits Set Chrome Plated Carbide Tips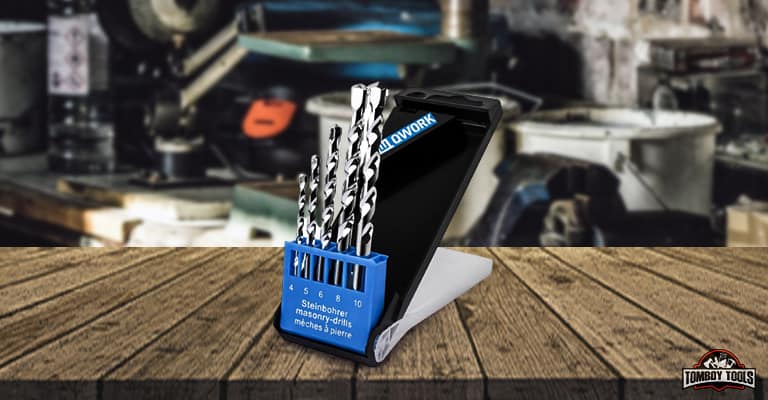 This 10-piece drill bit set is as good as any. They are robust and versatile enough for you to use it to any surface you like. They are cheap but gives you a wide range of choices for your unique purposes.
Key features
The drill bits are built from durable industrial-grade carbide tips are made for lasting a lifetime. The carbide tips are also known to stay sharp for years to come and drills through porcelain with ease.
Their unique U type slot design allows you to remove dust from them easily. They also come with 3-flats shank that holds the drill bit tightly and stably in power drill. As usual to extend its life the drill bit need to be used with water or oil as lubricants.
These powerful drill bits can drill through porcelain tile, glass, wood, mirrors, windows, concrete, brick, ceramic tile, cinderblock, hard plastic, cement, travertine, wood and so on. They are specially built for masonry works.
The drill bits also come with a convenient rust-free hard plastic container to keep them safe & organized. The company offers refund or replacements if the product is not up to the customer's satisfaction.
Pros:
Provides versatile use
Comes with a storage case
Comes with two shank lengths for easy access to small places
cheap
Cons:
Not highly durable as advertised
Needs constant lubrication
DEWALT DW5572 1/4-Inch Diamond Drill Bit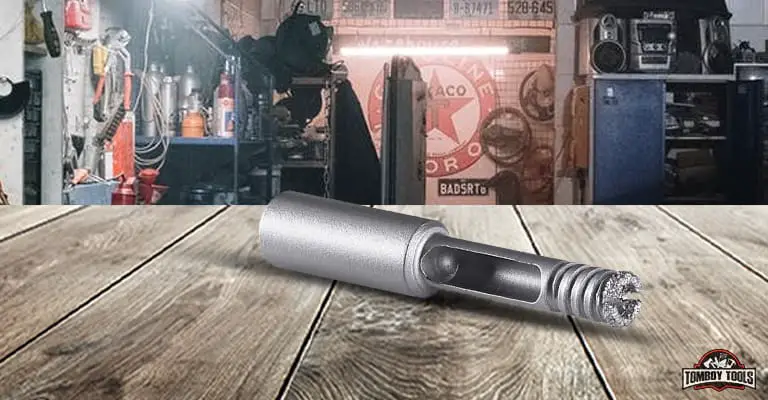 DEWALT DW5572 1/4-Inch Diamond Drill Bit is a reasonably priced yet a great tool for drilling porcelain tiles. It works best on porcelain but can be used on other materials too.
Key features
The drill bit has a diamond welded tip. Diamond, being the strongest object on earth, gives the drill bit a long-lasting life with durability. The tool is made with a vacuum brazing technique, which ensures a strong bond between the diamond particles and the drilling surface. This drill bit not only works great on porcelain but also granite, stone, glass, marble, tile, and masonry.
This is a wet only drill bit which means you should never use it without wetting the drill bit and the surface. It comes with a unique reverse spiral thread that allows continuous water feed to the surface for making it more long-lasting and ensures the drill bit does not get too hot with higher speed. It is best to have patience while using the drill bit and keep a constant pressure to get a clean outcome. If used properly the drill bits will do wonders on your porcelain tiles.
It also has a core ejection slot removes any waste that is created and keeps the boredom out of repetitive drilling.
Pros:
Works best for porcelain tiles
Core ejection slots
Diamond welded tip
Easy to use
Cons:
Not suitable for ceramic
Diamond grit gets worn off easily
Key Features You Should Consider to Get Best
So, drill bits for porcelain tiles are like thousands of types available in the market. But do you know how to get the best drill bits for porcelain tiles? You could just learn the hard way by buying a number of them before knowing what went wrong OR we could just tell you exactly what to look for in drill bits. Let's discuss the things to consider before rushing to the market:
Bit type
There are two types of bits, the first one of course, diamond bits and the second one is carbide tips.
The carbide tips are made for industrial works mainly as they tend be strong and can drill faster. However, they are more suitable for hard surfaces and with very less pressure. But you must be very careful with these type of drill bits as they tend to slip easily and fracture the surface.
The diamond bits are also very strong as diamond is the toughest object in the world. These types of drill bits are easy to handle and more suitable for DIYs. They give out larger holes with no risk of fracture whatsoever.
Nonetheless, both types of drill bits are strong and durable and works just fine on porcelain tiles.
Tips
There are lots of different tips seen on the drill bits and they serve some specific purpose. There are tips that are suitable for taking the core out and keeping it, there are also the spearheaded drill bits and there are tips with self-feed.
The thing you need is a high-quality tip. Tungsten carbide tips are usually the best, but diamond tips are good as well. It's always better to buy a drill bit self-feed system, so while wet drilling you won't worry about wetting your surface yourself.
There are also blunt tip drill bits. Now, before you say anything, yes, they are also needed. These types of tips are used for decorating tiles. The core type of drill bits are used for creating larger holes and get works done faster.
Number and size
There are different sizes of drill bits depending on how large you want you holes to be. The most common sizes are 1/8″, 3/16″, 1/4″, 5/16″, 3/8″, 1/2″, 5/8″ and 3/4″. Sometimes they come as a set sometimes they are sold separately. And as far as the numbers go, it's better to be safe than sorry. Sometimes a single drill bit is durable enough to drill a tile or even a couple of tiles. Sometimes, people get stuck with a bad batch and the bits tend to wear off. So, it's always better to buy a spare.
Here are a few tips for you to drill your porcelain tile:
Always lubricate the surface and your drill bits to keep them from overheating.
Keep your patience while drilling and make sure to keep a constant pressure through the drilling.
With diamond tips, start drilling at an angle then once you are in you can go back to the perpendicular direction.
Wear safety goggles (like these) while drilling
FAQ
Here's a few questions you might have about drill bits:
Q: why is a split point used in a drill bit?
Ans: To keep the drill bit from slipping away.
Q: Can you drill tiles with a masonry bit?
Ans: The answer is No. Drilling tiles needs much stronger drill bits than drill bit for concrete used for masonry works.
Q: How long does it take to drill through tile?
Ans: It takes about 3 to 5 minutes each depending on how fast you are drilling.
Q: Do you need a hammer drill for a tile?
Ans: No, you shouldn't use a hammer drill on tiles as you will risk shattering them. Hammer drill are suitable for much harder surfaces.
Q: Why should we use water while drilling?
Ans: To keep the drill bits from overheating.
Conclusion
Well, that's all folks! These are everything you need to know about drill bits. Before buying make sure you know what you look for in the best drill bits for porcelain tiles. Is it durability or is it strength? Look for that and don't forget to lubricate while you work because they won't last if you don't follow the rules. And if you get confused on what to buy, you will always have our list to help you.
I'm Joost Nusselder, the founder of Tools Doctor, content marketer, and dad. I love trying out new equipment, and together with my team I've been creating in-depth blog articles since 2016 to help loyal readers with tools & crafting tips.