I love creating free content full of tips for my readers, you. I don't accept paid sponsorships, my opinion is my own, but if you find my recommendations helpful and you end up buying something you like through one of my links, I could earn a commission at no extra cost to you.
Learn more
Have you ever wondered how professional woodworkers can turn some of the roughest surfaces into some of the smoothest products available? If you have, then you're probably a beginner woodworker looking to up your game. Two factors matter in this quite a lot your skill and the tools you use.
Skills are something we won't be able to help you out with; that's something that you'll have to figure out on your own. However, if you're looking to find the best drum sander to help you improve your woodworking, then we've got just thing.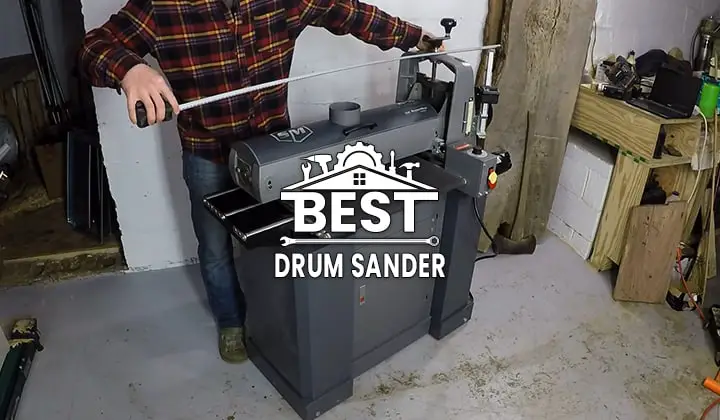 7 Best Drum Sander Reviews
The features and specifications of the best benchtop sanders vary quite a bit, which is almost impossible to make a list of only one type of sander.
To tackle this issue, we've written down an article that consists of 7 different sanders that are each top in their category. All you must do is choose a sander that fits your specific requirements.
JET 628900 Mini Benchtop Drum Sander
There's a common saying the tiniest of packages can lay the biggest punch, very real in the case of the JET Mini Drum Sander. What may seem like a cute little machine will genuinely surprise you, with the small 1HP motor installed.
The motor may be small; however, it generates around 1700 RPM, enough to sand the toughest of stock.Its heavy-duty motor is not only powerful but also reliable, so you have nothing to worry about if you're running the machine for long hours. This motor, when paired with the 10-inch steel conveyor belt, ensures that a smooth sanding action remains through-out the stock wood.
The belt also includes a patented "tracker" system. This tracker understands the load that is placed onto the conveyor and the sanding drum and accordingly sets its speed, ensuring you receive consistent work.
That's not all for exact precision sanding; the cast iron hand-wheel installed on this machine plays a vital role too.
Unlike other sanders, this one includes a height adjustment wheel that only increases at 1/16" per turn. These short increments make sure your workpiece only receives the required amount of downforce for a perfect finish. Plus, since the motor supports a variable speed setting, you'll be able to receive the outcome the meets your needs perfectly.
Pros
Small but powerful motor
Variable speed adjustment system
Tracker system for a more consistent outcome
Being open-end, you'll be able to sand 20inch workpieces
Precision height adjustment system
Cons
Somewhat expensive for its size
Won't handle extremely large workpieces
SUPERMAX Tools 19-38 Drum Sander
| | |
| --- | --- |
| Weight | 245 pounds |
| Dimensions | 41.75 x 57.62 x 57.62 |
| Color | Steel grey with black stand |
| Voltage | 110 Volts |
| Warranty | 2 years |
The 19-38 is a splendid model designed by  Supermax and a much bigger one as well. It features a large heavy-duty 1.75HP motor installed onto it to support the larger 19inch long drum. The larger motor paired with an aluminum drum set; allows the sanding drum to reach astounding speeds of 1740rpm.
Higher speeds aren't even the best part about this machine.What sets this sander apart is its precision and customizable sanding features. There are multiple alignment options included on this sander that should allow you to keep the machine delivering your standard of output.
The simple alignment feature is a masterpiece as it will let you align the conveyor and the sanding head together with just a turn of a screw.
You also have the indexed alignment setting for when your stock is more extensive than 19inch, and the height adjustment tool precisely adjusts the height for up to 4inch thick material.
Furthermore, the manufacturers have included an Intellisand technology into the conveyor belt. The primary function of this tech is to adjust the speed of the conveyor automatically when it detects the load on the drum.
Thus, making sure you can enjoy more consistently sanded pieces, without any of the gouging or burning stock issues.
Pros
Large Open-end drum with a total sanding ability of 38inches
The machine ensures precision sanding
Large heavy-duty 1.75HP motor
Intellisand technology for consistent outputs
Patented abrasive attachment system
Cons
Large in size makes it difficult to store
Being open-end makes it susceptible to flexing
Powermatic PM2244 Drum Sander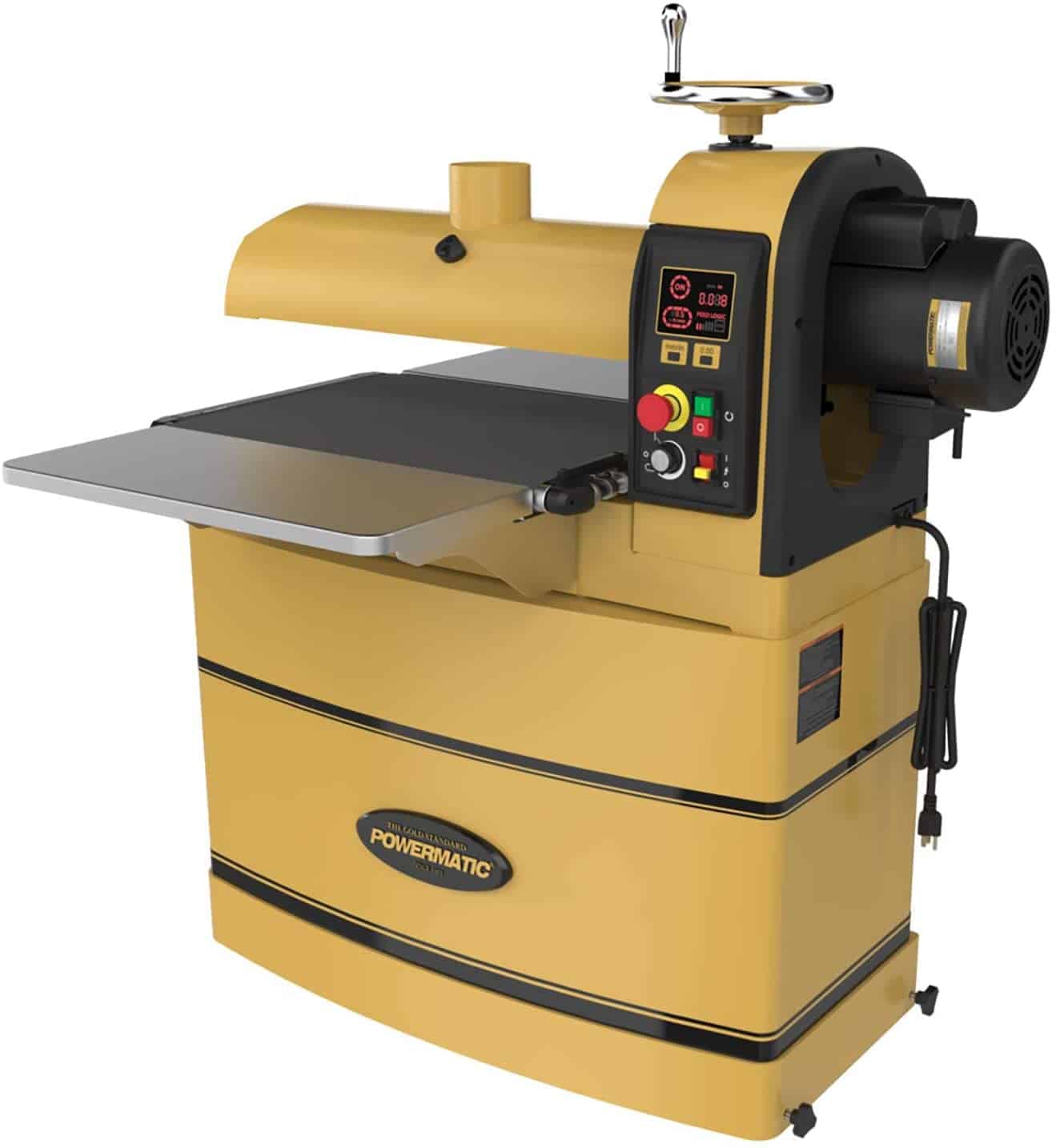 | | |
| --- | --- |
| Weight | 328 pounds |
| Dimensions | 42.25 x 37.69 x 49.5 |
| Power Source | Corded Electric |
| Voltage | 115 Volts |
| Warranty | 5-Year |
If you're looking to buy a heavy-duty sanding machine for much larger projects that can deal with wide stock, then the PM2244 is perfect for you. The drum by itself is 22inches in length.
Since the machine is open-end, you can double the value. Therefore, you'll be able to effectively and efficiently sand large 44inch pieces of wood.
To support such a massive drum while also being able to effectively and efficiently run, it requires a tremendously large motor. Thus, the machine has been a robust 1.75HP motor that helps generate an adequate 1720rpm.
The speed is a bit slower than expected, but that's only due to the drum being heavier for extra strength.
The main concern for this machine is too maintain efficiency and for this, it must maintain both speed and quality. Also, for consistent quality output, the machine uses an LED control panel and an array of sensors.
These sensors will keep you updated about the workings of the machine and will allow simpler settings adjustment.
However, some adjustments still must be made by hand. For height adjustment, the machine comes with a chrome hand-wheel. This wheel will allow you to correctly align the drum and the workpiece together for the optimal downforce, and extends up till 4inches.
Pros
Sander accepts a maximum of 44inch long workpieces
Heavy-duty motor with 1.75HPs
Logic system for automatic speed adjustment and consistent sanding
Storage areas included with the table
LED control system
Cons
The machines quite expensive
Cumbersome sanding drum
Grizzly Industrial G8749 Drum/Flap Sander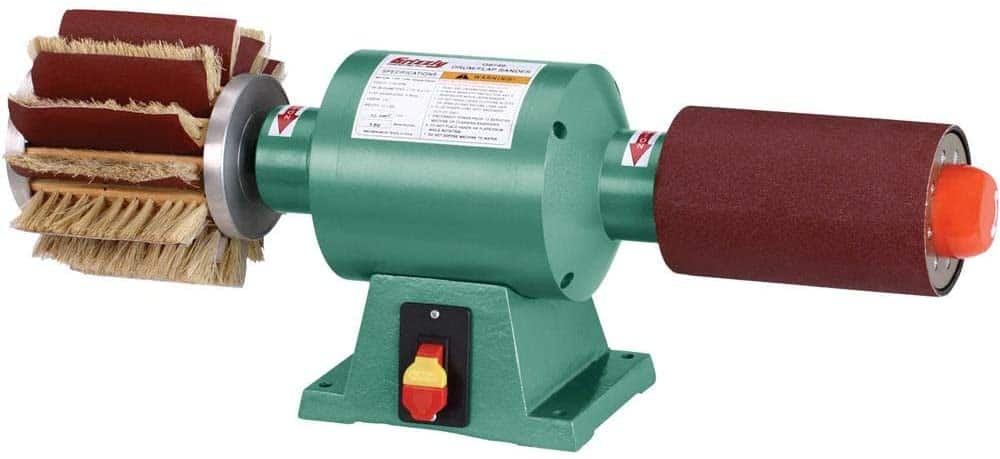 Those of you who love woodworking and treat it as a hobby can't imagine buying large machines that cost over $1000. To make this article fair for the hobbyists around, we're putting forward the best drum sander for home shops.
This device from Grizzly includes both a drum/ flap sander, helping you get your money's worth.
The machine is built around a solid cast-iron body that gives it a very rugged and robust build. It also ensures that the piece remains stable while functioning. This heaviness of the machine quite beautifully compliments its power.
It may use a small 1HP motor; however, given the smaller size, the drum can spin at speeds that max out to 1725rpm.
For sanding, the machine includes both a drum sanding mechanism and a flap sanding mechanism. These sanding techniques paired together help the user generate industry-grade finishes on their work.
Since the output can be inconsistent due to workpiece relying on the user, you might face a considerable human error.
Moreover, the machines come with two drums included; one is sized at 3-1/4inches in diameter and another at 4-3/4inches in diameter. These can have two different grits attached to them, which can be easily replaced while working for better efficiency.
The flap drum included is a 7-3/4inch long with twelve abrasive brushers, all of which are conveniently replaceable.
Pros
The small size allows easy transportation
Powerful 1 Hp motor
Reasonably priced machine
Safety switches included
Comes with a 120grit paper attached
Cons
Not as efficient as larger machines
Human error may produce inconsistent results.
Jet JWDS-1020 Benchtop Drum Sander
Jet by far makes some of the best mini drum sanders available in the market, which is why we're coming forward with another machine. However, this time the machine is far more affordable and a bit more powerful than the previous model.
The machine uses the same brutal 1HP motor, but this time the drum is spun at a speed of 1725rpm.
These higher speeds are possible due to the aluminum drum that is being used.  The aluminum drum further allows quick dispersion of heat, keeping the workpieces from sustaining damage.
Moreover, the entire machine is encased in die-cast aluminum and steel body, providing a solid structure for ensured damage reduction.
The width of the drum remains the same at 10inches.But, since the machine is open-ended, you'll be able to put in boards of a maximum width of 20inches.
You'll also get a precision hand-wheel included with the machine, allowing you to adjust the height, up to 3inches, to best accommodate your workpiece.
Jet has also made sure to maintain efficiency. The tool-less abrasive changing system will allow you to switch between papers quickly, maintaining productivity. Furthermore, the machine comes with a variable-speed system, giving you the ability to set the drum speed according to your sanding needs.
Pros
Good value for money
Open-End allows for extended sanding
A high-speed motor running at 1725rpm
Heat dispensing drum
Solid Die-cast aluminum and steel build
Cons
Won't be able to support large workpieces
Does not come with "tracker" technology
Shop Fox W1678 Drum Sander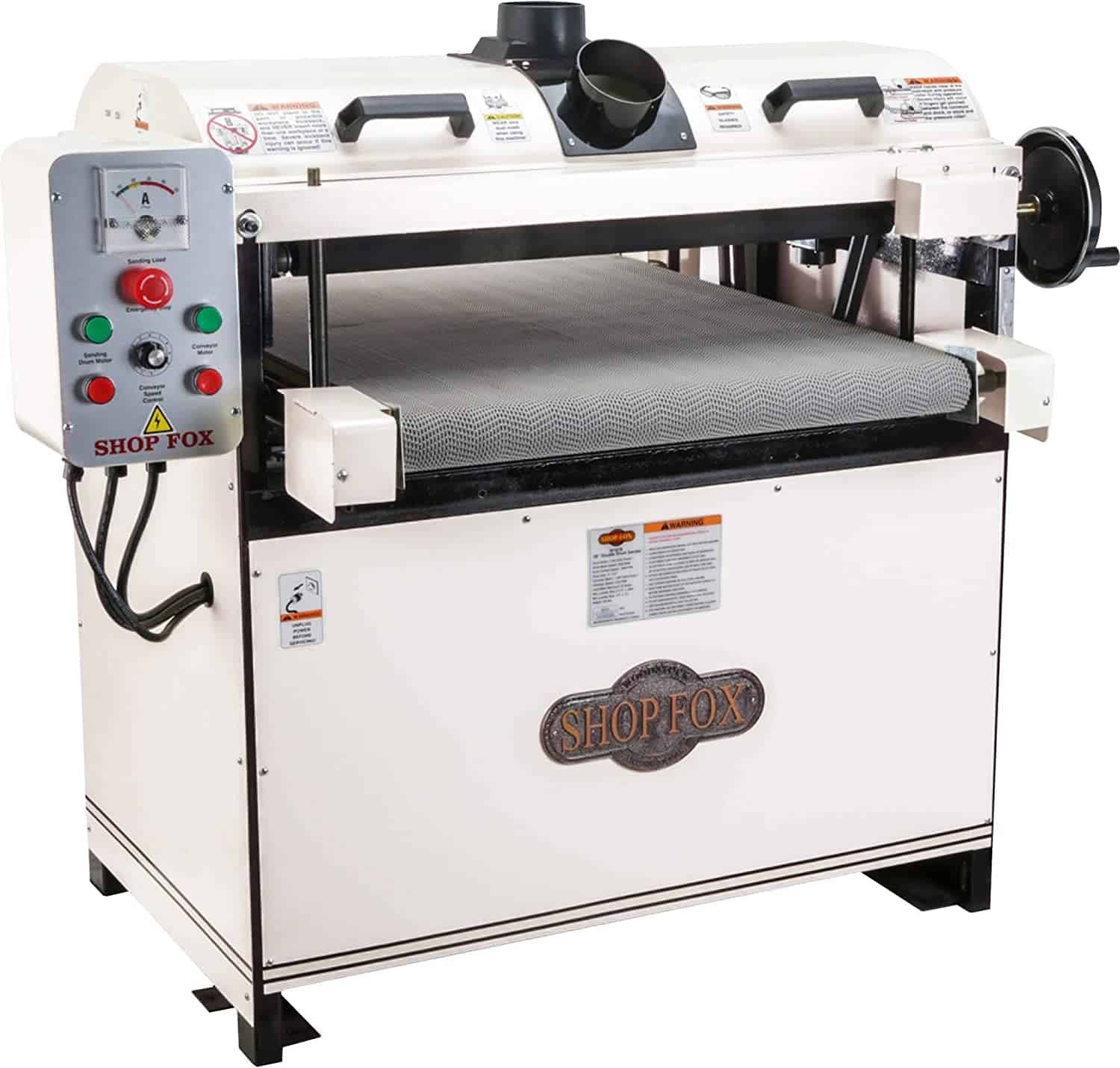 Quality sanding is challenging to achieve when your machine is wobbling, a critical flaw of the open-end machines. However, with the W1678, this is never going to be an issue considering the close-end design.
If you're looking for extreme precision and accuracy from your sanding, then the Shop Fox is the machine for you.
The machine uses an enormously powerful 5HP motor to power two sanding drums simultaneously, running them at 3450rpm.
This Dual Drum system will allow you to get the finest sanding experience, with the added benefit of it being magnificently efficient. You'll also be able to use two different grit types to get a varied sanding ability.
A urethane belt used to drive the conveyor belt is attached to a completely separate 1/3HP motor. Thus, the belt candrive entirely separate, ensuring that enough power is going into pushing the stock through for a consistent sanding.
The conveyor is designed to push through stock that measures out to a maximum 26inches.
To control the belt and the drums, Shop Fox has included a relatively sophisticated control panel, with the ability to perform multiple functions. But, to control the height, you'll have to rely on its precision hand-wheel.
This wheel makes sure that both drums are carefully adjusted onto the stock piece, going up to 4.5inches.
Pros
Huge Heavy-Duty 5HP motor
Efficient dual drum sanding
Multiple control Panel
Includes a dual dust port system
High-grade industry rubber conveyor belt
Cons
Extremely expensive
Limited to only accepting 26inch wide stock
Grizzly Industrial G0716 Drum Sander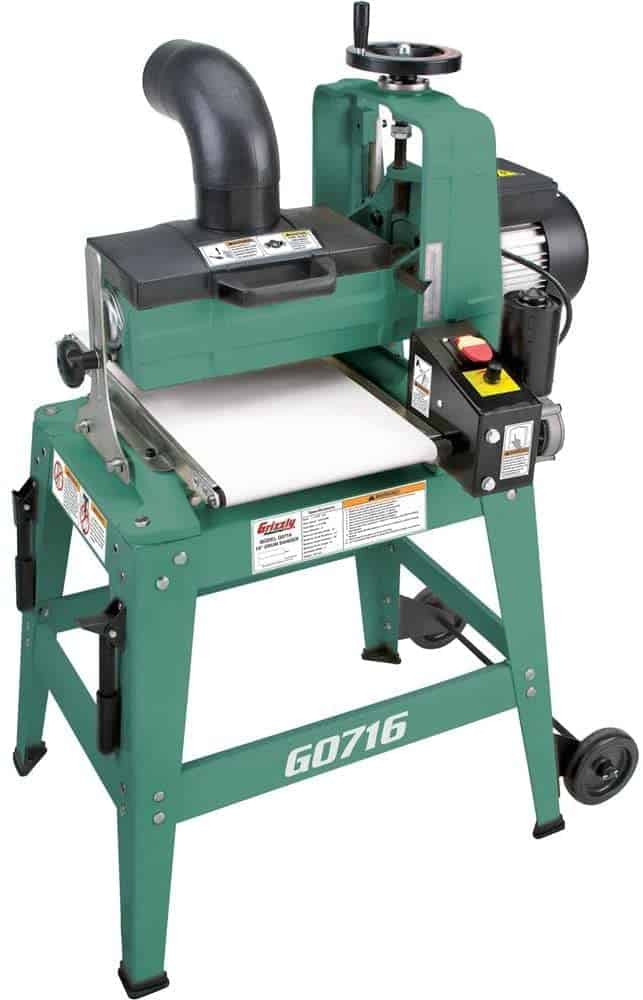 For on-site work, it's essential to get a machine that is lightweight and easy to move around with.
However, following these features deprives the machine of being powerful, but this is not the case for the G0716. The powers of this close/open-end machine come through a massive 1.5HP single phase aluminum motor.
This large motor runs a lightweight aluminum drum of a short width of only 5-1/8inches, this is the reason the drum can reach mind-boggling speeds of 2300FPM.
You can use this sander as a way of getting precision sanding done, by using it in its close-end format. Or you could remove the machines end piece and create a sander that'll accept wider stock.
In its close-end setting, the machine can take 5-1/8inch wide pieces and in the open-end mode, you can run almost 10inches with ease.
At the same time, the height adjustment remains solid accepting workpieces of a maximum 3inch thickness. The adjustable springs and pressure loaders allow you to get a better grip on the thickest pieces for even sanding.
For better control over your sanding, you're also getting a variable speed controller. Moreover, a hi-tech motor overload protection system vigorously protects these switches and the entire machine.
The rubber belt on the machine makes sure the stock grips onto the surface better for the most optimum sanding experiences.
Pros
Can be run both open/close-end
A light and robust aluminum sanding drum
Tough 1.5HP  high-speed motor
Includes motor overload protection system
Easy to transport
Cons
Small machine
Open-end position may cause drum flexing
Closed-End vs. Open-End Drum Sander
The basic difference between Open End Drum Sanders and Closed-End ones is there right in the name. Closed-End sanders are initially sanders that have their drum, feed belt, and their pressure rollers completely encased inside a steel casing.
Having the drum and other parts wholly encased is basically to allow the drum to maintain its integrity. The steel body allows the drum to be more stable and Ridgid, thus, maintaining better consistency in its work.
Yet, being closed-end has its issues, such as the limited amount of space that the sander allows for sanding.
On the other hand, the open-end sander is a more free-willed machine, that gives the user more flexibility. Open-end means that the drum and its structure, the conveyor, and the pressure rollers all have an opening at one particular end of the machine.
Being open-end allows the user to sand much larger pieces of wood in a single go; this helps make sanding jobs much quicker. This quicker sanding is achieved by running a piece of wood twice from different ends.
For example, if a sander is capable of sanding 14inch boards, you can run it twice and get a maximum of 28inches.
However, the problem with these pieces is that they're highly like to breakdown faster. Also, these sanders tend to flex when but under continuous pressure, ruining the board to be sanded.
Single vs. Double Drum Sander
The double drum may always seem like the better choice since you know the "more the merrier."However, both sets of sanders have very different abilities and meet very different requirements. So, it's better when you make your purchase you understand what your needs are exactly.
Single drum sanders, as the name suggests using only one drum, and they're the most common models available in the market. The advantage of one drum is quite primary; they're relatively cheaper and easier to use. These drums serve the people best who only need to use a single grit at a time.
Still, if you do need sanding from multiple grits, then the single drum can become exhausting to use. Under such conditions, the double drum sanders should come to your rescue.
As the name suggests, the double drum sander includes two drums, one after the other for differentiated or extreme precision sanding.
These dual drum systems take away the entire issue of having to change between grits regularly.The inclusion of dual grits allows you to make the sanding process even faster as you can have a rough grit paired with a fine one, enabling quick sanding.
But, these are very difficult to find and tend to be costly and complicated machines.
What To Look For In A Drum Sander
When buying an expensive new tool, a hasty decision might cause you to find yourself in a bunch of trouble. It's always important to carefully understand your own needs before you buy a machine. To help you understand what your needs might be, we've put up a detailed buying guide for you to follow.
Sizing ( Width & Thickness)
Before making a purchase, its crucial that you make sure what size of boards you'll be sanding. Each sander has a specific capacity of how high wide or how thick a board that can be fed through them.
To be able to utilize your sander best, you'll want one that is slightly larger than the word size you usually work with. Having a more massive sander is always great as it gives you the flexibility to increase the board sizes now and then. But, keep in mind that the larger machines take up much more space.
For jobs that are a bit more unreliable to the size that will be needed, you can go forward and purchase an open-end sander. Giving you the ability to increase the width of the stock that can be fed into the sander by twice the amount. Therefore if you buy a 22inch sander, you can fit stock pieces that are 44inches wide
For thickness, it's always better to rely on sanders that provide higher height adjustment abilities. Most regular sanders go up to about 3inches in height, giving you enough space to run your wood in. However, if you work at an industrial scale, 4inches is the recommended setting you should get.
Motor Power
A significant factor for any drum sander would be the motor used in it. You don't always need an exceptionally large/powerful motor; instead, you want one that best compliments the drum best.
To select the best motor first look at the size of the drum that is run,larger drums tend to be bulkier, which is why you'll need a faster motor to run them efficiently. Also, what material makes up the drum plays quite an active role.Steel-based drums tend to be bulkier in contrast to drums made of aluminum are much lighter.
Keep all this in mind when selecting the perfect sized sanding machine. Usually, a 20inch Drum would require a 1.75HP motor to provide enough speed variations for a sufficient sanding ability.
Feed Rate
The feed rate determines how slowly or quickly your wood stock will be fed through the machine. This rate, in turn, helps you determine how fine or rough the sanding of your stock will be.
In this case, you have two choices you can either control the feed rate of your conveyor manually or let the machine handle it automatically.
Older and newer models come with a manual speed adjustment system that allows you to vary both the sanding speed and the conveyor's speed. This system will let you better decide on the type of finish you want to get.
On an automatic system,speed is determined using an array of load sensors, which automatically adjust the speed according to this load. The automatic system is the one to choose as it allows fewer chances for damage to take place, giving you assured quality output.
Portability
Before buying a sander, it is essential to know what work you want to get out of them the most. If your type of work requires you to be at a workstation all the time, then go for the larger sanders, that is, if they meet your room's size specifications.
However, if you're mainly working at different job sites, then the sander you'll need will differ significantly. These portable sanders are smaller in size and have wheels on the base, and these should help you carry them around easily.
Frequently Asked Questions
Q: What's the use of having a drum sander?
Ans: A drum sander is a necessary piece of equipment, which comes real handy when you need a quick and effective way to sand wood. Not just small sides or edges, these machines are built to sand down large pieces to wooden surfaces evenly and quickly.
Q: Which grit gives me the finest finishes?
Ans: The finest sandpaper that can be used for sanding wood starts at a grit rating of 120 and goes up to 180. These should help give your workpieces the smoothest of finishes.
Q: How would I know if I am done sanding?
Ans: Once you start sanding, you don't want to stop as wooden pieces keep getting smoother and smoother. However, if you want the smoothest finishes, you'll find a point at which you see that even after sanding down, there is barely any improvement, at this point you're done.
Q: Do I need a dust collector (like one of these) for my drum sander?
Ans: Yes, you must have a duct collecting machine attached to your drum sander. Drum sander tends to produce tiny wooden chips in vast quantities; these may prove very harmful for people.
Q: How are drum sanders and belt sanders different?
Ans: On belt sanders, the sanding belts can be simply slipped onto the gears to have them securely attached. Drum sanders, on the other hand, require a complicated attachment process to secure the sanding strip onto the drum.
Final Words
Sanding is an essential part of any woodworking process; this process, nevertheless, is also very time-consuming.
To make sure you can save time and get the best finish for your wooden pieces, make sure you purchase the best drum sander in the market. Purchasing these drums will be one of those purchases that you wouldn't want to cheap out on.
I'm Joost Nusselder, the founder of Tools Doctor, content marketer, and dad. I love trying out new equipment, and together with my team I've been creating in-depth blog articles since 2016 to help loyal readers with tools & crafting tips.