I love creating free content full of tips for my readers, you. I don't accept paid sponsorships, my opinion is my own, but if you find my recommendations helpful and you end up buying something you like through one of my links, I could earn a commission at no extra cost to you.
Learn more
People working in industries with dust allergies and asthma cannot seem to catch a break because of the dust released from the machines.
This is when the star of the show (a good dust collection system) comes in and saves the day to avoid such problems. If you are planning on buying a new dust collection system for your home or a small workshop, then you are at the right place.
Let me give you a quick piece of advice as a fellow woodworker. Whenever you are working with wood and wood cutting power tools, always use dust collectors because of their low pressure and high airflow.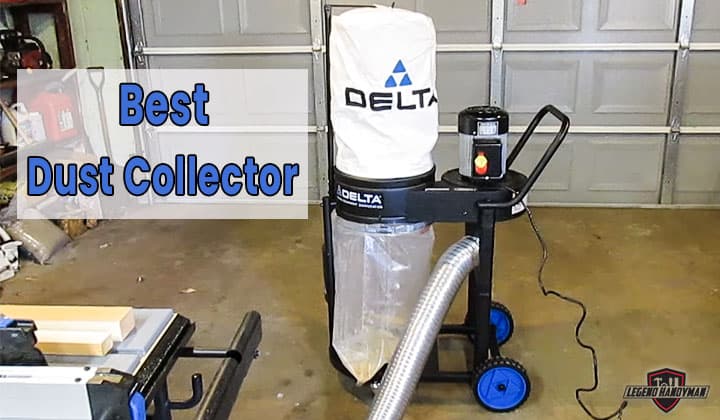 A decent dust collection system can easily outperform a shop vac. If you have the budget for it, make sure to go with the best dust collector on the market.
Even an amateur woodworker will find the need for a reliable dust collection system at some point. I'd say it's a good purchase if you plan on continuing working with woodworking tools and use more than one machine. 
If lung health is the priority and you do a lot of sawing that produces fine dust particles and wood debris, make sure to invest in a good dust collector. 
Also, ensure that it has good air filtration, a heavy-duty steel impeller, a powerful motor, and can handle large volumes of dust.
Top 8 Best Dust Collector Reviews
Now that we have covered up more or less the basics, we will be putting down an extensive dust collector reviews of the top products out there at your disposal to help you figure out which product you are going to choose.
Jet DC-1100VX-5M Dust Collector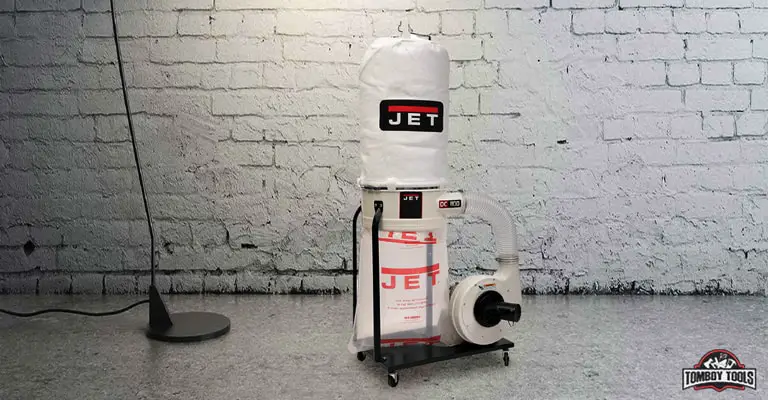 Isn't it really frustrating when the filter of your collector keeps getting clogged? Well, you wouldn't have to be worried about this situation when it comes to this bad boy. An advanced chip-separation system has been installed into this dust collector.
This system makes the single-stage dust collectors more advanced by quickly allowing the chips to make their way to the bag. A reduction in the powerful airflow boosts the packing effectiveness, so fewer bags have to be changed.
Not only that, if you do not approve of sound pollution, then this would be great for you as it was designed to perform quietly. Also, this product has a horsepower of 1.50 and is good for continuous duty with tons of power for the methodical movement of air. 
But some might not be satisfied with a power like this and would rather invest in a product with more power. Nevertheless, this has more ups than downs, so this could be called a reliable dust collector. For its small size and lightweight, it is the perfect choice for small workshops.
Pros
Vortex cyclone technology with the 5-micron bag
The best cyclone dust collector for homes and small woodworking shops. 
A lot better than wall-mount dust collectors.
A powerful suction that can quickly reduce dust levels.
Cons
The motor isn't very powerful, which is a bit of concern for me.
SHOP FOX W1685 1.5-Horsepower 1,280 CFM Dust Collector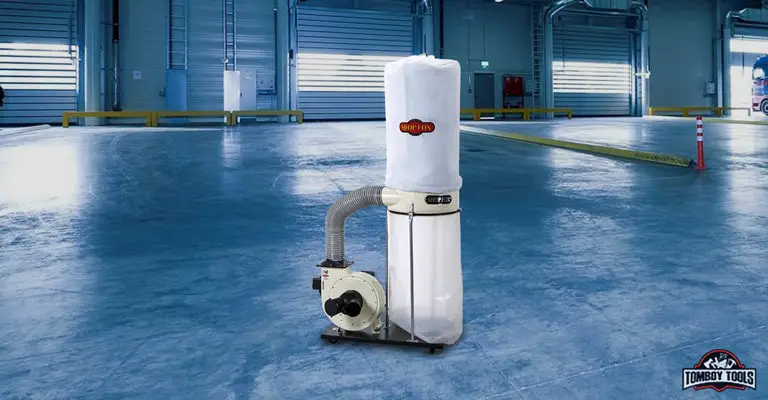 If you want to go easy on your wallet and still want a powerful dust collector who would suck the tiniest particle of dust in, then you probably have met your match. This affordable unit uses a 2.5-micron filter bag. 
The SHOP FOX W1685 practically clears out all the dust in the working area while being on operation on a 3450 RPM (revolutions per minute) and generates 1280 CFM of air every minute to be used in industrial and heavy-duty workplaces. 
A safer environment is created for you by the tool. The dust collector can switch from one machine to the other very quickly, making it suitable for all working areas. This single stage dust collector can easily collect fine dust particles from all your woodworking machines. 
A paddle is present in this model that needs to be brought down to turn the equipment off. If you are looking for a convenient multi-machine set-up, go with this dust collector. You can rely on this machine to keep your workspace free of dust and debris.
Pros
It's equipped with a single-phase, 1-1/2-horsepower motor.  
12-inch heavy-duty steel impeller and has powder coated finish. 
This unit can easily move 1,280 cubic feet of air per minute.
6-inch inlet with Y-adapter
Cons
The nuts and bolts are of cheap quality and weigh relatively more than the others.
WEN 3401 5.7-Amp 660 CFM Dust Collector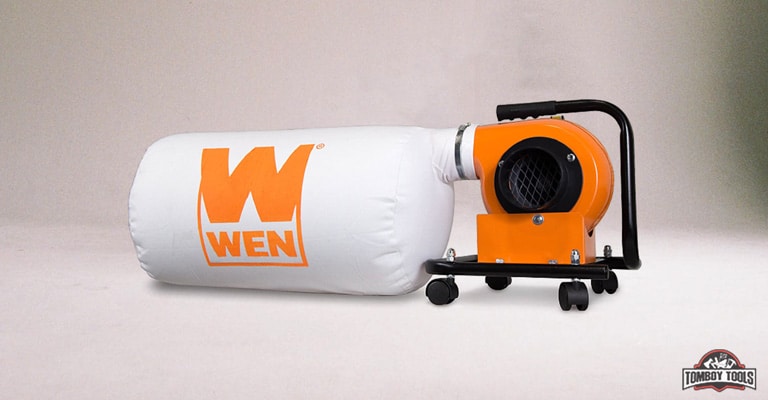 If you are in dire need of a dust collector but your wallet isn't allowing you to do so, close your eyes and get this dust collector (ONLY if it serves your purpose). It's good, and you wouldn't even have to pay a lot to get this one. 
This product is very compact that makes it quite easy to be stored and transported. It can also be mounted on a wall for more accessibility and has four 1-3/4-inch swivel casters to keep it secured in its place during work.
You can switch it quite simply from one woodworking machine to the other as this has a 4-inch dust port. It is small but has moderate power with a 5.7-amp motor that moves at about 660 cubic feet of air per minute. The air surrounding the workplace is purified quickly.
The problem that arises is that it can be a little louder than the usual dust collectors. But if you could overlook that one downside and appreciate the many benefits this product has, this could be the right tool for you.
Pros
A 5.7-amp motor and a 6-inch impeller.
It is capable of moving 660 cubic feet of air per minute.
The best portable dust collector on the market.
A 4-inch dust port for easy connectivity. 
Cons
A cheap tool at a low price.
POWERTEC DC5370 Wall Mounted Dust Collector with 2.5 Micron Filter Bag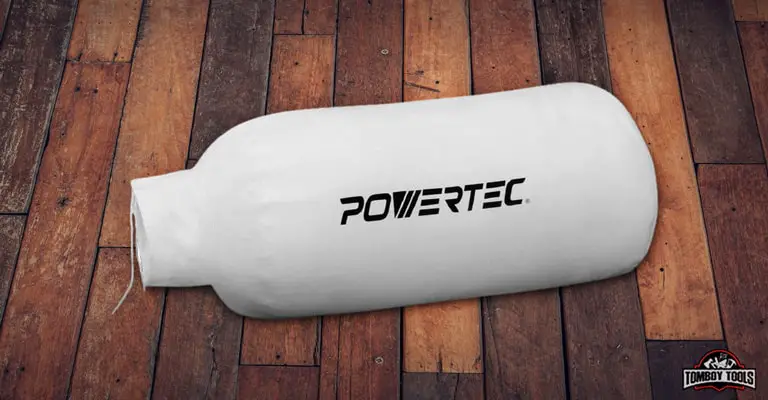 We call this compact dust collector a powerhouse for its excellent performance and convenience! Well, you could also include the term consistency in its list of attributes. Oh, did we mention that you wouldn't even have to spend 500 dollars to get your hands on this dust collector?
This has a streamlined design that allows it to be portable and comes with the benefit of being mounted on a wall that ensures the workspace is organized properly and orderly. Since it's small in size, you could use it for a professional shop and a small hobby.
A window is present in the bag to see how much dust has been collected. There is also a zipper at the bottom of the bag so that it's easier to remove the dust from it. The DC5370 runs with 1-horsepower, which has a dual voltage of 120/240. 
It is quite powerful for a compact dust collector, which is why the equipment is able to eliminate dust and chips quite easily. This tool is somewhat noisy, but the other features it has made up for it. Plus, you wouldn't get something as good as this at a lower price.
Pros
It comes with a  2. 5-micron dust collector filter bag. 
A built-in window that shows you the dust level. 
The best dust collector for small shops. 
You can attach the dust-collector hose directly to any machine. 
Cons
Nothing to nitpick about.
Shop Fox W1826 Wall Dust Collector
If your purpose of buying a dust collector is strictly for woodworking, then this would be a great option as it has a capacity of 537 CFM and uses 2.5-micron filtration. Since this doesn't have any complicated duct system, the loss of static pressure is at its minimum.
You will be able to clean the tool and get rid of dust from the bag very quickly because of a zipper present at the bottom. The bottom zipper allows for easy dust disposal. There is also a window in the bag filter to measure the level of dust present inside. 
It's more efficient than a duct system because you can capture fine dust right at the source. One of the special features it has is that this can be mounted on the wall with a tight screwing system. Since its compact, it can easily be used in smaller workshops with tight spaces. 
The downside of the product is that it makes a lot of noise, which could be a problem for you and the people around you. But other than that, you would be missing out if you don't pick this one because it's one of the best dust collectors under 500 on the market. 
Pros
A compact wall-fitting dust collector.
A built-in window gauge that displays dust level.
Easy to dispose of dust using the bottom zipper.
It has a two cubic feet capacity. 
Cons
Jet JCDC-1.5 1.5 hp Cyclone Dust Collector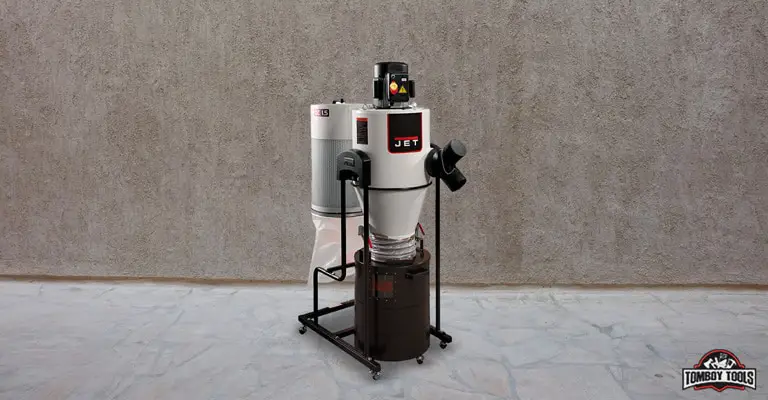 This company has vowed to provide the efficiency that you have been longing for, and we are happy to admit that they have lived up to their promise with their advanced two-stage dust separation system.
Here, the larger debris is moved and accumulated in the collection bag while the tinier particles are filtered. For this reason, the same horsepower is able to run the equipment with better efficiency and an undisturbed suction.
The direct-mounted filters are featured in this tool, and it cuts down inefficiencies from the seamed flex hosing and bends. Furthermore, there is a pleated material that traps miniature particles close to 1 micron.
A 20-gallon drum is designed into it to capture heavy debris and has a quick lever for swift removals and draining. In addition to that, a double paddle manual cleaning system promotes faster cleanup of the pleated filter. Due to the swivel casters, it is convenient to move them around the shop.
All in all, you wouldn't be disappointed if you ever choose this, and it could be denoted that the Jet JCDC could be one of the best cyclone dust collectors present in the market. But do keep in mind that you should get it only if your workplace is spacious because of its big size.
Pros
There's a two-stage dust separation system that works perfectly. 
It's ideal for collecting large debris. 
Also, it cleans really fast. 
Thanks to the swivel caster, it's portable.
Cons
Powermatic PM1300TX-CK Dust Collector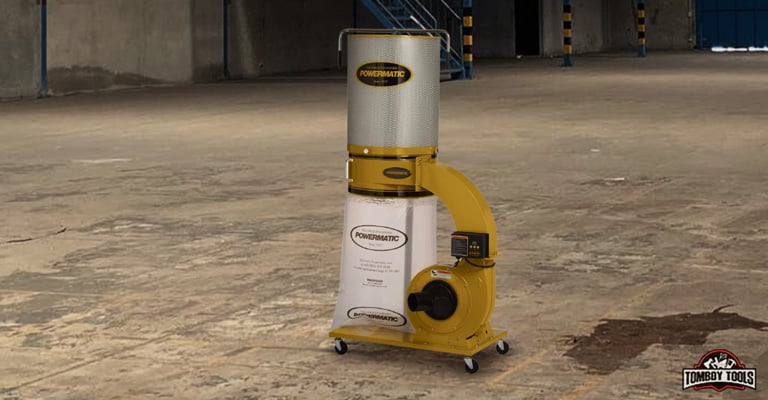 When the company was making the PM1300TX, they had two main factors in their head; one was to avoid a clogged system, while the other was the collector bag being backed properly. 
And we must say that they have succeeded in their mission! The cone removes any premature filter clogging, which is why the lifespan of the product increases. The Turbo Cone also helps the tool for a better chip and dust separation.
A remote-controlled timer can be used to run the equipment for up to 99 minutes, so you can set the timer up yourself and would not have to worry whether you switched the system off or not.
Since it is made up of metal, it is extremely durable and has an improved flow of air. This is best used for commercial purposes. This one also has a remote-controlled timer and runs smoothly without making much sound. You'll be glad to know that it is made for improved separation of chips and dust.
Pros
It is specially manufactured for maximum airflow. 
The manufacturers have removed the filter clogging issue.
It has an increased the lifespan.
The ideal dust collector for continuous duty use. 
Cons
The motor is not powerful, and sometimes it has trouble separating chips and dust.
Grizzly Industrial G1028Z2-1-1/2 HP Portable Dust Collector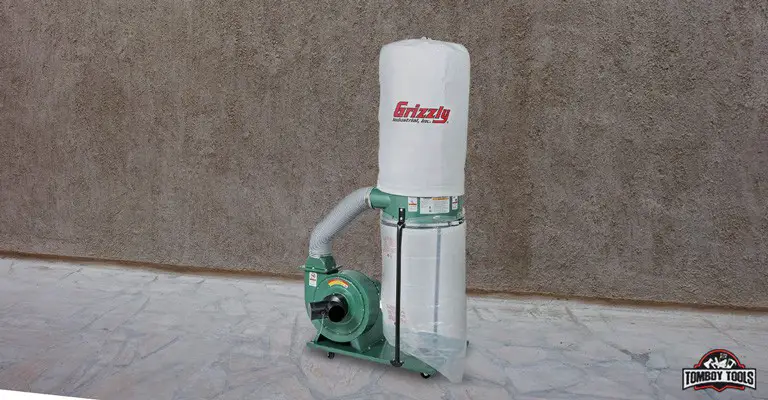 The Grizzly industrial dust collector is a real performer. This large capacity unit has enough power and flexibility to run in any shop situation. If you are an extremely lazy person like I am, then you would love the G1028Z2. 
It has a steel base and casters for mobility, and you wouldn't have to keep disposing of the dust out of its bag constantly. The item has a big capacity for storing dust. The bags can hold onto a huge amount of dust without having to empty them frequently. 
Also, this has a powerful motor that takes very little time to clean up the air. A steel base provides the maximum durability of the product, and the casters attached to it allows it to be mobile. The dust collector is painted with a green scratch-resistant and erosion-free paint.
This is run by a single-phase motor and operates at a speed of 3450 RPM. The item is ideal for any kind of wood dust as this would have a maximum airflow movement of 1,300 CFM. Hence, you would be able to have a breathable working environment in absolutely no time at all!
Pros
1300 CFM air suction capacity. 
2.5-micron upper bag filtration. 
12-3/4″ cast aluminum impeller. 
Y adapter with 6-inch inlet and two openings. 
Cons
It is a bit heavyweight and can only be used for wood-type dust.
Things To Consider Before Choosing The Best Dust Collector System
Investing in a dust collector system for your woodworking workshop is a must if you use power tools. By producing fine dust, woodworking machinery can cause respiratory problems, lung cancer, and other health problems. 
A major priority should be protecting your lungs. The dust collector system in your workshop can help reduce dust levels. A shop vac dust collection system will work well with electronic power tools like orbital sanders, routers, and planers. 
For the more complicated machines, you'll need an appropriate shop dust collection system. Your budget and how much ductwork you need will determine what type of dust collector you purchase. You will pay more if you need more ductwork.
What Is a Dust Collector and How to Use it?
In stations such as industries and workshops, a lot of big and heavy machines are continuously put to work. For this reason, numerous dust particles are released in the air space where the employees are working.
A health hazard arises as these are inhaled into the lungs, leading to diseases such as an asthma attack. This item sucks up the pollutant from the machine into its chambers, usually masked by a filter. 
A dust collector is very similar to a vacuum cleaner as it is run by an electric motor that has an intake fan to move air at a very fast rate. 
Understanding Dust Collection Systems 
First of all, let's talk about a single-stage dust collector system. Dust and chips are collected directly in the filter bag using this collection system. 
Shop dust collection systems (typically marketed as "Cyclone" systems) collect and store the dust in a can after passing the big particles through it. Prior to sending the finer particles to the filter, this is where most of the sawdust falls. 
The two-stage dust collectors have finer micron filters, are more efficient, and are more expensive than single-stage collectors. So, if you are looking for an affordable dust collector, your best bet is to go with a single-stage unit.
It is best to use a two-stage dust collector to connect power tools long distances if you need hoses or ductwork. You can also purchase a two-stage dust collector if you have the extra money and want a dust collector that is easier to empty (can instead of the bag). 
You can use a single-stage dust collector if your machines are confined to a smaller area, long hose or duct run aren't necessary, and you're on a tight budget. However, for a larger shop with many woodworking tools, you will definitely need a powerful dust collector. 
Additionally, single-stage dust collectors can be modified so that they function like two-stage collectors. It's not as powerful or protective, but it gets the job done until your budget allows you to upgrade to a 2 HP or 3 HP motor power cyclone dust collector.
If you are looking for portable dust collectors, single-stage dust collectors are more mobile. Also, most of the time, you won't be needing expensive double-stage dust collectors.
Types Of Dust Collectors
As you probably know, not every dust collector includes all of these features. For example, in large wood shops, ducting is used to connect machines, which require more airflow and horsepower.
However, small table saws and hand tools may only require a direct attachment in small home workshops.
As a result, there are now six distinct types of woodworker dust collection systems:
1. Cyclonic Industrial Dust Collectors
Among all dust collectors, cyclonic dust collectors are the best as they separate dust in two stages and provide the highest number of cubic feet of airflow.
Although these have been shrunk down in size from the larger units on top of industrial buildings, these are still visible parked at the top of larger workshops.
What is the purpose of a cyclone? Large particles are allowed to fall to the bottom and then to the large chip bowl due to the air movement. While the fine "cake dust" is collected into a smaller bag, smaller particles are suspended and pushed into a neighboring collection bin.
2. Canister System Single Stage Dust Collectors
It makes sense to separate bag dust collectors from canister dust collectors as their own type of dust collector.
Bags inflate and deflate while cartridges are static, and their grooved fin design offers more surface area for filtration. These filters can capture particles as small as one micron and larger than two microns.
I recommend spinning the agitator paddle at least every 30 minutes in order to remove any dust that may prevent maximum suction.
3. Bag System Single Stage Dust Collectors
An alternative to shop vacuums is single-stage bag dust collectors. These tools are great choices for small workshops that generate lots of dust due to their simple design, higher horsepower, and ability to connect to multiple tools. You can choose from wall-mounted, handheld, or upright models for these single-stage units.
4. Dust Extractors
Dust extractors are becoming increasingly popular as standalone units designed to remove dust from small hand tools. The purpose of these is to collect hand tool dust, but we'll cover them in greater detail later.
5. Dust Separators
Unlike other vacuum attachments, dust separators are an add-on that makes a shop vacuum system work MUCH better. The Dust Deputy Deluxe Cyclone, for example, is extremely popular.
The main function of a separator is to remove heavy chips from your shop by using cyclonic air movement, which moves fine dust only back upstream to your vacuum.
This seems like an optional step, right? No, you have to try one of these out for yourself to see why thousands of woodworkers rely on them.
6. Shop Vacuum Dust Collectors
A vacuum system collects dust with hoses directly connected to your machinery using a shop vacuum. This type of system is geared towards smaller tools, but they are inexpensive. Despite being an inexpensive option, it doesn't make a great fit for a small storefront.
When you switch tools, you usually have to move the hoses and vacuum. Fast clogging and filling of your collection tank are some of the disadvantages of this system.
Now, if you want to categorize them by their size, all of them can be put into three groups.
A dust collector such as this might be useful to you if you are a hobbyist tradesman who runs your own workshop or garage. With motor power ranging from 3-4 HP and a CFM value of around 650, these dust collectors are quite powerful.
Pricewise, portable dust collectors are in the budget-friendly range. They also take up a small amount of space to keep themselves occupied. If you have limited space in your workshop, you won't have to worry about fitting one of these. 
Medium Sized Dust Collector
You might want to consider a medium-sized dust collector if your workshop will have a lot of tools. Compared with small collectors, such models have close to the same horsepower. CFM is a little higher at 700, however.
Moreover, it will cost you a few bucks more, and you'll have to deal with a collector with more weight. A typical dust bag usually contains small particles and the other bag with larger particles.
Industrial Level Dust Collector
We will now discuss the most popular dust collectors on the market. In larger shops and duct environments, this is the type you should choose.
These products have a CFM of about 1100-1200 and a motor power of 1-12. As an added bonus, the collectors include micron-sized filters.
Collectors have the disadvantage of being very expensive. The maintenance costs per month should also be included.  
Filters 
These are usually more useful for industrial-level dust collection. This runs by using a 3-stage system where the larger pieces of debris are first captured. Since it has an advanced system, these filters are very costly but manage to show excellent results.
Airflow
When purchasing a dust collector, this has to be one of the most important factors to be considered, hands down. This is because the volume of air is measured in Cubic feet per minute (CFM), and this value provides a rough benchmark.
For portable machines, the rating is 650 CFM. Most home workshops need 700 CFM to see the outstanding performance. 1,100 CFM and above are the ratings for commercial dust collectors.
Portability
It would be smarter to select a fixed dust collecting system if the workshop has a huge space. For those who tend to move a lot and have a more confined space, a portable device should be the one for you. The ideal size of the product depends on what serves your requirements properly. Just make sure it's good at collecting dust. 
Applicative and Size
Any system that you install should be able to meet the needs of your workshop. A rule says that the bigger the shop, the larger dust collector you would require.
Noise Level 
Power tools used for woodworking are extremely noisy. Literally, this situation cannot be avoided, and for this ear, defenders were made! The majority of the craftsmen want the quietest tool available in the market, which performs well.
The smaller the decibel rating, the less sound it would make. There are a few manufacturers who quote these ratings about their dust collectors. Keep an eye out for them if you are someone who is extremely bothered by the excessive sound.
Filter bags and blowers are present in the low decibel rating. A woven cloth at the top captures dust and other smaller particles, and the larger ones move down into the filter bags. The tiniest particles of dust are the major cause of developing health hazards.
The Efficiency Of The Filter
All filters are manufactured to do the same exact job, but they usually do not perform equally. You have to make sure that whichever product you are getting has a fine weave on the cloth of the filter because they are able to grasp the tiniest dust particles.  
Frequently Asked Questions
When should one replace the filters in the dust collector?
This depends on some factors, which include how frequently it is used, how many hours it is on, what kind of dust it is curating. Heavy use would require quick replacement of the filters, such as every three months. Upon regular use, it can last up to two years. 
Does one need to get a permit for using industrial dust collectors?
Yes, a permit is needed from the local permitting authority. Checking of stacks is done every now and then.
Can Cyclonic Dust collectors be used for wet applications?
No, these are specifically designed for dry applications.
How are the filters of the item cleaned? 
You can quite easily clean it by puffing in the air with a lot of pressure from the outside of the filter. 
In this way, the dust is removed from the pleats and falls upon the base of the filter. At the bottom, you will find a port, and if you open it and connect it to a shop vacuum, the dust will be expelled from the product. 
What is the price of a dust collector?
For a large shop dust collector, the cost ranges from $700 to $125 for a smaller vacuum dust collector with a dust separator. For large furniture shops, dust collection units start at $1500 and can cost upwards of tens of thousands of dollars.
What is better, a single-stage or a cyclonic dust collector?
Cyclonic dust collectors separate heavy particles early and allow the separation of fine particles and large ones.
In order to use a dust collector, how much CFM is needed?
Generally, you will want a dust collector with at least 500 CFM because you will lose suction due to the hose length, the fine dust cake that accumulates on the bag, and the short length of some tools that only require 400-500 CFM. For larger tools such as a thickness planer, a shop vacuum may not be sufficient, but a 100-150 CFM shop vacuum can be adequate for small hand tools.
If I have a dust collector, do I need an air filtration system?
Dust collectors work best in conjunction with air filtration systems. A dust collector will not collect the fine particles that hang in the air since it only captures the dust within its suction range. As a result, the air filtration system circulates air in your workshop and collects dust suspended for up to 30 minutes.
Can a shop vac be used to collect dust?
If you wish to construct your own dust collection system, a shop vac is a worthwhile alternative. You must wear a respirator mask when cutting wood to protect yourself from fine particulates when using this system.
How does a 2-stage dust collector work?
Dust collectors with two stages use cyclones in the first stage. In addition, a second stage follows the filter and consists of a blower.
How good is Harbor Freight's dust collector?
You can work without breathing harmful dust or other air particles when you use the Harbor Freight dust collector.
What is the noise level of the Harbor Freight dust collector?
In comparison with the frequency of a shop vacuum, Harbor Freight's dust collector is about 80 dB, making it more tolerable.
Dust Collector vs. Shop-Vac
Many people assume that dust collectors and Shop-Vacs are more or less the same kinds. Yes, they both are powered by an electric motor, but there are a few differences between these two which we will be discussing down below.
Shop vacs can eliminate small-sized waste in small amounts very quickly because it has a low air volume system which allows the air to move swiftly through a narrow hose. On the other hand, dust collectors can suck in dust in larger volumes in one pass because it has a wider hose than a Shop-Vac. 
Dust collectors have a two-stage mechanism that divides the large dust particles from the smaller ones. Meanwhile, Shop-Vacs only have a one-stage system where the tiny dust particles aren't separated from the larger ones and remain in a single tank.
For this reason, the dust collectors motor has a greater lifespan than the Shop-Vac's one. The latter is best for sucking in sawdust and wood chips made by handheld power tools, and since the former can pick up big volumes of waste in low suction power, it is ideal for static machines such as planers and miter saws. 
Final Words 
Even the best dust-collection system won't eliminate the need for occasional sweeping. A good system, however, will keep the broom and your lungs from wearing out prematurely.
There are two main points to consider when choosing a dust collector. First, figure out the air-volume requirements of the machines in your shop. Next, decide on what kind of hookups you are going to use.
Make sure to keep these two things in mind when you are shopping for the best dust collector.
I'm Joost Nusselder, the founder of Tools Doctor, content marketer, and dad. I love trying out new equipment, and together with my team I've been creating in-depth blog articles since 2016 to help loyal readers with tools & crafting tips.