I love creating free content full of tips for my readers, you. I don't accept paid sponsorships, my opinion is my own, but if you find my recommendations helpful and you end up buying something you like through one of my links, I could earn a commission at no extra cost to you.
Learn more
As fascinating as the drywall stilts are, they are quite sensitive too. If the build is weak or the performance is sloppy, you might get into trouble using them.
Therefore, you need to be certain about the product's quality, especially when there's safety involved.
That is why we surfed and brought forth the best of products the market has to offer. With any of these units, you will be safe and secure using these extremely useful and interesting tools.
Read on to find yourself the best drywall stilts out there.
What is a Drywall Stilt?
This is a type of tool that helps you to reach a certain height to fix drywall panels. It will let you stand above the ground.
You can stand firmly with it and do the hanging, painting, or whatever job you have in your mind that involves height.
These tools have a height adjustment system that will keep them firm at a certain height. They come with an aluminum construction most of the time so that they can be lightweight and durable.
Our Recommended Best Drywall Stilts
We are about to review the top products we found in the market. Go through this drywall stilts review to be able to make an informed buying decision.
1120 Pentagon Tool "Tall Guyz" Drywall Stilts for Sheetrock Painting or Cleaning
Stilts nowadays are most commonly made from aluminum. The unit we are reviewing is also no different regarding this. Aluminum makes the tool lightweight, yet sturdy. We are talking about 228 pounds of weight capacity. This figure is also the standard as far as drywall stilts go.
I liked the 18-30 inches height adjustment it has to offer. This means you won't have any problem dealing with most of the jobs. Another worth mentioning feature is the rubber soles it comes with. They have given it premium quality. With this in place, your feet are likely to stay firm without slipping.
Moreover, it has a dual spring design that makes sure the legs do not slide during work. Also, it adds to the flexibility in use. Some users have complained that the unit rattles during the walk. And a few others found the straps to be too loose.
Nevertheless, looking at all these convenient features, we must say, this is one of the best units out there.
Pros
The rubber soles are anti-slip and the dual spring design adds flexibility. Its foot straps are easily adjustable.
Cons
The straps are too loose and rattle during the walk.
GypTool Pro 24″ – 40″ Drywall Stilts – Silver
This versatile tool offers 24-40 inches of height adjustment. You can use this unit for drywall, painting, and wiring. We are talking about 17.1 pounds per pair weighing device. That means you won't have any issue with walking while these are on, for they are very lightweight for stilts.
It has an impressive weight capacity. You don't find too many units out there that provide you with 225 pounds of capacity. Thanks to this, you will get most of the regular jobs done as well as some heavy ones.
The device delighted me with its outstanding construction. You know, aluminum is always the best material for such a tool. It's lightweight, nevertheless provides a strong build.
With a device like this, you can be assured about proper balancing. Also, it won't bend during work. They have made the braces highly adjustable for accommodating any user. What I found to be a drawback is that adjusting the straps isn't fun.
Pros
Easy height adjustment requires no tool. It has a sturdy aluminum construction comes at an affordable price.
Cons
Adjusting the straps is a bit difficult and the calf straps could be more comfortable.
Yescom Professional Grade Adjustable Drywall Stilts Taping Paint
Looking for easily adjustable stilts for your drywall? Then check out this product from Yescom. Its height adjustment is 24-40 inches. With such a range, you will be able to do nearly anything.
Also, its load capacity is quite high for stilts, which is 227 pounds. The most remarkable feature it comes with is the dual-action springs. They offer device pliability, which is required for the utmost efficiency.
Manufacturers have introduced top-quality rubber soles to prevent skidding. And the buckle straps are quite sturdy as well. These straps have two colors: brown and blue. Also, they have done a tremendous job by introducing a heel bracket that doesn't allow any slipping to happen.
The tool is impressively lightweight, thanks to its aluminum construction. Aluminum plays the role of making the unit durable. I would have liked the tool better if it came with bigger straps.
Pros
It has a great weight capacity and the dual-action springs make this thing more flexible. The rubber soles prevent skidding.
Cons
The straps should have been bigger.
GypTool Pro 36″ – 48″ Drywall Stilts – Silver
This is an aluminum-made unit that will provide you with durability by being lightweight at the same time. The best thing about it is its foot straps have automatically locking buckles. With these in place, you won't have to worry about the foot straps getting slipped during work.
You might also like the padded leg cuffs. They are extra-wide and easily adjustable, providing a nice fit for any user. There's another thing I found to be spot on, and that is the height adjustment of this tool. The fact that you won't need a tool for this is very cool.
Moreover, you won't find many stilts that will offer you such a range, which is 36-48 inches. They have included a dual spring technology in it. Thanks to this, you will have smooth and easy movement with the stilts on. There are also strut tubes provided with the device.
These will offer more stability by preventing rocking. There's an issue with this model, though. It's heavier than most other units out there. Also, they have made the assembly instructions too complicated.  Nevertheless, for its great quality and features, we highly recommend this unit if you have tall spaces to work on.
Pros
Outstanding height adjustment lets you work on the tallest of spaces. It has an affordable price tag. Height adjustment requires no tool.
Cons
Heavier than other models and comes with confusing assembly instructions.
Padded Comfort Stilt Straps for Drywall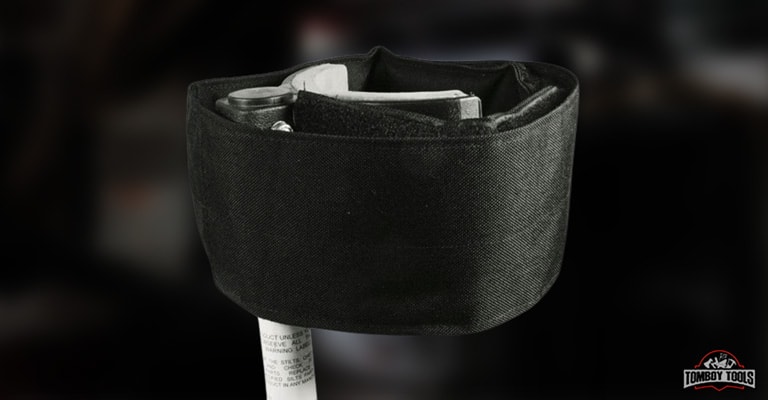 Now we are about to review a product that comes with versatility. It contains loop and hook fasteners along with nylon to provide you with utmost safety during work. If there's one thing to mention about this product, it would be the comfort it offers. And the fact that it fits anything is also somewhat cool.
They have introduced padded foam in it for extra comfort. If you have stilts from Dura-Stilt, Marshalltown, or Import Brands, this product will make a very valuable possession. You will find it extremely easy to put these straps on and take them off.
And while they are on, you won't have to worry a bit about them coming loose. These straps won't hurt your legs as some standard straps may. In terms of durability, you will be impressed by these little beauties.
However, there's been a complaint that the straps go outside the support, while they should have gone inside for providing more comfort.
Pros
It's extremely comfortable, thanks to the padded foam. It's easy to put on and take off. Also, it's very durable.
Cons
If only the straps went inside the supports, it would have been even more comfortable.
Best Drywall Stilts Buying Guide
There are a few things you need to take into consideration before the purchase. Though the drywall tools have a common demand but Let's talk about them.
Build
The unit should be sturdy and stable. Make sure to check out the material used on the frame. The best material would be aluminum in this case. With quality material, your unit has a better chance to be durable.
Otherwise, there will be unpleasant incidents like breaking and cracking now and then. Check out its connecting system and see if it locks into place.
Comfort
This is a tool you will spend long hours with. Therefore, you don't need me to tell you about the importance of it being comfortable. Now, the wider its heel cup and foot pedal are, the more comfort you are going to get.
Also, it will be great if the calf support comes padded. Thus, it won't irritate your skin by rubbing against it.
Height Adjustment
You should look for a device that will provide you with enough height. I mean, this is the whole point of using the tool in the first place, right? When you can't reach the place you want to work on, you use stilts to get to that height. The market has plenty of good options to offer in this regard.
Anti-Slip Grip
Have a good look at the feet of your tool. You need them to be sufficiently wide to get balance and stability. It will be best if they come with rubber. Also, you want it to be textured for gripping onto various surfaces. Besides, it plays a crucial role in ensuring safety.
Weight Capacity
In terms of weight capacity, the units out there have differences. It will determine whether the model is suitable for you or not, by letting you know how much it can hold. The market comes with great options in this regard too.
So, you should choose a tool that will provide you with safety by not breaking due to being overweight.
How to Use Drywall Stilts
First, check on the bolts to make sure they are properly fixed. It's important to avoid any injuries. Keep in mind, the surface you are using the stilts on must be smooth. Where there's low ceiling height, watch out for the fans and lights overhead.
Never bend to pick things up from the surface. Do not climb stairs with the stilts on. You have to strap your feet on the plates firmly. The legs need strapping first, and then the feet. Stand on an even ground while putting the stilts on and taking them off.
Frequently Asked Questions
Q: Does OSHA approve drywall stilts?
Ans: Yes, it approves the use of drywall stilts.
Q: What would be the best material for drywall stilts?
Ans: Aluminum would be the best material used in making stilts. For, it makes the unit lightweight and provides durability.
Q: Is it difficult to use stilts?
Ans: Not necessarily. If the adjustment is right, then anyone can use stilts with ease.
Q: What purposes do drywall stilts serve?
Ans: You can use them for wiring, hanging, painting, finishing drywall, etc.
Q: What is the average height the drywall stilts provide?
Ans: Its height adjustment ranges from 15-50 inches. Most of the tools come with several heights.
Final Words
Hope the article was beneficial. If you liked any particular product, then go through its pros and cons. If you are okay with its drawbacks, you go for it. Rest assured that any of these products will make a good purchase, for they are the best drywall stilts the market has ever produced.
Let us know your thoughts on our recommendations in the comments section below.
I'm Joost Nusselder, the founder of Tools Doctor, content marketer, and dad. I love trying out new equipment, and together with my team I've been creating in-depth blog articles since 2016 to help loyal readers with tools & crafting tips.