I love creating free content full of tips for my readers, you. I don't accept paid sponsorships, my opinion is my own, but if you find my recommendations helpful and you end up buying something you like through one of my links, I could earn a commission at no extra cost to you.
Learn more
Different types of drywall tools are required to complete DIY projects on drywall. The drywall mud is needed to apply on the wall for making drywall work.
There are a bunch of tools available for drywall project. Here are 11 essential drywall tools you will need for your next DIY drywall project.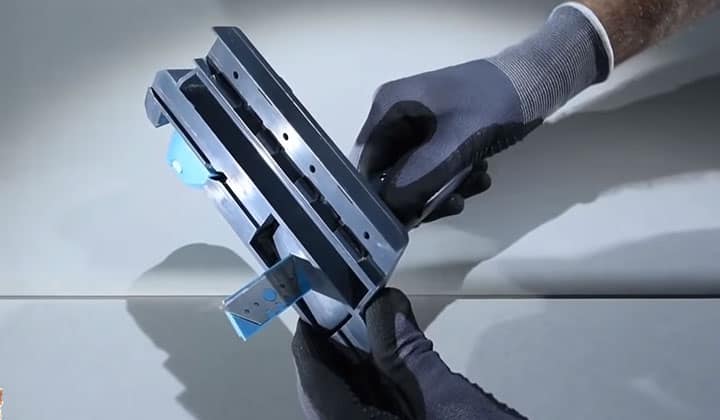 Types of Drywall tools
1. Drywall T-Square
This is a very crucial tool for completing any drywall project. This drywall T-square is not same as other straight edges or squares. It features full 48-inch length. This length helps you to cut the full width of a drywall sheet. This square also allows to set its head fits perfectly over the edge of the drywall. It ensures in place perfectly.
Though it is expensive, there is no other alternative to this tool. There also some drywall T-square with adjustable crossbar available in the market.
2. Drywall Knife
This tool is essential for drywall projects. This type of knife is specifically designed for drywall project. This tool is not expensive and not like other putty knives. Different sizes 4, 6 and 12 inches drywall knives are available in the market. They are used for different purposes. For slopping the mud into place the 4-inch and the  6-inch knife are compatible while the 12-inch drywall knife is preferable for feathering and final coats. The 4 inch and 6-inch knives are also used for taping.
3. Utility Knife
This is another important tool for your drywall project. You might have a utility knife already at your home. This will work for your drywall project if it is free of snap-off blades. However, you can screw down the handle which will provide you more stability.
4. Cordless Drill For Fastening
Hammers (of different types) and nails are traditionally used for fastening the drywall to studs. For big and major projects professionals use a screw gun which saves time and increases productivity. If you are going to make large projects, you can rent a screw gun for you. A cordless drill or corded one will work for all drywall projects. It can deliver power to draw screws into wood studs a lot of times over.
5. Sanding Sheets
Two types of sanding sheets are used for drywall projects. One type is coarse fiberglass mesh with open holes and another one is mostly ordinary sandpaper like. The fiberglass mesh prevents caking up the sanding surface as it permits drywall dust to pass through. For finer sanding sandpaper type of sheet is applicable.
6. Sander or Sanding Pole
Sander or a sanding pole is used for sanding drywall. It holds the sanding sheets. You can use a broom instead of a specialized sanding pole as the brooms have the same thread to attach the sanding sheet.
7. Drywall Saw
Two types of drywall saws are used for completing a drywall project. One is a manual saw and another one is a jigsaw. You can cut circles and other curved lines with a drywall specific blade. A course or drywall-specific blade will allow you to cut circles, curves etc.
8. Drywall Sanding Sponge
This tool looks quite similar to kitchen scrubber. It features a very abrasive surface on one side while having a smooth surface on the other side. It is usually used for touch-ups.
9. Drywall Screw
These tools are better than using drywall nails. Professionals prefer drywall screw over nails for drywall projects. There are varieties of drywall screws. coarse-thread or fine-thread drywall screws are available. Coarse-thread screws are good for home improvement projects. Fine thread screws are applicable for metal framing and coarse threads are usually applied for wood studs.
10. Drywall Screw Gun
Along with a drywall screw, a tool comes in pair drywall screw gun. Nice to have one to make fast, easy, and smooth drywall screwing.
11. Jab Saw
Jab saw is an important tool for cutting drywall. It is a handsaw that features a six-inch blade, sharpened tip, and coarse teeth.
12. Safety Gears
You will need some safety gear like hand gloves, dust musk, head cap, etc. These are 11 must-have tools for completing a drywall project. Buy these essential tools and make them prepared before your projects. This will increase your productivity.
13. Drywall Stilts
These are the tools that help to reach a certain height to fix the drywall and stuff. Very handy tools for professionals and easy to use as well. Learn more here on best drywall stilts.
We also talked about the top 5 dura stilts here.
I'm Joost Nusselder, the founder of Tools Doctor, content marketer, and dad. I love trying out new equipment, and together with my team I've been creating in-depth blog articles since 2016 to help loyal readers with tools & crafting tips.