I love creating free content full of tips for my readers, you. I don't accept paid sponsorships, my opinion is my own, but if you find my recommendations helpful and you end up buying something you like through one of my links, I could earn a commission at no extra cost to you.
Learn more
Who doesn't want to have a fully furnished outlook of furniture or door panel? Often the price of these depends on the finishing. But to get an exotic finishing in no job, could you find an alternative.
If you are a woodworker and handle large pieces of wood, probably, you have faced the absence of an effective tool that will smoothen the surface of the timber. Here the edging sander comes into play. It deals with the panel better than the normal sander and allows the user to work with large panels.
But, finding the most robust edging sander requires a lot of effort. It requires proper knowledge and experience to figure out the perfect one. Otherwise, you may end up with an abortive one.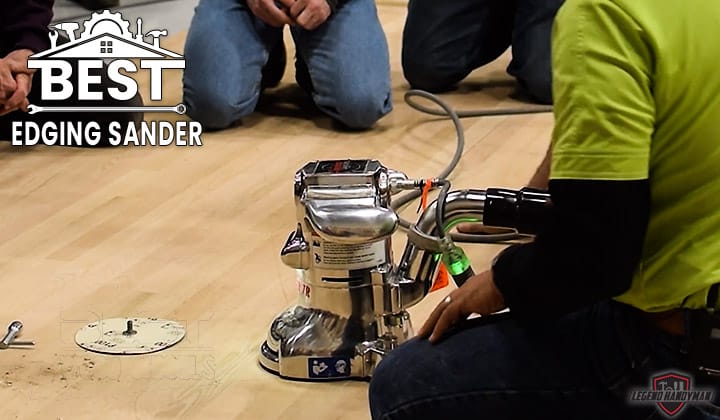 Relax! Our experts are to the rescue. They have done the painstaking task for you. Their experienced eyes have figured out some of the best edging sanders in the market. Besides, they have suggested some do and don'ts. So, let's start the journey towards the best!
Best Edging Sanders Reviewed
Every aspect should be covered and that's what we have in our mind too. With a view to meeting the same, we consulted and analyzed to present to you the most valued sanders out there. Bet you, it's worth having a look at.
JET 708447 OES-80CS 6-Inch 1-1/2-Horsepower Oscillating Edge Sander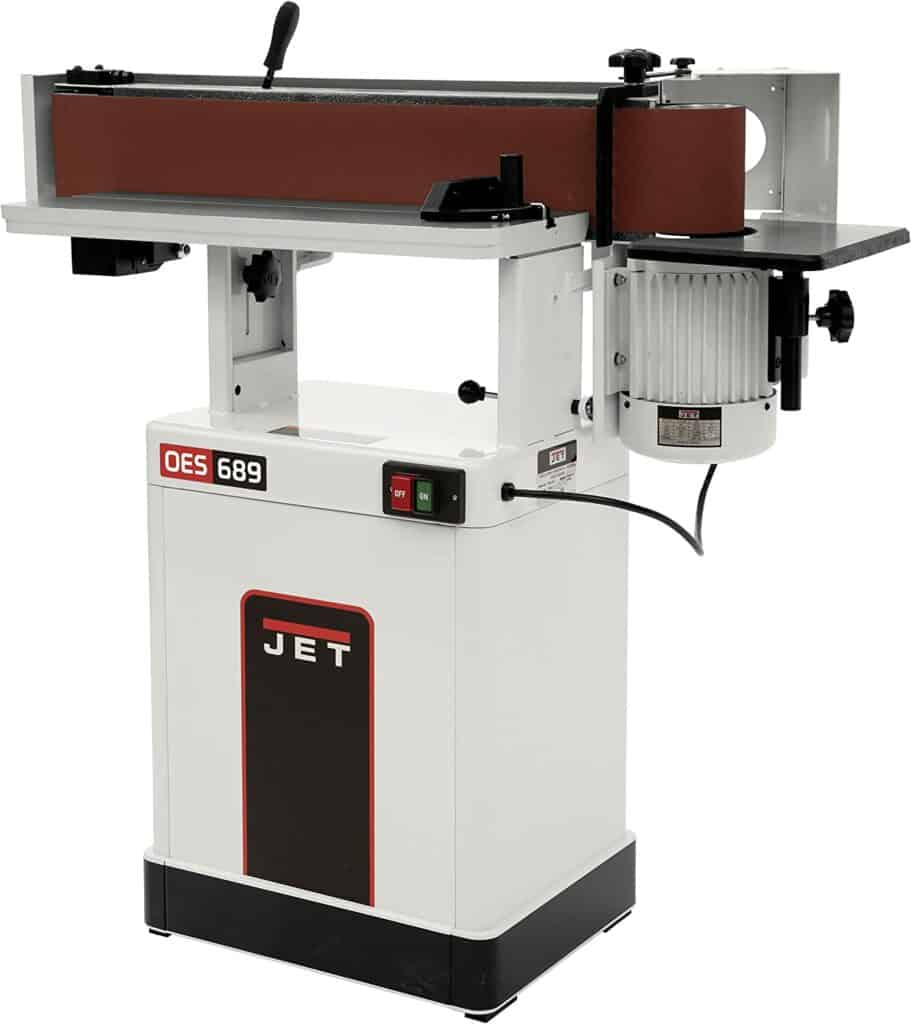 | | |
| --- | --- |
| Weight | 258 pounds |
| Dimensions | 51 x 26.5 x 44 |
| Color | See Photo |
| Voltage | 115 Volts |
| Warranty  | 5-Year |
Notable aspects
Jet, the renowned player in the woodworking products' market, has brought an edge sander to ease your woodworking. This machine is capable of achieving 3900 SFPM and that's why you can handle any wood piece, no matter if it is gigantic or tiny, this device can handle that.
This machine runs with a 1.5 HP motor. Apparently, the power may not seem enough, but the motor can generate 3900 SFPM, as we stated before.  The motor runs by electricity and so you just need to plug in and rock! No need to worry about battery life.
The overall construction of the body is very impressive. JET products are sturdy enough to endure very pressure. The awesome fact is, this sander has an all-steel cabinet on the lower section. You can use this portion to store the necessary stuff. The dust port is there to reduce dust emissions.
The device can oscillate at 108 times per minute. That's why you can get a smooth finishing without an overheating issue. Besides, this gives you the flexibility to work with curves, angles, flat surfaces, bevels or anything! And luckily, the table is also adjustable. So. You can deal with any size.
Glitches
The oscillation method that is used to run the machine, may not be effective enough. Besides, some users have complained that the device doesn't have a stop at 0-degree and 90-degree position.
Grizzly Industrial G1531-6″ x 80″ Benchtop Edge Sander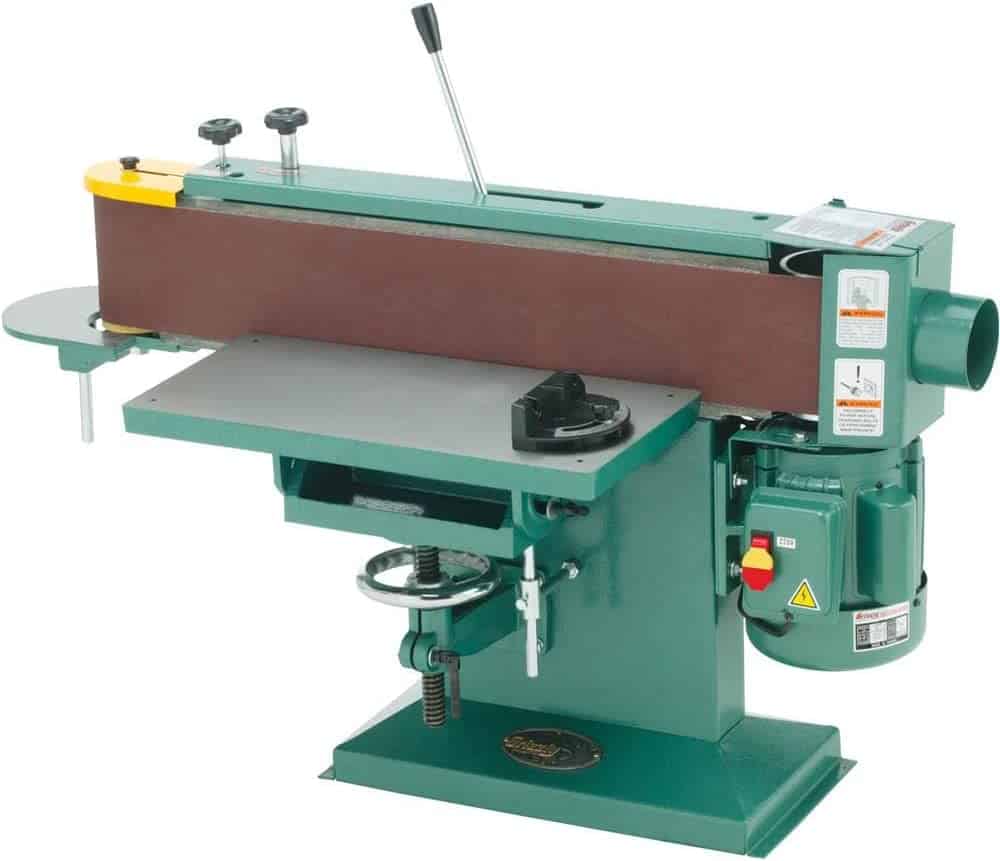 | | |
| --- | --- |
| Weight | 226 Pounds |
| Dimensions | 45 x 45 x 20 |
| Material | Steel |
| Measurement  | Both |
| Power Source | AC |
Notable aspects
This sander meets the needs of sanding but in a budget-friendly way! It features almost the similar aspects the edge sanders in higher ranges do. So, if you are a moderate user, this can be a good choice for you.
1.5 HP motor powers the sander which itself runs at 110/220V. The motor spins a 6-by-80 inch belt at the vertex of 1800 SFPM. It is quite enough for projects with a short span. Up to medium-sized workpiece can easily be sanded by this.
The machine feature a solid steel base and the plastic table, for working purpose, is laminated. You can adjust the height of this table easily. Besides, the platen is long-lasting.
Despite the sturdy construction, the machine is light-weighted. So, you can move this easily. If you like to work in an organized way within a clean boundary, you can do it! The machine carries a four-inch dust port for this purpose.
The tool features a toggle safety switch that has a safety lock tab. Besides, the platen is graphite-padded. These features ensure a completely safe and long-lasting sanding experience.
Glitches
This machine is for light-weight woodworking. The sander lacks many standard functionalities, such as oscillating options, high SFPM, and power.
Powermatic 1791293 Model OES9138 Edge Sander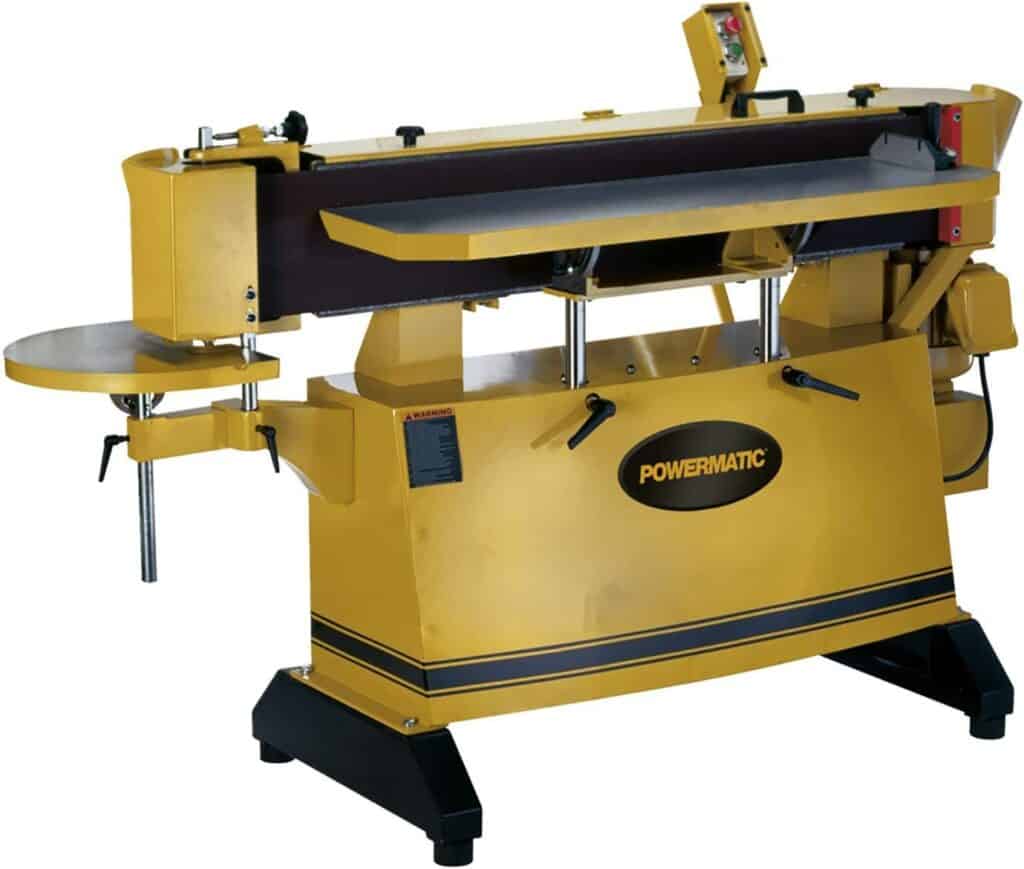 | | |
| --- | --- |
| Weight | 870 pounds |
| Dimensions | 1 x 1 x 1 |
| Batteries Included? | No |
| Voltage | 230 Volts |
| Warranty  | 5-Year |
Notable aspects
This sander is for handling giant workpieces! With its sturdy motor which is rated 3 HP and a chafing belt 9-inch long and up to 138-3/4-inch wide, the machine can handle big guys. The overall mechanism of this tool also supports to deal with huge wood pieces.
With the rate of 24 cycles in a minute, the machine features a moderate working pace. This speed is for an improved finish and also ensures the longevity of the belt. The belt is sturdy enough to rub the huge woods.
The ultra-powerful machine also features solid construction. Unnecessary vibration is canceled out by the machine. The secret of this feature lies in the selection of build material. The heavy cast iron, to be precise, is responsible for this.
Do you want a big area? No matter!  A 9-1/2-Inch long and 48-Inch wide platen is installed with a graphite pad. That's why this sander offers a huge work surface compared to its type. Enough space to work with, right?
The machine features a tough bearing-assisted tensioning one. This part is responsible for fast belt changes. Nevertheless, you get quick-adjust tracing. Besides, for comfortable access, you get pedestal control! 
Glitches
The machine requires lots of power for operations. It increases the payable electricity bill. This tool also doesn't have any storage compartment.
A Few Things That Are Needed to Be Considered for the Best Edging Sander
Before buying an edging sander, you need to consider a few aspects of the tool. Our experts have figured out the criteria that must be focused to get the best one. Let's check them out!
Bench Space
It's an aspect of the tool that's worth mentioning. The space that is assigned for the workpiece, can be crucial. You, obviously, can't accommodate an oversized wood piece in that position. Luckily, some oscillating edge sanders offer a large space, enough for housing a gigantic piece.
The bench space is a piece of crucial information and you can find it in the specification sheet provided by the manufacturer. Do check the size and ensure that it can house the largest wood piece that you want to deal with.
Power of the Motor
Do you often deal with heavy projects? Then you surely need a powerful motor to manipulate the workpiece. Again, you need a stronger motor if you have to use this tool very often. That's why professional woodworkers tend to go with 2HP or even 3HP motors. The motor rating will be mentioned in the specification sheet. Do check this information and then make a choice.
Belt Drive
It is a very important factor that will determine how the finishing will be. You can grind through the wood if the sanding belt drive speed is high. The higher speed will ease the handling of the wood piece. In general, the mightier motor will deliver a higher speed.
Some belt sanders (like these choices) can offer you 1200 SFPM (Surface feet per minute), while some others can push up to 3900 SFPM. You need a higher SFPM to deal with larger pieces. But a lower speed will do if your need is confined to only smoothen the surface of a soft or small wood.
Safety
You need to consider safety as a key factor. Often you have to deal with huge workpieces and those need stronger motors to be manipulated. These motors can be up to 3HP and often deal with huge power. Again, the belt that drives the piece, should be strong enough to hold the wood piece.
You need to check the safety measures taken by the manufacturers for their tools. This's not that difficult if you check the reputation of the band and then decide to purchase. In general, renowned manufacturers take higher security measures than newcomers or low budget ones.
Budget
This is the last thing to be considered. First, check all other requirements then look at the budget. It is firmly discouraged by us to cut off the need for saving some money. You can compare some products side by side and then choose the one you need; probably the best option to get the best value for money, right?
FAQ
Q: Can I use the sander for tough metals?
Ans: Actually, it will be a bad idea to use the sander for hard metals. It is said that the sanders can handle almost anything, but the tough guys will be a burden for the sanders. But, luckily, you can reduce the size or shape of the metal nails and screws by the sanders.
Q: Can any belt can be used?
Ans: If you can ensure the required size for the device, then any belt can be used. But be careful! Do not choose any belt that can't bear the load of heavy woodworking. Always go for a harder one.
Q: What are the safety measures that should be taken?
Ans: If you are sure that the device itself is safe, the duty is onto you to take measures regarding the cloth or environment. You should wear baggy clothes and roll your sleeves up. It's required to take off your jewelry while working.   
Q: How can I test the device?
Ans: It's better to check the machine prior to starting working with it. You can place an unused piece of hollow wood and turn the sander on. If you note any unwanted noise or vibration, then the tool is unfit for further work.
Q: How file sander is different from edging sander?
Ans: Learn more details on the file sanders.
Final Words
Until now, you have seen different tough sanders. It's natural to get confused. But we won't let you be! We, hereby, disclose some products that are picked up by our editors to help you further to choose the best edging sander. 
If you need a giant machine to deal with giant workpieces, you can go with Powermatic 1791293 Model OES9138 Oscillating Edge Sander. But if you need a budget one for moderate usages, you can go for Grizzly Industrial G0512-6″ x 80″ Edge Sander w/Wrap-Around Table.
I'm Joost Nusselder, the founder of Tools Doctor, content marketer, and dad. I love trying out new equipment, and together with my team I've been creating in-depth blog articles since 2016 to help loyal readers with tools & crafting tips.