I love creating free content full of tips for my readers, you. I don't accept paid sponsorships, my opinion is my own, but if you find my recommendations helpful and you end up buying something you like through one of my links, I could earn a commission at no extra cost to you.
Learn more
If you work with sheet metal or metal components in general, you are likely familiar with a metal shear. This tool allows you to quickly cut through metal parts without too much effort on your part. Without this device, working with sheet metal becomes extremely difficult if not downright impossible.
Finding the best electric metal shear is critical if you want to have a productive time in the workshop. However, it can be challenging to find the right product if you are not well-informed on it. That is where we come in.
In this article, we will give you a complete overview of some of the best units out there so you can have an easier time picking out the perfect one for yourself.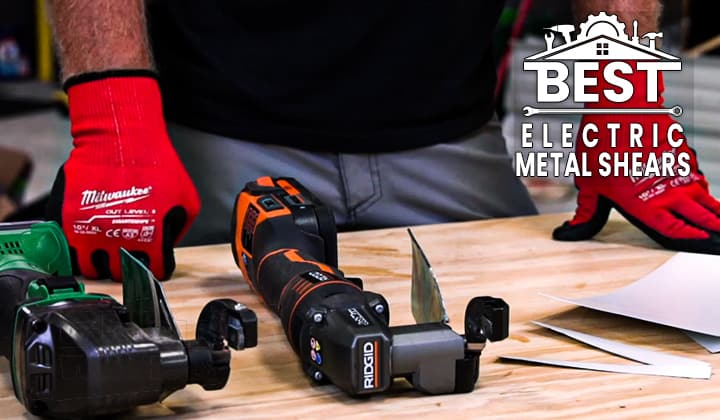 Top 7 Best Electric Metal Shears Reviews
If you are feeling overwhelmed with the countless options before you when choosing a metal shear, we have got your back. It is natural to feel a little intimidated whenever you are making a big investment. With our help, you can ensure that you are making the right choice.
Here are our top picks for the seven best electric metal shears in the market.
WEN 3650 4.0-Amp Corded Variable Speed Swivel Head Electric Metal Cutter Shear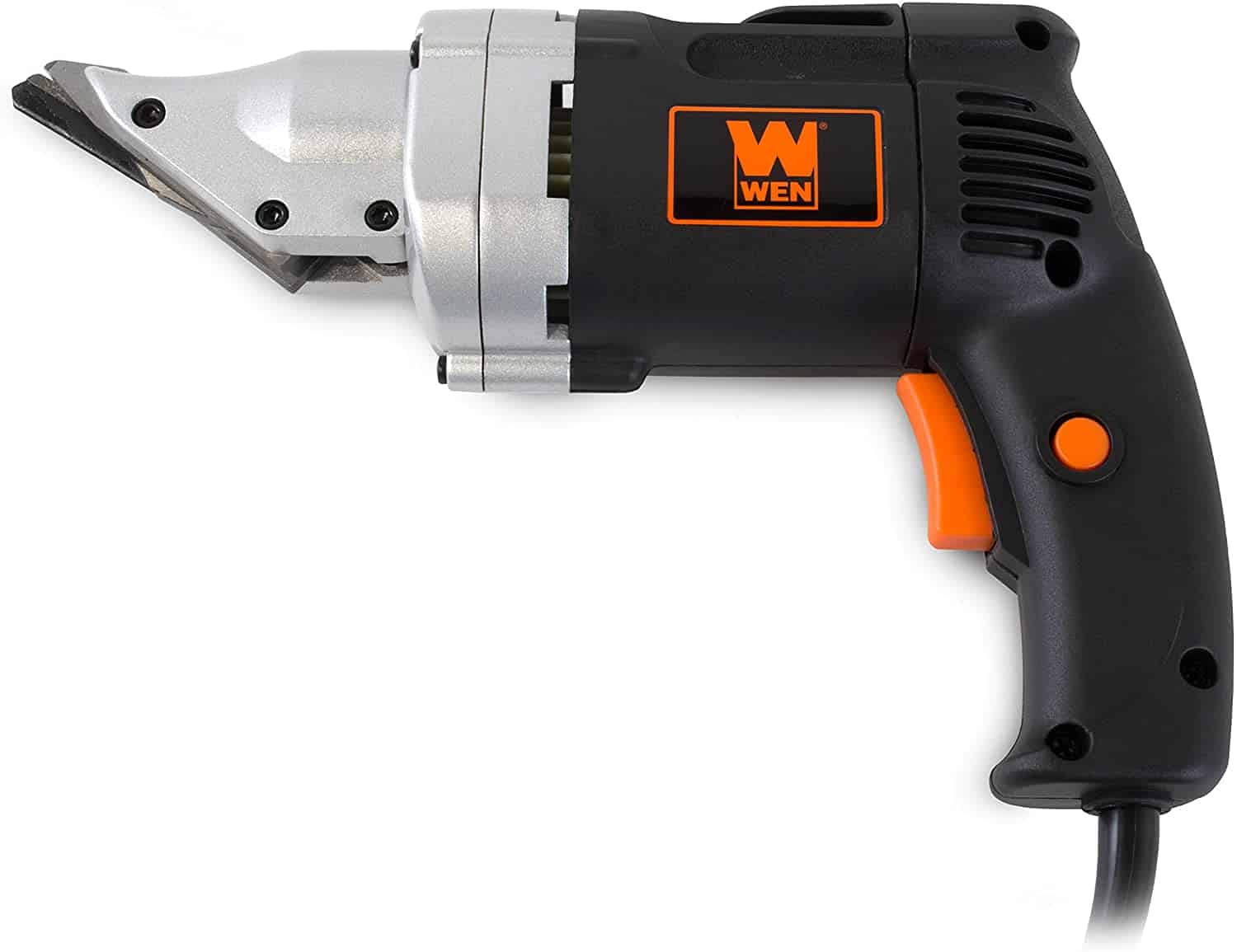 | | |
| --- | --- |
| Weight | 4.7 pounds |
| Dimensions | 11 x 8 x 3 |
| Measurement | Metric |
| Usage | Metal cutting |
| Warranty | 2 years |
We want to start off our list with this corded electric shear by the brand Wen. This tiny machine has the power to cut through 20-gauge stainless steel or 18-gauge sheet metal with no effort.
With its 4-amp motor, the unit is capable of reaching 2500 SPM easily, making it one of the fastest in the market. Thanks to the pressure-sensitive trigger, you have complete control over the speed and can bring it down if you want.
On top of that, the pivoting head of the device can rotate 360 degrees. This means you can easily carve out any shape or design as long as you have a stable hand for it.
Despite all the fancy features, the unit is quite lightweight and comfortable to hold. It also has a 3-inch turning radius, which means that you can easily handle projects that involve a lot of curves.
Pros:
Affordable price range
Lightweight and easy to operate
Swivel head rotates 360 degrees
High cutting speed
Cons:
Does not work well with corrugated metal
Genesis GES40 4.0 Amp Corded Swivel Head Variable Speed Electric Power Metal Shear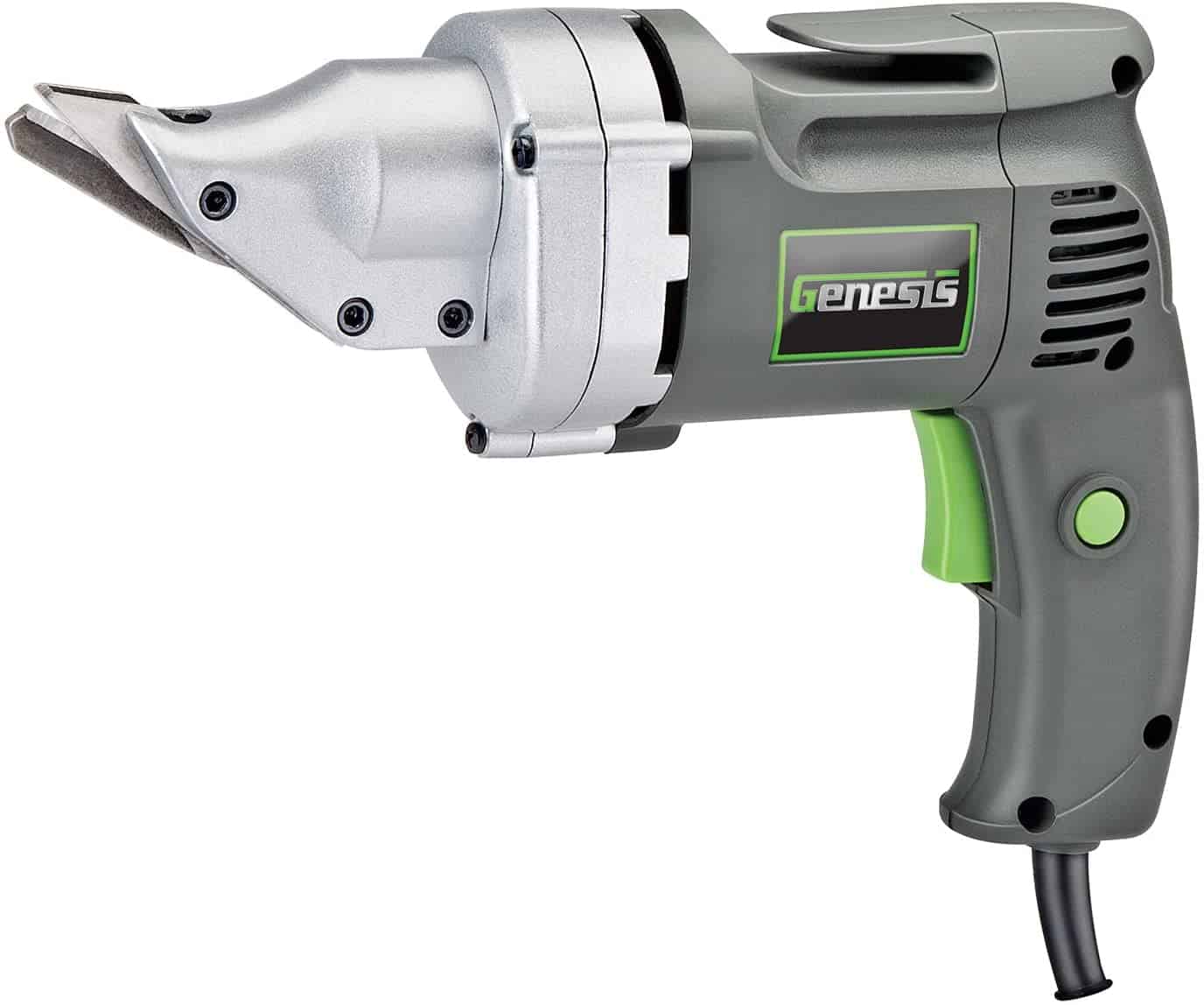 | | |
| --- | --- |
| Weight | 5.38 pounds |
| Dimensions | 11.5 x 2.75 x 9.25 |
| Style | Power Shear |
| Power Source | AC |
| Warranty | 2 Year |
If you are looking to cut through metal roofing or sheet metal quickly, then the Genesis GES40 might be right up your alley. This device can cut through 14-gauge metal easily, and with an extra attachment, you can even tackle 20-gauge steel.
The unit features a powerful 4 amp motor that can reach a speed of up to 2500 SPM. Because of its high speed, the machine can work with a wide range of materials making it highly versatile.
Furthermore, the 360-degree swivel head ensures that you can work out any carves or designs you may want in the sheet metal effortlessly. It allows you to get creative with your cuts giving you complete control over it.
The unit weighs about 5.4 pounds and comes with a built-in belt clip to carry it around with you. It features a three-blade cutting system that ensures the metal does not deform while working.
Pros:
Lightweight and versatile
Durable build quality
Swiveling head gives excellent cutting control.
Comes with a built-in belt clip
Cons:
The cutting bite is short
DEWALT Metal Shear, Swivel Head, 18GA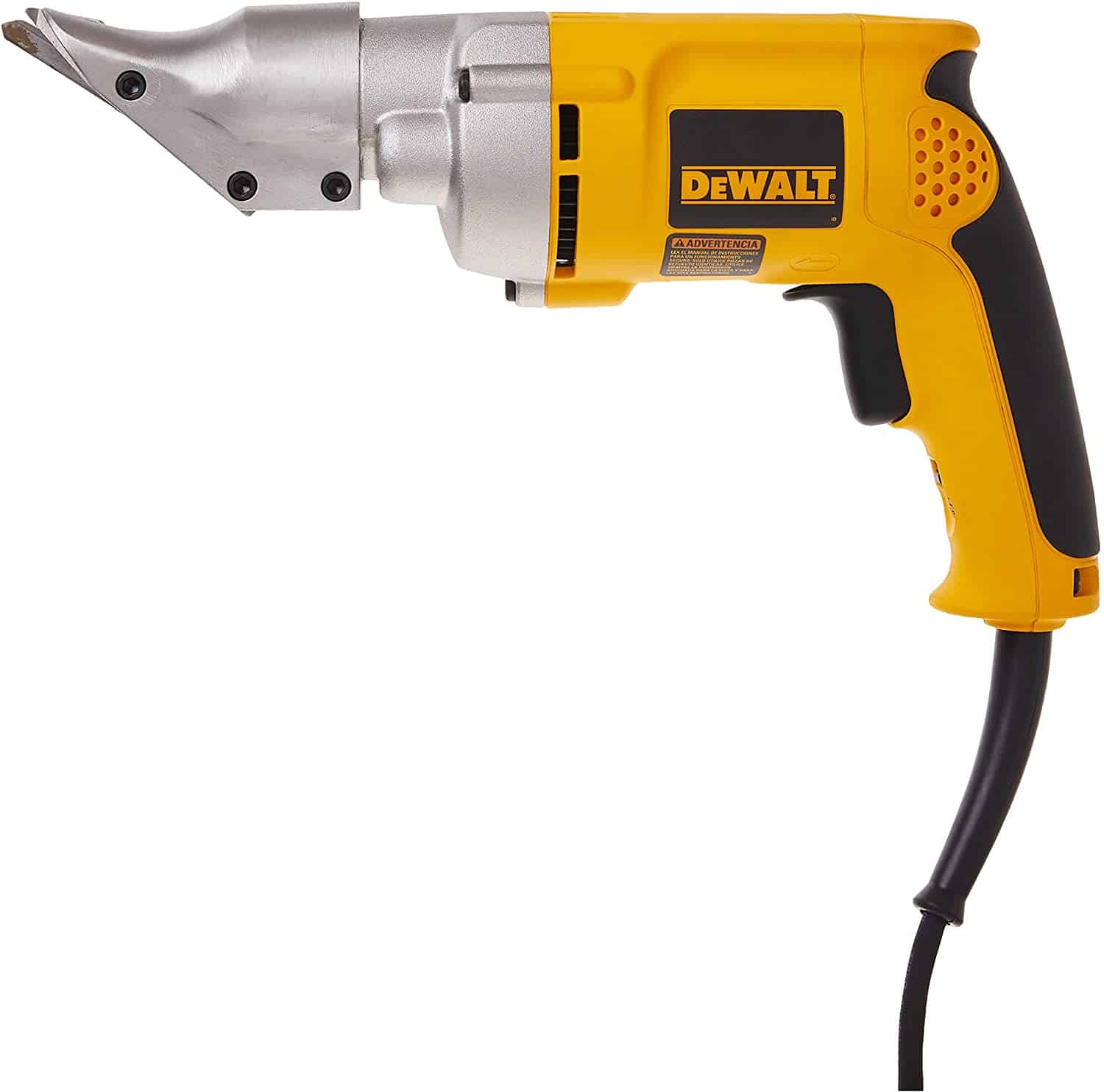 DEWALT is a leading brand in the power tool industry because of its high-performance machines. This metal shear by the brand is exceptionally user-friendly and durable, making it one of the best units out there.
It features a powerful 5-amp motor for those who require more cutting power. The motor is all ball-bearing, ensuring that you can use it for a long time without any issues.
You also get a variable speed dial to control the cutting speed of the shear when working with different materials. Its top speed is 2500 SPM, and it can cut a radius of 5.5 inches and larger effortlessly.
The unit also features a swivel head that allows you to rotate the head 360 degrees to make curves and circular cuts. With this machine, you can cut through 20-gauge stainless steel with little to no effort.
Pros:
Extremely durable
Powerful motor
Works with a wide range of materials
It can cut circles and curves easily.
Cons:
Hi-Spec 3.6V Electric Scissors with Release Safety Switch & Extra Battery and 2 x Cutting Blades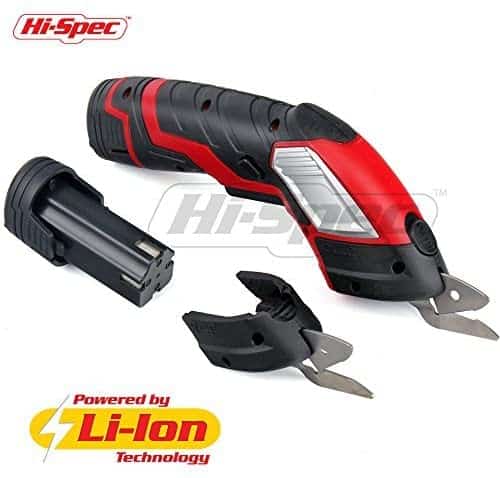 Next, we will take a look at an excellent budget option for people who do not want to spend too much. Finding a decent cheap metal shear is not that easy. Thankfully, this option by Hi-Spec delivers quality performance at a dirt-cheap price.
The unit delivers 3.6v of power and can rip through any material of up to .3mm thickness. It has a maximum RPM of 10000 under no load. You have as much power as you need right at your fingertips.
You also have a safety switch that locks the trigger to prevent unfortunate accidents. Until you turn it off, the machine will not start working even if you pull the trigger.
It is a battery-powered shear that boasts a continuous operating time of 70 minutes. Because of its massive 1300mAh lithium-ion battery, you do not need to worry about the machine turning off in the middle of your work.
Pros:
Safe to use
High rotation per minute
Extremely portable and lightweight
Has a good battery life
Cons:
Not suitable for heavy-duty metal cutting
Milwaukee 6852-20 18-Gauge Shear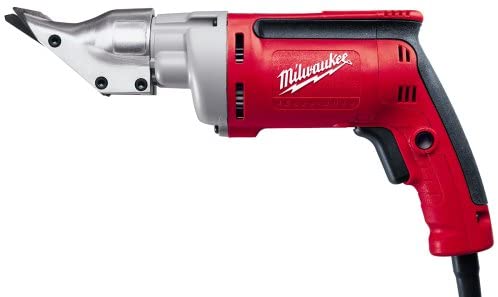 | | |
| --- | --- |
| Weight | 5.12 pounds |
| Material | Polycarbonate |
| Power Source | Corded-electric |
| Voltage | 120 Volts |
| Warranty | 5 Years |
For people who want as much power in the motor as possible, this shear by the brand Milwaukee is a perfect choice. Despite its massive power, it is relatively easy to handle, which makes it perfect for an inexperienced user.
The unit features a 6.8-amp motor that can deliver massive cutting power. It can cut through 18-gauge sheet metal without breaking a sweat. For this, it can be the perfect work partner when you want to cut through metals.
You also get a high cutting speed of 0-2500 SPM. The speed is adjustable thanks to the intricately designed variable speed trigger. It is extremely responsive and gives you complete control over your applications.
The product also features an ergonomic design and weighs only a measly 5.12 pounds. It comes with a tactile grip that ensures you will not feel any extra fatigue when working with the machine for extended hours.
Pros:
Ergonomic design
Easy to use
Powerful motor
Responsive speed trigger
Cons:
Gino Development 01-0101 TruePower 18 Gauge Heavy Duty Electric Sheet Metal Shears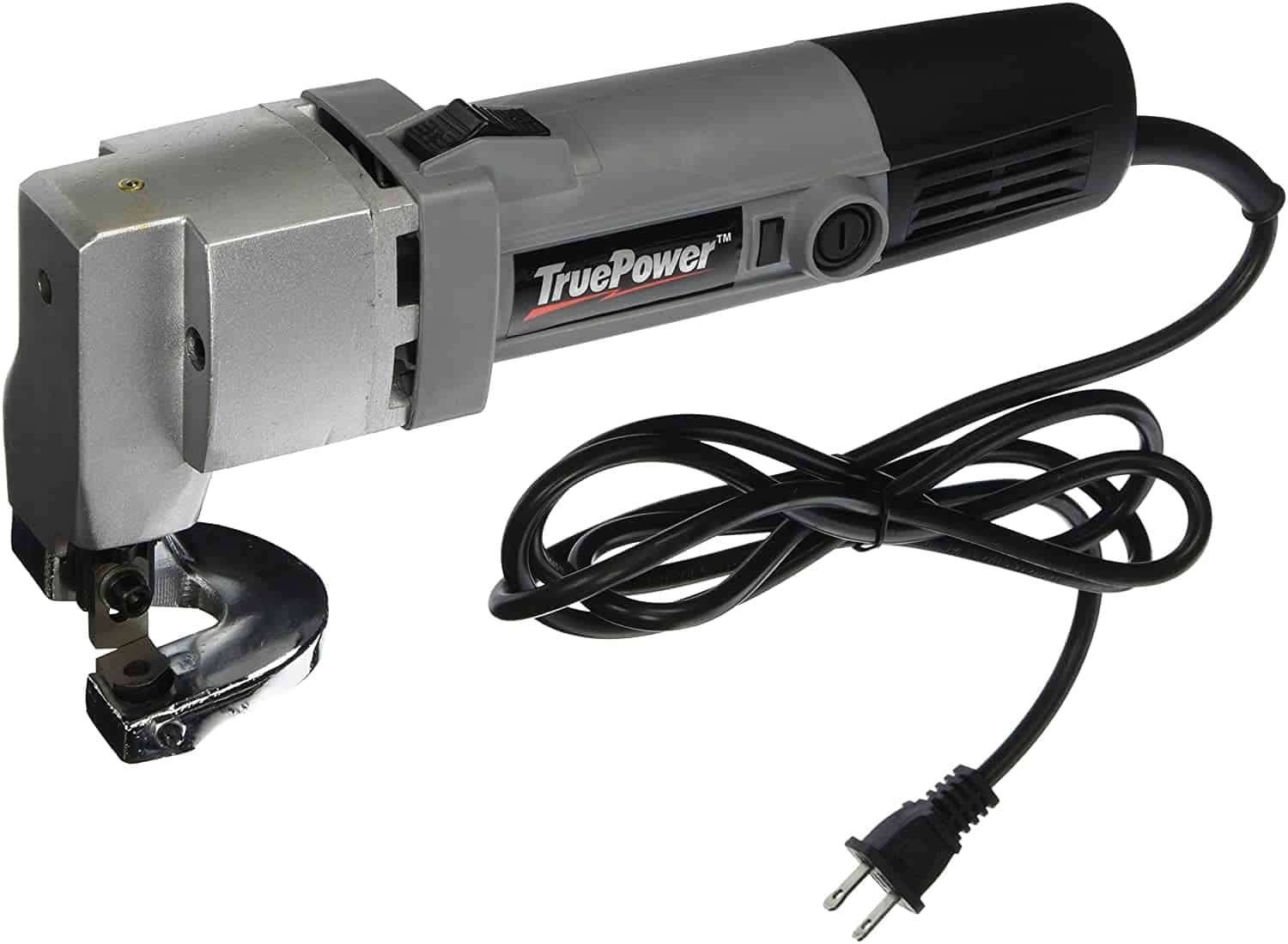 | | |
| --- | --- |
| Weight | 5.68 pounds |
| Dimensions | 14 x 3 x 7 |
| Voltage | 120 Volts |
| Wattage | 420 watts |
| Material | PLASTIC, METAL |
Metal shears are not exactly cheap. But this unit by the brand Gino Development is an affordable option for those who do not have a big budget. It gives you amazing value for the cost.
It has a no-load speed of 1800 SPM and can cut through 18 gauge mild steel easily. When it comes to stainless steel, it can handle up to 22 gauge, which is excellent for a budget metal shear.
The unit can cut up to 150 inches per minute, allowing you to go through your project quickly. It is an excellent choice for beginners and newbies because of its simple, user-friendly design.
Although it might not look much, it offers a versatile experience in any of your metal cutting projects. Its interesting feature set makes it one of the most flexible unit when you are working with automotive repairs.
Pros:
Affordable price.
Hassle-free design
Can cut through 22 gauge stainless steel
Great cutting speed
Cons:
Does not work well with the delicate project
PacTool SS204 Snapper Shear For Cutting Up To 5/16" Fiber Cement Siding, 4.8 Amp Motor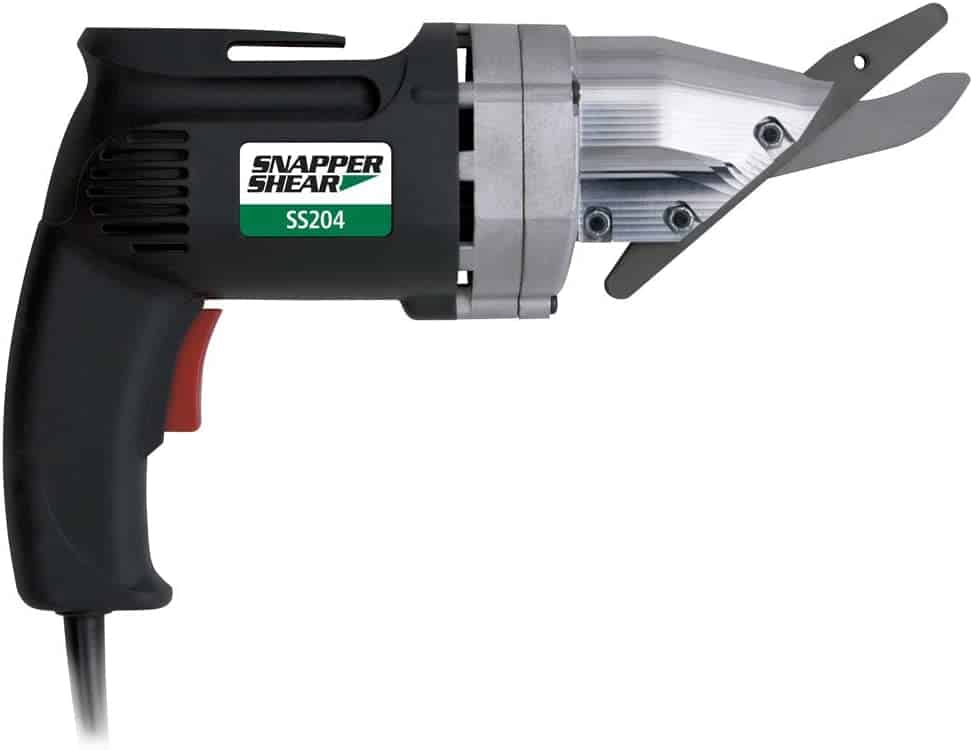 | | |
| --- | --- |
| Weight | 1 pounds |
| Dimensions | 14 x 13 x 4 |
| Material | Other |
| Power Source | Corded-electric |
| Style | Siding Shear |
To wrap up our list of reviews, we bring you this amazing metal shear by the brand PacTool. Although it might not be the most affordable option in the market, its quality features sure to make it worth the additional cost.
It features a powerful 4.8 amp motor that can cut through 5/16 inches of fiber cement quite easily. This is no easy feat for a metal shear, and it should give you an idea of its raw power and cutting strength.
Despite the massive cutting force, the unit promises a smooth and safe cutting experience. The manufacturers claim that the unit will produce no dust and will cut through materials like a hot knife through butter.
If you have the budget to spare, this is a great tool whether you are a DIY or a professional. This unit is extremely durable and can safely serve you for a long time, even with minimal maintenance and care.
Pros:
Powerful cutting experience
Versatile
Excellent build quality
Features solid steel blades
Cons:
Things to Consider when Buying the Best Metal Shears
A metal shear is not a massive tool. It is relatively small, lightweight, and straightforward to use. However, do not make the mistake of overlooking a few crucial factors when making your choice. The last thing you want is to end up with a device that does not give you satisfactory results.
With that in mind, here are a few things that you should consider when looking for the best metal shears.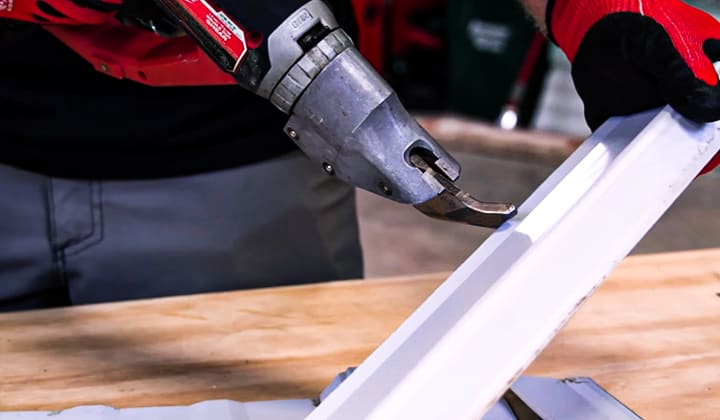 Intended Purpose
The best thing about metal shears is that they are quite versatile. There is a wide range of projects that require you to use this tool. But before you go out and buy one, it would be best if you think about where you will mostly use it. It would greatly impact your decision when buying one.
Some metal shears work great for automotive repair while some work great for roofing. Each unit has a special field where it works better than the rest. Although you can use one unit for multiple projects, it is best to choose one that is highly suitable for your specific requirements.
Blade
Make sure the unit you are buying comes with a good quality blade. You need to check the material of the blade and ensure that it will be able to last a long time. Although you have to change the blade eventually, you want to get as much use out of the built-in one as you can.
A strong blade will give you a much better cutting experience. Sometimes even new products, if they sit on the shelves for too long, can have dull blades. It would be better to avoid those products altogether since you would not want the additional hassle of sharpening it.
Speed Settings
Another crucial component you want to address when buying this device is the speed of the blade. If the blade does not spin fast enough, you will have a difficult time cutting through denser materials. On the other hand, if the blade only spins at top speed, the finish might get too rough.
These days, you will find quality metal shears with some type of adjustable speed setting. Typically, this option is integrated into the trigger, but that might not be the case all the time. Regardless of how it works, you must make sure that your unit has an option to control the blade's speed if you want a versatile device.
Durability
Whichever unit you buy in the end, make sure it has a good build quality. Low-end models typically overlook the durability issues. Although they might come with great features, if the machine breaks down after a couple of uses, it is not really worth buying it.
Final Thoughts
A metal shear is an essential tool for any DIY enthusiast. Because of its versatile nature, this machine can make your job easier with a wide range of projects. Since it is a power tool you must wear safety equipment like safety goggles and glass, gloves, etc. to prevent accident.
We hope you found our extensive article on the best electric metal shears informative and helpful in finding the right product for your next big project.
I'm Joost Nusselder, the founder of Tools Doctor, content marketer, and dad. I love trying out new equipment, and together with my team I've been creating in-depth blog articles since 2016 to help loyal readers with tools & crafting tips.