I love creating free content full of tips for my readers, you. I don't accept paid sponsorships, my opinion is my own, but if you find my recommendations helpful and you end up buying something you like through one of my links, I could earn a commission at no extra cost to you.
Learn more
To store your firewood in a proper manner and to keep your indoor fireplace or outdoor firepit neat and clean having at least one firewood rack is a must. From the numerous variety of firewood, it is really difficult to choose the best firewood rack but do not worry, to ease your difficulty here we are.
Before reviewing the top 5 firewood rack we would give you some tips about choosing the best firewood rack so that you can pick the best one from our list easily.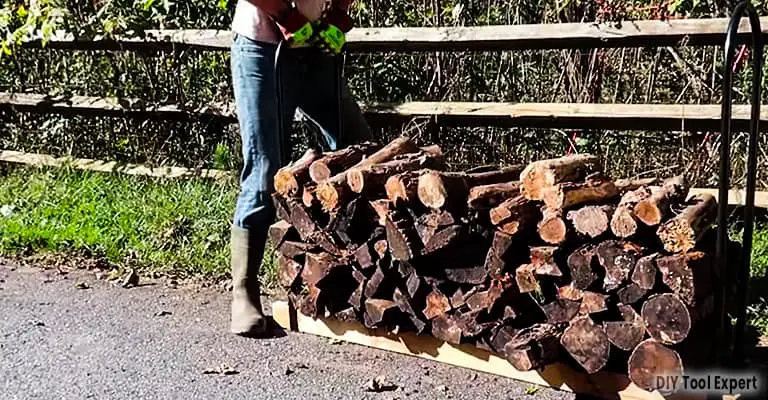 Firewood Rack buying guide
In order to give you an instruction of choosing the best firewood rack we can write a long essay but that will be boring and ineffective. So we decided to find out the important factors that determine the suitability of firewood rack for a particular customer.
Here are those 7 important factors that you should keep in mind while purchasing firewood rack:
Construction Material
If you are looking for a firewood rack at first check the type of material used for its construction. The quality of construction material has a significant effect on the quality of the product.
Most of the good quality firewood rack is made of steel and to prevent any corrosion or erosion-corrosion or erosion resisting coating is given on its body.
Another important matter is the thickness of the material. Some firewood rack is made of flimsy material that cannot bear the weight of the firewood and breaks down gradually. Such type of firewood racks is not durable.
Design
Some firewood racks are designed to save space and some more space. If you have enough floor space you can choose a wide firewood rack but if you do not have enough space to keep a wide firewood rack a space-saving firewood rack will be the best option for you.
Do not worry, the space-saving firewood rack also have enough capacity to store as much firewood as a wide firewood rack.
The design also has a significant effect on the aesthetic beauty of the product. If you are looking for a firewood rack only for outdoor use you can give less importance on aesthetic beauty but if you want to use it both for indoor and outdoor use it is wise to give importance on the aesthetic beauty too.
Weight
Sometimes you may need to move your firewood rack. If the rack is very bulky it will be difficult to move the rack. On the other hand, if it is light in weight it will be easier for you to transport the rack from one place to another. So, do not forget to check the weight while choosing a firewood rack to store your firewood.
Height from the Ground
A firewood rack should have enough height from the ground to ensure proper ventilation, otherwise, vapor will generate there and it will be a suitable place for the growth of mold and mildew. Gradually, your firewood will be unsuitable to burn.
So, check whether the height of your chosen firewood rack is enough to circulate air through it or not.
Budget
Firewood racks are available in varying price rates depending on its features and specifications. We have included firewood racks of different prices in our list. You can choose one of these that matches your budget.
Brand
Woodheaven, Landmann, Amagabeli, Pinty, etc. are some of the renowned brands of firewood rack. An important tip about branded products I would like to give you that it is unwise to blindly go for the brand. Sometimes branded products are also found bad in quality.
Customer Review
You can know the real scenario about the service or the quality of the product from the customer's review. But while checking customer's review most of the readers do a common mistake.
They only check the 4 or 5-star reviews and ignore 1 or 2-star reviews. But, checking the 1 or 2-star reviews is more important than checking the 5-star reviews.
Best Firewood Racks reviewed
After processing your firewood using a wood cutting tool such as sledgehammer you need a log rack to store those woods. Here is the list of top 5 firewood rack that you can choose for storing those wood chunks.
1. Woodhaven Firewood Log Rack
Woodhaven Firewood Log Rack is large enough to organize a lot of firewood. This black colored firewood rack is strong enough with arc-welded end sections, stainless steel nut, and bolts and it is wide enough to hold long firewood.
For better burning, your firewood should remain completely dry and ensure this dryness Woodhaven Firewood Log Rack comes with a cover.  This cover made of good quality reinforced vinyl ensures dryness of top firewood.  The Velcro front side of this cover allows quick access to the firewood.
Lack of enough air flow through the firewood will cause the inhibition of mold and mildew and consequently, your firewood will be unsuitable to burn.  But if you use Woodhaven Firewood Log Rack you do not have to be worried about this problem at all because Woodhaven Firewood log rack allows enough air flow through the wood to prevent the growth of mold and mildew.
The powder coat finish made the outlook of this firewood rack beautiful. It has good resistance against rust and it is an environmentally friendly product also.
The USA is the manufacturer country of this firewood rack and it is designed for easy and comfortable use. Since it is big enough you can keep a long chunk of firewood in this firewood rack easily.
2. Landmann USA 82424 Firewood Rack
To protect your firewood from damp ground Landmann USA 82424 Firewood Rack is a good choice. It is an adjustable firewood rack where you can keep up to 16 feet wide wood chunks.
Tubular metal posts have been used to construct Landmann USA 82424 Firewood Rack. These posts are strong enough to hold the weight of the woods.
To protect the frame from the attack of whether a black weatherproof powder coat finish has been applied on it. So you do not have to be worried about the attack of rust and you can keep it outdoor surfaces like concrete, wood patio or deck.
The strong and sturdy construction of this firewood rack has made it a long-lasting product. You can fill it to the brim and above the end with your firewood.
It does not come with a cover. So if you want a cover for your firewood you have to buy it separately. Sometimes because of the problem of shipment, the product comes broken. So we will recommend you to talk with the seller for better shipping before the final confirmation of purchase.
Noticing the title Landmann USA 82424 Firewood Rack you may think that it is a product made by the USA. But it is a Chinese product.
The Landmann USA 82424 Firewood Rack has a simple design but can hold a lot of firewood logs. You can keep it on your list if you need to store a great amount of firewood.
No products found.
3. Amagabeli Garden & Home Fireplace Log Holder
The decorative and functional log holder made by Amagabeli Garden & Home is a portable log holder with huge storage capacity.  You can store about 25 pieces of firewood logs in this log holder when it is flattened through the capacity depends on the size of the logs.
Unlike other log holders, its design is exceptional. The decorative leaf-like design is really attractive and has made it a perfect gift for your near and dear ones. The beautiful design of this log holder also adds an extra dimension of beauty and so it is a perfect log holder for indoor use.
Since durable solid steel has been used as the construction material of this Amagabeli Garden & Home Fireplace Log Holder it does not bend even after using for a long time. To protect the frame from the attack of corrosion it is coated with powder black finish.
You do not have to spend time for assembling if you order this Amagabeli Garden & Home Fireplace Log Holder because of the vertical log rack stands firmly on its metal rack with kindling bucket. You can keep it beside your fireplace. Its classic design perfectly fits for rustic ornaments, most fireplace screens, and grates.
It comes with a warranty period. If you face any problem within this period they will help to resolve the problem.
4. Pinty Firewood Log Rack
Pinty is an indoor firewood log rack that does not look awkward beside your fireplace. Its design adds a new dimension of beauty to your fireplace.
Solid steel has been used to construct its frame and to increase the durability and beauty of the frame it is processed with black finish technology. Its high resistance against rust and corrosion made it a long-lasting product that can be used for years after years.
It is a space-saving log rack but does not think that it is small in size or it has a lower log carrying capacity. It does not take a lot of space on your floor but you can store a lot of firewood logs in it because it is big in height but its width is kept less to save space.
To ensure proper ventilation the log rack remains off the ground at a proper distance. It prevents dampness, inhibition of mold and mildew and your firewood remains dry and ready to burn all the time.
The log rack is not so heavy. You can easily transport it to back porch, covered patio, garage, family rooms, basements or wheresoever you want.
One tong, one poker, one trowel and one broom provided with Pinty Firewood Log Rack. There is a built-in hook on the side to make extra room for hanging tongs, pokers, brooms, etc.
You have to assemble the log rack after receiving the product. It does not take more than 5 minutes. You just have to set the bottom part of the rack equidistant with the top part so that it does not take "A" or "V" shape.
5. Sunnydaze Firewood Log Rack
SunnydazeDécor is a world-famous home and garden pro, cut manufacturer. Sunnydaze Firewood Log Rack is a new addition to their list.
SunnydazeFirewood Log Rack is a perfect product for both indoor and outdoor use. It beautifully matches beside your home's fireplace or the outdoor firepit. The beautifully designed log rack adds an ancient flavor to your fireplace.
It is a space-saving firewood log rack with ample storage space. Since durable steel material has been used to construct this log rack it will serve for a long time even after applying a high load of firewood.
To protect the frame from chemical corrosion the outer surface has been finished with bronze colored powder coating. It features hooks to hang fireside tools such as log pokers, grabbers, etc. There is also a shelf made of steel at the bottom portion where you can keep the fire starter.
It does not come assembled, so you have to assemble it after receiving it. The assembling process sometimes becomes difficult.
Products with certain warranty period make a place of reliance customer on the seller. To ensure the dependability of the customers Sunnydaze Firewood Log Rack comes with a certain warranty period. If you face any problem within this period they will help you to solve your problem.
Frequently Asked Questions (FAQs)
Here are some frequently asked questions and their answers.
How do you keep firewood dry outside?
Position a tarp or plastic sheeting so it blankets the top of the stack and extends a few inches down the sides. Keep the sides mostly exposed to air. If you completely cover a wood pile, the cover retains moisture, which the wood absorbs, making seasoned firewood burn like green wood.
Should firewood be covered?
Ideally, firewood should remain uncovered so it can be properly dried, but this is not practical when rain, snow and ice can quickly coat winter firewood. A good cover over the top of your woodpile will protect it, and be sure the cover is slanted to shed moisture away from the pile's base.
How deep should a firewood rack be?
Use a miter saw or a circular saw to make the cuts for the wood according to the plans. You can easily modify the size of this firewood storage rack to best fit your space. The overall dimensions for this rack are 40 1/2 inches wide by 31 5/8 inches tall by 18 inches deep.
How do you store firewood outside in the winter?
Make sure you cover the wood to protect it from harsh rain, snow or ice throughout the winter. This can be done by storing your wood in an open storage shed that allows wind flow through opposite sides, covering the wood with a tarp or purchasing a firewood rack cover large enough to fit the pile.
Is it OK for firewood to get rained on?
Seasoned firewood should be stored out of the rain to help prolong how well it keeps for. If seasoned firewood gets rained on it can dry out within a few days, but constant contact with moisture will lead to the wood going bad.
Does firewood ever go bad?
As long as firewood is left to sit in the right conditions and free from moisture it won't go bad for many years. Once firewood has been seasoned for the right amount of time it should be stored off the ground, under a form of cover and open to the atmosphere to ensure that it doesn't rot.
Should I cover firewood with tarp?
Covering firewood is a great way to keep rain from causing mold inside the stack, but you need to make sure you cover it the right way. Remember, firewood needs to breathe throughout the summer. This means you can't cover the entire stack with a waterproof tarp and call it good. You need to use the tarp the right way.
Does firewood dry under TARP?
Cover Firewood with a Tarp or other Shelter
Some people like to cover the drying woodpile with a tarp or shed. The theory is that the wood will dry faster because rain will not soak the pieces as they dry.
Does ash firewood need to be seasoned?
How long does Ash take to season? Ash can be burned green if you have to, but it will burn most efficiently when split, stacked and left for at least 6 months to season. To get the most energy out of your firewood, the wood should be seasoned. Seasoned firewood is described as having 20% moisture content.
Is it OK to stack firewood next to House?
ANSWER: Firewood storage attracts a number of pests including termites, other insects, and rodents. When you put firewood next to a building foundation, it's like leaving their favorite food right outside your door. I recommend that you keep any firewood at least five feet or more away from the foundation.
Does firewood dry in the winter?
Is it Possible to Dry Firewood in Winter? Yes, but firewood dries slower in winter. Sunlight—one of the key ingredients for drying wood—is in short supply in winter. Though drier winter air helps extract some moisture from the firewood, the process is much slower than in warmer weather.
Should you store firewood in your garage?
It's recommended that firewood be stacked at least 20 to 30 feet away from the exterior of the home to keep pests away. … If you're concerned about keeping snow and moisture off the wood, keep the firewood securely covered outside rather than having it sit in the garage or basement attached to your home.
Q: Is there any difference between indoor and outdoor firewood racks?
Ans: While outdoor firewood racks are simple and giant in size, indoor firewood racks are classy, elegant looking and space-saving.
Q: What does the cord mean?
Ans: A cord of firewood means a pair of wood stacks. The dimension is 4 ft in height, 4 ft in depth and 8 ft in length.
Q: How to recognize a good firewood rack?
Ans: You can check the 7 important factors for consideration during buying a firewood rack and I hope you will get the answer to your question.
Conclusion
Due to the lack of consciousness of the seller or the shipping company some products come in bad condition. Sometimes one or two parts remain missing which is very disappointing. So we will recommend you to talk with the seller about these matters before confirming the final order.
After thorough research, we have found less complain and much satisfaction with Amagabeli Garden & Home Fireplace Log Holder. So, we are declaring Amagabeli Garden & Home Fireplace Log Holder today's top picks.
Yes, log rack helps you to organize your firewood but to carry that firewood to fireplace you also need a log carrier tote.
I'm Joost Nusselder, the founder of Tools Doctor, content marketer, and dad. I love trying out new equipment, and together with my team I've been creating in-depth blog articles since 2016 to help loyal readers with tools & crafting tips.