I love creating free content full of tips for my readers, you. I don't accept paid sponsorships, my opinion is my own, but if you find my recommendations helpful and you end up buying something you like through one of my links, I could earn a commission at no extra cost to you.
Learn more
Do you plan on scrolling through the whole thing and getting straight to the business? Then you and I are on the same team.
There are hundreds of reviews about cordless circular saws. Who has the time these days to check them all for a thorough analysis?
So, check out my detailed reviews for the products and get the best battery powered circular saw among the five.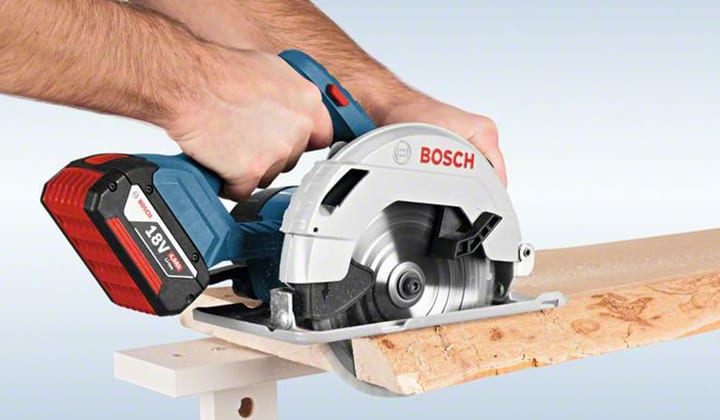 First, you should know how this equipment is beneficial for DIY or hired repairing causes. Once you evaluate the classifications and effectiveness of a particular saw, you can move on to purchasing it without a doubt.
Shall we get on to it?
What Are the Benefits of a Cordless Circular Saw?
A cordless saw is the golden pot of rainbows handed to a woodworking DIY fellow or a professional carpenter in the lumber industry.
Portability
This is the core reason behind going for a cordless circular saw. The luxury of transporting your workstation from home to the construction base is what most tradespeople wish for.
Besides, it lets artisans or cabinet makers with minimal style design projects handle the machine effortlessly.
Need I say how effective it is for a garage workshop of a DIYer too?
Powerful Like Corded Versions
Making the precise cuts and shapes to hold the foundation of a house is no light matter. Whatever the project is, the circular saw must slice through the wood to achieve that accurate measurement.
While most believe corded options are better suitable for the tough cutting process, the modern cordless circular saws are similarly powerful and loaded to deliver equal output.
Best Battery Powered Circular Saws reviewed
Initially, you should pay heed to the features each cordless circular saw comprises before accounting for the opinions. It will help you reach an insightful contrast.
1. SKIL 20V 6-1/2 Inch Cordless Circular Saw, Includes 2.0Ah PWRCore 20 Lithium Battery and Charger – CR540602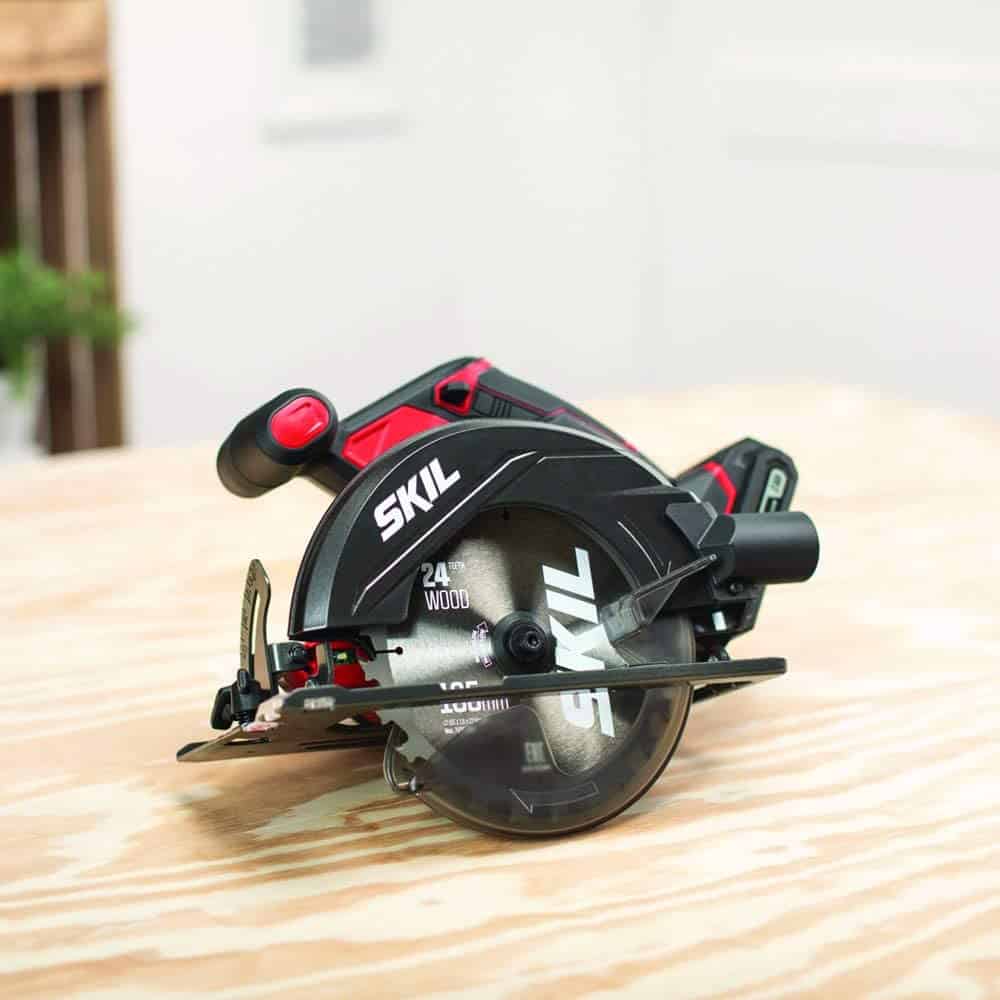 My first choice begins with the SKIL and its compact circular saw that runs on 2.0Ah lithium batteries. Let me talk you through its power and capabilities before heading for the drawbacks.
Not to worry, it is not that bad as you might think. When opting for straight cuts on 2×4-inch, for example, we have to make sure the laser points in the right direction.
And it does the job effectively, with the ability to adjust via the Allen key behind the laser. I cannot give you the exact technical explanation on the motor, but the thing delivers up to 4,500 RPM speed.
The circular saw blade has carbide-tipped 24 teeth with 6 to 1/2-inch size. However, I prefer a bevel capacity of about 57-degree, this model packs in up to 50-degree.
Of course, you can adjust the depth capacity from 2 to 1/8-inch when cutting straight (90-degree position). The next key point is the battery and its charger, which is pretty reliable during the task completion.
The 20V charger is powerful enough to boost the lithium batteries within 50 minutes. You will also find an indicator light to monitor the charging status.
However, it might not possess the durability of a robust unit. You can expect about a few years of life expectancy encountering a coughed-up motor.
Pros 
Great for cuts for shelving and decks
Ergonomic grip with locking lever
Delivers smooth cuts
Includes LED light
Fast and precise with woods and melamine sheets
Cons 
Verdict
Do you plan to renovate or repair shelves, decks, wooden handrails, etc.? This SKIL product is efficient for such DIY projects.
I have to admit the quality appeared devalued compared to its predecessors; it is still a good item for small tasks. If I were you, I would watch out for the plastic blade guard.
Check prices and availability here
2. DEWALT 20V MAX 6-1/2-Inch Circular Saw Kit, 5.0-Ah (DCS391P1)
When you spend a whole lot of years in carpentry and versatile wood shapes and cuts, the familiarity of sawing brands also helps you pick a better product.
Dewalt is one of the universal manufacturers that offers varieties of similar equipment to consumers. However, it is not about what is trendy but the quality that drops hundreds of five-starred acknowledgments.
What makes this circular saw stand out among the rest? First of all, beware of the cost, which felt exorbitant, to be honest.
Nevertheless, the overall performance might allow you to overlook the steep price tag. The incorporated kit includes a sand pad, blades, sandpapers, adapter, storage box, charger, battery, and so on.
But my focus is on the machine itself, a compact design with a motor that runs at 5150 RPM. So, you can rest assured of the speed required for greater accuracy.
The bevel capacity is up to 50-degree, but the carbide-tipped 6-1/2-inch blade is capable of more at 90 or 45-degree.
At this point, I must warn you in regards to the safety issue. This unit delivers super-fast and excellent performance with various cuts styles. Therefore, always make sure your hands and fingers stay only at the handle despite having a metal blade guard.
The grip on the handle is pretty impressive that does not sweat the palm, making it slippery and dangerous to hold on to. Moreover, it is reliable during multitudes of construction-level tasks.
Pros 
High-end build
Provides optimal balance and control
Offers a bundle of components in a kit
Includes LED light indicator
It is not too hefty for easy maneuver
Cons 
Verdict
When the 20V battery allows maximum Amp-hours for lengthy runtimes, you can put aside the constant charging stress out the mind.
Plus, it operates just how you control without deviating from its direction. You can almost carry out the tough jobs that generally require corded saws. I highly recommend it!
3. BLACK+DECKER 20V MAX 5-1/2-Inch Cordless Circular Saw (BDCCS20C)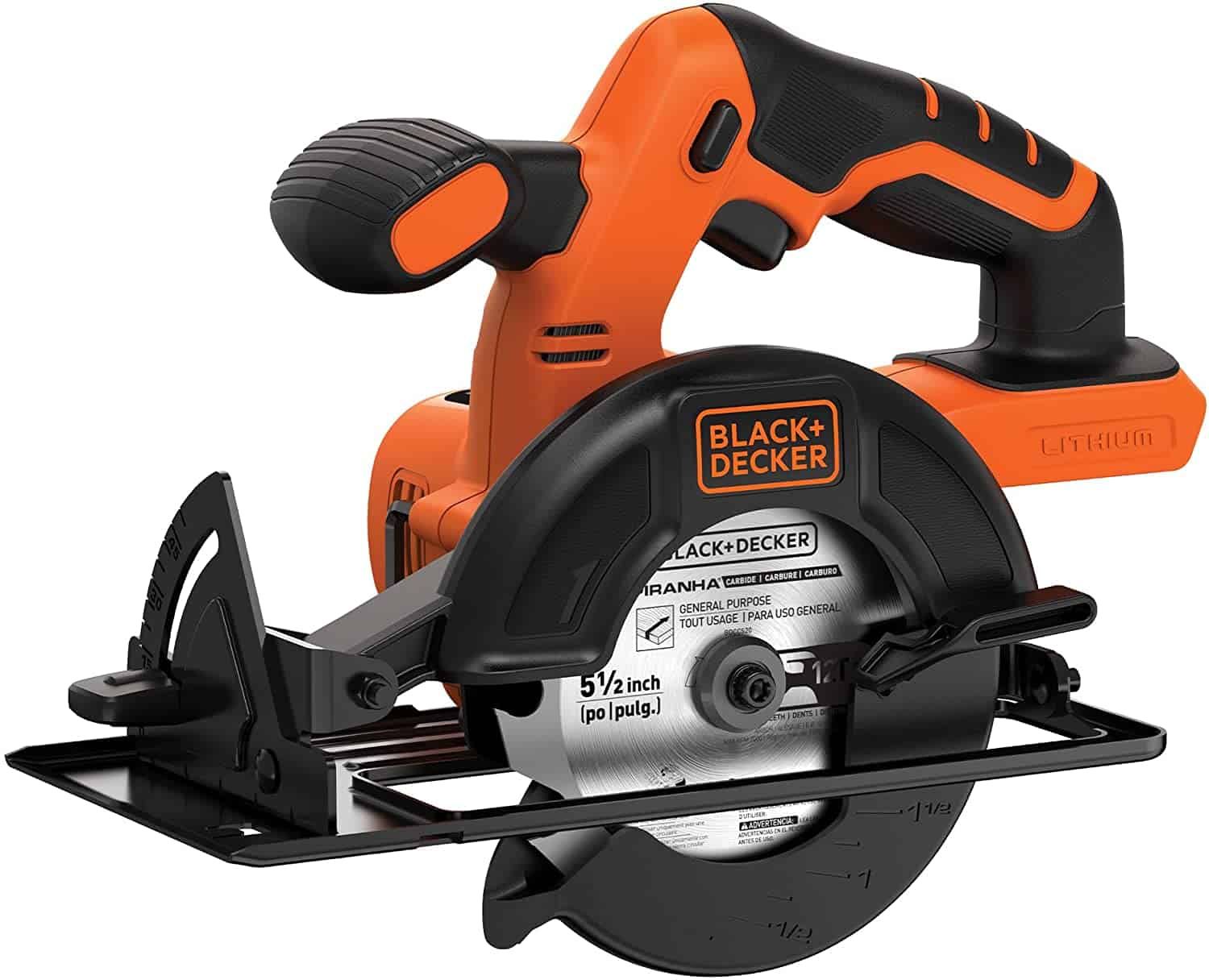 The BLACK+DECKER brand always reminds me of the kitchen appliances in my household. However, it offers some impressive power tools to build a personal workshop in your garage.
This 20V lithium-ion battery-run circular saw is one of those tools that the DIYers must check out at least once in their life. The battery is interchangeable with other battery-powered units of the same brand at home.
Do you know what the specialty of this saw is? The product comes with a tool-free depth changing feature, a vital aspect of safety! You can very easily adjust the cutting depth to your liking.
The sharp 5-1/2-inch bevel delivers fast cutting advantage that many smaller models fail to convey. This is why the tool has become a rising star for beginners and light project initiating carpenters.
Although the blade guard material is plastic, it is durable enough to keep the blade from acting out. My favorite is the handle – unique, large, and just what a person needs for avoiding errors.
Once you combine the motor power, precise cuts, rapid action, and ergonomic grip, it is just what anybody in the wood cutting field desires to have in their toolshed. The pivoting shoe with the handle allows additional holding management.
In short, the machine is all about grip, control, and balance without worrying about ruining the work. The cost for the cordless circular saw is surprisingly reasonable. I was still secretly hoping it would come with a dust collector.
Pros 
Retains cool temperature
Long-lasting operating time
Excellent for rip cuts
Exceptional stability
Lightweight and handy
Cons 
Requires careful adjustment to avert teeth marks
Verdict 
There is no doubt that Black+Decker has unexpectedly outdone itself via this circular saw. It is convenient for house repairs, light projects involving various wooden boards, etc.
The safety function appears to be most infallible since you get to balance and control with both hands —  superb choice for all.
4. Ryobi P507 One+ 18V Lithium-Ion Cordless 6 1/2 Inch 4,700 RPM Circular Saw w/ Blade (Battery Not Included, Power Tool Only)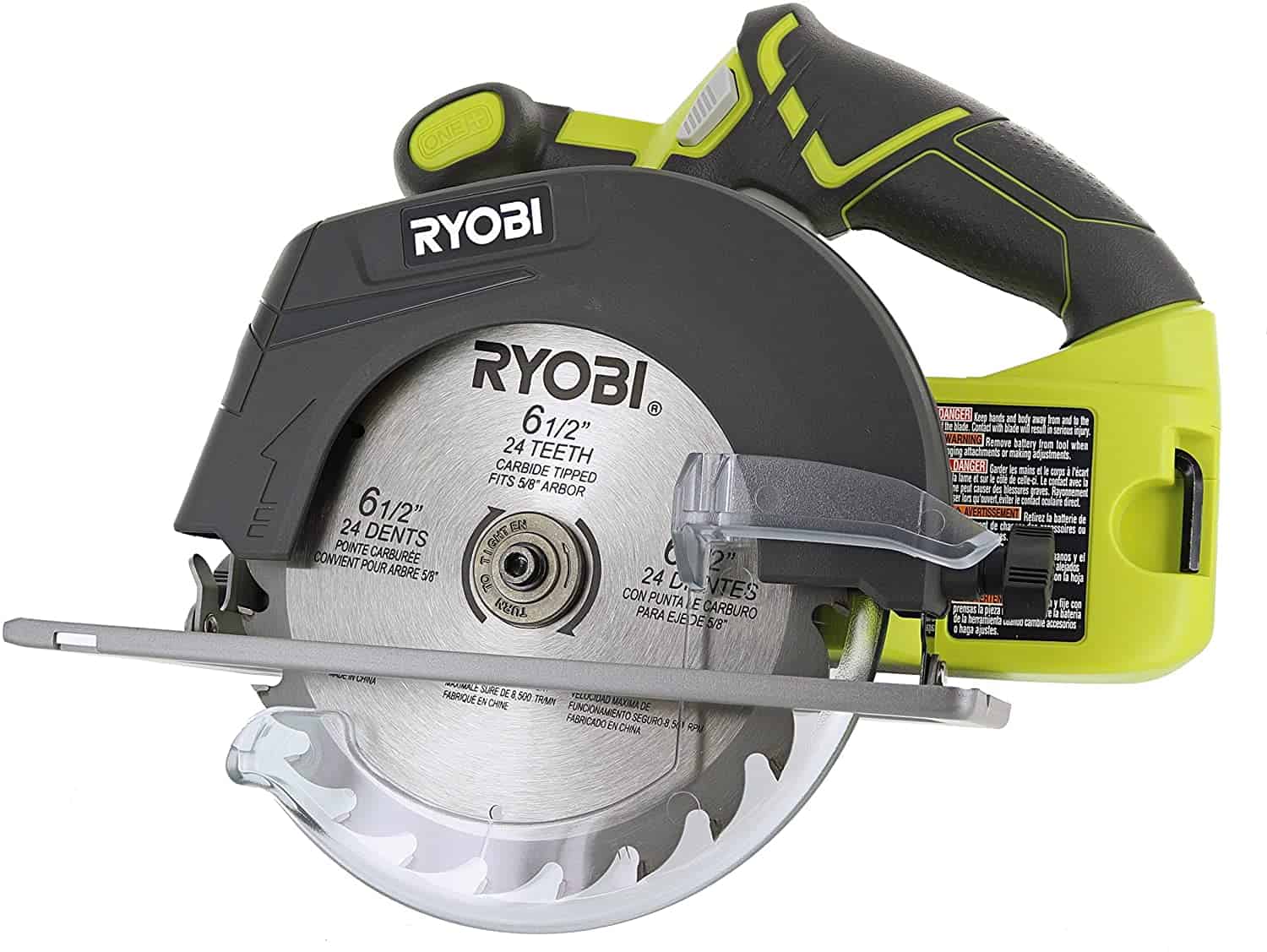 The Ryobi is yet another name heavily acquainted with powerful equipment and tools like this saw. It is a bare tool that comes with nothing but a blade.
I was not expecting anything more, given the low price factor. The air-powered machine is compact and operates at 18V. Plus, do not be fooled by the plastic structure.
The brand claims it to be tough ABS grade that maintains a lightweight form while you work on your task. It comes with a 6-1/2-inch carbide-tipped saw blade. Nevertheless, I have to admit the bevel quality is poorly made.
It is somewhat disappointing from Ryobi, a name that speaks of reliable capability. Still, if you are okay with replacing it with a different level, you are good to go.
The good news is that the motor is effective enough to deliver 4700RPM of speed under precise control. Its handle has a fantastic rubber mold grip, keeping your hands in place even during sweaty conditions.
Another drawback of getting this unit is buying the battery separately. So check the guide carefully to find the suitable one. On the other hand, you will be able to attain cuts at versatile angles up to 56-degree.
This product is compatible with extremely light rip and other cuts with lesser depth. I mean, you cannot hope for a high-performing outcome at this price anyway.
Pros 
Tough construction to withstand rough usage
Precise control via guiding base
Easy bevel adjustment
Comfortable grip for sweaty hands
Lightweight
Cons 
Non-durable blade and performance
Battery not included
Verdict 
Apart from the low-grade blade with the package, this little item is a great tool for light-duty works. It is better to check on the grip position before buying it, though – especially when you are right-handed.
5. Makita XSH04RB 18V LXT Lithium-Ion Sub-Compact Brushless Cordless 6-1/2" Circular Saw Kit (2.0Ah)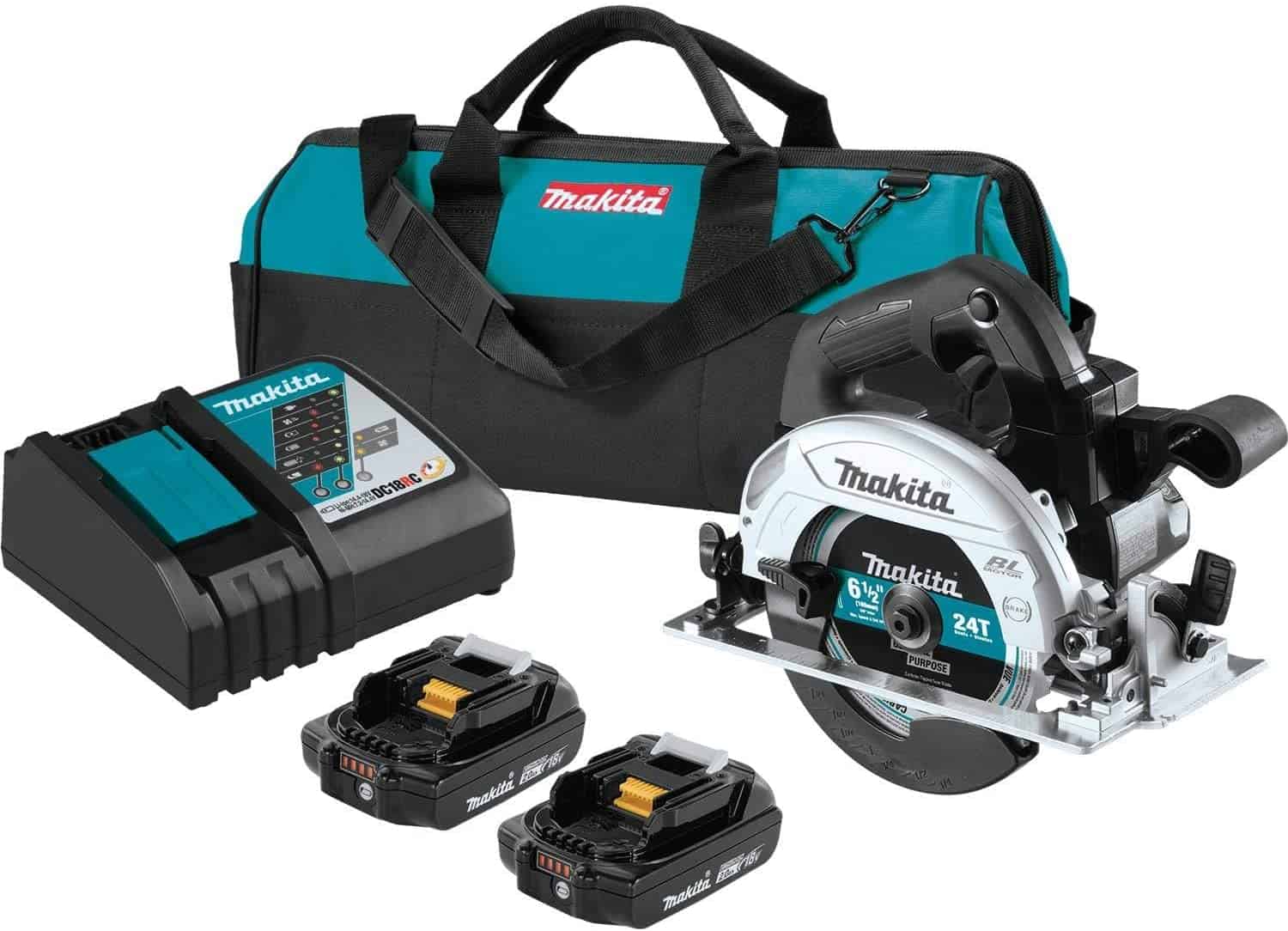 Whatever you seek in a cordless circular saw kit can be obtained in Makita XSH04RB. It runs on 18V lithium ion batteries and offers up to 5000RPM of speed.
With various bevel capacities to 50-degree, this semi-compact machine is the most sought product for home renovations and constructions.
While the battery is separately sold, it is an ideal saw to achieve numerous crosscuts, rips, etc., for nonprofessionals. Plus, you get the ergonomic handle, a motor that never goes hot, and an auto speed-changing advantage.
This means the greater the weight/pressure, the higher the power gets. In addition, there is dual LED light integration for better direction and illumination.
It is the only product on the list that incorporates a dust nozzle to ensure better dust collection. Even the metal blade guard is constructed to deliver the utmost safety during complex cuts.
Overall, it is equipped with everything to keep the machine powered and loaded with resilient features. The only hindrance is that you will have to get the battery and charger separately.
Pros 
Offers first-class, speedy performance
Excellent control and balance
Ergonomic grip for slippery conditions
Comes with an electric brake
Dust and water-resistant
Cons 
Must check for right or left-handed model
Verdict 
Once you acquire the charger and the batteries, it will provide a 3x faster charge time.  As a result, you will not have to wait for hours to complete a day-long project.
This is the ultimate cordless circular saw I always recommend to people despite the steep cost.
Frequently Asked Questions
Is it worth getting a cordless circular saw?
The answer varies according to user preferences. Some hope to obtain different material adaptability, while others might prefer intricate cuts effectiveness.
Mainly, it is about accomplishing the average job with extensive battery power.
How long does a battery-powered circular saw last?
Although the lasting period relies on the manufacturer and its production quality, you can estimate around ten to twenty years of service, give or take. The cheaper/smaller version might last around less than ten years, though.
What is a brushless circular saw? 
It adjusts the power draw to remain consistent with the task. Say, the rips, crosscuts, etc., on the board is tough to attain. The saw motor tries to match the resistance it meets and regulates the power accordingly.
What should I look for when buying a cordless circular saw?
If you are new to this mission, here are the few things you must keep in mind:
Are you lefty or righty? Yeah, that is important.
Try obtaining the saw with kits.
Check the volt, Amps rates.
Maybe consider integrated headlights?
Look out for the bevel capacity angles.
Battery duration must be lengthy.
What volt is ideal for a battery-powered circular saw? 
The 20V or 18V is the ideal option in a battery voltage of a cordless circular saw.
Final Words
This is the end of the line where you at last sit and ponder on picking the best battery powered circular saw from the given five.
These products have been tested and tried by various woodworking experts before bringing to the spotlight.
Hence, be confident at choosing the right one after contemplating on the provided data. Good luck!
Also read: these are the best circular saw guide rails for a safe and accurate cut
I'm Joost Nusselder, the founder of Tools Doctor, content marketer, and dad. I love trying out new equipment, and together with my team I've been creating in-depth blog articles since 2016 to help loyal readers with tools & crafting tips.